Synchronizing keyboard shortcuts (text replacements) on iOS and macOS used to be incredibly unreliable. Often, deleted shortcuts kept coming back, thanks to a buggy and deprecated API called iCloud Core Data. Apple has mostly fixed those issues in recent updates to its operating systems.
A few years ago, I started using keyboard shortcuts (text replacements) in macOS to reduce the amount of repetitive typing I was doing. At some point, those keyboard shortcuts suddenly started appearing on my iOS devices. That was a sign that they were synchronized via iCloud. Unfortunately, Apple's first implementation was using an unreliable and now deprecated API called iCloud Core Data.
Update: A spokesperson confirmed that over "the next month or so," Apple will release an update to iOS 11 and macOS High Sierra that will fix the problem by replacing iCloud Core Data with CloudKit for text replacements.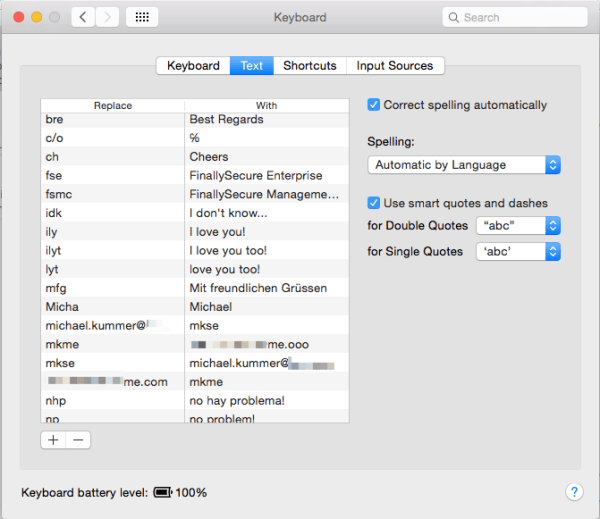 Text replacements are even more useful on iOS because of the smaller keyboard. So I started adding more shortcuts for email addresses and set phrases I would use in the languages I communicate in.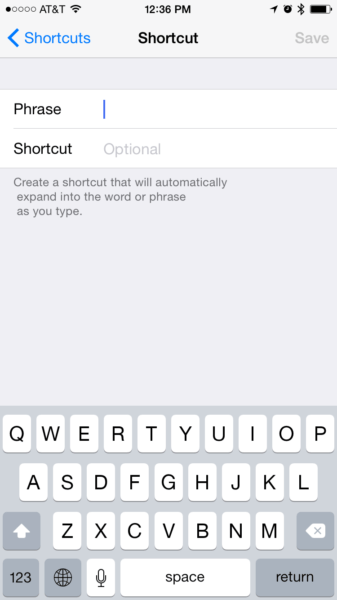 Failed troubleshooting steps
Unfortunately, I mixed up the order when I typed in the "Phrase, " and the shortcut and so both macOS/iOS started replacing "[email protected]" with "myem" instead of the other way around. To fix the issue I simply deleted the shortcut and created it again, this time entering "[email protected]" in the "Phrase" field and "myem" in the shortcut field.
The other day I restored my iPad from a backup and suddenly keyboard shortcuts that I deleted and changed months ago reappeared on all my iOS devices but not on my Mac. I didn't think much of it and just deleted them again. Unfortunately, it turned out that those keyboard shortcuts are somewhat resistant and they have kept coming back since then – even after I tried the following troubleshooting steps:
Sign out of iCloud, delete local iCloud data and sign back in
Reset all settings
In fact, after the above steps, the previously deleted shortcuts started appearing on macOS, as you can see in the screenshot above. Several discussions with Senior Apple Advisors haven't been successful so far, and we're now checking if shortcut data can be deleted on iCloud directly by Apple, which appears to be the source of the problem.
I have had a similar issue in the recent past, where suddenly old email signatures popped up in Apple Mail but the issue disappeared by itself somehow. Apple unofficially confirmed that they had some synching problem in iCloud with the introduction of iCloud Drive, but those have been resolved by now.
Has anyone else seen this issue and maybe have a solution? If so let me know, please!
Previous Updates (obsolete)
Update 1
I got a call back from the Senior Advisor at Apple who asked me to upgrade to iOS 8.1.1 and OS X 10.10.1. I had done that already yesterday, and this morning I again deleted the keyboard shortcuts on my iPhone. Just now I realized that the deleted shortcuts were also gone from my MacBook Pro, so I'm hoping that the latest updates to Apple's OS's fixed the problems. If not Apple will switch my iCloud account into troubleshooting mode, so R&D can access it directly. I'll keep you posted!
Update 2
It's been a couple of days since the upgrade, and so far the deleted shortcuts have not come back. Problem solved!
Update 3
The shortcut issue is still resolved. However, I have noticed a similar issue with the weather widget in the Notification Center. Deleting a city has no permanent effect, and they keep coming back. In my case "Williams," which I added to our trip to Grand Canyon refuses to stay out of my widget area :)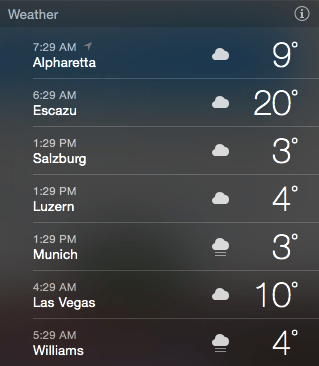 Update 4 
As one of the readers commented, the issue is unfortunately still NOT resolved. It sometimes takes a little while, but the shortcuts keep coming back. Based on what I have seen so far, it's not an OS but rather a backend issue. Apple just hasn't figured out syncing yet (MobileMe anyone?).
Update 5
I have not seen my shortcuts returning in a few weeks, but I'm not sure what has changed. In fact, my remaining shortcuts are actually out of sync between my devices now. I did upgrade my iOS devices to 8.4 Beta, and I got a new Mac that I installed from scratch, without restoring a backup. So the issue is still not resolved, but at least the shortcuts I wanted to get rid of haven't returned in a long time.
Update 6
I found out where OS X stored its shortcuts database and deleted the apparently corrupted file. That alone doesn't fix the problem if you have other devices with corrupted databases. But following JD's suggestion below on deleting the corrupt database on a jailbroken iOS device, you may be able to get rid of this issue once and for all if you also delete the corrupt database from your OS X device(s).
The database in question is located in:
/Users/mk/Library/Mobile Documents/com~apple~TextInput/Dictionaries/.baseline/current.nosync/mk~F13BFE7E-DBB0-5D2B-9BC9-A74DA792AE84/UserDictionary/SAlQVUhF7208e6_gvZx_zdKx1U1AzKGem3HO2pLKjgY=/stores/CloudUserDictionary.sqlite
I found it by searching for the shortcut string using the following command:
Michaels-iMac:Dictionaries mk$ grep -r "omw" .

With this information, I'll contact the Apple Business Support today and have them wipe the backend. I'll update this post with my findings accordingly.
Update 7
I haven't tried it myself, but other users are reporting the steps below outlined by Scott (September 29, 2015, at 2:53 pm) in the comments fix the problem once and for all.
Update 8
Apple seems to have disabled synchronizing text replacements altogether in one of the latest OS X and iOS updates. That's certainly one way to fix the issue, but I hope they'll bring that functionality back in a future update.

I'm a healthy living and technology enthusiast.
On this blog, I share in-depth product reviews, actionable information and solutions to complex problems in plain and easy-to-understand language.