The Kanex GoPower USB-C portable battery pack is a slick, lightweight and versatile companion for the 12-inch MacBook and other USB-C equipped devices. As a bonus, it can charge a MacBook and a phone simultaneously.
I usually travel light and with the least amount of gadgets in my backpack. That was one of the reasons, why I purchased the 12-inch MacBook. It is super light, and the battery lasts all day under light use. The same holds true for my iPhone 7 Plus, which offers noticeably improved battery life over its smaller sibling, the iPhone 7. Nevertheless, I charge my devices at every chance I get, because I hate to run low on battery at the most inconvenient time.
Shop mentioned products
Kanex GoPower USB-C portable battery pack (Kanex.com)
Portable battery packs
Consider a portable battery pack your spare battery for emergencies. It usually charges a device, such as an iPhone, multiple times before you have to recharge the battery pack. I used to have such a battery pack for my iPhone but barely used it after I had upgraded to the iPhone 6 Plus. I carried it in my backpack for over a year without using it, before giving it to my father-in-law. To me, it was dead weight that I didn't want to lug around any longer. Before I got the new 12-inch MacBook I briefly looked at battery packs for the 15-inch MacBook Pro I had then but abandoned the idea due to weight concerns.
Battery pack for 12-inch MacBook
I have few complaints what the battery life of the 12-inch MacBook is concerned, but I managed to run out of battery on a few occasions. Sometimes, I am in all-day meetings, presenting on a beamer and without a power plug nearby. That drains the battery quickly. Also, the planes Delta Airlines uses on transatlantic flights have usually only a single power outlet. That means I have to choose between charging either my MacBook or my iPhone or iPad.
On a recent business trip to Rochester, NY heavy winds knocked out parts of the power grid, and my hotel was without power for hours. I got to the hotel at the end of the day, when I was already low on power on all my devices. I just figured I would plug them in overnight. Needless to say, I was grateful to have the Kanex GoPower USB-C portable battery pack with me to charge both my MacBook and iPhone.
Kanex GoPower USB-C portable battery pack
I saw another review of the Kanex GoPower on Twitter and immediately reached out to Kanex and asked for a review unit. They sent me one just days before I had to go on a business trip so that I could put it through the paces. Unfortunately, I received a defective unit, but Kanex replaced it promptly. Overall, I was more than pleased with the support experience I had.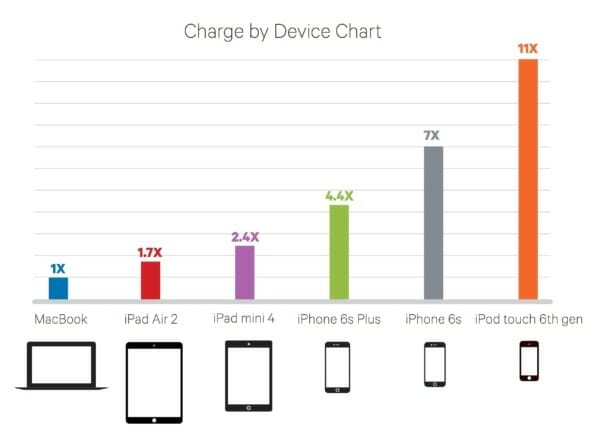 Specifications
The Kanex GoPower USB-C (K181-1010) includes a 15,000 mAh Lithium-Ion Polymer battery that is capable of charging a 12-inch MacBook once, and an iPhone 6s Plus more than four times and an iPhone 6s seven times.
Battery Type: Lithium-Ion Polymer
Capacity: 15,000 mAh
Output: USB-A Port: 5V / 2.4Amps
USB-C Port: 5V / 3Amps
Input: USB-C Port: 2.4Amps
Finish: Space Gray Aluminum
Weight: 24 oz.
Cable Length: 3.3 ft. / 1 m
Batteries are heavy based on currently available technology, but the Kanex GoPower USB-C feels lightweight considering the power it provides. What I like most about it, is that it allows me to charge multiple devices at the same time. That is mainly thanks to its dual USB port configuration.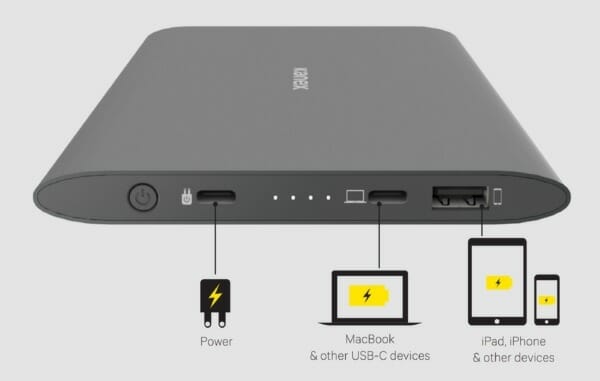 Design
The Kanex GoPower USB-C matches my Space Grey MacBook in color and design. It feels like those two are meant to go together. Unfortunately, Space Grey is the only finish that's currently available. That said, the Kanex battery pack looks beautiful enough to go with other MacBook finishes, including Gold, Rose Gold or Silver.
What I like most about the design of the GoPower USB-C is its slim form factor. It doesn't add a lot of bulk and perfectly slips in and out of my backpack. The aluminum body with rounded edges give it the high-quality appearance an accessory for your MacBook deserves.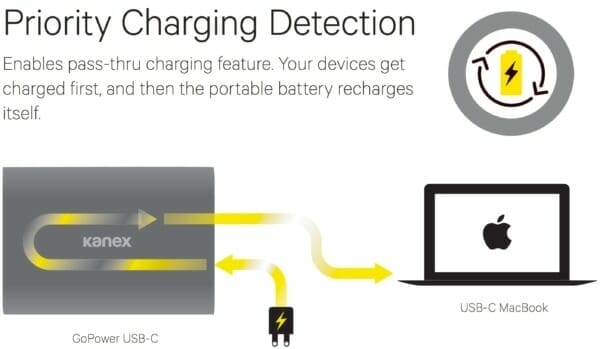 Additional features
Kanex included a couple of other features with the GoPower USB-C that I think are worth mentioning. For example, the battery pack offers priority charging detection. That means while plugged into a power outlet, the battery pack charges a connected MacBook first, before recharging its battery. Additionally, the GoPower USB-C comes with a built-in surge protector that also prevents overcharging your devices.
What's in the box?
In addition to the battery pack, Kanex includes a user manual, a USB-IF Certified USB-C to USB-C and a USB-C to USB Cable. Both cables are high quality and 1 meter (3 feet) in length. More information is available in the factsheet or on www.kanex.com/gopower-usbc.
Kanex GoPower USB-C portable battery pack
The Kanex GoPower USB-C has become my permanent travel companion that I don't leave home without. It is relatively light, very powerful and it looks great next to the Space Grey MacBook. I may not use it on every trip, but it is comforting to know that I can charge my devices anywhere and anytime. If you are frequently on the road with a 12-inch MacBook, or other USB-C equipped mobile devices, consider investing in the Kanex GoPower USB-C battery pack. I highly recommend it.

I'm a healthy living and technology enthusiast.
On this blog, I share in-depth product reviews, actionable information and solutions to complex problems in plain and easy-to-understand language.