I have reviewed a lot of Apple Watch Bands in the past, but I never tried one made out of wood. For this article, JORD sent me a wooden Apple Watch band with a butterfly clasp. At first, I wasn't sure what to expect, and I was afraid the strap might pinch the hair on my arms. However, the JORD watch band turned out to be incredibly comfortable to wear. Continue reading to learn more.
JORD Wood Watches
JORD is a watchmaker based out of St. Louis, Missouri that specializes in wood watches using natural materials and innovative designs. In addition to their unique timepieces, they also manufacture wooden bands for the Apple Watch. For this review, JORD sent me one their straps they made out of wood and integrated titanium links.
Wooden Apple Watch band

Pros
Unique design, made from natural materials
Comfortable to wear
Adjustable for various wrist sizes
Cons
Like most wood products, it requires occasional maintenance
Clasp might open unexpectedly under certain circumstances
To get 15% off your purchase, make sure to use discount code michaelkummer15.
All of the watchbands I own are made out of leather or rubber, and so I was excited to test a new strap material. Specifically, I wanted to find out how comfortable and durable wood was. I knew I couldn't take a wooden watchband into the shower, but I was curious to see how it would hold up against frequent water exposure caused by washing hands.
Care and Maintenance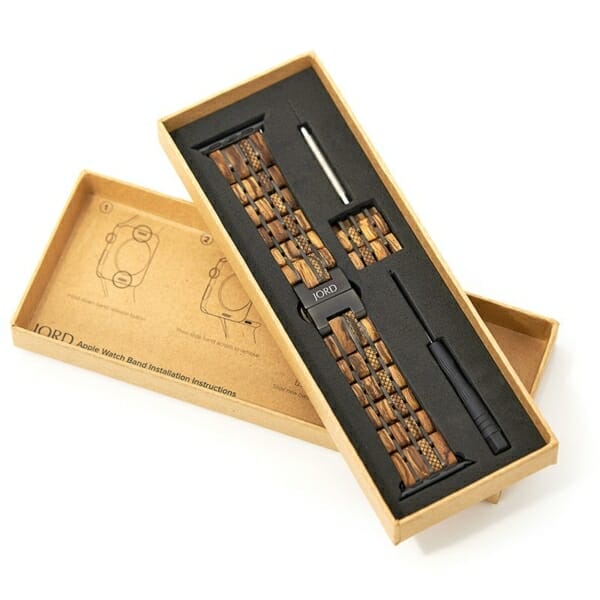 It's been a few weeks since I received JORD's Apple Watch band and I spilled soap and water on it numerous times, but without causing any damage. JORD treats each watchband as part of the manufacturing process, and so it can easily withstand normal wear and tear, including the temporary exposure to water.
However, JORD highly recommends treating the watchband like any other valuable item made out of wood:
Avoid exposure to sudden changes in temperature and humidity,
Occasionally treat the watchband with oil explicitly made for treating wood, such as Tung oil, or Lemon oil.
I have gotten used to such maintenance routines from my leather watchbands, which require similar care.
Comfort
As far as comfort is concerned, I have to admit I was skeptical. I figured the combination of wood and titanium would feel uncomfortable on my skin if I wore the Apple Watch over extended periods. I also feared that the chain-links could pinch the short hair on my forearm.
To my surprise, none of that was the case, and I have yet to pinch a hair. On the contrary, wearing the wooden Apple Watch band has been an entirely pleasant experience.
Look and Design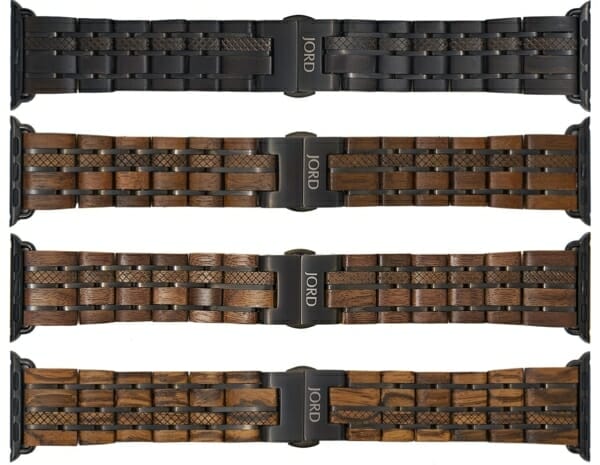 JORD's wooden strap looks distinctly different to any other watchband I own, and so I much enjoy using it. I think it's the combination of wood and titanium that makes this Apple Watch accessory stand out from the crowd.
I have also never had a butterfly clasp on a watchband and wasn't sure how reliable it would be. The good news is that taking the Apple Watch on and off is easy and doesn't require as much finger acrobatic as I thought. The bad news is, the closure is more prone to opening accidentally than other mechanisms.
For example, digging into the pocket of your pants or wrestling with your kids may inadvertently open the clasp. It hasn't happened often to me, but it has happened.
How to Adjust the Strap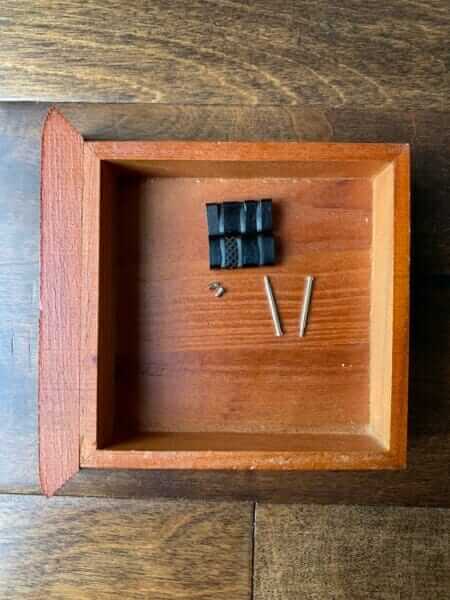 Before I placed the order for the watchband, I measured the circumference of my wrist, so JORD could adjust the band before shipping it.
Unfortunately, the watchband was still too big for me, and I had to readjust it myself. The good news is that JORD includes a tool to make those adjustments.
If you don't feel comfortable doing so, JORD recommends taking your strap to a jewelry store. But it's not rocket science, and you should be able to make those adjustments on your own. Just be careful not to scratch the wood or poke your finger while pushing out the pins.
Also, note that each pin has two separate pieces, so make sure not to lose the smaller section of the pin and store it in a safe place.
JORD Apple Watch Band Review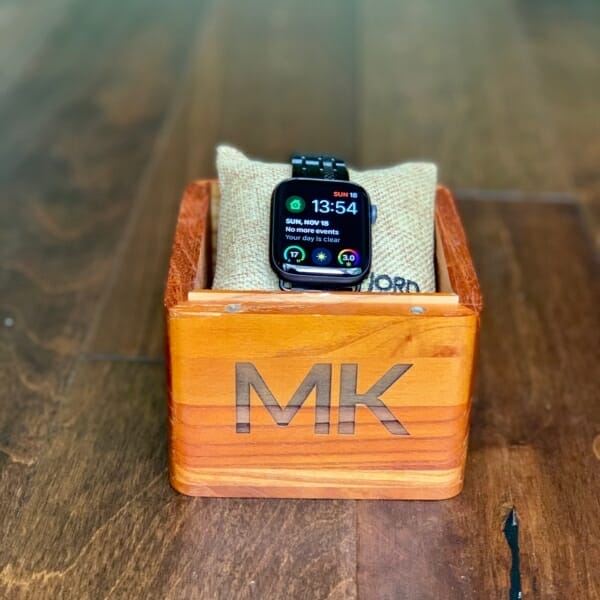 Overall, I was pleasantly surprised by the quality and comfort of JORD's wooden strap for the Apple Watch. I own a ton of different bands, and this has become one of my go-to straps. Combined with the optional wooden storage box and engraving, the watchband is also an excellent gift to consider for the upcoming holiday season. If you decide to purchase one of those bands, make sure to use code michaelkummer15 to get 15% off.

I'm a healthy living and technology enthusiast.
On this blog, I share in-depth product reviews, actionable information and solutions to complex problems in plain and easy-to-understand language.