A while ago, while restoring an old iPhone, I realized that it was locked to someone else's Apple ID via the iPhone/iCloud activation lock.
In this article, I'll explain how to get past the "Apple ID cannot be used to unlock this iPhone" error message, and talk about a few circumstances that might prevent you from getting past the iCloud activation lock status.
Additionally, I'll share my second-hand experience with activation lock removal services, such as DoctorUnlock.
However, keep in mind that Apple introduced the iCloud activation lock for a reason — to prevent anyone else from using your Apple device (iPhone, iPad, iPod touch) or Apple Watch if it's ever lost or stolen.
As a result, circumventing that security is not always easy.
First off, it's important to note that Apple has released a self-service tool for turning off the activation lock. This tool walks you through the standard troubleshooting steps and allows you to submit an unlock request to Apple without having to contact customer support.
However, this is only useful in a limited number of cases, such as if you sold a device and forgot to remove your iCloud information, or if you purchased a locked device from a reputable source and have proof of purchase.
In most cases, Apple's tool won't be helpful and you'll need to try some of the techniques outlined in this article.
iCloud Activation Lock Background Info
If you're not familiar with the Find My iPhone app and its activation lock feature, check out this knowledge base article on apple.com.
In 2013, Apple introduced a security feature designed to make iPhones less valuable targets to would-be thieves. An iPhone can only be associated to one iCloud account, meaning that, in order to sell it to someone else (or in order for a stolen phone to be used by someone new) that account needs to be removed from the phone altogether.

Vice.com
Most users run into iCloud activation lock issues when purchasing a used iPhone or iPad that's locked to the previous owner's iCloud account. When you purchase a locked iPhone, you won't be able to activate and use it until either Apple or the previous owner removes the iCloud lock.
What many people don't know is that Apple can accidentally lock your iPhone to someone else's Apple ID, even if you've been the only owner of the device. That's what happened in my case, when I tried to activate a phone that I had recently erased because I wanted to sell it.
Note: At its Worldwide Developer Conference (WWDC) in June 2019, Apple introduced Activation Lock for Macs with a T2 security chip. As a result, I expect the issues we've been seeing with iPhones and other Apple Devices to also affect pre-owned Macs in the near future.
iCloud Activation Lock Bypass – Four Methods
The steps to bypass the activation lock of your iOS device — such as an iPhone or iPad — depend on a few factors, such as:
Access to the Apple ID the device is locked to.
Availability of proof of purchase.
Country of origin.
Perhaps other factors that I'm not aware of.
Note that the iCloud activation lock isn't limited to iOS devices — it also affects the Apple Watch and newer Macs that have a T2 security chip, such as the iMac Pro I own.
1. Remove iCloud Lock Using Apple ID
If you have access to the Apple ID that locked the device, removing the iCloud activation lock is simply of a matter of entering those credentials in the iOS setup wizard or using the "Find My" app to remove the device. See "How to Deactivate the Activation Lock" for more details.
2. Get Proof of Purchase
If you landed on this page, chances are that you don't have access to the Apple ID that locked the phone. That's either because the phone was mysteriously locked — such as in my case — or because you purchased the iPhone/iPad from someone who didn't remove the activation lock before selling you the device.
If that's the case, I'd first try to contact the seller and either get that person to remove the sold device from his or her Apple ID (via https://www.icloud.com/find/) or to send you proof of purchase, which you can use to get Apple remove the activation lock.
If you can't get a hold of the seller, or if you suspect the device was stolen but can't get your money back, you need to start thinking outside of the box by leveraging an unlocking service or trying other (more technically advanced) bypassing techniques.
3. iCloud Activation Lock Removal Service
I've personally never tried an iCloud lock removal service, but other people swear by them. Based on feedback and reviews, AppleiPhoneUnlock seem to be among the best options.
I'm not entirely clear on the details of how those unlocking services work. But on a high level, they'll get your iPhone or iPad removed from Apple's lock list using your device's IMEI number. To do that they charge a fee of around $30.
Assuming the unlock is successful, it's a small price compared to having a bricked phone that you spent hundreds of dollars on but can't use.
How to Use an Activation Lock Removal Service
The only two pieces of information you need to use an activation lock removal service are:
Device model (i.e., iPhone X)
IMEI number
You probably already know what model phone you have. But if you don't, this Apple knowledge base article can help you identify it.
You can find your device's IMEI number printed on the back of your device (on some older iPhone models, including the iPhone 5) or by clicking on the info ("i") button on the activation screen.
Once you have both your IMEI number and phone model, go to doctorunlock.net, select your device, and enter your IMEI number.
Continue to the checkout page and enter your payment details. On average, it takes those companies up to three days to complete the unlock (or to notify you if the unlock attempt wasn't successful).
If you decide to give DoctorUnlock a try, please come back and leave a comment to let me know if you were successful!
4. iCloud DNS Bypass (Temporary Workaround)
Domain name service (DNS) makes the internet as we know it possible by translating domain names — such as apple.com — to IP addresses that devices use to communicate.
Coincidentally, every time you run through the iOS setup wizard after a factory reset, the phone contacts the Apple activation servers to see if the device has an iCloud activation lock or not.
The idea behind the iCloud DNS bypass method is to trick the phone into talking to a fake activation server that replies with "device not locked." You can do that by manually changing the DNS servers when you select a wireless network during the setup process.
This approach has numerous issues, and won't get you a fully-functioning and unlocked phone, so I don't think it's worth pursuing. In fact, it might not even work on iOS versions newer than iOS 10.
Specifically, this method has the following limitations and issues:
You risk exposing all your internet traffic, including usernames and passwords, to an unknown third-party (the DNS provider).
It might only work in iOS 8 to iOS 10. Newer versions have implemented safeguards against this "attack."
By changing your DNS servers, you effectively disable or make unusable many functions of iOS, and you'll only have access to some of the phone's features.
However, if you've tried an unlocking service before (unsuccessfully) and want to give DNS bypass iCloud activation lock a try, here's what you need to do…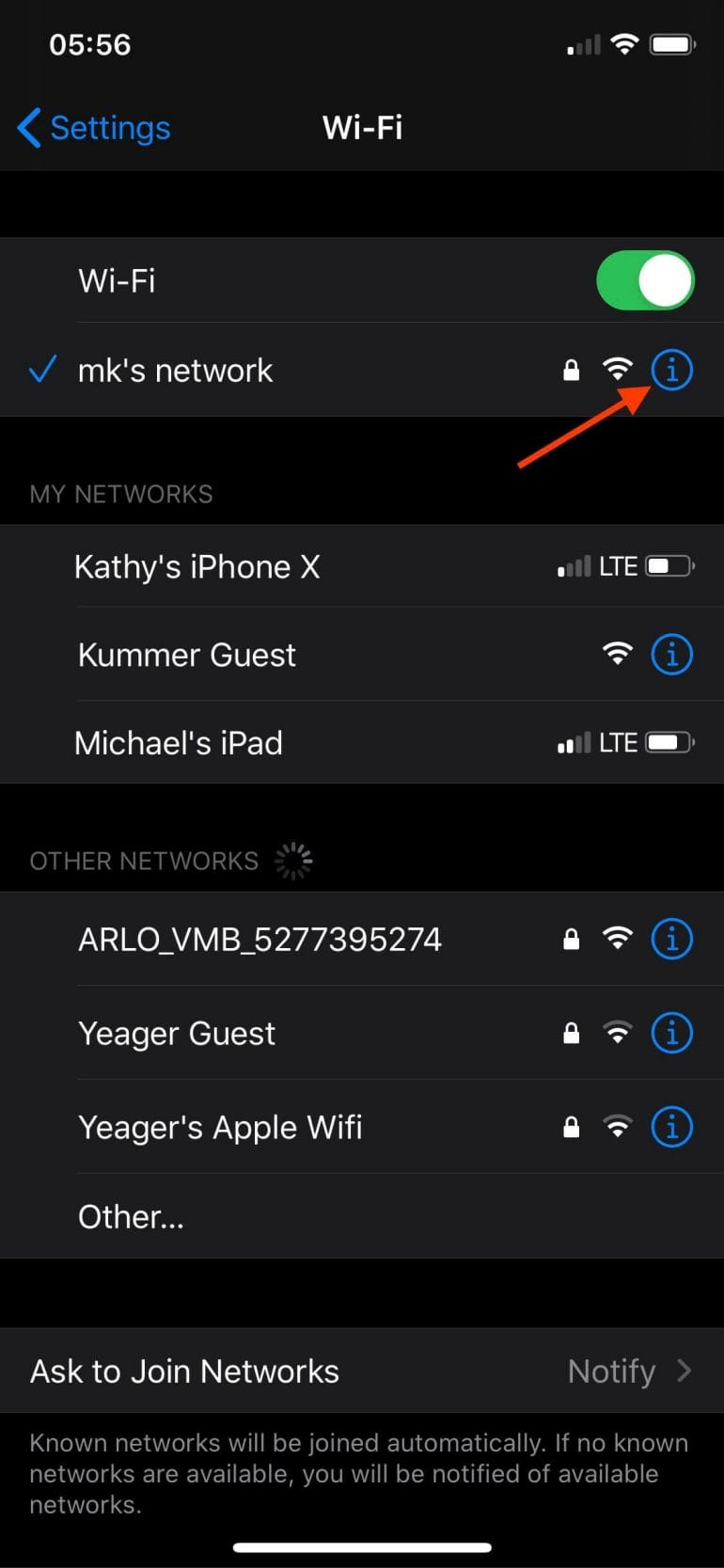 Insert your SIM card, if you haven't already done so.
Turn on the phone and select your country and language on the setup screen.
On the Wi-Fi selection screen, don't tap on your wireless network. Instead, click on the "i" symbol next to the Wi-Fi network name.
Optional: If you accidentally connected to your Wi-Fi network already, click on "Forget this Network."
Scroll down to the DNS section and select "Configure DNS."
Select "Manual" and enter the iCloud Bypass DNS Server IP address from the list below — depending on the region you're in.
Remove the old DNS server from your ISP modem (in my example 192.168.1.1).
Go back to the Wi-Fi network selection screen and tap on your wireless network to connect to it.
Next, you'll see a screen showing that iOS is trying to connect to Apple's activation servers. Hit the back link in the upper left corner.
You'll be redirected to iclouddnsbypass.com.
From there you can pick from a predefined list of apps to watch videos, chat, message, listen to music or take photos.
Let me remind you that the DNS bypass method doesn't unlock your phone — it simply connects you to a Wi-Fi portal that offers some limited features that you can use while exploring a permanent unlocking solution.
iCloud Bypass DNS Server IP Addresses
Here's the latest list of DNS bypass servers:
USA: 104.154.51.7
Europe: 104.155.28.90
Asia: 104.155.220.58
South America: 35.199.88.219
Australia and Oceania: 35.189.47.23
How My iPhone Got Locked to Someone Else's iCloud Account
A while ago, my wife dropped her iPhone and shattered its screen, and we didn't get an appointment at the local Apple Store right away to have it repaired. So, I figured I would give her my old iPhone that I wanted to sell to use until her iPhone got fixed. I took it out of its box, booted it up, and connected it to my iMac to restore it from a backup I made of her broken iPhone.
Note that I was the original owner of the iPhone I tried to set up for my wife, and it was never used with anyone else's Apple ID or iCloud password.
How to Deactivate the Activation Lock
When I upgraded to the latest iPhone model, I completely erased my old device via:
Settings > General > Reset > Erase All Content and Settings.
By doing so, I effectively deactivated the activation lock. To confirm, I had to enter my Apple ID password. After the iPhone was erased, I put it into its original box and stored the box in our bedroom. My plan was to give the phone to another family member.
During the setup process, an activation lock screen appeared indicating that the iPhone was still locked. I thought that was strange, because I knew that I had removed the activation lock when I erased the iPhone. But I entered my Apple ID and password anyway, to remove the lock.
Upon clicking continue, I got an error message stating that my Apple ID cannot be used to unlock this iPhone.
I was puzzled and took a closer look at the activation lock screen. And there it was — a hint about which Apple ID my iPhone was locked to. It showed [email protected] Neither my wife nor I own an email address or Apple ID that starts with "l" and contains "@1." In fact, I have never seen an Apple ID with this pattern.
Apple Support Couldn't Help
I called Apple Support and a senior advisor confirmed the lock but said he couldn't see the full Apple ID my device was locked to either. He also couldn't explain how this could have happened, but he said the activation lock only kicks in when someone signs in with an Apple ID and password during the setup process of the iPhone.
This particular iPhone was in a box the entire time since I reset it. So unless our cleaning lady decided to take the device out of the box, set it up under her Apple ID, and then remotely wiped the phone without going through Settings > General > Reset > Erase All Content and Settings before putting it back into the box, something else was going on.
I guess there was some major screwup on the Apple backend, which somehow led to the association of my iPhone's IMEI number (the iPhone's unique identifier) with someone else's Apple ID.
Bypass iCloud Activation Lock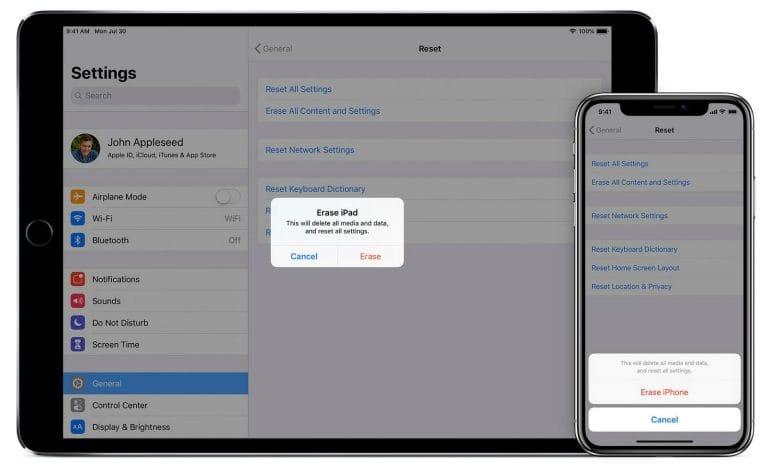 I always thought that Apple could remove the activation lock on their end, but that they require a proof of purchase to do so. As it turns out, that isn't entirely correct (see below).
I ordered the iPhone that was now locked to someone else's Apple ID via apple.com, and thus I had a receipt. Unfortunately, I ordered an unlocked T-Mobile phone while I was still with AT&T, and AT&T didn't want to activate Wireless Calling on my iPhone because it was a "foreign" phone.
So I went into my local Apple Store and, out of courtesy, they replaced my T-Mobile model with an AT&T model. I did not get any paperwork for that transaction, and as a result, I didn't have a proof of purchase for the iPhone I was trying to get unlocked
The senior advisor took the proof of purchase from the original iPhone and submitted it to the activation team. Fortunately, Apple had a record of their retail team swapping my AT&T phone for a T-Mobile phone, because they ultimately removed the activation lock.
If you purchased a used iPhone and don't have an original proof of purchase, Apple won't help you.
If you're stuck with a locked phone and are considering using an unlocking service, be aware that you're navigating in a "gray area." Obviously, services such as DoctorUnlock (link) aren't endorsed by Apple, but some users have had great success with them.
The same goes for iCloud bypass tools like Doulci Activator and iCloud Assistant Pro: they're ethically dubious, often have questionable success rates, and may leave you still permanently unable to use the phone on your service provider, as its IMEI number could still be marked as lost or stolen.
I have never tried any of those services. Based on my research, the unlock is not always successful and the country of origin appears to be a factor. So, you have to decide if it's worth the money, even if you might not be able to unlock your phone and/or use your phone.
Frequently Asked Questions (FAQ)
Do iCloud lock removal services work with any version of iOS?
It depends on the particular iCloud unlock service. Each one makes a different set of claims about its iOS version compatibility. What I will say is that newer versions of the iOS tend to be more secure than older versions, which people have had more time to dissect. Anecdotally, bypassing iCloud locks would thus be easier on an Apple device that hasn't been updated recently.
What's the difference between iCloud activation lock and SIM lock?
The iCloud activation lock is an Apple invention meant to deter thieves by making it hard to use stolen devices. On the other hand, cell phone carriers invented the SIM lock to force you into multi-year contracts by locking your IMEI number to your SIM card (or at least to a specific carrier). Both types of locks leverage your device's IMEI, but they have entirely different purposes.
What if someone sold me a stolen device?
When you buy a used iPhone, I recommend verifying that it was removed from the previous owner's iCloud account, if possible. You could ask for proof of purchase, or you could try to activate the phone before completing the transaction.

If neither option is possible, and you end up purchasing a stolen phone, report it to the police. You could also try an iCloud lock removal service or one of the iCloud bypass tools listed above, but I don't know how successful that's going to be.
I live in a country without an Apple Store or a local support number to call. What should I do?
In cases like these, the best way to get in touch with Apple Support is via Twitter. Just follow @AppleSupport and send them a Direct Message (DM). Apple's Twitter team usually responds within a few hours, and they'll point you in the right direction. To find other ways to contact Apple Support, check out support.apple.com.
I bought a used iPhone and can't activate it because it is still locked to someone else's Apple ID. What can I do?
You have two options. First, you can contact the seller and ask him or her to resolve the iCloud activation lock status by following these steps:

1. Sign in to the iCloud website with their Apple ID and iCloud password.
2. Go to "Find My iPhone."
3. Click "All Devices" at the top of the screen.
4. Select the device that they want to remove from their iCloud account.
5. If necessary, click "Erase [device]."
6. Click "Remove from Account."

After the previous owner takes these steps and removes the device from their account, turn off the device and then turn it back on to begin the setup process.

Of course, if the person who sold you the phone was not the legitimate owner (i.e., if the seller stole the phone), they won't be able to help.

In such a case, you might try an iCloud unlock service. If they can't help either, I'm sorry to say this but you are out of luck. I don't know of any other iCloud bypass tools. It's my understanding that there is no alternative method for bypassing this security feature.

Your second option comes into play if you bought a new phone from an authorized source (i.e., an Apple Store). In this case, you can contact Apple Support, submit your proof of purchase, and Apple will unlock the phone for you.
Should I use an unlocking tool or a service?
I have never used an iCloud activation bypass tool because I don't want to download software that might be infected by malware or viruses. If you decide to try and remove iCloud activation by using a removal tool or an iCloud unlocker service, never give out your iCloud password, account credentials, or any other personal information.

And if you need to pay for the iCloud bypass attempt, make sure to use a service like Privacy.com, which lets you create a virtual one-use credit card as opposed to giving out your actual financial information.
I purchased a jailbroken iPhone — do I need to worry about iCloud unlocking?
Jailbreaking an iPhone doesn't change the requirements to unlock the device. So yes, you still need to remove the iCloud activation lock — even on jailbroken devices.
How can I find the serial number of my iOS device?
You can see the serial number and IMEI under: Settings > General > About.
Do I have to be connected to a Wi-Fi network for the unlock to work?
No, you don't have to be connected to a Wi-Fi network.
Are there free iCloud removal tools out there?
Not that I'm aware of. If you find such a tool, or even a free iCloud removal service, I'd be skeptical. You'll either get infected by a virus or Trojan horse, or you'll get scammed. Either way, I would not take the risk.
Does the mentioned iCloud removal service work on iPad?
In theory, any service or tool aimed at bypassing iCloud activation requirements should work on iPhone, iPod touch, iPad Air, iPad Pro, and pretty much all other iOS devices that are linked to an Apple ID account.
None of the above options work for me. Can you help me?
Unfortunately, no — I can't. So please don't send me an email asking for help! I wish I could, but there's nothing I can do. In all likelihood, the device in question will remain locked forever. But you should be glad this process is so difficult: it's the reason "Apple Picking" (the practice of stealing Apple devices) has died down in the years since the introduction of the original iPhone.
My case is different! Can I send you an email to see if maybe you can help?
You can always send me an email, but I won't be able to unlock your iPhone.
How to Turn Off Find My iPhone Activation Lock
If you managed to bypass the activation lock on your new device, congratulations! However, you should also learn how to properly remove the device from your iCloud account if and when you decide to sell it to someone else. Here's how that works:
Make an iCloud backup (iTunes backups work too) so you won't lose any data.
Go to Settings > General > Reset and select "Erase All Content and Settings."
Doing this will prompt you to enter the unlock code of your iOS device. iOS will also ask you for your iCloud password. Regardless of whether you have two-factor authentication enabled or not, the latter disassociates your device from your iCloud account. Only then should you sell the device to someone else.
Conclusion
I wrote this article to shed some light on issues surrounding the iOS activation procedure. As I learned first-hand, Apple might accidentally lock your iOS device when you remove it from your iCloud account. How that could happen, I don't know — but it happened to me.
In other cases, owners might forget to restore factory settings, thus unlocking the device, before selling it. In yet other cases, someone might sell you a stolen phone that's still locked to the legitimate owner's iCloud account or Apple ID.
In either case, there might be ways to remove that activation lock using official (or less official) channels.
If you decide to give one of those third-party services a try, let me know how it went by leaving a comment below!

I'm a healthy living and technology enthusiast.
On this blog, I share in-depth product reviews, actionable information and solutions to complex problems in plain and easy-to-understand language.