Be careful when deleting photos or videos from your iPhone, iPad, Mac, or iCloud web app if you use iCloud Photo Library. Doing so may permanently remove the deleted photos from all devices.
Plus, it's not even necessary in most cases, as both iOS and macOS can automatically manage storage space allocated to photos. Continue reading to learn how that works.
Until recently, the base models of Apple's iOS devices had only 16GB of data storage. At the same time, the iPhone became our go-to camera for taking photos and recording videos.
As a result, many users ran out of available storage space and thus had to regularly delete or transfer photos and videos to an external hard drive or a cloud storage account like Dropbox.
Then Apple introduced the iCloud Photo Library, which keeps all of your photographic memories synced across all of your devices. That's great, because a photo or video you took on your iPhone would automatically appear on your iPad or Mac. Even edits and changes would synchronize seamlessly (most of the time).
With the iCloud Photos Library, gone are the days of manual synchronization!
iCloud Photo Library works seamlessly with the Photos app to keep your photos and videos securely stored in iCloud and up to date on your iPhone, iPad, iPod touch, Mac, Apple TV, and iCloud.com.

Apple
iCloud Photo Library
To enable iCloud Photo Library, perform the following steps:
On a Mac with OS X 10.10.3 or later:

Go to System Preferences > iCloud
Click Options next to Photos
Select iCloud Photo Library

On an iOS device, such as iPhone, iPad, or iPod touch with iOS 8.3 or later:

Go to Settings > iCloud > Photos
Turn on iCloud Photo Library

On Apple TV (4th generation) with tvOS 9.2 or later:

Go to Settings > Accounts > iCloud > iCloud Photo Library

On a Windows PC:
Despite all the performance issues I had when iCloud Photo Library was first released, I have used it ever since. It meets my requirements and fits well into my photo editing workflow, so I have enabled it on all of my devices.
It's also worth noting that at its 2021 Worldwide Developer Conference, Apple announced improvements to iCloud Photos, including:
Faster initial iCloud Photos library sync. When you upgrade to a new device, iCloud Photos sync more quickly, so you can get to your photo library faster.
Import photos from another Photos library. Now you can import photos, including edits, from a second Photos library.
I'm sure many users will appreciate these enhancements.
How iCloud Manages Your Storage
iCloud Photo Library has two settings that determine how it manages storage on your devices:
Download originals, or
Optimize storage
As the name implies, the first option downloads and stores full-resolution photos and videos from the cloud. If your device runs out of available storage space, iCloud Photo Library will stop synchronizing to that device until space becomes available again.
Note: Newer versions of iOS and macOS warn you if you try to enable "Download originals" but your photo library is larger than the local storage.
I use this setting on my iMac Pro, but my photo library is stored on a LaCie Big5 Thunderbolt 2 RAID (an external hard drive) with plenty of disk space.
On all my iOS devices, as well as on my 13-inch MacBook Pro, I use the Optimize Storage setting.
If you turn on Optimize Storage, iCloud Photo Library automatically manages the size of your library on your device. Your original photos and videos are stored in iCloud and space-saving versions are kept on your device.

Your library is optimized only when you need space, starting with the photos and videos you access least. You can download the original photos and videos over Wi-Fi or cellular when you need them. You can use Optimize Storage on your iPhone, iPad, iPod touch, and Mac.

Apple
As you can see, Optimize Storage virtually eliminates the need to manually delete photos or videos in order to save storage space.
But what if you want to remove photos regardless?
How to Delete Photos in iCloud Photo Library
As noted above, iCloud Photo Library keeps all of your photos and videos synced across all of your devices. That includes deleted images. As a result, when you delete a photo or video on one device, it will be deleted from all of your other devices as well!
This is a lesson you don't want to learn the hard way.
Technically, upon deletion, iCloud Photo Library moves the deleted image into a unique folder called "Recently Deleted." It remains there for about 40 days before vanishing forever.
How to Recover Deleted Photos on iPhone
You can recover deleted pictures from an iOS device or Mac, as long as they're in the Recently Deleted folder. To access that folder, go to Albums in the Photos app and scroll down to the bottom.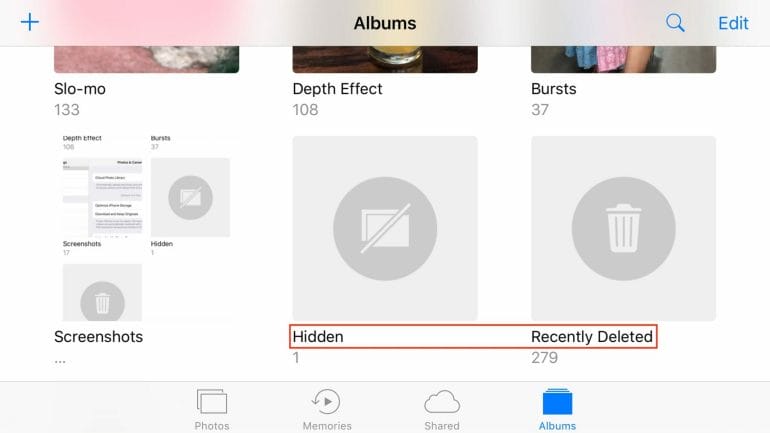 Note that in iOS 13 and later, the "recently deleted" folder no longer appears as a thumbnail as pictured above, but as a blue text link (it's still in the same location).
Once you've navigated to the folder, simply select the pictures you'd like to restore and tap "Recover" in the bottom right corner of the screen.
You can also recover bookmarks, contacts, calendars and files that have been deleted from your synced devices. Just log into icloud.com, click or tap "Account Settings," and scroll down to the bottom of the page. You'll see a list of links that allow you to restore all of the above within 30 days after deletion. After that, they're gone forever.
Note that with iCloud Photo Library, it is not possible to delete an image from only one device!
Instead, deleted pictures will disappear from all devices that have iCloud Photo Library enabled. As an alternative, you can hide selected images, which places them in a unique album called "Hidden."
Tips If Your iCloud Storage Is Full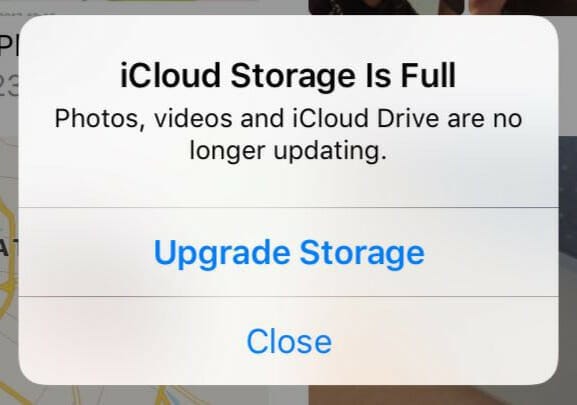 If you run out of iCloud storage space, your devices might stop backing up (to iCloud) and they won't be able to upload photos and videos to iCloud Photo Library, among other potential problems.
If you see a warning like the one in the screenshot above, the first thing you want to do is figure out exactly what apps are using that space.
To do that in iOS 13, go to: Settings > [Your Name] > iCloud > Manage Storage.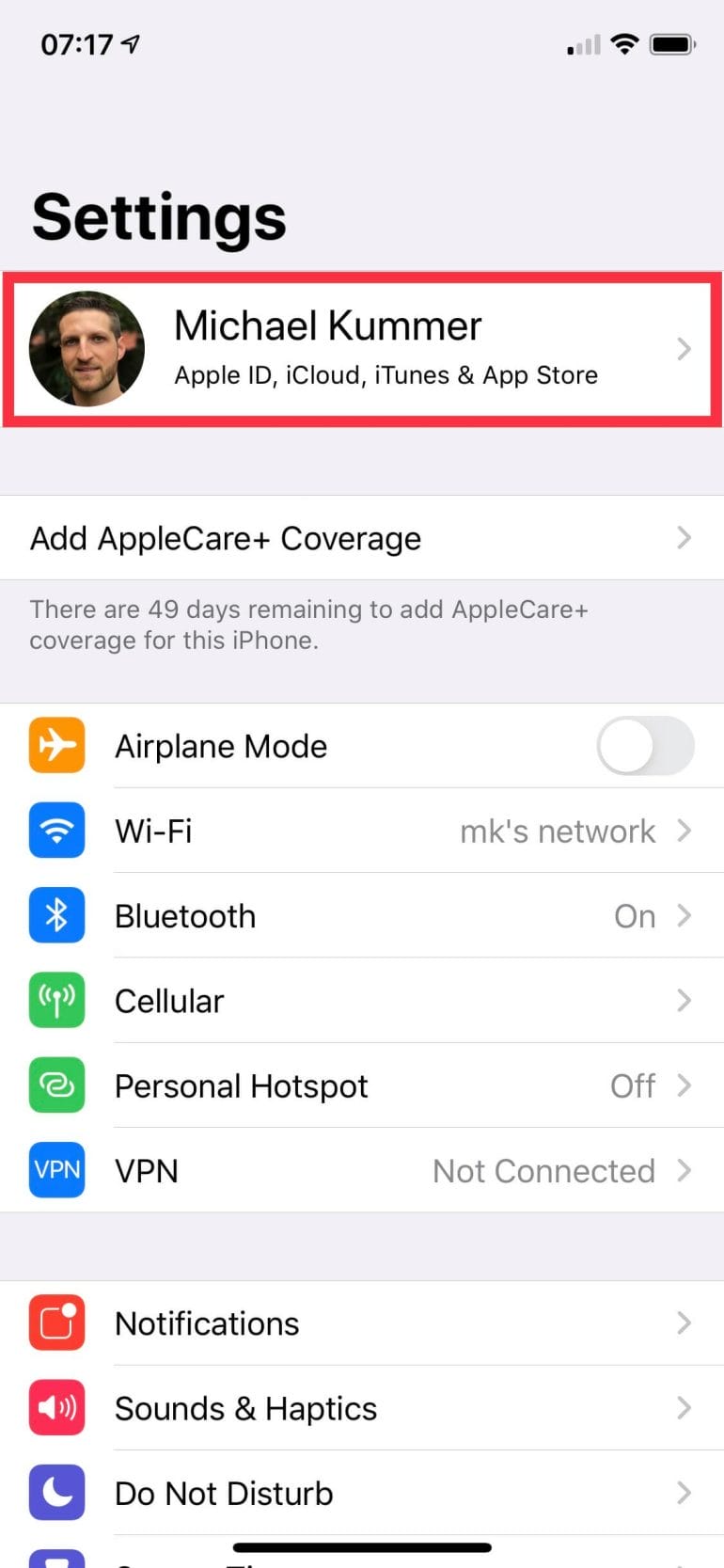 By understanding how iOS manages your iCloud storage, you can find potential culprits, such as messaging apps, that hog unreasonable amounts of storage space.
For example, you might have configured WhatsApp to indefinitely hold onto each media attachment you receive. If so, those attachments would likely count as photos in the Manage Storage overview graph — even if they're not photos and videos you've taken with your own device.
Another culprit I often see are iCloud backups from devices that are no longer in use.
Last but not least, if you use Family Sharing, make sure the problem isn't that another family member is using all of your storage space.
Once you identify which apps are using your iCloud storage, you can decide if you really need to hold onto that data. Most apps give you an option to delete their data (such as the attachments from messaging apps) without having to remove the app. So try that first!
What to Do If It's Not an App
If you've determined that the problem is indeed the photos or videos in your iCloud Photo Library, then you have only two choices:
Permanently delete photos and videos from iCloud Photo Library
Upgrade your iCloud storage
If you decide to permanently delete media from your photo library, make sure you have a good backup first. The easiest way to create a backup is on a Mac that has "Download originals" enabled. Why?
Because you can simply use the Photos.app on that Mac to export all photos and videos to an external drive (or Dropbox) before deleting them.
Once you've created a backup, you can delete photos from iCloud.com or any device that has iCloud Photo Library enabled. Just don't forget to also empty the "Recently Deleted" album, because otherwise you won't see your storage space free up right away.
The better approach, in my opinion, is to spend a few extra dollars to upgrade your iCloud storage. Current pricing is reasonable, as you can see below:
50GB: $0.99 per month
200GB: $2.99 per month
2TB: $9.99 per month
5 Tips If Your iPhone Storage Is Full
If you have plenty of iCloud storage but your iPhone or iPad is running out of space, here are some tips to find out what apps are using the space and how you can free some of it up.
1. Offload or Delete Unused Apps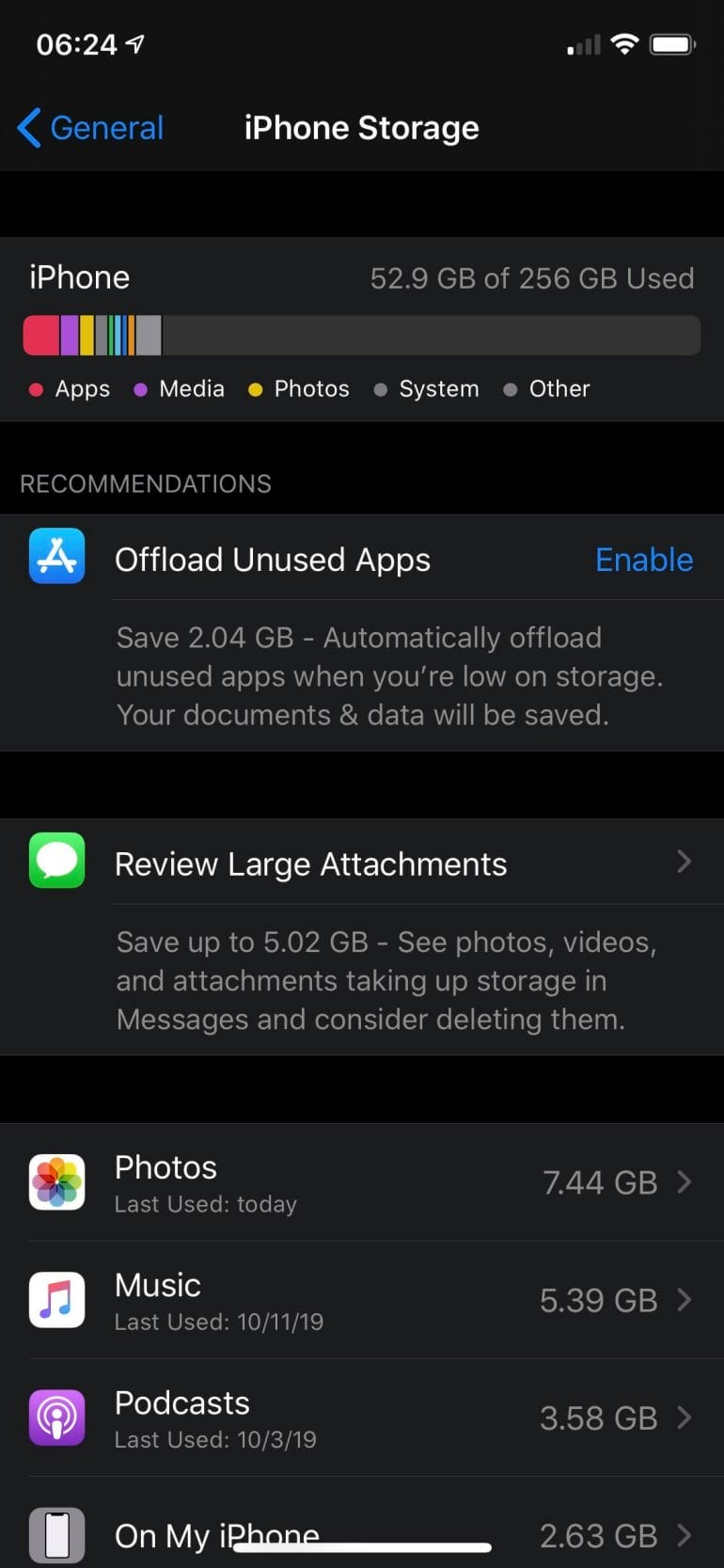 Apple introduced a feature in iOS 11 called "Offload Unused Apps." If you enable that feature in Settings > General > iPhone Storage, iOS will automatically remove unused apps when you're low on storage while preserving the documents and data associated with those apps.
That's an excellent way to free up space without having to worry about losing data.
Alternatively, I recommend simply deleting apps you don't need. If you've had your iPhone for a while, chances are that you're experiencing "app creep." That's an accumulation of apps you've downloaded over time but never actually use.
I go through my apps every couple of months and remove what I haven't used in a while. Not only does that free up space, it also removes clutter and makes the apps I do use easier to find.
2. Enable iCloud Photo Library + Optimize Storage
Most other posts on this topic I've seen recommend deleting unwanted photos and videos. However, as we've discussed in this article already, that's not necessary if you use iCloud Photo Library and enable "Optimize storage."
By doing so, iOS manages its photo storage automatically to make sure photos and videos don't consume significant local storage space.
3. Review Large Attachments
The second cool feature Apple introduced in iOS 11 is called "Review Large Attachments," and you can also find it under "iPhone Storage" in the Settings app.
The feature is a way of seeing how much space photo and video attachments in the Messages app are taking up. Plus, you can quickly remove individual attachments and thus free up space on your iOS device.
4. Review the Storage Usage of Apps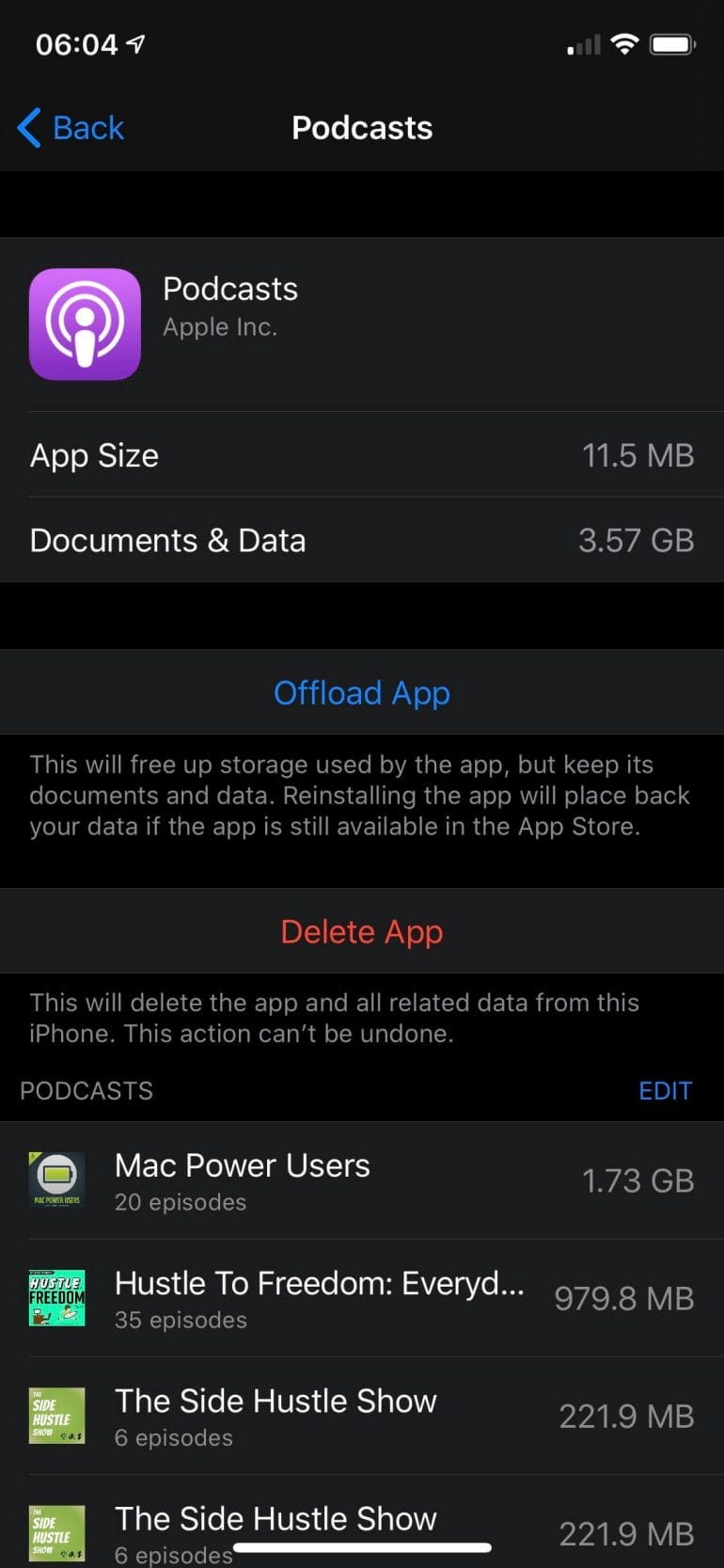 If none of the above has helped so far, it's time to figure out what apps are consuming most of your storage space. To do that, go to Settings > General > iPhone Storage and look at the app list.
If you see offending apps, you have a couple of options:
Delete app data (if the app offers that option)
Offload app
Delete app
Some apps, such as the built-in Podcasts app, allow you to remove downloaded episodes directly from within the iPhone Storage screen. Others may allow you to delete data from within the app.
If you can't do either, consider offloading or deleting the app.
There are some apps that tend to accumulate vast amounts of data. Facebook is such an example. So it might be worthwhile removing such offending apps, restarting the device, and seeing if that helped.
Either way, you can easily re-download the app and continue using it without having lost any data.
5. Clear Safari Cache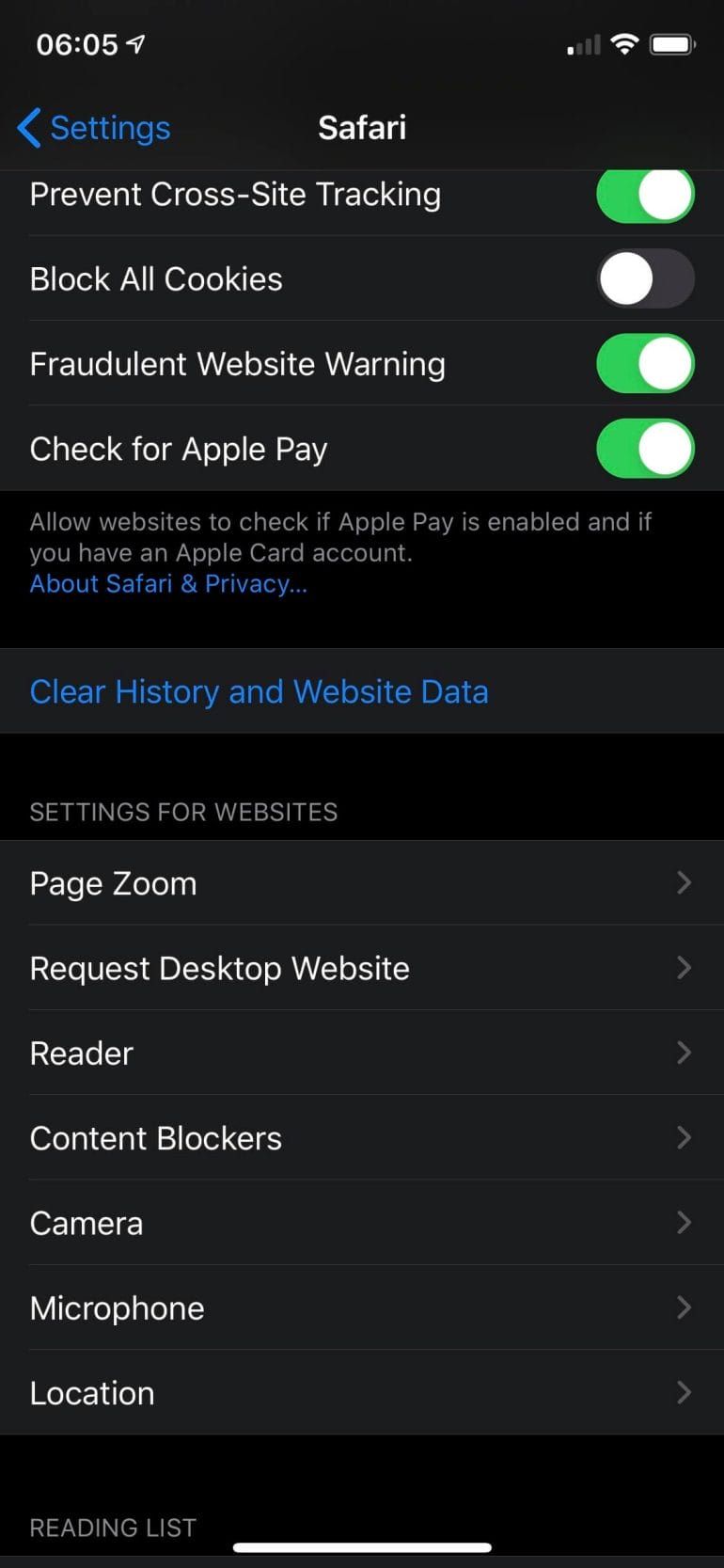 Safari — much like any other browser — leverages cache to speed up your browsing experience. That cache can grow in size over time. While I assume Apple is smart enough to let Safari manage its cache properly, some users have had success by clearing that cache to free up space.
To do so, go to Settings > Safari > Clean History and Website Data.
Note that by doing so, you'll lose your browsing history and all cookies. That means you'll have to re-login to every page that Safari had a cookie for.
4 Hail Mary Tips If You're Desperate
While browsing other articles on this subject, I've seen other tips that I don't think are going to help. But if everything else fails, I guess they're worth trying.
1. Reset All Settings
Resetting your settings won't erase any of your data. So I don't know why you would want to try that. But if you do, go to Settings > General > Reset > Reset All Settings.
2. Backup And Restore
I highly recommend automatically backing up your iPhone to iCloud every night. If you don't have sufficient space in iCloud, you can use iTunes to back up your device when you connect it to your computer.
Some people have suggested creating and restoring a backup to fix the storage problem. I don't see how that's going to work, unless you use third-party software to remove certain data from the backup file.
But instead of doing that, just remove the data from the phone directly, instead of going through the hassle or modifying a backup file.
3. Turn Off iCloud Drive
Another useless tip I've seen is to turn off iCloud Drive. By default, iOS uses an "optimize storage" setting for iCloud Drive. That means iOS only keeps copies of recently used items on your device. Everything else lives in the cloud and does not consume local storage space.
4. Buy a New iPhone

If you just got a new (or used) phone and it only has 16GB of storage, this tip might sound corny. The good news is that Apple has increased the minimum storage space in all new iPhone models to 64GB.
So going forward, there should be much less of a risk of running out of space.
Frequently Asked Questions (FAQ)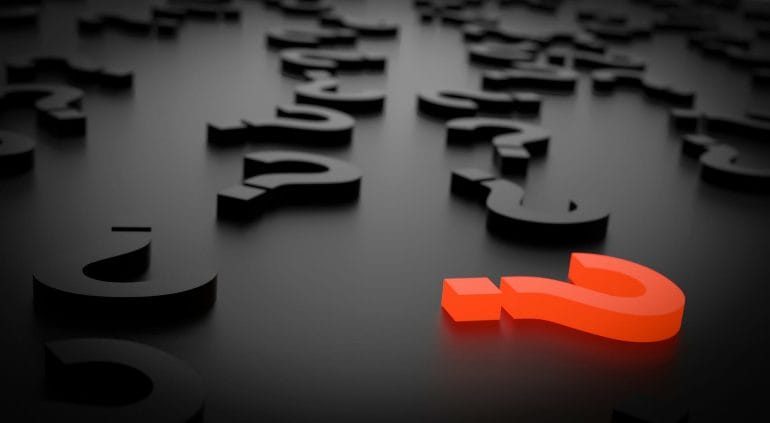 My iPhone is out of storage. How can I delete photos or videos to free up storage?
You don't have to delete anything. Just make sure you have enabled "Optimize iPhone Storage" as described above. That way, iOS will automatically remove photos and videos from your iPhone, but will keep them in cloud storage.

You will still "see" those photos on your iPhone, but that's a low-resolution thumbnail rather than the actual photo or video.
If I disable iCloud or iCloud Photo Library, will iOS delete the photos from my iPhone?
Depending on whether you have "Optimize iPhone Storage" enabled in the settings and if your iPhone has finished syncing with iCloud, iOS may remove photos and videos that were not downloaded to your device before you disabled iCloud.

But don't worry: those photos will still be available in iCloud, and you can access them from any computer by visiting icloud.com.
When I delete a photo, iOS says "This photo will be deleted immediately." Why?
It could be that you're not using iCloud Photo Library. Or, you might be out of iCloud storage, which means that iOS cannot move the deleted image to the "Recently Deleted" album.
After enabling "Optimize iPhone Storage" my phone is still full. What's going on?
You can see which apps are consuming storage space on your iPhone by going to Settings > General > iPhone Storage.
Is it possible to "selectively" sync photos and videos, like in Dropbox?
Unfortunately, it is not. Your Mac and iPhone either sync nothing, sync everything, or automatically manage storage.
What happens if I delete a photo or video from the iCloud web app (icloud.com/photos)?
That has the same effect as deleting a photo or video on your iPhone, iPad, or Mac with iCloud Photo Library enabled. In other words, the photo or video would be removed from all other iCloud Photo Library-enabled devices.
What if I don't want iCloud to remove photos from all devices automatically?
If you don't want deleted files to be synchronized, do not enable iCloud Photo Library. Of course, by disabling iCloud Photo Library, your devices won't sync any edits or changes to photos or videos.
I have done everything you said above, but I am still low on space, despite having iCloud Photo Library enabled. What now?
Double check to make sure you don't have "Upload to My Photo Stream" enabled. That's the predecessor of iCloud Photo Library, and when enabled, it creates copies of your images, but it doesn't synchronize deleted files or any changes to your pictures.

Any photos or videos stored in "My Photo Stream" take up space and may not be subject to the "Optimize iPhone Storage" settings. If everything else fails, connect your iPhone via USB to a Mac or Windows machine, transfer all pictures, and then reset your iPhone to factory settings.

When you set it up new, make sure to enable iCloud Photo Library from the get-go. If that doesn't work, or you don't feel confident doing it, go to an Apple Store and ask for help.
What happens to images or videos that I manually import via the Photos app on my Mac?
With iCloud Photo Library enabled, the Photos app will upload any images or videos to iCloud. If you have iCloud Photo Library disabled, Photos stores any imported items locally, without uploading them to iCloud.
I have thousands of photos and would like to store only the newest ones in iCloud. What can I do?
You can create a second library using the Photos app and store it on a drive with sufficient storage space (like the LaCie). You can then regularly export the oldest images (using a Smart Album) and import them into the secondary library.

Just make sure to backup your second library so that you won't lose any data if the hard disk fails. I'd recommend a quality RAID unit in combination with daily backups.
Do Not Delete Photos to Free Up Space!
Using the iCloud photos library can be a convenient way to manage your digital images and videos. However, many iPhone users have lost parts of (or all of) their library as a result of not fully understanding how the system works.
If you came to this page wondering how to free up space on iPhone, just remember that taking that step is no longer necessary. By utilizing the "Optimize Storage" feature described above, your iPhone will only download full-resolution photos when you request them, freeing up your device's storage space.
Of course, utilizing that feature requires you to sync your photos on iCloud. Anything you delete from one device will also be deleted from every other synced device. And they can only be recovered for 40 days. After that, the files are gone for good. So it's worth taking a few minutes to make sure your settings are properly configured, and to make sure you understand how synced photos are stored and deleted.
I hope this article clarifies some of the misconceptions when it comes to storage needs and deleting photos from iPhone. But if you have any further questions, please don't hesitate to leave a comment below.

I'm a healthy living and technology enthusiast.
On this blog, I share in-depth product reviews, actionable information and solutions to complex problems in plain and easy-to-understand language.