Since our daughter was born over three years ago, I have thought about how to share iCloud Photo Libraries between my wife and I. Both of us have taken a lot of photos and videos of our kids and every couple of months I create a slideshow or a video trailer. I do that because the number of photos and videos is growing so rapidly that it's unfeasible to enjoy those memories unless they are summarized in the form of a slideshow or a trailer. So the question is how to share iCloud Photo Libraries with family members aka Family Sharing.
No support from Apple
So the question is how to share iCloud Photo Libraries so I can pick the best photos and videos from both libraries. Unfortunately, Apple doesn't offer any way to get access to a family member's iCloud Photo Library, other than using iCloud Photo Sharing (previously known as Shared Photo Stream). My goal was to have a single, consolidated album containing our kid's photos and videos from both of our two iCloud Photo Libraries.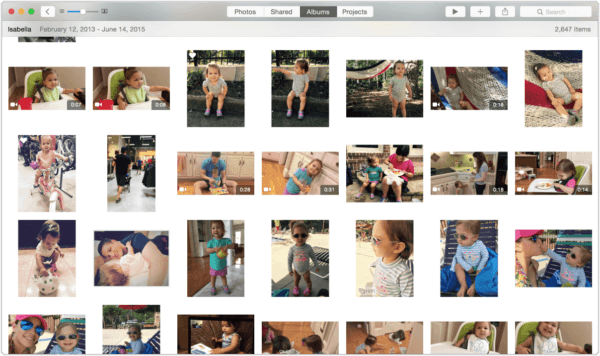 The complicated way
When I started working on a solution to the above-mentioned problem, I developed a 12-step workaround. I organize all photos and videos of our kids in an album inside my iCloud Photo Library. Then I would do the same with my wife's iCloud Photo Library and:
Export all images and videos to an external hard drive
Import them into my iCloud Photo Library
Scrub the duplicates
Manually adjust the date/time stamp of the video files (see why)
The better way
After a few months of doing it the complicated way, I found a much better solution: AirDrop. Every week, my wife would AirDrop all photos and videos she had taken that previous week to my iPhone or iPad. Once transferred, I would quickly add the new photos and videos into a "Kathy transfer" folder. That way, I could quickly identify her photos and videos to add keywords and make edits. The advantage of using AirDrop is that video files keep the correct date/time stamp that is lost when exporting them to a hard drive.
How to share iCloud Photo Libraries with family members
Despite the workaround via AirDrop, I hope that Apple makes sharing photo libraries easier in macOS 10.13. I imagine a shared photo library that does not lead to duplicate photos. In other words, sharing a photo or video merely links it to the shared library, instead of copying it. That would make my photo processing workflow much easier and less time-consuming.

I'm a healthy living and technology enthusiast.
On this blog, I share in-depth product reviews, actionable information and solutions to complex problems in plain and easy-to-understand language.