Fitbit has made the decision not to support Apple's HealthKit, and it thus doesn't integrate with the Health app. In this article, I will show you a workaround to make Fitbit support the Health app via the workflow app.
There are several ways to get Fitbit data into the Health app, but I did not want to go through a third-party synchronization app to keep the exposure of my health data limited to Fitbit and Apple. So I decided to use an app called Workflow, that bridges that gap directly on my iPhone.
A few years ago, before Apple announced HealthKit, I was shopping for a smart scale to track my weight and body fat. At the time the two major brands were Fitbit and Withings. I picked the latter, but unfortunately, it appeared to be pretty unreliable, showing different results every time I stepped on it. So I returned it and got Fitbit's Aria instead, even though I probably just had a bad unit.
Fitbit Aria smart scale
The Aria is a slick-looking scale and setup is relatively easy. The scale appears to be relatively accurate and supports multiple users that you can sync to a Fitbit account. The available iOS app gives you access to your health data and other account details.
When Apple announced HealthKit, I fully expected Fitbit to offer support for it in a future software update. That never happened and instead Fitbit "enhanced" its app with a bunch of useless gimmicks like "weight challenges."
No Fitbit, I don't want to challenge my borderline overweight cousin to see who can lose weight faster. I just want all my health metrics stored in one place: Apple's Health app.
Several complaints by users (including myself) and emails to Fitbit remained fruitless as it became evident that Fitbit had no interest in supporting a competitive platform beyond what was necessary.
I got pissed and was about to throw my Aria out of the window (or at least into the garbage bin) but instead decided to manually enter my weight and body fat into the Health app every day. That turned out to be too much of a hassle, and so I stopped using the scale altogether.
Workflow to the rescue
A while ago I then came across another blog article where someone mentioned using Workflow for adding health data to the Health app. I found that idea fascinating and decided to give it a spin. Turns out, using workflows as Today widgets is a very convenient way of entering data into the Health app. If you have an Apple Watch, you can even run those workflows directly from the watch.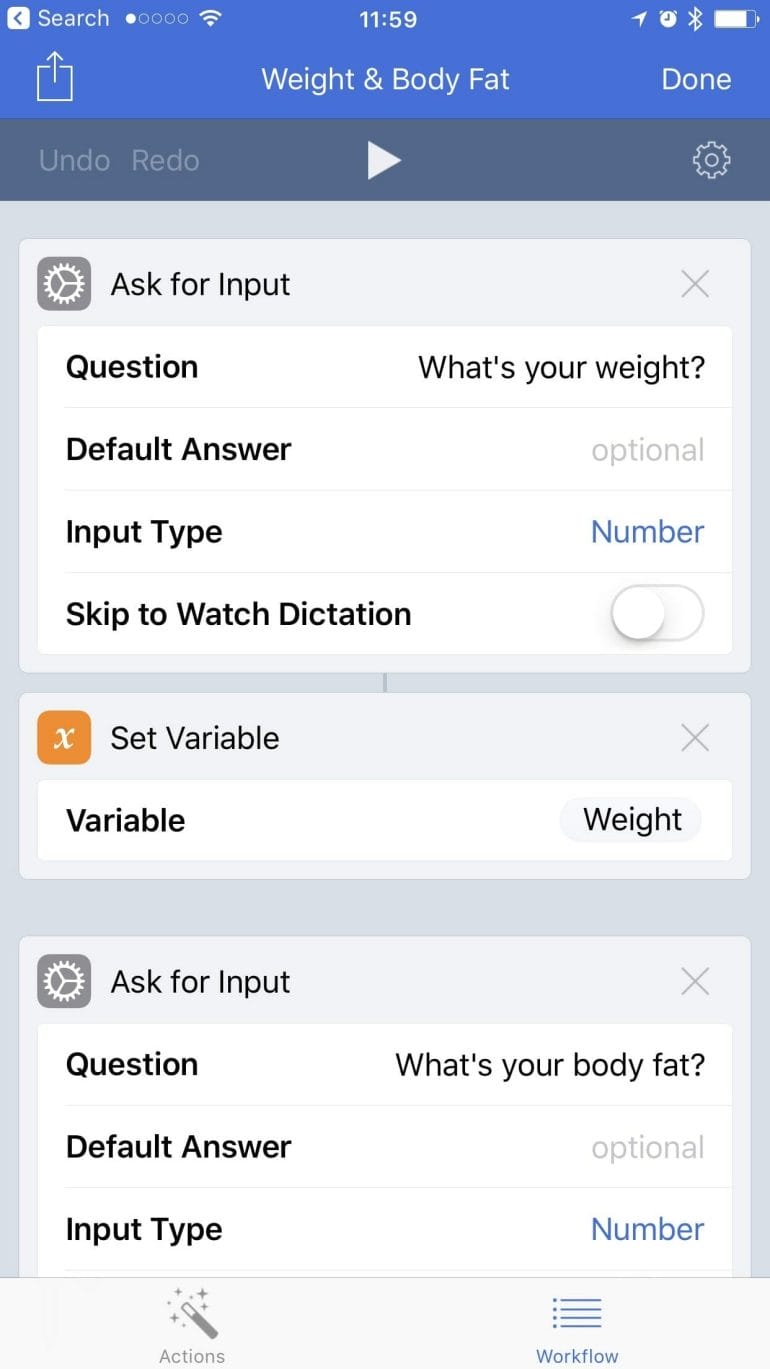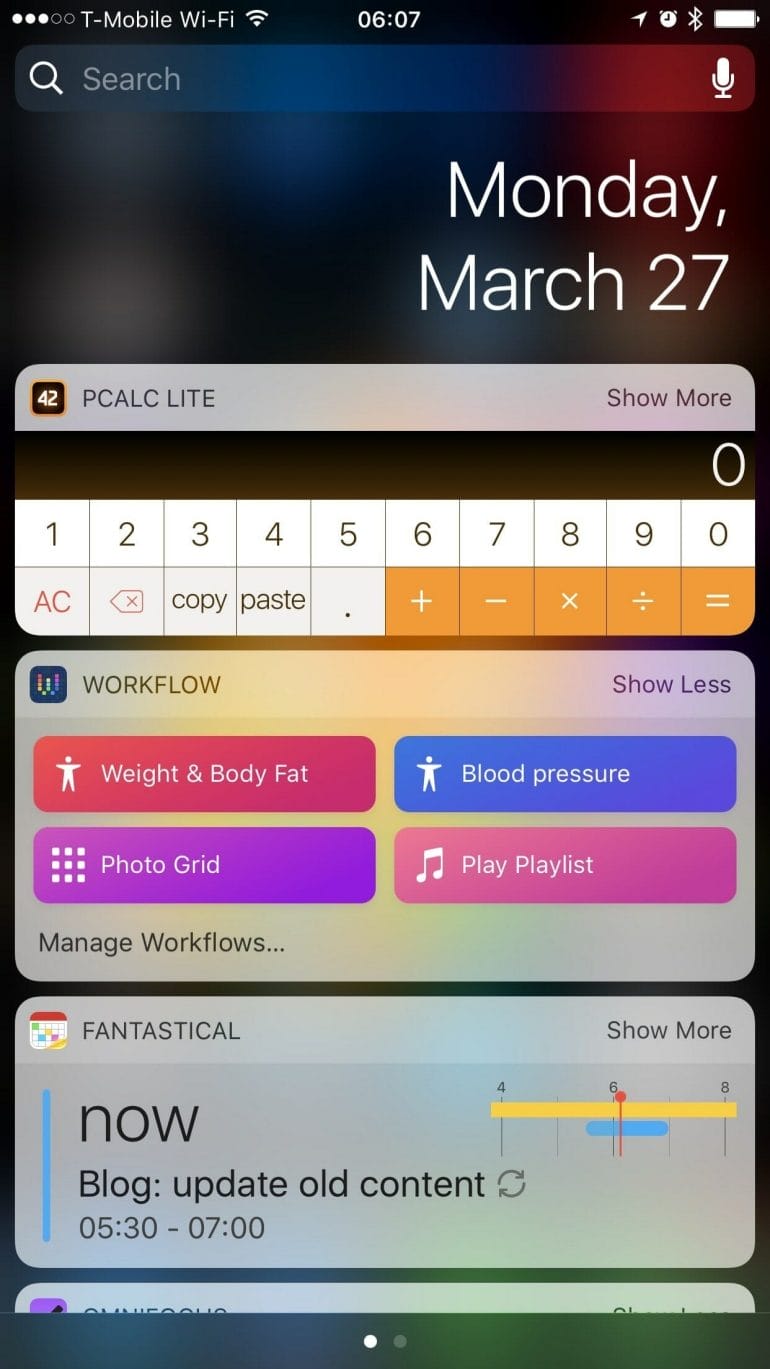 Getting started
Download Workflow from the App Store
Import my Weight & Body Fat workflow
Make sure the workflow is configured as a Today Widget (and Apple Watch if applicable)
Add Workflow to your Today view (swipe down from top of your iPhone screen to get to Today view)
Open the Health app to confirm your data was entered correctly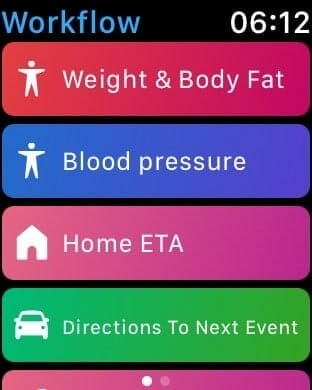 Other workflows
Besides tracking my weight and body fat, I also use Workflow to track my blood pressure, which I measure at least once a day using an old school blood pressure monitor.
Where does that leave me with Fitbit?
I'm going to keep my Aria for as long as it works because it does what it's supposed to do – measure my weight and body fat. But unless Fitbit decides to embrace Apple's technology, I won't be buying any more hardware from them. I don't use the Fitbit app either because it provides only either redundant or useless functionality.
IFTTT – A better solution
Matt, one of my readers, pointed out an even easier and thus better solution to the synchronization problem. He is referring to a service called If This Than That (IFTTT). Using IFTTT and this applet, you can automatically sync your Fitbit Aria weigh-ins to Health. Thanks, Matt!
Workaround: Fitbit support for Health app and HealthKit
Despite Fitbit's decision not to embrace Apple's ecosystem, there are fortunately workarounds. I'd prefer for my scale (or the Fitbit app) to automatically enter my health data into the Health app, but I'm more than happy with my current solution. Thanks to the great Workflow app.
Do you use any of Fitbit's products and if so, do you miss HealthKit support?

I'm a healthy living and technology enthusiast.
On this blog, I share in-depth product reviews, actionable information and solutions to complex problems in plain and easy-to-understand language.