Much of what I do on my Mac is working with files. That includes finding, opening, saving and organizing them. If you don't have a good workflow you can easily waste time on each of those tasks, thus reducing your productivity. In this post I'll show you how to save time by quickly changing the current directory in an Open or Save dialog via drag and drop.
The Issue with the Open and Save Dialog
Every application on a Mac has its own "working" directory that is displayed when you invoke the Save or Open dialog. That's fine but it's usually not the directory where you want to save a file to (or open it from). As a result, you have to click your way through the open/save dialog to find the right directory to save a file to (open it from).
I have spent countless hours navigating directories in the Open or Save dialog of various applications.
That gets old very fast, especially when you have the right directory already open in Finder. Wouldn't it be nice if you could just tell the Open or Save dialog of an application to change to the directory you have open in Finder? The good news is, you can!
Drag and Drop Into the Open or Save Dialog
To make the Open or Save dialog change the current directory, you can simply drag and drop the target directory from Finder into the Open or Save dialog. Alternatively, you can also drag and drop a file into the Open and Save dialog. That will not only change the current working directory, but it will also change the filename in the Open or Save dialog. That's helpful i.e. if you want to overwrite an existing file.
Below is a brief demo video of how it works and a couple of screenshots illustrating the issue and solution.
Third-Party Solutions
There are also a couple of third-party solutions out there that can help with Finder and directory related issues. One such solution is called Default Folder X, which I used for a while. Using Default Folder X, you can assign a keyboard shortcut to automatically change the directory in an Open or Save dialog to the directory of any open Finder window. Even though I liked Default Folder X, with its many features and capabilities, I decided to stick with what OS X can do natively.
Drag and Drop Also Works in Terminal
In case you wondered, you can also drag and drop a file or folder into an open Terminal window instead of typing its path. That's super convenient, especially if you have files or folders that contain space in their names.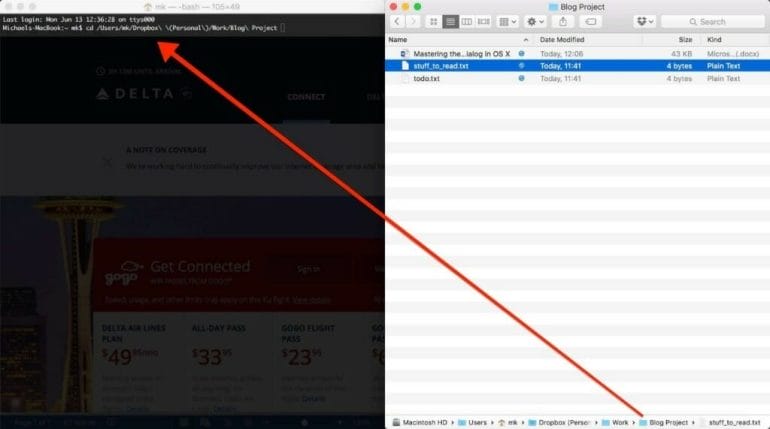 If you know of other tricks that can help you save time working in OS X let me know by leaving a comment below!

I'm a healthy living and technology enthusiast.
On this blog, I share in-depth product reviews, actionable information and solutions to complex problems in plain and easy-to-understand language.