In this article, I review the eufyCam and its less expensive sibling the eufyCam E. I also compare both models to the Arlo Pro 2 and Arlo Ultra because of the similarities between the two brands.
Summary — What You Need to Know
In comparison to other wireless home security cameras, the eufyCam shines thanks to its unprecedented one-year battery life and facial recognition capabilities that don't require a paid cloud subscription. Where the eufyCam falls short is in its support for geo-fencing (coming later this year), and Apple HomeKit.
| eufyCam Rating | |
| --- | --- |
| eufyCam | (4/5) |
| eufyCam E | (3.5/5) |
What Is eufyCam?

Even though I have reviewed many wireless home security cameras and home surveillance systems in the past, I hadn't heard about eufyCam until someone from Anker reached out and asked if I was interested reviewing their camera platform.
Eufy is a division of Anker, a well-known manufacturer of consumer electronics such as power banks, chargers, cables and other accessories.
Anker launched eufyCam as a Kickstarter project in April of 2017. The company then began mass-production and shipped the product in September 2018.
eufyCam vs. eufyCam E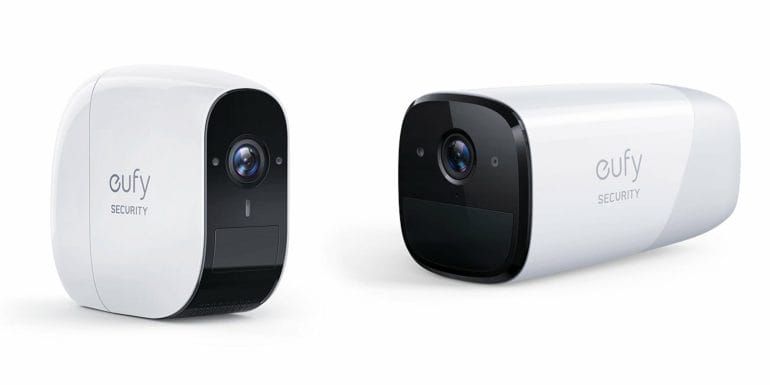 When I visited eufylife.com to pick a camera model for my eufyCam review, all I saw was the eufyCam E. Naturally, I thought that was the current model. I didn't know that the "E" signified a "light" or a less-expensive version of the flagship eufyCam.
The eufyCam from Anker is an HD home security system that provides facial recognition technology without the need for an expensive cloud subscription.
If you're also wondering what the primary differences between the eufyCam and the eufyCam E are, the distinction is simple: the eufyCam offers facial recognition technology to reduce the rate of alerts and false alarms by being able to differentiate between various people, birds, dogs or falling leaves.
Feature-wise, that's the only major difference between the two devices. However, it's worth noting that the eufyCam E has a slightly different form-factor (which is similar to the Arlo Ultra), and its IR sensor has less reach (see specifications below).
eufyCam Review

Pros
365-day battery life
Advanced object detection (without subscription)
Easy to install and configure
Intuitive mobile app
Local & optional cloud storage
No monthly fees
Cons
No geofencing
No support for Apple HomeKit
Web portal requires Adobe Flash
In a nutshell, the eufyCam is an excellent camera that offers unheard of 365-day battery life and AI-based motion detection that doesn't require cloud storage or a paid subscription. Unfortunately, Anker's security camera system lacks some features that many users (yours truly included) might sorely miss, such as geo-fencing and support for HomeKit, Apple's home automation platform.
The good news is that support for multi-user geo-fencing is on the roadmap, and Anker plans to release it later in 2019. However, the company has no immediate plans to offer integration with HomeKit.
Update: Apple announced at its World Wide Developer Conference (WWDC) that Eufy agreed to support the upcoming HomeKit Secure Video API, which will let the camera send its video to an iPad, Apple TV or HomePod to locally analyze it before sending it to iCloud, where it'll be stored encrypted. Apple will include storage space for up to 10 days of footage free to charge. I asked Eufy about it but the company won't share any details at this point. So we'll have to wait and see if existing Eufy cameras will get an update to enable HomeKit support.
Where Can You Buy the eufyCam?
The eufyCam E is available on Amazon, and the more expensive eufyCam is on bestbuy.com and in other brick and mortar stores.
Setup and Installation
My review unit consisted of the eufyCam E kit with three cameras that I strategically placed on an outdoor mount on a wooden swing set in our backyard.
The setup and installation were intuitive and hassle-free. I admit that I have installed dozens of these surveillance systems before, including more advanced technology such as UniFi Protect. However, even if you've never done it before, getting the eufyCam equipment up and running is dead simple.
At the most basic level, you only have to follow these steps:
Download the eufyCam Security app from the App Store (it's available for both iOS and Android).
Plug in the base station (HomeBase) to a power outlet and connect it to an ethernet switch or to the modem your ISP provided.
Connect the HomeBase to your wireless network (WLAN).
Sync each eufyCam camera to the base unit using the eufyCam mobile app.
Configure your motion detection and alert settings.
Anker includes two mounting mechanisms with each camera:
Magnetic mounts, which were similar to what I was used to from installing my Arlo cams.
Screw mount, which offers more stability and security. This is how I mounted my cameras to the wooden beams of the swing set.
From start to finish, the installation took approximately 30 minutes. That included 20 minutes to climb up on the swing set, find the ideal mounting positions, and mount the three cameras.
Video Quality
The eufyCam features a full-HD 1080p Sony Exmor sensor, combined with a large f/2.2 aperture.
The smaller the f-number, the larger the aperture is, and the more light can enter through the lens. A larger aperture results in crisper and clearer footage, especially in low-light situations.
With sufficient light, the picture and video recording quality of the eufyCam is outstanding. In low-light or no-light situations the eufyCam produces a decent image, albeit a fuzzier one than what I'm used to with the Arlo Pro 2.
While I don't have any hands-on experience with the Nest IQ cam and its quasi-4K recording resolution, I own an Arlo Ultra and a UniFi Video Camera G4 Pro. Both offer a 4K ultra-high-resolution sensor, and while you can surely tell the difference between 4K and 1080p, the lower resolution works perfectly fine for my purposes.
In fact, 4K streaming with Arlo only works while you're connected to your home's Wi-Fi network, due to the associated bandwidth requirements. If you're remote (i.e., live streaming your feed or watching video clips on your smartphone), you'll get a 1080p picture.
Field-of-View
What I like about the eufyCam is its relatively wide field-of-view (FOV) of 140 degrees. The wider the FOV, the more area a single camera can capture.
In comparison, the Arlo Pro 2 has a FOV of 130 degrees, while the Arlo Ultra captures 180 degrees without distortion.
Motion Detection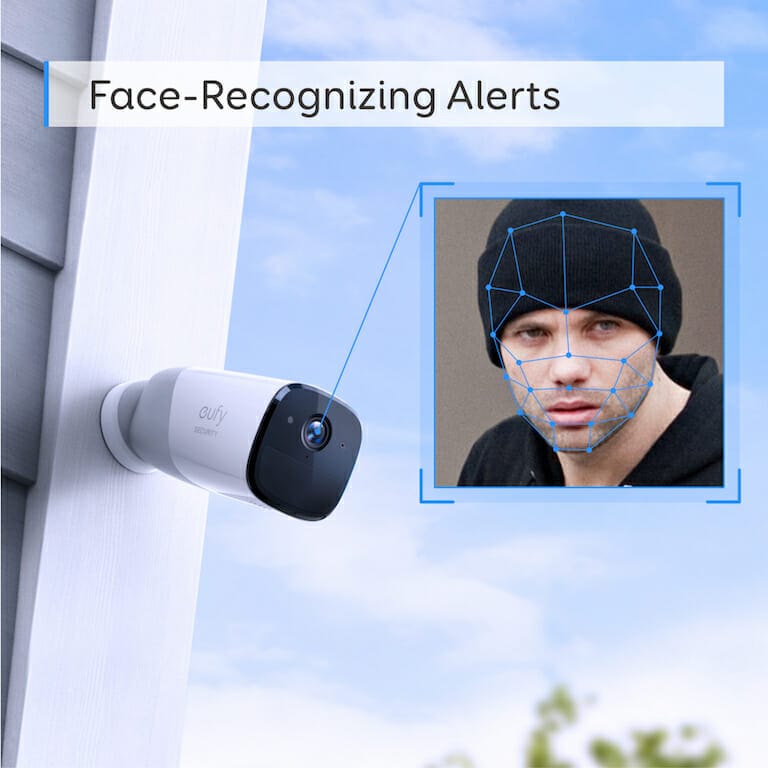 eufyCam uses a three-step scanning and filtering process as part of its motion detection algorithm.
Step one uses a passive infrared (PIR) motion sensor that differentiates between living objects (that emit body heat) and things like leaves or moving shadows.
Step two leverages the artificial intelligence (AI) capabilities that Anker baked into the HomeBase to detect the shapes of humans.
Step three uses facial recognition technology to differentiate between known and unknown faces or people.
Theoretically, that means you should only get motion alerts when the camera detects an unknown person. However, facial recognition only works if the camera can get a good, unobstructed look at the person's face.
If you own a newer iPhone, don't expect the facial recognition technology in eufyCam to work as reliably as Face ID.
Practically that means you're likely to get fewer push notifications, but expect some false alarms.
Geo-fencing and Scheduling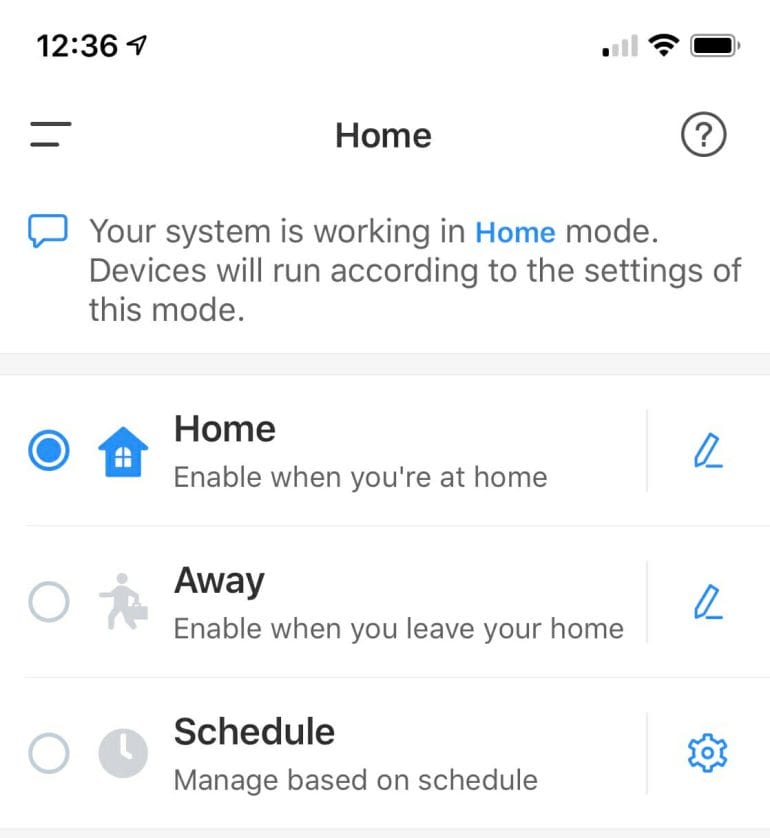 In our home, support for geo-fencing would help to dramatically cut down on the number of notifications the eufy Security app sends us.
When the kids are on the back patio or in the backyard using the swing set, I get bombarded with motion alert notifications. So I can't wait for Anker to add support for multi-user geo-fencing. That way, I can disable alerts while someone is home.
Depending on your requirements, Anker offers a couple of workarounds, including scheduling and manually switching the system between home and away mode.
Both my wife and I work from home, so scheduling doesn't make sense for us.
If you're using Amazon Alexa or Google Assistant, you can use the voice commands of your home automation platform to switch modes.
If Anker supported Apple HomeKit, I could use its geo-fencing features to automatically enable the "away" mode when I leave the house. Unfortunately, Anker has no plans to integrate with HomeKit.
Battery Life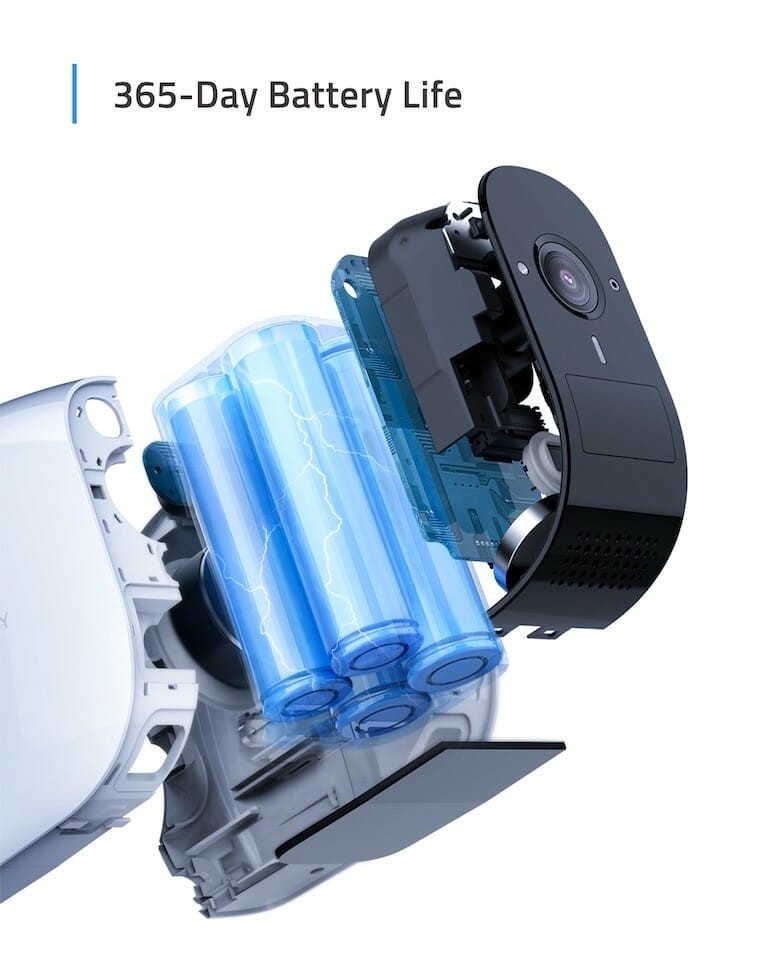 The incredible battery life of the eufyCam is what makes this camera system unique and worth considering.
Until Anker released the eufyCam, owning a wireless security camera meant replacing batteries every couple of weeks or months. While having to climb up a ladder to replace batteries every three months — as in the case of Arlo — doesn't sound so bad, it can get annoying quickly if you have multiple cameras.
Battery life often depends on how much motion the camera detects. So even if I charged all my Arlo cameras at the same time, they would likely run out of battery at different times.
One of Anker's priorities when developing the eufyCam was to significantly improve battery life over competing solutions. The company achieved that feat by adding more battery capacity into the camera housing, better power management, and by leveraging HybridWave technology that consumes 70% less energy.
HybridWave leverages more-efficient low-frequency wireless protocols for communication between the camera and its base unit.
HomeBase and Siren
Much like Arlo, eufy requires a central hub, also known as HomeBase, for the cameras to work.
However, in contrast to other HD security camera platforms, the HomeBase is equipped with AI technology to analyze captured motion events and detect objects and friendly faces. Most other manufacturers do that analysis in the cloud and often require a paid subscription with hefty monthly fees.
Doing that video analysis locally has two advantages:
You don't need to pay for a cloud subscription.
There's less risk that of Anker accidentally (or intentionally) violating your privacy, as Ring and Nest have been accused of.
Besides that unique selling point, the HomeBase also features a built-in siren and microSD card slot to store video clips.
Frankly, I have never used the siren on any of the security camera systems I've tested.
Why?
Because of the high rate of false alarms those systems produce. Once I no longer get unwanted notifications, I might consider turning it on.
Home Automation
Home automation technology has come a long way since significant players like Apple, Amazon and Google announced their platforms. Unfortunately, those competing standards aren't compatible with each other, and maybe never will be.
That's bad news for consumers who are looking for seamless solutions that just work and are compatible with the devices they already own. We're an Apple household and have made significant investments in HomeKit.
Unfortunately, eufy doesn't support HomeKit and the company has no plans to support such an integration.
The good news is, eufy does support both Amazon's and Google's home automation platforms. As a result, you can set up geo-fencing and voice control using those two platforms.
Mobile App and Web Interface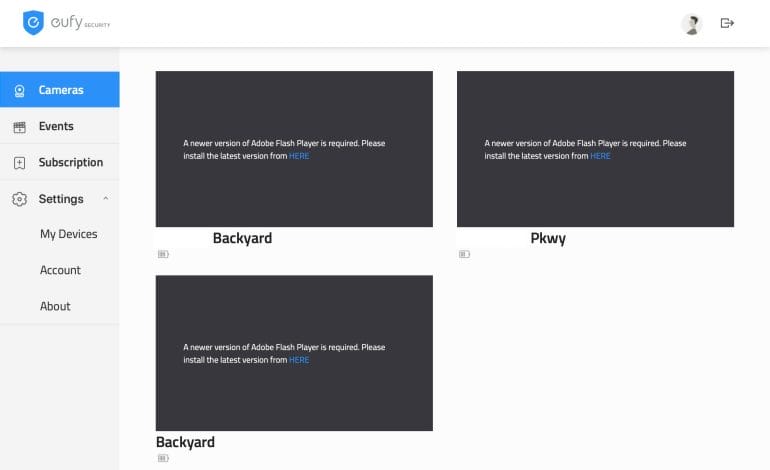 The mobile app of a home security camera system is likely what you'll end up interacting with the most, as opposed to a traditional web interface. That's why it's crucial that the app is both user-friendly and intuitive to use.
The eufy Security app for iOS is a prime example of how a mobile app should be. It's well-designed, intuitive, and incredibly easy to use. I love it. What's interesting is that the eufy app looks very similar to the Arlo app. I don't consider that a bad thing, mainly because the Arlo app is also a good iOS "citizen."
Unfortunately, I don't have as much praise for the web interface. Both Arlo and eufy require Adobe Flash to access their camera's video live streaming. Yikes!
Flash was an awful and useless technology from the day it was invented, and even Adobe realized that in 2017 when they declared that flash would die by 2020. So it's beyond me why anyone would build their platform on this dead-end technology.
I already dinged Netgear (the company that used to own Arlo) for that last year, and I was disappointed when I realized that Anker went the same route with the eufyCam.
Web Interface and Recorded Events
Beyond the Flash fiasco, there isn't much more the web portal has to offer. Replaying previously-recorded events only works if you have a cloud subscription. In other words, you can't replay locally-recorded footage (as you can with UniFi Protect).
Fun fact: If you click on the Events tab, you'll get the following notice that someone must have forgotten to check for spelling and grammar:
It's unavailable to play the clips stored in HomeBase local storage by web portal because they have been advanced encrypted. It's recommended you to play them in the app or subscribe to the cloud recording service.
Local and Cloud Storage

One thing I like about eufy is that I can keep my footage off the internet and don't have to push uploads to a cloud storage platform.
In other words, I can store all my video recordings directly on a 16 GB microSD card that eufy includes with each camera kit. That allows you to store up to one year of footage, assuming your cameras record 10 videos per day of 30 seconds each.
Of course, you can always buy a higher-capacity micro SD card and replace the 16GB card eufy bundles with each kit.
Eufy claims that it encrypts the microSD card using a secure AES-256 encryption algorithm. I pulled the card out of the HomeBase and plugged it into my Mac to see what data it contained. My Mac couldn't even mount the card, and a quick analysis revealed only garbled data.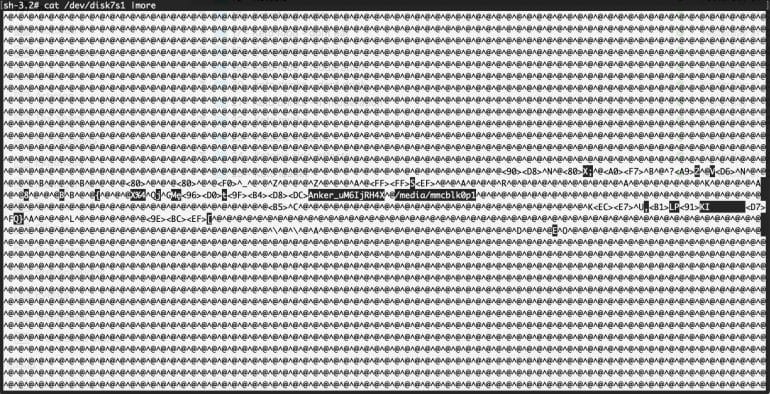 That doesn't say anything about how eufy has implemented encryption, but it's at least a sign that the average Joe can't just pull the microSD card from your HomeBase, plug it into a computer, and get access to all of your footage.
Eufy Subscription Plans
In addition to storing all footage locally, eufy offers two subscription plans that get you 30 rolling days worth of cloud video storage.
The Basic plan is for single cameras and costs $2.99 per cam per month (or $29.99 per year), and the Premier plan covers up to 10 cameras and costs $9.99 per month (or $99.99 annually).
Other Features
Besides everything I already mentioned above, the eufyCam offers the following features:
Two-way audio: You can use the built-in microphone for two-way communication with someone who is in front of the camera.
Weatherproof: A prerequisite for an outdoor camera that might get wet due to rain and snow. The eufyCam has a weatherproof rating of IP67, and the eufyCam E has a rating of IP65.
Anti-theft alarm: Once enabled and someone tries to steal your camera, the siren sounds an alarm that's as loud as a jackhammer.
The problem with wireless security cameras is that someone could easily steal them, even if you manage to record the thief. Eufy makes clever use of a so-called accelerometer that can detect movement of the camera body after you've installed it. So if someone tries to snatch your camera, a 100-decibel siren goes off, hopefully deterring the thief.
eufyCam vs. Arlo vs. Nest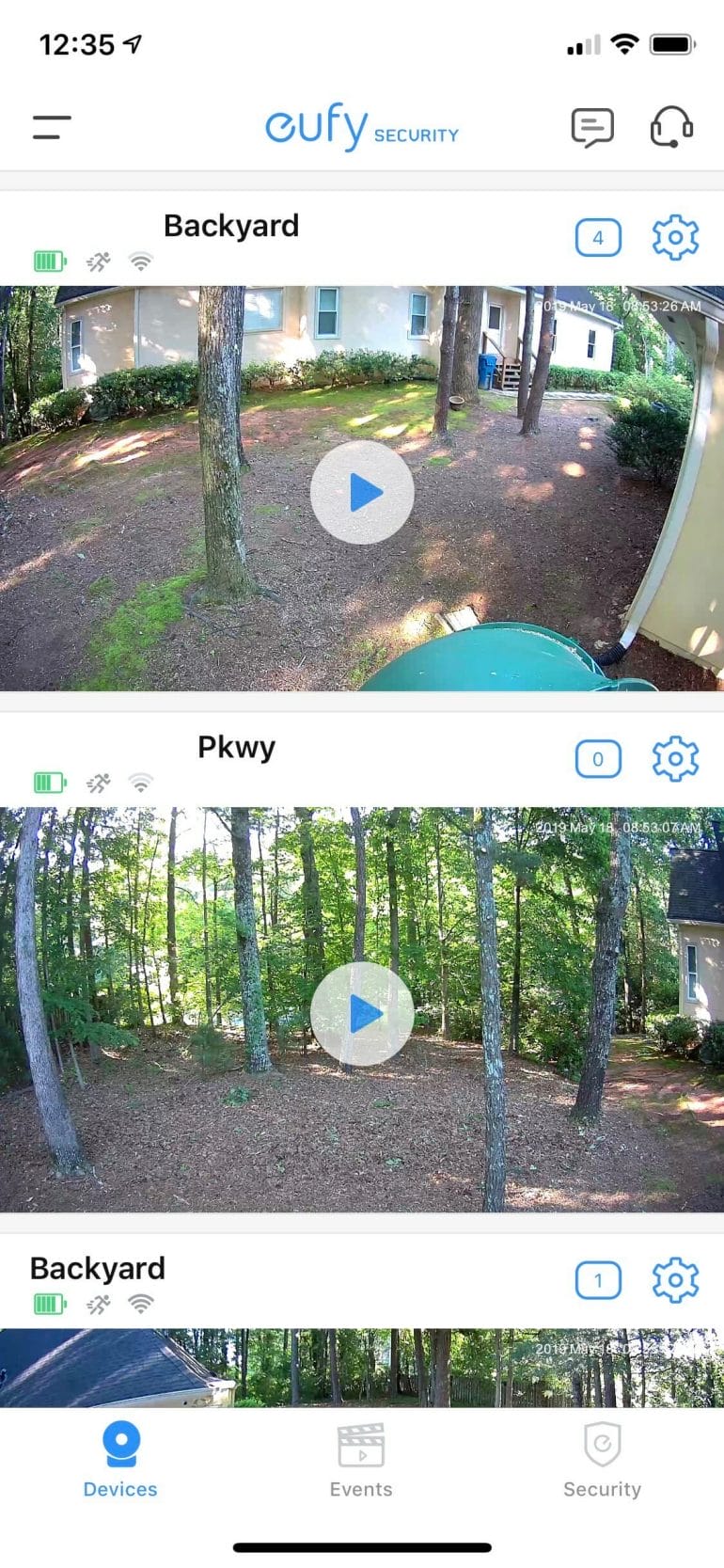 | | eufyCam | eufyCam E | Arlo Pro 2 | Arlo Ultra | Nest Cam IQ Outdoor |
| --- | --- | --- | --- | --- | --- |
| Resolution | 1080p | 1080p | 1080p | 4K | 1080p with 4K upscale |
| Wireless | Yes | Yes | Yes | Yes | No |
| Battery Life | 1 year | 1 year | 3 months | 3 months | N/A |
| Object detection | Yes | Yes | With subscription | With subscription | With subscription |
| Facial recognition | Yes | No | No | No | With subscription |
| Field of view | 140° | 140° | 130° | 180° | 130° |
| Geo-fencing | No | No | Yes | Yes | Yes |
| Night vision | 33ft | 25ft | 25ft | 25ft | Unknown |
| IP rating | IP67 | IP65 | IP65 | IP65 | IP66 |
| Fast charging | Yes | Yes | No | No | N/A |
| Local storage | Yes (encrypted) | Yes (encrypted) | Yes | Yes | No |
| Backup power supply | Yes | No | No | No | N/A |
| Anti-theft alert | Yes | Yes | No | No | No |
| Mounting options | Magnetic or screw mount | Magnetic or screw mount | Magnetic mount | Magnetic mount | Screw mount |
| MSRP (camera kit) | $499.00 | $315.99 | $229.99 | $599.99 | $619.99 |
As you can see in the comparison table above, the primary differences between the eufyCam and Arlo are the battery life, facial recognition, the anti-theft alert, cloud subscription requirements and geo-fencing.
Specifications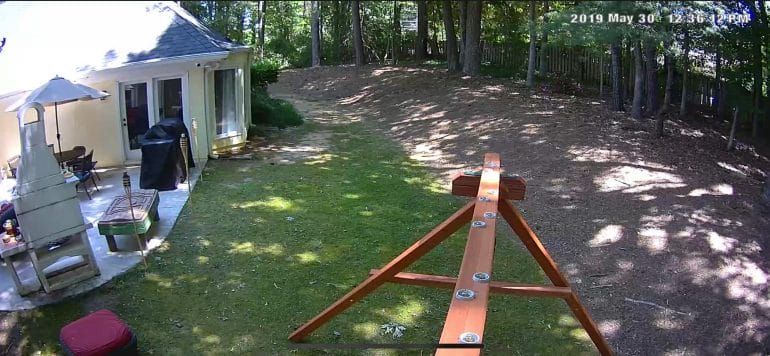 | | |
| --- | --- |
| eufyCam | |
| Resolution | 1080p |
| Video format | H.264, High Profile |
| Image sensor | Sony Exmor IMX323, 1/2.9-inch |
| Field of view | 140° |
| Night vision range | 33ft (25ft for E model) |
| Wireless | Low-frequency wireless and 2.4G Wi-Fi |
| Battery Life | 1 year usage, 3 years standby |
| Digital pan and zoom | Yes (8x) |
| Audio | Speaker and microphone |
| Motion detection | Adjustable sensitivity, object detection, facial recognition |
| Weight | 13oz (370g) |
| Dimensions | 4.2 x 2.2 x 2.2 in (106.7 x 57 x 57 mm) |
| Operating temperature | -4° F to 122° F (-20° to 50° C) |
| Warranty | 1 year |
| Supported platforms | iOS 8 or later, Android 4.4 or later |
What's in the Box?
If you get the kit, you'll receive the following items in the box (in addition to the actual cameras):
HomeBase with 16GB of storage (via microSD card)
microUSB cable
Power cable
Ethernet cable
Frequently Asked Questions
Does eufyCam support motion zones?
No, eufyCam currently does not support the creation of motion zones. That means the camera always monitors its full field-of-view for motion events.
Does eufyCam support push notifications with preview images?
No, eufyCam doesn't currently support rich notifications, like Arlo does as part of its premium subscription service.
Is the eufy Security app Available For Android devices?
Yes, the app is available for both iOS and Android.
eufyCam Security Camera Review
At first glance, you can't deny the resemblance of the eufy hardware and software to Arlo's security cameras. However, if you take a closer look, you'll notice some distinct differences.
The two significant features that set the eufyCam apart from every other manufacturer are the battery life and facial recognition technology. What makes the latter so unique is that eufy does it without requiring a (paid) cloud subscription. That's a huge plus from a privacy and data protection perspective.
Unfortunately, advanced object recognition and facial detection are only available in the eufyCam. The less-expensive eufyCam E features the same one-year battery life, but it doesn't have the advanced motion detection features of its more-expensive sibling.
As a result, I'd recommend the eufyCam over the eufyCam E, unless your primary concern is battery life and you don't care about advanced motion detection.
Have you tried the eufyCam or any other wireless home security camera before? If so, I'd love to hear your feedback, so leave me a comment below!

I'm a healthy living and technology enthusiast.
On this blog, I share in-depth product reviews, actionable information and solutions to complex problems in plain and easy-to-understand language.