ecobee just announced the newest version of its smart thermostat – the ecobee4 with built-in Alexa voice service. I own two of the original ecobee3 thermostats, and in this article, I will tell you if the ecobee4 is worth the upgrade and how it stacks up against the ecobee3 Wi-Fi thermostat.
Reviewed ecobee Thermostats
A few years ago, I switched from the Nest Learning Thermostat to ecobee and installed two ecobee3 units and a couple of remote sensors in our house. At the time, Apple was already working on HomeKit, its home automation platform, but they hadn't officially announced it yet. A few months later, ecobee introduced an updated ecobee3 with support for HomeKit, and I wished I had waited a little longer. Ultimately, I decided to stick with my investment and not upgrade to the HomeKit-enabled version of the ecobee3.
ecobee4 Review
A few weeks ago, retailers started discounting the excellent ecobee3 and marketing material of a new ecobee version surfaced. Those were clear indications that ecobee had a new product in the works that should launch soon. On May 3rd, ecobee announced the brand-new ecobee4 smart thermostat. Its key feature is Alexa, Amazon's voice service that ecobee built directly into the smart thermostat.
Highlights
The ecobee4 inherited everything that helped the ecobee3 to its success. As a result, it includes support for Apple HomeKit, Samsung SmartThings, IFTTT (If This Than That) and more, including:
Highlights
Smart Home/Away
Follow Me
Smart Recovery
Home IQ™
Alerts & Reminders
AC overcool to dehumidify
Robust staging options
Optimal humidity
Fan dissipation
Free cooling
On top of that, ecobee added the following additional features to the ecobee4:
Amazon Alexa directly built-in
Embedded microphone with far-field voice recognition
Built-in speaker for clear voice and full sound
The ecobee3 offered already limited integration with Alexa, but you had to have an Amazon Echo. As a result, you could ask your Amazon Echo to change the temperature of your ecobee3 thermostat. With the ecobee4, you don't need any additional devices, and instead, you can trigger Alexa directly from your thermostat.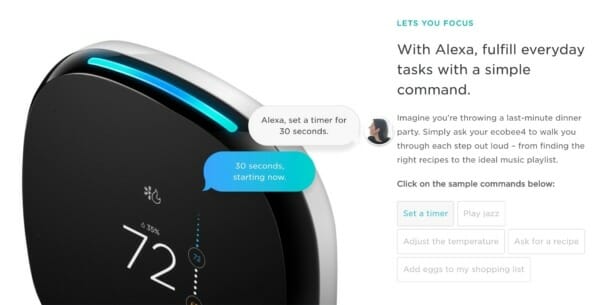 Alexa Integration
Alexa is Amazon's answer to Apple's Siri, Microsoft's Cortana and Google Assistant. It's a voice service that Amazon helped to fame via the Amazon Echo, a hands-free, voice-controlled speaker and personal assistant.
Alexa, the voice service that powers Echo, provides capabilities, or skills, that enable customers to interact with devices in a more intuitive way using voice. Examples of these skills include the ability to play music, answer general questions, set an alarm or timer and more. Alexa is built in the cloud, so it is always getting smarter. The more customers use Alexa, the more she adapts to speech patterns, vocabulary, and personal preferences.
Amazon decided to make the Alexa's Application Programming Interfaces (APIs) available to third-parties, enabling device manufacturers, such as ecobee, to integrate the platform directly into their devices.
ecobee4 vs. ecobee3
Depending on what generation of ecobee3 you have, the difference between the ecobee4 and the ecobee3 may go beyond the built-in Alexa voice service. I mentioned at the beginning of the article that I still own two of the original ecobee3 thermostats. Back then, ecobee didn't support Apple HomeKit, SmartThings and some of the other cool features if offers today. If you already own the last-generation ecobee3, then you only miss out on the built-in support for Alexa.
Ecobee also just released an update to its ecobee3 lite product line. I have never used the ecobee3 lite, and thus I have no experience with it. But based on the specifications, it seems to support the major home automation platforms but lacks some of the advanced features of its big brother.
How to upgrade
The ecobee4 comes with a new Power Extender Kit (PEK) that's different to the one you got with the ecobee3. So you will need to perform some rewiring as explained here. If you are upgrading from an ecobee3 lite, the wiring stays the same. The ecobee4 unit I got, replaces an old ecobee3 that I have connected to an HVAC system with a humidifier. Below are some photos of the wiring before and after the ecobee upgrade.
The photos above show the wiring of the ecobee3, including a humidifier. On the wall panel, the humidifier is connected via the ACC+ (white) and ACC- (red) wires. That's why you see two red and two white cables connected to the HVAC control board in the attic. If you don' have a humidifier, don't worry about those extra wires.
As you can see in the above photos, the wiring between the PEK and the HVAC control board is the same for the ecobee4 and ecobee3. But at the wall panel, some wires have changed:
G (green) wire becomes the C wire
The Y1 (blue) wire becomes the PEK wire
Swapping the ecobee3 out for the ecobee4 took approximately 20 minutes and was relatively straightforward. I don't have a degree in electrical engineering and had no issues performing the work myself. But if you do need help, ecobee is there for you. Just give them a call at the number mentioned in the installation manual.
How to configure the thermostat
I performed most of the configuration directly on the thermostat. I started with transferring WiFi information from my iPhone to the ecobee4 by connecting the iPhone directly to the thermostat. It'll tell you exactly how to do that via instructions on the screen. Then I entered some information about my HVAC equipment and my home, skipped the Alexa setup and finished the installation.
Here I wished that the ecobee4 would have asked to transfer all that information from an existing thermostat or my account. But punching all that information in, took only a minute, so it wasn't a big deal. Once the setup was completed, I changed the comfort settings and enabled HomeKit via the ecobee app on my iPhone.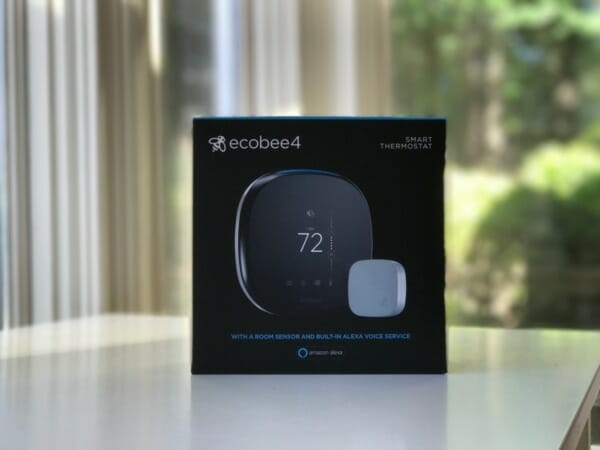 Ecobee4 compatibility with wireless room sensors
If you purchased wireless room sensors for your ecobee3, you might wonder if they are compatible with the ecobee4. The good news is that they are. In fact, ecobee seems to be shipping the same sensors that they shipped with the ecobee3. You can see proof of that by taking a closer look at the label of the sensor I got with the ecobee4.
Is the ecobee4 worth the upgrade?
That's the million Dollar question, or, in the case of the ecobee4, the $249 question. So let's look at different scenarios, based on your starting point.
Home with dumb thermostat
If your home is still equipped with a dumb thermostat that doesn't have any of the advanced capabilities of the ecobee, then the upgrade is undoubtedly worth it. By upgrading to the ecobee4, you will not only save money in the long run and potentially extend the life of your HVAC equipment, but you will also feel more comfortable at home. Plus, you'll be one of the cool kids who can control your home's temperature with your voice or from a smartphone.
Home with a smart thermostat other than ecobee
Unless you live in a home that has only one room, you will benefit from ecobee's wireless room sensors. I used to have two Nest thermostats, and the lack of remote sensors was the primary reason why I switched to ecobee.
Home with the original ecobee3
If you already have one or more of the original ecobee3 thermostats, then you are in the same boat as I was. I am currently in the process of getting my feet wet with Apple HomeKit and home automation in general.
So upgrading my thermostats and bringing them onto HomeKit was a logical next step and the primary driver why I was looking into the ecobee4. To me, it's just much more convenient to say "Hey Siri, set my thermostat to 72 degrees" than having to pull out my iPhone to use the ecobee app. If you don't care about home automation and Alexa, and if you are happy with your ecobee3, then, by all means, stick with it.
Home with the latest ecobee3
If you just bought an ecobee3, which comes with all the home automation features and even some limited integration with Alexa, it may be a hard sell to upgrade to the ecobee4. You are basically in the same position as I was when I purchased the original ecobee3 and a few months later, ecobee released a HomeKit-enabled version. I didn't upgrade back then because HomeKit was still in its infancy and not many manufacturers supported it.
The situation with Alexa is a bit different today, as Amazon enjoys broad support, also thanks to the Amazon Echo. If you have invested in the Amazon ecosystem, then the ecobee4 is a natural extension and may make perfect sense for you.
Amazon ecosystem
I have not invested in the Amazon ecosystem, other than enjoying a Prime membership, and I have no immediate intention to change that. For this review, I downloaded the Alexa app to my iPhone to see what it can do. Unfortunately, it's not much, based on what I need.
Calendar integration is limited to Google and Microsoft accounts, and there is no support for Apple's iCloud.
Reminders only work with Anydo or Todoist, but not iCloud Reminders or Omnifocus.
Music playback works with Amazon Music, Spotify, Pandora, iHeartRadio, and TuneIn, but of course, not with Apple Music.
Regarding shopping, I don't see myself telling Alexa to order something on Amazon. I usually do research and read reviews before ordering anything. If I am already in front of my iPhone, iPad or Mac, I can just as well order from there. Repeating a past order is an unlikely use case in our home too. If we need something more than once, we usually add it to Subscribe & Save. So there is no need to tell Alexa to order more detergent, for example.
ecobee4 and Alexa
We have established, that I am not super thrilled about Amazon's voice services. But has the ecobee4 the potential to change that? The short answer is no, or at least, not yet and here is why.
I have an Apple Watch and thus access to Siri from my wrist. So instead of talking to the ecobee4 across the room, I can just talk to my Apple Watch. Plus, the ingenious builders who built our home put both thermostats into the formal living room that we never use. As a result, we only pass by the thermostats when we move from one side of the house to the other. So talking to the ecobee4, despite its microphone with far-field voice recognition isn't feasible.
But even if I could, I don't know what I would ask Alexa that I can't ask my Apple Watch, iPhone or iPad.
Alexa-enabled light switches
At the launch event last week, ecobee also announced new Alexa-enabled light switches that double as wireless room sensors. That's very exciting as it gives you the opportunity to equip every room with a wireless remote sensor and far-field microphone. To me, that makes so much more sense than an Alexa-enabled thermostat. You just have to be comfortable knowing that Amazon could potentially be listening to every word you say. I am not saying they would do that, but once the technology is in place, there is the potential for abuse and the risk of someone hacking into it.
In case you wonder, the same is true with Siri on the Apple Watch and newer iPhone models. The microphone has to be always on for the device to recognize the "Hey Siri" command without you pushing a button. So it boils down to if you trust your technology provider. If you don't, you can always turn the feature off.
Ecobee smart thermostat review
Based on what I need, the decision to get the ecobee4 was a no-brainer. The ecobee4 is an excellent thermostat that's packed with the latest technology available. It's easy to use, well-built and, together with my smoke alarms, it serves as the core pillar of my home automation strategy. I have been recommending ecobee since I purchased the original ecobee3 and my opinion about the company and its products hasn't changed. In fact, I am so much of a fan that I even agreed to wear a wool hat for a selfie in 80-degree weather.

I'm a healthy living and technology enthusiast.
On this blog, I share in-depth product reviews, actionable information and solutions to complex problems in plain and easy-to-understand language.