Ecobee and Nest are arguably the two dominant smart thermostats in the market. So I tested the thermostat models from both brands over several months to find out which one was the better choice based on my requirements. Continue reading to find out which device earned a permanent spot in our home.
The primary focus of this review is to compare the
ecobee4
with the 3rd Gen Nest Learning Thermostat. However, I make several references throughout this article to the ecobee3 lite and Nest Thermostat E and also included both in the comparison table below.
Programmable vs. Smart Thermostats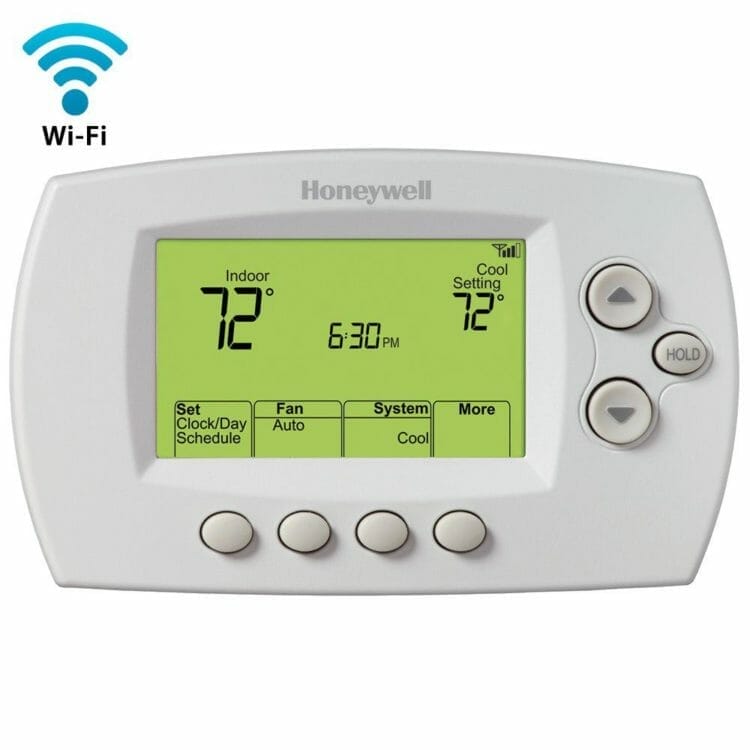 In 2013, my wife and I bought a 3300sqft ranch-style home that had two programmable thermostats. I'm a technologist and Apple fan, and when I heard that two former Apple engineers, Tony Fadell, and Matt Rogers had developed Nest, a slick-looking new thermostat that required little interaction because it could learn our heating and cooling preferences, I immediately bought a pair and replaced the old units.
Nest Learning Thermostats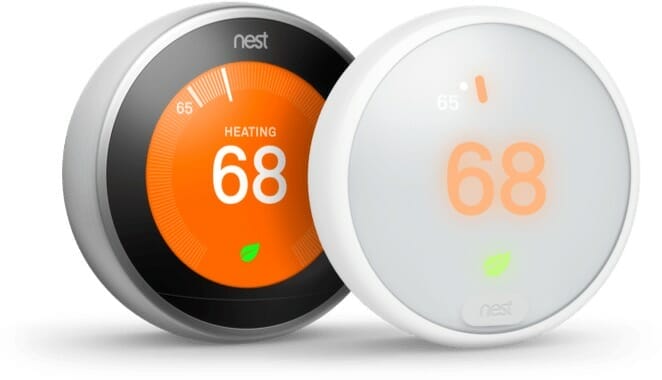 The idea behind Nest is that the thermostat learns your heating and cooling preferences over time, thus keeping your interaction with the device to a minimum. Of course, when you first install Nest, you can change the assumptions Nest makes about you, such as when you leave home, go to bed, etc. From there, every time you adjust the temperature, it will learn from that behavior. The ultimate goal is for Nest to understand your preferences well enough so it can make those adjustments automatically for you.
Note that Nest offers two models of its thermostat – the classic Nest Learning Thermostat and the Nest Thermostat E, which is a smaller polycarbonate (plastic) version. This review focuses on the more expensive, metal version.
Nest Pros and Cons
Pros
Excellent build quality, featuring a stainless steel ring and glass display
Integrates and is compatible with other Nest products
Built-in lithium-ion battery to defend against power outages
Supports two or three-speed fans
Cons
Occasional connectivity issues with our WLAN router
Some folks find the user interface counter-intuitive
Remote sensors can measure temperature only but not occupancy
Owned by the company that makes money with information about its users
BMW-like turn and click is a nightmare for entering long and complex WLAN passwords
Limited support for home automation platforms
Compatibility with HVAC Systems
Nest claims that its learning thermostat is compatible with 95% of the 24V heating and cooling systems found in the United States. Its sibling, the Nest Thermostat E is compatible with only 85% of HVAC units. You can learn more about it on Nest's system compatibility page.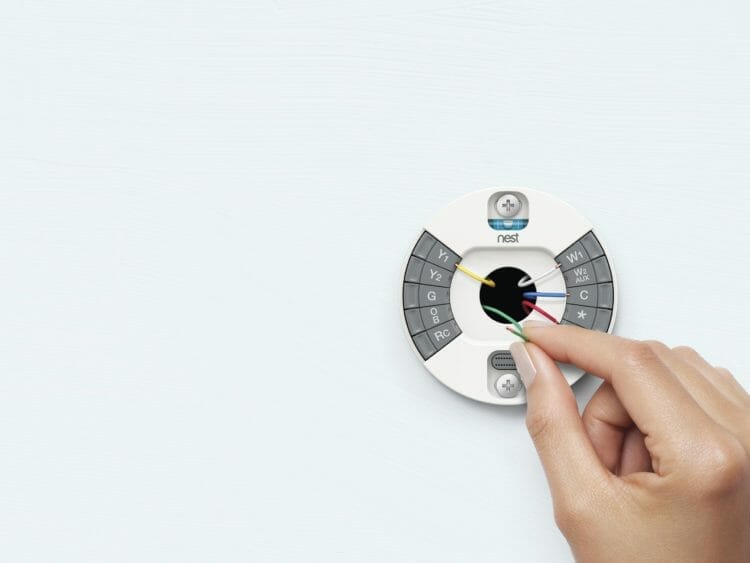 Installation – C Wire
The installation of our Nest units was dead simple and took only a few minutes. All I had to do was take off the old programmable thermostat from the wall, identify the colored wires and clamp them onto the Nest control panel. Like many other houses, we didn't have a Common or "C" wire to provide a continuous flow of 24 VAC power from the furnace to the thermostat.
To work around that issue, Nest engineers came up with an ingenious method that lets the device steal energy from the red "R" wire to keep its internal battery charged, which in turn provides continuous power to the thermostat. The problem is that doing so might cause your HVAC unit to malfunction. In our case, Nest worked fine and without causing issues, but some people recommend installing a "C" wire for Nest anyway.
Is Nest a good student?
Both my wife and I work from home and never leave the house for an extended period on a fixed schedule. As a result, the only thing Nest had to learn was what temperature settings we preferred. That turned out to be a challenge because we realized that the location where we installed the two Nest units was less than ideal. Both were located on opposite sides of a large living room, which we don't use often.
Nest A controlled the master bedroom, family room, and an attached kitchen. Nest B controlled my office and the kids' rooms. The three rooms we controlled with Nest B are relatively small, especially compared to the living room where we installed the thermostat. That resulted in those three rooms getting too hot during the heating season and too cold during the cooling season. During the day that was a massive problem for me, while in the office, and during the night it was an issue for the kids or any guests we had over.
As a result and because Nest didn't have remote temperature sensors back then, we turned off the learning feature and kept adjusting the temperature manually, using the Nest app.
In 2018, Nest finally released remote temperature sensors in an attempt to catch up to ecobee.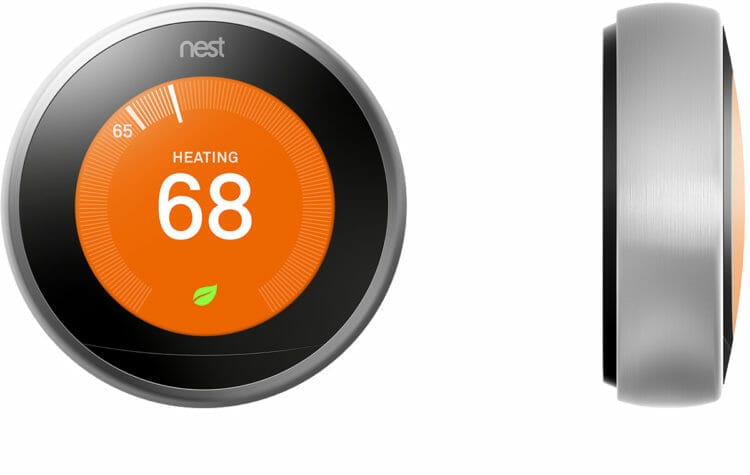 Look & Feel
In my opinion, the Nest is the best-looking thermostat on the market. I like the glass front and stainless steel ring that you can turn to make changes to the temperature or navigate through the configuration settings.
While Nest's ring makes temperature adjustments a breeze, it's less convenient to navigate through the device's settings or to enter long Wi-Fi passwords. In our case, Nest occasionally disconnected from our Wi-Fi network, likely because of weak signal strength, and so I had to re-enter the password a few times. I hated when that happened because I use a long and complex password that took at least a minute to enter using the turn & click approach Nest offers.
Home Automation & Voice Control
Apple HomeKit is the primary home automation platform we use, and Nest doesn't support it. That's one of the two reasons why I would never repurchase a Nest thermostat. However, if you use Amazon's Alexa or Google Assistant, Nest has you covered. That means you can set up scenes, automation schedules and even use your voice to control the thermostat.
However, for voice control to work, you need a separate device, such as an Amazon Echo because Nest doesn't have a microphone and speaker built in.
Privacy
When Nest was acquired by Google some months after I had installed the thermostats, I wasn't thrilled and had privacy concerns. Keep in mind that Google makes money by knowing as much about you as possible. In other words, we are not only Google's customers but also its products. For a recent example of why I have no Google technology in my home, including their home security cameras, check out this report.
Occupancy Detection
Nest uses a technology called geofencing to detect who is at home. Technically, the Nest app uses the geolocation of your phone to determine if you are in your home. The Nest app can use that capability to switch the thermostat into a money-saving "Away" mode when you or someone who is also part of the geofence leave the house.
When you re-enter the geofence, Nest can resume heating or cooling, and it all works like magic. The Nest app can also use information from compatible devices, such as Nest cameras, to determine if you are home. Additionally, any device that carries the "Works With Nest" label can help your thermostat understand if you are home or not.
Unfortunately, you cannot use the remote temperature sensors Nest announced in 2018 because they don't have an occupancy or motion sensor built in.
Energy Reporting
Nest's energy reporting is relatively basic because it only records ten days worth of data. The reason why I think it's useful is that it gives you an indication about how you fare compared to the average household in your region and how much energy Nest thinks you saved by using its thermostat. I always enjoyed looking at the monthly report and see how many "Leafs" we earned and how much energy we saved.
ecobee4 Smart Thermostat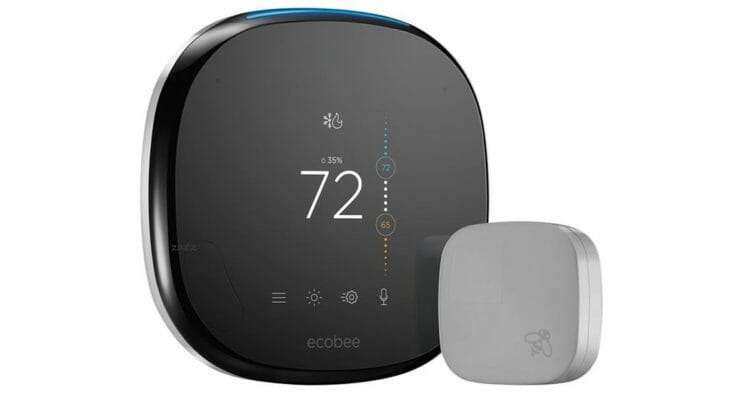 Ecobee is a Canadian company, and when they introduced the ecobee3 a few years ago, their primary selling point and advantage over Nest was the support for remote sensors. At the time, those sensors were the reason why I sold my Nest units and decided to go with ecobee. Similar to Nest, ecobee offers two product lines, the ecobee4, which I have reviewed in detail here, and the less expensive ecobee3 lite. I had initially purchased two ecobee3 units but upgraded one to the ecobee4 since then.
Ecobee Pros and Cons
Pros
The touchscreen display works very well (entering my WLAN password was a breeze)
Offers remote sensors for accurate temperature readings in multiple rooms
Slick design and built-in motion and humidity sensors
Configuration options (i.e., sleep time) seem to make more sense than Nest's Auto-Learn feature
Supports voice control via Apple HomeKit and Amazon's Alexa voice assistant
Integrates with other smart home devices, such as ecobee's Switch+
Cons
Requires a "C" wire, or a Power Extender Kit (comes in the box)
Build quality feels lower than Nest's steel/glass combination
Doesn't support two or three-speed fans
Compatibility with HVAC Systems
Ecobee claims that its thermostats are compatible with 95% of HVAC systems in North America, including gas, oil, electric and dual-fuel systems. You can learn more about it on ecobee's system compatibility page.
Ecobee Smart Thermostat Installation
After taking the Nest thermostat off the wall, I unwrapped the ecobee and read through the instructions. I soon realized that I didn't have a "C" wire to provide a constant voltage to the device. I got a bit frustrated and called ecobee support. They explained that, unlike the Nest, the ecobee doesn't have a built-in battery and thus requires a common wire or the Power Extender Kit (PEK) that comes with the unit.
Unfortunately, I had to hook up the power extender to the control board of the HVAC unit, something that I had never done before. I called our HVAC guy and asked him to come and do the installation for me, but after I had hung up, I decided to give it a try myself.
Installing the Power Extender Kit
The installation of the PEK took me about 30 minutes. I don't know anything about HVAC units and my wife can attest that I'm not a very good handyman. So in other words, anyone should be able to do what I did. You can find detailed instructions in the official device manual – but here is a quick rundown of what it takes to hook up the PEK:
Make sure you're working on the correct HVAC unit (if you have more than one)
Turn off the power to the furnace at the main breaker box
Remove the cover of the HVAC control unit
Locate the Y, W, R, G and C cables on control board
Clamp the wires of the PEK to the control board by matching the cable labels
Clamp the wires going to the thermostat to the other end of PEK by matching the cable labels
Close the cover
Turn the power back on
Overall, installing the PEK was simpler than what I had anticipated.
Scheduling & Smart Learning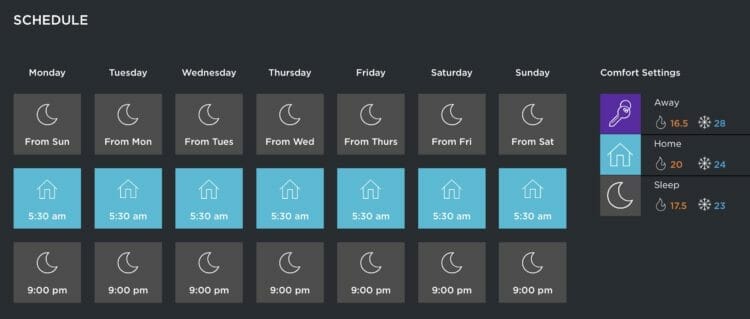 Unlike Nest, the ecobee4 relies on traditional schedules for heating and cooling via three comfort settings:
That means I can tell the thermostat what temperature I prefer when I'm home, away, or sleeping and I can schedule each individually. Ecobee also has an "I'm usually at home" setting, which is what I have activated. Beyond the static schedule, ecobee has "Smart Away" and "Follow Me" options. If enabled, the former can use the built-in or a remote sensor, or geo-fencing to detect when nobody is home. The latter can leverage the remote sensors we have at our house to discover what rooms are occupied and when.
Smart Away is only available with the ecobee4 but not with the ecobee3 lite.
Maybe it is because our lives follow a relatively strict routine – for example, I get up every day between 5-5:30 AM and go to bed between 8:30-9 PM – but ecobee's schedules have been working incredibly well for us. In other words, I'm not missing Nest's learning capabilities.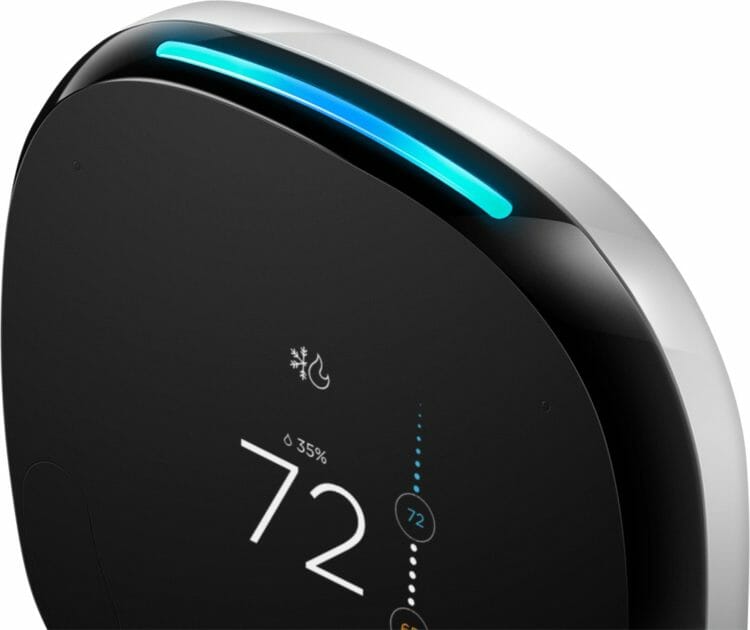 Look & Feel
All ecobee thermostats feature a relatively large, 3.5-inch full-color LCD touchscreen with a resolution of 320 x 480 pixels. What I like most about the touch screen display is how convenient it is to navigate through menus and to enter text, such as a long Wi-Fi password.
Home Automation & Voice Control
Ecobee supports every home automation platform on the market, including the ones from Apple, Amazon, Google, and Microsoft. They even support Samsung's SmartThings and If This Than That (IFTTT).
Beyond the essential integration with those platforms, the ecobee4 has Amazon Alexa built-in. In other words, you can summon Alexa by talking to the ecobee4. To make that happen, ecobee has integrated a speaker and a far-field microphone into its thermostat.
Privacy
I trust Amazon as much as I trust Google – not at all, and I'm glad that enabling Alexa on the ecobee4 is optional. However, if the convenience of using Alexa outweighs any privacy concerns you might have, you'll appreciate ecobee's native support for Alexa.

Occupancy Detection
Unlike the ecobee3 lite, the ecobee4 has a built-in occupancy sensor that can detect motion and thus understands when you are home. Additionally, the included remote sensors can also tell the thermostat if they detect movement. Beyond those sensors, the ecobee can also leverage geo-fencing to recognize if someone is home.
I haven't enabled geo-fencing because we have sensors in every room, allowing the thermostat to detect if someone enters the house.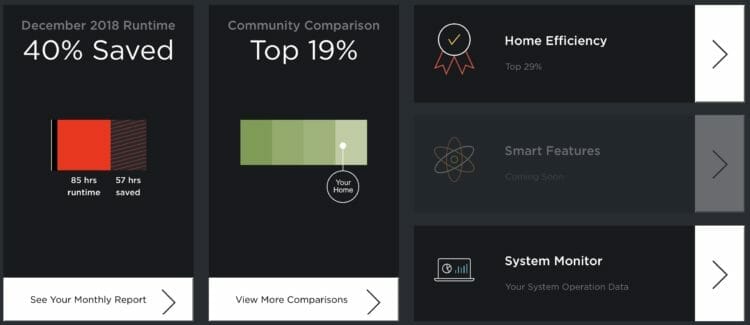 Energy Reporting
Ecobee offers what the company calls HOME IQ™ giving you information about how energy efficient your home is in comparison to previous periods and the ecobee community. What's cool is that ecobee allows you to go back in history and also to download all of your thermostat data.
Frankly, I barely look at HOME IQ, but I did for this review and was impressed by all the data it offers.
Ecobee vs. Nest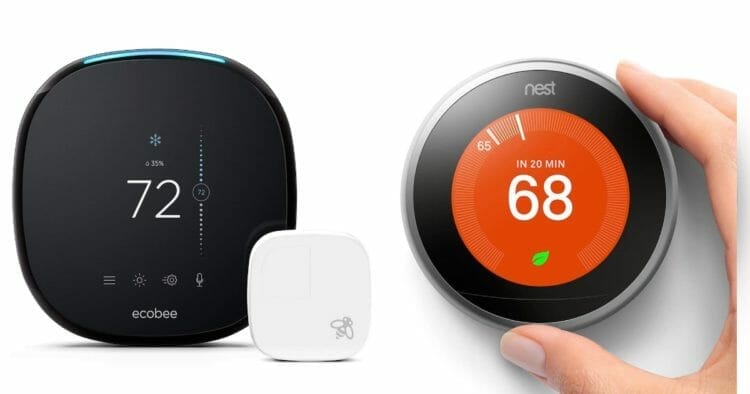 Below is a comparison table of the most important differences and similarities between the ecobee4 and the 3rd generation Nest thermostats as well as their less expensive siblings.
ecobee4
ecobee3 lite
Nest 3rd Gen
Nest E
Compatibility with HVAC Units
95%
95%
95%
85%
Supported HVAC Types
Conventional (Furnace+AC)
Heat Pumps
Boilers
Dual Transformers (Boiler+AC)
Conventional (Furnace+AC)
Heat Pumps
Boilers
Dual Transformers (Boiler+AC)
Conventional (Furnace+AC)
Heat Pumps
Boilers
Dual Transformers (Boiler+AC)
Conventional (Furnace+AC)
Heat Pumps
Boilers
Supported Fuel Types
Gas, Oil, Electric, Dual Fuel
Gas, Oil, Electric, Dual Fuel
Gas, Oil, Electric, Dual Fuel
Gas, Oil, Electric, Dual Fuel
Fan Control
Single Speed
Single Speed
Two or Three Speed Fan
Single Speed
Power Source
Wired
Wired
Wired + Battery
Wired + Battery
Home Automation Support
Amazon Alexa
Apple HomeKit
Google Assistant
Samsung SmartThings
Microsoft Cortana
IFTTT
Amazon Alexa
Apple HomeKit
Google Assistant
Samsung SmartThings
Microsoft Cortana
IFTTT
Amazon Alexa
Google Assistant
IFTTT
Amazon Alexa
Google Assistant
IFTTT
Built-in Microphone and Speaker
Yes
No
No
No
Voice Control
Built-in Alexa
Via 3rd-party service
Via 3rd-party service
Via 3rd-party service
Controls
Touchscreen
Touchscreen
Dial – Turn and Click
Dial – Turn and Click
Built-in Sensors
Temperature
Humidity
Occupancy
Proximity
Temperature
Humidity
Temperature
Humidity
Occupancy
Proximity
Temperature
Humidity
Occupancy
Proximity
Remote Sensors
Temperature
Occupancy
Temperature
Occupancy
Temperature
Temperature
Energy Usage Reports
Comprehensive (18 Months)
Comprehensive (18 Months)
Basic (10 Days)
Basic (10 Days)
Smart Scheduling
Yes
Yes
Yes, with auto-learning
Yes, with autolearning
Occupancy Detection
Geofence
Sensors (Built-in or Remote)
Geofence
Sensors (Remote)
Geofence
3rd-party sensor
Geofence
3rd-party sensor
Wireless Technology
Wi-Fi (2.4Ghz)
Wi-Fi (2.4Ghz)
Wi-Fi (2.4 or 5Ghz)
Wi-Fi (2.4 or 5Ghz)
Requires "Common" Wire
Yes or Power Extender Kit (PEK)
Yes or Power Extender Kit (PEK)
No (But it's recommended)
No (But it's recommended)
Heating Stages
Conventional (2)
Heat Pump (2+2)
Conventional (2)
Heat Pump (2+2)
Conventional (3)
Heat Pump (1+1)
Conventional (2)
Heat Pump (1+1)
Cooling Stages
Conventional (2)
Heat Pump (2)
Conventional (2)
Heat Pump (2)
Conventional (2)
Heat Pump (2)
Conventional (2)
Heat Pump (2)
Compatible Accessories
Humidifier
Dehumidifier
Ventilator (ERV or HRV)
N/A
Humidifier
Dehumidifier
N/A
AC Overcool (dehumidify)
Yes
Yes
Yes
Yes
Material
Plastic
Plastic
Glass and steel
Plastic
Warranty
3 Years
3 Years
2 Years
2 Years
ENERGY STAR Certified
Yes
Yes
Yes
Yes
Annual Energy Savings (Estimate)
23%
Unknown
10-15%
10-15%
Compatibility with HVAC Units
Overall, both ecobee and Nest offer broad compatibility with residential HVAC units you would find in the United States. However, there are small, yet potentially crucial differences. For example, Nest supports variable fan speeds, but ecobee doesn't. On the flipside, ecobee supports 4-stage heat pumps that Nest doesn't. So it's always best to confirm what equipment you have before making a purchase, especially if you live in a newer or higher-end home.
Power Source and "C" Wire
Both thermostats benefit from a Common (C) wire to deliver continuous voltage. However, Nest can operate without a C wire by leveraging a technique called "power stealing" and including a built-in battery. Ecobee offers a so-called PEK to work around a missing common wire. From a practical perspective, the difference between these two devices is negligible.
Home Automation Support
Depending on if you are in the Apple, Amazon, or Google camp, ecobee might have a significant advantage over Nest. The latter supports Google Assistant, Amazon Alexa, and IFTTT only, whereas ecobee supports additional platforms, including HomeKit. To me, the lack of Nest's support for HomeKit is an absolute show-stopper.
Voice Commands
The ecobee4 has a built-in speaker and a far-field microphone, which allows you to summon Alexa from across the room. Nest doesn't have that capability and requires additional devices, such as Google Home or Amazon Echo for voice control.
Controls
All ecobee thermostats feature a large LCD color touch screen, making navigating through menus or entering text a breeze. Nest, on the other hand, relies on "turn and click" mechanism for user input. While that works well and intuitively for changing the temperature, by just turning the wheel, it's inconvenient for navigating through menus or entering a Wi-Fi password.
However, the goal of smart thermostats is to limit manual intervention, and so neither mechanism should be a significant issue.
Remote Sensors
The lack of remote sensors was Nest's Achilles heel until the company introduced them in 2018. But despite being late to the game, the Nest remote sensors are lacking features ecobee has had from the beginning. In other words, Nest's sensors can only measure temperature but not occupancy, which is a bummer.
Energy Usage Reports
I have mentioned above that ecobee's energy usage reports are extensive, and they can reach back up to 18 months. Nest's reporting capabilities are far more limited, but since I usually don't look at these reports, I don't care one way or the other.
Scheduling and Learning
Nest's tentpole feature is to automatically adapt to your schedule by learning when you come and go and any temperature changes you make. I'm a huge fan of artificial intelligence and home automation, and so I appreciate what Nest is doing here. Practically, I have not had the feeling that I was missing out on anything with ecobee's, comparatively, static approach to scheduling.
Additionally, many higher-end HVAC units have abandoned the idea of turning the system on and off frequently. Instead, they user lower or variable fan speeds and stay on for extended periods. That seems to improve the longevity of those systems and the overall level of comfort. As a result, a thermostat's ability to learn my schedule might become less important in the future as I upgrade my HVAC systems.
Geo-fencing and Occupancy Detection
When used without a third-party home automation platform, such as HomeKit, Nest appears to have better support for multi-user geo-fencing. In other words, using Nest you can add more than one person to your geo-fence. Based on information from some Android users, ecobee supports only one user per geo-fence.
I have never run into that issue or limitation because I don't use geo-fencing. But even if I did, I would do it via HomeKit, which supports multiple users.
Frequently Asked Questions
How much energy savings can I expect from a smart thermostat?
Honestly, I have never made any scientific comparisons, but I think it is reasonable to expect a 10-23% reduction in heating and cooling costs. Coincidentally, claims from both ecobee and Nest back up those assumptions. That alone should pay for the thermostat in a year or less, which I consider an excellent return on my investment (ROI).
How does the Nest app compare to the ecobee mobile app?
For a long time, I disliked the ecobee app because it was slow and felt laggy. Fortunately, ecobee has fixed that input lag a while ago and made it much more intuitive than it used to be. I haven't used the Nest app since I abandoned their platform, but it has only two out of five stars in the App Store. In comparison, the ecobee app has 4.3 stars.
Are the ecobee remote sensors compatible with both the ecobee3 and ecobee4?
Yes, we could reuse the sensors when upgrading from the ecobee3 to the ecobee4! They also work with the ecobee3 lite.
What is the capability of the ecobee remote sensor?
In a nutshell, it's a temperature and occupancy sensor. The latter enables the sensor to detect if someone is present the room, which you can use to control if and when your HVAC unit turns on and off.
Do both Nest and ecobee work with a heat pump?
Yes, both devices support heat pumps.
Does the ecobee4 support a full house humidifier and dehumidifier?
Yes, the ecobee4 supports both, but my experience is limited to humidifiers. We had one installed a few years ago and found out that it required a dedicated power source because ecobee doesn't provide any current over ACC+/-.
Both Nest and ecobee also support AC Overcool, which doesn't require a dedicated dehumidifier. That means the air conditioning unit will run past the desired target temperature to further reduce the humidity level in the home.
Conclusion
Both Nest and ecobee are excellent choices when it comes to improving your home's heating and cooling infrastructure. It ultimately depends on your individual needs and requirements that determine which brand you might favor. We have been living with the ecobee thermostats for a couple of years and don't regret having made the switch from Nest. To me, Nest's lack of support for HomeKit and Google's stance on user privacy make ecobee the clear winner.
If you are currently looking to purchase a new thermostat, I'd like to know if my review has helped you make a decision. If you already own one, let me know how you like it by leaving a comment below!

I'm a healthy living and technology enthusiast.
On this blog, I share in-depth product reviews, actionable information and solutions to complex problems in plain and easy-to-understand language.