Omna 180 Cam HD is a home security camera that is compatible with Apple HomeKit, offers a 180-degree view and a built-in microSD card slot to store video clips. I have tested the Omna 180 Cam HD for the past few weeks and wanted to share my review with you. Additionally, I will share how the Omna compares to other home security cameras such as the Nest Cam.
Update: I published a more in-depth review and comparison of the latest home security cameras. Check it out here.
Home security cameras and privacy concerns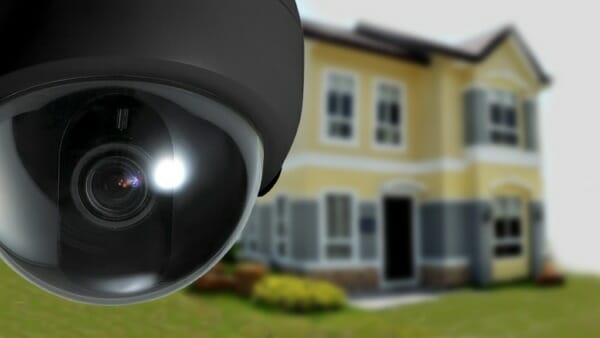 Home security cameras have become incredibly popular in the last few years. Nevertheless, some people that I have talked to, still don't feel comfortable being watched or recorded in their own home. But even if you are OK being on camera in your home, what about when you are in someone else's house who has security cameras installed.
We recently visited friends who have multiple security cameras in their home. I didn't have the feeling that I was being watched, but knowing that your every move, gesture or word you utter is recorded may make you feel awkward.
Additionally, if your security camera stores recordings in the cloud, you have to trust the cloud provider with keeping them safe. I work in IT security, and I tend not to trust cloud providers with my most sensitive information. The Omna 180 Cam HD doesn't support storing video clips in the cloud. And while many users may see this as a limitation, I consider it a benefit, knowing that the camera doesn't store my recordings in some data center that I have no control over.
Why HomeKit support is important
I am invested in the Apple ecosystem and thus make sure any new gadget I buy integrates with that. For Internet of Things (IoT) type of devices that means support for Apple's home automation platform, also known as HomeKit. Devices that support HomeKit offer several unique advantages over devices that don't, including:
Integration with the Home app
Automation rules
Voice control via Siri
The Home app is your one-stop shop for all connected devices. That means I only need one app to control all my HomeKit-enabled devices, including the Omna home security camera. I can also create automation rules that span multiple devices.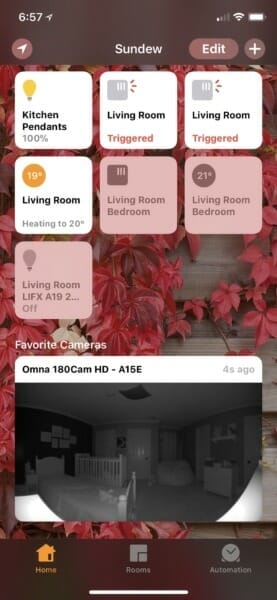 For example, I can create an automation rule that turns on a light if the Omna 180 Cam HD detects motion while I am at home. Or I can instruct the device to send me a push notification if the camera detects motion while I am not at home. HomeKit uses geo-fencing technology to detect if my or my wife's iPhone is at home or not. Since we both have our phones usually on us, it is a reliable indication of our presence.
Most importantly, however, is the ability to watch the camera's live stream while I am not at home without sacrificing privacy. That means HomeKit can use my Apple TV or iPad to act as a HomeKit hub, thus allowing remote access to my devices while I am away from home. As a result, I don't need to rely on or trust a third-party with keeping my video stream and recordings safe. I said before that I don't trust vendors with my sensitive information, but I do trust Apple as they have consistently demonstrated to take user privacy and data protection seriously.
As of this writing, only D-Link and Logitech offer home security cameras with HomeKit support. For a complete list of accessories that support HomeKit, visit apple.com.
Omna 180 Cam HD features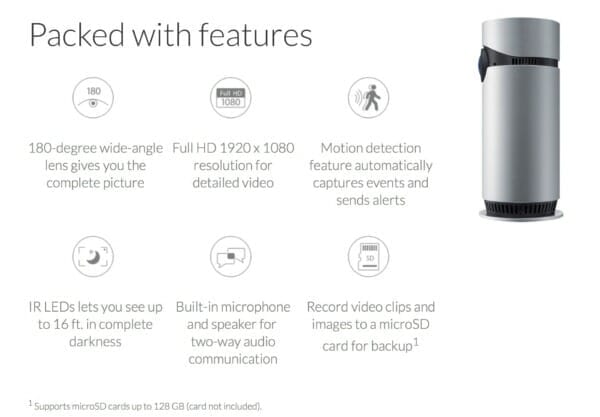 D-Link's Omna 180 Cam HD is an indoor home security camera that nicely blends into your home's decor when placed, for example, on a bookshelf.
The cylindrical shape of the camera and lack of mounting options are a clear indication that D-Link wants you to place the Omna 180 Cam HD on a flat surface, instead of mounting it on a wall. But since you have to plugin the Omna to a power outlet, installing it on a wall would not be feasible anyway.
Key features
180-degree wide-angle lens
Full HD 1920 x 1080 video resolution
Motion detection
IR LEDs allows the camera to see in complete darkness up to 16 feet
Built-in microphone and speaker for two-way audio communication
Built-in microSD card slot to record video clips and images
180-degree wide-angle lens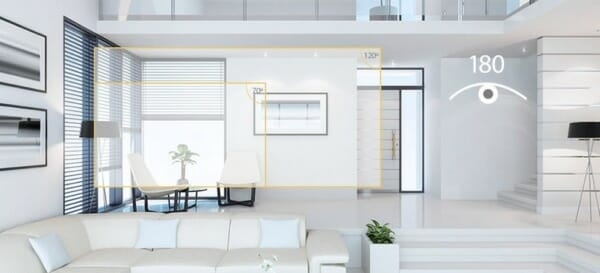 The 180-degree wide-angle lens makes it easy to find a spot for the camera that provides a holistic view of the area. Other cameras, such as Google's Nest Cam offer a much narrower viewing angle, making camera placement a bit more challenging. To get a closer look, the Omna also has a digital zoom that works with visible and IR light.
Full HD video resolution
1920 x 1080 (1080p) is pretty much the standard for video resolution these days, and I would not recommend any camera that has less. In fact, I am already looking forward to more cameras with support for 4K video resolution!
Motion detection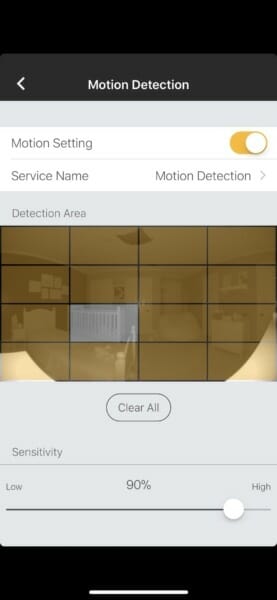 For most use cases, it doesn't make sense for the camera to record video if there is no movement. As a result, the built-in motion detector can tell the camera when to record video. In combination with HomeKit or the Omna app, you can also use it to send alerts when it detects motion. We have set up our camera to notify us via push notification when it detects motion while we are not at home.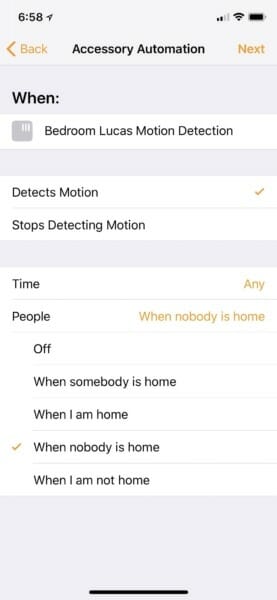 Using the Omna app, you can limit the focus area and sensitivity of the motion detector. But compared to other security cameras like the Nest, the motion detection feature of the Omna is not as sophisticated. For example, pets may trigger the motion detector resulting in dozens of false alerts throughout the day.
Night vision – IR LEDs
It would be a real bummer if your home security camera were blind at night. So in the absence of light, the Omna can illuminate a room with its built-in infrared (IR) LEDs. That way, the camera can see up to 16 feet, even in complete darkness. To further enhance its night vision capabilities, you could add IR-enabled light bulbs, such as the ones from LIFX*.
Two-way audio
We have positioned the Omna in the room of our 2-year old boy, so we can see and hear when he falls asleep. But also for other rooms, I find the microphone beneficial because it gives you a complete picture of what's going on. No pun intended.
As far as the speaker is concerned, I haven't yet found a good use-case for it. I can see the benefits in case of outdoor cameras, but I am not sure when I would use that feature inside my home. The kids are not old enough to stay at home alone. So if they are with the babysitter, I would call her if I needed to reach them. And I don't think the cat cares if he hears my voice while I am traveling. So I am interested in learning what you would use a speaker for! So leave me a comment below, please.
microSD card slot
Since the Omna 180 Cam HD doesn't support storing video clips in the cloud, it offers a built-in microSD card slot. You can use microSD cards up to 128 GB to locally store video clips and replay them later via the Omna app.
The advantage of local storage is that someone would have to break into your home to physically access your footage. With cloud-based solutions, your potential exposure is massively increased. On the other hand, if a tech-savvy intruder stole your camera, you would lose all the footage. Personally, I think the risk of someone hacking your camera's cloud provider is much higher than a tech-savvy intruder breaking into your home.
Omna vs. Nest and others
There are currently only two home security cameras available that support HomeKit. But since not all of my readers are as invested in HomeKit as I am, I wanted to provide at least a brief comparison between the most popular smart home security cameras on the market today.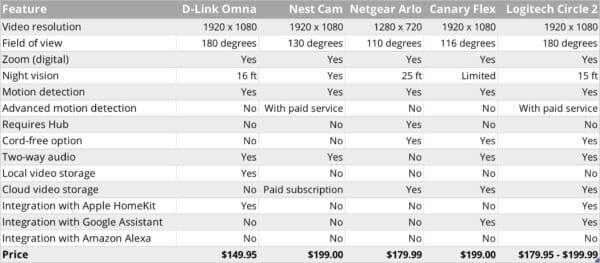 As you can see in the comparison chart, the Omna 180 Cam HD checks a lot of boxes. In fact, it is the only one that offers a 180-degree view, HomeKit support and local storage. During my research, I was surprised to find out that Nest does even support the Google Assistant yet. But according to a blog article, support for it will come this winter for Nest's higher-priced Nest IQ cam. Besides the Nest Cam, Netgear's Arlo doesn't integrate with any of the major home automation platforms either. The Canary Flex offers only mediocre night vision and a limited viewing angle of 116 degrees.
Based on my preferences and requirements, here is my ranking of the cameras I have reviewed (1 is best, 5 is worst):
Conclusion – Home security camera review
At first glance, there are a lot of choices when it comes to home security cameras. But depending on your requirements and needs, your choices are likely more limited than what you may have thought. Case in point, if you want a home security camera that integrates with Apple's home automation platform, you have only two options. I chose the Omna 180 Cam HD because it checked most of my requirement boxes. But there is certainly room for improvement! Features that would make it even more attractive include an additional built-in battery and optional cloud storage with advanced motion detection features.
Do you have cameras at home? If so, what features are important to you and why? Let me know by leaving a comment below!

I'm a healthy living and technology enthusiast.
On this blog, I share in-depth product reviews, actionable information and solutions to complex problems in plain and easy-to-understand language.