I have used the Danalock V3 for the past few months in my home, and in this review, I'll share my experience with this integrated smart door lock.
Note that Danalock is both the name of a Bluetooth-enabled smart lock as well as the Danish company behind the product. Besides the lock, Danalock also offers a wireless Bluetooth keypad (Danapad), a bridge (Danabridge), and a universal module that can integrate with your garage door (or any other digital lock).
While Danalock offers four different versions of its smart door lock, I tested the HomeKit-enabled model for this review. However, the majority of this article applies to all four Danalock offerings.
Danalock Pros and Cons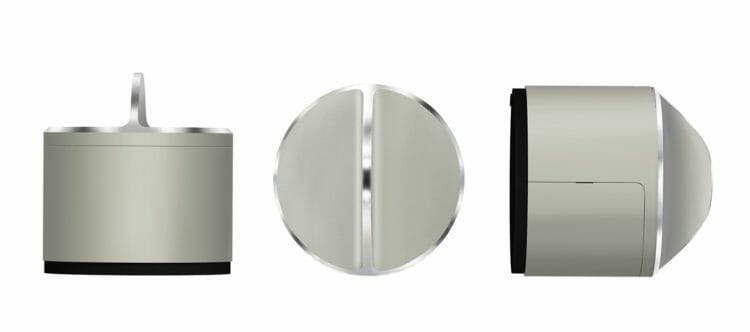 Pros
Compatible with a wide range of doors
Long battery life
Simple, yet elegant design
Highest level of security
Integration with major home automation platforms
Cons
Only available in silver
Optional keypad doesn't work with HomeKit yet (update coming soon)
The Danalock V3 has a couple of unique features that make it stand out from the competition, including its ridiculously long battery life and its broad compatibility with standard door types from around the world.
Battery Life
We used to have a Kwikset lock that ADT installed when we purchased our alarm system a few years ago. The major problem with that lock was that we had to replace the batteries every couple of months.
The Danalock runs for up to 18 months (1.5 years) using four CR123A batteries. That's incredible, and much longer than most of its competitors. In comparison, the August Smart Lock lasts only six months on a single charge.
Compatibility With Doors

Danalock claims that its smart lock is compatible with any standard door, including the following types:
Euro (Europe)
Scandi (Scandinavia)
Assa 2000 (Europe, Scandinavia, United States)
US (United States)

While I couldn't verify that claim by testing all of those door and lock types (i.e., Euro profile), I can confirm that Danalock fit my door and drill holes without requiring any modifications.
What's important to note is that Danalock replaces only the locking mechanism and the associated hardware on the inside of your door. That means you can continue using your existing door handles, as well as the hardware on the outside of your door.
Since I had a digital lock with a numeric keypad already, and it wasn't compatible with Danalock, I ended up buying a standard lock from Schlage at Home Depot to replace the Kwikset keypad on the outside of my door.
Integrations

Danalock offers a versatile and flexible platform that integrates with many home automation solutions, including:
Apple HomeKit (the focus of this article)
Z-Wave Plus
Zigbee
Alarm.com
Samsung SmartThings

Danalock also supports Alexa and Google Assistant via Bluetooth and Zigbee or Samsung SmartThings.
Additionally, Danalock offers a software development kit (SDK) with application programming interfaces (APIs) to allow partners and developers to integrate with existing mobile or business apps.
Danalock and HomeKit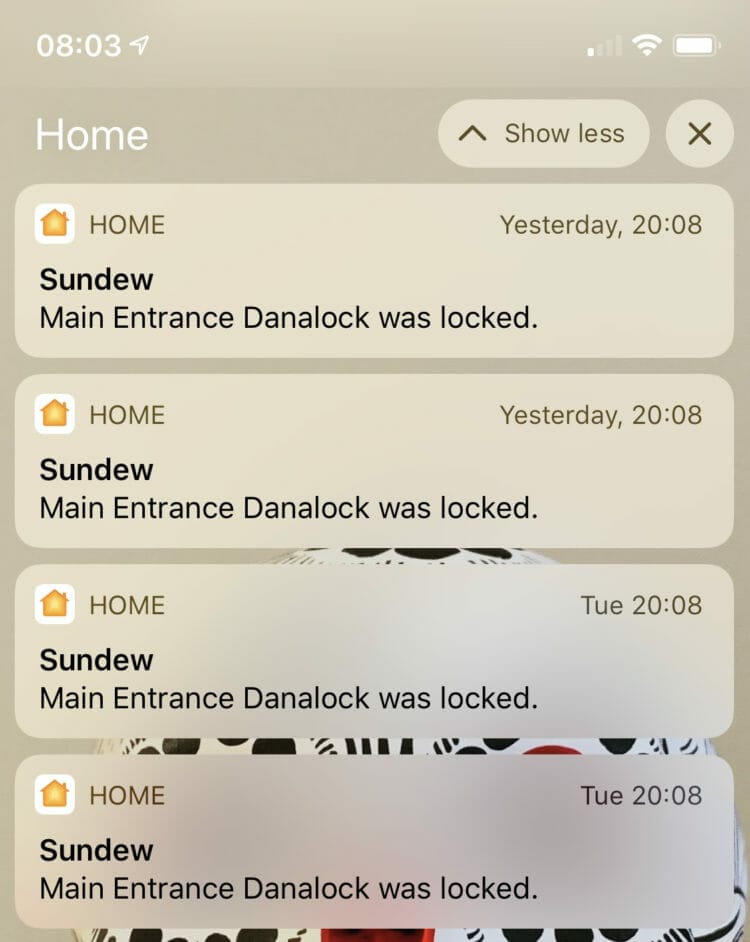 As of this writing, the Danalock firmware has a few limitations when you use the lock with HomeKit. I talked to Danalock about those limitations and was told that an upcoming firmware update will remedy most, if not all, of them. So stay tuned for updates.
Some of the features that don't work with HomeKit yet include:
Native auto unlock
Compatibility with Danapad and Danabridge
Native multi-user support

The good news is that HomeKit offers solutions or workarounds for two out of those three limitations.
Geo-Fencing and Automatic Unlock
For example, you can easily set up a geo-fence and automatically unlock the door when getting close to your home via the Apple Home app.
For our requirements, geo-fencing via GPS isn't accurate enough, so we don't use it. I could imagine enabling that feature if I could use some sort of proximity sensor, powered by Bluetooth or NFC, to detect when I'm getting close to the lock.
Multi-User Support
You need to add everyone who should be allowed to lock and unlock your door via the Home app. In our case, that's only my wife and me. At some point, it'll include the kids.
We can live with the limitation of not being able to add friends or caretakers, because we have a garage door with a keypad they can use. However, it would certainly be nice to offer those people a way to unlock the door without requiring them to download an app or use their phone in some other manner.
That leads us to the final limitation, for which we don't have a good workaround.
No Support for an External Keypad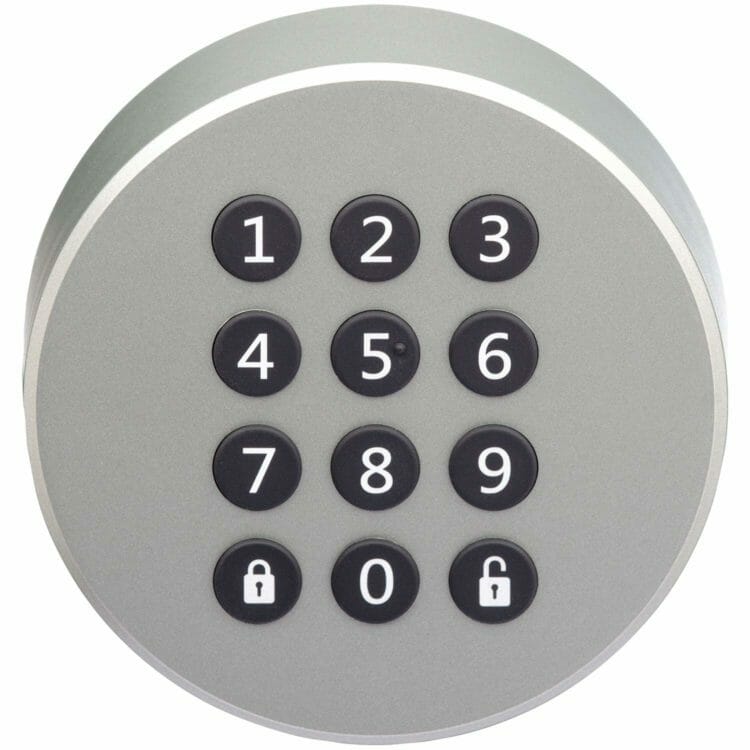 The Danalock (HomeKit) in its current version doesn't support the Danapad, the company's wireless keypad. That means the only way to open the door from the outside is via the app, Siri or geo-fencing. Of course, I could also use the keys that came with my Schlage deadbolt, but I'm a cool kid and don't want to use keys.
At first, it felt odd walking up to the door just to realize that there is no modern, mechanical way to unlock it. Siri can take a little while to execute the "unlock front door" command, so there were times I stood in front of the door for ten seconds or so, just waiting to enter my own house.
Fun fact: I only use the front door when I arrive from the airport using Lyft. In all other cases, I use the garage door. That means I face the "issue" above fewer than three times per month.
However, now that I've gotten used to triggering Siri, I tell her to unlock my door immediately after getting out of the Lyft. By the time I've walked up to the door, it's already unlocked.
Still, I'm looking forward to the planned firmware update that should bring support for the optional keypad.
Installation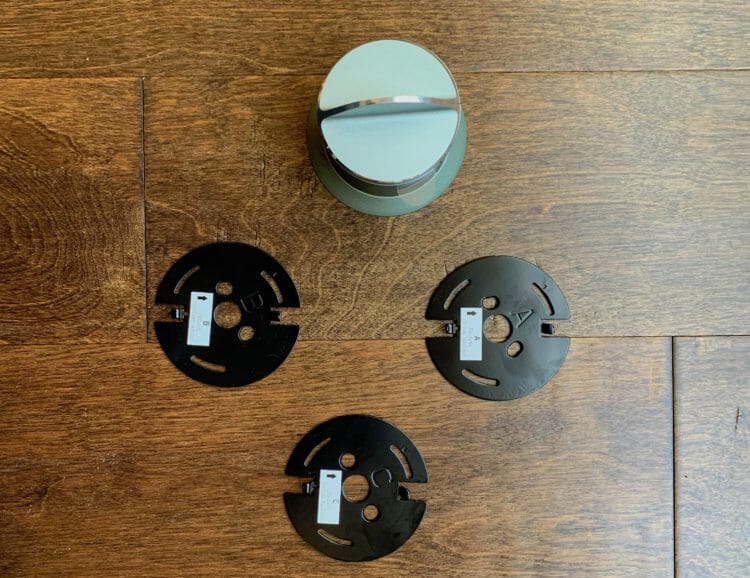 The installation of Danalock was dead simple and only took a few minutes. The quick install guide that came with the lock provided all the instructions I needed to replace my existing deadbolt cylinder. Additionally, Danalock offers videos and online installation manuals that can help you out, if need be.

The most "difficult" part of the installation was to pick the correct backplate and tailpiece. Everything else was intuitive and relatively straightforward. So even if you've never installed a lock, you'll be able to do it.
The only tools I needed for the installation were a Phillips-head screwdriver and some masking tape.
Once I completed the installation of the lock, I opened the Danalock app on my iPhone, added the lock, and updated the firmware.
Mobile App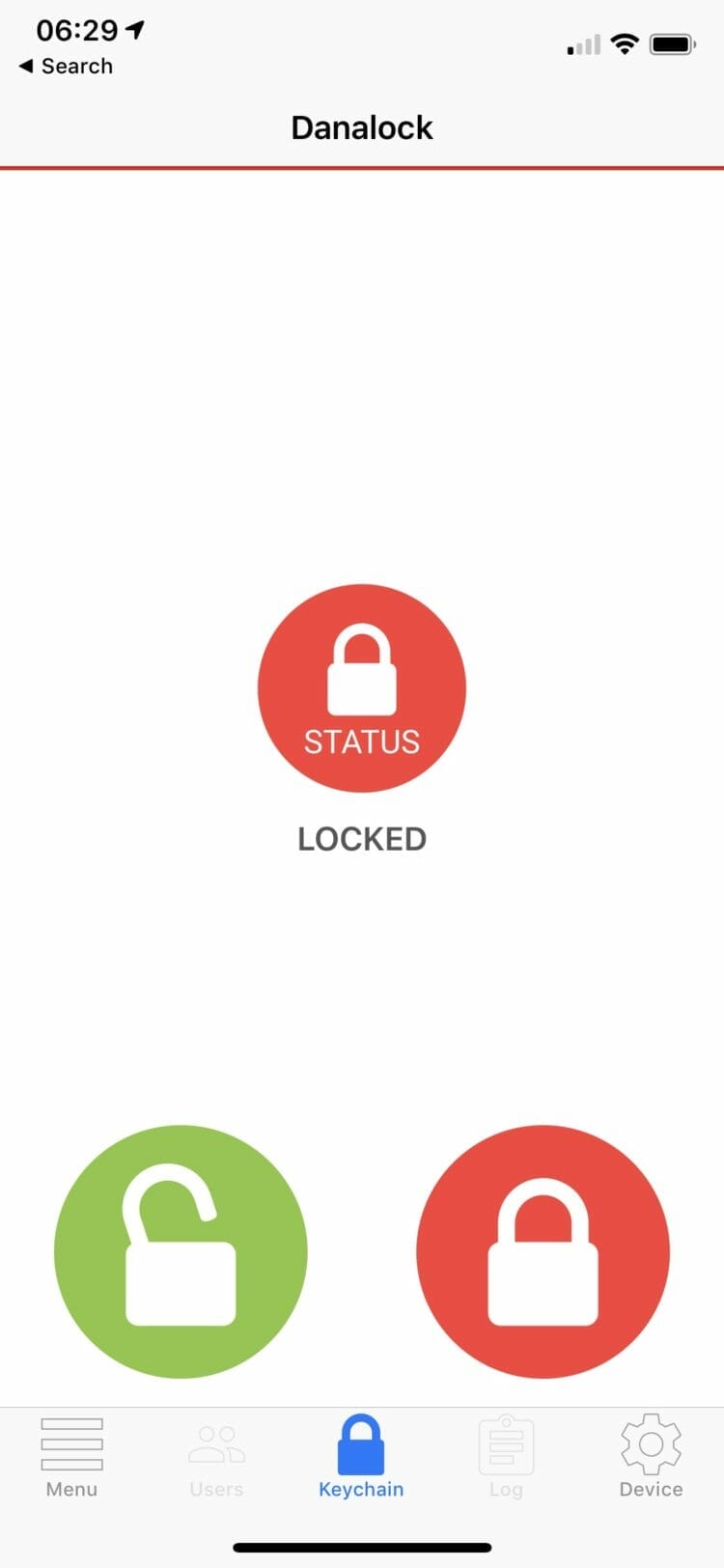 If you use Danalock together with HomeKit, you won't be spending much time in the app. Frankly, the only time I open the app is to install a firmware update.
It's worth noting that with the HomeKit version of the lock, you can't do much in the Danalock app anyway. User management, configuration settings, and logs are greyed out or blank because they aren't supported in the current HomeKit-compatible firmware.
What that means is that you have to use so-called click-commands to change individual configuration settings directly on the lock.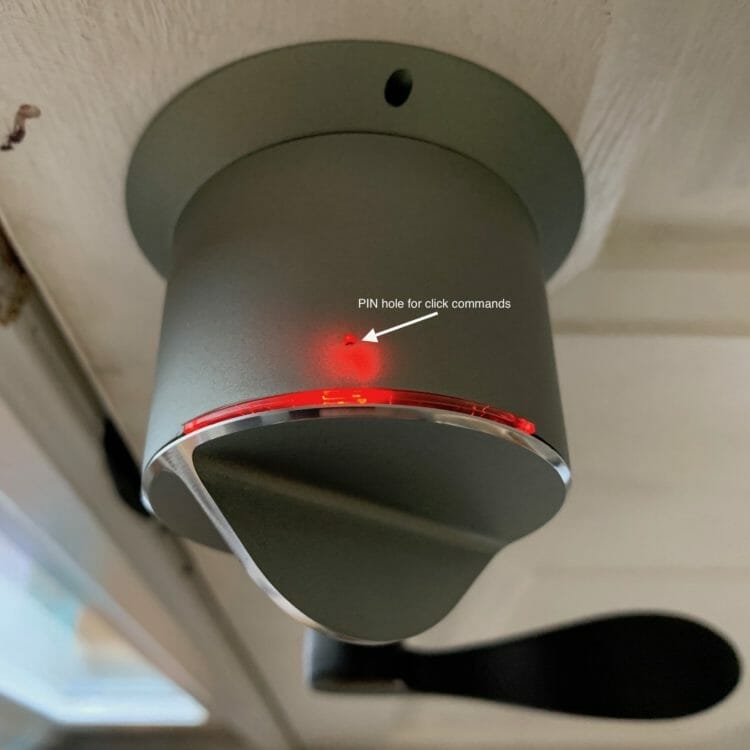 If you look closely, you can see a small hole on the top of your lock. Using a pin or paperclip, you can use that hidden button to make changes to the lock's configuration, including:
Inclusion mode (non-HomeKit version): Enable support for Z-Wave or Zigbee gateway.
Manual calibration: Manually calibrate the lock and turn directions.
Auto calibration: Allow Danalock to calibrate itself automatically.
Hold back latch: Holds back the latch for a set time.
End-to-end unlock: Ensures that you don't lose the calibration if you operate the lock manually with a double-cylinder door lock.
Twist assist: Uses the motor in the lock to assist you with turning the dial.
Auto lock timer: Automatically lock the door after a set time.
Reset user settings.

While the Danalock app isn't difficult to use, I honestly find it a bit clunky compared to apps of other home automation solutions (such as ecobee).
How Does Danalock Compare to the Competition?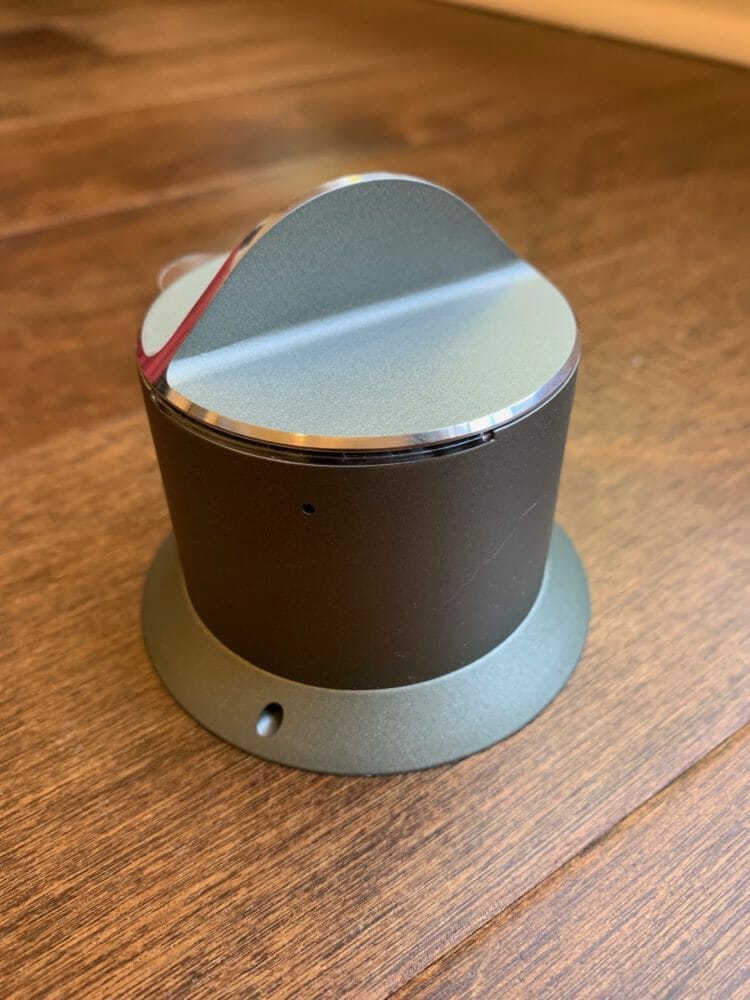 I'm planning on writing a comprehensive review of all HomeKit-enabled smart locks on the market today, so stay tuned for that.
In the meantime, I decided to compare Danalock to another popular smart lock that I have known for a long time: August.
Danalock vs. August
August offers two versions of smart locks: the August Smart Lock and August Smart Lock Pro. To make things a bit more complicated, each of those two versions can be used with or without a Wi-Fi bridge.
August Smart Lock Pro
August Smart Lock
Danalock Bluetooth
Danalock HomeKit
Danalock Zigbee
Danalock Z-wave
Local access via Bluetooth
Yes
Yes
Yes
Yes
Yes
Yes
Remote access
With Connect Wi-Fi bridge or Apple TV (HomeKit)
With Connect Wi-Fi Bridge
With Danabridge
With Apple TV or iPad
With Danabridge or Zigbee Home Hub
With Danabridge or Z-Wave Smart Home Hub
Auto-lock / auto-unlock
Yes
Yes
Yes
Yes
Yes
Yes
Multiple virtual keys
Yes
Yes
Yes
Only via HomeKit sharing
Yes
Yes
Keypad
Optional
Optional
Optional
Planned
Optional
Optional
Z-Wave Plus support
Yes
No
No
No
No
Yes
Apple HomeKit & Siri support
Yes
No
No
Yes
No
No
Amazon Alexa support
With Connect Wi-Fi Bridge
With Connect Wi-Fi Bridge
No
No
Yes
Yes
Google Assistant support
With Connect Wi-Fi Bridge
With Connect Wi-Fi Bridge
No
No
Yes
Yes
Finishes
Silver, dark gray
Silver, dark gray, white, satin nickel
Silver
Silver
Silver
Silver
Battery life
6 months
6 months
18 months
18 months
18 months
18 months
Compatibility
U.S. single-cylinder deadbolts
U.S. single-cylinder deadbolts
Most doors and deadbolts (Scandi, Euro, U.S.)
Most doors and deadbolts (Scandi, Euro, U.S.)
Most doors and deadbolts (Scandi, Euro, U.S.)
Most doors and deadbolts (Scandi, Euro, U.S.)
MSRP
$199 ($229 with Wi-Fi Bridge)
$119 ($179 with Wi-Fi Bridge)
$172.95
$199.95
$229.95
$229.95
Overall, the most significant differences between Danalock vs. August are door compatibility, battery life and finishes (colors).
Danalock features much broader compatibility with existing doors and deadbolts, making it an attractive choice both in the United States as well as other countries. The batteries in Danalock also last three times longer (18 months, compared to just six with August).
The one area where August has an edge is the available finishes and color options. So far, Danalock is only available in a silver anodized aluminum finish. However, my contact at Danalock told me that more finishes are planned for later this year.
Frequently Asked Questions
Below is a list of questions I hear people ask a lot. As I get more feedback from readers, I'll update this section accordingly.
How Secure is Danalock?
Danalock prides itself on using robust encryption algorithms to protect the lock and the data transferred between the lock and any connected home automation platform.
Danalock supports the Advanced Encryption Standard with a key length of 256bits (AES-256) for communicating with your mobile phone via Bluetooth.
The HomeKit version uses the ChaCha20+Poly1305 algorithms, and the Zigbee and Z-wave versions use AES-128.
I generally trust Apple with my data because it's one of the few tech companies that focus on user/data privacy and security. Nevertheless, I should mention that HomeKit had a vulnerability in iOS 11.2 that allowed unauthorized access to HomeKit devices.
The issue affecting HomeKit users running iOS 11.2 has been fixed. The fix temporarily disables remote access to shared users, which will be restored in a software update early next week.

Apple
Apple fixed the issue quickly, but there is an inherent risk with connecting sensitive devices, such as door locks, to the internet.
If the security of your IoT devices is a concern, you might want to consider protecting them using a smart cybersecurity hub like Bitdefender Box or Cujo.
Does Danalock Have a Keypad?
Danalock supports the optional Danapad, a wireless Bluetooth keypad that you can install on the outside of your door. At the time of this writing, you can use Danapad together with the following versions of Danalock V3:
Bluetooth
Bluetooth and Zigbee
Bluetooth and Z-Wave Technology

The Danapad V3 doesn't work with the HomeKit version yet, but support should come with a firmware update. In that update, Danalock plans to completely revamp and merge the codebase for HomeKit and Android support.
Does Danalock Integrate with Google Home?
Danalock does work with Google Home via an automation service called If This Than That (IFTTT).
By leveraging IFTTT, you use voice commands in Google Home via your smartphone or smart speaker to control Danalock.

Does a Smartlock Simplify Your Life?
Yes, it does. I never have to worry if my door is locked when I'm out of town or already in bed. That's particularly useful when you have kids, who tend to care less about locking the door.
I can see it with our patio door, which doesn't have a digital lock; when the kids come in from playing outside, they always close the door but sometimes forget to lock it.
I have configured my Danalock to lock automatically after 30 seconds. Plus, I get a notification on my phone every time the lock cylinder engages. With traditional locks, I would have to check them manually.
Where Can I Find More Information About the Click Commands?
You can find more information about the various click commands that the Danalock supports below:
How Can I Unlock Danalock Without a Keypad?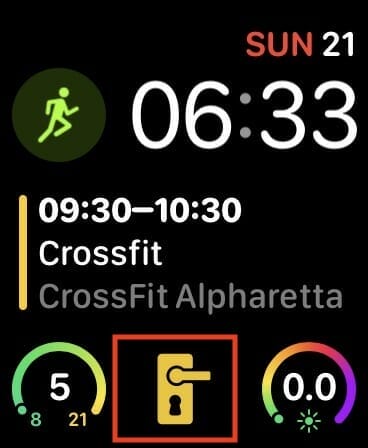 Unlocking Danalock is easy, even if you don't use a keypad. You essentially have four options:
Danalock app
Voice command (i.e., "Hey Siri")
Auto unlock based on a geo-fence
The old-school keys that came with your deadbolt

I use "Hey Siri" most of the time, but I also created a shortcut using Apple's Shortcuts app for iOS. To add my shortcut as a so-called Complication to the watch face of my Apple Watch, I use a third-party app called HomeRun.
As a result, I can tap an icon on my watch face to unlock my door as I approach it, instead of using voice commands.
Does Danalock Support Guest Access
The non-HomeKit version of Danalock allows you to add both temporary and permanent guests via the mobile app. In either case, your guests have to download the Danalock app to unlock the door.
Additionally, Danalock provides a free web portal to manage multiple locks, users and groups. For example, if you own a condo complex and want to give certain tenants access to the gym, you can do that via my.danalock.com.
The HomeKit version doesn't allow adding guests via the mobile app. However, you can use HomeKit to add friends to your home via the Home app.
How Many Pin Codes Does Danalock Support?
Via the Danalock app, you can add an unlimited number of guest accounts. However, Danapad (the wireless keypad) only supports up to 20 different pin codes.
Is There an Android App from Danalock?
There is, but I have never used it because I don't own an Android device.
Danalock V3 Review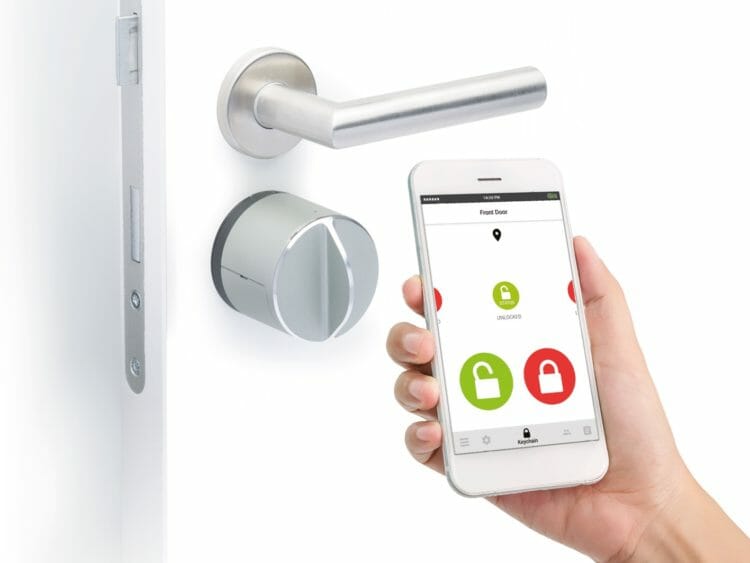 Compared to most other smart locks on the market, the Danalock shines with an incredible battery and broad support for different door and deadbolt types. The installation of this smart lock is dead-simple, and the slick European design looks good on any door… with silver hardware.
I'd argue that the lack of other finishes is the primary disadvantage of Danalock, but the company promised to offer additional color options later this year. When that happens, I'll likely replace my review unit with a bronze version that better fits our door.
I'll also install the optional keypad when it becomes available, and I hope it will allow me to add guests without having to add them via HomeKit.
Overall, I'm more than satisfied with the reliability of Danalock and I have not had an issue since I upgraded to the latest firmware (right after I received the review unit).
Are you in the market for a smart lock, or do you already own one? Either way, I'd appreciate your feedback by leaving a comment below!

I'm a healthy living and technology enthusiast.
On this blog, I share in-depth product reviews, actionable information and solutions to complex problems in plain and easy-to-understand language.