For the past weeks, I have tested a 72W 4-Port Choetech USB-C wall charger to see how it would compare to the Choetech 6-port Desktop Fast Charger I've been using in the office. After having had enough time to use it, I decided it was time for a review.
Need for a Better Charging Solution
My primary workstation in my office is a 27-inch 5k iMac, which has 4 USB-A and 2 Thunderbolt ports on the back. Those USB-A ports deliver sufficient juice to devices that don't require much power, such as headphones or thumb drives. But they don't provide enough current for a wireless charging pad or an iPad. Also, I can't use them to charge my 13-inch MacBook Pro, because the iMac lacks a USB-C port.

As a result, I needed a better charging solution and ended up purchasing a Tripp Lite power outlet ($22.65 on Amazon*) that I could clamp to the underside of my desk. The power strip has worked well for the most part, but it had some disadvantages. Mainly, the two integrated USB ports didn't provide enough power to charge an iPad. So I had to plug both an iPad and MacBook charger into the available power outlets. Given their size and the number of other devices I wanted to plug in, I ran out of plugs.
That's when I decided that I wanted a better solution to charge specific devices on-demand, including:
Noise-canceling headphones, after returning from a trip,
The keyboard and trackpad of my iMac,
10.5-inch iPad Pro,
13-inch MacBook Pro.
The solution was the Choetech 4-Port USB-C Wall Charger, which features three USB-A and one USB-C port.
Choetech USB-C Wall Charger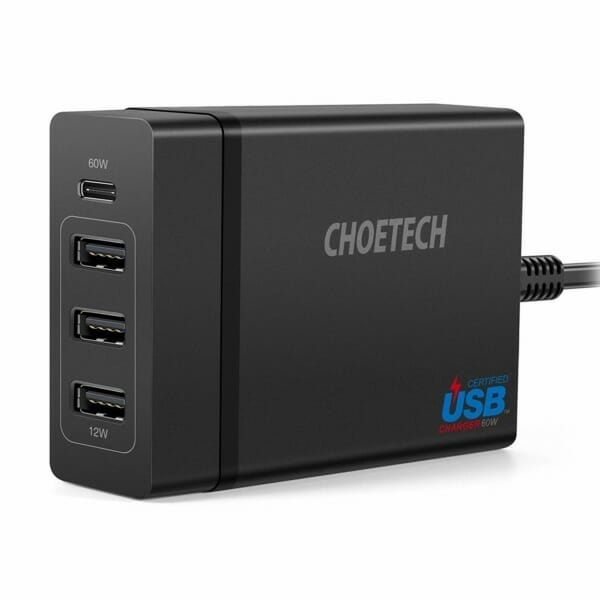 Highlights
60W USB-C PD (Power Delivery)
3*12W USB-A QC Ports
18-Months Warranty
The Choetech USB-C Wall Charger is a convenient, yet safe charging solution that provides 72 Watts of combined output split across one USB-C and three USB-A ports.
The USB-C port provides up to 60 Watts of output, which is sufficient to charge the latest MacBook Pro, including the 13-inch model I own.
The three USB-A ports provide a combined 12 Watts of output and Choetech enabled them for Qualcomm's QuickCharge 2.0/3.0 protocol. That means, the wall charger can charge any compatible device at high speed, including iPhone and Android phones.
Best of all, you can use all four ports simultaneously. On my desk, I have the following cables connected to the charger:
Apple USB-C cable for MacBook Pro.
Apple Lightning cable for iPhone, iPad, AirPods, Magic Keyboard, and Magic Trackpad.
Third-party Micro-USB cable for headphones.
Using those three cables, I can charge any of my gadgets when the need arises. While not in use, I tuck the cords away and let them drop off the back of my desk, where they are out of sight.
Technical Specification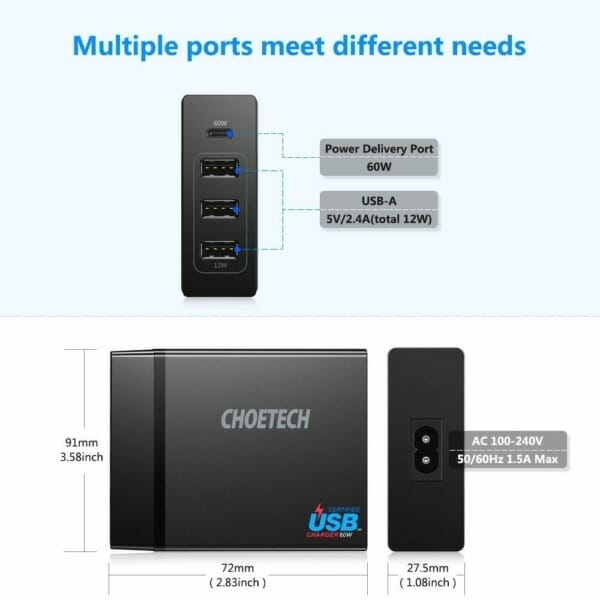 The Choetech 72W 4 Ports USB-C Charger is a well-rounded charging solution with the following specifications:
Dimensions: 3.58 inches tall, 1.08 inches thick, and 2.83 inches long
Power Delivery: 60W USB-C and 12W USB-A
Ports: 1 USB-C and 3 USB-A
Technology: Automatic device identification to provide optimal charging power, USB-C Power Delivery (PD), Qualcomm QC 2.0/3.0
Safety: Overheat and Over-Current protection
Certifications: USB-IF and UL certified
Choetech also offers an 18-months warranty, which is rare in the gadget industry.
Performance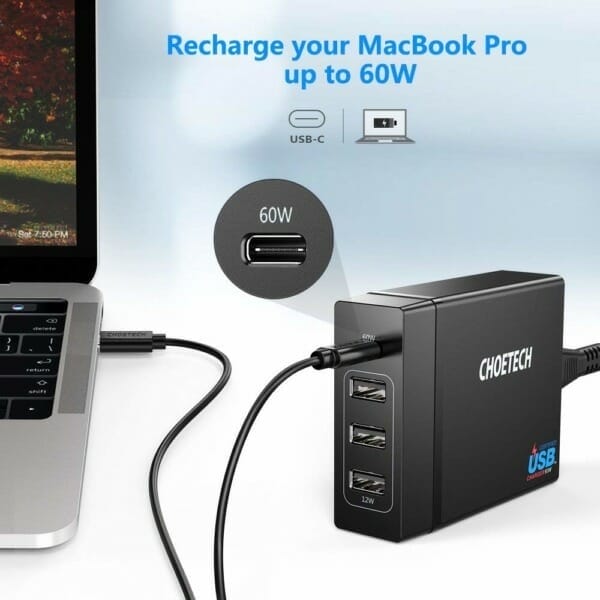 I have been more than happy with the performance of this charger and have little to complain about. But I wanted to point out that if you need to get the highest iPhone/iPad charging speed out of the Choetech USB-C wall charger, you might want to invest in a USB-C to Lightning cable, such as the one Apple sells for $19.00 on Amazon*. Apple designed this cable for use in combination with its 29W, 61W, or 87W USB-C power adapters, but it works perfectly fine with the Choetech 60W USB-C port.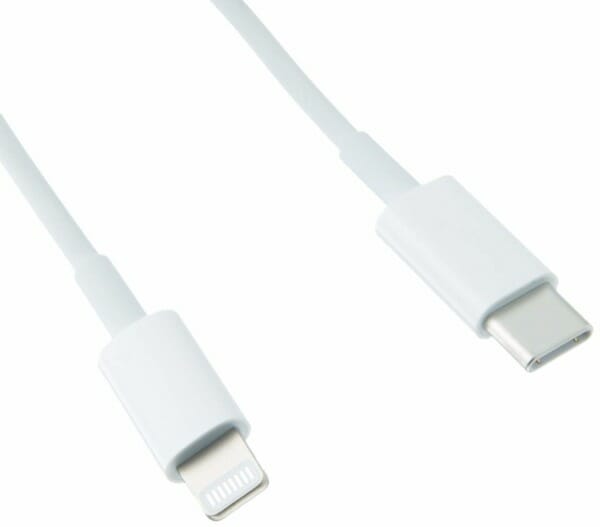 I haven't needed such a cable, because I charge my iPhone X using a wireless charging stand from Nomad* and if I have to charge my iPad Pro, I usually leave it plugged in overnight. In other words, charging speed is not one of my primary concerns.
Conclusion
Before getting the Choetech USB-C charger, I used a 6-Port quick charger from the same brand. While it worked well, it didn't have the USB-C port, which I came to appreciate in the new 72W charger.
The bottom line is that the Choetech 72W 4 Ports USB-C Charger is well-built, it performs as advertised and I expect it to remain my charging solution of choice for the foreseeable future. If you are in need of a reliable charger with enough ports to charge multiple devices, either at home, in the office, or while traveling, give Choetech a try! For less than $35, you can't go wrong with it.

I'm a healthy living and technology enthusiast.
On this blog, I share in-depth product reviews, actionable information and solutions to complex problems in plain and easy-to-understand language.