In this Calendly vs. WhenWorks review, I compare two of my favorite calendar scheduling apps that I have used for the past few months. Both scheduling tools offer unique features, which makes it difficult to pick a winner.
Why I Need A Calendar Availability Tool
As part of my sales and marketing job, I have to schedule a lot of meetings with customers, partners, and co-workers. In the past, I would waste time trying to match schedules with the people I wanted to meet.
That usually meant sending emails back and forth until all parties could agree on a day and time to hold the meeting.
That's just an incredibly inefficient process, and that's where meeting scheduler services, such as Cogsworth, Calendly and WhenWorks can help.
Calendly vs. WhenWorks
If you would like to receive a PDF copy of this table, you can request a download link by submitting your email address using the form below.
| | Calendly | Calendly | Calendly | WhenWorks | WhenWorks |
| --- | --- | --- | --- | --- | --- |
| Plan | Basic | Premium | Pro | Free | Pro |
| Rating | ★★★★ | ★★★★ | ★★★★ | ★★★ | ★★★★ |
| Event Types | 1 | Unlimited | Unlimited | Unlimited | Unlimited |
| Broad Calendar Integrations | ● | ● | ● | ● | ● |
| Multiple calendar accounts | ✘ | ● | ● | ● | ● |
| Appointments per month | Unlimited | Unlimited | Unlimited | 5 | Unlimited |
| Flexible event duration | ✘ | ✘ | ✘ | ● | ● |
| Personalized links | ● | ● | ● | ● | ● |
| Team scheduling | ✘ | ● | ● | ✘ | ✘ |
| Group events | ✘ | ● | ● | ✘ | ✘ |
| Integration with 3rd-party services | ✘ | Some | ● | ✘ | ✘ |
| Schedule >90 days in advance | ● | ● | ● | ✘ | ✘ |
| Mobile app | ● | ● | ● | ● | ● |
| Monthly fee | $0 | $10 | $15 | $0 | $5 |
Both Calendly and WhenWorks offer all the basic features that you would expect from a scheduling service so that I won't go into the details of those. But I wanted to point out some of the not so obvious commonalities. For example, event types of both services support:
Custom duration and date ranges
Custom availability for each day of the week
Limits on the maximum events per day
Event buffers
Ability to show or hide event types from my scheduling page
Update 10/2019: WhenWorks notified its customers that the service will seize operations by the end of 2019. The good news is that Calendly has added numerous features over the past few months that cover all the shortcomings it had.
Update 12/2019: WhenWorks has notified me that Rosemary Orchard, a developer, author and podcaster has purchased WhenWorks and the service won't shut down by the end of the year, as previously announced. That's great news and I'm looking forward to learn what Rosemary has in store for the service.
Calendly Review
Pros
Integration with 3rd-party services
Easy to embed in WordPress
Web interface
Mobile app
Support for multiple calendar types
Cons
New events can only be added to one, pre-defined calendar
Price
Getting started with Calendly is simple. You create an account using your web browser and link a supported calendar, such as Office 365, iCloud, Google Calendar, or Outlook. From there you get to set up one event type on the free plan or multiple if you are on a paid tier.
Technology
To sign up for Calendly, you have to use a browser or the new mobile app. During the signup process, Calendly integrates directly with your calendar account by either asking for your calendar account's credentials or using identity services to authenticate and link both accounts.
As a result, if someone uses my Calendly link to book an appointment, Calendly creates that appointment directly on the backend (i.e., Office 365) and nobody else can grab the same slot.
How I Use Calendly
I'm using Calendly's Pro plan and have set up multiple one-on-one event types including:
Product demonstrations
Meetings at trade shows
Phone calls
What's nice about Calendly is that I can personalize the URL of my Calendly landing page, for example, calendly.com/mkummer and, also, the URL for each event type, for instance, calendly.com/mkummer/60min.
As a result, if I would like to schedule a 60-minute meeting or product demonstration with a potential customer, I send them the above link and ask them to pick a slot that works for them.
I have been using Calendly since February of 2017, and it has proven to be an invaluable tool that I use daily for setting appointments. The two features I like most about Calendly are the integration with GoToMeeting and the ability to embed the scheduling service on any webpage, including WordPress.
GoToMeeting Integration
I use GoToMeeting for online presentations as well as for regular phone calls because, with my paid GoToMeeting account, I also get an audio bridge I can use, even if I don't need to share a presentation or my screen.
Much like with Calendly, GoToMeeting offers a vanity URL that I can use for ad-hoc meetings. The issue with that static URL is that it's associated with a single, so-called meeting ID.
If I schedule a back-to-back meeting using my vanity URL with two separate clients and the first meeting runs over, while the attendees of the second meeting join, I'd end up with both clients on the same audio bridge and screen sharing session.
That's less than ideal, and so I usually set up a unique GoToMeeting session for each calendar appointment.
If you opt for a Calendly Premium or Pro account, you can integrate your GoToMeeting account directly, and Calendly will set up a unique session for every appointment someone schedules via your Calendly URL. That way, conflicts like the one I described above can't occur.
Webpage Embed Codes
The other feature of Calendly I have come to appreciate is the ability to integrate an appointment calendar directly with WordPress using embed codes. As a result, potential clients can schedule meetings with me directly, without having to leave my company's webpage.
To integrate the Calendly appointment calendar, I use an embed code like this:
<!-- Calendly inline widget begin -->
<div class="calendly-inline-widget" data-url="https://calendly.com/mkummer/15min" style="min-width:320px;height:580px;"></div>
<script type="text/javascript" src="https://assets.calendly.com/assets/external/widget.js"></script>
<!-- Calendly inline widget end -->
It's worth noting that the above code works with any webpage and is not limited to WordPress.
Scheduling Appointments Far In Advance
My company exhibits at numerous tradeshows throughout the year, and I usually create a dedicated Calendly event for each tradeshow. As a result, if a client wants to book a meeting with me at one of those events, they can do that easily using an event-specific link.
The reason why I create a separate event type, rather than using my generic links is that I can limit my availability to the show floor hours, include specific instructions on where to find me (i.e., our booth number) and add additional questions or required fields to the scheduling page.
For larger tradeshows, I already know months in advance when the event will take place, so I often set up my Calendly link way ahead of time.
Support For Multiple Calendar Accounts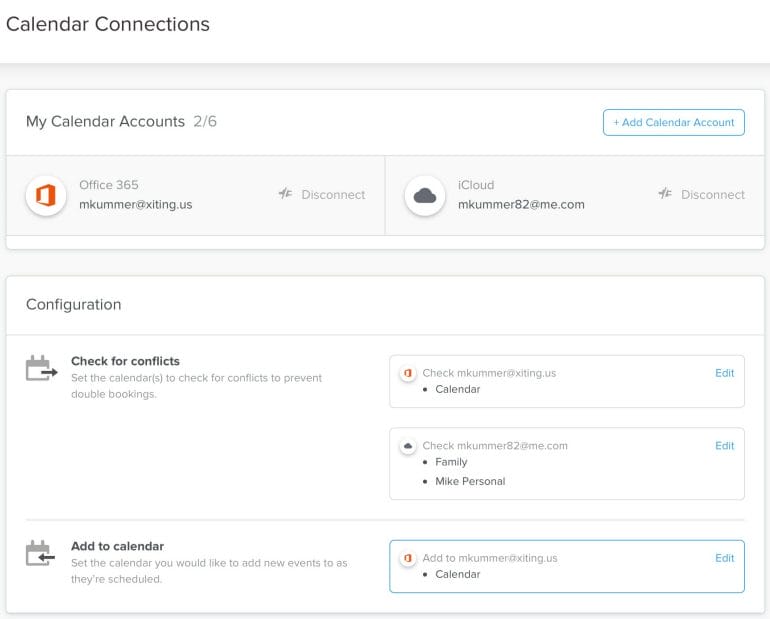 The one thing I didn't like in the past was Calendly's inability to support more than one calendar account to influence my availability.
Fortunately, that no longer the case. If you have a Premium or Pro account, you can add two or more calendars to your account.
I work from home and have multiple calendars that directly or indirectly affect my availability, including:
Work [Office 365]
Personal [iCloud]
Family – For appointments that affect both my wife and me [iCloud]
My wife's calendar that she shares with me [iCloud]
These four calendars, and especially the first two determine if I'm available or not. For example, if I have a doctors appointment, I would add it to my "personal" calendar in iCloud.
In the past, I had to add a "blocker" to my work calendar, because otherwise, the time slot would show as available. That led to calendar clutter and duplicate notifications that I'd rather avoid.
The only thing I don't like about Calendly is that each new event gets added to one, predefined calendar, regardless of what event link was used to schedule the appointment.
I have both personal and business event types set up in Calendly and if someone books uses one of my personal links to schedule a call with me, I'd like the event to be added to my personal calendar.
Unfortunately, that's not possible yet. But I hope that Calendly will add event-specific support for the "Add to Calendar" settings.
Calendly Pricing
Calendly offers a free and two paid tiers, starting at $10 per month if paid monthly and $8 per month if billed annually. The advantage of the free plan is that you can use it to book an unlimited number of appointments, but you can only create one event type.
WhenWorks Review
Pros
Support for multiple calendar accounts
Mobile phone app
Price
Cons
Doesn't support embed codes
No 3rd-party integration
Supports iOS only
Seized operations
WhenWorks is only available for iOS and signing up for it starts with installing an iOS app. There is no webpage to sign up for WhenWorks or to create and modify events.
During the account creation process, WhenWorks doesn't ask for your calendar account credentials. Instead, the app asks for permission to access the calendars that you already have set up on your phone.
Support for Multiple Calendar Accounts
The bright side of that approach is that I don't have to worry about WhenWorks getting hacked and exposing the password of my calendar accounts.
Why? Because WhenWorks doesn't have my account credentials, it only sees the calendar data that iOS makes available to the app.
The benefit of that is that WhenWorks can include all calendars from any account that I have set up on my phone. That gives me a lot of flexibility to create events relying on multiple calendars from different accounts.
Flexible Event Durations
With WhenWorks, each event type can have multiple durations that users can pick from. For example, my "Phone call with Michael" event has a 15 and 30-minute duration option. So depending on the type of call, a client can pick either option. With Calendly, I would have to create multiple event types, one for each duration.
Convenient iOS App
I like having an iOS app to review my event types, create new ones, or copy the URL for pasting it into an email or text message. With Calendly, you have to log in to their webpage to copy the sharing URL.
Technically, copying the sharing URL is not an issue for me, because I use TextExpander shortcuts and they work on Mac as well on iOS. But even so, I find myself more often copying the event URLs by opening the WhenWorks app than using the TextExpander keyboard in iOS.
Incredible Support
During my testing, I had a couple of questions, especially around some of the limitations (see below) I can into. The support I received from WhenWorks was lightning fast and incredibly helpful.
Disadvantages of WhenWorks
As much as I like WhenWorks, the service has some drawbacks, including:
Slower calendar updates
No integration with GoToMeeting or other 3rd-party services
Appointments can only be scheduled up to 90 days in advance
Supports iOS only
No support for per-event calendar selection
None of the above issues are show stoppers for me, but some of them are an inconvenience.
Lack of GoToMeeting Integration
For example, WhenWorks doesn't integrate with GoToMeeting, so I have to use my generic GoToMeeting link and meeting ID.
To avoid the issue of attendees from two separate meetings joining the same GoToMeeting session, I have configured WhenWorks never to schedule back-to-back meetings. Instead, WhenWorks always adds a 15-minute buffer before and after each scheduled meeting.
Slower Calendar Refreshes
The other downside of WhenWorks' design is that new appointments don't get added directly to my calendar account on the backend.
Instead, when someone uses my WhenWorks link to make an appointment, WhenWorks pushes those appointments to my mobile app, which adds the meeting to my local calendar before iOS synchronizes the changes with the account's backend.
As a result, calendars often take a bit longer to refresh, based on the "background app refresh" settings in iOS.
One time, WhenWorks sent me an email notification about a meeting someone had scheduled with me. When I looked in the calendar on my Mac, I couldn't see the meeting. That's because WhenWorks hadn't synchronized my account with the app running on my iPhone yet. As soon as I had opened the WhenWorks mobile app, the event appeared on my calendar.
90-Day Scheduling Limit
WhenWorks can only schedule appointments up to 90 days in advance. That's usually not a problem, but I recently ran into this limit when I tried to create an event type for a tradeshow that was more than 90 days out.
Supports iOS Only
The lack of support for other platforms is not an issue for me, but it means that non-iOS users won't be able to benefit from WhenWorks.
Per-Event Calendar Selection
In WhenWorks I have selected all the calendars that affect my availability, including work, blog and personal. The problem is that if I block off a week due to vacation, I still want to be able to accept invitations on my personal and blog calendar.
As a result, it would be great if I could select the calendars that affect my availability on a per event basis. For example, my "Product Demo" event for work, should be affected by all calendars, but my blogging-related events should not take my work calendars into account.
WhenWorks Pricing
Much like Calendly, WhenWorks offers a free tier that allows you to create an unlimited number of events. However, you can use the free plan for only up to five appointments per month. After that, you have to upgrade to WhenWorks' Pro plan, which costs only $5 per months – half the amount that Calendly charges for its Pro plan.
Conclusion – Calendly vs. WhenWorks
While both Calendly and WhenWorks are great scheduling and appointment setting services that offer similar features, they have fundamental differences in their design and feature set. I appreciate the unique set of features of both scheduling services, and it took me a while to figure out what features were most vital to me.
For a long time, I relied mostly on WhenWorks for my day to day scheduling needs. But I kept my Calendly account because I could easily embed my calendar into our corporate webpage.
When WhenWorks announced that it would seize its operation by the end of 2019, I took another look at Calendly and realized that most of its shortcomings had been addressed — in particular support for multiple calendars.
As a result, I now fully rely on Calendly for all my scheduling needs.
What scheduling service to you use? Let me know by leaving a comment below!

I'm a healthy living and technology enthusiast.
On this blog, I share in-depth product reviews, actionable information and solutions to complex problems in plain and easy-to-understand language.