Burkley, a company known for high-quality leather iPhone cases has released a leather MacBook Pro case that I got to test with my Touch Bar-enabled 13-inch MacBook Pro. Continue reading to find out how durable the new sleeve is, how quickly you can take the case on and off, and how it compares to the matte-black plastic case I reviewed before.
Besides the premium look and feel of the Burkley leather sleeve, what I like most about this case is how thin and light it is.
Burkley offers its leather MacBook Pro cases in various colors and versions. I tested a soft cover in distressed antique coffee leather. For more color options and sizes, see below.
Burkley Leather MacBook Pro Case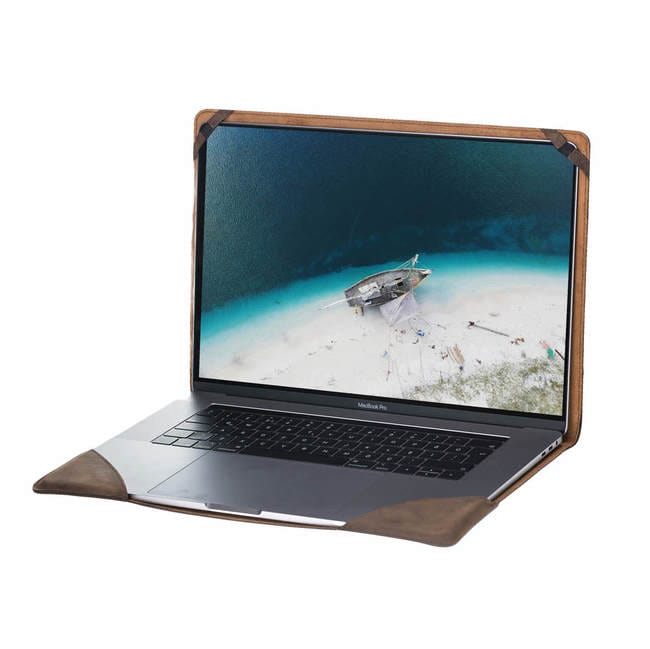 Pros
Made from full-grain leather
Slick Design and lightweight
Easy to take on and off
Cons
Not compatible with my MacBook Pro Stand
Materials and Craftsmanship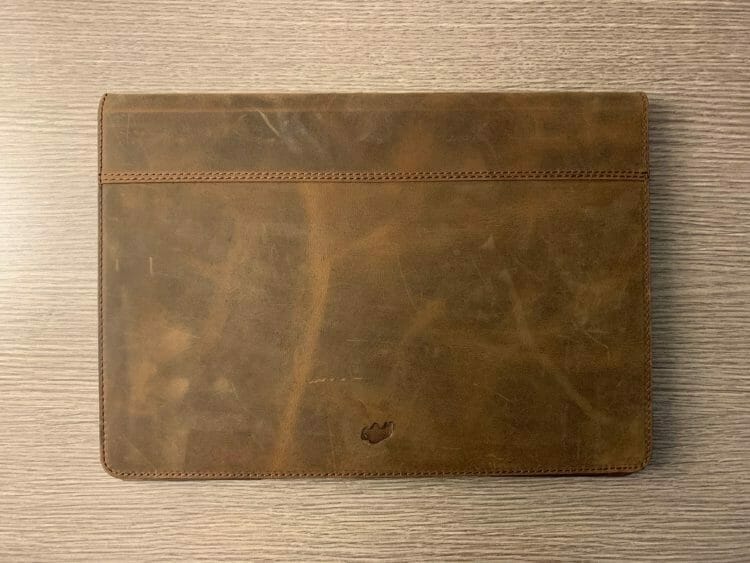 Burkley hand-crafted the leather MacBook Pro soft cover I have tested from full-grain leather. The cool thing about genuine leather is that it naturally ages over time, resulting in minor color changes and imperfections that give it a unique look. Leather manufacturers call that "Patina."
That doesn't mean you should intentionally neglect its maintenance or scratch it, but a small scuff here and there won't negatively impact its look.
Like with any other leather product, I, therefore, recommend keeping the leather sleeve away from moisture and high heat and cleaning it with a leather cleaner or cream periodically.
Design & Fit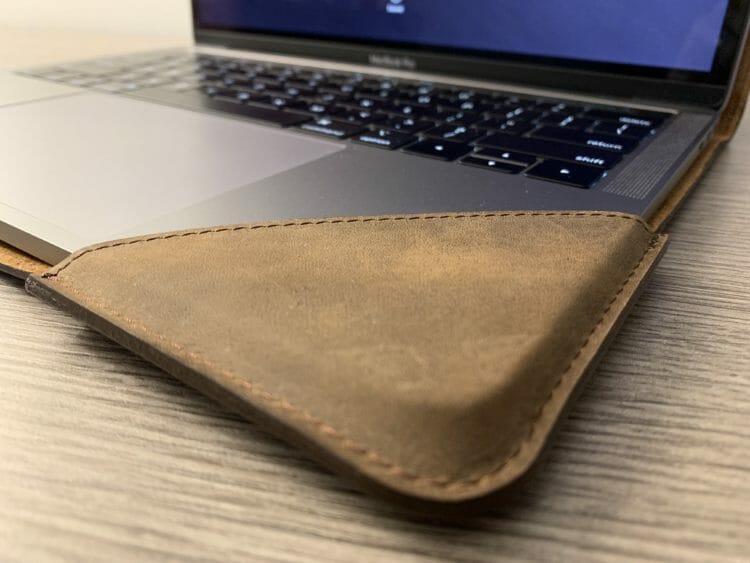 It's vital for me to be able to take a MacBook case or sleeve on and off quickly for two reasons:
Airport security personnel is finicky, and I have been asked a few times to remove the case from my MacBook Pro during one of those "random" searches.
I own a beautiful Yohann MacBook Pro stand that most cases and sleeves are not compatible with.
During a recent trip to Canada, the Canadian airport security officer asked me to take the leather sleeve of my MacBook Pro. Fortunately, Burkley has designed its soft cover with ease of use in mind. To take the case off, I only had to remove the elastic straps on the upper corners of the screen before sliding out my MacBook.
That took less than 10 seconds. Putting the sleeve back on was equally convenient and much quicker than compared to most hardshell cases I have tested in the past.
Thermals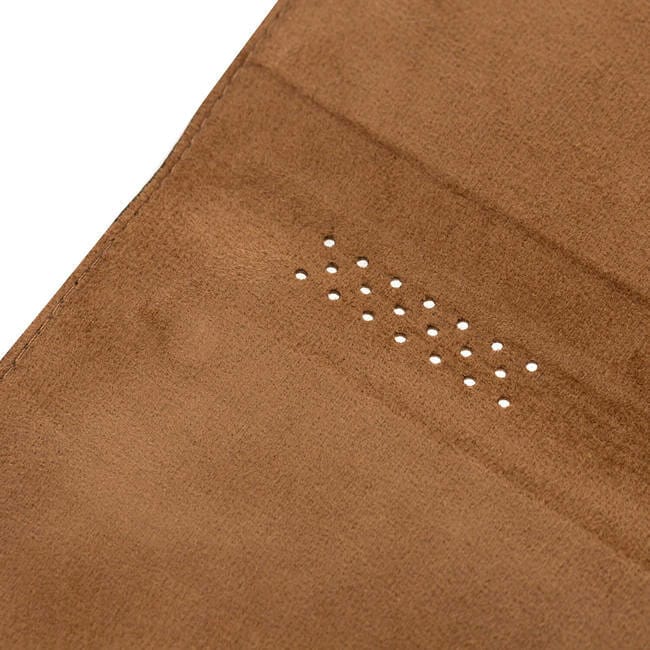 One thing that I was worried about is thermals. Macs and MacBooks are not known to have the best thermal management (ventilation) to begin with and covering up the air intake, and exhaust with a case would make the situation even worse.
Fortunately, Burkley added holes on the lower back of the sleeve to let air flow in and out of the MacBook. I only use my MacBook Pro while I'm traveling for tasks that typically don't tax the CPU. So I don't know for sure if the computer gets warmer than usual with the leather sleeve on, but I never heard the fan spin up so far.
Supported MacBook Models
As I mentioned above, Burkley's leather cases and soft covers are available for various MacBook models, including the older MacBook Air, the MacBook and, of course, the MacBook Pro. In case you wonder, the 13-inch MacBook Pro leather sleeve fits MacBook Pros with and without Touch Bars.
| | | |
| --- | --- | --- |
| Supported MacBook | Type | Color |
| 11-inch MacBook Air | Hardshell | Distressed Antique Coffee Leather |
| 11-inch MacBook Air | Hardshell | Antique Camel Leather |
| 12-inch MacBook | Soft Cover | Pebble Black Leather |
| 13-inch MacBook Pro | Soft Cover | Distressed Antique Coffee Leather |
| 13-inch MacBook Pro | Soft Cover | Burnished Tan Leather |
| 15-inch MacBook Pro | Soft Cover | Burnished Tan Leather |
| 15-inch MacBook Pro | Soft Cover | Distressed Antique Coffee Leather |
Burkley Leather MacBook Pro Case Review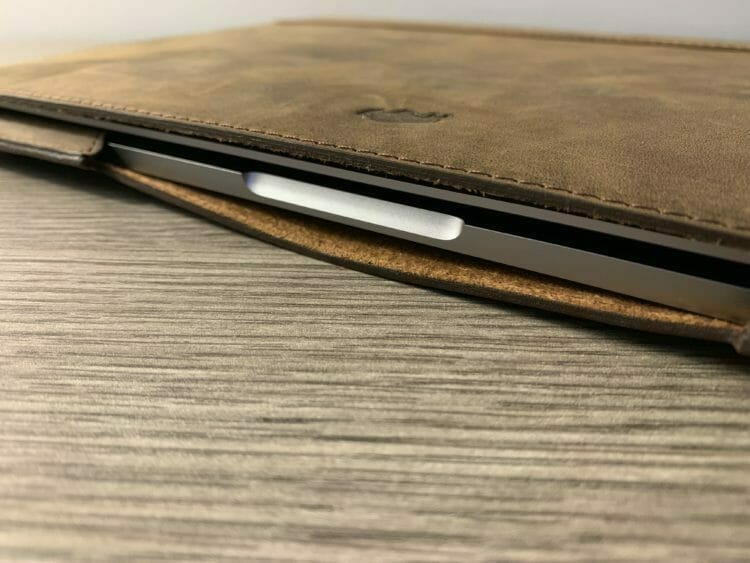 Before I got the Burkley Leather MacBook Pro case, I never owned a soft cover or sleeve for any of my MacBooks. If anything, I had a hardshell case, such as the one from Blvckbydesign I recently reviewed.
After having had over a month with this leather sleeve, I can finally say that I adore it. It only weighs 6 ounces (170.1 grams), it looks trendy, and I love how genuine leather feels when I hold the MacBook Pro. The only downside of it is that my MacBook doesn't fit into my Yohann MacBook Pro stand I have in my office because of the incredibly precise cut out that only fits the body of the computer without a case.
Fortunately, I can take the Burkley leather sleeve on and off quickly, which makes this a non-issue. If you are looking for a quality leather MacBook Pro case or sleeve, give Burkley a try!

I'm a healthy living and technology enthusiast.
On this blog, I share in-depth product reviews, actionable information and solutions to complex problems in plain and easy-to-understand language.