The Bitdefender Box 2 is a smart home cybersecurity hub that protects your local network and all connected devices from malware, identity theft, hackers, and other threats.
Cyber Threats and Smart Home Security
Most of the time when we hear of network breaches or the theft of sensitive (personal) information, it's related to large organizations who store vast amounts of consumer data without adequately protecting it.
What we usually don't read in the news about are how many individuals become the victims of cyber attacks and who get their passwords or identity stolen, and personal data exposed.
When I was in high school, we had one family PC connected to the Internet using a dial-up modem. Back in those days, the most common way for your computer to get a virus was via an infected floppy disk. If you don't worry what floppy disks are, don't worry about it :)
To mitigate that risk, all you needed was an antivirus scanner that would scan any floppy disk you inserted. From a cybersecurity and data protection perspective, life was easy back then.
I don't know the exact statistics, but I doubt that the primary source of malware today is removable media. Instead, it's more likely that you'll become the victim of a cyber attack, originating from the Internet.
Plus, think about how many of your devices are online at this very moment! In my case, the answer is 43! What's even worse is that these are not 43 PCs that might be turned off half of the time. Instead, these are mostly the Internet of Things (IoT) devices that control significant parts of my digital and physical infrastructure, such as:
Door locks
HVAC equipment and thermostats
Smartphones and tablets
Computers and printers

If you're a gamer, you can add gaming consoles and other smart home devices to the list!
I work in IT security and keep my Macs, iPhone, iPad, etc secure. Plus, both my wife and I know how to behave responsibly by not clicking on links in emails, or opening suspicious attachments, etc. However, most of these smart IoT devices are closed-off systems, and I have no visibility or control over how they do things. For all I know, some of them might not be even using SSL to encrypt data in transit.
As a result, it's essential to shield and protect these connected devices, using a network appliance that filters and scans all the traffic going in and out of the network. That's where the Bitdefender Box can help!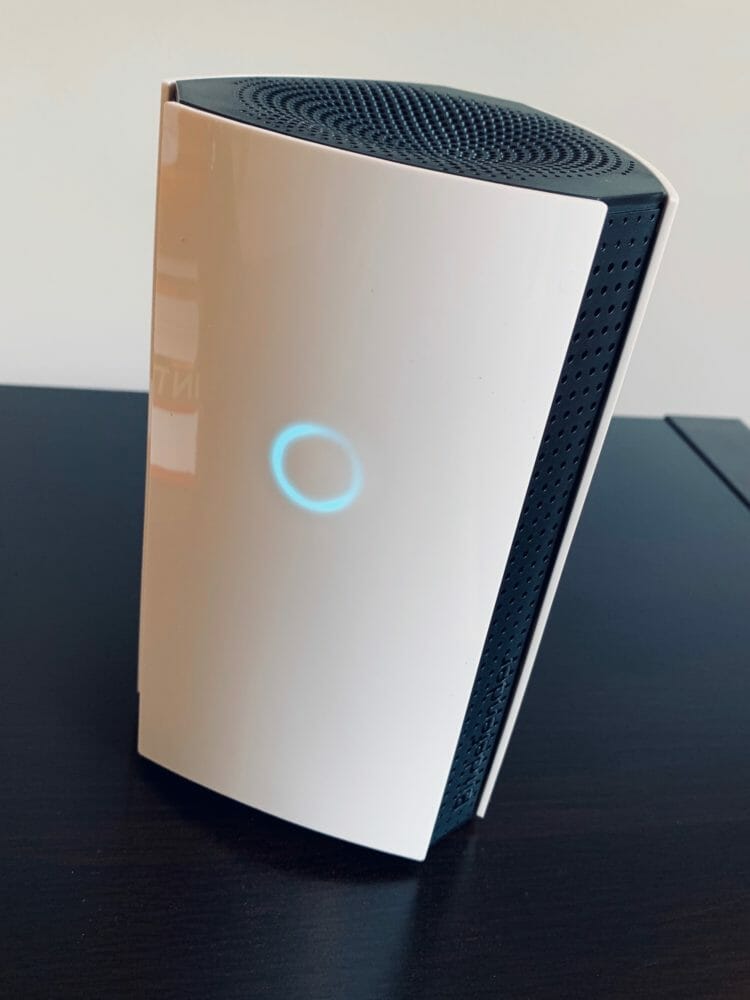 How does Bitdefender Box work?
The Bitdefender Box is a multi-layered security solution that sits between your ISP router and your home network, scanning and filtering all traffic that enters your network. That enables the hardware appliance to provide a continuous vulnerability assessment and to block threats, almost in real time.
If the appliance detects malicious activity or a threat, it can alert you via its Central app that is available for both iOS and Android.
Technically, Bitdefender Box becomes your primary router, taking over the roles of the DHCP server and WiFi access point (AP) from your ISP modem. By becoming the primary router of your wired and Wi-Fi network, Bitdefender can provide parental control, malware protection and device management for all users and devices in your household.
Bitdefender Box Highlights
Pros
Supports Internet speeds of up to 1 Gbps
Holistic security for your entire network
Easy to set up and configure
Cons
Wants to act as the DHCP server (no bridge mode)
What I like most about the appliance is its ability to handle my 1 Gbps fiber-optic Internet connection from AT&T. Most other devices, including the one I reviewed in the past, offer a 1Gbps Ethernet port, but they can't handle the full speed, and thus, throttle the speed of my Internet uplink.
The only potential downside of Bitdefender Box is its desire to act as the DHCP server on your network. For most consumers and prosumers that's not an issue, because you can enable the so-called bridge mode on your ISP router.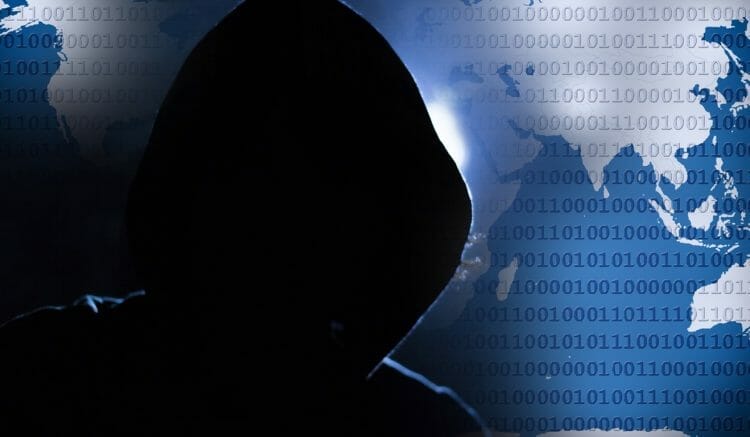 Security Features
To find out what the Bitdefender Box can do to keep your network secure by identifying potential vulnerabilities, here is an overview of its key features.
Device Management
Bitdefender, together with its mobile app, can detect and protect every device on your network. You can even add devices into logical groups and assign them profiles that determine their level of protection, and potential restrictions.
In turn, that allows you to pause individual devices ad-hoc or based on a predefined schedule. For example, you could enable access to the Internet on your family computer only during specific times of the day.
You can also get instant notifications of threats or other events as they occur and via the Bitdefender app.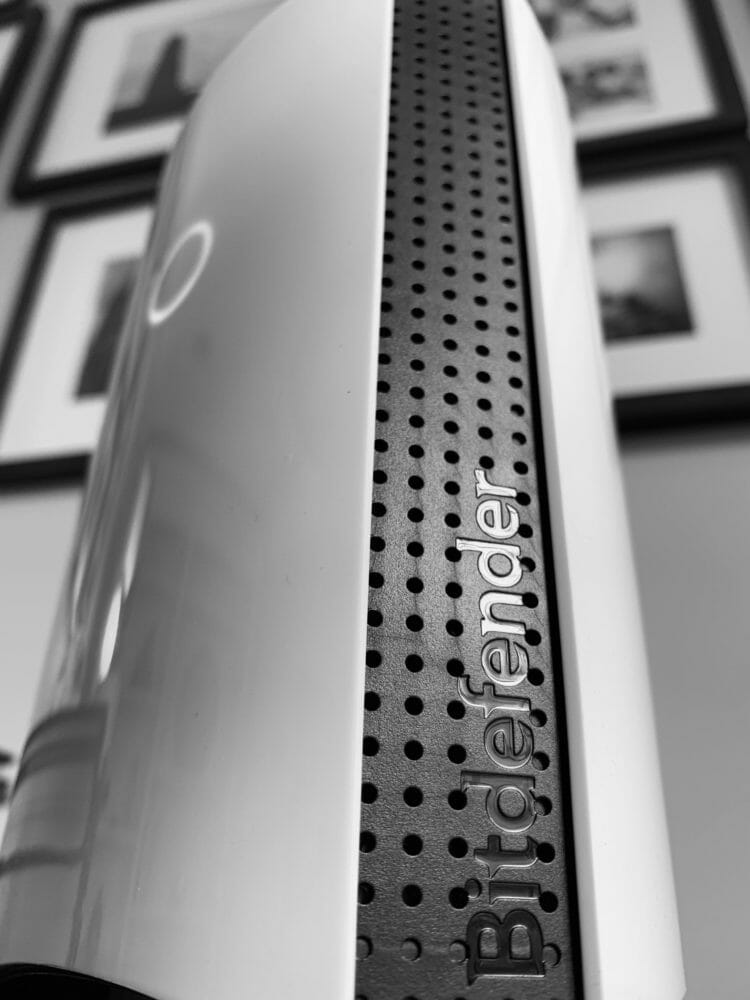 Data Protection
By continuously scanning all data being transferred between the devices on your network and the Internet, Bitdefender provides anti-virus and anti-malware protection, phishing and fraud prevention, sensitive data protection, safe browsing capabilities, and much more.
I have not used an anti-virus scanner on any of my smart gadgets (predominantly Macs and iOS devices) in years because I don't like how intrusive they are, compared to the value they provide.
That's why I'm such a fan of network appliances that do their thing without impacting system performance and the security framework of the Operating Systems I use.
Network Security
Bitdefender uses machine-learning algorithms and intrusion prevention systems (IPS) to detect anomalies and potential threats, and it blocks them almost in real time.
That enables Bitdefender to prevent hackers from exploiting potential vulnerabilities in your network, and brute force attacks on your devices.
Privacy and Parental Controls
The content filtering features of Bitdefender Box not only make network intrusion prevention possible, but they also enable advanced parental controls.
Technical Specifications
Bitdefender Box packs much more powerful hardware than what I initially thought, and it even features Multi-User MIMO (MU-MIMO) for improved wireless reception. Check out its detailed, technical specifications below!
| Hardware | |
| --- | --- |
| Processor | Dual Core Cortex A9 @1.2 Ghz |
| Memory | 1 GB of DDR3 |
| Storage | 4 GB (internal storage) |
Wireless
Wi-fi standard
IEEE 802.11a/b/g/n/ac Frequency: 2.4 – 5 GHz
Transfer rate
1900 Mbs
Antenna
3×3 antenna configuration
Technology
Concurrent Dual band Wireless
MU-MIMO
Wave-2
Other
Connectivity
1 x LAN port
1 x WAN port (both 10/100/1000Base-T Ethernet)
Transfer rate
10/100/1000
Product dimension
112 x 106 x 188 mm / 4.41 x 4.17 x 7.4 inch
Product weight
430 g / 0.95 lbs
What you get
When you purchase the Bitdefender Box, you get a combination of hardware, software, and a service.
The hardware consists of:
BOX Network Security Hub
Power adapter
Three feet CAT6 Ethernet cable
Getting started guide

On the software and services side, you get:
One year service subscription
Bitdefender Total Security for all your devices

How much is Bitdefender Box?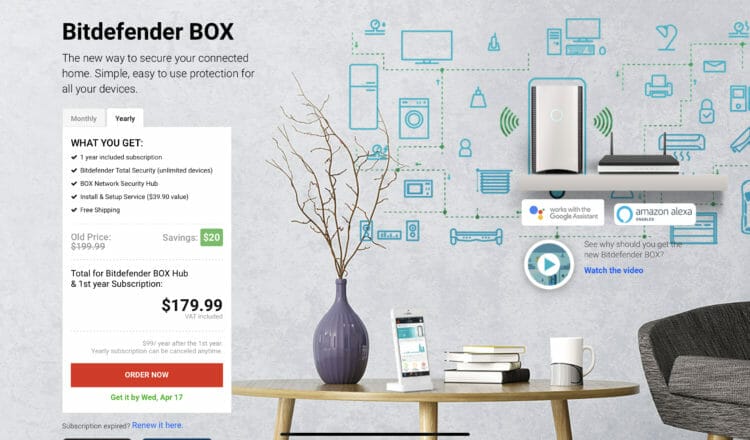 As indicated above already, the physical Bitdefender Box comes with an annual service subscription. The initial, one-time fee for Bitdefender Box is $179.99, which includes the first year of service. The subscription fee for subsequent years is $99 / year.
Alternatively, you can pay $14.99 per month from the beginning. If you do that, every year (beyond year one) is going to be more expensive compared to a yearly subscription. However, in either case, you can cancel your subscription anytime.
Compatibility with Routers and Modems
Anytime I add new networking equipment, I check if it's compatible with my existing network infrastructure. Most home security appliances are compatible with the modems and routers ISPs issue.
As a result, if you're a customer of one of the major internet service providers in the country (AT&T, Comcast, Verizon, Cox…), chances are, Bitdefender Box works out of the box – no pun intended.
I have a fiber-optic Internet connection from AT&T, and I use their crappy Arris modem in a pseudo-bridge mode, so my UniFi Security Gateway (USG) can do the heavy lifting. When reading through Bitdefender's list of supported devices, I was pleasantly surprised that they explicitly mentioned my router, among these others:
Google Wi-Fi
Peplink
Ubiquity Edge router
UniFi Security Gateway
Linksys WRT32X

What's important to understand is that the Bitdefender Box wants to be the sole DHCP server on your network. As a result, it's best to configure your existing router to operate in so-called "bridge mode" with its DHCP server disabled.
For most ISP modems/routers that's not an issue, and you can do it in the device's settings. The Arris modem that AT&T gave me doesn't support full bridge mode. My UniFi Security Gateway does, but I don't want to strip it of its routing capabilities. As a result, I decided to position the Bitdefender Box 2 between my Arris modem and USG, with neither device being set to bridge mode.
Bitdefender Box and UniFi Security Gateway
The advantage of that approach is that I can continue using my USG and UniFi dashboard to manage all my connected devices. The downside is that Bitdefender only "sees" the USG and not any of the other devices.
In other words, I'm losing the fine-grained device management features of the Bitdefender Box, but I'm still getting all the network security, traffic inspection, and intrusion prevention capabilities. To me, that's an acceptable tradeoff!
Setup and Installation
The setup and installation of the Bitdefender appliance are straightforward and starts with downloading the Central app from the App Store of your mobile platform.
From there, you follow the steps of the setup wizard of the app. On a high level, the installation procedure includes:
Download and launch the Central app
Plugin Bitdefender Box to a power outlet
Connect your iPhone and Android device to the Bitdefender Box wireless network
Connect "uplink" of the appliance with one of the switch ports on your modem

If you are using an ISP-issued modem/router, you're done and don't have to worry about the second Ethernet port on the Bitdefender Box.
However, if you are using your own router as I do, you have to use a second Ethernet cable to connect the remaining port on the Bitdefender Box with the uplink port of your dedicated router. After that, Bitdefender recommends setting your own router into bridge mode.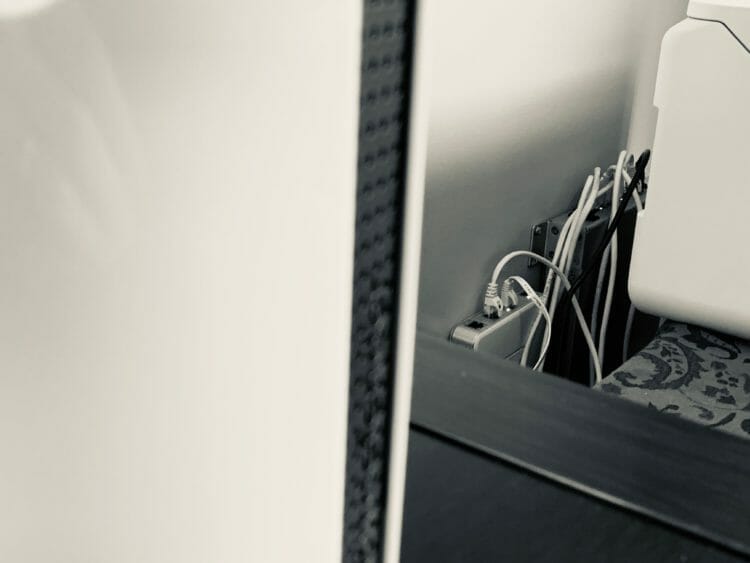 Once you are done with setting up the appliance, you can install the optional Bitdefender software, including Bitdefender Mobile Security (iOS), and the anti-virus apps for Mac or Windows).
I use predomintantly iOS, a platform that Apple has designed with security in mind. As a result, I don't see the need to install additional security solutions or apps on my iPhone or iPad. However, I have one exception to this rule, and that's the Bitdefender Parental Control app (iOS).
Also, due to how most apps use SSL and TLS to encrypt the data they exchange with backend servers on the Internet, the Bitdefender Box cannot inspect the contents of data packages, without having a native app installed on the endpoint, such as a mobile device. That's one of the reasons why you might want to install apps, such as the parental control app.
Also, if you're using an Android device, you might benefit from the Bitdefender Mobile Security app because Android is much less restrictive regarding data protection and security overall, compared to iOS.
Bitdefender Support
After I had set up and configured Bitdefender, I ran the Ubiquiti speed test and it reported less than 100 Mbps. Without trying another speed test page,I called Bitdefender support because I figured that I had misconfigured something. The automated phone system connected me to a human support agent within a few seconds who listened to my explanation of the issue, and then suggested to try another speed test.
The two other speed tests I tried both reported the speed I expected (close to 1 Gbps) and so my issue was resolved within two minutes. While I haven't had any other inactions with the company's support team, I was impressed how quickly and efficiently I was connected and taken care of. You don't get that every often anymore in the technology world.
Frequently Asked Questions (FAQ)
Below is a list of common questions I have heard people ask. As I get more feedback on this article, I'll keep adding my responses to this section. So check back from time to time.
Do I Have to Install an App on My Mac/PC or Mobile Device for Bitdefender Box to work?
No, you don't have to install an app to benefit from most of the data protection and privacy features of the Bitdefender security hub. However, the free apps Bitdefender offers, provide additional features and capabilities you might like, including:
On-device antivirus scanning,
Virtual Private Network (VPN),
Parental Controls, and more.

What's the Routing Speed of Bitdefender Box?
Bitdefender Box supports speeds of up to 1 Gigabit per second (Gbps). I have tested my Internet speed before and after plugging in Bitdefender and got over 900 Mbps on Fast.com and Speedtest.net. Only the Ubiquity speed test, which is currently in Beta showed slower results with Bitdefender.
Can I Use Bitdefender Box With an Existing DHCP Server?
Yes, you certainly can. That's how I use it as well. However, by doing so, you'll lose some device management features that you only get by disabling the DHCP server on your existing router and setting it into bridge mode.
Bitdefender Box Review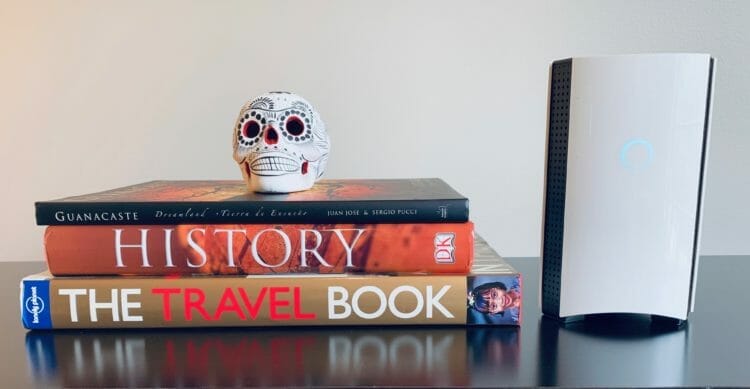 Bitdefender Box is an excellent home network security hub that provides instant data protection and privacy features without slowing down your network. While the appliance, in combination with its software and apps, can do a lot, I chose to use only its core capabilities.
That way, I didn't have to make any significant changes to my network infrastructure that's arguably a bit more complex than that of the overage consumer. Despite that, I enjoy the protection of all my devices from cyber threats without negatively impacting the speed of my gigabit uplink.
If you haven't invested in a smart home security solution to protect your network and devices yet, I highly recommend you give Bitdefender Box a try. To learn more about what else Bitdefender has to offer, check out the company's webpage.

I'm a healthy living and technology enthusiast.
On this blog, I share in-depth product reviews, actionable information and solutions to complex problems in plain and easy-to-understand language.