I have been traveling internationally for over a decade, and I've had a chance to try dozens of travel adapters and plug converters. So I thought it was time to recap my experiences and crown the very best universal travel adapter.
As a result, I'd like to present you with:
The Top 6 Universal Travel Adapters that I have used over the past two years. I'll also share with you the top picks from other reviewers.
Of course, everyone's needs and requirements are different…
…what works best for me might not be the right adapter for you. This review takes that into consideration, and analyzes a few different categories of adapters to help you find the best option.
What Is the Best Travel Adapter?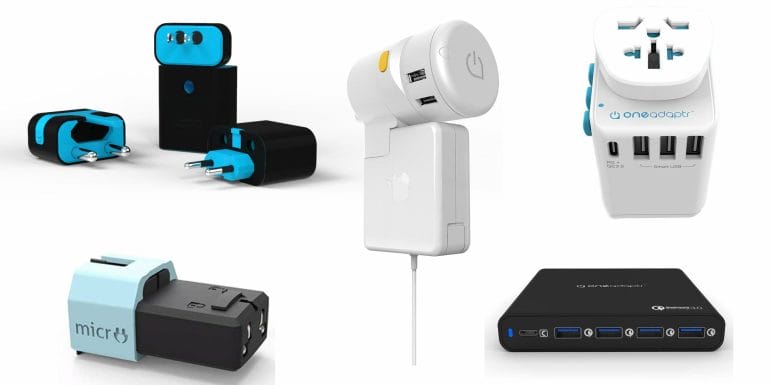 The table below shows my top pick in each of the following categories:
Best international travel adapter
Best travel adapter for a single region
Smallest travel adapter for worldwide use
Best unreleased travel adapter
Best International Travel Adapter
Adapters that fall into this category are best for international travel because they offer multiple plug configurations, thus making them compatible with the plug standards in numerous countries.
As a nice add-on, many of the adapters in this category also offer extra USB ports for charging multiple devices simultaneously. They can also convert voltage for those USB ports.
Best Travel Adapter for a Single Region
Products that fall into this category feature only one type of power plug. For example, the one most common in the United States and surrounding regions (Type A).
However, most of the adapters that I have tried in this category have a replaceable power cord. As a result, if you go to Europe, you can quickly get a compatible cable and continue using the adapter (as long as it features a voltage converter).
Smallest Travel Adapter for Worldwide Use
You don't want to bring the kitchen sink on every trip, and some people even make it a point to pack only the bare essentials. If you're a minimalist traveler, you'll appreciate travel adapters with a compact design that you can stick into the pocket of your pants.
Best Unreleased Travel Adapter
Crowdsourcing platforms, such as Indiegogo and Kickstarter, are filled with new and upcoming products. Since I haven't had a chance to try them yet, I placed these products in a separate category. I'll update this review once I've had an opportunity to test them.
Now that you understand what each category is for, here are my top picks for each:
| Category | Travel Adapter |
| --- | --- |
| International | Nomadplug |
| Single Region | Oneadaptr EVRI |
| Smallest | MICRO travel adapter |
Why Should You Get a Travel Adapter?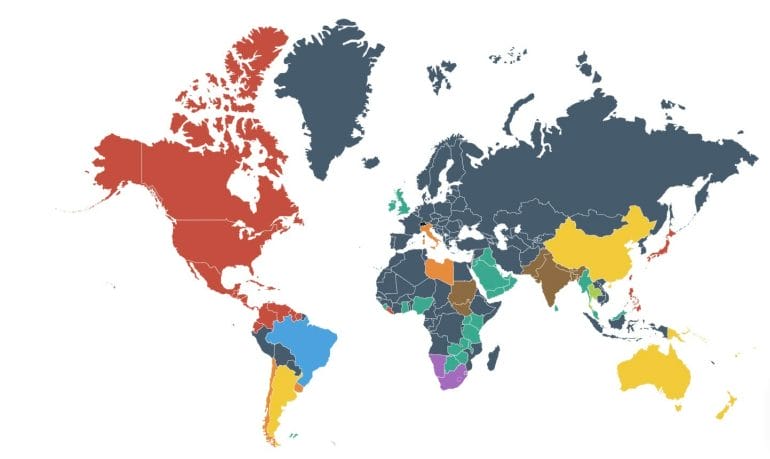 If you travel internationally, chances are you'll need a travel adapter or plug converter. Based on information from the International Trade Administration (ITA), which is part of the U.S. Department of Commerce, there are 15 different types of electrical outlet plugs in use today.
Besides the differences in shape and form, there are also two different voltage and frequency types in use: 100-127V, and 220-240V.
Note: It's essential to understand the difference between the electrical specifications of your device and the outlet you want to plug it into. If you don't, you might fry your device (or injure yourself) by exposing it to a higher voltage than it was designed to utilize.
The good news is that many, but not all, countries close to the U.S. use compatible plugs and voltage frequencies. Canada, Mexico, Japan, and some Caribbean and Central American countries use the familiar two-pin or three-pin plug, and 100-127 volts.
However, if you travel to some less developed areas, you might come across two or three different outlet types that may vary by region.
Download Adapter Comparison Sheet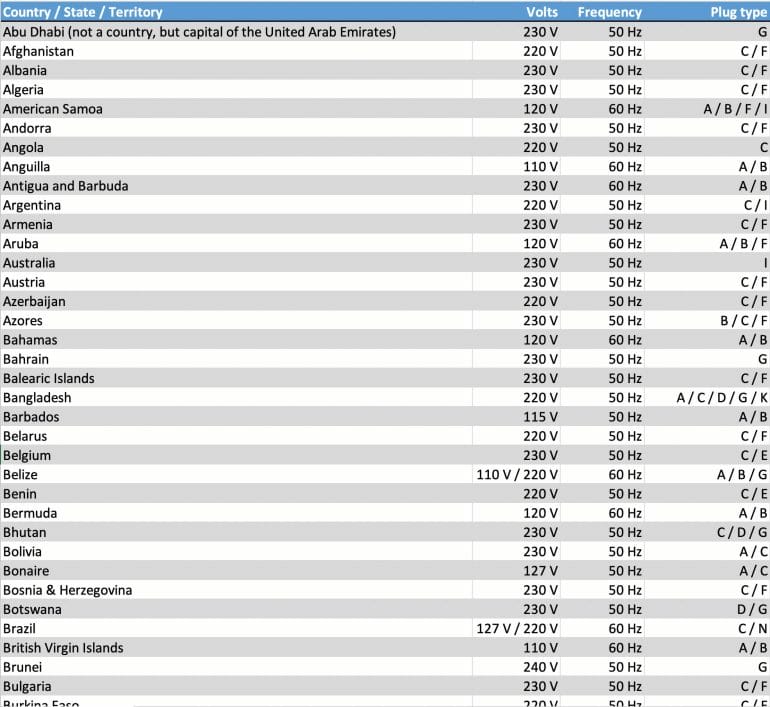 You can download the complete list here.
What to Look For
There are hundreds of travel adapters on the market, so it's essential to understand what to look for. After all, your requirements will determine which product will work best for you. To give you an idea of what you should look for, here are some characteristics that might help you determine which features are most important in your particular situation:
Worldwide coverage vs. country/region-specific plugs
Universal plug vs. device-specific plug
USB ports (USB-A vs. USB-C)
Built-in surge protection
Form factor
If I travel domestically, or to countries that are compatible with the electrical standards of the United States, I bring a different power adapter than if I go overseas. Since I'm a techie, I usually travel with a lot of gadgets, including my MacBook Pro, iPad Pro, iPhone, Apple Watch, and other devices I need to keep charged. As a result, I need a universal travel adapter that provides enough USB ports to accommodate all my gadgets.
If you only travel with a smartphone, you might not want a bulky travel adapter with several USB ports. So, determine your requirements before making a purchasing decision.
Adapters vs. Voltage Converters
It's important to understand that there's a difference between a power adapter and a voltage converter. A simple plug converter is just that; it allows you to fit your power plug into a foreign power outlet. However, if the device you're plugging in doesn't support the voltage frequency of the country you're visiting, your device won't work (and might get damaged).
Some universal travel adapters support both of the voltage frequencies I mentioned above. However, that doesn't mean they can convert between those two frequencies. The good news is that most consumer electronic devices come with power adapters that can switch between different voltage types.
For example, in combination with a proper plug converter, the travel charger of my MacBook Pro works in any country.
To determine if your electronic device has a built-in voltage converter, see if it says "100-220V 50/60Hz" somewhere on its power adapter. If it does, that means it works with voltage frequencies of 100V to 220V, and either 50 or 60 Hz. That covers pretty much the whole world. Such multi-voltage electrical devices usually include battery chargers, laptops, and other portable devices.
In comparison, a dual-voltage appliance will say 110V/220V. If it says something like "100-120V 50/60Hz," it won't work in countries that use 220V.
Some devices, such as hair dryers and curling irons, won't work at all. As a rule of thumb, if the device has a blower fan or a heating element, expect it not to work. So save the space in your suitcase and borrow a hair dryer or curling iron at your destination. The good news is that many hotels have, at the very least, a hair dryer you can use.
Power Adapters vs. Plug Converters
As a blogger and reviewer, I tend to collect gadgets that, over time, clutter up my office. That's why I clean out my office every couple of weeks and donate or give away the stuff that I don't use anymore.
A few days before starting work on this article, I found a bunch of old plug converters that I used 10 years ago when I lived in Switzerland and often traveled to the U.S. or Austria.
I hadn't used those stackable plug converters in years, because I realized that the only devices I need to keep charged while traveling these days support some type of USB cable. As a result, all I need is a single adapter with multiple USB ports.
That's why I haven't included traditional plug converters in this review. However, I'll mention some at the end, based on reviews from other sites I trust, just in case your requirements are different from mine.
Travel Adapters and Watts
When picking a travel adapter, make sure you understand how many watts it can handle. Wattage is the power an electrical device requires, and you can easily calculate it by multiplying the voltage by the amperage.
For example, if an appliance is labeled with 110V and 2 amps, it requires 220 watts (110 x 2 = 220 watts). If you connect more devices than your travel adapter can handle, you could blow a fuse.
Some of the international adapters in this review feature a replaceable fuse. For example, the Oneadaptr OneWorld automatically shuts down if it detects a power surge or abnormal usage patterns.
Top 6 Travel Adapters
Oneadaptr OneWorld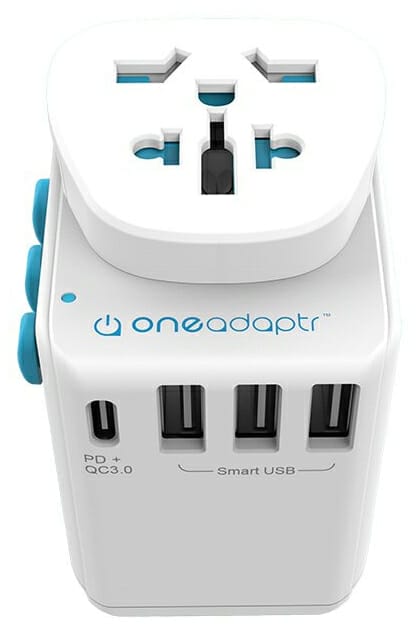 Pros
USB-C power delivery
1x USB-C, 3x USB-A ports
Fully grounded (BS8546 compliant)
Charge up to five devices simultaneously
Broad input range (100-240V)
Overcurrent protection
Works in 150 countries
Cons
Relatively bulky and thick
Might slip out of the power socket if you attach too many devices or cables
The OneWorld universal adapter features coverage for 150 countries in a relatively compact design. It also offers one USB-C port with power delivery to charge newer MacBook Pros and similar devices. Additionally, it has three USB-A ports, and can charge up to five devices simultaneously.
Technical Specifications
Dimensions: 54.5 x 69 x 67 mm
Weight: 178.2 g/6.29 oz
Input: 100-240V
Output (USB-C PD): 18W max, 5V3a, 9V3a, 12V1.5a
Output (Smart USB): 5V2.4a
Output (AC): 100-240V @ 10A max

Oneadaptr EVRI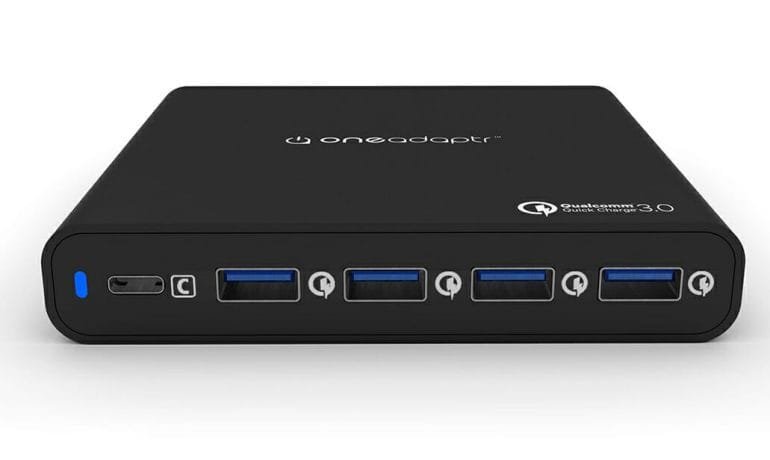 Pros
USB-C power delivery
1x USB-C, 3x USB-A ports
4x Qualcomm Quick Charge 3.0 ports
Broad input range (100-240V)
Packed with 80W of charging power, yet only 19mm thick
Exchangeable power cord
Cons
You have to purchase separate power cords to use the adapter in other countries
I carry the EVRI adapter everywhere, particularly when I travel domestically or to countries that use the same outlet plugs as the US.
What's cool about the EVRI is that I can replace the power cord. So when I go to Europe, I simply pack a European power cord and continue using the adapter normally. What I like about it is that it's so flat, and thus low-profile. I just wish it had a second USB-C port.
Technical Specifications
Dimensions: 110 x 98 x 20 mm
Weight: 238 g
Input: 100-240V
Output (USB-C PD): 60W max, 5C3A, 9V3a, 15V3a, 18V3A, 20V3A
Output (QC 3.0): 3.6V – 6V 3A.6V – 9V 2A, 9V – 12V 1.5A (max)

MICRO travel adapter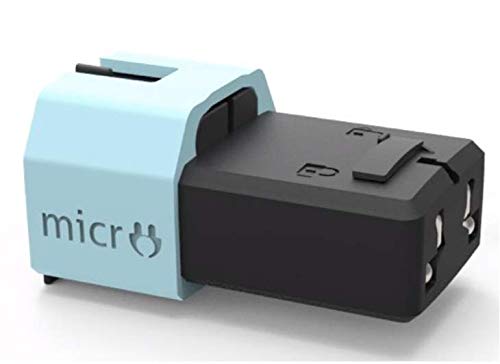 Pros
Incredibly small and lightweight
Integrated, replaceable fuse
Broad input range (100-250V)
Works in 150 countries
The MICRO is the world's smallest and most lightweight travel adapter, and it works in 150 different countries. The replaceable, integrated fuse protects connected devices from power surges, which is particularly valuable in countries with unreliable power sources.
To use MICRO with different plug configurations, you can use a simple slide, push, and lock mechanism. It also comes with an attachable piece you can use for plugs in certain countries that require a grounding pin. While that extension works well and is easy to attach, the plastic feels a bit flimsy and might break over time.
The primary disadvantages of the MICRO travel adapter are that it's not grounded and doesn't have any built-in USB ports.
Technical Specifications
Input voltage: 100-250V
Max power: 100V-630W/250V-1575W
Replaceable fuse: T6.3 A
If you want to give MICRO a try, you can use discount code MK10% to get 10% off your purchase. Note, the code does not work in combination with other promos.
Nomadplug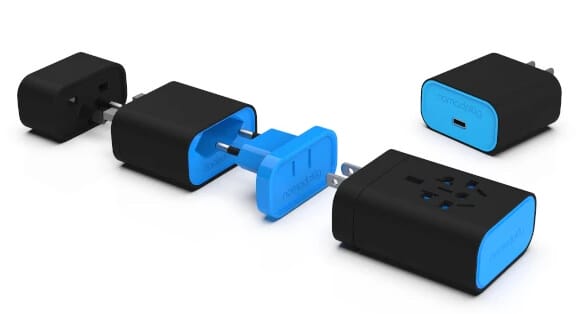 Pros
Modular and compact
Available in different configurations and USB port options
Broad input range (110-240V)
Works in all 195 countries
The Nomadplug was created out of a crowdsourcing campaign on Indiegogo. I learned about Nomadplug when I signed up for the 2019 Consumer Electronics Show in Las Vegas.
Ryan Silberman, the creator of the product, says that Nomadplug is the last travel adapter you'll ever need. Assuming he and his team can deliver on the promises made, I tend to agree.
Nomadplug is incredibly small and lightweight, yet it works in all 195 countries around the world. No other adapter provides such broad coverage. Additionally, Nomadplug has one USB-C port.
Update: After almost two years of product development, I finally received my Nomadplug and really like it. The build quality is exceptional and I love the modular design that makes it easy to quickly switch between the different plug types.
What's also worth noting is that the Nomadplug is available in several colors, and you can get different USB configurations. My review model has a single 18W USB-C port, but the company also offers a version that has one USB-A and two USB-C ports.
Technical Specifications
Dimensions: 144 x 55 x 30 mm
Accepted voltages: 110-240V
Current: 15 Amp
Hertz: 50-60Hz
Compatible plug types: A through O
Apple World Travel Adapter Kit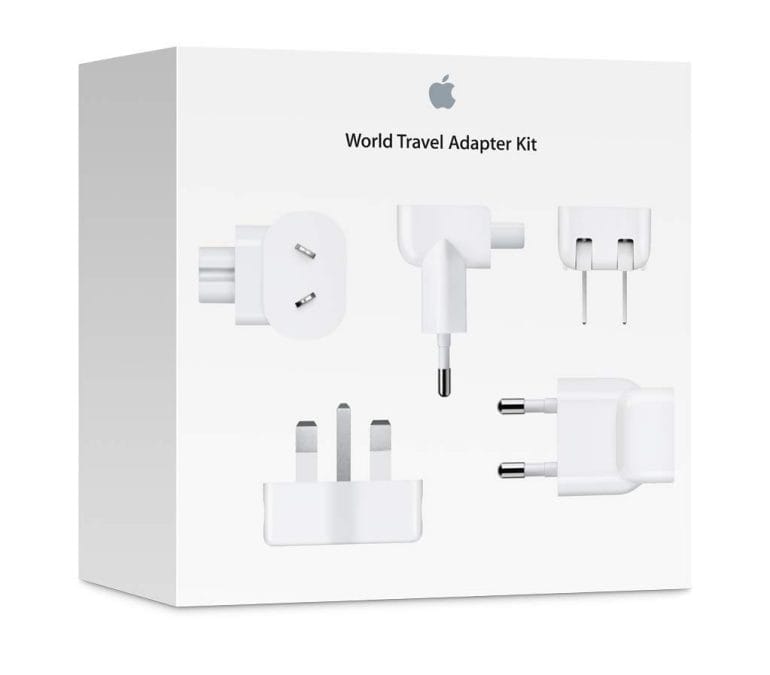 Back in the days when I had a MacBook Pro with a MagSafe power cord that wasn't USB-C compatible, I had the Apple World Travel Adapter Kit. The adapter set contains five different adapters that you can use with the standard power-brick of the MacBook Air/Pro.
The A.C. plugs included in the World Travel Adapter Kit directly support outlets in North America, Japan, China, U.K., Continental Europe, Korea, Australia, and Hong Kong.
Since my current MacBook Pro supports charging via USB-C with power delivery, I don't need the kit anymore. But if you still own an older MacBook Air or MacBook Pro, Apple's kit might be the right solution.
As a nice extra benefit, the adapters in that travel adapter set also work with the old AirPort Express, which some people bring on extended trips.
Travel Adapters Recommended by Other Reviewers
While I think you can't go wrong with any of the travel adapters I mentioned above, everyone's requirements are different. So I wanted to share some additional adapters with you that other reviewers have praised.
Best Lightweight Option: FLIGHT 001 5-in-1 Adapter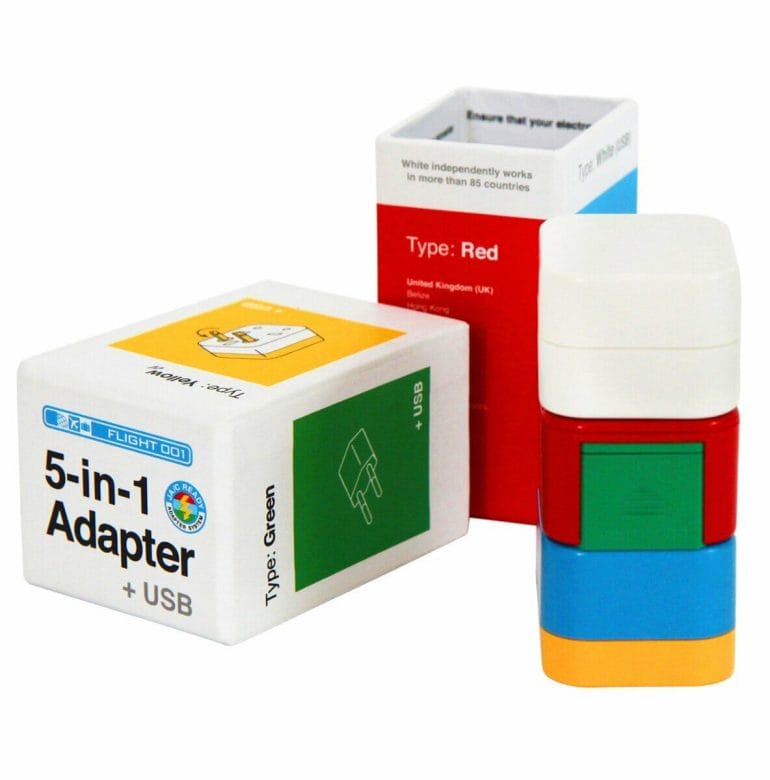 This color-coded world adapter system makes finding the right plug for your trip as simple as matching the colors. Idiot-proof and effortlessly practical, there is literally no excuse for not being able to stay connected wherever you go!
Size: 2.2 x 1.5 x 2 inches
Weight: 3.2 ounces
Type: Universal
USB sockets: 0
Works in: 150+ countries
Best For Voltage Conversion: Bestek 220V to 110V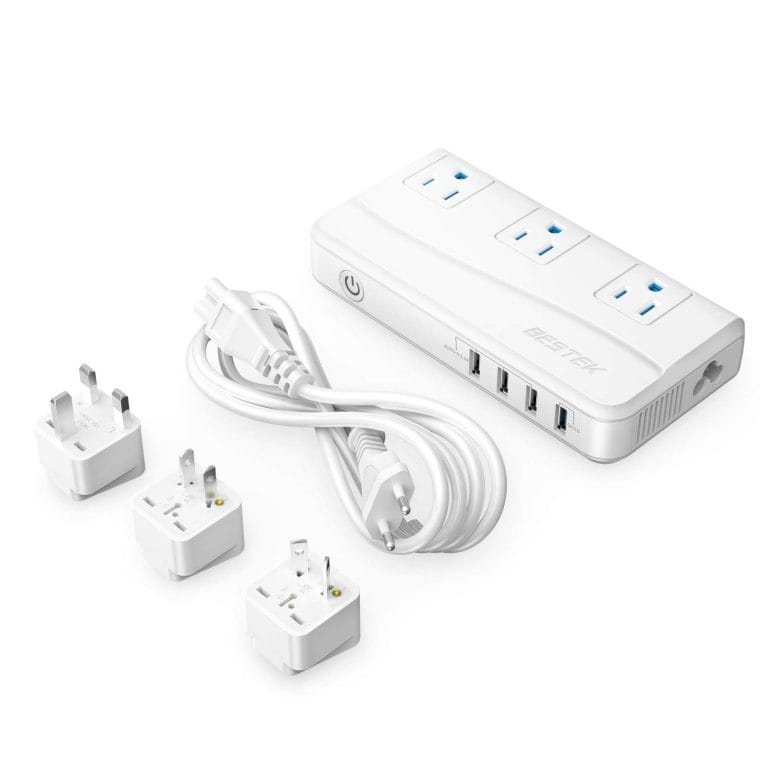 This BESTEK adapter converts the 220-240v standard commonly used in Europe, Asia, and Oceania, to the 110v supply used in North America and a few other places. It's not designed for high-draw devices like hair dryers and straighteners, but smaller gadgets like electric toothbrushes should be fine.
Size: 6 x 3 x 1.6 inches
Weight: 1.2 pounds
Type: Universal with voltage conversion
USB sockets: 4
Works in: 150+ countries
Frequently Asked Questions
Below is a list of questions I hear a lot. I'll make sure to keep this section updated as I get more feedback and questions from readers. So check back from time to time.
Should You Get a Universal Travel Adapter or a Simple Plug Adapter?
That depends on how many devices you need to power and charge on your trip. If you're traveling with the whole family and have many smartphones and tablets to charge, I recommend an adapter with extra USB ports.
I have had cases where I stayed at places that only had one or two power sockets, which we then had to share among four or more devices. So instead of hunting for outlets or a power strip, I'd get one adapter that offers three or four USB ports to cover most of your devices.
Do You Need a Grounded Travel Adapter?
That depends on whether the outlet you're using is grounded. I have seen two-prong power outlets that don't allow for a third pin, which often provides the ground. I have also seen power outlets that support a third pin that isn't grounded.
My advice is to get an adapter that supports grounded outlets, but that also works with non-grounded ones.
Is There an Adapter for 220 to 110?
Yes, you can get a travel voltage converter that steps down the voltage from 220 to 110.
I have never needed or used one, so I don't know how well they work. However, keep in mind that a step-down converter only works in one direction — from 220V to 110V. You can't use it to step up the voltage from 110 to 220. If that's what you need, you should look into a transformer, such as this one.
What Is the Difference Between a Travel Converter and Adapter?
Depending on who you ask, those might be two words that describe the same thing. To avoid any confusion, below is a list of different types of converters and adapters you might run into:
Plug adapter: Allows you to use a Type A plug in a Type F outlet (for example), and doesn't convert electricity.
Voltage converter: Transforms voltage by stepping it up or down. For example, a 220V-110V converter can step the voltage down from 220V to 110V, thus allowing you to plug in (hair) dryers from the U.S. into outlets in Germany.
Dual voltage adapter: Most of the travel adapters in this review are dual voltage adapters. Much like plug adapters, they don't convert electricity, except between the outlet and any built-in USB ports.

What Kind of Adapter Do You Need for Europe?
That depends on the individual country. Common plug types in Europe include type C, E, F, G, J and K.
However, if your adapter or plug supports type C, you'll be fine in most of mainland Europe.
How Do You Know If Your Device Is Dual Voltage?
You can usually tell by looking at the power adapter of the device. If it says something like "100-220V 50/60Hz," you know the device is dual voltage. If it doesn't show a voltage range or different frequencies (Hz), it's likely a single-voltage device.
Do You Need a Voltage Converter?
You might, if the electronic device you want to use doesn't have a dual-voltage power adapter. I have never used a voltage converter, but depending on what country you're traveling to and the type of device you want to use, you might need one.
Why Do Some Wall Outlets Have 3 Prongs?
Most single-phase sockets have two current-carrying connections to the power circuit. The third prong or pin is usually the ground.
How Many Different Power Plug Types Are There?
As I mentioned above, there are currently 15 different power sockets and plug types in use around the world. Check out the image for more details!
What Adapter Do I Need in "ABC"?
I have compiled a list, based on information I found on other sites, of all countries and the plug types, voltages, and frequencies they use. If you'd like to see the full list, just enter your email address in the form above, and I'll send you the PDF version.
Best Travel Adapters
If you travel outside the United States, sooner or later you'll need a worldwide travel adapter or universal plug to charge your gadgets. The good news is that with most smart devices, such as smartphones or tablets, you don't have to worry about converting voltage.
Depending on where your travels take you, I'd pick a universal power plug adapter that works in as many countries as possible. I'd also look for built-in USB ports (USB-C and USB-A) to charge your smart devices.
If you travel mostly to countries that use the same plug outlet design as the United States, you can choose a more compact design that doesn't take up as much space in your suitcase as many universal adapters do.
Either way, there are plenty of options to choose from, and I hope my list has helped you to narrow down your choices. So weigh the pros and cons and let me know what you decided by leaving a comment below!

I'm a healthy living and technology enthusiast.
On this blog, I share in-depth product reviews, actionable information and solutions to complex problems in plain and easy-to-understand language.