Touchscreen gloves are made with conductive fabric and enable you to use smartphones or other electronic devices with capacitive screens while keeping your fingers protected from cold weather, snow or rain.
I live in Atlanta, Georgia, where temperatures can drop below freezing during winter. In January of 2019, it was 21 degrees Fahrenheit (-6 Celsius). In November of the same year — well before winter had officially begun — the temperature dropped all the way down to 19.4 F.
Needless to say, I was glad I had a decent pair of gloves that didn't get in the way of me using my phone.
That wasn't always the case. I've owned several pairs of touch-enabled gloves in the past, but was never very excited about any of them; they either worked inconsistently or didn't keep my hands warm enough to be truly useful.
For example, I bought my first pair of touch-enabled gloves at Costco a few years ago. At the time, I used to run several times a week and needed gloves to keep my hands warm while allowing me to operate my phone. Costco had running gloves from Head* on sale that were Sensatec touchscreen compatible.
While the touchscreen compatibility of those Head gloves worked reasonably well, I didn't like how they looked and they did a poor job keeping my fingers warm.
That's why I'm glad to have finally found a pair that I love — the touchscreen gloves made by Mujjo, which I'll review in detail in this article.
What's the Perfect Glove?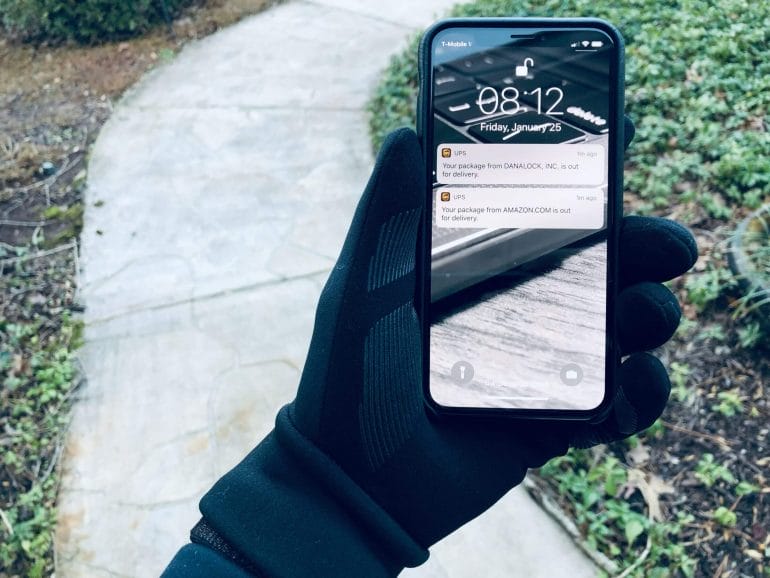 Here's a comparison table, based on all the gloves I've tested (and feedback from others) that includes my personal ratings.
| | | | |
| --- | --- | --- | --- |
| Feature/Brand | Mujjo | Head | North Face |
| Style and design | ★★★★★ | ★★★☆☆ | ★★★★☆ |
| Finger warmth | ★★★★★ | ★★★☆☆ | ★★★☆☆ |
| Touchscreen compatibility | ★★★★★ | ★★★☆☆ | ★★★★☆ |
For me, the perfect touchscreen gloves have to fulfill the following requirements:
Keep my fingers and hands warm.
Allow me to manipulate the screens of my iPhone and Apple Watch with ease.
Look stylish so that I can wear them in both formal and casual settings.
All of the gloves I owned prior to discovering the ones from Mujjo* (pictured above) looked too sporty or were too thin to prevent cold air from penetrating the fabric and reaching my fingers.
The Cons of Many Tech Gloves
The gloves I owned in the past looked sporty and too casual compared to my traditional, non-touchscreen-enabled leather gloves. Plus, they only had conductive fabric in the index finger and thumb.
While that's usually sufficient, there were cases where having been able to use any of my other fingers, or the palm of my hand, would have been convenient.
But the primary downside of most touchscreen gloves is that they don't keep your fingers warm, often allowing wind to bleed through the fabric and leaving your hands feeling chilly. Mujjo has addressed these issues in their all-new touchscreen gloves, so continue reading to learn more.
1. Mujjo Touchscreen Gloves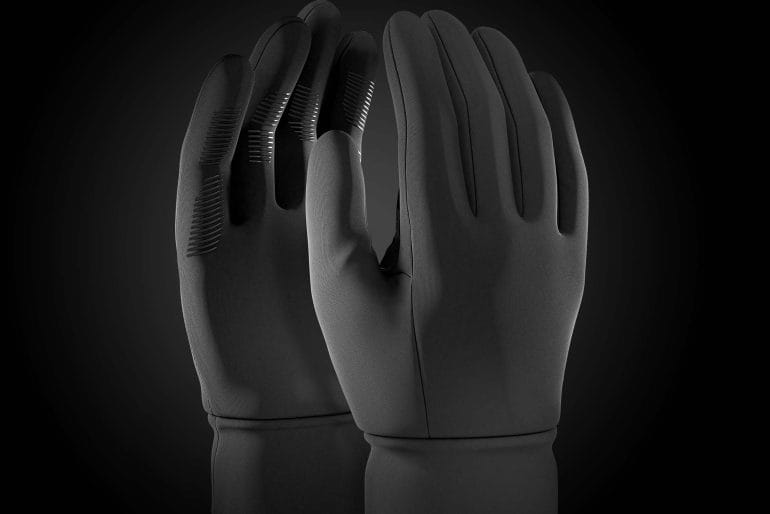 Highlights
Works with all five fingers and the palm of your hand
Sleek design
3M Thinsulate insulation
Four-way stretch fleece lining for outstanding comfort and a snug fit
Sticky silicone lines for a secure grip
They're unisex and work for men and women
Who is Mujjo?
Mujjo is an emerging Dutch designer label that I previously only knew of for making leather iPhone cases. But it turns out they produce much more than that, including sleeves for MacBooks, Surface Laptops and iPads, as well as various types of touchscreen gloves (including the type I own).
Comfort
Mujjo uses a triple-layer top that the company laminated with a 3M Thinsulate fabric to make the gloves wind-resistant.
The other day, I wore them while riding my bike to my CrossFit box. The temperature was just above freezing and the wind was blowing while I was riding downhill. The cold wind felt uncomfortable in my face and even penetrated my workout pants. But while my fingers were slightly cold, they were nowhere near as cold as my legs. I never felt like the cold air was reaching my hands.
Additionally, the company has added a fleece material on the inside that stretches four ways and thus perfectly fits the shape of your hands. To me, these winter gloves feel like the Lululemon Commission pants I use for traveling.
I'm sure you know the saying "fits like a glove." Unfortunately, most of the touchscreen gloves I've tried in the past don't live up to that saying. However, the stretchy material in the Mujjo gloves provides a perfect fit — even the cuff forms a snug seal around your wrist to keep cold air out.
Style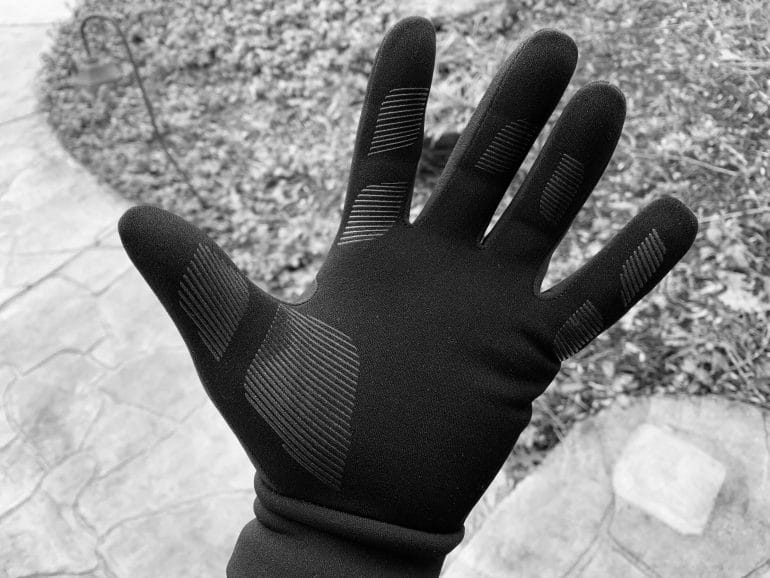 The first thing that attracted me to Mujjo's new gloves was their slick look.
When I first saw the pictures, I couldn't tell what material Mujjo had used because it didn't look like regular fabric. What I think makes Mujjo's gloves so cool is the fine-textured 3M fabric that the company used to laminate them.
Another unique feature that gives these gloves a high-tech look is the silicone grip lines that Mujjo strategically placed in the areas that touch your device. Besides their look, those sticky lines dramatically improve your grip (especially when your gloves get wet).
Function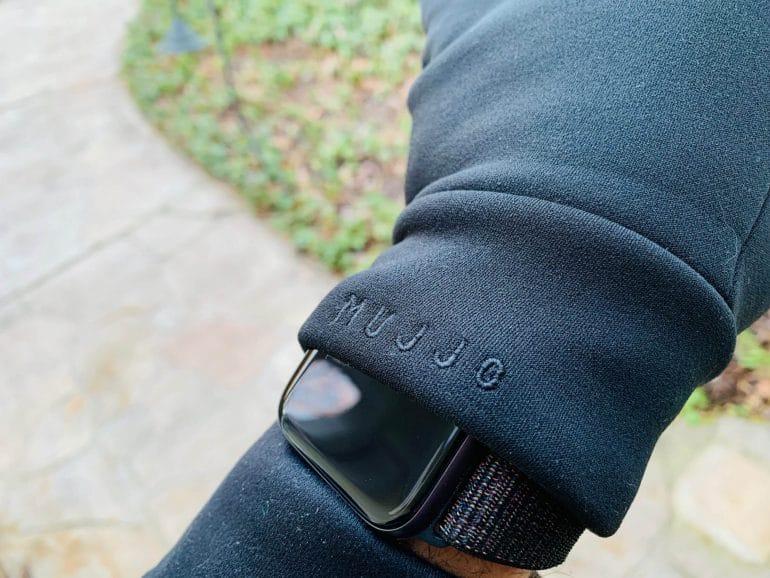 Style and comfort don't mean much if you can't use your gloves with a smartphone or other touchscreen-enabled device, such as an Apple Watch.
I mentioned above that most gloves in this category feature conductive material to enable your index finger and thumb to manipulate a capacitive screen.
Mujjo has imbued the fabric of the entire bottom of the glove with a highly-conductive treatment. As a result, you can use not only all five fingers to touch your device's screen, but also the palm of your hand (if you wish).
While you might never use your middle finger or other parts of your hand to scroll through Instagram in the cold, making so much of the gloves' fabric conductive significantly improves the reliability of your touch, and it makes each tab or click more precise.
If you've ever tried to use other brands of gloves, you know exactly what I'm talking about; you often have to tap just right to get the tap to register, because the area of conductive material is so small. That's not the case here — the Mujjo's work almost like your own hand.
Car Entertainment Systems and Other Use Cases
The other day, I wore my Mujjo gloves while driving my car (which is equipped with a touchscreen display). Unsurprisingly, I could operate the entertainment system without taking off my gloves.
While writing this review, it occurred to me that the Apple Magic Trackpad that came with my iMac Pro also uses capacitive technology. So I put on my gloves and swiped my index finger across the trackpad.
It worked. So if you ever have to use your MacBook out in the cold, know that you could wear these touchscreen gloves.
Mujjo Gloves
In conclusion, the Mujjo gloves are the most comfortable, stylish and functional touchscreen gloves I have ever owned. I've already worn them a couple of times this winter, and even on the coldest days they kept my hands perfectly warm.
Note that the Mujjo touchscreen gloves for winter are available in four sizes:
Small (7.0 and 7.5)
Medium (8.0 and 8.5)
Large (9.0 and 9.5)
X-Large (9.5+)
The medium size fits me best, but you can check out Mujjo's sizing guide to find out what size would work best for you!
Updated Mujjo Gloves [November 2019]
Mujjo just announced updates to its product line, featuring an improved version of last year's insulated touchscreen gloves and all new double-insulated gloves.
In the improved version, the "entire inside is lined with an extra layer of polar fleece that greatly improves overall insulation and makes them soft, warm and comfortable to wear."
Additionally, Mujjo has "reengineered the thumb construction to make them fully conductive and optimized for responsiveness on larger screens. Plus, the thumbs now include 3M Thinsulate to (again) improve overall insulation."
These brand-new, double-insulated gloves have been completely re-engineered to withstand much colder temperatures, thanks to a unique triple-layered design. That means your fingers will stay warmer for longer.
To test out how much better the new double-insulated gloves withstand cold temperatures, Mujjo sent me a pair. I just got them in the mail yesterday and I could immediately feel the difference when I put them on.
The two extra layers of insulation — resulting in a total of three layers — make the gloves noticeably thicker. Paired with an outer wind-resistant shell, I have no doubt that these gloves will perform even better in colder temperatures than the previous iteration.
Last week, it was really cold in Atlanta (-7 C/19.4 F). I wish I had had these gloves then. Right now it's warm again (that's the south for you…), so I'll have to wait until the next cold front hits. When that happens, I'll update this article and let you know how the gloves performed.
To give you an idea of how much better the new gloves work, I'll wear the regular Mujjo gloves on one hand and the new ones on the other!
2. North Face Etip Glove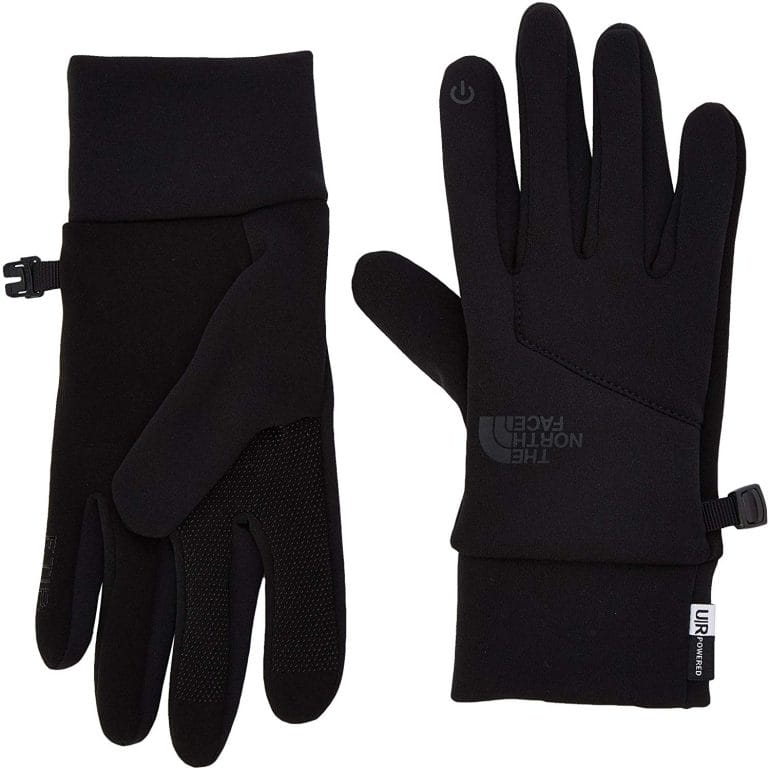 Pros
Thumb and index finger are touch-enabled
Lightweight and comfortable
Silicone gripping on the palm
Cons
Poor performance in freezing temperatures
Limited touch support (index finger and thumb)
North Face is a brand you would expect to make gloves that can withstand extremely cold temperatures. While that's probably true for their line of regular gloves, their Etip gloves fail in that category.
That's because these gloves don't have sufficient layers of insulation to keep your fingers warm if the temperature drops below the mid-30s.
I'm a fan of the North Face branding and I think the gloves look good for most occasions. Touch support is limited to the index finger and thumb, which should be fine for most users. The gloves are also incredibly comfortable and allow you to securely hold your devices, thanks to the extra silicone gripping on the palm.
My recommendation is to consider these gloves only if you live in an area where temperatures don't drop below freezing. Otherwise, I'd go with better-insulated gloves, such as the Mujjo.
3. Head Multi-Sport Running Gloves with SENSATEC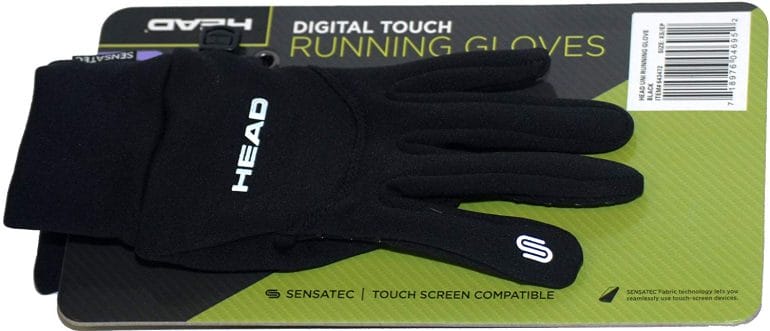 Pros
Inexpensive
Good for running
Offers superior grip
Cons
Don't keep your fingers warm in colder temperatures
Poor touch support
A few years ago, Costco had these Head running gloves at a very reasonable price and I decided to give them a try.
What I like about these gloves is that they're relatively thin. That makes it easy to manipulate things with your fingers (or even to tie your shoelaces). Unfortunately, that advantage is also a problem if you use them in colder temperatures, or when it's windy, because they simply don't keep your fingers warm for long.
So I'd recommend them only for outdoor activities that raise your body temperature and where wind isn't an issue. For example, I liked those gloves for running but I wouldn't wear them for biking, because cold air can easily penetrate them.
Other Glove Styles to Consider
All three of the gloves I've tested for this review are made out of polyester or some sort of synthetic material.
While I appreciate the functional aspects and look of synthetic material, there are others you might want to consider, including:
Deerskin
Wool
Leather (i.e., Napa leather)
PU leather
While the above materials offer a distinct look that you might want to go for, they usually don't perform quite as well. That means they either aren't as wind and cold temperature resistant or their touch support is limited.
Additionally, most Napa leather gloves don't offer as much anti-slip material on the palm because it would take away from the design advantages the leather has.
How to Make Touchscreen Gloves at Home
While I can highly recommend the Mujjo gloves, you might have just purchased new gloves that don't work with touchscreens. If that's the case, there are some (more or less clumsy) ways to convert traditional gloves into touchscreen-capable gloves.
In an article from 2014, PCWorld suggests using thermal paste, which is not only messy but incredibly stupid in my opinion. They also propose weaving in a conductive thread, which I'm sure works but is probably not super reliable (depending on how good your sewing skills are).
The best solution I have found is AnyGlove*, a liquid that you can apply to either leather or fabric gloves to turn them into touchscreen gloves. I have never tried AnyGlove, but I would probably try it on a pair of cheap gloves first before you smother your $200 leather gloves with this liquid.
Frequently Asked Questions
Why do regular gloves not work with touchscreens?
Before capacitive touchscreens became a thing, consumer device manufacturers relied on resistive technology, which registered the force of you pushing down on the screen.

The touchscreens of modern smartphones and similar devices (i.e., an Apple Watch) use a capacitive touchscreen, which has an inner and an outer layer that conducts electricity. A middle layer acts as an insulator between these two capacitors.

Your skin also conducts electricity, and so when your finger (or fingers) touch the screen, you alter the electric current. Those fluctuations in the electric field of the screen tell the software in your device the exact location(s) of where you touched it.

Plastic pens or regular gloves don't conduct electricity, but instead, act as an insulator and thus don't work with capacitive touchscreens.
How do touch-enabled gloves work?
Touchscreen-capable fingertip gloves use traditional (non-conductive) materials in combination with a conductive coating or fibers that the manufacturer weaves into the fabric surrounding your fingertips.

Many glove makers use copper or graphite as the conductive fiber to allow an electric current to flow from your fingertips, through the glove, to the screen.
Have you looked at Glider Gloves?
I have looked at both the Glider Gloves Urban Style* — also known as Glider Gloves Winter Style — online, but I have never tried them. They look really cool and they appear to be incredibly functional. For example, their entire surface is touch-enabled.

However, given their material, I doubt they'd keep my fingers warm once the temperature drops below 35 degrees. The same assessment applies to similar brands, such as the Moshi Digits*.
Does Mujjo offer gloves made with other materials as well?
Yes, Mujjo also offers knitted gloves and leather touchscreen gloves, but I have not tried them.
What's the best women's touchscreen gloves?
I haven't tested gloves that were specifically made for women. All the gloves in this review are unisex and could be worn by both men and women.
Are there waterproof touchscreen gloves?
If you plan on using your touch screen gloves in snow (for example, to ski), you need additional weather protection. I don't do winter sports, so my experience with touch-enabled gloves that are waterproof is limited. However, a quick search on Amazon* will give you an idea of what's available.
Best Touchscreen Gloves — Conclusion
There's no glove yet on the market that allows you to type just as you would with your bare fingers, while also keeping them warm in cold weather. That's a compromise you'll have to accept.
However, you can certainly find touchscreen gloves that allow you to type well and keep your hands warm (even at freezing temperatures). Of the gloves I've tested, Mujjo* comes the closest to delivering on both of those fronts.
Still, at the end of the day you have to decide what priority warmth, style and function each have to you.
For me, keeping my fingers warm is the highest priority — otherwise, I wouldn't be using gloves in the first place. Style is also important, because I want to be able to wear my gloves in a variety of social settings. Being able to use touch-enabled devices without a lot of finger acrobatics is a welcome bonus.
Do you own touchscreen-enabled gloves? If so, how do you like them? Let me know by leaving a comment below!

I'm a healthy living and technology enthusiast.
On this blog, I share in-depth product reviews, actionable information and solutions to complex problems in plain and easy-to-understand language.