Here is a review of the best noise-canceling headphones and a side-by-side comparison of Beats vs. Bose —two brands I've tested extensively leading up to this article.
To help you find the best active noise-canceling headphones for your budget and requirements, I've split this review into the following sections:
Note that this article focuses on products that offer active noise cancelation (ANC), as opposed to passive noise cancelation. To learn what that means, check out the "terminology" section below.
Best Over-The-Ear Noise-Canceling Headphones
For a long time, I preferred over-the-ear headphones because they offered the best noise cancellation compared to other headphone styles.
The problem with over-the-ear headphones is that they might become uncomfortable when worn over long periods.
For example, the headband or the ear cups can create pressure points and you can't easily sleep with your ear on a pillow while wearing such headphones.
Note that the table below contains both wired and wireless headphones.
Best Wireless Noise-Canceling Headphones
I don't like cables because I get tangled up with them all the time. That's why I prefer wireless headphones.
The downside of wireless noise-canceling headphones is battery life — so I have to charge them, in addition to the dozens of other gadgets I have in my backpack that have a battery.
However, that's a minor inconvenience I'm willing to accept.
Best Wired Noise-Canceling Headphones
If you don't mind cables then wired noise-canceling headphones have a clear benefits —they usually last much longer than their wireless counterparts.
That said, most wireless headphones can also be used with a cable!
Best On-Ear Noise-Canceling Headphones
Some people prefer on-ear vs. over-the-ear headphones. I'm not one of them because I don't like when the ear cups press my ears against my skull.
However, that's personal preference. So here are a few models that I've tested that you can wear on your ears.
Best Noise-Canceling Headphones For Under $100
If you're on a budget and don't need or want the latest and greatest noise-canceling technology, the following headphones are and excellent alternative.
Best In-Ear Noise-Canceling Headphones
After having used over-the-ear headphones for years, I recently switched to in-ear headphones because they provide greater comfort and portability.
However, I admit that the noise-canceling capabilities of these types of headphones have not been quite as good as their over-the-ear counterparts. But that was a sacrifice I was willing to make, as they were just so much easier to deal with.
Thanks to the release of Apple's AirPods Pro, which feature the best in-ear noise cancelling on the market, that sacrifice is almost non-existant. While their ANC is still not quite as powerful as over-ear models, they're packed with impressive technology and have become my go-to headphones in most cases.
In-Depth Review of All Headphones
To learn more about how I arrived at the star ratings above and what the pros and cons of each of the tested headphones are, continue reading. The list of headphones below is in alphabetical order and doesn't reflect a rating or preference.
AirPods Pro (Wireless In-Ear Headphones)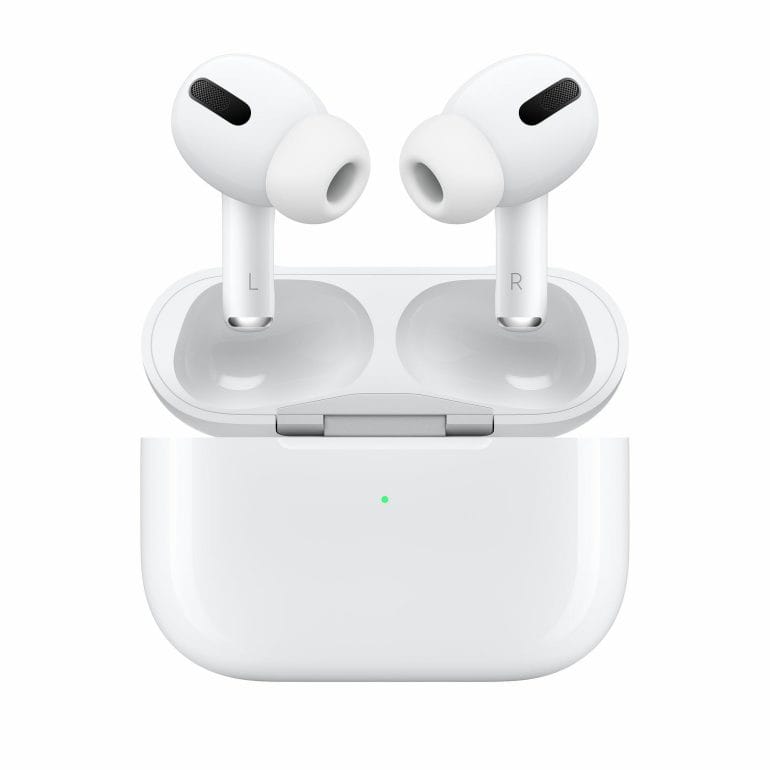 Apple's AirPods Pro represent a substantial improvement on an already great product, adding ANC, better sound quality, and a host of other upgrades to the company's now-ubiquitous wireless earbuds.
Part of what makes AidPods Pro stand out from other options on the market is their focus on comfort. They ship with three sets of detachable silicone ear-tips to help users achieve a perfect fit, and they feature a built-in vent that helps relieve pressure in the earn canal (which can sometimes build up as a result of active noise cancellation sound waves).
The result is a slim sets of buds — their stems are notably smaller than that non-pro counterparts— that you hardly notice, even though they fit snugly enough to stay in place during a rigorous workout.
The ANC itself is admittedly not perfect, with some ambient noise still seeping through — especially in very noise environments. That said, it does an exceptional job considering the product's form factor: AirPods Pro are tiny compared to other options, and the fact that their performance is even comparable to their bulkier counterparts amounts to an extraordinary feat of engineering.
You can read my full review of the AirPods Pro here.
AKG N60NC (Wireless On-Ear Headphones)
The AKG N60NC on-ear noise cancelling headphones sound great and are incredibly comfortable, even though I'm not a huge fan of on-ear designs because they press my ears against my skull.
I appreciate AKG's simplistic approach to these headphones and their single-button playback control, which you can use to play, pause and skip tracks. On the left side of the earcup, you can find a switch to turn ANC on or off.
When ANC is turned off, the N60NC headphones feature an impressive battery life of up to 30 hours. But with ANC on, you'll have to recharge them after only 15 hours, which is lower than what some other brands offer.
Active noise cancellation in the AKG N60NC works fine but is not especially impressive. The built-in microphone works extremely well in quiet environments, but has its limits if there is background noise (such as wind).
AKG N60 NC (Wired On-Ear Headphones)
The AKG N60 NC wired noise cancelling headphones share most of the features of their wireless cousin, with the exception of the wire and the price.
As of this writing, AKG's N60 NCs are available at a steep discount, which makes them an excellent buy if you don't mind the cable (which is responsible for the incredible battery life of 30 hours).
While the AKG's headphones may not feature the most impressive ambient noise cancellation, they still make a valuable travel companion because of how light they are and how little space they take up when folded.
In fact, the storage pouch for the AKG N60 NC was the smallest one in the test, even besting the Bose QuietControl 30.
Beats Studio3 (Wireless)
The latest incarnation of the Beats Studio3 Wireless headphones features the same bass-heavy sound that the brand, which used to be owned by Dr. Dre, became famous for.
Once Apple took over, the company upgraded the internals of these headphones by adding the same W1 chip as found in the Apple AirPods.
The result of that upgrade is a better and more responsive Bluetooth connection and an easier pairing process to other Apple devices.
Even though I don't listen to hip-hop, I have always liked how Beats sound, and I'm convinced you will like the sound as well.
The microphone also works reasonably well, enabling you to use the headphones to make phone calls, even in noisy environments.
The only reason why I would not purchase the Beats Studio3 wireless headphones again is due to the incredibly thin padding on the headband.
I couldn't wear this set of headphones for more than an hour or two before they started to create uncomfortable pressure points on my skull.
Bose QuietComfort 15
Bose doesn't make the QuietComfort 15 noise cancelling headphones anymore, but they offer a newer version: the QuietComfort 25.
Before I bought the Beats Studio3, I had a pair of Bose QuietComfort 15 acoustic noise cancelling headphones. They're incredibly comfortable to wear for extended periods of time due to their large ear cups and padded headband. I often wore them for 10 hours straight on transatlantic flights.
Only rarely could I feel pressure points around my ear (usually, only when I slept with my head resting against the window of the airplane). The Bose QC 15s offer outstanding noise-canceling capabilities and excellent sound.
I never measured precisely how long the AAA battery lasted, but I never felt like I was changing batteries excessively. I would typically replace it every couple of weeks or months, depending on how much I used the device.
The only thing I didn't like about the Bose QC 15 was the cable, which was consistently in the way. The provided cable is relatively long and often got tangled up, if not tucked under my shirt—especially while sitting in tight plane seats.
I usually routed the wire under my shirt, but doing so drastically limited my range of motion while I had the iPhone in my hand.
The inconvenience of the cable was what ultimately led me to look for a wireless alternative. Unfortunately, there weren't many options when it came to wireless headphones that also featured noise-canceling capabilities.
In fact, the only well-known option I could find, until Bose launched the QuietComfort 35s, were the Beats.
The QC 15 was the first pair of headphones by Bose that I owned, and I was incredibly happy with them until I ultimately replaced them with the newer model. If you'd like to save some money, you can still find them used on Amazon.
Bose QuietComfort 20
I used to have a pair of Bose QuietComfort 20 noise-canceling headphones, until my cat chewed up the cable. The sound quality was reasonably good, as you would expect from Bose, but I'd argue that it wasn't on par with the company's over-the-ear headphones, which feature a much bigger audio driver.
Besides the wire, the only thing I didn't like about the QuietComfort 20 headphones was the relatively large control module that houses the electronics that enables the active noise cancelation.
Based on recent product pictures, it seems like the control module has gotten thinner over the years, but it still weighs enough to drag down on the cable. As a result, I prefer the neckband of the QuietControl 30 over the wire of the QuietComfort 20.
Bose QuietComfort 25
For those who don't mind the cable, the Bose QuietComfort 25 may be the right fit. The QC25 headphones are the successor to the discontinued QC15, and they offer an outstanding battery life of 35 hours, the same comfort as you would get with all other Bose models, and excellent noise cancelation capabilities.
Visually, they look similar to the Bose SoundLink II, and they are available in black and white.
In my opinion, the QC25 offer excellent value at a reasonable price, if you don't mind the wire. From a durability perspective, I have heard some users complain that the folding mechanism of the QC25 causes the wiring to wear out and break over time.
The QC25 headphones are one of the few I have not owned, so I can't comment on that issue.
Bose QuietComfort 35 (Series I)
The Bose QuietComfort 35 have until recently been my favorite noise cancelling headphones. I have owned a pair for years and have little to complain about.
Bose may not make audio equipment with the best sound, but they manage to make the hardware sound good enough for most users. I'm not an audiophile, but I love how my Bose headphones sound, especially in noisy environments such as aboard an airplane.
Where the Bose QuietComfort 35 headphones stand out is their noise-canceling capabilities. Among all the headphones I have tested, the QC35 are among the best when it comes to blocking ambient noise.
The battery life is also incredible (and better than in earlier models), lasting for up to 20 hours of wireless listening and up to 40 hours of wired listening. I used them for five hours on my way to Seattle and had about 80% battery remaining when I arrived.
Comfort
The first thing I noticed was the improved comfort compared to the Bose SoundLink II headphones.
The latter was already pretty comfortable compared to the Beats, but I could still feel pressure points after a couple of hours. Not so with the new QuietComfort 35; I didn't feel any pressure points during the five-hour flight.
Miscellaneous Features
The headphones come with a dual microphone, so you can use them to make calls, even in noisy environments like an airport. According to Bose, you can link the QuietComfort 35s to multiple devices (i.e., an iPhone and an iPad) and keep them all connected at the same time.
So far, I have linked the QuietComfort 35s to my iPhone and iPad only and haven't experienced any issues. Before, I had the Bose SoundLink II linked to three devices (an iPhone, iPad and a MacBook) and I had occasional connectivity issues.
I don't know for sure, but I think the problem was that the SoundLink II could only support two parallel connections. When a third (linked) device was in range, it tried to connect, thus dropping one of the other devices.
It never dropped an active connection, but it would announce that a connection was lost, which was pretty annoying during conference calls. If you experience that issue, turn off Bluetooth on the third device or make sure to link the headphones to only two devices at the same time.
The Bluetooth range is also quite good. During my flight from Atlanta to Seattle, I was listening to music when I went to the restroom at the front of the plane. I left my iPhone at my seat in the back of First Class.
Despite the ~30-foot distance, the connection didn't drop a single time and I was able to continue listening.
Bose QuietComfort 35 (Series II)
The Series II headphones are a slightly newer version of the Bose QuietComfort 35, and they offer a dedicated "action" button to summon a supported digital voice assistant, such as Amazon Alexa or Google Assistant.
Alternatively, you can use the switch to toggle between the available noise-canceling modes:
High: world-class noise cancelation with Bose-optimized audio.
Low: noise cancelation fine-tuned for audio listening in quieter or windy environments.
Off: noise cancelation disabled.
Frankly, I have never had the desire to change the way noise cancellation works, and I certainly won't be needing a digital assistant while traveling aboard an airplane with a spotty WiFi connection.
Instead, I would have liked Bose to allow me to disable Bluetooth while keeping ANC on using that button. That would potentially preserve battery life when I don't want to listen to music.
According to some of the readers of my blog who own the Series II, Bose also upgraded the microphone, thus making digital voice assistants and text-to-speech recognition much more usable.
But if you don't care about the potential microphone improvements or the new action button, I'd suggest you go with the Series I and save $20 in the process.
Bose QuietControl 30
The Bose QuietControl 30 are one of my favorite headphones because they combine incredible comfort, practicability and outstanding ambient noise cancellation.
The latter works so well because Bose combines active and passive noise cancellation. While the battery in the QuietControl 30 doesn't last as long as over-the-ear headphones, the 10 hours should get you through most transatlantic flights (and a quick 15-minute charge adds another hour of battery life).
Over the past few months, I've been using these headphones almost exclusively and I absolutely love them. While the noise-cancellation isn't as good as I'm used to from over-the-ear headphones, the QuietControl 30 are incredibly comfortable to wear for ten hours straight.
Bowers & Wilkins PX
The Bowers & Wilkins PX are arguably the most beautiful headphones in this review, featuring exquisite materials and craftsmanship. The sound quality and noise cancelation are outstanding, and the accompanying mobile app provides plenty of options to fine-tune your listening experience.
The PX noise cancelling headphones are comfortable to wear, but the relatively thin padding on the headband caused pressure points on my skull faster than I had hoped. If it weren't for the lack of padding, I would have kept these headphones, despite their price of almost $400.
Besides their excellent sound, Bowers & Wilkins' flagship noise cancelling headphones do an outstanding job of suppressing background noise, and even the microphone works reasonably well in noisy environments.
JBL Everest Elite 750NC
Out of all the headphones I tested, the JBL Everest Elite 750NC impressed me the least. While I had no complaints about the audio quality of JBL's headphones, the quality of materials and craftsmanship is a joke.
The plastic JBL chose for its headphones looks cheap, and the stitching on the left earcup was already failing when I took them out of the box. If these were $90 headphones, I might be able to look past such quality issues. But not with an MSRP of $300.
The active noise cancelation worked reasonably well, and you can use the microphone for the occasional call. Overall, JBL's Everest Elite 750 are the only headphones in this review that I would not recommend to a friend.
Paww WaveSound 3
The WaveSound 3 wireless headphones are one of the few noise cancelling headphones under $100, and they offer better audio quality than I expected. I also liked that I could control the active noise cancelation and Bluetooth separately.
In other words, turning on ANC does not automatically turn on Bluetooth, which saves some of the battery. When I first put on the headphones and turned on ANC, I thought I had toggled the power switch and was wondering why I couldn't pair the headset. Later, I figured out that those two functions work separately.
Despite the comparatively lower price point, the WaveSound 3 headphones seem to be well-made, but the adjustable headband is a bit stiff. I needed two hands to adjust it, but I suspect it may get a bit looser over time.
The noise cancelling was OK, but nowhere near what I was used to from my Bose QC35. But considering that the WaveSound 3 costs only a third of the price, that shouldn't come as a surprise.
Comfort
What I had issues with during my tests was the WaveSound's headband, which Paww inexplicably padded better on the outside than on the inside. As a result, I felt pressure points after only two hours of wearing the headset.
I would highly encourage Paww to rethink the design of the headband and to increase the padding on the skull-facing side. I also noticed that the earcups of these headphones are on the smaller side, but my ears just fit.
If your ears are larger than mine, the padding of the earcups may press them against the side of your skull, thus adding pressure points.
Overall, the Paww WaveSound 3 are decent headphones with decent audio quality, especially if you're on a budget.
New Version
Paww confirmed that they are currently working on an updated version of their noise cancelling headphones that will fix the shortcomings I reported. Specifically, the new WaveSound 3 will feature:
Reduction in weight to 6.9 oz (or 250 grams)
28-30 decibel of noise reduction
Bluetooth 5.0 chipset
More padding on the inside of the headband
I will update this review once I have received the new model and had some time to test it. Stay tuned!
Plantronics Voyager 8200 UC
The Plantronics Voyager 8200 UC are among my favorite noise cancelling headphones because they perform well and are incredibly comfortable on the ears, thanks to the soft materials and generous padding all around.
Only the headband could use some more padding! Plantronics also equipped its headphones with smart sensors that can detect if you take your headphones off, or if you try to speak during a call with a muted microphone.
The noise cancelation works reasonably well, but not as good as the top-performing headphones in this review.
The audio quality of these headphones was outstanding, and I appreciate the sweat- and moisture-resistant coating of the synthetic leather.
That makes wearing the Voyager 8200 UC more comfortable, especially in warm weather.
Audio and Sound Quality
The Plantronics Voyager 8200 UC headphones produce a rich and immersive sound with a sufficient but not overwhelming bass for a pleasant listening experience. Like most of the other wireless headphone manufacturers do as well, Plantronics uses Qualcomm's aptX audio technology to achieve a true Hi-Fi sound.
Overall, I like how the headphones sound, but I'm missing the ability to customize the sound profile via an equalizer that's lacking in the, otherwise, feature-rich mobile app.
Active Noise Cancellation
Plantronics offers a dual-mode, active noise cancellation (ANC) technology in the Voyager 8200 UC that you can control via a switch on the left ear cup. The available settings include:
ANC Off
ANC Mid: Recommended for an office
ANC High: Recommended for an airplane
Comfort
While the Plantronics Voyager 8200 UC offer generous padding on the ear cups, I feel like the headband could use some more. The Bose QuietComfort 35 I have used over the past few years have, maybe, 1/4″ more padding on the inside of the headband, but that makes a difference, at least on my skull.
I admit that I'm likely more sensitive than others when it comes to the comfort of over-the-ear headphones, and, as a result, your mileage may vary.
Don't get me wrong, I could comfortably wear the Voyager for a few hours without any issues, but for a 10-hour flight across the ocean, I'd develop pressure points on the top of my skull.
On the bright side, Plantronics uses a sweat- and moisture-resistant nano-coating for its headphones to improve the comfort if you wear them over extended periods. That's unique and a welcome feature that I would like other headphone manufacturers to add as well.
Battery Life
With a full charge, you get 24 hours of battery life out of the Voyager 8200 UC, which is sufficient for even the longest flights I have been on. To completely recharge the batteries, it takes approximately 3 hours, which is the average recharge time of all the noise-canceling headphones I have reviewed.
Based on the documentation I have read, using the included audio cable doesn't seem to extend the battery life, despite that Bluetooth automatically turns off while the cable is connected. But even without Bluetooth enabled, you can still use ANC.
Sennheiser HD 4.50
The Sennheiser HD 4.50 is an entry-level headset that offers good noise cancelation capabilities, good sound, and a reasonable battery life of 19 hours. It doesn't have any bells and whistles, but the headphones seem comfortable, and at $180 they are reasonably priced.
Considering that the HD 4.50 headphones only have two (non-beam-forming) microphones, call quality will likely not be high, so don't buy these headphones if you frequently need them to make calls (especially in noisy environments).
Check Price on Sennheiser.com*
Sennheiser PXC 550
If you're looking for active noise cancelling headphones from Sennheiser, the PXC 550 would be my recommendation. The PXC 550 are not as simplistic as the HD1, but instead feature innovative touch sensors that I have come to appreciate while testing Sony's headphones.
Like most earphones in this test, Sennheiser uses synthetic leather for the earcups, but the headphones seem otherwise well-made and comfortable to wear.
Other users have complained that Sennheiser's smart pause feature, which stops playback when you take off the earphones, works inconsistently. But you can always turn that off in Sennheiser's CapTune mobile app (iOS).
Sennheiser HD1
The Sennheiser HD1 wireless noise-canceling headphones produce excellent hi-fi sound quality, feature premium materials, and boast minimalist yet aesthetically-pleasing craftsmanship.
But they do have a number of limitations in other areas, and I ultimately decided to return them instead of keeping them as a replacement for my trusted Bose headphones, the QuietComfort 35.
Sennheiser chose a minimalist design for this set of headphones, which features only a single power button and a rocker switch for playback control. I appreciate minimalism, but frankly, I missed the ability to touch and swipe that I got so used to from Sony's headphones.
After having had a chance to use the Sennheiser HD1 for a while, I wasn't entirely sure how to feel about them. On the one hand, they feature high-quality drivers that produce an impressive sound, and exquisite materials such as genuine leather.
On the other hand, the HD1 disappointed in other areas, such as active noise cancellation, comfort, and microphone quality.
So who are the Sennheiser HD1 headphones for? Well, they're definitely not for me, because I need noise cancelling headphones primarily for traveling and the HD1 are simply not comfortable enough to wear for long periods of time.
However, if you're an audiophile and enjoy listening to music on your leather lounge chair every Sunday morning for an hour or two, you can't go wrong with Sennheiser's premium headphones.
Sony WH-H900N
The Sony WH-H900N are "middle of the road" noise cancelling headphones that offer excellent audio quality, a decent microphone and reasonable noise cancelation capabilities.
What I like most about these headphones are the playback controls that Sony implemented via a touch sensor in the right earcup. As a result, I can swipe and tap to play or pause a song, change the volume or skip a track.
I have gotten used to using my Apple Watch for playback control, but doing so practically occupied both of my hands. Using Sony's touch sensor is much more convenient, in my opinion.
Both the noise cancelation and the built-in microphone work reasonably well, but neither performed excellently in my tests.
I don't care much about the microphone, because I usually don't make calls while I wear noise cancelling headphones, but a headphone's ability to suppress ambient noise is important to me.
Sony WH-1000XM2
The Sony WH-1000XM2 is the successor to the older Sony MDR1000X headphones, and a step up from the less expensive WH-H900N. The materials Sony used for its flagship device don't look cheap, but neither do they feel like premium build quality.
For the headband, Sony chose exposed stainless steel, which looks cool. Unfortunately, all the other components are made from the same plastic as the entry-level WH-H900N set of headphones.
The Sony WH-1000XM2s offer an excellent combination of authentic sound, comfort, and adaptive noise cancellation. What makes this pair of headphones stand out is their incredible battery (which offers 30 hours of listening) and the atmospheric pressure sensor that improves noise cancelation aboard an airplane.
On top of that, the Sony WH-1000XM2 has an atmospheric pressure sensor that you can use to adjust the ANC level based on how you wear the headphones and any changes in pressure (for instance, if you're aboard an airplane).
I tried optimizing the noise cancellation settings while on a recent flight to D.C., but didn't notice a considerable difference compared to the standard settings. In other words, noise cancellation worked excellent both before and after running the optimizer.
Much like the less expensive WH-H900Ns, these headphones feature Sony's intuitive touch sensor for playback control and the ability to customize the sound profile using a mobile app. The WH-1000XM2s are among the pricier headphones in this review but are worth the money, in my opinion.
Beats vs. Bose – Side-by-Side Comparison
When I decided to retire my aging Bose QuietComfort 15 earphones, I looked at both Beats and Bose to find a successor. I ultimately decided for Bose and here is why.
I never cared much for Beats by Dre, but since the Beats brand was purchased by Apple, and I'm somewhat of an Apple fan, I decided to give the Studio3 Wireless earphones a shot. I read mixed reviews about audio quality and durability before I bought them, but they didn't disappoint in either category.
The packaging was slick (as one would expect from Apple) and the headphones felt solid and of good quality. They also looked good, and I quickly fell in love with them. Pairing them with my iPhone was a breeze, and I couldn't wait to use them on my next business trip.
Comfort While Traveling
After I bought the Beats Studio3, I had to fly to Las Vegas for a trade show. The four-hour flight from Atlanta would prove to be an excellent test for my new gadget. The active noise-cancelling did a sufficient job of blocking ambient noise, although it fell short of the Bose QC 15.
More concerning was the fact that the Studio3 started producing pressure points around my ears and on the top of my skull. I figured I might have positioned the headphones awkwardly and tried repositioning them a few times. Unfortunately, I couldn't find a position that felt genuinely comfortable.
Once I touched down in Las Vegas, I had to take a couple of phone calls. That's where the Studio3 really shined. They successfully suppressed all background noise while the built-in microphone allowed me to make calls without being tethered to my iPhone.
Upon my return from Las Vegas, I thought about returning the Beats. But due to a lack of other options, I decided to wait a bit longer. A week later I had to go to Minneapolis and decided to give them another shot. The flight was short, but I had to take the headphones off just an hour into the trip because they started to feel uncomfortable.
Taking a closer look at the ear pads, I noticed that their opening was slightly smaller than the one on the Bose headphones. As a result, my ears didn't entirely fit into the ear cup and thus got pressed against the side of my skull. Additionally, the headband has less padding than the one on the Bose model.
Beats vs. Bose – Conclusion
As much as I wanted to love the Beats Studio3 headphones with their slick design, solid sound quality and good noise-canceling capabilities, I ultimately decided to go with the Bose because they are comfortable to wear for hours.
How I Reviewed
I understand that everybody has different requirements and may prioritize some features over others. So you can better understand where I'm coming from and what I expect from noise cancelling headphones, I wanted to give you some insight into how I tested.
I use noise cancelling headphones primarily for air travel, which includes domestic as well as transatlantic flights. As a result, the comfort of a pair of headphones is incredibly important to me because I may wear them for 10 hours or more at a time.
Active noise cancelation is also important because when I work aboard a plane, I often don't listen to music. Last but not least, the music has to sound good. "Good" is a relative term, and I'm not an audiophile. As far as I'm concerned, all the headphones in this review sound good enough for the environment I use them in.
Of course, some sound better than others. For example, I would argue that the Bowers & Wilkins and Sennheiser HD1 offer the best audio, but once I'm aboard a noisy airplane at 35,000 feet, the difference in audio quality often becomes less of an issue.
I tested many of the headphones in this review aboard an airplane, while driving in my car with the window open, and in my office using airplane noise from an iTunes track. For the microphone tests, I exclusively used synthetic background noise from iTunes.
Download Comparison Table
Given the size of the table and the available screen space, especially on mobile devices, I decided to create a more detailed PDF that you can download it here.
Headphone Accessories
Below are some of my favorite headphone accessories that I hope, you might find useful.
Twelve South AirFly
Besides reducing ambient noise, I wear wireless, noise cancelling headphones because I don't want to deal with messy wires. Unfortunately, that wireless freedom usually only applies to when I stream audio from my smartphone, tablet or MacBook.
If I want to enjoy a movie from the plane's in-flight entertainment system, I'll have to connect my headphones to it using a cable. That sucks, because I rarely carry an audio cable.
Twelve South* recognized that problem and introduced a solution called AirFly. It's a tiny Bluetooth adapter that I can pair with my headphones and then plug into the audio jack of the plane's seat.
In other words, it enables me to use my wireless headphones with the plane's entertainment system without requiring me to be tethered to my seat.
On a recent flight from Atlanta to Tampa, we didn't bring our daughter's headphones because we figured it wouldn't be worth the hassle for such a short trip.
Unfortunately, the flight was delayed and we were sitting on the tarmac for a while before taking off. When she asked if she could watch a movie on the in-flight entertainment system, I loaned her the Sony headphones I was testing and plugged AirFly into the 3.5 mm audio jack.
Pairing AirFly with the Sony headphones was a breeze. I merely had to push the pairing button on the AirFly for two seconds and enable pairing mode on the Sony headset. A few seconds later, the two devices had paired and were ready to go.
I don't often watch movies on airplanes, but for those occasions when I do, I know I can count on AirFly to bridge the connectivity gap. That's why you can always find AirFly in my travel backpack.
Twelve South Fermata
In the past, I would charge my Bose QC 35 using a regular USB cable that I had plugged into my iMac. That loose cable, without the headphones plugged in, looked messy. But even with the headphones plugged in, it didn't look any better.
I like to keep a clean and neat desk because I firmly believe that a clean work environment promotes uncluttered thoughts and improves focus. That's why I got excited when Twelve South introduced Fermata, the world's first charging stand for wireless headphones.
Fermata is a beautifully crafted charging stand made of aluminum and a soft, padded leather saddle. It comes with a flexible cable to charge your headphones while they rest on the stand.
When you don't need to charge your headphones' battery, you can tuck the charging cable away, and it becomes part of the frame. Additionally, it features an extra USB port so that you can plug in and charge other devices, such as your iPhone, iPad or other mobile devices.
Key Features
Aluminum stand
Padded leather saddle to hang your headphones
Flexible charging cable
Additional USB port to charge other devices
Setup and Installation
Setting up Fermata is straightforward, but I had issues getting the flexible USB cable plugged into the connector on the base plate. It took me almost five minutes to properly seat it. It's tempting to use force, but that would potentially damage the connector. Instead, wiggle the cable's connector a bit until it slides in.
Note: To charge an additional device, such as an iPhone 8 Plus, you have to plug in Fermata to a power outlet via the provided wall charger. I first had Fermata plugged into the USB port of my surge protector, but that didn't provide enough power to charge the battery of both the headphones and my iPhone.
Fermata on my Desk
Below are some photos of my office showing the Fermata and my Bose headphones. As you can see, my work area looks neater and uncluttered thanks to Fermata. I could also free up a USB port on the back of the iMac and instead charge my iPhone via Fermata.
Twelve South's Charging Stand for Wireless Headphones
Similar to wireless and noise cancelling headphones from other brands, the Bose QuietComfort 35 headphones are expensive, so I try to take excellent care of them. While their battery lasts 20 hours, I made it a habit of recharging them after every trip.
Fermata by Twelve South is the perfect companion for my headphones. The charging stand is made from high-quality materials; it's beautifully crafted, it's versatile, and it helps me to unclutter my desk. As a result, I consider Fermata a worthwhile investment in the longevity of my wireless headphones.
Useful Terminology
Throughout this review, I use a number of terms that you might not be familiar with. Here are a few definitions to help you better understand the technology and choose the right headphones for your particular needs.
AAC
Advanced audio coding (AAC) is the preferred audio format for high-definition videos and is a substantial improvement over the popular MP3 format. AAC has now become the standard for high-quality digital audio, offering a fuller and more colorful sound signature that's significantly better for listening to music.
ANC
ANC stands for active noise cancelation, as opposed to passive noise cancelation. ANC uses sound frequencies to cancel out ambient noise. ANC usually requires one or more microphones that detect ambient sound, so the electronics in the noise cancelling headphones know what frequencies to counter.
Most cheap ANC headphones have been tuned by the manufacturer to cancel out a predefined set of frequencies, such as the ones encountered aboard an airplane. Some premium noise cancelling headphones allow you to tweak the ANC settings for different environments, such as office spaces, city noise or traveling.
If you have excellent hearing, you may notice a low but constant white noise when wearing noise cancelling headphones. That's normal, and most people don't hear it. It's certainly not noticeable while listening to music.
Passive noise cancelation, on the other hand, is a method of suppressing ambient noise by sealing off your ear canal. For example, foam earplugs provide passive noise cancelation. This is also sometimes referred to as noise isolation.
AptX
Qualcomm aptX audio enhances the wireless sound quality of many of the world's finest smartphones, speakers, soundbars, headphones, earbuds and tablets. With aptX, music lovers can enjoy wired-quality sound—wirelessly.
DSEE HX
Sony developed the so-called Digital Sound Enhancement Engine to restore the high-range sound lost in audio compression.
NFC
Near field communication (NFC) is a wireless technology for exchanging small amounts of data. In headphones, it enables users to instantly pair their headphones or earbuds with compatible devices.
LDAC
LDAC, a Sony technology, transmits more data than conventional Bluetooth wireless connection for exceptional sound quality that's closer to high-resolution audio.
Open vs. Closed Headphones
Headphones with an "open aire" design usually provide better audio reproduction because they avoid adverse resonating effects in the earcup. The downside of the open design is sound leakage, especially at higher volumes. In other words, playing loud music on "open" headphones is more likely to disturb the people around you.
Closed headphones, on the other hand, isolate you from the environment and vice-versa. As a result, you are less likely to disturb anyone around you with your music, and external noise is less likely to leak into the earcups.
SBC
Low complexity sub-banding coding (SBC) is a digital audio encoder and decoder used to transfer data to Bluetooth audio output devices like headphones, earbuds or loudspeakers. It was designed to produce a reasonably good sound quality at medium bit rates while keeping low computational complexity, having Bluetooth bandwidth limitations and processing power in mind.
TruNote
TruNote is JBL's auto sound calibration protocol that personalizes audio performance based on ear cup fit, delivering the most authentic version of music possible.
What are the Best Noise Cancelling Headphones?
Since Bose introduced the QuietComfort 35, other manufacturers have released (wireless) noise cancelling headphones in a variety of price ranges.
In my opinion, Bose and Sony are the unmatched kings of active noise cancelation. Bowers & Wilkins comes in at a close second, but so far, I have yet to try headphones that suppress ambient background noise better than Bose and Sony.
But keep in mind that some headphones perform better in specific environments, such as aboard an airplane, than in others. Plus, if you play music, background noise usually becomes less of an issue.
Regarding comfort, all the headphones I tested are comfortable to wear for a while. It ultimately depends on how long you intend to wear them to decide how to factor in my comfort ratings.
With all of that said, I am increasingly finding myself turning to the AirPods Pro over other options — even though their ANC isn't quite top-of-class. Between their small form factor, comfortable fit, good sound quality, consistent performance, and better-than-expected noise cancellation capability, they provide what is perhaps the best all-around experience.
I hope this review provides you with an overview of what's available and what the pros and cons of the reviewed models are.
What are your favorite noise cancelling headphones? Let me know by leaving a comment below!