On September 10th, 2019, Apple announced the new Apple Watch Series 5. You might be asking yourself if Apple's latest smartwatch is worth the upgrade.
In this article, I'll look at what Series 5 has to offer and how it compares to Apple's previous wearable, the Series 4. Hopefully, the information I provide here will help you decide if you should upgrade to the new model or stick with the one you have.
Apple Watch in a Nutshell
The Apple Watch is not only the most successful smartwatch on the planet, it's also the most successful watch overall, besting even luxury watchmakers like Rolex and Breitling.
But what's so special about the Apple Watch?
I have owned every generation of Apple Watch since Apple debuted the original version back in April of 2015. What has always fascinated me is the combination of time keeping, fitness tracking and notifications.
In a way, the Apple Watch has always been a natural extension of my iPhone. With later models that introduced cellular data and increased storage capacity, the Apple Watch even started replacing the iPhone in some circumstances.
I've worn an Apple Watch every single day since 2015, and I couldn't imagine not having one on my wrist. And that's despite the fact that's it's no longer my primary fitness tracker.
What's New in Apple Watch Series 5?
Before sitting down to watch Tim Cook's keynote at the Steve Jobs Theater, I hadn't spent much time thinking about what I'd like to see in the new Apple Watch.
In fact, the only feature I was hoping for (and that I had heard rumors of) was sleep tracking. I'm a huge fan of WHOOP and its sleep tracking capabilities.
So, I was hoping that with Apple's acquisition of Beddit, the Apple Watch would get [better] sleep tracking capabilities.
A couple of months ago, I published an article comparing WHOOP vs. the Apple Watch and I had planned to write a spin-off of that, focusing on Apple's new sleep tracking features. Unfortunately, it looks like as if that article will have to wait a bit longer.
Always-On Retina Display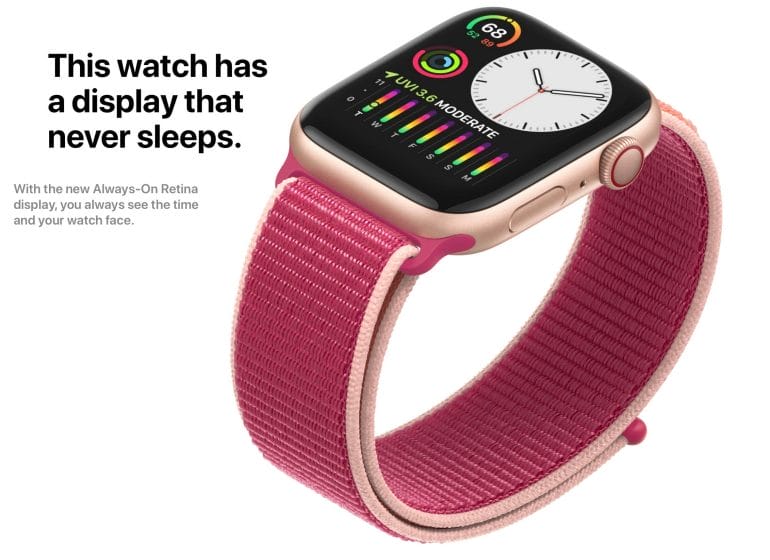 Instead of sleep tracking, the Apple Watch Series 5 got a feature that few people expected: an always-on retina display.
In the past, the Apple Watch's display would automatically turn off to conserve battery life. But when you flicked your wrist or tapped it, the display would turn on.
For most situations, that was sufficient. But in the limited cases where Apple's accelerometer didn't detect my wrist movement and the display didn't turn on, it was super annoying.
Additionally, I've been in situations where I couldn't flick my wrist or tap on it — for example, during workouts or while cooking. In those cases, I wished the screen of the Apple Watch was always on. With the Series 5, it is. I'm super excited about that and think it's a great advancement.
Compass and Ground Elevation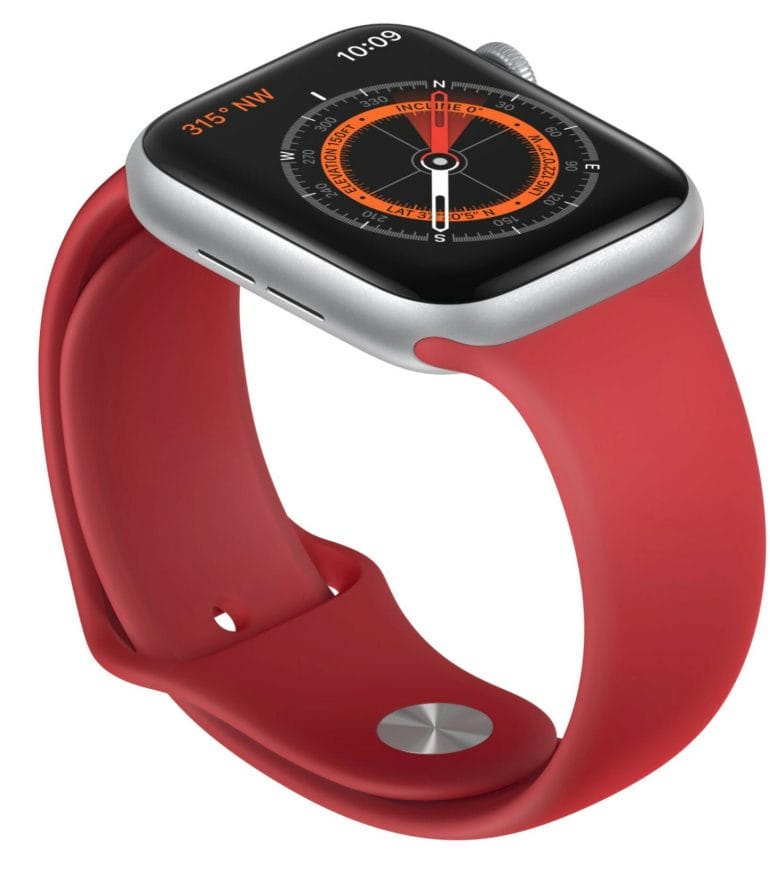 The new Apple Watch Series 5 features a built-in compass. That means that, while using Maps, you can now finally see the direction you're heading in. With watchOS 6, Apple also launched a new Compass app that you might find useful for hiking and other outdoor activities.
Of course, developers can leverage the compass for their own mapping apps as well.
Increased Storage
Apple bumped the internal storage of the Series 5 from 16GB to 32 GB. Personally, I don't care about more storage because I got nowhere near the 16GB limit with my Series 4.
New Ceramic and Titanium Finishes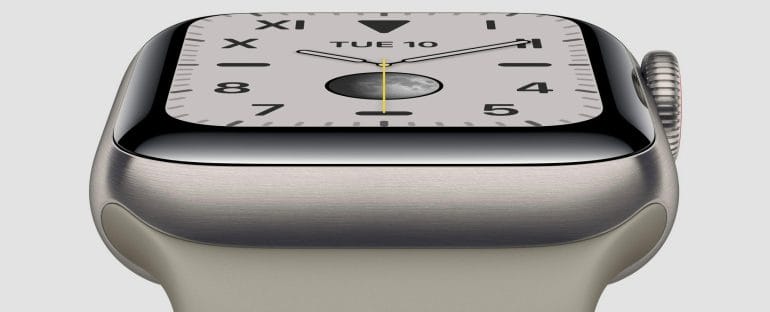 Besides aluminum and stainless steel, the Apple Watch Series 5 is also available with new ceramic and titanium finishes.
While I find those finishes really cool, I wouldn't spend the extra money on them ⁠— especially considering that I upgrade my Apple Watch every year.
International Emergency SOS Calling
With Apple Watch Series 5 and watchOS 6, you can call emergency services in over 150 countries by long-pressing the power button. In the past, international emergency calling wasn't possible.
I don't know if that's a feature in watchOS 6 that works with all cellular Apple Watch models, or if Apple has upgraded the modem in the Series 5.
New Internals
Apple Watch Series 5 features the latest S5 chip with a 64-bit dual-core processor. Most of the other internals, with the exception of the LTPO OLED display and driver, are the same as in the Series 4.
Update: Based on information from Xcode and a tweet from famous developer Steve Troughton-Smith, the S5 is exactly the same chip as the S4.
On its technical specifications page, Apple also mentions an improved ambient light sensor that enables automatic dimming of the new display.
What Hasn't Changed in Series 5?
Besides the few Apple Watch features I mentioned above, nothing else has changed with the Series 5.
In particular, the design of Apple's smartwatch has remained exactly the same. Even the W3 Apple wireless chip and Bluetooth 5.0 are the same as in the older model.
The other thing that hasn't changed — and that's great news considering the new always-on retina display — is the 18-hour battery life.
Apple has accomplished that by improving the energy efficiency of the new device and without making the battery larger in size.
Apple Watch Series 5 Battery Life
According to Apple, the Apple Watch Series 5 has the same 18-hours "all-day" battery life as the Series 4.
However, some users — including myself — have noticed mixed results. I've had days where the battery was dead by noon or early in the afternoon. On other days, the battery lasted from 5am to 8:30pm.
My suspicion is that watchOS 6 has some bugs that cause the battery to drain quickly for some users and under certain circumstances.
We'll see if watchOS 6.0.1 or a subsequent release fixes that problem.
Is Apple Watch Series 5 Worth the Upgrade?
That's the $400 (or more) question — depending on what model you're looking at.
When Apple announced the immediate availability of Series 5, I went to apple.com and put the 44mm aluminum cellular model in Space Gray into the shopping cart.
But then I hesitated as I thought about whether the always-on display was really worth $529 plus tax. I decided to abandon the cart and think a little bit more about whether I really need a new Apple Watch.
Of course, then I remembered that I'm a blogger who writes about new Apple technology, based on my hands-on experience. So I bought it… and now I can't wait to get my hands on it.
Additionally, I'll be selling my Series 4, which limits the financial impact of the upgrade.
So where does that leave non-tech-bloggers who are considering upgrading to the new Apple Watch?
If you don't own an Apple Watch yet and are considering purchasing one, the Series 5 is a no-brainer and I'd recommend going with the cellular model. That way, you're not constantly tethered to your iPhone.
If you own an older Apple Watch — maybe one that doesn't have cellular capabilities — I'd also consider upgrading to enjoy better connectivity, a larger screen size and a thinner profile.
However, if you own an Apple Watch Series 4, I'd wait another year for the Apple Watch Series 6.
Frequently Asked Questions
Below are some questions I've been asked, and questions I anticipate people will ask.
How much is the Apple Watch Series 5?
The new Apple Watch costs the same as the previous model. It starts at $399 for the 40mm GPS model with an aluminum case. The most expensive model has a white ceramic casing and costs $1,399.
Should I get the Series 3 instead?
Apple decided to keep the Series 3 around as a less-expensive option for customers. To learn more about the differences between the Series 3 and Series 4, check out this article.
Does Apple offer new bands with the Series 5?
Yes, Apple offers a bunch of new band styles and colors, including Nike and Hermès options. Additionally, there's now the Apple Watch Studio — both online and in the Apple Store — that lets you customize your watch to your liking.
Does the digital crown have that ugly red dot on cellular models?
Nope! The Series 5 borrows the design of the Series 4. That means you'll only have a red ring, not a red dot, on the digital crown of cellular Apple Watches.
Are there new watch faces?
Yes, based on what Apple has communicated, there appear to be new watch faces in watchOS 6, including one with a compass.
Will you update this article with hands-on experience?
Absolutely! Once I receive the watch on September 20th, I'll wear it for a couple of weeks and then share my impression by updating this article. So stay tuned!
Are there any new workout features in the Series 5?
Not in the new hardware, but watchOS 6 features numerous new health and fitness features.
Has Apple updated the sensors in Series 5?
Based on what Apple has communicated so far, it appears as if the barometric altimeter, accelerometer and gyroscope are the same as in the older version.
Does the Apple Watch Series 5 have a longer battery life?
Unfortunately, no! The Series 5 has the same "all day" or 18-hour battery life as the Series 4.
Does the Series 5 have improved fall detection?
Nope ⁠— fall detection hasn't been improved over Series 4.
Can I turn off the always-on display when I go to sleep?
Great question! That's one of the things I want to test as soon as I get the watch. So stay tuned for updates!
Can I use the Apple Watch Series 5 with an Android phone?
No. You need an iPhone to use the Apple Watch.
How does the Apple Watch compare to Android Wear?
I don't have any hands-on experience with Android Wear, but based on what I've heard and read, Android Wear doesn't come anywhere close to the Apple Watch. Of course, I say that as an Apple fan, so take my opinion with a grain of salt.
Is the haptic feedback in Series 5 stronger than in Series 4?
Apple hasn't announced any changes to the haptic feedback engine, so I doubt it. But I'll let you know once I receive my watch.
Apple Watch Series 5 Review
Overall, Apple's Series 5 announcement wasn't incredibly exciting because the company didn't have a lot to talk about. Many of the features and capabilities mentioned come with watchOS 6 and aren't necessarily tied to the new watch hardware.
While the internal compass is a nice-to-have addition, it's really the always-on retina display that makes the Apple Watch Series 5 an interesting upgrade for some users.
What's your take on Apple's new flagship smartwatch? Are you considering buying one as your first Apple Watch, are you considering upgrading, or do you plan on waiting?
Let me know by leaving a comment below!

I'm a healthy living and technology enthusiast.
On this blog, I share in-depth product reviews, actionable information and solutions to complex problems in plain and easy-to-understand language.