One of the benefits of the Apple Watch is that you can change its appearance by swapping out the watch band. Apple-branded leather bands are relatively expensive but, these days, there are numerous third-party manufacturers producing premium Apple Watch leather cuffs. I have reviewed the top seven brands and their Apple Watch leather straps.
Reviewed Apple Watch Leather Straps
Indicates the Editor's Choice!
I barely wore watches before getting the Apple Watch, because I didn't feel comfortable having something wrapped around my wrist all day. I think my aversion stemmed from a watch I used to wear back in the days. It had a metal band that would regularly pinch the hair on my arm. As a result, I stopped using watches.
When Apple released its first wearable, I decided to buy the Apple Watch Sport. It came with a high-performance fluoroelastomer (rubber) band, which was so incredibly comfortable, that I have worn my Apple Watch every day since then. In a way, the Apple Watch has turned me into a "watch person."
Apple Watch Leather Bands
As comfortable as the fluoroelastomer watch band is, some occasions call for something more elegant. After all, a watch is not just a timekeeper but a fashion accessory. So I decided to invest in Apple's Leather Loop band because it looked stylish, comfortable and was easy to open and close.
The problem with leather bands from Apple is that they are expensive in comparison to third-party straps you can find on Amazon and elsewhere. Unfortunately, many knock-off bands are cheaply made, and you can immediately see that. So I started looking for high-quality leather straps that were reasonably priced and didn't break the bank.
Below is a selection of Apple Watch leather cuffs, bands, and straps that I have found to offer the right mix of quality and price. But first, let's take a closer look at Apple's Leather Loop.
Leather Loop band by Apple
Apple's Leather Loop band retails for $149, and it is the most expensive leather strap I own. For that price, you get a handcrafted leather cuff that Italian artisans made from high-quality Venezia leather.
The Venezia leather for this band is handcrafted in Arzignano, Italy. With an artisan heritage spanning five generations, the tannery has a history of partnership with some of the most prestigious names in fashion. A delicate milling and tumbling process enhances the beautiful pebbled texture. This traditional craftsmanship is combined with an innovative approach to design. Magnets concealed within the soft, quilted leather allow you to simply wrap it around your wrist for a precise fit and a trim look.
I own the black Leather Loop band that Apple appears to have discontinued. Instead, Apple now offers the Leather Loop band in Midnight Blue and Smoke Gray.
Review of the Leather Loop Band
Besides the price point, Apple's Leather Loop has another minor drawback. It is not as comfortable to wear as I thought it would be. The quilted leather is much stiffer than other leather bands, and its edges are harder than I expected. Fortunately, you can quickly adjust the band to mitigate the issue for the most part.
Additionally, the grooves on the inside of the quilted band are prone to collecting dirt and grease. And because the band doesn't have an even surface, it is sometimes challenging to clean. I have found a wet cloth or a cotton swab to be the most efficient way of cleaning the band and getting into those grooves.
Alto Leather Straps
Alto (meaning "High" in Italian) is a Taiwanese company focusing on high-quality and handcrafted leather products with a simple, yet sophisticated design.
To get an impression of the quality of Alto's leather straps, the company was so kind to send me two of their Apple Watch straps:
Apple Watch 42mm Leather Strap – Caramel
Apple Watch 38mm Leather Strap – Olive
The leather strap from the Caramel collection is noticeably thicker than the one from the Olive collection and thus perfectly suitable for a man's wrist. Despite its thickness, the leather band is incredibly comfortable and will soften up even further over time. The type of leather (Ascona) Alto uses for its Caramel collection is relatively beginner friendly in terms of maintenance. That means you don't have to grease the leather from the beginning. However, once you have worn the leather strap for a long time, it doesn't hurt to occasionally treat it with an animal-based leather soap.
The second leather strap from Alto's Olive collection is thinner and softer and fits the 38mm Apple Watch that many women prefer. Alto handcrafted the shorter band from the same Italian full-grain leather but they used a slightly different tanning process.
Regardless of what band collection you choose, Alto delivers Apple Watch leather straps of premium quality and simple elegance. Alto's leather cuffs aren't among the cheapest but based on what I've seen, they are worth the money.
Burkley Holo Strap
Review of the Holo Strap
The Holo Strap is incredibly comfortable to wear, and I appreciate how well the antique coffee of the band matches with the space grey body of my Apple Watch. Also, I love how the rounded cutouts of the strap look on my wrist.
The only negative comment I could make about the Holo Strap is that the metal clasp is prone to show fingerprints when you touch it. But that is just the nature of polished metal surfaces. Plus, you can quickly wipe it off by rubbing your wrist against your shirt.
Burkley's Holo Strap Genuine Padded Leather Bands are the perfect elegant replacement band for your Apple Watch. Handcrafted of soft genuine leather with a unique texture, this luxurious accessory boasts simple, classic buckle closure, making it super comfortable and adjustable. Our leather ages naturally over time to acquire a beautiful patina. The contrasting interior lining creates a dramatic two-tone look. Unique Holo Design to add style to your Apple Watch.
Installing the Holo Strap is straightforward and identical to how you would install any other watch band on the Apple Watch. With my review band, I noticed that one of the two strap parts was a bit harder to slide into the watch body than the other. But that's nothing a tiny drop of WD40 can't fix.
Overall, I am impressed by the quality and comfort of the Burkley strap, and I appreciate how it improves the overall look and feel of my watch.
More Burkley Leather Bands
In addition to the Holo Strap that I own, Burkley also offers a variety of other Apple Watch leather cuffs, including:
Padded Leather Band
Double Buckle Cuff
Elobeth Genuine Leather Band
Elobeth sent me two of their genuine Apple Watch straps that my wife, Kathy, could test over the past few weeks. Both watch straps we got are identical in design, but one is yellow, as in the screenshot above and the other one is a blue band. Despite their relatively low price, Elobeth makes their bands from genuine leather, and they feel and look great. So far, Kathy had only good things to say about the blue leather band that she has been wearing since we got the straps.
The only downside of the Elobeth bands is that they are only available with silver hardware that may not match the body of your Apple Watch if you have a Space Grey or Gold Apple Watch. Kathy has a gold Apple Watch, but the blue band was still a decent match.
More Elobeth leather bands
Elobeth sells a variety of different band styles for the Apple Watch and other smartwatches, both on Amazon and in their online store.
Meridio Leather Straps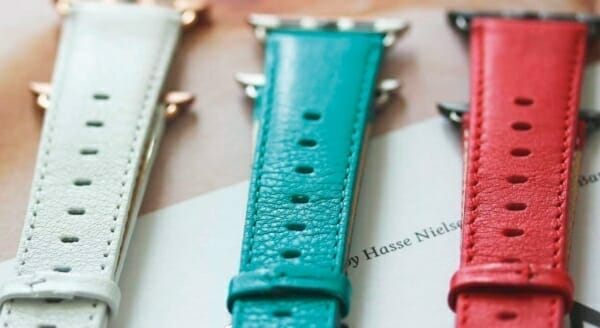 Meridio is an Italian company, located in Le Marche, a region in the central-eastern part of Italy. The company makes all their leather straps by hand in an ancient tannery and by using only the finest materials while applying traditional, Italian craftsmanship.
I ordered two leather bands from Meridio – one for my wife and one for me. I got the Dried Herb band from Meridio's Vintage collection, and my wife picked the Angel Whisper band from the Nappa collection. Both leather cuffs are beautiful, and you can immediately see the difference in design to most other watch bands in the market.
Meridio ships their bands directly from Italy, and they charge $10 for shipping to the USA. But you can use discount code kummer_10 to get 10% off the MSRP.
Dried Herb Band
The Dried Herb leather strap, much like the bands in the Vintage collection are relatively thick and have stiff edges. That makes them a bit harder to put on for the first few times. But as with all leather bands, they soften up over time, so give it a couple of days for the band to break in.
Primed with genuine leather and decorated by superior craftsmanship; Dried Herb has got everything to give your Apple Watch a premium suit for all series 3|2|1. Not only the discrete taupe tone and refined soft-texture design showcase its elegance but you will also have a comfortable time while wearing it.
Angel Whisper Band
My wife's Angel Whisper band, on the other hand, is a bit thinner and incredibly soft. As a result, the Angel Whisper band is comfortable to put on and doesn't seem to require any break-in period. It's worth noting that the Angel Whisper band is only available for the 38mm Apple Watch.
While the fine nappa leather gives it an extremely comfortable feel, the powder color choice makes sure you stand out from the crowd. Extremely smooth and silky appearance: a unique color combined with high quality leather creates a real treat for your Apple Watch series 3|2|1. It offers fine elegance and looks fantastic with anything you wear it.
More Meridio Leather Bands
Besides the two band styles my wife and I have tested, Meridio offers a ton of other, beautifully designed bands that feature a variety of different leather types and finishes, including:
Clay
Suede
Reptilia
Heritage
Python
Croco
Galuchat, and
Ostrich
Monowear Perforated Leather Band
Review of the Perforated Leather Band
Based on my wife's recommendation, I ordered the Perforated Leather Band in Chestnut. The lighter brown tone of the watch band offers a bit more contrast to the watch body, which makes it look sophisticated and elegant. The installation was easy and took only a few seconds. The Perforated Leather Band is comfortable to wear and doesn't have any sharp edges.
Our Perforated Leather Bands are made from Genuine Leather with subtle edge stitching and a tapered shape. The adaptors are made from stainless steel and color matched to most Apple Watch finishes.
As with all genuine leather products, the band naturally ages and develops a unique character over time. I enjoy wearing the Perforated Leather Band for meetings and other occasions that call for business attire, such as a suit.
If you are interested in the Monowear leather band, make sure to can use discount code MK15 to get 15% off the retail price.
More Monowear Leather Bands
Besides the Perforated Leather Band I own, Monowear offers two more leather straps, including:
Classic Leather Band
Leather Deployant Band
Both are available in various colors to match your watch body and taste.
Nomad Modern Leather Strap
Review of the Modern Leather Strap
I don't own the Nomad Modern Leather Strap (yet), but I decided to include in this review anyway because all the other Nomad products I own are of top-notch quality, including the Rugged Sport Strap. Much like its sportier cousin, the Modern Leather Strap features custom stainless steel hardware and lugs, the parts that attach to the watch body, which look different compared to all the other straps I own.
Range Leather Bands
Review of Range Leather bands
The sample band Range Leather sent me is gorgeous – there is no other way to describe it. It's a piece of American craftsmanship, and it feels special to be wearing something that an artisan, just a few states away from where I live, made by hand in his workshop.
Each Apple Watch band is handcrafted in our Laramie, Wyoming workshop where our goal is to create products that wear in, not out. We love the timelessness of leather and aim to highlight that in all of our designs.
The Range Leather band looks rustic, and it is relatively thick, but at the same time, shockingly soft. I was expecting some stiffness that would only go away after some time. Instead, the Range Leather band was incredibly comfortable to wear from the beginning.
What I think was a nice touch was that Range Leather added a tin of leather cream to the shipment so that I can take proper care of my band. The pre-production band I got is Nut Brown, but you can also order it in Natural or Black.
The Range Leather Apple Watch Bands are currently available for funding on Indiegogo. The early-bird special is available for $45.00, which is an incredible price for a product of that quality.
More Range Leather Bands
Range Leather doesn't currently offer any other strap models, but they do have a ton of beautiful and handcrafted leather products in their online store, including:
Apparel
Grooming supplies
Keychains
Journals
So if you are looking for a gift for a special occasion, I encourage you to keep Range Leather in mind!
Breaking in Apple Watch leather bands
All leather products naturally age over time and may change in color. Don't worry about minor scratches and dents as they make your Apple Watch leather cuff unique and personalized.
Also, keep in mind that leather becomes softer and less stiff over time. So give you Apple Watch leather band a few weeks to "break in" and soften up.
How to care for your Apple Watch leather strap
Generally, leather is relatively simple to maintain material, as long as you keep it away from moisture.
The good news is that full-grain leather contains natural oils that prevent small amounts of water from penetrating it, so don't worry if you get your watch band wet when washing hands. But don't take your Apple Watch into the shower with you as prolonged exposure to moisture can ruin it.
If you get your watch band wet, dry it off with a clean cloth. If you stain the leather, follow these steps to clean the watch band:
Wipe off any excess liquid or stain with a clean and dry cloth or sponge,
Use another clean and dry cloth or sponge with a leather cleaner to remove the stain. Start with only a little bit of cleaning solution and wipe from the center of the stain to the outside,
Dip a clean sponge into some water at room temperature and wring out any excess water. The sponge should be damp and not wet. Then keep working the stain before drying the area with a clean cloth.
Use leather cream or saddle soap to condition the band.
How to replace the strap of your Apple Watch
Replacing the strap of your Apple Watch is straightforward but may require some practice, if you have never done it before:
Take off your Apple Watch and turn it around so that the heart rate monitor faces upwards
You will see what looks like two slots or buttons with rounded corners on each side where your band is attached
With the crown facing away from you, push the button down with the fingernail of your thumb and slide the band towards you.
Repeat for the second tail of the band on the other side
Then slide in the new watch band
Note that watchbands go in only one way, so if you feel resistance while sliding the band in, slide it back out and try the other way.
Full-grain vs. Genuine vs. Bonded Leather
Leather manufacturers use different terms to describe their leather, including:
Full-grain leather
Genuine leather
Bonded Leather
So what's the difference between those types of leather? Full-grain leather is the most expensive type of leather, and it is the top part, or the part of the cows hide that is furthest away from the meat. Genuine leather is, mostly, a split part of the cow's hide and it is the poorest quality leather outside of bonded leather which you cannot consider leather anymore. From a price perspective, genuine leather costs about 1/5 of the price of full-grain leather.
Review of leather bands for the Apple Watch
One of the reasons why the Apple Watch is so successful is its ability to transform based on the owner's taste. Being able to replace the watch band allows you to create a new and unique look every day quickly.
Apple's leather watch bands are of top-notch quality, but they are expensive, and you end up paying a significant premium for the brand. The brands I reviewed above offer premium leather watch bands of comparable quality for a lower price. That enables consumers like me to own multiple watch bands without having to rely on cheap knock-offs. I certainly enjoy having a variety of leather cuffs for different occasions, and I love how each band gives the Apple Watch a new and fresh look. It's almost like having a new watch.