Spam filters are a necessary evil and it's annoying when they don't work as expected. Apple offers junk mail filtering in Apple Mail as well as via iCloud.com. Unfortunately those two filters are not related to each other and thus can cause troubles and frustration.
Apple Mail's Junk Mail Filter
Apple Mail has a built-in spam filter that you can enable or disable via Mail's Preferences. Unfortunately, Apple Mail's spam filtering capabilities are somewhat unreliable and I recently decided to disable it, in favor of a 3rd party solution.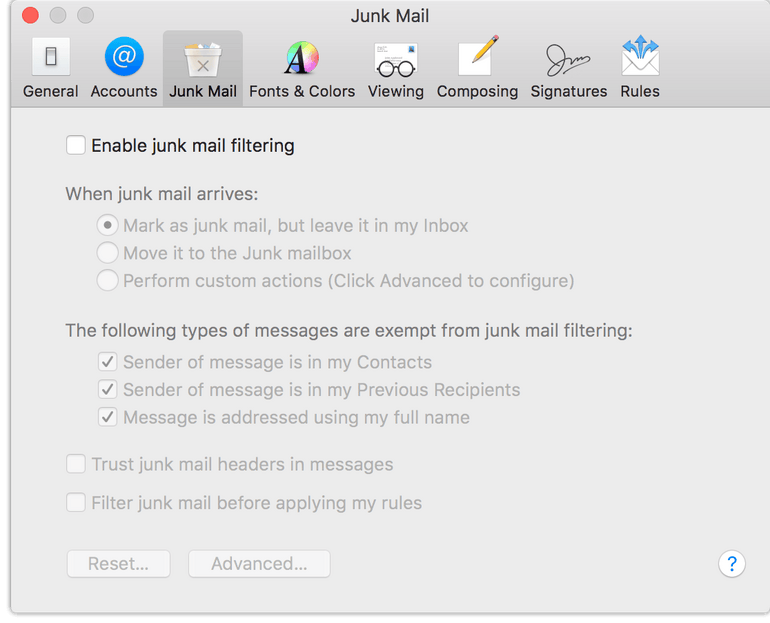 I heard a lot of good things about SpamSieve and decided to give it a try. After the installation, I configured SpamSieve to move all messages, identified as spam, into a separate folder called 'Spam', instead of Apple Mail's default 'Junk' folder.
iCloud's Junk Mail Filter
I was positively surprised by SpamSieve's performance but noticed that certain messages, some of which weren't spam, still ended up in the old 'Junk' mailbox. I double-checked all my Macs to make sure none had the native junk mail filter enabled.
Puzzled by how that could happen, I contacted Apple Support via Twitter and they responded that iCloud also does junk mail filtering on the backend. They also indicated that, unfortunately, that backend filter cannot be turned off.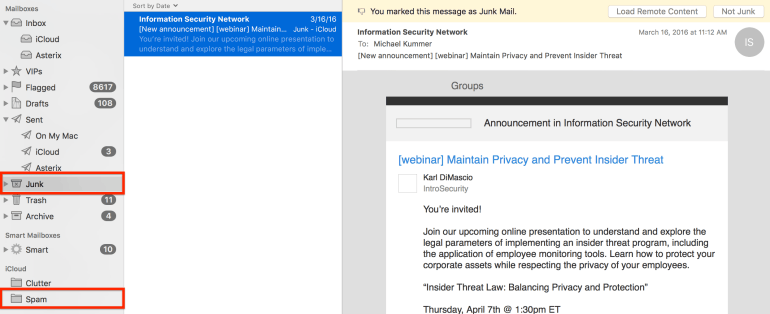 So I called iCloud Support to find out more about this backend filter and to learn how it can at least be trained. It turned out, that the front-end (Apple Mail) and backend (iCloud) filters work completely independently from each other.
In other words, marking a message as "good" in Apple Mail may still lead to the backend filter marking it as junk and vice-versa.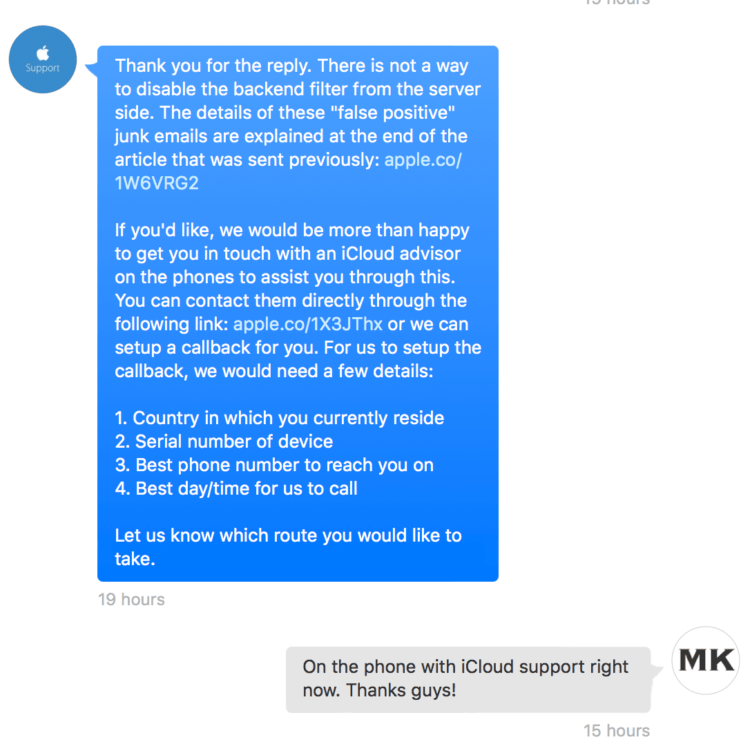 That kind of renders the filter in Apple Mail useless. The only way to train the backend filter is via the Mail app in iCloud.com. There you can mark messages as Junk or Not Junk and hope that iCloud learns from that.

That's a major inconvenience – I don't want to open a browser and go to iCloud.com just to mark a message as Junk. That should really be functionality baked into Apple Mail. The worst part however is, that the backend filter cannot be disabled at all.
I'm hoping that the next version of OS X will allow Apple Mail to play more nicely with its iCloud backend service. That includes keeping rules as well as junk mail settings in sync across all devices.
Update [September 2019]
Apple is about to release macOS 10.15 Catalina and based on what I've seen in the betas, the junk mail filter in Mail.app still doesn't integrate with iCloud.
Even worse, since yesterday (9/20/2019), I've noticed that most of my emails end up in my Junk mail folder. The good news is there are two workarounds to this issue:
Use tools like SpamSieve to automatically recover those incorrectly flagged emails and put them back into your inbox.
Use SaneBox — that's what I use. It works similar to SpamSieve but it's a cloud service instead of a plugin. That means, it can process my emails even when my Mac is not running.
Is Apple Deleting your Emails?
In 2013 I read on Macworld that Apple is silently discarding emails that contain certain, potentially offensive, keywords.
Two years later, in March of 2015, I was expecting an email from a contractor with a mockup of our future kitchen. But that email never arrived. We exchanged a number of text messages to make sure he had my correct email address. Unfortunately, no matter what we tried that email wouldn't come through.
The funny thing was that the sender never got a bounce notification into his Gmail mailbox.
So I asked the contractor to send the email to my work address and within seconds it arrived. I don't know exactly what happened back then but I can only assume iCloud silently discarded this email as spam.
When I called iCloud Support the other day, I reported this old case and submitted message headers and the original email to Apple's engineers. Interestingly enough, the Senior Apple Support Engineer confirmed that Apple is discarding emails that come from known offenders.
While I like the idea of having a junk mail filter that operates with as little intervention from my side as possible, it cannot be that Apple discards emails that are clearly not junk without notifying the sender or recipient.
What do you think?

I'm a healthy living and technology enthusiast.
On this blog, I share in-depth product reviews, actionable information and solutions to complex problems in plain and easy-to-understand language.