In this review, I compare the various AmpliFi wireless mesh-networking systems to help you pick the right one for your requirements and budget.
I initially stumbled across AmpliFi when Apple discontinued its AirPort base stations and I had to look for an alternative to the aging Wi-Fi network in my house.
I wanted to learn if a wireless mesh network could replace the three Apple AirPort Extreme base stations that I had strategically positioned throughout our home.
Network Performance Requirements
Almost every room in my house has a gigabit ethernet (CAT 5e/6) outlet, and my AT&T fiber-optic internet connection supports speeds of nearly a gigabit per second.
However, despite my gigabit infrastructure, I usually don't utilize that much bandwidth as all my data is either in the cloud (iCloud Drive, Dropbox) or on storage devices that I have connected directly to my iMac via Thunderbolt.
As a result, and unlike other reviews, I was not interested in raw LAN performance but in Wi-Fi coverage and reliability.
Specifically, I wanted to make sure that video streaming to such devices as Apple TV, iPad and iPhone would work without issues, regardless of where in our 3,300-square-foot ranch-style home they happened to be.
That's a lot of horizontal space to cover and I expected it to be a challenge, mainly because I have to position the main router in my office (where the AT&T internet uplink is). My office is on one side of the house, but our family room (with the Apple TV) and master bedroom (where my wife streams YouTube videos to her iPad) are both on the other side of the house.
In addition to the Apple TV, we also have home security cameras — some of which can stream 4K footage that requires additional bandwidth.
My Old Networking Infrastructure
My old infrastructure consisted of three strategically-positioned Apple AirPort Extreme base stations, connected via Ethernet. I used to have four base stations but one died, and it didn't provide enough additional coverage to warrant replacement.
You can read more about how I set up and configured those base stations in this article.
The advantage of connecting the main router via Ethernet was that each AirPort Extreme would offer optimal Wi-Fi performance in its coverage area.
And since I had joined my AirPort base stations via Ethernet, there was no performance loss when transferring data from one to another. I had one AE in my office (master), one in the guest room behind my office, and another one in our family room (close to the Apple TV).
The fourth base station was in our master bedroom, before it broke and I took it out.
My primary focus was to have the best possible coverage in my office, followed by the family room on the other side of the house, where we stream TV shows and movies through Apple TV. The third priority was the rest of the house, and especially our bedroom, where my wife frequently streams makeup videos via YouTube.
Why Replace a Nearly Perfect Wi-Fi System?

You may be wondering why I wanted to replace what appears to be a perfect setup of wired AirPort Extreme (AE) base stations. The reason is indeed not related to performance but reliability. I had started noticing that certain base stations kept shutting down for no apparent reason.
And because of the way I had wired my network (you could call it daisy-chained), if the primary AirPort base station went offline, it would take the whole system down with it. Every couple of days, we had to reboot the base station in the guest bedroom because it's the one in the middle between the master AE in my office and the AE in the family room.
It didn't affect network performance in my office — mainly because my iMac is wired directly to the AE via an Ethernet-Thunderbolt bridge — but it always seemed to happen when we wanted to watch TV, and video quality degraded due to the weak Wi-Fi signal strength.
I mentioned earlier that Apple discontinued support for its AE base stations, so I didn't want to replace a failing AE with outdated technology. So I figured it was the perfect time to look into new technology, which is how I found AmpliFi's Wi-Fi mesh system.
So let's start the review with AmpliFi before we take a closer look at UniFi (the commercial-grade system made by the same company, and the system that I currently use), and then see how the technologies compare.
AmpliFi Review
AmpliFi is the consumer division of Ubiquiti Networks, which makes business-class networking products. Coincidentally, one of its founders, Robert J. Pera, worked on the original AirPort base station for Apple.
AmpliFi's goal is to provide the latest wireless mesh networking technology to consumers — the type of technology usually only found in more expensive commercial equipment.
You've probably experienced the advantages of mesh networking technology when using WLAN at the airport, trade shows or other locations with broad coverage. Once you're logged in, you stay logged — even when you move from one side of a convention center to the other.
When I published my original AmpliFi review, the company offered only a single mesh system that was called AmpliFi HD. It consisted of a mesh router and two wireless "meshpoints."
Fast forward to December 2019, and AmpliFi now has four different systems in its lineup, including:
AmpliFi Instant — a low-cost and easy-to-set-up mesh system
AmpliFi HD — the system I originally reviewed
AmpliFI HD Gamer's Edition — a low-latency system specifically designed for gamers
AmpliFi Alien — the latest and most powerful mesh system the company offers
| | | | | |
| --- | --- | --- | --- | --- |
| | AmpliFi Instant | AmpliFi HD | AmpliFi HD Gamer's Edition | AmpliFi Alien |
| Antennas | (4) Dual-band antennas (single-polarity) | (3) Dual-band antennas (tri‑polarity) | (3) Dual-band antennas (tri‑polarity) | (1) Internal dual-band metal stamp with 12 polarity |
| Wi-Fi Standards | 802.11ac | 802.11ac | 802.11ac | Up to Wi-Fi 6 |
| MIMO | 2×2 | 3×3 | 3×3 | 2.4 GHz: 4×4 5 GHz: 4×4 (low-band) + 8×8 (high band) |
| 2.4 GHz Speed | 300 Mbps | 450 Mbps | 450 Mbps | 1150 Mbps |
| 5 GHz Speed | 867 Mbps | 1300 Mbps | 1300 Mbps | 6537 Mbps (both radio summary) |
| Low Latency | ✘ | ✘ | ✔︎ | ✔︎ |
| WAN QoS | ✘ | ✘ | ✔︎ | ✔︎ |
| Price | $179.00 | $340.00 | $379.00 | $379.00 |
I'll give you an overview and recommendations on all four systems, and then share my hands-on experience with AmpliFi HD.
AmpliFi Instant Review
Pros
Easy to deploy
Inexpensive
Small form factor
Ethernet uplink on each meshpoint
Cons
Lower performance than other AmpliFi systems
AmpliFi Instant is an excellent entry-level wireless mesh system that can cover your home in Wi-Fi in under two minutes.
All you have to do is connect the Instant router to power and your ISP modem, connect the Instant Mesh to power, download the AmpliFi app, and choose a Wi-Fi name and password.
That's all it takes to get a mesh Wi-Fi and guest network up and running. From there, you can add additional meshpoints to cover areas of your home that have weak Wi-Fi signal.
What's cool is — and this is something I missed from the original AmpliFi HD meshpoints — that each Instant meshpoint has an ethernet port that you can use to plug in devices that don't support Wi-Fi.
Plus, AmpliFi Instant looks pretty, which is important if you want to convince your wife to let you accessorize your house with electronic devices.
My recommendation: If you're not incredibly tech-savvy and need an easy-to-set-up Wi-Fi system that can cover your whole house with a strong and reliable Wi-Fi signal, go with AmpliFi Instant.
You can also find AmpliFi Instant on Amazon.
AmpliFi HD Review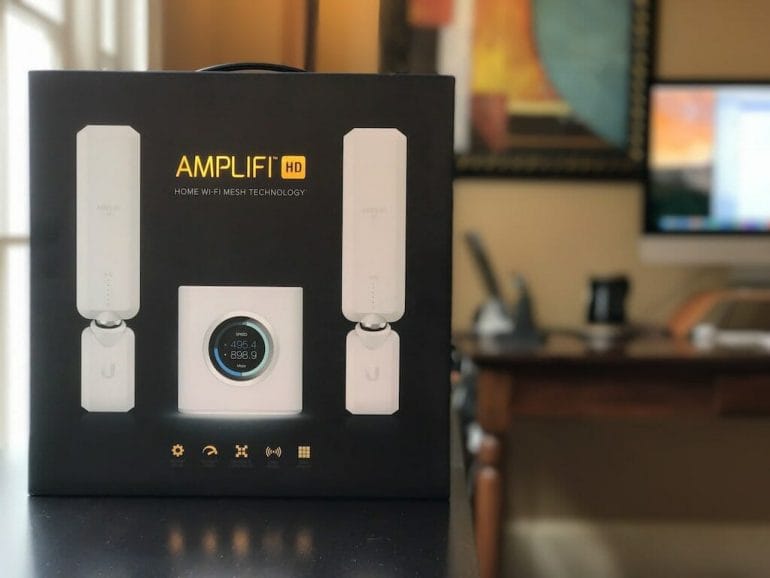 Pros
Better performance than AmpliFi Instant
Easily extendable with meshpoints
Plenty of configuration options
Ethernet backhaul between AmpliFi HD routers
Cons
Meshpoints don't have an Ethernet port
AmpliFi HD was the only AmpliFi wireless mesh system available when I decided to replace my Apple Airport base stations.
What I like about AmpliFi HD is the balance of performance and simplicity. Compared to AmpliFi Instant, AmpliFi HD supports more MIMO channels and a higher throughput. That means you'll get better and more reliable Wi-Fi performance.
At the same time, the set-up and configuration is pretty straightforward and all handled through the AmpliFi mobile app.
What's good about the AmpliFi HD meshpoints is that you can plug them directly into a power socket without the need for a cable. The downside is that the meshpoints don't have an Ethernet port, which makes it much more difficult to extend your network to devices that don't support Wi-Fi.
My recommendation: AmpliFi HD is for you if you need more performance than what AmpliFi Instant can deliver without having to be a network engineer. The combination of wireless meshpoints and support for Ethernet backhaul makes AmpliFi HD an excellent system for most residential use cases.
You can also find AmpliFi HD on Amazon.
AmpliFi HD Gamer's Edition Review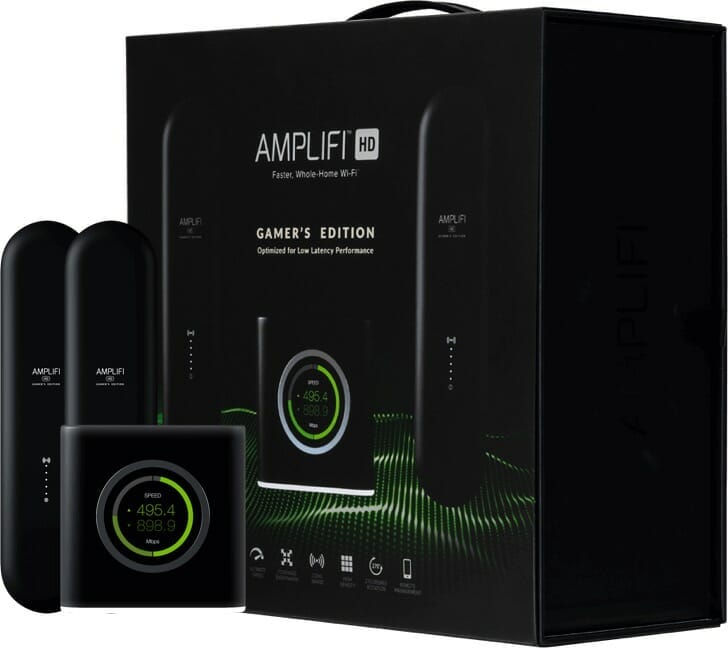 Pros
Low latency support
WAN quality of service (QoS) controls
Less than $40 more than the regular AmpliFi HD
Slick design
Cons
Meshpoints lack Ethernet ports
AmpliFi HD Gamer's Edition is a slicker-looking adaptation of the regular AmpliFi HD system. Besides the black design, the primary difference is support for low latency and WAN QoS.
If you play online video games, latency is incredibly important. That's why AmpliFi has added controls to its wireless mesh system that allow you to prioritize gaming traffic.
That ensures that you can still play your online games even when Mom decides to download that vacation video her sister sent her.
Other than that, both AmpliFi HD systems offer the same specifications, and thus about the same overall performance.
My recommendation: If you're a gamer, you want the Gamer's Edition. But even if you're not, having low latency support and WAN quality of service (QoS) controls can come in handy if you want to be able to prioritize certain applications. That's particularly useful if you work from home and can't have your kids or spouse accidentally clogging your uplink.
You can also find AmpliFi HD Gamer's Edition on Amazon.
AmpliFi Alien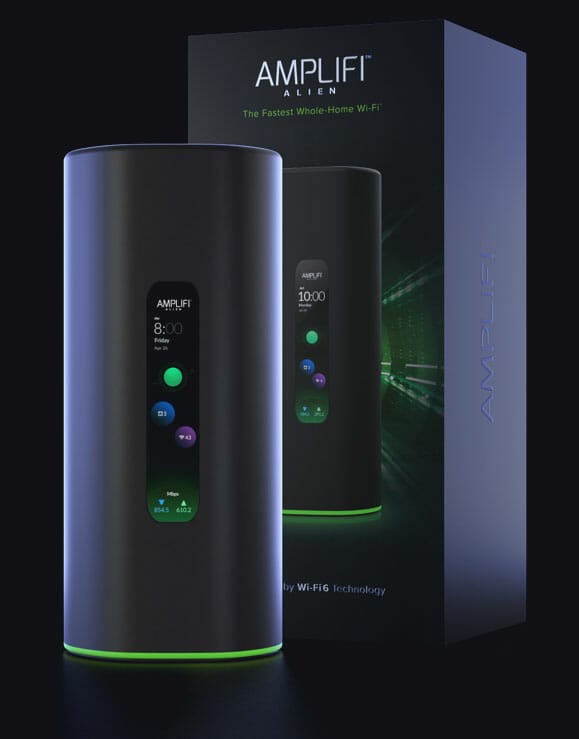 Pros
7,685 Mbps total capacity (4x that of AmpliFi HD)
8×8 MIMO and 16 spatial streams per router
Supports the latest Wi-Fi 6 standard
Easily extendable
Intuitive touch screen
Cons
No dedicated backhaul channel
No 160MHz channel support
The brand-new AmpliFi Alien is arguably one of the best and most powerful consumer-grade wireless mesh routers on the market.
Combine the throughput of all radios and AmpliFi Alien delivers a ridiculously high throughput of 6,537 Mbps at 5GHz speeds and 1,148 Mbps at 2.4 GHz speeds.
One thing that the Alien is missing and that's available in other high-end Wi-Fi 6 routers is support for the 160 MHz channel.
Besides featuring over four times the bandwidth and twice the coverage of AmpliFi HD, the new Alien router is also future-proof as it supports the latest Wi-Fi 6 standard, which supersedes the older 802.11ac standard.
According to AmpliFi, the new Alien router provides twice the coverage of AmpliFi HD. Depending on the size and layout of your house, that means you might be able to get away with a single AmpliFi Alien router.
However, if you're picky about network performance (like I am), you'll probably end up with an AmpliFi Alien router and one of the new Alien MeshPoints, strategically positioned around the house.
The downside of creating a mesh network with Alien routers and meshpoints is that the Alien doesn't have a dedicated backhaul channel. Instead, it borrows bandwidth from the Wi-Fi 6 band. That has a negative impact on the overall Wi-Fi performance.
The great thing about AmpliFi Alien is that you can create either a wireless or wired mesh network of several routers. Of course, my recommendation is to leverage an ethernet backbone (or ethernet backhaul) for maximum performance.
To learn more about the AmpliFi Alien, check out my dedicated AmpliFi Alien review.
My recommendation: The AmpliFi Alien is definitely my favorite mesh router. I'd buy it in a heartbeat, because it delivers the best possible performance and is future-proof thanks to Wi-Fi 6 support. But if you anticipate the need for more than one router and you don't have the budget for that, I'd go with a less-expensive model.
AmpliFi Set-Up and Configuration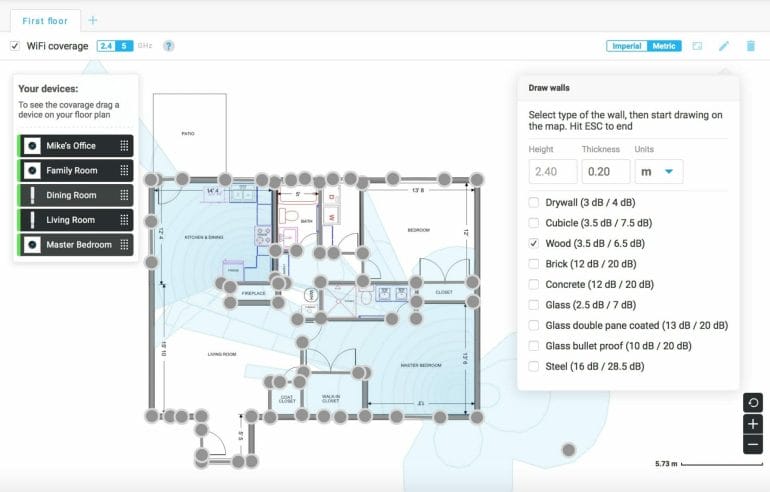 Setting up an AmpliFi mesh WiFi router is incredibly easy and painless. Here's how it worked with the AmpliFi HD system I have.
Before I started, I unplugged all power cords and Ethernet cables from my three AirPort Extreme base stations. The following steps took about five minutes to complete, and I was up and running:
Download the AmpliFi app from the App Store
Plug in the AmpliFi base station
Connect the base station to the ISP modem via an Ethernet cable
Set up the base station via the mobile app
Plug in the two meshpoints in other rooms of the house
I cannot stress enough how painless the setup process was compared to the configuration required to connect the AirPort base stations the way I had them.
How to Position the Base Station and Wireless MeshPoints
The problem with AmpliFi is that their ideal setup has the base station in the middle of the house, with meshpoints placed on the far ends. I don't know anybody who has their ISP uplink in the center of the building.
My uplink is in my office, which is on one side of the house. Our family room (with the Apple TV) is on the opposite side of the kitchen, and there are two walls in between.
I initially placed one meshpoint (A) halfway between my office and the Apple TV and the other one (B) close to the Apple TV. Unfortunately, that resulted in B connecting to A and A connecting to the base station. In other words, B had no direct connection to the base station, which decreased performance.
The other adverse side effect was that we had poor coverage in the master bedroom. That would have made my wife unhappy.
For a day, I had a meshpoint connected in the kitchen to an outlet that I can see from my office. So there was a direct line of sight, ensuring perfect connectivity.
Unfortunately, that outlet was within arms reach of our son, who had just started crawling. As soon as he noticed the meshpoint he started playing with it, so I had to remove it.
That's when I decided to purchase another AmpliFi HD router, place it in the family room (on the opposite side of the house) and connect it via Ethernet backhaul to the main router in my office.
In other words, I was leveraging the existing Ethernet cable infrastructure I had in my home. That resulted in the best possible performance and I highly recommend using Ethernet if and where possible.
AmpliFi Teleport
AmpliFi Teleport is a VPN solution that enables secure remote access to your home network from anywhere in the world.
When AmpliFi first launched Teleport it was a hardware solution consisting of a router and an adapter you would carry with you. I used to have one of those while the technology was still in beta.
These days, AmpliFi Teleport is a simple app you can download to your iOS device (or other mobile device).
If you've never used a VPN, you might wonder what it's good for. Well, imagine you're on vacation in another country and you want to watch your favorite Netflix show, which might not be available in that country. By connecting to your home network via Teleport, Netflix thinks you're at your house.
But that's just one of many use cases for a VPN; privacy and security are others.
AmpliFi iOS App
The AmpliFi app is much better and easier to use than Apple's AirPort app. I would like to point out a few essential features that I think are very useful:
Connected clients: I can immediately see a list of all connected clients. With the AirPort app, I had to click on every base station to see a list of connected devices. There was no consolidated list.
Performance: The AmpliFi app can run a speed test directly from the base station. Because of this feature, I noticed a problem with my upstream that Comcast had to fix on their end. First, I thought the problem was with AmpliFi and I contacted support, but it turned out that Comcast was at fault.
Guest network: I love the idea of having a guest network that I can quickly turn on and off. The AmpliFi app allows me to enable my guest network permanently or only for a couple of hours. As a result, I don't have to share the main Wi-Fi password.
Pause internet access on selected devices: Via the "Family" tab, I can pause internet access on selected (or all) devices. That's handy for testing, or for when I want to mess with my wife!
Scheduled internet access: Our kids are not old enough to have their own devices yet, but once they are, I can disable internet access for their devices during certain hours of the day. For example, during dinner time and after bedtime.
AmpliFi Support
During the initial setup process, I ran into an issue with my upstream during testing and I thought AmpliFi caused it. As a result, I got to test their support as well. AmpliFi provides chat support directly from within the mobile app, which is very convenient.
Within seconds of opening a chat session, I spoke to a friendly support agent. He asked me a couple of questions and let me run some tests.
Within minutes, we determined that the problem was not related to AmpliFi but to my ISP. Overall, AmpliFi's support was outstandingly responsive and efficient.
AmpliFi Performance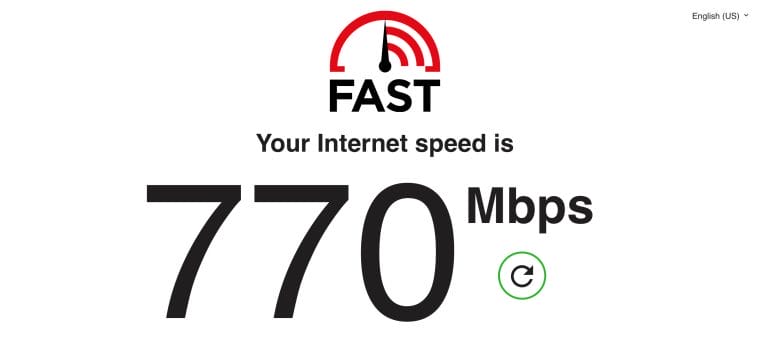 A lot of people have asked me what kind of performance they can expect from AmpliFi. Unfortunately, that depends on numerous factors including the layout of your home, how you position the meshpoints, and whether or not you use Ethernet backhaul.
Before I switched from Comcast to AT&T's fiber service, I ran a few tests in my house to see how good the coverage provided by my two-router and two-meshpoint AmpliFi HD was.
AmpliFi HD Performance
As I mentioned at the beginning of this article, my primary concern was to have sufficient Wi-Fi coverage throughout the house to match the speed of my internet uplink.
The measurements below are from when I still had Comcast, which offered 120 Mbits per second downstream and 20 Mbits per second upstream.
Office

Latency: 9ms
Download: 109.98 Mbps
Upload: 23.15 Mbps

Living room

Latency: 8ms
Download: 123.39 Mbps
Upload: 23.69 Mbps

Family room

Latency: 9ms
Download: 119.56 Mbps
Upload: 22.09 Mbps

Master bedroom

Latency: 14ms
Download: 86.85 Mbps
Upload: 22.91 Mbps

Guest room

Latency: 8ms
Download: 118.18 Mbps
Upload: 23.32 Mbps
Note that I didn't bother to make sure my iPhone connected to the closest meshpoint with the best signal; I just walked around the house when I conducted the speed tests. Overall, I pretty much got the best possible speed, except for in the master bedroom.
Later, after I upgraded to AT&T's fiber service, I ran another speed test and got several hundred Mbps in all locations. That was more than enough for what I needed.
I'm about to move to a new home and I'll have to set up everything from scratch. I'll try to perform tests with all AmpliFi systems and compare them side-by-side. So check back for updates in late January/early February.
AmpliFi vs. Others
AmpliFi is certainly not the only game in town when it comes to wireless mesh-networking technology. If you're still on the fence about what brand and technology to choose, hopefully the comparison below will help you make a decision.
| | | | | | |
| --- | --- | --- | --- | --- | --- |
| | AmpliFi | Eero | Linksys | Nest WiFi | Orbi |
| Performance | ★★★★★ | ★★★☆☆ | ★★★★☆ | ★★★☆☆ | ★★★★☆ |
| Privacy | ★★★★★ | ★★★☆☆ | ★★★★★ | ★★☆☆☆ | ★★★★★ |
| Features | ★★★★★ | ★★★★☆ | ★★★★☆ | ★★★★★ | ★★★★★ |
| Cost to get started | ★★★★☆ | ★★★★★ | ★★★★☆ | ★★★★☆ | ★★★★☆ |
AmpliFi vs. Eero
Eero was one of the brands I looked at before I decided to go with AmpliFi. That was before Amazon acquired them in April of 2019.
Eero offers its technology in three different versions: the classic Eero, Eero Pro, and the Eero Beacon. The latter is roughly comparable with AmpliFi's meshpoints.
The primary advantage of Eero is the cost of the basic model. For less than $100 you can get a single Eero unit, which is less than what AmpliFi charges. However, neither the classic Eero nor the Eero Beacon provide the performance of the entry-level AmpliFi system. So it's a trade-off.
Additionally, none of the Eeros support Wi-Fi 6, and their MU-MIMO channels are limited to 2×2 spatial streams. That means if you have a lot of devices on your network and you want optimal performance on all of them, Eero might not be the best choice.
I would consider Eero if you have a limited budget and performance/features are not your primary concern.
What also turns me off a little bit with Eero is that the company is now owned by Amazon, which doesn't have a strong track record when it comes to putting user privacy first. That's also the reason why I don't use Alexa in my home.
AmpliFi vs. Linksys Velop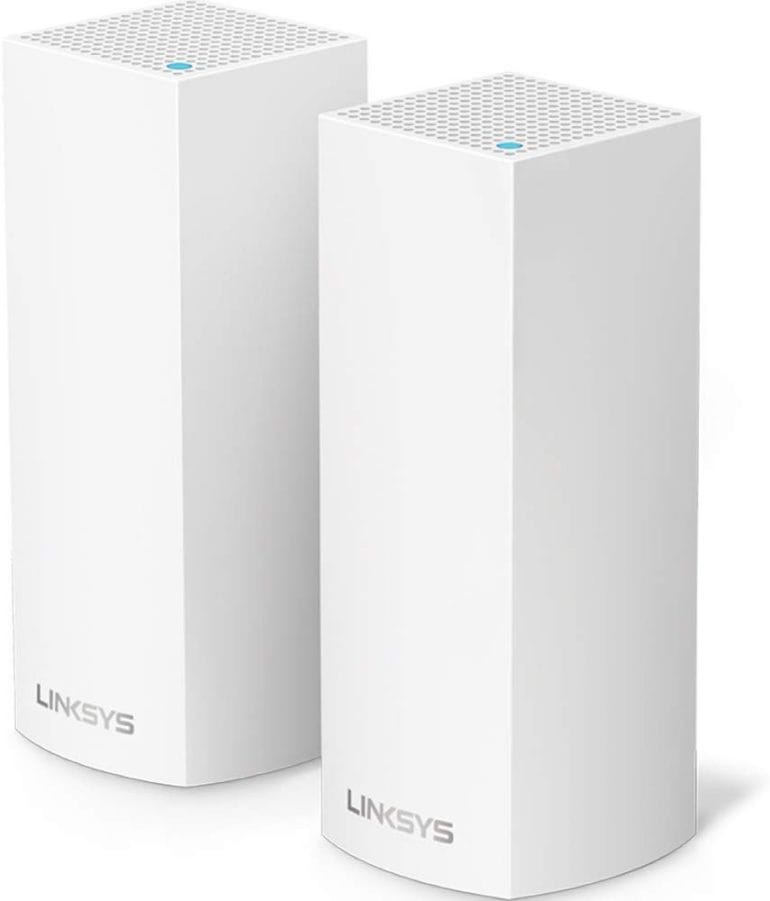 One of the first WiFi routers I owned back home at my apartment in Austria was from Linksys, and I have fond memories of it.
What I like about the Velop line is its simplicity. The company offers three different routers plus what Netgear calls a plugin to extend the range of the mesh network.
Linksys' top-of-the-line router is the Velop AX (which supports WiFi 6), followed by the Velop Tri-Band and Velop Dual-Band — both aptly named after their supported WiFi bands.
Linksys offers all the features you would expect from a modern WiFi system, including multi-user MIMO, a built-in switch, support for Ethernet backhaul and more.
From a pure performance perspective, Velop isn't quite as powerful as the AmpliFi Alien because of its few spatial streams and overall throughput. Plus, Linksys doesn't seem to be offering a low-latency mode and the QoS settings are relatively basic.
AmpliFi vs. Nest Wifi (Google Wifi)

Nest WiFi — previously known as Google Wifi — is another technically-appealing mesh system that I would never put into my home because of privacy concerns.
What I like about Nest Wifi — from a technical perspective — is that it's both a wireless mesh router/point and a speaker with Google's smart home assistant built-in.
Unlike many of the other manufacturers in this comparison, Nest relies on the open 802.11s standard to implement its mesh-networking technology. By doing so, Google is, at least theoretically, compatible with other technologies that rely on the same standard.
Beyond that, the performance of Nest is pretty much in line with standard WiFi routers. The platform supports WiFi 802.11a/b/g/n/ac with 4×4 5 GHz and 2×2 2.4 GHz spatial streams. The Wifi Points (as Nest calls them) support 2×2 spatial streams on both frequencies only.
If you're a Google household already and don't require the absolute best possible performance, Nest Wifi might be an attractive option. Just make sure to learn how to use the "privacy switch" on the Nest Wifi points.
AmpliFi vs. Orbi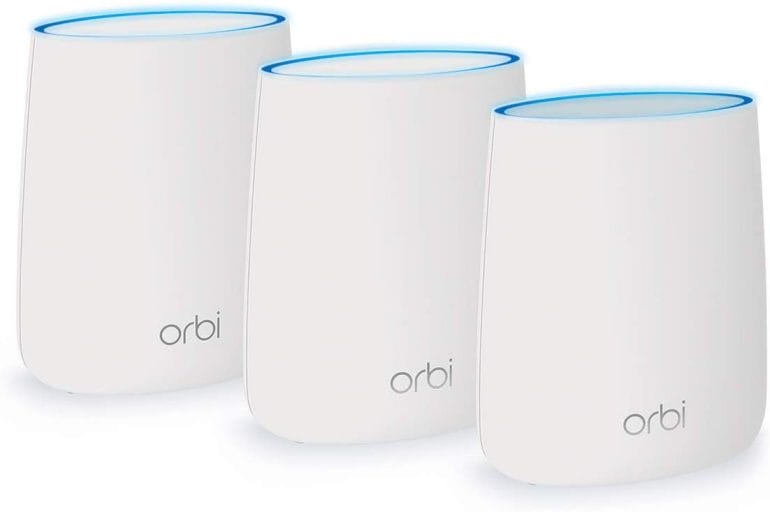 Netgear offers what I consider the most confusing product lineup. Looking at their webpage, I had a hard time figuring out the differences between all the different Orbi options.
But once you dig through the device jungle, you find excellent technology that's on par with what AmpliFi offers, with some exceptions. For example, the latest Orbi AX6000 offers WiFi 6 in a slick albeit expensive package.
What makes Netgear's offering so confusing — the number of options — is also what makes it attractive, because you can probably find an Orbi that works for you. You can get lower-priced and lower-performing Orbi routers, you can get one with a cable modem built in, and even one that comes with a smart speaker.
I don't have any hands-on experience with Orbi, but based on their technology and reviews from others, it looks like raw performance isn't an issue (depending on the model you pick).
The only bad thing about Orbi — based on feedback from other users — is its latency. That's bad for gamers, or if you rely on Wifi to make phone or video calls.
One thing that Orbi does better than most others is the use of a dedicated wireless backhaul channel. That means you'll get better and more reliable coverage, assuming your Orbi routers have an excellent WiFi connection between them. Alternatively, you can also use Ethernet backhaul.
Personally, I'm a huge fan of AmpliFi because of the experience I've had with the brand over the past few years. But personal preference aside, if it wasn't AmpliFi, I'd probably go with Netgear or Orbi rather than Nest Wifi or Eero.
AmpliFi vs. UniFi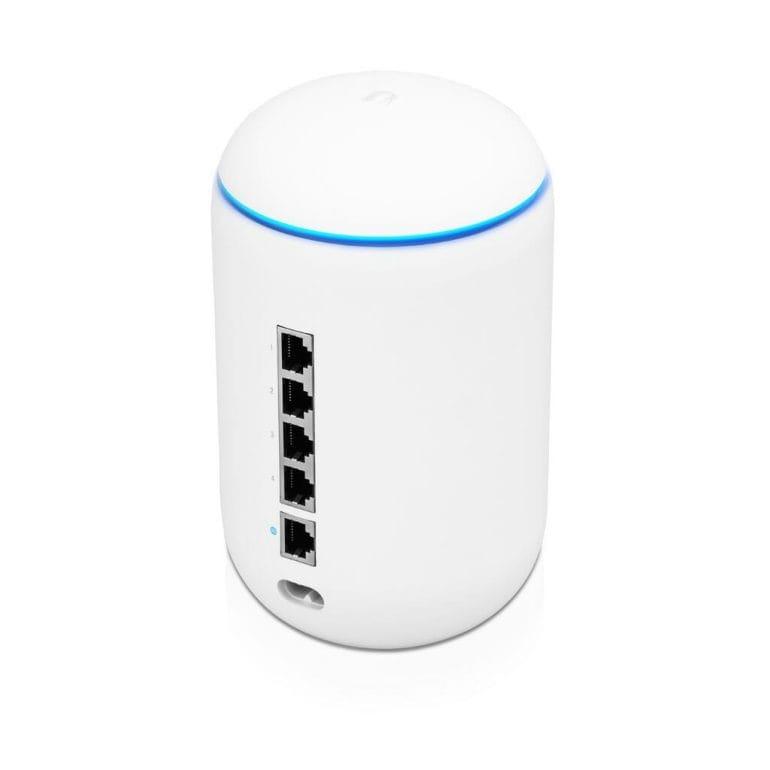 AmpliFi vs. UniFi is an interesting comparison because both brands belong to the same company — Ubiquiti. Coincidentally, I have hands-on experience with both and am currently using UniFi technology in my home.
In a nutshell, UniFi offers more flexibility and advanced configuration options, such as those you would typically find in commercial offerings. While deploying UniFi doesn't require a degree in networking, it's certainly more involved than setting up an AmpliFi network.
I've written in detail about the differences between the two technologies in this article, in which I explain why I decided to upgrade to UniFi.
Frequently Asked Questions
Why can't I just use a single WLAN router?
Traditionally, you would have a single WLAN router at home that you connect to your internet modem. The problem is that a single router usually cannot provide sufficient WLAN coverage for your whole house.

In recent years, WLAN router manufacturers have gone crazy adding more and more antennas to the router in an attempt to provide better coverage. But a Wi-Fi signal is nothing more than an electromagnetic wave, and the laws of physics apply.

That means that the further away a communication partner (such as a computer or phone) is from the WLAN router, the weaker the signal strength will be. And any obstacle between the two communication partners further weakens the signal.

As a result, having only a single router to cover a large area that has plenty of obstacles — like walls, wiring and appliances — will likely result in poor Wi-Fi coverage.
What is wireless mesh networking?
Mesh networking replaces the idea of having only a single router with a network (or mesh) of connected routers and antennas. So, with a mesh network you can strategically place WLAN routers and antennas throughout the house, and they will all operate as a single wireless network.

As I mentioned earlier, this roaming capability is what provide almost seamless Wi-Fi coverage at airports and trade shows. Each of the mesh nodes in that network only covers a particular area and hands off a connected device to another node when it leaves the coverage area.

Think of it as having 3 WLAN routers spread across your house. Those routers are wirelessly connected and provide Wi-Fi coverage for a particular area. Devices in your home will automatically connect to the router with the strongest signal.

As you roam your house, your devices seamlessly hop back and forth between the routers with the strongest signal, and you will always enjoy the best coverage possible.

Many classic WLAN routers, including Apple's AirPort base stations, offer similar capabilities. But they usually come with the cost of significantly-degraded performance. Plus, handing over devices from one base station to another other did not always work reliably.

That's why I decided to connect all my AirPort base stations with Ethernet cables. Modern mesh networking technologies — such as the ones built into AmpliFi, Eero and others — provide much better performance and more reliable handover capabilities.
What's MIMO?
MIMO stands for "multiple-input-multiple-output" and is part of a wireless standard that describes how Wi-Fi routers with multiple antennas can handle data streams for optimal performance when various devices are connected. Manufacturers denote a typical configuration as 3×3:3.

The first number indicates the number of transmit antennas, the second number represents the number of receive antennas, and the last digit represents the maximum number of spatial data streams the radio can use.

As is so often the case, more antennas and data streams results in higher performance. Both AmpliFi HD and Apple's AirPort Extreme offer a 3×3:3 configuration. Not all devices support the same MIMO standards.
Is AmpliFi Instant compatible with AmpliFi HD or AmpliFi Alien?
Yes, AmpliFi Instant is compatible and can be mixed and matched with other AmpliFi standalone routers or meshpoints. However, you can't mix AmpliFi Instant with other AmpliFi kits.
What's a dual-band WiFi?
Dual band means that your Wifi router can broadcast on a 2.4 GHz and 5 GHz channel at the same time. Tri-band routers can broadcast on one 2.4 GHz and two 5 GHz channels at the same time.
Is there an AmpliFi Android app?
Yes, the AmpliFi app is available for iOS and Android devices.
Why is mesh networking better than a range extender?
Range extenders dramatically degrade WiFi performance, which is why I don't recommend them. A WiFi mesh kit, on the other hand, uses dedicated backhaul channels that don't impact the overall system performance.

Plus, they offer seamless roaming and device handover capabilities that range extenders don't.
Does AmpliFi Alien support MeshPoints?
Yes, AmpliFi recently introduced a MeshPoint that's compatible with AmpliFi Alien. You can't purchase the MeshPoint separately, but it's available in a router/MeshPoint bundle.

The Alien MeshPoint has the same internals as the Alien Router but it lacks the touchscreen display. The advantage of buying the combo is the reduced price of $699 vs buying two Alien routers which would cost you $758.
AmpliFi Review — Final Words
I shopped around for other mesh networking technologies, including Eero, before committing to AmpliFi,
I ultimately decided to go with AmpliFi (and later UniFi, the commercial offering from Ubiquiti) because it appeared to best meet my requirements for performance, reliability and support.
I've been using Ubiquiti products for several years now and I have nothing but good things to say about them.
I've also equipped the homes of family members with AmpliFi products and recommended them to friends and co-workers. Every one of them has given me positive feedback.
Overall, I can highly recommend AmpliFi as a brand and technology to anyone who wants to cover their home in spotless Wi-Fi.
Which AmpliFi system you choose ultimately depends on your specific needs and budget, and I hope this article has helped you make that decision.
If you've implemented AmpliFi in your home already, I'd appreciate if you'd share your experience with the technology by leaving a comment below. If you have any pre-sales questions or concerns, let me know as well and I'll try my best to assist.

I'm a healthy living and technology enthusiast.
On this blog, I share in-depth product reviews, actionable information and solutions to complex problems in plain and easy-to-understand language.