I recently installed the AmpliFi Alien standalone router in my new two-story house, and in this review, I'll discuss how well AmpliFi's new flagship Wi-Fi 6 router covers this 2,700-square-foot space.
Note that the AmpliFi Alien is available as a standalone router or a mesh kit that comes with a dedicated meshpoint. In this article, I'll focus on the standalone router.
If you're interested in learning more about the differences between the standalone router and the mesh kit, check out this review.
To learn more about how I tested the AmpliFi Alien, scroll down.
AmpliFi Alien Wi-Fi 6 Router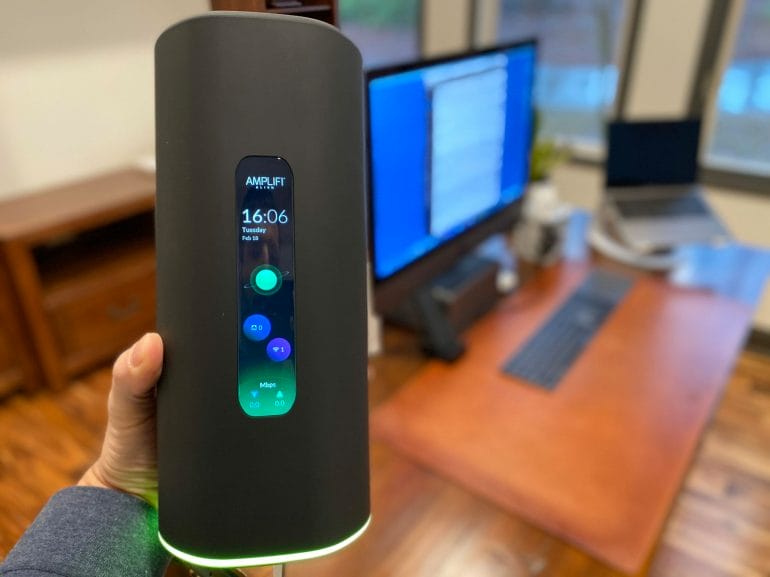 Pros
Solid performance
Easy to set up
Slick design
Some unique features
Ethernet backhaul
Cons
No support for 160 MHz channels
No dedicated (wireless) backhaul
Lacks some advanced config options
AmpliFi Alien: Slick and Powerful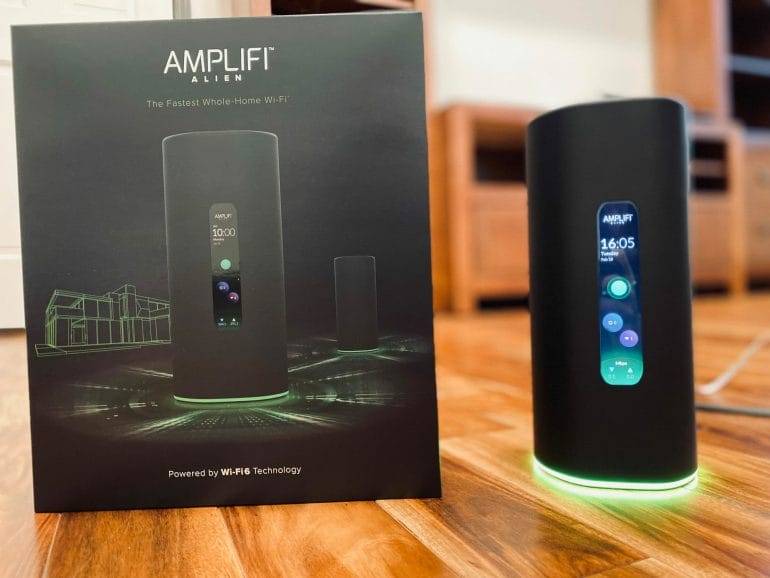 The AmpliFi Alien is Ubiquiti's flagship 802.11ax Wi-Fi 6 router and promises to deliver "4x the overall network capacity and 2x the coverage while reaching true gigabit speeds" when compared to the older AmpliFi HD.
Check out my previous review of the entire AmpliFi lineup to learn more about how each of the products compares.
Who Is the AmpliFi Alien For?
When we moved into our new home — and before I had a chance to fully deploy my existing Ubiquiti UniFi infrastructure — I only had the AmpliFi Alien and a meshpoint to cover both stories of the house.
I didn't expect the same performance from the Alien that I had gotten used to from numerous UniFi access points. But guess what? I couldn't find a single Wi-Fi dead spot. Coverage was spotless and I never felt like the Wi-Fi was slowing me down.
For a moment, I questioned why I had just spent thousands of dollars on server racks and electricians to wire the house with CAT6 if the Alien was all I needed.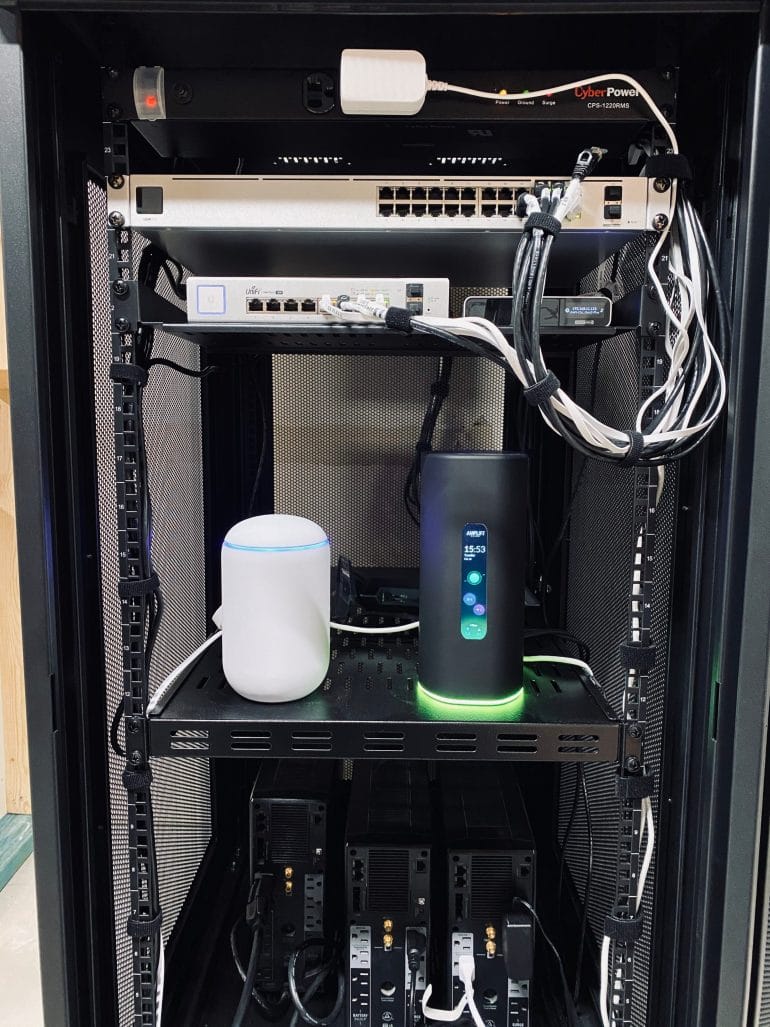 Of course, network performance isn't the only reason why I chose UniFi over AmpliFi. But the point is that the AmpliFi Alien might be the right choice even for someone who is used to more advanced networking equipment, especially when you consider the possibility of adding an extra meshpoint.
I'd argue the Alien is an excellent wireless router for most users who are seeking to reliably cover their home (or business) with a wireless network.
That's particularly true if you:
Want reliable performance that matches your ISP's speed.
Aren't super tech-savvy and need a solution that requires minimal expertise.
Appreciate design as much as performance.
Need something that "just works."
Require only a limited vertical and horizontal coverage area. (By that, I mean less than thousands of square feet.)
Don't need super-advanced configuration settings or the absolute best Wi-Fi performance that Wi-Fi 6 can (theoretically) deliver.
While the above scenarios apply to many users, others want to tinker with advanced configuration settings, either for fun or because they have specific use cases.
If you fall into that category, the Alien might not be the best choice for you because the available configuration options are a bit limited.
If that's the case, I'd encourage you to look at a platform like Ubiquiti UniFi, which provides ultimate flexibility — including shell access and everything else you might be looking for — instead of going with another consumer-grade Wi-Fi 6 router.
Other people require the best-possible wireless LAN performance the Wi-Fi standard has to offer. The AmpliFi Alien is slightly limited in that regard because it neither supports the 160 MHz channel nor does it have a dedicated Wi-Fi backhaul.
That means both the standalone router as well as the Mesh Kit won't provide the same (theoretical) performance as other Wi-Fi 6 routers that have those options. However, outside of synthetic tests, you probably won't notice a difference.
Besides, I'd argue that if maximum performance is your primary requirement, you should do as I do and use Ethernet.
Apple-Like Design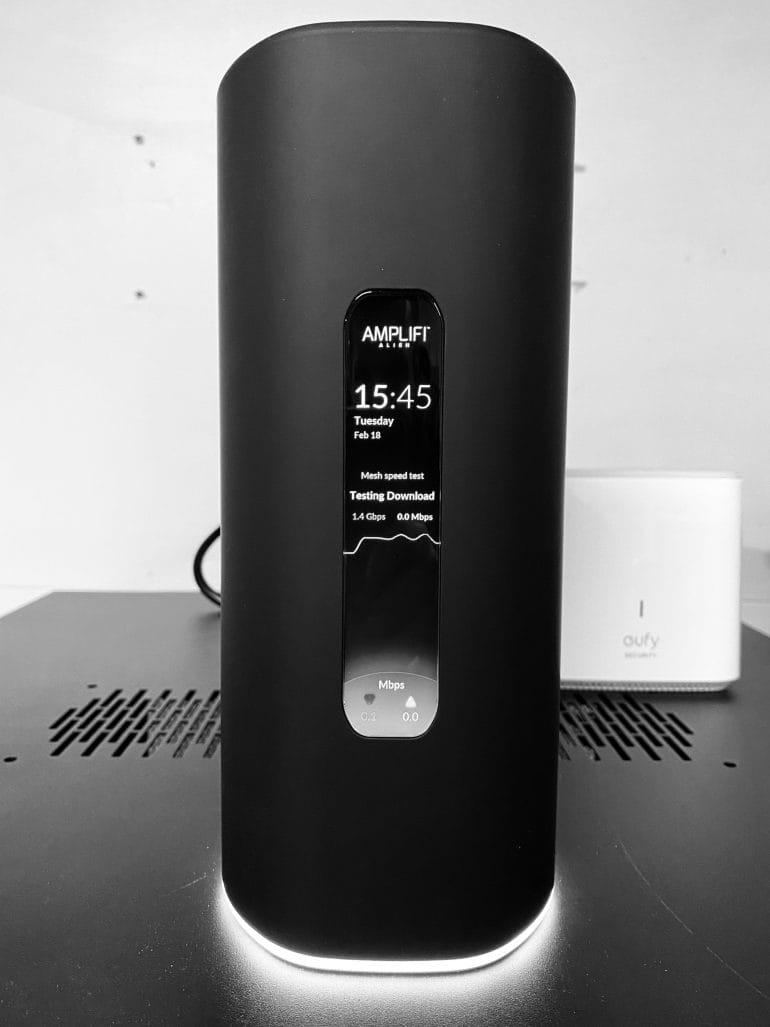 The founder of Ubiquiti, Robert Pera, used to work for Apple. That's probably why you can find Apple-like design language across the entire product portfolio.
What many brands don't realize is that the first impression of a product starts with the packaging. If the box looks cheap and flimsy, it doesn't necessarily inspire confidence in the quality of the actual product.
The AmpliFi Alien comes in a slick and sturdy box that shouts "high quality." I noticed that I liked the Alien before I even touched it, just because of how well-designed the box was.
Unsurprisingly, the actual hardware doesn't disappoint. It's solid, it looks amazing, and I think Ubiquiti found the right balance between function and minimalistic design.
One of the features that immediately stuck out to me was the 4.7-inch full-color touchscreen on the front of the router, which supports haptic touch and provides network status information, traffic statistics and more.
Additionally, you can run an ISP speed test right from the touch screen without using the app. In the future, Ubiquiti might be able to add more features to this interface, such as enabling/disabling the guest network.
The bottom of the router features an LED ring that lights up and indicates your network status, and which flashes every time you make changes to the router's settings. You can also locate an Alien router by making its LED ring flash via the AmpliFi mobile app.
While that doesn't sound incredibly useful if you only have a single router, it comes in handy when you have multiple routers and you need to locate a specific one. I've used the "locate" feature numerous times in the past with my UniFi access points.
The back of the router offers a built-in switch with four gigabit Ethernet ports. What you won't find on the backside of the Alien are a power connector or uplink port. Ubiquiti decided to place them in a cutout on the underside of the router. That makes for a cleaner look, especially if you don't use any of the four switch ports.
Setup and Configuration
If you've worked with AmpliFi products in the past, you know that it's super easy to get them up and running. The Alien router is no exception.
I plugged the device in to power, connected it to my Comcast cable modem via Ethernet, and launched the AmpliFi mobile app on my iPhone. A few seconds later, the app asked for permission to use Bluetooth to locate and connect to the AmpliFi Alien.
I confirmed the request and was asked to enter a Wi-Fi network name (SSID) and password. That was it.
Of course, I already had an AmpliFi account from my previous AmpliFi review. If you don't, you'll have to create one account before you can set up the Alien.
Technical Specifications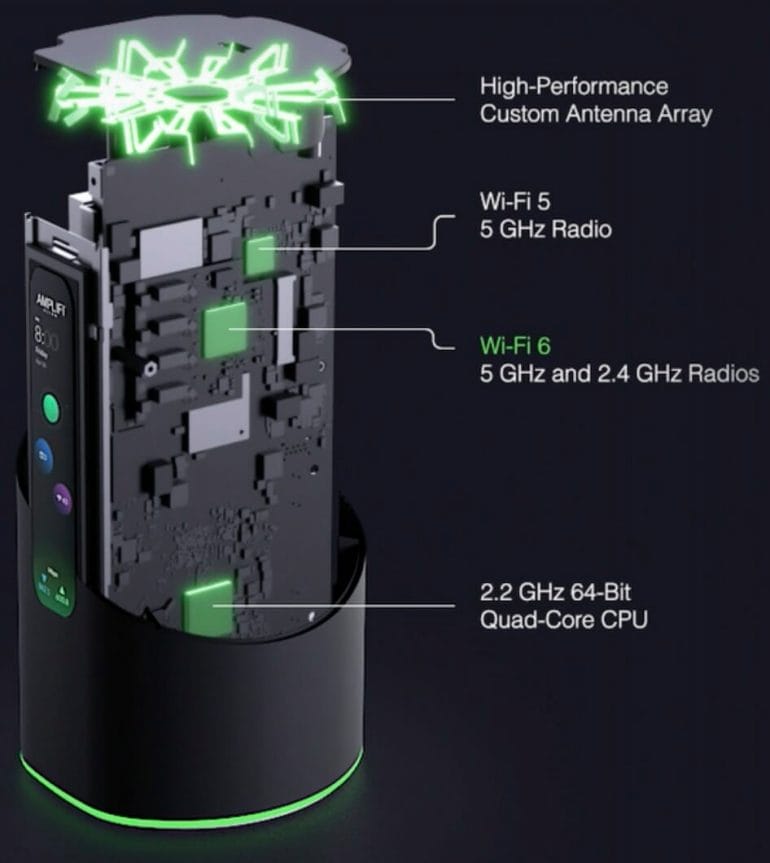 From a technical perspective, the AmpliFi Alien is a tri-band Wi-Fi router that supports Wi-Fi 6 on the 2.4 and 5GHz band as well as Wi-Fi 5 on the 5Ghz band. Of course, the Alien is fully backward compatible with older devices that speak only 802.11a/b/g/n/ac.
The total bandwidth the router can deliver tops out at 7,685 Mbps, but that capacity is split across different Wi-Fi bands.
Here's a table with the most important specs you might be interested in. For a complete list of specifications, see here.
Router Specifications
Dimensions
110 x 110 x 250 mm (4.33 x 4.33 x 9.84″)
CPU
2.2 GHz 64-Bit Quad-Core CPU
Max. TX Power
2.4 GHz: 23 dBm per chain
5 GHz 19 dBm per chain (low band)/ 20 dBm per chain (high band)
MIMO
2.4 GHz: 4×4
5 GHz: 4×4 (low-band) + 8×8 (high band)
Speed
2.4 GHz: 1148 Mbps
5 GHz: 1733 Mbps (low band)/ 4804 Mbps (high band)
LAN Ports
4x Gigabit Ethernet
WAN Port
1x Gigabit Ethernet
Display
110.38 mm (4.7″) Diagonal, 274 x 1268, 279 ppi, G+F Touch, Full Color
Wi-Fi Standards
802.11a/b/g/n/ac/ax
Dedicated Wireless Backhaul
No
Supported Channels
20MHz, 40MHz, 80MHz
User Interface
AmpliFi mobile app, web interface (basic)
Mesh Support
Yes
Link Aggregation
No
As you can see in the table above, the Alien offers most of the specs you would expect from a top-of-the-line Wi-Fi 6 router. The three exceptions to that are the lack of dedicated wireless backhaul, link aggregation, and 160 MHz channel support.
No Dedicated Wireless Backhaul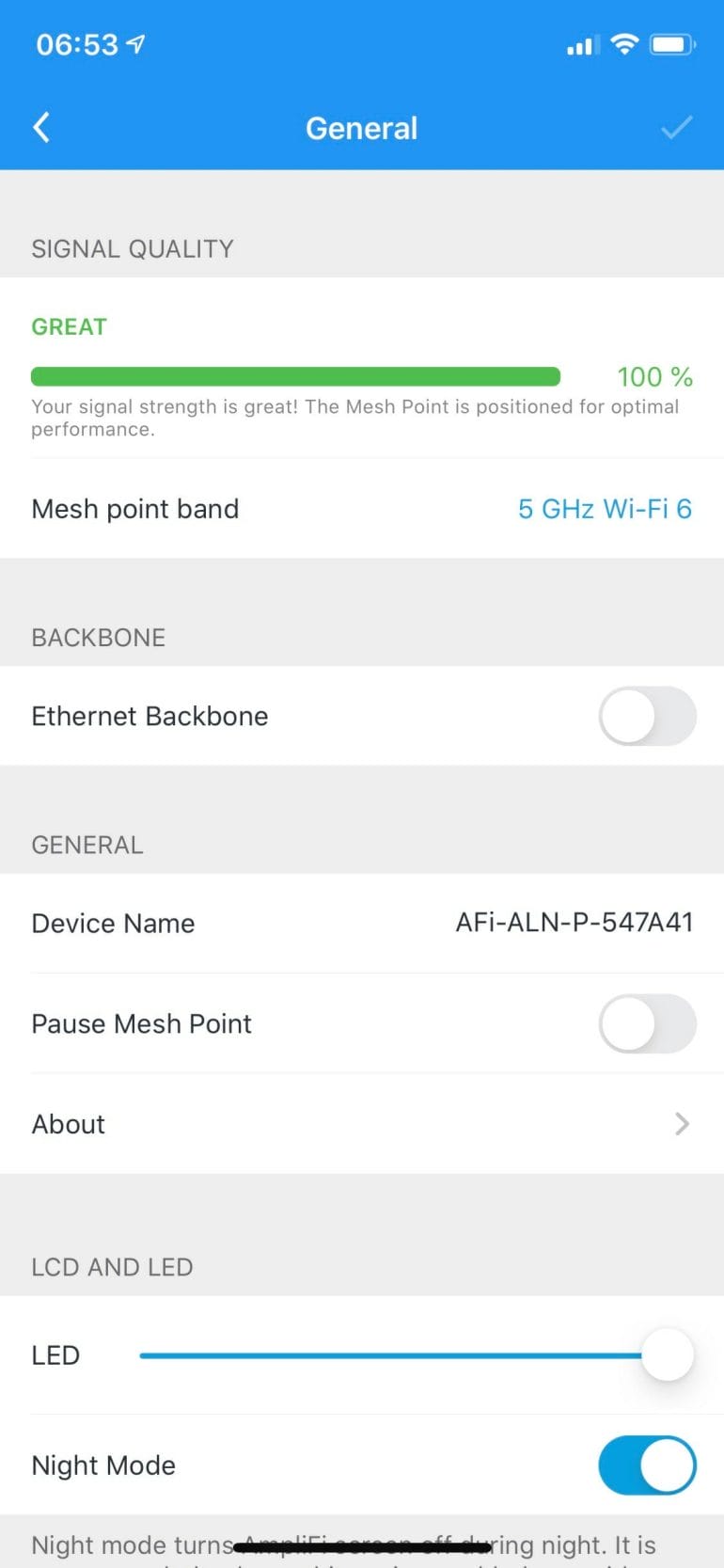 If you operate the Alien as a standalone router, you won't have to worry about the lack of a dedicated wireless backhaul.
But if you decide to use the Alien as part of a wireless mesh network, you should know that the Alien "borrows" bandwidth from its main radios to transfer data between the router and the meshpoint.
Practically, that means that your wireless clients will have less bandwidth and thus your overall data transfer speeds will be reduced.
The good news is that the Alien supports wired backhaul using Ethernet. So if top performance is a concern, you can always connect the Alien to its meshpoint via Ethernet and thus enjoy full Wi-Fi performance.
No Link Aggregation
Link aggregation is a feature that allows you to bond two or more LAN interfaces to increase their overall bandwidth. For example, I use link aggregation between all of my UniFi switches to create 2 Gbit backbone links between them. That practically increases the bandwidth between the switches from 1 gigabit to 2 gigabits per second.
I did this because I had extra switch ports available and because I could, not because I really needed it. I'd argue that for most users, the lack of link aggregation isn't an issue to worry about.
No 160 MHz Channel Support
The 802.11ac standard introduced channel bonding that allows router manufacturers to combine lower-frequency channels in order to increase bandwidth and throughput.
Tim Higgins from smallnetbuilder.net has a good writeup (albeit from 2018) on what that means and how it works.
In a nutshell, you can create a 160 MHz channel by combining either eight adjacent 20 MHz or two 80 MHz channels. By combining two 80 MHz wide channels, you practically double the bandwidth that's available to client devices.
So instead of achieving a negotiated speed of 1.2 Gbps, a compatible client device might get 2.4 Gbps.
The downside of 160 MHz wide channels is that routers have fewer channels to choose from. That can create signal issues due to interference in crowded environments, such as apartment blocks with multiple Wi-Fi routers.
Personally, I think it's a bummer that support for 160 MHz channels isn't an option, but I surely prefer reliability over performance — especially since my critical devices, such as my iMac Pro, are all wired via Ethernet anyway.
But I'd love to hear if this is an issue for you, so leave me a comment down below!
Unique Features
If you've worked with wireless routers of other brands before, you'll be familiar with most of the Alien's features, because they're pretty standard — with some noteworthy exceptions.
Let's talk about the exotic feature set first before we dive into standard stuff.
Teleport — VPN Server and Client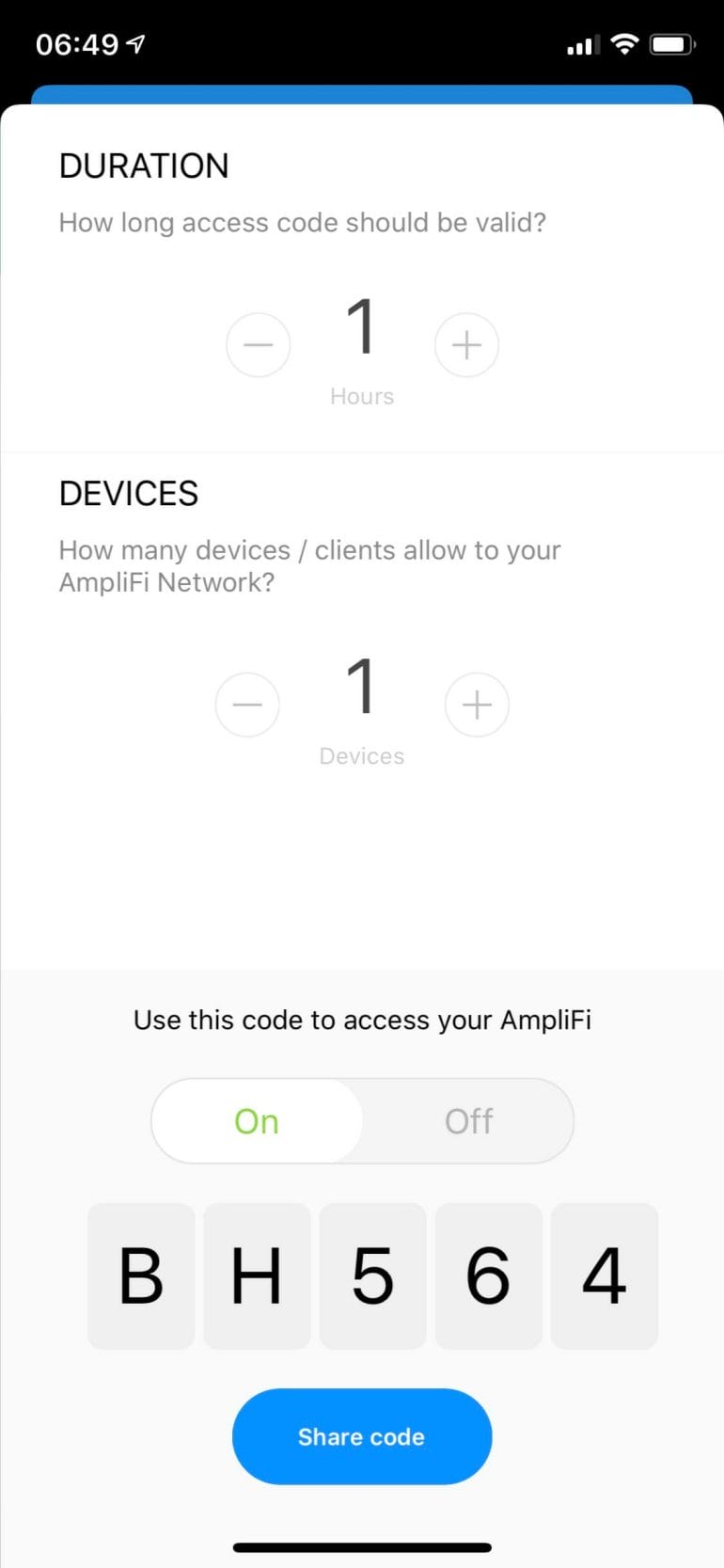 Imagine you're traveling internationally and you want to watch your favorite show on Netflix. Unfortunately, Netflix doesn't offer that show in the country you happen to be in.
One solution to that problem is to use a virtual private network (VPN) that offers a tunnel back to your country of origin and makes it appear as if you're connecting from that country.
In the case of the AmpliFi Alien, you can create a tunnel back to your home network, and thus make Netflix think you're connecting from your home.
The second popular use case for a VPN is to protect your privacy, because the tunnel you're using is secure. For example, if you're connected to a public Wi-Fi network, the Wi-Fi provider can usually see what webpages you're visiting (and a ton of other things). In contrast, VPNs use encrypted tunnels that cloak your online activity.
The Alien has a VPN server built in and the separate AmpliFi Teleport mobile app provides the necessary VPN client to establish a secure tunnel between your mobile device and your home network.
While Teleport is incredibly simple to set up and use, it's unfortunately limited to mobile devices (and Android TVs) because it requires the Teleport mobile app. That means you can't connect your Windows PC or Mac to the VPN.
Additional 5 GHz Radio Option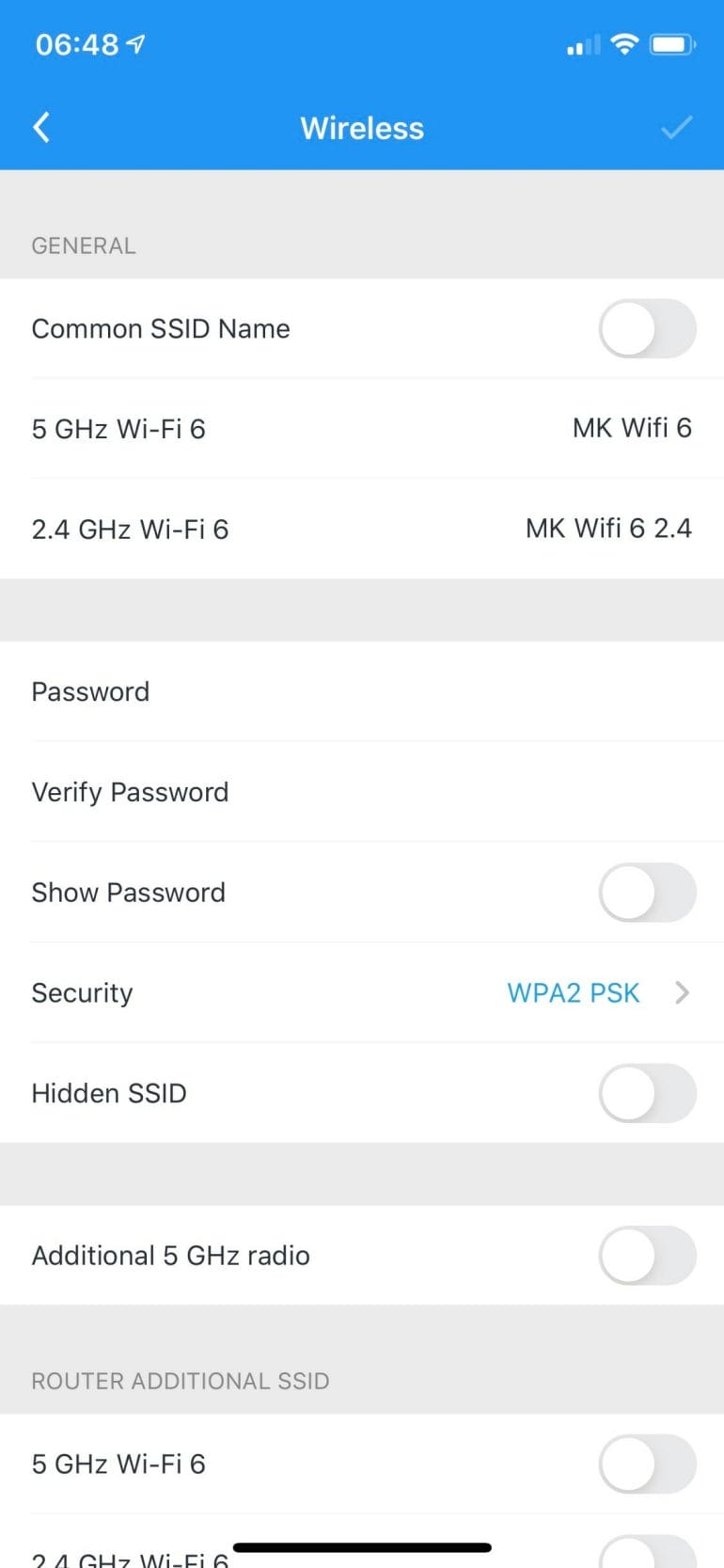 As I mentioned at the beginning of this article, the AmpliFi Alien is a tri-band router. That means it has two radios that broadcast on three bands, including:
2.4 and 5 GHz Wi-Fi 6
5 GHz Wi-Fi 5
By default, all of these bands can use a common Service Set Identifier (SSID) or network name, such as Mike's Network. The issue is that some clients, such as Nest devices, don't play well with tri-band routers.
For that reason, you can operate the Wi-Fi 5 radio on a separate SSID and turn the Wi-Fi 6 radio into a dual-band radio. For example, you could then have two separate SSIDs that look like this:
Mike's 5x Network [5 GHz]
Mike's 6x Network [2.4 and 5 GHz]
If you're not sure if you need that, and everything is working fine, don't bother enabling this option.
Standard Features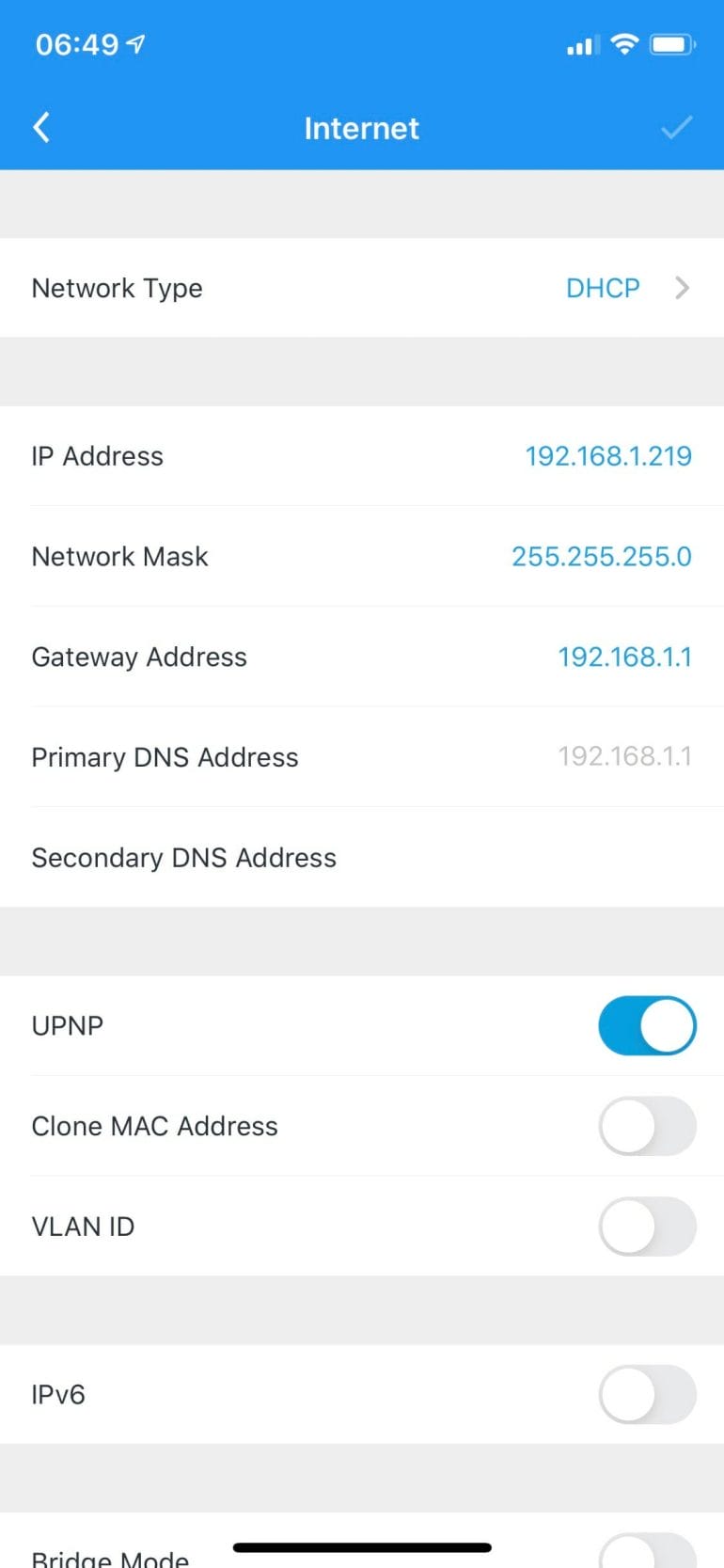 Besides the two unique features I mentioned above, the AmpliFi offers a ton of standard features that you can also find on other routers of this class.
Common SSID Name vs. Separate SSIDs
To make things even more confusing, you can not only separate the router's radios but also create separate SSIDs for the supported Wi-Fi bands. For example, you can create a dedicated Wi-Fi network for 2.4 and 5 GHz clients.
But that's not all! You can also create additional SSIDs for the 5 GHz Wi-Fi 6, 2.4 GHz Wi-Fi 6 and 5 GHz Wi-Fi 5 bands.
Why would you do that?
One use case involves smart home automation devices, such as HomeKit light switches, that often work best on 2.4 GHz frequencies. The problem with 5 GHz is that its high-frequency waves are prone to interference and low signal quality in closed spaces.
I've had numerous cases of HomeKit devices becoming unresponsive because they connected using a weak 5 GHz link. One way to avoid that issue is to have a separate 2.4 GHz SSID that you can use exclusively for such devices.
At our home, I have a dedicated 2.4 GHz MK IoT network used by all my mobile devices, HomeKit gear, printers, etc. Since I've implemented that dedicated Wi-Fi network, I've had far fewer issues with unresponsive HomeKit devices.
Bridge Mode
Enabling bridge mode is useful if your ISP issued you a modem/router combination that doesn't support bridge mode. If that's the case, simply enable this setting on the Alien and prevent having two routers on the same network.
While that might not hurt the performance, it's usually unnecessary and it might cause problems in some situations.
Dedicated Guest Network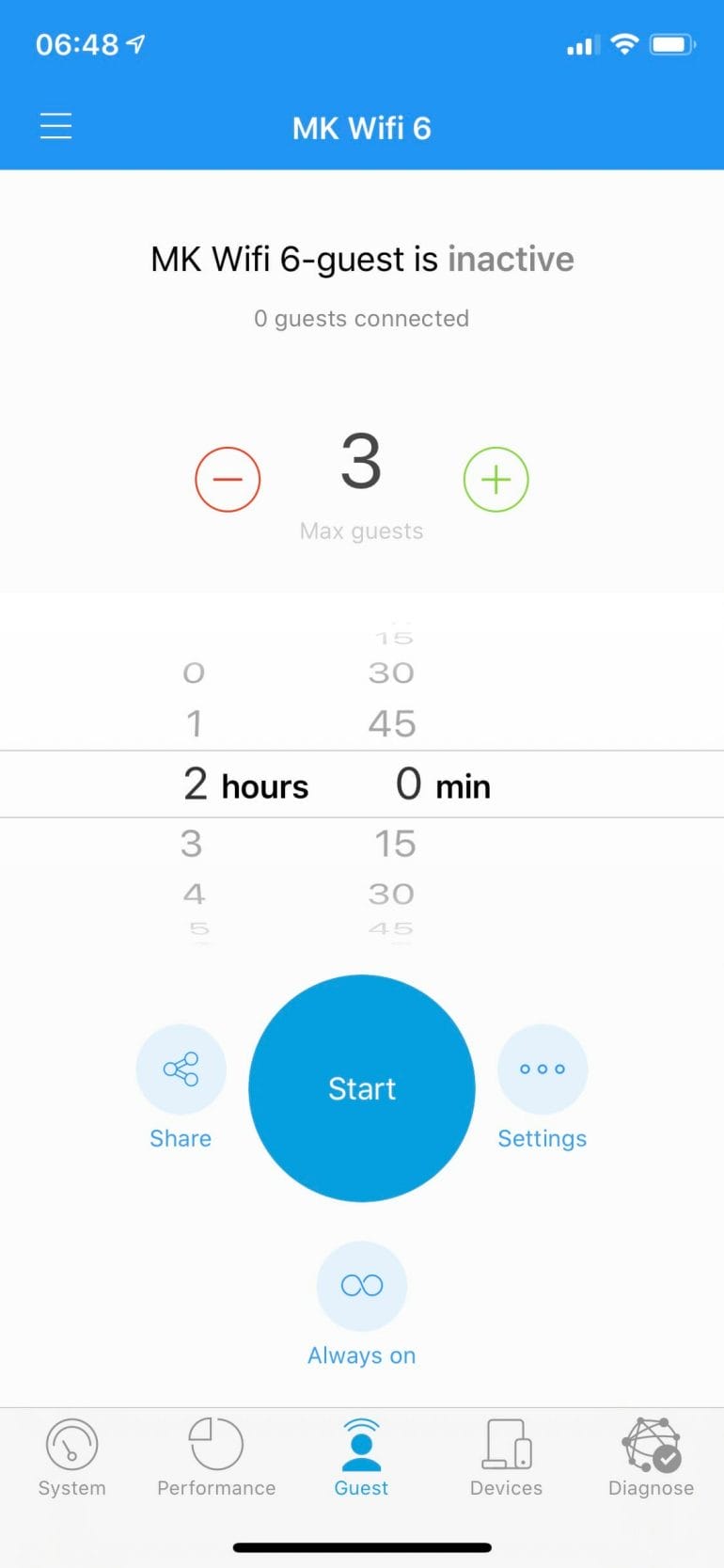 Sharing credentials, such as the password or passphrase to your wireless network, with anyone except for close friends or family members is a bad idea. That's particularly true if you don't use a unique password, but rather one you re-use for other accounts.
That's where a dedicated guest network can come in handy. Using the AmpliFi app, you can turn it on and off on-demand, configure how many clients it accepts simultaneously, and have it automatically turn back off after a set time.
Band Steering and Router Steering
Band steering nudges wireless clients to use the best-possible Wi-Fi band (2.4 vs. 5 GHz), based on the signal strength and other factors.
On the other hand, router steering enables wireless clients to connect to the closest wireless router with the strongest signal. That's useful if you have multiple Aliens or an Alien with a meshpoint.
Basic Parental Controls
The AmpliFi app allows you to associate certain devices with "profiles" that control when Wi-Fi access is available.
So you could create a profile named "Kids" that disables Wi-Fi for all devices your kids have access to between 9 p.m. and 7 a.m., Monday through Friday. You can also pause the internet for those profiles on-demand.
Other Standard Features
Below is a list of other common features that you might expect from an advanced wireless router.
Advanced channel selection
Built-in speed test
Clone MAC address
DHCP server
Port forwarding
Set custom VLAN ID
Support for IPv6
Universal plug and play (UPnP)
Wi-Fi protected setup (WPS)
How I Tested the AmpliFi Alien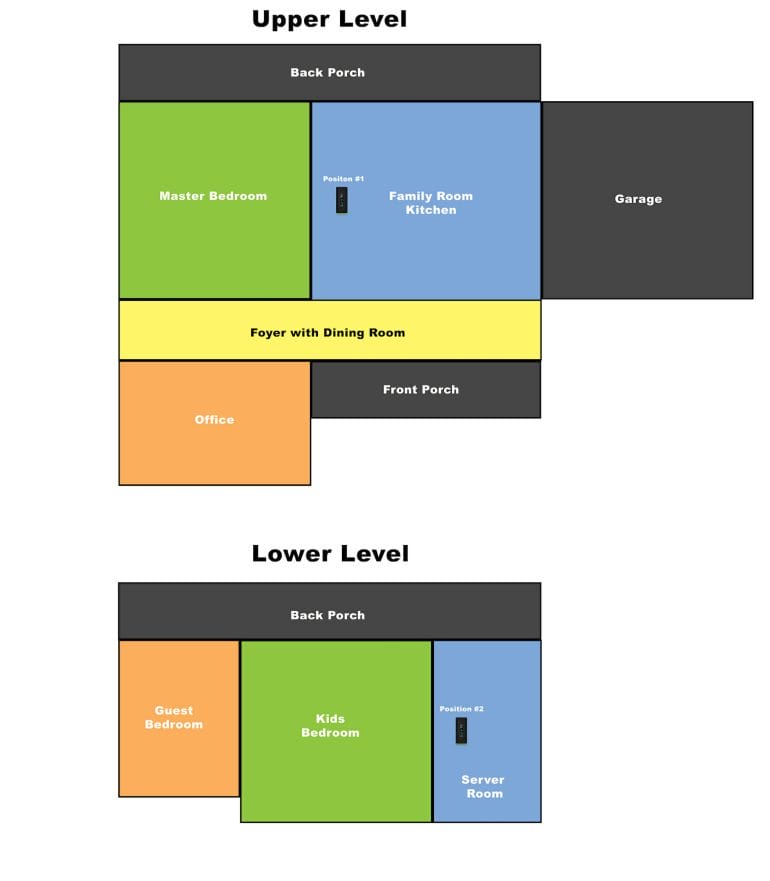 Performing testing in lab-like conditions is great for understanding how AmpliFi could perform, but it says little about what your actual experience might look like. So, while testing, I tried to mimic real-life scenarios as much as possible.
While that certainly introduces factors that might alter the test results, I figured it would better reflect what you might experience in your home.
Here are the main specs you should know:
2,700-square-foot, two-story home.
ISP is Comcast (1000/35 Mbps).
Three test devices (iPhone 11 Pro, iPad Pro, MacBook Pro).
Two AmpliFi router positions (Family Room and Server Room).
The Alien shared the house with five other access points.
The internet was in use by >40 wireless clients connected to the other access points.
I performed all the speed tests using fast.com.
My "test lab" consisted of a 2,700-square-foot, two-story home (a main floor and basement with ground-level access).
We have the family room, kitchen, master bedroom and my office on the main floor, and the kids' bedroom, a guest bedroom and my networking/equipment room on the lower level.
My ISP is Comcast and it provides a theoretical throughput of 1 Gbps down and 35 Mbps up, powered by a Netgear Nighthawk CM1200 cable modem.
I should mention that I normally rely on Ubiquiti's UniFi line of products to cover my networking infrastructure needs. Currently, my UniFi infrastructure consists of five access points that broadcast two SSIDs, routers, switches and other gadgets.
I mention this because during my AmpliFi Alien speed tests, those access points and wireless networks were active and there was thus the potential for interference. I decided to leave them on because I figured it would better reflect an environment that you might be in.
Chances are, your Alien router isn't the only access point in the neighborhood. Plus, there are other common sources of electromagnetic interference, such as microwave ovens, that you might have to deal with.
I conducted all speed tests using three devices, including:
To conduct the speed tests, I used fast.com.
For the first round of tests, I positioned the AmpliFi Alien downstairs, on top of my server rack. I went to each room of the house and ran the speed tests on all three devices and on both the 5 GHz and 2.4 GHz bands.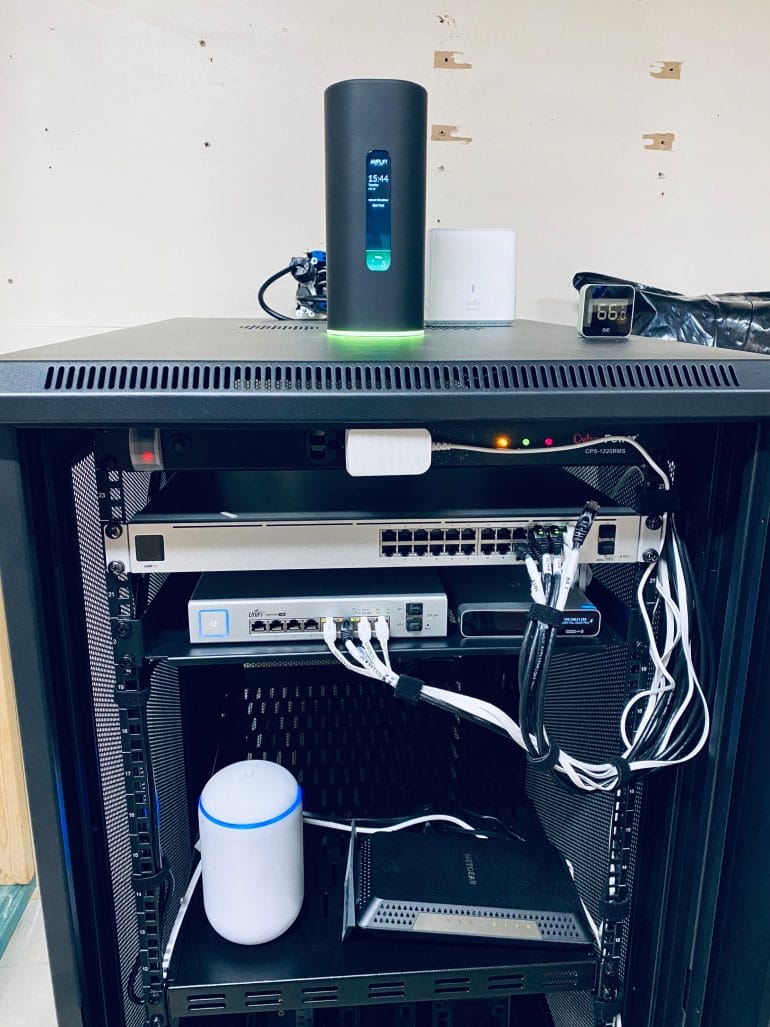 Once I had completed the first round of tests, I changed the position of the Alien by moving it from the server room to the family room. Then I repeated the full test cycle.
While I was doing that, I tried to reduce the bandwidth consumption of all wireless clients to a minimum. That meant turning off my iMac Pro completely, and I used the TripMode app on my MacBook Pro to prevent any apps besides Safari from connecting to the internet.
Still, my wife was watching YouTube videos, and all of my IoT devices (including my home security cameras) might have eaten into the available bandwidth. So keep that in mind.
How Did the Alien Perform?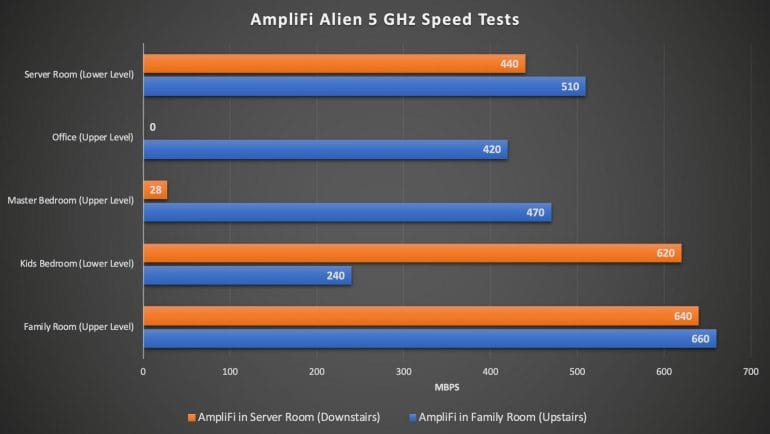 Considering that I performed all of my tests using real-world and relatively uncontrolled conditions, I was impressed by the Alien's performance.
Here are the highlights based on my iPhone 11 Pro:
Avg. of 460 Mbps on 5 GHz band across the house with Alien in the family room.
Avg. of 58 Mbps on 2.4 GHz band across the house with Alien in the family room.
Avg. of 345 Mbps on 5 GHz band across the house with Alien in the server room.
Avg. of 42 Mbps on 2.4 GHz band across the house with Alien in the server room.
With the Alien positioned in the family room, I got hundreds of Mbps throughput using my iPhone in the entire home using the 5 GHz band. The reason why my iPhone was performing better than both my iPad Pro and MacBook Pro was that the iPhone 11 Pro supports Wi-Fi 6 while the other devices do not.
But even when I positioned the Alien in the basement, I still got respectable results. Only in my office, which is located upstairs and on the opposite side of the server room, did I experience a dead spot on the 5 GHz band. I was still able to connect on the 2.4 GHz band, which offers lower throughput but extended range.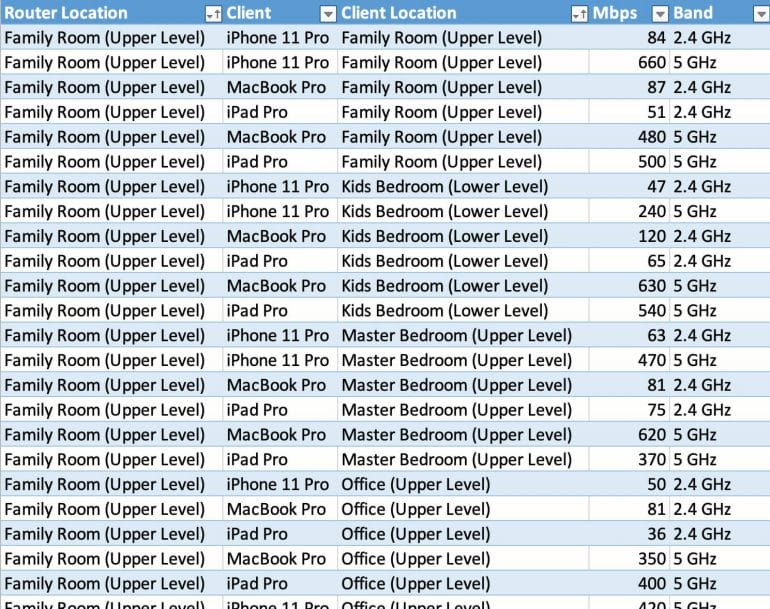 Overall, I concluded that a single Alien router can cover a two-story home with Wi-Fi. That's especially true if you can situate the Alien in a somewhat central position. But even if the position of the router is less than ideal, you'll get decent coverage with the combination of both the 2.4 and 5 GHz bands.
You can download the full test table, including all the combinations of router position, client position and client types here.
Frequently Asked Questions
What's the coverage of the AmpliFi Alien?
That's a tough question to answer because it depends on various factors. For example, if you place the Alien in the middle of an empty football field, you'll get wider coverage than if you place it in the middle of your home with drywall, doors, appliances or windows in between the Alien and your clients.

But based on the tests in my home, one centrally-positioned Alien easily covered the two ~1,350-square-foot floors.
How do you use the "Additional 5 GHz Radio" setting?
You can use that setting to isolate certain 5 GHz devices and prevent other clients from stealing their bandwidth. See above for more information on what that means.
Is the AmpliFi Alien the most powerful Wi-Fi 6 router on the market?
Based on specifications and comparison tests I've seen from others, it is not. That's mainly due to the fact that the Alien doesn't support 160 MHz wide channels.

However, if you take ease-of-use, design and reliability into account, I'd argue that the Alien is one of the best, if not the best, routers you can buy.
Does the Alien support wireless backhaul?
No, but it supports Ethernet backhaul. So if you decide to operate multiple Alien routers in your home and you want the best possible performance, connect them via Ethernet.
How does the AmpliFi Alien compare to the UniFi Dream Machine (UDM)?
In a nutshell, the UDM doesn't support Wi-Fi 6. However, it can be easily extended with additional access points, switches and all kinds of other UniFi gear. Plus, it has a powerful firewall and other advanced routing features built-in that the Alien doesn't have.

Check out my article comparing AmpliFi vs. UniFi for everything you need to know.
How does the Alien compare to Eero and similar devices?
Check out my full AmpliFi platform review to learn how the Alien compares to similar solutions from other brands.
AmpliFi Alien Router Review
The AmpliFi Alien is a powerful and capable Wi-Fi 6 router that should meet the requirements of even the most demanding users. The router sports a slick design, it's easy to set up and use, and it performs incredibly well — even in demanding environments like multi-story homes.
While the Alien might not be the most powerful Wi-Fi 6 router on the market — due to the lack of support for 160 MHz wide channels — it's fast enough for most users and use cases.
Based on my experience with this device, I'd recommend it in a heartbeat to anyone who's in the market for a new wireless router.
Stay tuned for my next article covering the AmpliFi Alien mesh system and learn how you can take everything you've learned in this article to the next level!

I'm a healthy living and technology enthusiast.
On this blog, I share in-depth product reviews, actionable information and solutions to complex problems in plain and easy-to-understand language.