Following up on my previous article about the AmpliFi Alien as a standalone router, in this review I'll tell you everything you need to know about the AmpliFi Alien mesh kit, which combines that device with a meshpoint to significantly extend the range of your wireless network.
If you're unfamiliar with the Alien — Ubiquiti's first Wi-Fi 6 router — I'd encourage you to check out my previous review first, as this article builds on what I've written there.
AmpliFi Alien Mesh Kit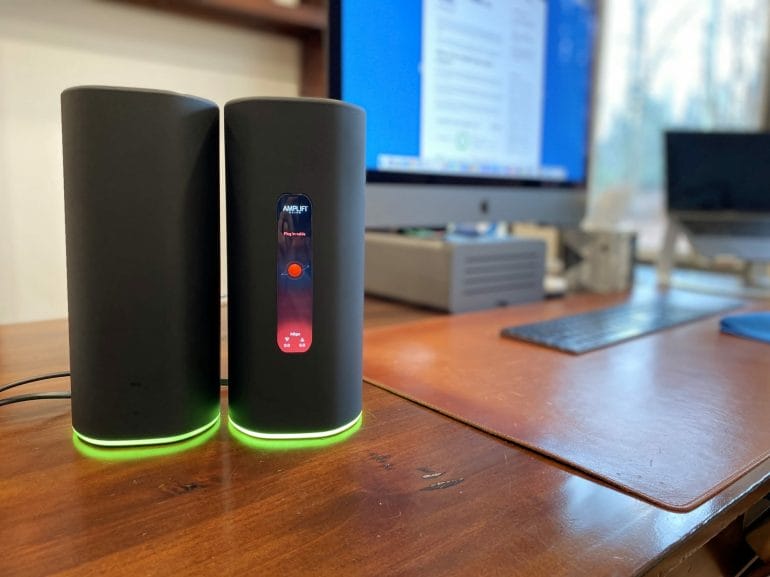 Pros
Excellent performance
Ethernet backhaul (backbone) support
Easy to set up
Slick design blends into home decor
Cons
No dedicated wireless backhaul channel
Lack of 160 Mhz wide channels
Meshpoint is tied to router
What Is the AmpliFi Alien Mesh System?
The Alien mesh system consists of two devices: the Alien router and a meshpoint that has most of the same features, sans the beautiful touchscreen on the front and the four switch ports on the back.
The purpose of the mesh kit is to extend wireless signal range beyond that of a single AmpliFi Alien router. Ubiquiti accomplishes that by creating a mesh network that wireless clients can transparently roam in.
Roaming is a feature that was previously reserved for enterprise networks. But thanks to companies like Ubiquiti, we can now enjoy the same seamless Wi-Fi experience found at airports and convention centers.
Practically, roaming means that a wireless client, such as your smartphone, can hop seamlessly from one access point to a different one with a stronger signal.
For example, if you have two wireless access points positioned on opposite sides of your house, and you stream a video to your smartphone while walking from one side of the house to the other, your phone can automatically connect to the access point you're approaching as the signal of the original access point gets weaker.
That said, the handoff from one access point to the other isn't always completely seamless because it depends on the Wi-Fi implementation on your client (e.g., your phone) and how that works. But in my tests using Apple devices with the AmpliFi mesh kit, the transitions were incredibly smooth.
Technical Specifications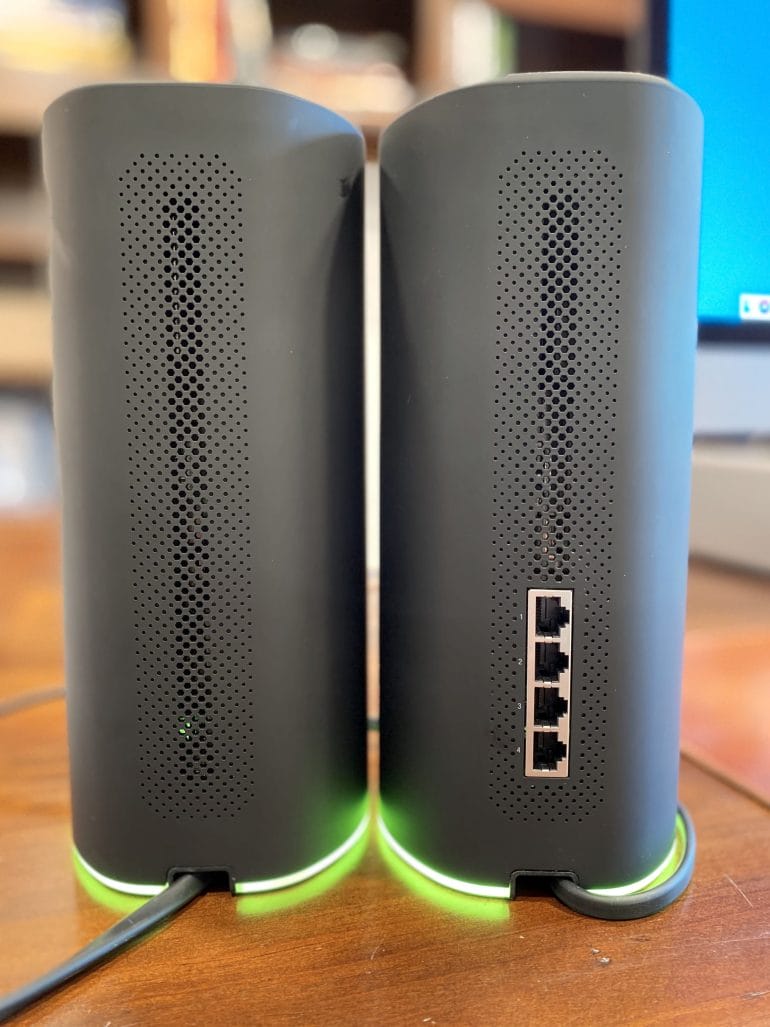 From a technical perspective, the Alien mesh kit has roughly the same features and specifications as the individual router, with some minor differences.
For example, the meshpoint lacks the haptic touchscreen and additional gigabit Ethernet ports on the back. It does, however, have signal strength indicator LEDs on the front that the main router doesn't have. Everything else is the same.
That means the meshpoint has the same guts as the standalone router, including tri-band radios that consist of one 5GHz Wi-Fi 5 and one 2.4/5GHz Wi-Fi 6 radio, CPU, memory, etc.
Here's a quick comparison showing the specs of the router and the meshpoint. I've marked the differences in bold.
| | | |
| --- | --- | --- |
| | Alien Router (AFi-ALN-R) | Alien Mesh Point (AFi-ALN-P) |
| Ethernet Ports | 1x WAN, 4x LAN (Gigabit) | 1x Uplink (Gigabit) |
| LCD touchscreen | 4.7-inch Full Color | None |
| LED Status Ring | Yes | Yes |
| CPU | 2.2GHz 64-Bit Quad-Core CPU | 2.2GHz 64-Bit Quad-Core CPU |
| Antenna | High-Performance Custom Antenna Array | High-Performance Custom Antenna Array |
| Wi-Fi 5 Radio | 5GHz | 5GHz |
| Wi-Fi 6 Radios | 2.4 and 5GHz | 2.4 and 5GHz |
| Dimensions | 110 x 110 x 250 mm (4.33 x 4.33 x 9.84″) | 110 x 110 x 250 mm (4.33 x 4.33 x 9.84″) |
| Weight | 1.2 kg (2.65 lb) | 1.2 kg (2.65 lb) |
| MIMO | 2.4GHz: 4×4 5GHz: 4×4 (low-band) + 8×8 (high band) | 2.4GHz: 4×4 5GHz: 4×4 (low-band) + 8×8 (high band) |
| 5GHz Wi-Fi Speed | 1,733 Mbps (low band) / 4,804 Mbps (high band) | 1,733 Mbps (low band) / 4,804 Mbps (high band) |
| 2.4GHz Wi-Fi Speed | 1,148 Mbps | 1,148 Mbps |
| Channel Width | 20, 40, 80 MHz | 20, 40, 80 MHz |
| Wi-Fi Standards | 802.11ax/ac/n/g/a/b (Wi-Fi 5 and Wi-Fi 6) | 802.11ax/ac/n/g/a/b (Wi-Fi 5 and Wi-Fi 6) |
| Web Interface | Basic | None |
| Signal Strength Indicator | No | Yes |
Mesh Router Setup and Configuration
Setting up a mesh network using the Alien mesh kit is incredibly simple and in line with the setup of the standalone router. That's because the router and meshpoint come from the factory pre-linked.
While that's super convenient because you don't have to do anything to link them during the setup process, it also means that you can't use a meshpoint from one kit with another (standalone) Alien router or kit; it's effectively "hard-wired" to the router of the mesh kit it came with.
By the way, the same is true for the AmpliFi HD kit, which consists of a router and two wireless meshpoints.
After unpacking my mesh kit, it took me less than five minutes to create a mesh network using the AmpliFi app on my iPhone.
The basic steps included:
Create an AmpliFi account (I already had one from my previous AmpliFi review).
Plug the Alien router (AFi-ALN-R) into a power outlet and connect it to the ISP modem using the supplied Ethernet cable.
Plug the Alien meshpoint (AFi-ALN-P) into a power outlet.
Pick a name and password for the wireless network (SSID).
Position the meshpoint within range of the router.
Mesh Kit vs. Multiple Standalone Alien Routers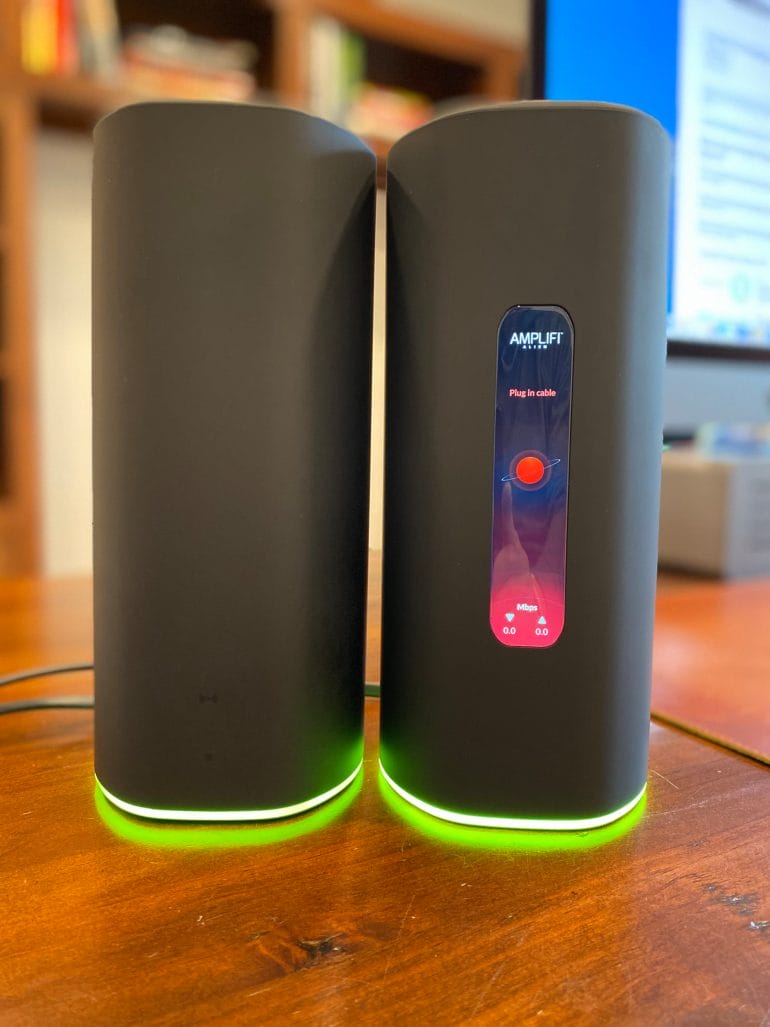 You have several choices when it comes to creating a mesh network using Ubiquiti's Alien platform.
You can either get the mesh kit (one Alien router and one meshpoint) for $699, or you can purchase two or more standalone Alien routers for $379 each. If you do the math, you'll notice that you'd save $59 by getting the kit over two individual routers.
So if there's a chance that you might want to extend your wireless network in the future, you could get the kit from the get-go. From there, you can add additional standalone routers, if needed. But unless you live in a mansion, I doubt you'd need more than two units.
What's not possible (yet) is to buy a standalone router and then add a single meshpoint down the road, as Ubiquiti only sells them as part of a kit.
On the other hand, any Alien router that joins a mesh network effectively becomes a meshpoint. So it might not be worth using two full-fletched routers, only to dumb one down when creating a mesh network.
However, there are some use cases where using two Alien routers might be better than buying the mesh kit. For example, you can easily downgrade your mesh network by selling the second Alien. Plus, every Alien has four Ethernet LAN ports you can use to extend your wired network.
My recommendation is to go with the mesh kit if you're looking for a plug and play solution, and if you want to save some money. Otherwise, consider building your own mesh kit with two or more individual Alien routers.
Individual vs. Replicated Settings
One thing that's worth pointing out is that the meshpoint automatically replicates all the settings of the main router. That way, you don't have to make configuration changes on both units.
However, there are some exceptions to that rule that can come in handy for certain use cases.
For example, you can create additional wireless networks for specific bands on the satellite unit or meshpoint. That can be helpful for isolating certain clients, such as HomeKit-enabled light switches that work best on the 2.4GHz band.
Uncoupling the various bands from a single SSID is possible on most wireless routers, but it's worth pointing out that with an Alien mesh network, you can do that on a per-node basis.
How I Tested the Alien Mesh Kit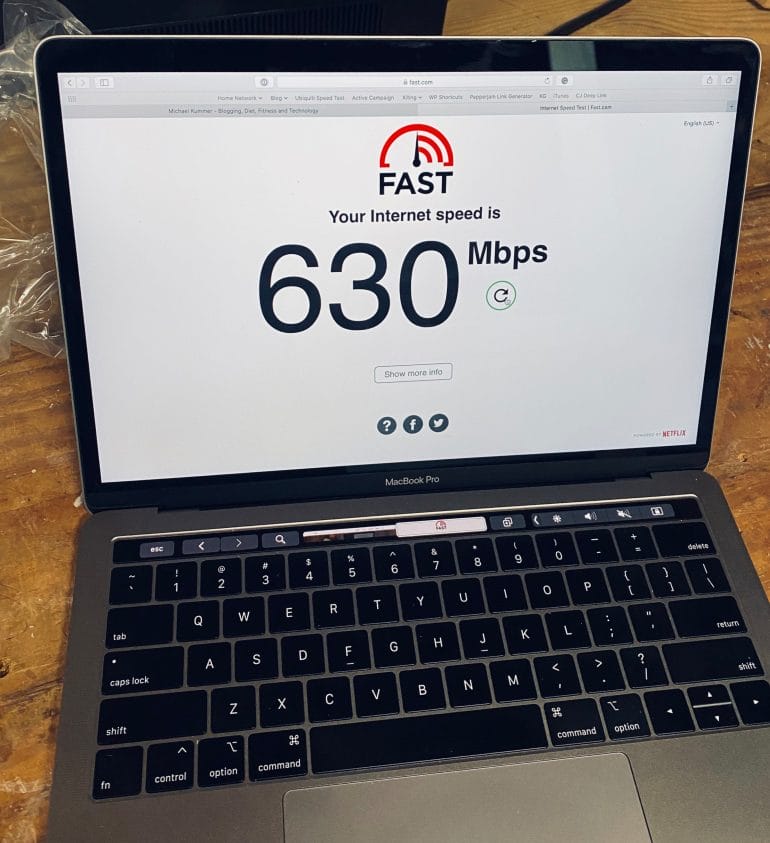 A few weeks before I started writing this article, my family and I moved into a two-story, 2,700-square-foot home.
The main floor has a family room, master bedroom, kitchen, dining area and home office. The lower level has the kids' bedroom, a guest bedroom and a partially-finished basement that doubles as my server room.
Every room in the house has at least one CAT6 Ethernet port, which makes it easy to create a high-performance mesh network that feeds into my 1,000/35 Mbit internet connection.
To conduct my tests, I positioned the Alien router on the lower level, on top of my server rack and next to my Netgear Nighthawk CM1200 cable modem.
I positioned the Alien meshpoint on a shelf in the far end of our family room. That way, I could create both horizontal and vertical distance between the two units — which was only a factor for the wireless backhaul tests.
During my first round of tests, I used the wireless backhaul option to test maximum download speeds from each room of the house.
After I completed the initial round of tests, I connected the meshpoint via Ethernet to the router and repeated the test cycle to see how much better the mesh network performed.
Note that it's not sufficient to connect both the Alien and meshpoint via Ethernet; you also have to manually enable the "Ethernet backbone" setting. If you don't, the Aliens will ignore the Ethernet link and continue transferring all data wirelessly.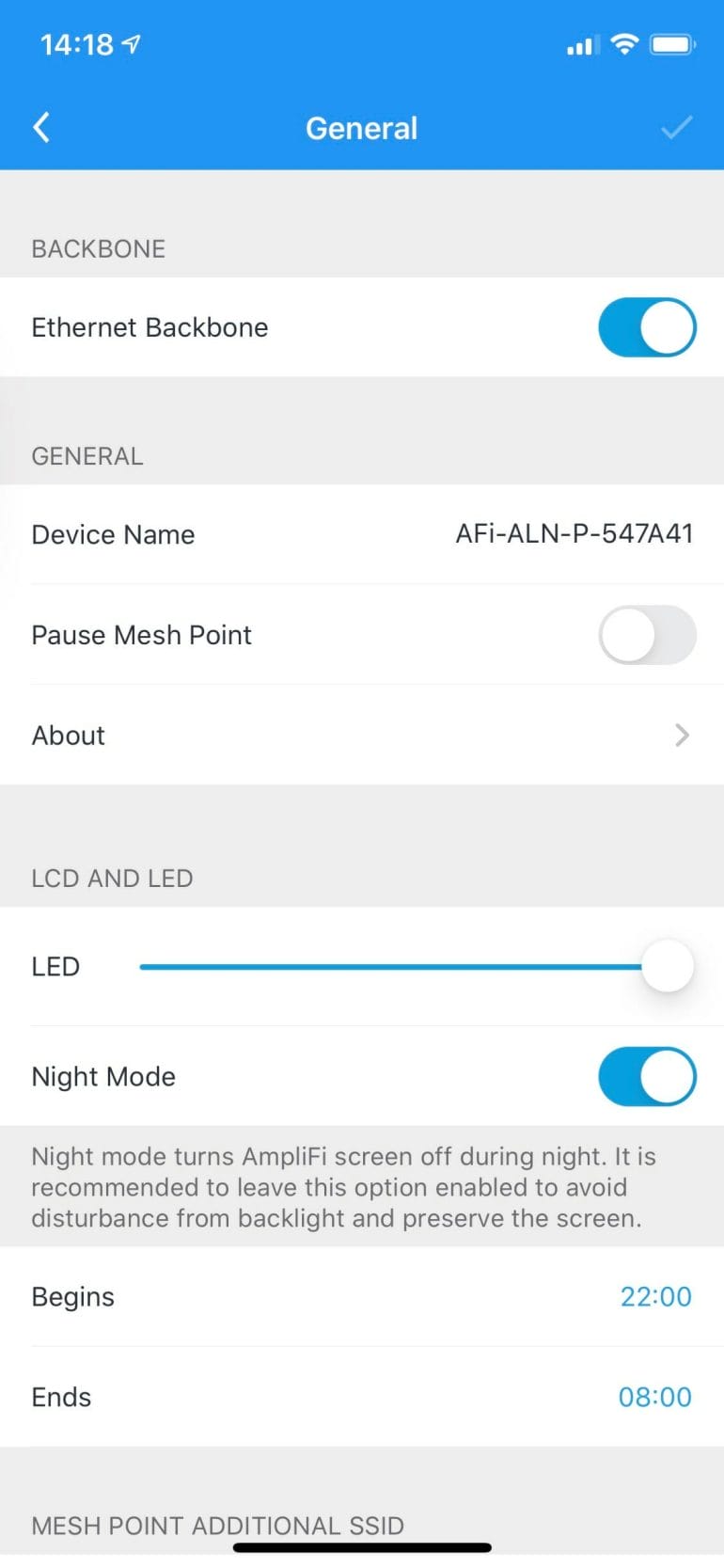 As far as wireless test clients are concerned, I ran all the speed tests on both an iPhone 11 Pro (which supports Wi-Fi 6) and a 2018 13-inch MacBook Pro (which speaks only Wi-Fi 5). I performed all tests using a single SSID that combined both the 2.4Ghz and 5Ghz bands.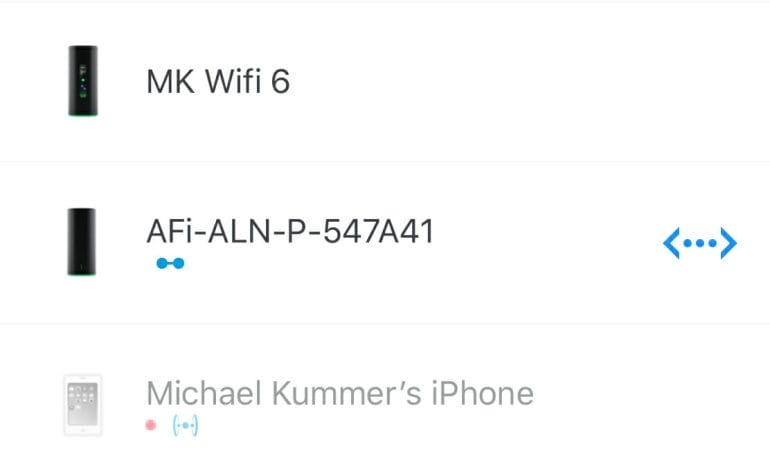 Unlike in my single router review, I didn't create two separate SSIDs for both the 2.4 and 5GHz bands. Instead, I used a single SSID that combined both frequencies.
What's important to understand is that I conducted my speed tests in real-world conditions (see the test results here). That means I didn't bother to turn off my other access points and wireless networks to reduce the potential for interference, and I didn't disconnect my 50+ wired and wireless clients from the internet.
I set up my test this way because there are plenty of "lab tests" out there that show you how the Alien can reach speeds of up to 1 Gbps under perfect conditions. However, chances are that the conditions in your environment aren't perfect, and I wanted to demonstrate what the Alien mesh kit can deliver in a real-world, everyday scenario.
How to Position the Meshpoint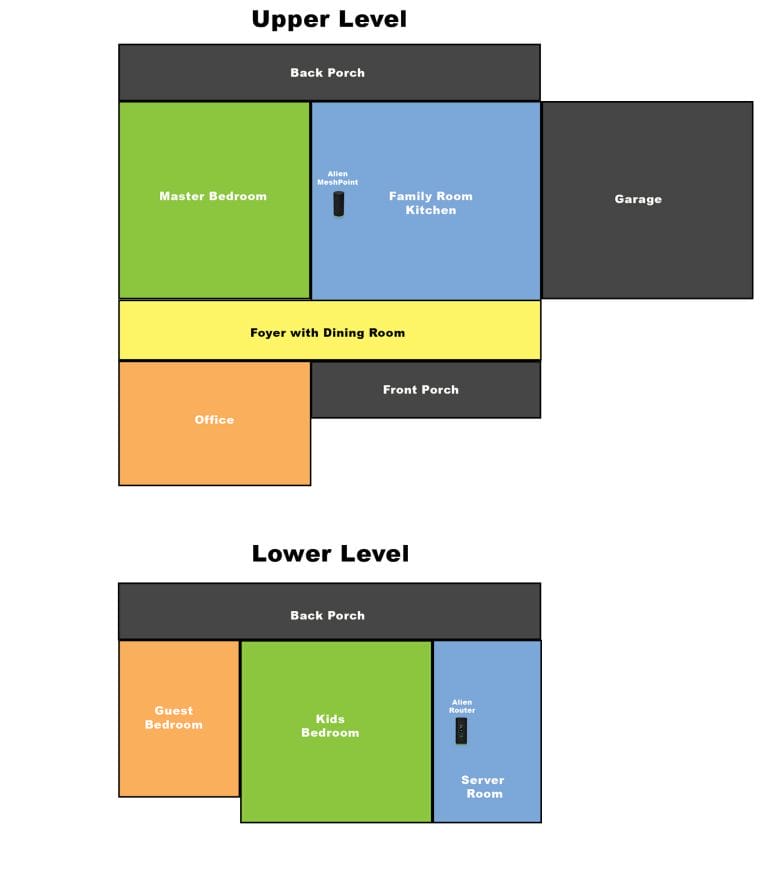 When setting up your mesh network, it's important to correctly position both the router and the meshpoint for maximum range and reliability. In my house, I tried to accomplish that by visually separating the available space into thirds. I then placed the router between the first two thirds and the meshpoint between the last two thirds.
In other words, the two units are roughly a third of the total horizontal distance apart while covering equal space to the left and right.
To help find the sweet spot for the meshpoint, you can use the signal strength indicator on the front of the device. To get a numeric value representing the signal strength between the two access points, you can also use the AmpliFi app.
Of course, if you decide to leverage the Ethernet backbone feature, you don't have to worry about the wireless connection between the two devices; you can place them as far apart as you want.
Performance of the Alien Mesh Kit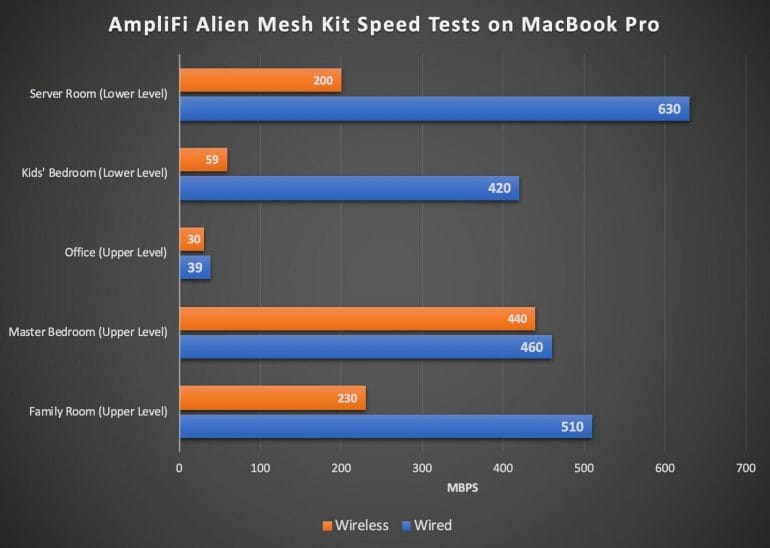 As I mentioned in my review of the standalone router, the Alien doesn't have a dedicated radio for wireless backhaul.
What that means is that the Alien has to borrow bandwidth from the radios it uses for communication with its clients in order to shuffle data back and forth between the router and the meshpoint.
In other words, your wireless clients have less bandwidth when they're connected to an Alien in mesh mode vs. if you operate a standalone router.
Of course, the solution to this backhaul problem is to enable the Ethernet backbone option on the router. For that to work, you have to connect the Alien to its meshpoint via an Ethernet cable.
You can see how much of a difference that makes in actual transfer speed in the comparison tables below.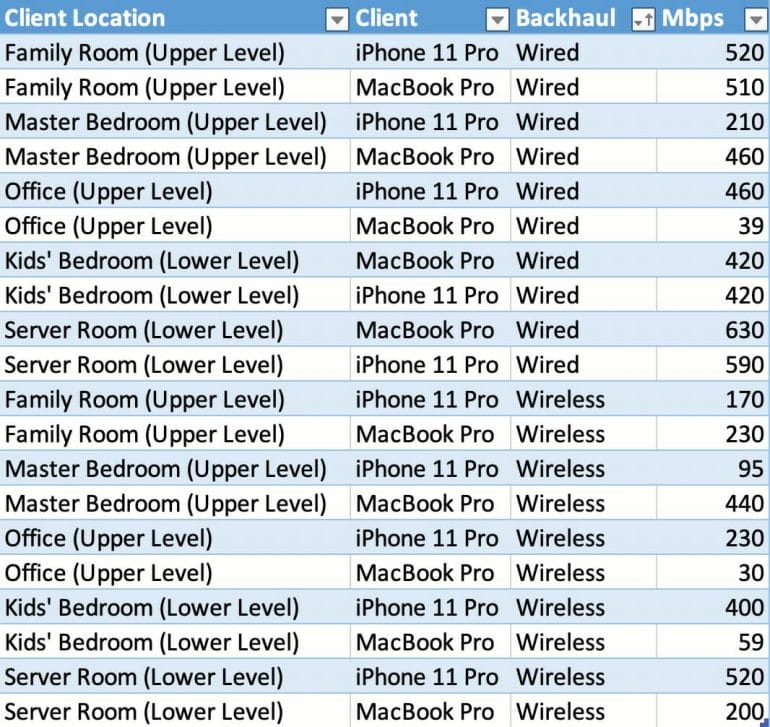 Overall, I was quite pleased by the performance of this duo and I only experienced connectivity issues in my office, which is separated by (at least) four walls from the nearest MeshPoint.
AmpliFi Alien vs. Other Wi-Fi 6 Mesh Systems
I openly admit that I've been a fan of Ubiquiti ever since I stumbled across AmpliFi HD a few years ago. As a result, most of my experience with Wi-Fi mesh networks is limited to either AmpliFi or UniFi — Ubiquiti's business-class offering.
So while I lack the hands-on experience with systems from Eero, Google and Orbi, I can certainly point out some of the main differences between these technologies.
Before we look into how those technologies compare head-to-head, let's check out some of the unique features that the Alien has and lacks.
Note that out of the brands mentioned above, only Orbi supports Wi-Fi 6. Both Eero and Google provide mesh networking with up to three bands, but those are Wi-Fi 5 bands.
So if you want to compare apples to apples, you have to compare the Alien to Orbi and ignore the other technologies.
Ubiquiti AmpliFi Alien vs. Orbi WiFi 6 System
| | | |
| --- | --- | --- |
| Feature | AmpliFi Alien | Orbi AX6000 |
| 160 MHz Channel Support | No | No |
| Ethernet Backhaul | Yes | Yes |
| Dedicated Wireless Backhaul | No | Yes |
| WAN Port Aggregation | No | Yes |
| Built-in VPN Server (Teleport) | Yes | No |
| Advanced Network Settings | No | No |
| MSRP | $699.00 | $699.99 |
Much like the AmpliFi Alien, the Orbi WiFi 6 System AX6000 (RBK852) doesn't offer support for 160 MHz wide channels. However, it does support a dedicated wireless backhaul channel with four data streams on each band.
Practically, that means that hauling data back from meshpoints to the main router doesn't reduce the available bandwidth of your wireless clients.
Additionally, the Orbi system allows you to aggregate LAN ports for multi-gigabit speeds, assuming your ISP supports it. All the ISPs in my area are capped at 1 Gbps, so I don't have use for a multi-gig uplink.
What would be useful is aggregating LAN ports to create a multi-gig backbone link between two Orbi units. Unfortunately, neither Orbi nor Alien support that.
The bottom line is that both mesh systems are incredibly capable and you can't go wrong with either one. Personally, I prefer AmpliFi because the Alien looks much slicker than the Orbi, and because I've had such a great experience with the brand over the past few years.
Frequently Asked Questions
How can I make sure my clients connect to the Alien or meshpoint with the strongest signal?
The Alien handles that out of the box and without any additional configuration settings. That said, there are dedicated configuration options to enable band and router steering, as well as roaming settings (802.1v) via the web interface. However, unless you have specific use cases for these settings, you don't have to worry about them.

Also, note that the Alien firmware had an issue in 2019 that prevented the Ethernet backbone option from working correctly. However, that issue has since been fixed.
What type of cable do I need for the Ethernet backbone option?
To achieve gigabit speeds, I recommend a CAT6 or CAT5e Ethernet cable between the router and meshpoint.
Does the Alien have a web interface?
Yes, the Alien has a web interface — albeit a basic one. As a result, you'll probably do most of the configuration using the excellent and intuitive mobile app.
Are the AmpliFi Alien router and mesh kit out of stock?
At the time of publication, they seem to be. So I guess I was lucky that I got my review unit before the supply ran out. But if you create an AmpliFi account, you can get notified when the devices are back in stock.
Does the Alien have a USB port?
Neither the router nor the meshpoint has a USB port, so you can't plug in storage devices like you could with the older Apple AirPort base stations.
Does the Alien router feature parental controls?
Yes, you can enable parental controls using the AmpliFi mobile app (iOS and Android). See my standalone router review for more information about that.
Does the Alien support virtual private networks (VPNs)?
The Alien can act as a VPN server and you can download AmpliFi's Teleport app to act as a VPN client on mobile devices and Android TVs (e.g., those from Samsung).
What's band steering and should I enable it?
Band steering is a feature that allows routers to steer client devices towards the 5GHz band if they support it. What's important to understand is that signal strength doesn't play a factor in whether or not the client gets steered towards the often less-crowded 5GHz band.

So don't enable band steering to improve coverage, as it will likely do the opposite. I'd only enable this setting if you have great coverage on the 5GHz band in all the areas you need. Check out this article for more information on how band steering works.
Is the Alien a dual-band router?
No, the Alien is a tri-band Wi-Fi system that supports Wi-Fi 6 on the 2.4GHz and 5GHz bands and Wi-Fi 5 on the 5GHz band.
What is MU-MIMO and does the Alien support it?
MU-MIMO stands for multi-user multiple input multiple output, and it's a technology that allows routers to communicate with multiple clients at the same time using multiple data streams for each client to improve throughput. The AmpliFi Alien fully supports MU-MIMO.
Does the Alien support ad blocking?
Yes, you can enable DNS-based ad-blocking via the Alien's web interface. However, there is no advanced configuration available — you can only turn it on or off.
AmpliFi Alien Mesh Kit Review — Final Words
Much like the standalone router, which I reviewed here, the Alien mesh kit did not disappoint. It's incredibly easy to set up and it performs as well as I expected. For example, with the exception of my office (which is on the far end of the house), both my iPhone 11 Pro and MacBook Pro achieved data transfer rates of several hundred Mbps. That's more than enough for most users.
While there's certainly room for improvement — like adding support for 160 MHz wide channels or a dedicated wireless backhaul — I think this Ubiquiti offering is worth the money.
The mesh kit provided sufficient coverage for both floors of our two-story home, even if I did have to move the meshpoint a bit closer to my office to achieve proper signal strength. The good thing with the Alien's meshpoint is that I could do that while only being restricted by the availability of power outlets.
If I wanted to get the absolute best performance, I could have left the meshpoint in the family room (connected via Ethernet backhaul) and added a second Alien router to my office, also connected via Ethernet. I may do just that for a follow-up test and update this article with the results, if I get a chance.
Of course, the million-dollar question is whether it's worth investing in a mesh kit, or if you should just go with a standalone router. If you're in a one-bedroom or two-bedroom apartment, the standalone router is likely more than enough to provide sufficient Wi-Fi coverage.
However, if you need to cover a vertical distance — such as a multi-story home — I'd recommend spending the extra money and going with the mesh kit. If you're on the fence, you can try the standalone router first and, if that doesn't work, add a second router. Just know that doing so will cost a bit more in the end.
Now I'd like to hear from you! Are you currently shopping for a new Wi-Fi router, or do you already have experience with the Alien? Either way, let me know by leaving a comment below!

I'm a healthy living and technology enthusiast.
On this blog, I share in-depth product reviews, actionable information and solutions to complex problems in plain and easy-to-understand language.