Are Apple's new AirPods Pro worth the upgrade if you already the previous-generation AirPods? For me, the answer to that question was "no" at first, but I later changed my mind and here is why.
I've been a huge fan of AirPods since Apple launched them in 2016. A few months ago, I upgraded to the second generation AirPods because I wanted to get the "Hey Siri" feature and the wireless charging case.
Then, five weeks after I purchased the second-generation AirPods, Apple released the AirPods Pro and I had to decide if they were worth the upgrade — especially considering that I already own two pairs of Bose noise-cancelling headphones.
In this AirPods Pro review, I'll tell you why I ultimately decided to spend the $249 and ditch my other wireless headphones.
Here are the top four reasons why I upgraded:
Fewer gadgets. I used to travel with both my AirPods and either my Bose QuietControl 30 in-ear earbuds or my Bose QuietComfort 35 over-ear headphones. Since the AirPods Pro have excellent noise-cancellation, I can leave the Bose noise cancelling headphones at home.
Better sound quality. The AirPods Pro sound better than the AirPods.
Improved controls. The force sensor in the stems works much better than the tap controls of the original AirPods.
Water resistance. The AirPods Pro are now officially water-resistant.
Continue reading to learn more about the above-mentioned features, how they set the AirPods Pro apart from the regular Apple AirPods, and why I think they can replace any other noise-canceling headphones — including my former favorites from Bose and Sony.
Before I share with you why I think the AirPods Pro are worth the extra $50, let me give you a quick overview of what I love, like and dislike about the regular AirPods.
Apple AirPods – The Good, The Bad and The Ugly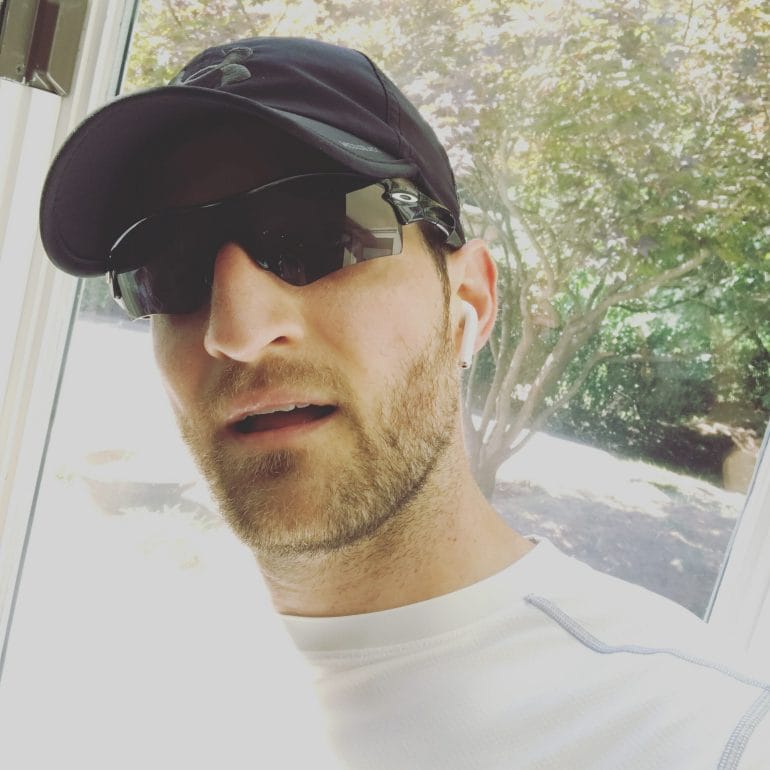 I've thoroughly enjoyed my Apple AirPods — both the first and the second generation. They were the first truly wireless earbuds that didn't have any cables whatsoever.
In my opinion, the AirPods represent Apple at its best. They feature a unique and functional design, and they just work.
Even the initial process of pairing them to an iPhone or other Apple device works like magic. You simply open the AirPods' case and confirm the pairing request on the phone, without having to go into settings and mess around with Bluetooth.
The other thing that has set the AirPods apart from other true wireless earbuds is their reliability. I've never had the Bluetooth connection or audio stream cut out or stutter.
However, I have had such issues with every other brand of wireless earbuds I've used. According to some reports, even the latest Sony WF-1000XM3 active noise canceling earbuds have connectivity issues.
The only area in which the Apple AirPods fall short — if you're an audiophile, that is — is the sound quality. I have zero complaints about how the AirPods sound when listening to music. However, I'm sure there are those who are better-trained at picking out the nuances of different sound frequencies, and there have been some criticisms of the AirPods in that regard.
So, if you're someone who can tell how many violins are playing in Mozart's "The Marriage of Figaro" just by listening to the piece, you might not be happy with the AirPods as your primary headphones. To everyone else, they sound quite good.
The second complaint some people have had with the AirPods is their relatively short battery life of up to five hours. While I too wish I could use them for more extended periods, putting them into their charging case for just a few minutes extends their battery life long enough for my use cases.
Last but not least, a few users have had issues with how the AirPods fit. When Apple first released them, everyone thought they would easily fall out of your ears. As it turned out, that wasn't the case for most people — but for some it was. One of my friends owns AirPods and they fall out of his ears frequently.
For those users, the only solution was to get third-party ear tips or ear hooks, such as the ones you can find on Amazon.
So now that we have a baseline of what the original AirPods were good and not-so-good at, let's see how Apple improved the technology in the brand-new AirPods Pro.
AirPods Pro vs. Apple AirPods (Generation 2)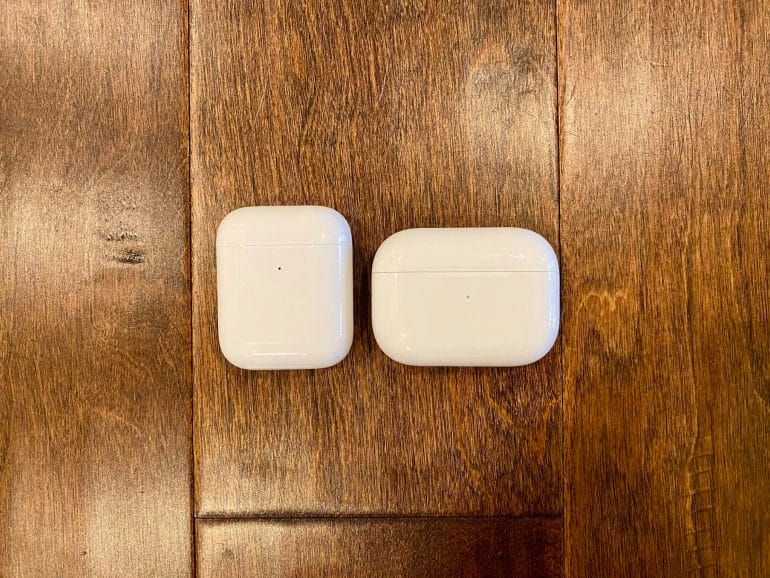 The key feature of the AirPods Pro is active noise cancellation. However, Apple has added a couple of additional improvements that make the AirPods Pro the better choice for many (but not all) users, compared to the original Apple AirPods.
| Feature | AirPods Pro | AirPods |
| --- | --- | --- |
| Active noise cancellation | ● | ✘ |
| Passive noise cancellation | ● | ✘ |
| Transparency mode | ● | ✘ |
| H1 chip | ● | ● |
| Hey Siri | ● | ● |
| Sweat and water-resistant | ● | ✘ |
| Battery life | 4.5 hours | 5 hours |
| Playback controls | Force sensor | Tap |
| Price | $249 | $159 – $199 |
AirPods Pro vs. AirPods
Noise Cancellation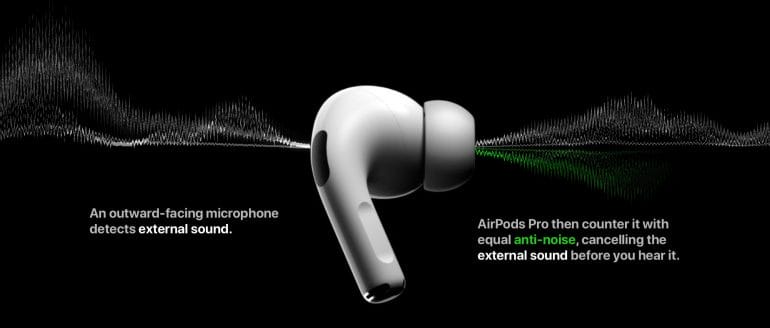 The AirPods Pro feature both active and passive noise cancellation. Apple implemented the latter by adding replaceable silicone tips that seal off your ear canal.
As a result, less ambient sound finds its way into your ears. You'll notice how well passive noise cancellation works by wearing the AirPods Pro without turning them on — they essentially function like ear plugs.
In addition to that, Apple implemented active noise cancellation using microphone arrays both inside and outside the AirPods to detect and cancel out unwanted sound frequencies.
While the outside microphone array (located behind the mesh grill) listens for background noise to cancel out, the microphone array on the inside attempts to reduce the effect of tunneling, which is the bounce-back of sound inside of the ear canal.
So how well does noise cancellation work in the AirPods Pro?
I've used and tested dozens of different noise-canceling headphones over the years. Bose and Sony have, in my opinion, been the king of active noise cancellation in the past.
AirPods Pro vs. Bose QuietComfort 35 and QuietControl 30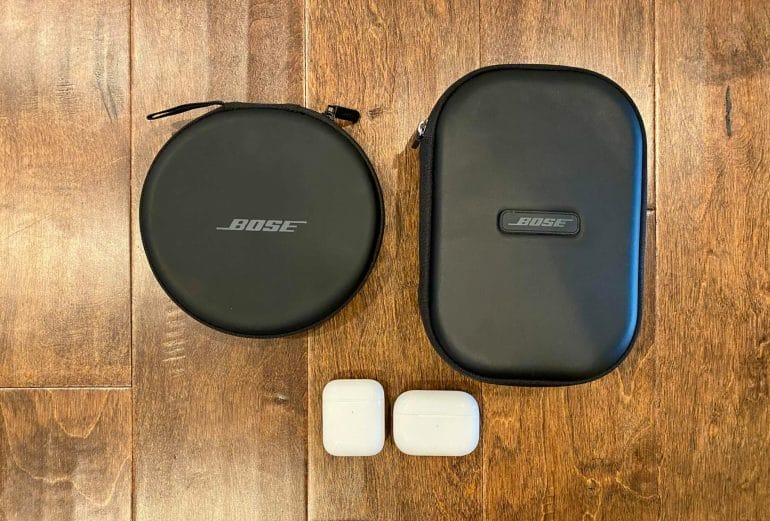 That's the primary reason why I used to travel with either the Bose QuietComfort 35 or the Bose QuietControl 30 — both offered outstanding noise cancellation capabilities. However, for day-to-day use, I've always preferred the AirPods (especially for making phone calls).
After bringing the AirPods Pro on a recent business trip involving two flights, I'm happy to report that their noise cancellation is at least as good as in the Bose QuietControl 30.
I didn't bring any of my Bose headphones on that trip, so it's tough to do a side-by-side comparison. However, I'd say that the Bose QuietComfort 35 are perhaps slightly better at canceling out ambient noise.
That said, the difference was so small that I didn't miss lugging around two sets of headphones.
It's worth noting that some sound frequencies (like constant airplane engine noise) are easier to cancel out than others (like speech). That's true for pretty much all noise-canceling headphones, including the AirPods Pro.
So aboard an airplane, you'll still hear the announcements from flight attendants and pilots, albeit at a lower volume.
Transparency Mode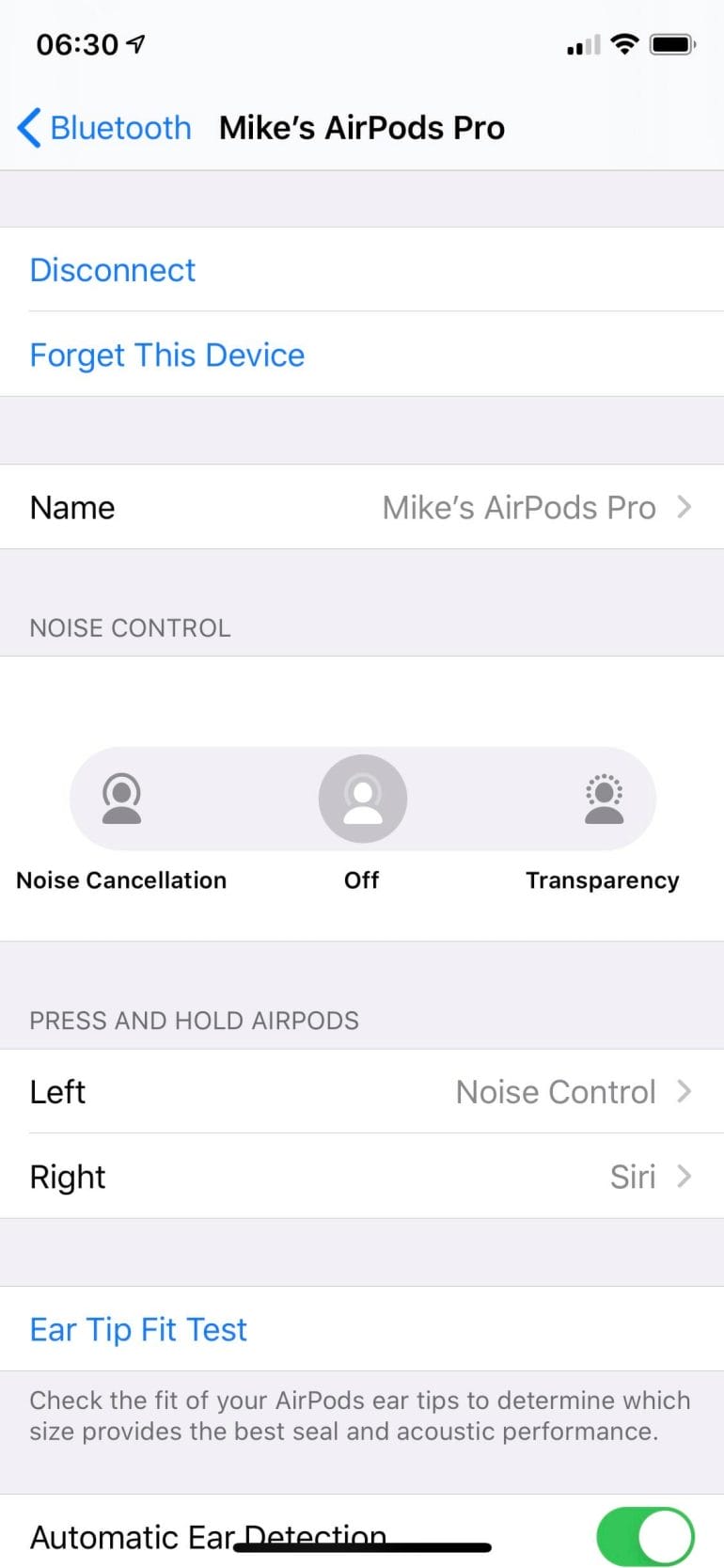 Besides the impressive noise cancellation, what I like most about the new AirPods Pro is transparency mode.
I think it was Sony who pioneered this feature (Sony calls it "Smart Listening/Ambient" mode), which enables you to hear the voices and other sounds around you even when then earbuds are in your ear. It accomplishes this by listening to the sounds around you through the outside microphones and then slightly amplifying (rather than cancelling) those sounds.
That's incredibly useful because you don't have to take off the headphones when someone, like a flight attendant, is trying to speak to you.
Bose doesn't have such a feature, which meant that I always had to take the headphones off when I tried to talk to someone or listen to what was going on around me.
With the AirPods Pro, a quick squeeze of the stem cycles between noise-cancellation and transparency mode. If you don't feel like reaching up to your ears, you can create a Siri shortcut for it.
For example, the command "Hey Siri, be quiet" could enable transparency mode for you.
AirPods Fit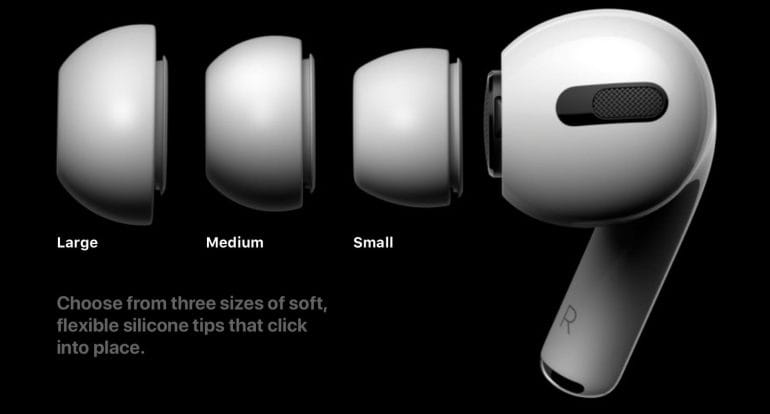 While the regular AirPods come in one size only, the AirPods Pro have three different sizes of silicone tips, including small, medium (default) and large.
While offering silicone tips of different sizes isn't a novelty — most other earbud manufacturers do the same — what sets Apple apart is the ability to perform a fit test that confirms whether or not the silicone tips form a perfect seal in your ear canal.
In other words, iOS can tell you if the tips you've chosen create a good enough seal inside your ear canal for the headphones to perform correctly.
For my ear canal, the default medium tips felt great and iOS confirmed a tight seal. Other users have reported that they tested positive with all three tips. If that's the case for you, just go with the size that feels most comfortable.
Improved Controls
Since AirPods don't have any physical buttons, they offer only limited playback controls.
In addition to Siri, the original AirPods supported tap gestures. So you could double-tap on either of the two buds to issue one of the following commands:
Trigger Siri
Play, pause or stop playback
Skip a track
Go back to the previous track
I had the right AirPod configured to trigger Siri and the left AirPod configured to play/pause playback upon being double-tapped.
For the AirPods Pro, Apple improved the playback controls by adding a force sensor into each stem in lieu of the double-tap.
Each AirPod allows for a single, double, triple and long press of the stem — although only the latter is configurable. That means you can't configure the following playback controls:
Single press: play or pause playback
Double press: skip forward
Triple press: skip backward
You can, however, configure how each AirPod interprets the long-press action. I have one of mine set up to trigger Siri and the other to switch between noise-cancellation and transparency mode.
As you can see, the new AirPods Pro give you much more playback control than the previous versions did.
Sweat and Water Resistance
While the original AirPods were filled with glue that made them quasi sweat-resistant — and maybe even a bit water-resistant — the new AirPods Pro have an official IPX4 sweat and water resistance rating.
Water splashing against the enclosure from any direction shall have no harmful effect, utilizing either: a) an oscillating fixture, or b) A spray nozzle with no shield.
Practically, that means you can expose the AirPods to sweat and rainfall — although I still wouldn't take them into the shower or pool.
Size of Earbuds and Charging Case
What's interesting about the new AirPods Pro is that they're smaller overall — at least, their stem is — than their predecessor. The earpiece is slightly larger to provide enough room for the additional technology and battery.
Additionally, Apple has changed the size of the charging case. It's not as tall anymore, but much wider. Optically, I like how the old charging case looks. But both the old and new cases fit into even the tightest pants pockets without any issues.
Battery Life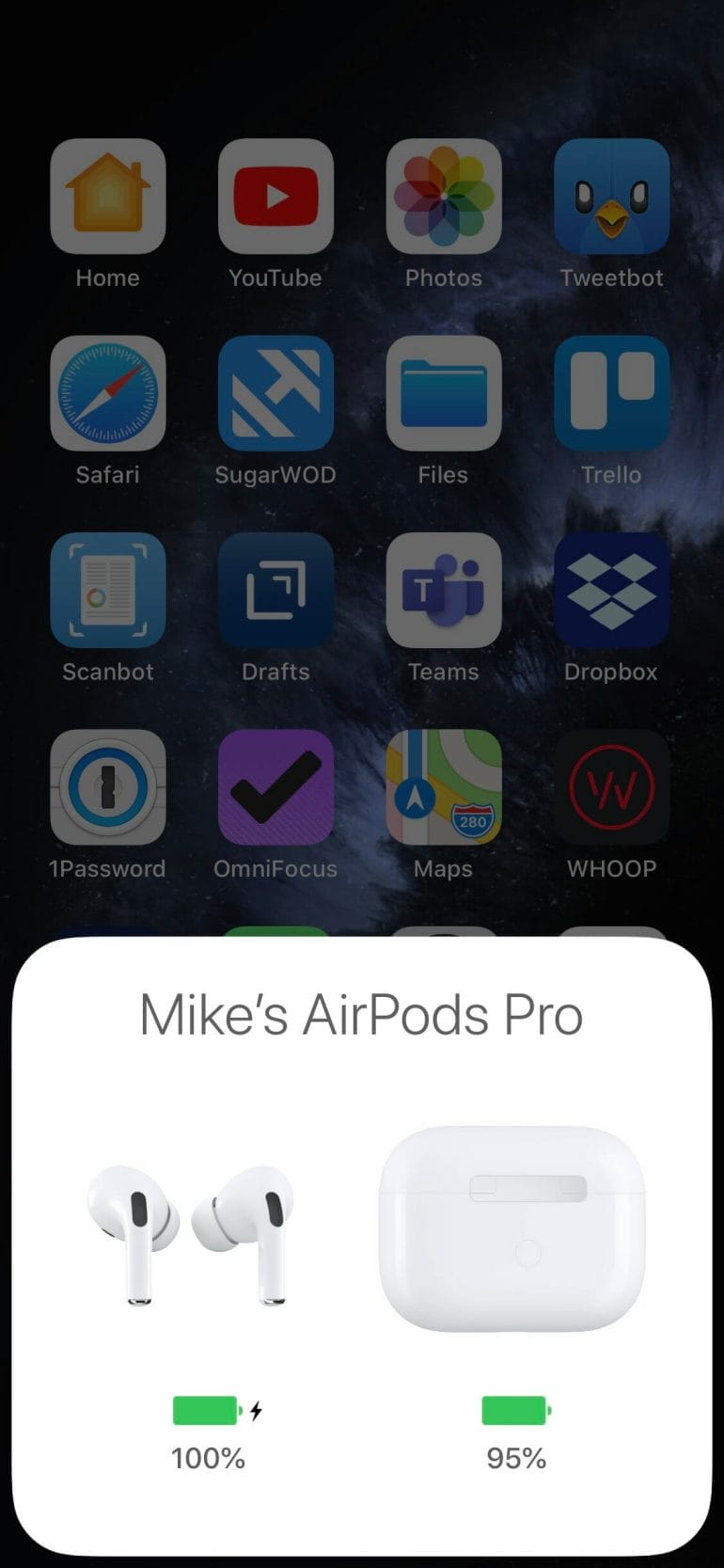 Battery life has never been a strength for AirPods. But in all fairness, I think it's pretty amazing how Apple packed five hours of listening time into something as small as the AirPods.
Unfortunately, if you turn on active noise-cancellation or transparency mode, the battery life of the AirPods Pro decreases by 30 minutes to approximately 4.5 hours.
That seems incredibly short. It won't get you through a flight to Europe, for example.
But what about for domestic flights, if you want to wear the AirPods door-to-door? I recently flew from Atlanta to New Jersey's Newark airport, wearing my AirPods for a trip that took me six hours, including getting to and from the airports.
Technically, I should have run out of battery sometime during the flight.
But I didn't, because I had to put the AirPods back into their charging case when I went through security in Atlanta (and before boarding the plane).
By doing so, the AirPods recharged enough to get me through the whole trip without running out of battery.
That's because a five-minute charge gives you an extra hour of listening or talk time.
As a result, I don't think the short battery life of the AirPods Pro is going to be a major issue for me, as I'll always have five minutes to top them off, if needed.
Sound Quality
While the quality of sound can be objectively measured by analyzing the individual frequencies produced by the drivers in headphones, for most people, it's a subjective issue.
In other words, they either like or dislike how the earbuds sound. I've always liked how the AirPods sound even though I know that, objectively speaking, they're not the best-sounding wireless earbuds on the market.
From an audio technology perspective, Apple added and improved various components of the AirPods Pro, including:
Adaptive equalizer (EQ).
Vent system for pressure equalization (necessary because of the seal the AirPods Pro create in your ear canal).
Custom high-excursion Apple driver.
Custom high dynamic range amplifier.
One would think that all of the above would make the AirPods Pro sound much better than the previous-generation AirPods, right?
I think the AirPods Pro sound better than the Gen 2 AirPods. However, I can't tell you if that's because the Pros seal off the ear canal (thus blocking more ambient noise) or because of the improved drivers.
Either way, I think that my Bose QuietComfort 35 over-the-ear headphones sound better, as do a number of other wireless headphones (including the new Sony WF-1000XM3).
Price
Apple sells the AirPods Pro for $249 plus tax. That's $50 more than what Apple charges for the previous-generation AirPods with a wireless charging case. Without the latter, you can grab the Gen 2 Apple AirPods for a very reasonable $159 and enjoy 30 minutes more battery life per charge.
Are the AirPods Pro Perfect?
For me, and based on my use cases, the AirPods Pro are the perfect wireless noise-canceling earbuds. That doesn't mean they'll be perfect for you.
AirPods Pro
AirPods
Bose
QuietComfort 35
Bose
QuietControl 30
Active NC
★★★★☆
☆☆☆☆☆
★★★★★
★★★★☆
Passive NC
★★★★☆
☆☆☆☆☆
★★★★☆
★★★★☆
Transparency mode
★★★★★
☆☆☆☆☆
☆☆☆☆☆
☆☆☆☆☆
Sound quality
★★★★☆
★★★☆☆
★★★★★
★★★★☆
Microphone
★★★★★
★★★★★
★★★☆☆
★★★☆☆
Comfort
★★★★★
★★★★☆
★★★☆☆
★★★★★
Overall size
★★★★★
★★★★★
★★★☆☆
★★★★☆
Water resistance
★★★★★
★★★☆☆
☆☆☆☆☆
☆☆☆☆☆
Battery life
★★★☆☆
★★★☆☆
★★★★★
★★★★☆
iOS/macOS Integration
★★★★★
★★★★★
★★★☆☆
★★★☆☆
If you're an audiophile, you might not like how they sound. Or if you find the silicone ear tips uncomfortable and would prefer foam tips instead, the custom design means that you can't just pop on any third-party foam ear tips.
Other people, such as my editor, have reported feeling dizzy immediately after turning on the AirPods Pro's ANC feature. That might be because of the pressure change due to the seal the earbuds create with that option turned on, or because of how certain people's brains process the sound frequencies used to cancel out ambient noise. The New York Times and other publications have noted this phenomenon.
Some users report that this sensation improves over time. But if you try the AirPods Pro and find that you're one of the people affected by this, keep in mind that Apple has a full 14-day return policy. My editor decided to keep his Pros, determining that passive noise cancellation and transparency mode alone are worth the price of the upgrade.
As you can see, there are numerous reasons why someone might not like AirPods Pro. I'm perfectly happy with them and I love that I can now travel with only one set of headphones that take up very little space in my luggage.
Frequently Asked Questions
Are AirPods Pro waterproof?
Yes, the AirPods Pro are IPX4 sweat and water-resistant. That means you can safely wear them while working out, even if it's raining. But don't take them into the pool or shower, as you might damage them.
Should you upgrade from the old AirPods or the AirPods 2 to the AirPods Pro?
I think the AirPods Pro are the best wireless headphones Apple has ever made and I'd spend the extra money to upgrade.

However, if your budget is tight and you don't care about noise-cancellation or the (potentially) better fit, the Generation 2 AirPods without the wireless charging case are available for $159. That's a very good price for the technology you're getting.
Can you trade in your AirPods for AirPods Pro?
Unfortunately, you can't. I tried, as I had just purchased the Gen 2 AirPods five weeks before Apple announced the AirPods Pro. So I called Apple and they told me that they can't take the AirPods back or trade them in because they can't resell a product that was in my ear.

That makes sense. However, it might be worth trying by walking into your local Apple Store, as managers have been known to offer exchanges outside the 14-day window. If you purchased your AirPods less than two weeks ago, you can definitely return them, no questions asked.
What's different between beats Powerbeats Pro and Apple AirPods Pro?
While the PowerBeats Pro share the same Apple H1 chip as the AirPods, they're an entirely different beast. In a nutshell, the Powerbeats Pro have over-the-ear hooks for a more secure fit during workouts. Their battery lasts up to nine hours on a single charge, but they don't offer active noise-cancellation or transparency mode.
Do AirPods Pro work with Android?
Yes. AirPods Pro can be paired with Android and other Bluetooth-enabled devices. However, you may not have access to all of the same features that are available on iOS.

Mashable has a good writeup explaining what AirPods Pro features work on Android and which ones don't.
Where can you buy a AirPods Pro?
I purchased mine at a local Apple Store that had them in stock. Best Buy also seems to have better availability than Apple.com, most Apple Stores, or Amazon.
Does the new iPhone 11 come with AirPods?
Unfortunately, it does not. I wish Apple would bundle them with the iPhone 11 Pro, but that's not the case.
How do you get through a transatlantic flight with the AirPods Pro?
Depending on which direction I'm traveling, I usually sleep on transatlantic flights — at least the ones going east. In such cases, I'd wear the AirPods Pro with active noise-cancellation on until the battery runs out. Then I'd rely on the passive noise cancellation created by the seal of the silicone ear tips.

On a west-bound flight, I'd do the same. But I might put the AirPods into their charging case for a few minutes in between to extend their battery life.
Are the AirPods Pro good enough for making calls and to replace your office headset?
I think the AirPods could very well replace a regular office headset — especially one that's used with a mobile phone. The beam-forming microphones in the AirPods work relatively well, which means the sound quality is very good.

I've used them for a couple of conference calls when I had them paired with my iMac Pro and they worked incredibly well.

Long story short: for mobile use, the AirPods Pro can definitely be an excellent replacement to whatever headset you have today. But I have not seen any wireless Bluetooth headset outperform the Savi 745 DECT headset I use on a daily basis for making calls via my Mac.

So if call quality and background-noise suppression are your top priorities, go with a professional headset. Otherwise, the AirPods Pro will do just fine.

Update 2020: Over the past few months, I've used my AirPods Pro in the office exclusively and without any complaints.
Do the AirPods Pro come with a USB-C cable?
Yes, Apple includes a USB-C to Lightning cable with each AirPods Pro. However, note that they do not come with an outlet block.
Can you use the Find My app to locate your AirPods Pro?
Yes, once you pair the AirPods Pro with an Apple device, they're linked to your iCloud account and you can use the Find My app to locate them.
What's the best way to protect the AirPods battery case from scratches and scuffs?
I recommend AirSnap or AirSnap Pro from TwelveSouth — depending on what generation of AirPods you have.

I've had AirSnap with my second-gen AirPods until I upgraded to the AirPods Pro. End of 2019, Twelve South announced a super-slick leather carrying case for the AirPods Pro, aptly called AirSnap Pro.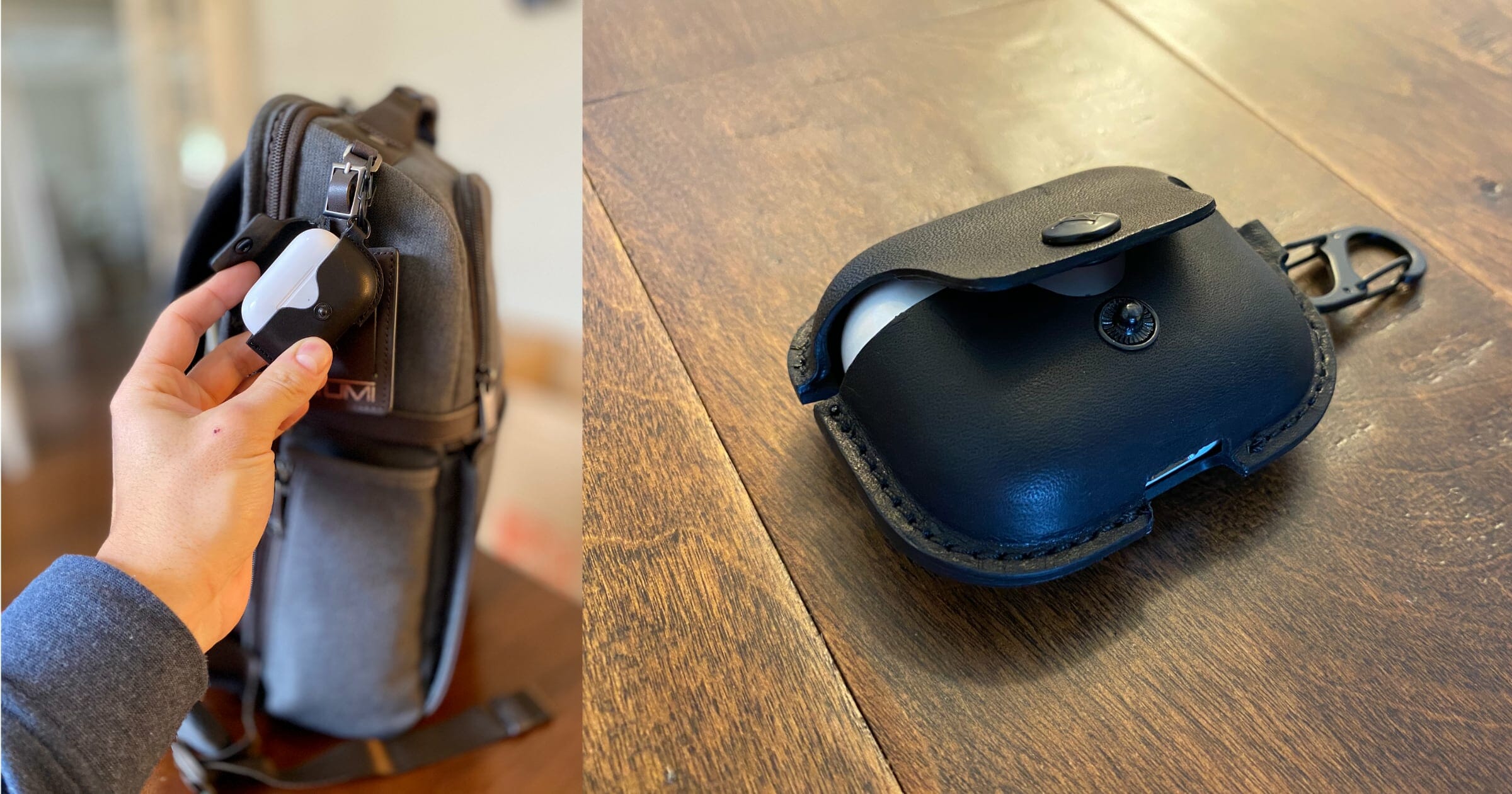 What's the crackling noise I'm hearing in one of the AirPods?
A few weeks ago, I noticed a crackling sound coming from my right AirPod. The annoying sound was particularly noticeable while I was talking.

It was almost as if the background noise and echo suppression of the AirPod was malfunctioning.

I reached out to Apple support and they sent me a replacement AirPod (only one). So far, I have not had the crackling issue again, but other users in various Apple forums have complained that their replacement AirPods also started exhibiting this issue after a short period of time.

I should mention that Apple released a new firmware version (2D15) a few days ago, but I don't know if that update is supposed to fix the issue.

Either way, I'll keep this FAQ updated should the issue reoccur.
How can I automatically connect the AirPods to my iPhone (or iPad) if I have multiple devices?
I use my AirPods Pro with my iMac Pro, iPad and iPhone, and it feels like they never automatically connect to the device I want to use them with.

So on my iMac I use a tool called Toothfairy (available from the App Store or via Setapp) to automatically connect the AirPods. That's because I use the headphones with my iMac 90% of the time — at least while I'm in the office.

But if I want to take a call on my iPhone, I have to reconnect them. Doing that manually via Settings > Bluetooth > Mike's AirPods Pro is a pain. So I use this simple Siri Shortcuts script to change the audio output on my iPhone to the AirPods. By doing so, iOS automatically establishes the necessary Bluetooth connection.

To tun on the Siri shortcut, I can say "Hey Siri, connect AirPods" (you can record your own phrase) or simply click on the shortcut icon on my home screen (I saved the shortcut to my home screen via the Shortcuts app).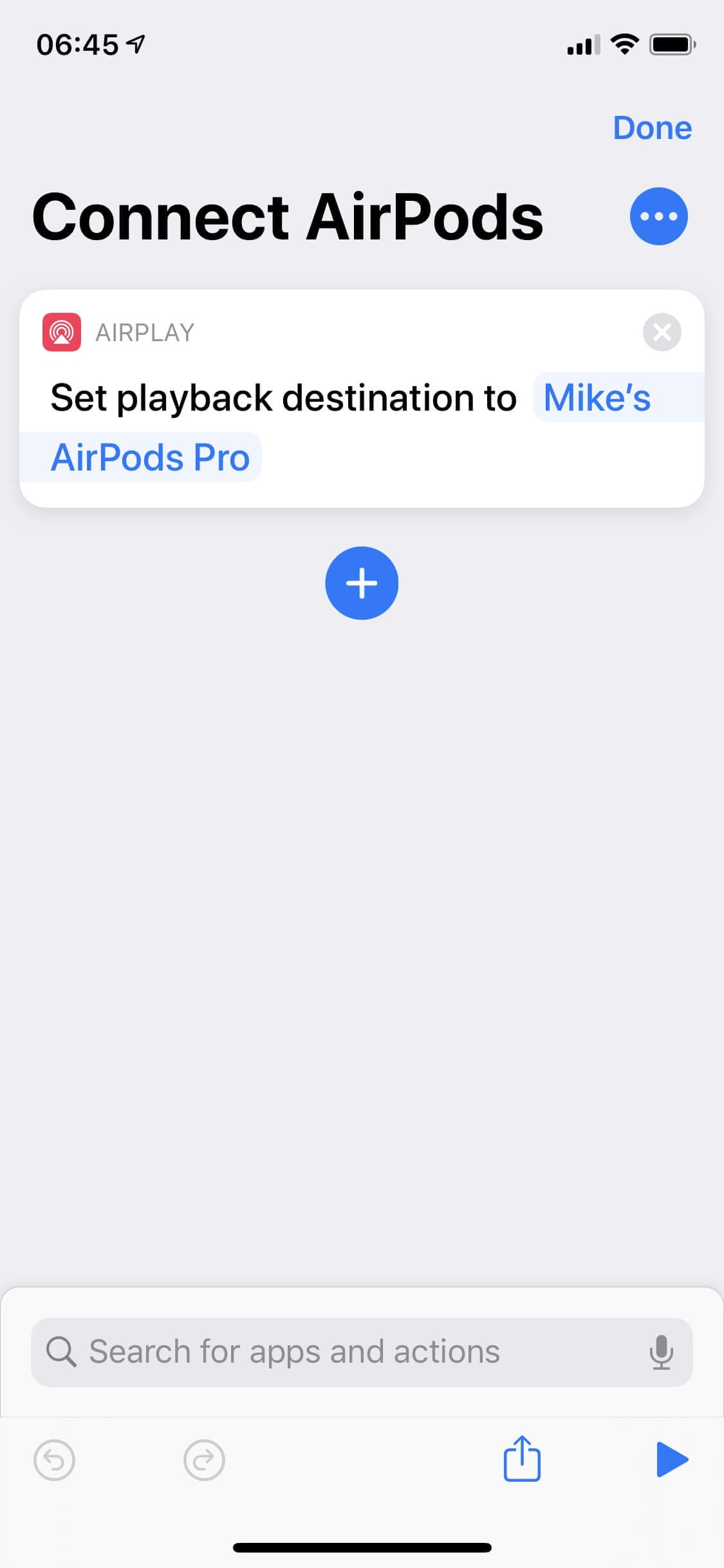 Conclusion: AirPods Pro vs. Apple AirPods
When I saw Apple's AirPods Pro announcement, I had no intention of purchasing them. But the more I thought about the prospect of replacing my old AirPods, the Bose QuietComfort 35 and Bose QuietControl 30, the more excited I got.
So I finally took the plunge. I purchased the AirPods Pro and sold my old headphones on eBay. So far, I haven't regretted that decision. I love my AirPods Pro!
While they might not be the best headphones in any individual category, they're really good at everything.
Are you thinking about purchasing the AirPods Pro, or do you already own a pair? If so, let me know how you like them, or if you have any pre-purchase questions or concerns!

I'm a healthy living and technology enthusiast.
On this blog, I share in-depth product reviews, actionable information and solutions to complex problems in plain and easy-to-understand language.