If you are having troubles streaming video content via AirPlay or Screen Mirroring from your iPhone, iPad, or Mac to your Apple TV, you are not alone! I am guessing that you already tried the "fixes" offered by other bloggers, but none of them have worked. While I don't have a permanent fix either, I can provide you with a workaround that enabled me to stream [email protected] videos from my iCloud Photo Library to my 4K Apple TV without lags or stuttering.
To make AirPlay work, stream the individual video instead of using Screen Mirroring. Continue reading to learn more.
I have been struggling specifically with AirPlay mirroring where I would mirror the screen of my iPhone to my 4K Apple TV for the purpose of replaying videos from my iCloud Photo Library. The videos that I recorded in 4K with 60 frames per second play fine on my iPhone, but as soon as I enable screen mirroring, they become unwatchable on the Apple TV. What I mean by that is that the playback is slow and jerky and the video intermittently stops every second or so.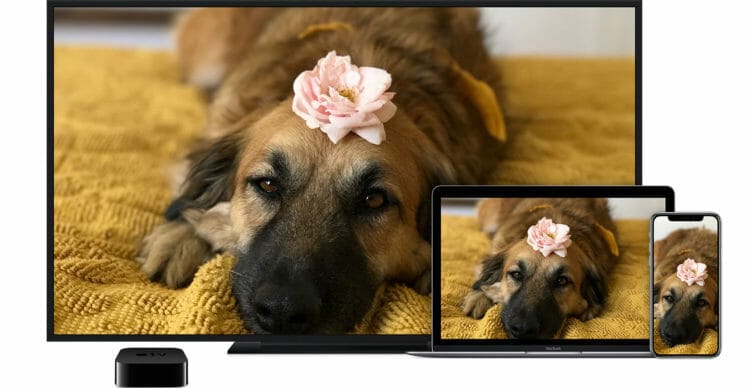 What is AirPlay?
AirPlay is a wireless protocol developed by Apple that allows you to stream music or videos from your iOS device, or Mac to an Apple TV, HomePod, or a third-party AirPlay receiver.
AirPlay 1 vs. AirPlay 2 Audio and Video Streaming
I have had AirPlay problems since Apple first released the protocol stack in September of 2010. Apple used to call AirPlay AirTunes for audio-only streaming, but the company later changed the name to AirPlay. The name change made sense considering that AirPlay not only covers streaming music but also photos and videos.
With iOS 11.4, Apple launched AirPlay 2, and I was hoping that would solve the slow performance I have experienced with the previous version. However, it appears as if Apple's focus with AirPlay 2 was to enable multi-device and multi-room streaming only, which is a crucial differentiator for the HomePod.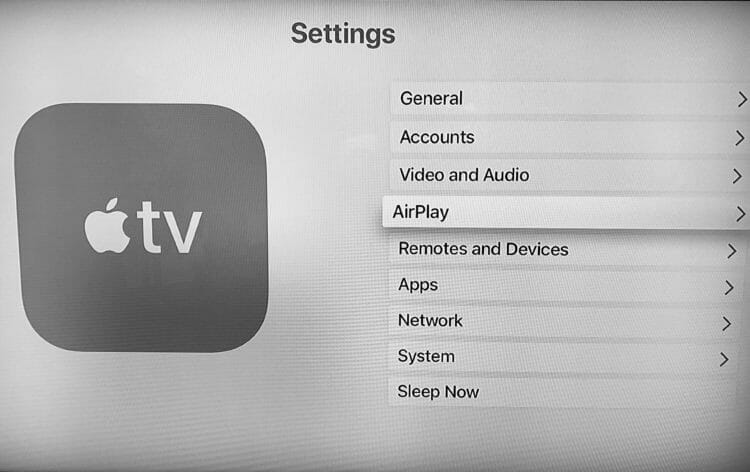 AirPlay Tips That Often Don't Work
When I googled for a solution, all I could find were mostly useless tips, such as:
Get close to the router to improve the Wi-Fi signal,
Connect the Apple TV directly to your router via an Ethernet cable,
Turn off Bluetooth to reduce the chance of interference,
Try using a dual- or tri-band router that supports 2.4 and 5 GHz channels for better wireless performance,
Restart all your devices, including the router,
Update the firmware on all your devices, including tvOS on your Apple TV, and iOS on your iPhone, iPad or iPod Touch,
Remove any nearby, electrical devices that might cause interference with your Wi-Fi signals, such as a microwave oven, or your neighbor's wireless access points.
Run the Wireless Diagnostics app of macOS.
While any one of these tips could help to fix wireless LAN problems and thus improve wireless streaming via AirPlay, they didn't help me.
I suspect the primary reason why AirPlay Mirroring doesn't work correctly is that there is a bug in the protocol or Apple's current implementation. It's similar to why my iMac randomly loses its Bluetooth connection to my wireless keyboard, mouse or trackpad. That's why none of the tips and tricks you can read about on other blog posts work to permanently address the issue of constant buffering, or slow and jerky AirPlay streaming.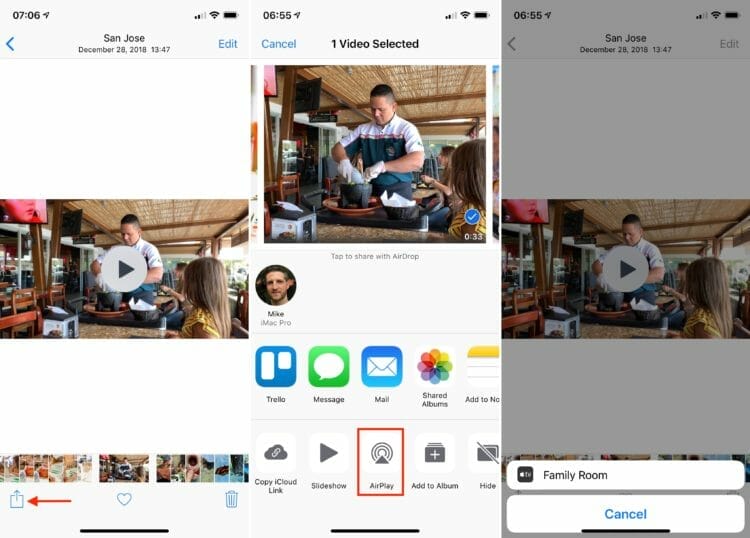 How to AirPlay video to Apple TV
While I don't have a permanent fix for you, I have found a reasonable workaround to stream videos from my iPhone to my 4K Apple TV stutter- and lag-free via AirPlay.
Instead of swiping down from the top right corner of my iPhone Xs to enable system-wide Screen Mirroring, I play the video on my mobile device and then use the music playback controls to only AirPlay the video and not the whole screen.
Here is how you do it in a third-party video app:
Open an app and play a video that you want to AirPlay to your Apple TV
Tap the AirPlay icon and then tap the AirPlay button
Choose your Apple TV
To AirPlay videos from the Photos app, tap on the Share icon
first and then select AirPlay. The main reason why I didn't try this trick earlier was due to the lack of the AirPlay icon. Apple has cleverly hidden AirPlay behind the sharing sheet, where I found it by accident one day.
Alternatively, you can launch Control Center by swiping down from the upper right corner of your iPhone and then use the Music Playback Controls to select an AirPlay-enabled device.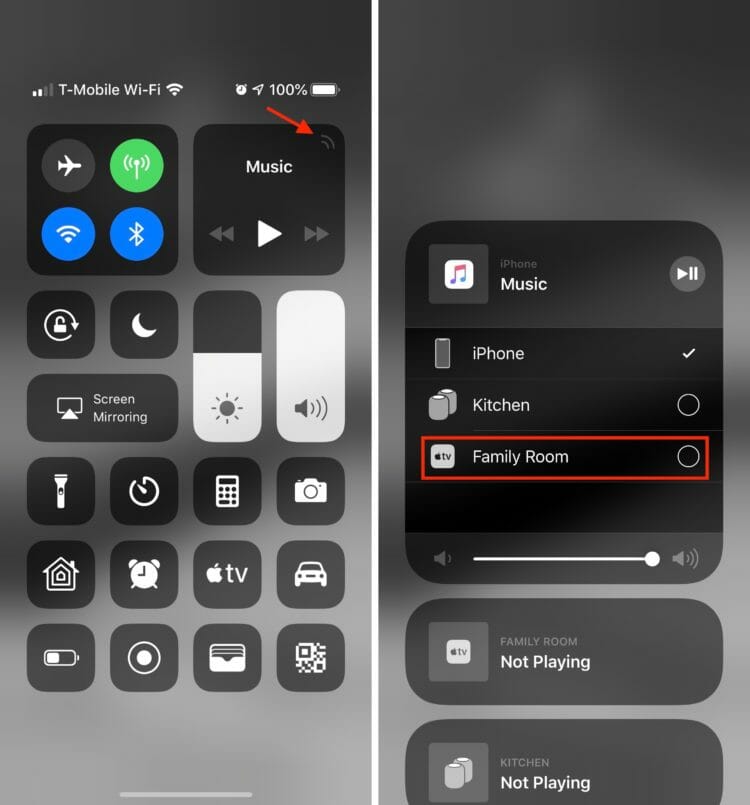 AirPlay Slow? It's Probably not Your Wi-Fi Network!
If in-app AirPlay video streaming works but screen mirroring doesn't, your wireless infrastructure is likely not causing the issue. I use Enterprise-class Wi-Fi equipment from Ubiquiti to support my local network, and it can handle hundreds of clients in parallel. I have also positioned one of the access points directly next to the Apple TV, and according to speed tests, I get close a gigabit per second throughput. As a result, my WiFi equipment is not the bottleneck here. And considering that I can stream 4K videos from any device to the Apple TV without lag, stuttering or buffering, I can only assume that the reason why screen mirroring doesn't work is that there is a bug in the latest version of tvOS or iOS that Apple hasn't fixed yet.
However, if you are experiencing performance problems with your Apple TV when streaming videos from Netflix or iTunes, I recommend ruling out other issues first. For example, if you have an AirPort Express router at one end of your house and the Apple TV on the other side, poor Wi-Fi performance could certainly be a factor.
Conclusion – AirPlay Video Streaming Slow?
If you are frustrated about the reliability and performance of AirPlay, know that you are not alone. My recommendation is first to ensure that your local network or outdated devices are not the cause for your issues. If everything except AirPlay works fine, don't keep spinning your wheels on finding a solution that maybe only Apple can provide. The good news is that there is at least a workaround for streaming videos directly to your Apple TV as long as you don't use Screen Mirroring.
If you have further information on why Screen Mirroring sucks so bad in comparison to streaming an individual video, please let me know by leaving a comment below.

I'm a healthy living and technology enthusiast.
On this blog, I share in-depth product reviews, actionable information and solutions to complex problems in plain and easy-to-understand language.