I have to admit that I prefer eating to cooking. Fortunately, my wife enjoys preparing food much more than I do. That's why she's often the one preparing breakfast for the kids and lunch for us all. But dinner is my responsibility, and I usually either warm up leftovers or prepare what is known in Austria and certain parts of Germany as a "Jause" or "Brettljausn."
Jause is a cold plate consisting of bread, cold meat and cheeses, as well as seasonal fruits and vegetables like tomatoes, peppers and radishes. It's often consumed as a snack between bigger meals, but I grew up eating Jause for dinner and held on to that tradition after moving to the United States.
When I started eating paleo, and when I later adopted a Paleolithic ketogenic diet, I realized that Jause is perfectly paleo/keto-friendly if you omit the regular bread. These days, I often make my own keto bread rolls to take the place of wheat bread.
What's so great about this Austrian-influenced keto dinner plate is that it takes little time to prepare while offering a ton of flexibility for modifications. That means you can mix and match your favorite ingredients and avoid repeating the same dish every day.
Quick and Easy Keto Dinner Recipe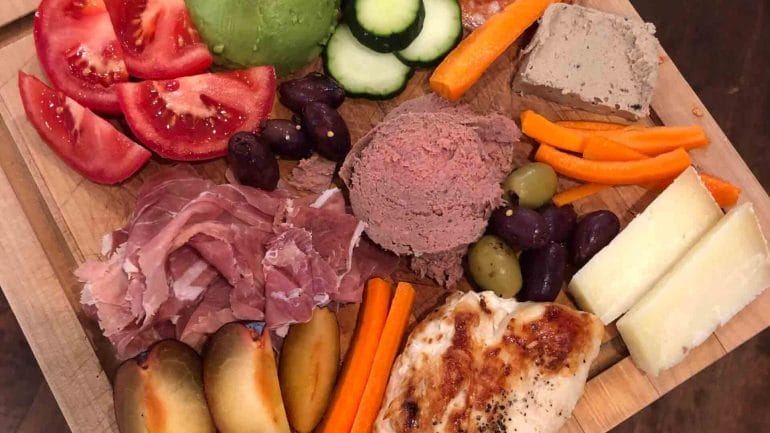 A simple and easy-to-prepare no-cooking dish that's inspired by what people in Austria and certain parts of Germany call "Jause."
Ingredients
Instructions
Place all of your chosen ingredients on a cutting board.
Enjoy your keto meal
Video
Nutrition
Serving: 1plate | Calories: 1278kcal | Carbohydrates: 25g | Protein: 56g | Fat: 107g | Saturated Fat: 47g | Cholesterol: 30mg | Sodium: 2383mg | Potassium: 828mg | Fiber: 15g | Sugar: 5g | Vitamin A: 1475IU | Vitamin C: 10mg | Calcium: 727mg | Iron: 8mg
What You Need
If you want to stay true to the Austrian tradition, you eat Jause (keto or otherwise) on a cutting board called "Brett" (or "Brettl" in slang). 
Besides that, you need a sharp knife, a fork, and possibly a spoon (depending on what you plan on eating). Sometimes, I also use small dessert bowls to hold things like fruit, olives and chia pudding.
Keto Dinner Plate Ingredients
The ingredients for this Austrian keto meal can include almost anything you can imagine. But here are some of the foods that you can find on my typical dinner plates.
Bacon: While most of the meat I eat with this plate is cold, I occasionally enjoy a few slices of pan-fried, pasture-raised bacon.
Cheese: I love cheese, but I try to avoid most cheese made from cow's milk for reasons you can learn more about here. Instead, I usually have aged goat cheese. If possible, I buy unpasteurized cheeses.
Cold meat: I often enjoy a selection of uncured cold meat, such as calabrese, ham, prosciutto, salami and/or soppressata. If cold cuts aren't available, I might include whatever meat we had for lunch.
Condiments: A traditional condiment that goes well with Jause is mustard. It's also great on keto because plain mustard doesn't have any carbs. Additionally, I love mayo made from avocado oil. If I have keto bread rolls, I usually eat them with a lot of pasture-raised butter to increase my fat intake.
Desserts: Despite having been on a low-carb high-fat diet for almost a year, I still enjoy sweets. That's why I often accompany my dinner plate with a keto-friendly dessert option, such as a keto fat bomb, keto coconut chia pudding, keto muffin from our local bakery, or any of the other keto snacks I mentioned in this article.
Eggs: Either hard-boiled or prepared as an omelet (fried in liberal amounts of olive or avocado oil).
Fish: I love canned, wild-caught tuna, salmon and sardines from Wild Planet Foods. In particular, sardines are an excellent source of omega-3 fatty acids. 
Seasonal fruits and veggies: Avocados are my favorite fruit (yes, they're really a fruit rather than a vegetable), followed by raspberries. You can often find several avocado halves on my plate — unless I turn them into guacamole. Sometimes I also have olives, peppers, tomatoes or whatever else we have in the fridge or growing in our backyard garden.
How to Prepare Jause
That's easy: just arrange the ingredients on the cutting board. If you care about aesthetics, you can arrange everything to look pretty and take a picture. Most of the time, I don't care how my keto plate looks and I just cram as much food as I can onto the cutting board.
Macronutrients of This Dish
Below is a sample recipe that represents one of the countless ways to prepare this dish. It should give you an idea of the calories, protein, fat, and carbs in each plate.
Frequently Asked Questions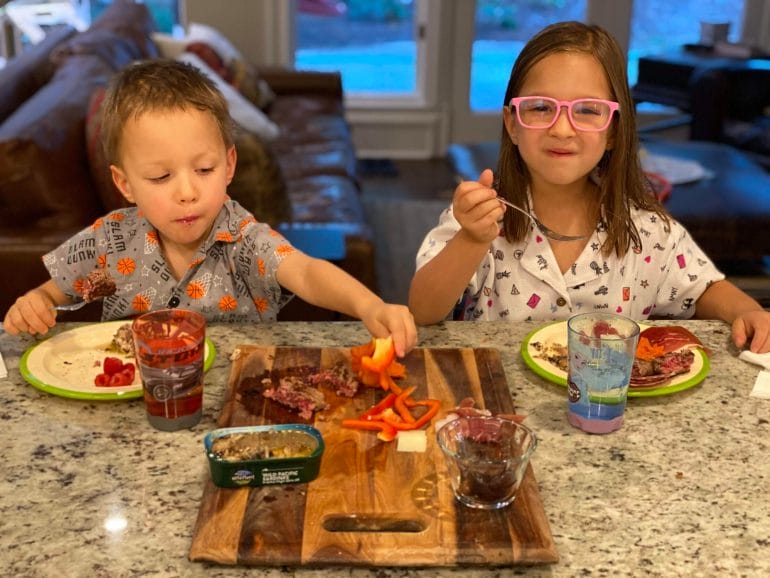 Doesn't consuming red meat, and processed meat in particular, increase your risk of cancer?
In 2015, the WHO released a report indicating that processed meat is a carcinogen (i.e., causes cancer) and that even unprocessed red meat increases your risk of developing colorectal cancer.

Humans have evolved over millions of years on a diet consisting of animal protein (including meat), so I've always been skeptical of the WHO's report. In 2019, scientists finally discovered that the health benefits of avoiding meat are virtually non-existent. 

The bottom line is that you don't have to cut back on quality meat. But I do recommend sticking with grass-fed, pasture-raised and uncured options if your budget permits it.
Can you have cheese on a paleo diet?
Technically, all dairy is off limits on paleo. The reason why is that most dairy contains inflammatory proteins, such as beta-casein A1. That's particularly true for most cow's milk. That's why I stick to cheeses made from goat or sheep milk, which only contain the non-inflammatory beta-casein A2. You can learn more about if cheese is healthy or not in this YouTube video.
Wrap-Up – Keto Dinner Plate
I try to avoid eating in a rush. Instead, I want to enjoy every bite — especially when sharing a meal with friends and family. 
But that doesn't mean I have to spend more time than necessary preparing my food. Some people enjoy cooking, baking and the process of preparing meals. While I appreciate that, I consider food fuel for my body. It doesn't have to be pretty. I don't care about sophisticated recipes. And it doesn't always have to taste great to leave me feeling satisfied.
That's why I love eating Jause. It takes about five minutes to prepare, and it's usually high in fat and protein (two essential macronutrients), low in carbs (a non-essential macro), and tastes anywhere from good to outstanding (depending on what I put on my plate).
So give it a try, if you haven't already, and let me know how you like it by leaving a comment below.

I'm a healthy living and technology enthusiast.
On this blog, I share in-depth product reviews, actionable information and solutions to complex problems in plain and easy-to-understand language.