For this simple keto brownie recipe, I'm using a baking mix from Kiss My Keto. Besides the baking mix, all you need is butter and two large eggs. As a result, this delicious yet low-carb dessert takes only minutes to prepare.
Keto Brownies (Using Kiss My Keto Baking Mix)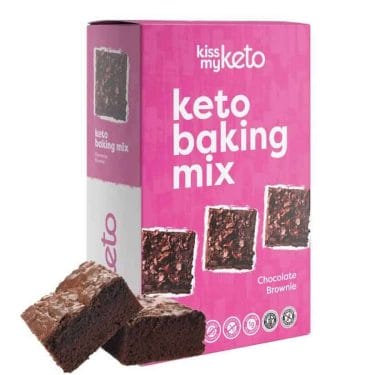 Simple keto brownie recipe, using a baking mix from Kiss My Keto. Besides the baking mix, all you need is butter and two large eggs. As a result, this delicious yet low-carb dessert takes only minutes to prepare.
Equipment
baking pan (8″ x 8″)
Whisk
Ingredients
Instructions
Melt the butter in a pan over low/medium heat.
Combine the baking mix, eggs and melted butter using a whisk.
Pour the moist mixture into a baking pan.
Place in the oven for 30-50 minutes (test with a toothpick).
Enjoy!
Video
Nutrition
Serving: 1brownie | Calories: 198kcal | Carbohydrates: 11g | Protein: 6g | Fat: 20g | Saturated Fat: 12g | Cholesterol: 72mg | Sodium: 223mg | Potassium: 12mg | Fiber: 5g | Calcium: 5mg | Iron: 1mg
I prefer making my food from scratch, as it gives me more control over what goes into my body. But life is busy and sometimes it's good to have options in your repertoire that don't take a lot of time to prepare.
For example, if you have friends coming over for coffee on short notice, being able to whip up keto brownies with minimal ingredients in a matter of minutes can be a lifesaver.
Ingredients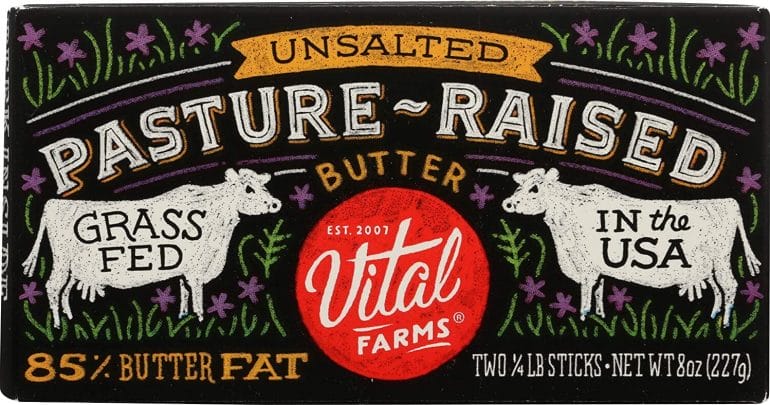 If you want to make keto brownies from scratch, you'll need almond flour, cocoa powder, a non-caloric sweetener, chocolate chips, vanilla extract or other keto-friendly ingredients.
Kiss My Keto includes most of those ingredients (and a few more) in a convenient baking mix. All you need to add is (grass-fed) butter and two (pastured) eggs.
Note that if you only have regular butter and eggs you can certainly use them, but I recommend pastured and grass-fed ingredients because they're more nutrient-dense and less inflammatory.
It's also worth mentioning that Kiss My Keto offers its baking mix in several varieties, including brownie, shortbread cookie and snickerdoodle cookie. Each of them has slightly different ingredients.
For this recipe, we'll work with the brownie baking mix, which has the following ingredients (listed by their amount):
Allulose
Soluble tapioca fiber
Almonds
Cocoa powder (processed with alkali)
Medium-chain triglycerides (MCTs, derived from coconut)
Gum acacia
Sea salt
Xanthan gum
Monk fruit
In addition to the dry ingredients that are in the Kiss My Keto baking mix, you also need one stick of butter and two whole eggs.
Allulose
Allulose is a special type of sweetener that has recently gained popularity within the keto community. It's special because while it looks and tastes like sugar, the body absorbs it via the small intestine and (for the most part) doesn't metabolize it. Instead, it excretes it via urine.
As a result, allulose has no significant impact on blood sugar and doesn't trigger a release of insulin.
Soluble Tapioca Fiber
Tapioca is a starchy tuber that's often used for cooking and baking in the paleo diet because it's low glycemic, raising blood sugar levels slower than other starches (like potatoes, for example).
Tapioca also has soluble fiber, which is great for baking because it adds volume to the dough (without adding carbs).
Almonds
Almonds and almond flour are another staple ingredient in the ketogenic diet because they're relatively inexpensive (compared to more expensive nuts, such as macadamias) and have only moderate amounts of net carbs.
Personally, I prefer macadamia nuts because they're even higher in fat and lower in carbs. But macadamias are expensive, as are the products — like flour, nut butter and milk — you can make from them. So I get why most manufacturers opt for almonds.
Cocoa Powder
Pretty much all chocolatey baked goods contain cocoa powder. So no surprise here.
Medium-Chain Triglycerides (MCTs)
MCTs are the favorite source of fat for many keto dieters because the body can readily use some of them as energy. That's also why most keto products contain them.
Gum Acacia and Xantham Gum
Both gum acacia (also known as gum arabica) and xantham gum are natural stabilizers and thickening agents that act as glue in baked goods.
Monk Fruit Extract
Monk fruit extract is my favorite non-caloric sweetener. It's several times sweeter than table sugar, but also very expensive. That's why most brands, including Kiss My Keto, use it only as a secondary sweetener in their products.
How to Make Keto Brownies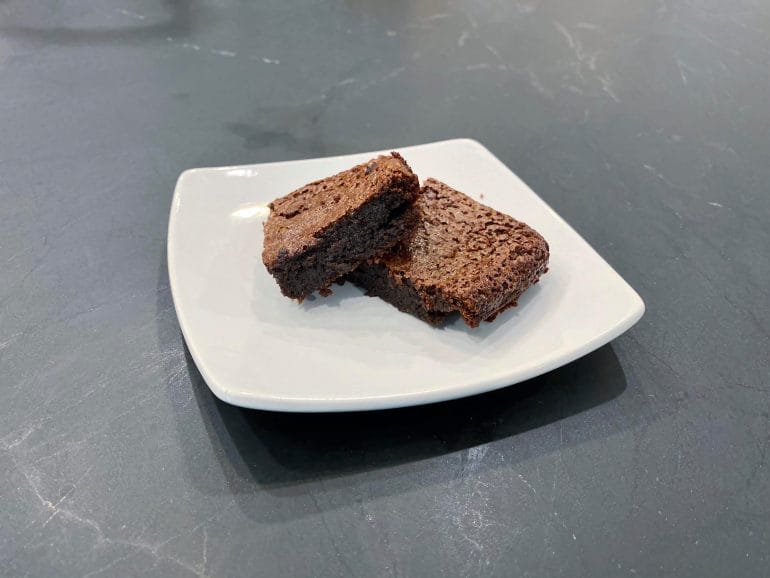 Making gluten-free keto brownies with the Kiss My Keto baking mix is dead simple. All you need to do is preheat the oven to 325 Fahrenheit, melt a stick of butter, beat two whole eggs, and mix the wet and dry ingredients in a mixing bowl using a whisk.
To add more flavor, you can also add a teaspoon of vanilla extract.
Once all the ingredients are properly combined, pour the moist mixture into a baking pan. Depending on the pan you use, you might want to consider lining it with parchment paper or greasing it with coconut oil to prevent the brownies from sticking to it.
Last but not least, place the baking pan in the oven for approximately 30 minutes. You can test if the low carb brownies are ready by sticking a toothpick into them. If the toothpick comes out clean (rather than sticky), you're finished.
Pros and Cons of Baking Mixes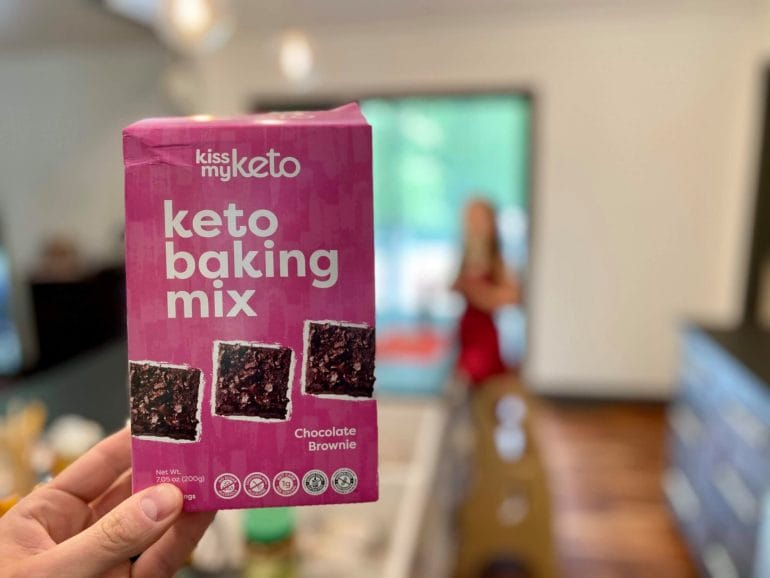 There are clearly pros and cons to baking mixes, and I'd like to quickly go over a few of them.
The clear advantage of using a baking mix is that it significantly speeds up the baking process. Using the Kiss My Keto baking mix, it takes me less than five minutes to mix the ingredients and stick them into the oven.
The downside to that approach is that you're using more processed ingredients and you have less control over what goes into your baked product.
When time is not a concern, I enjoy making keto desserts from scratch. That way, I have full control over the ingredients.
For example, instead of allulose I might use stevia and more monk fruit extract. Or I might use a granulated mix of erythritol and monk fruit, similar to the one I used in my keto fat bombs recipe.
Frequently Asked Questions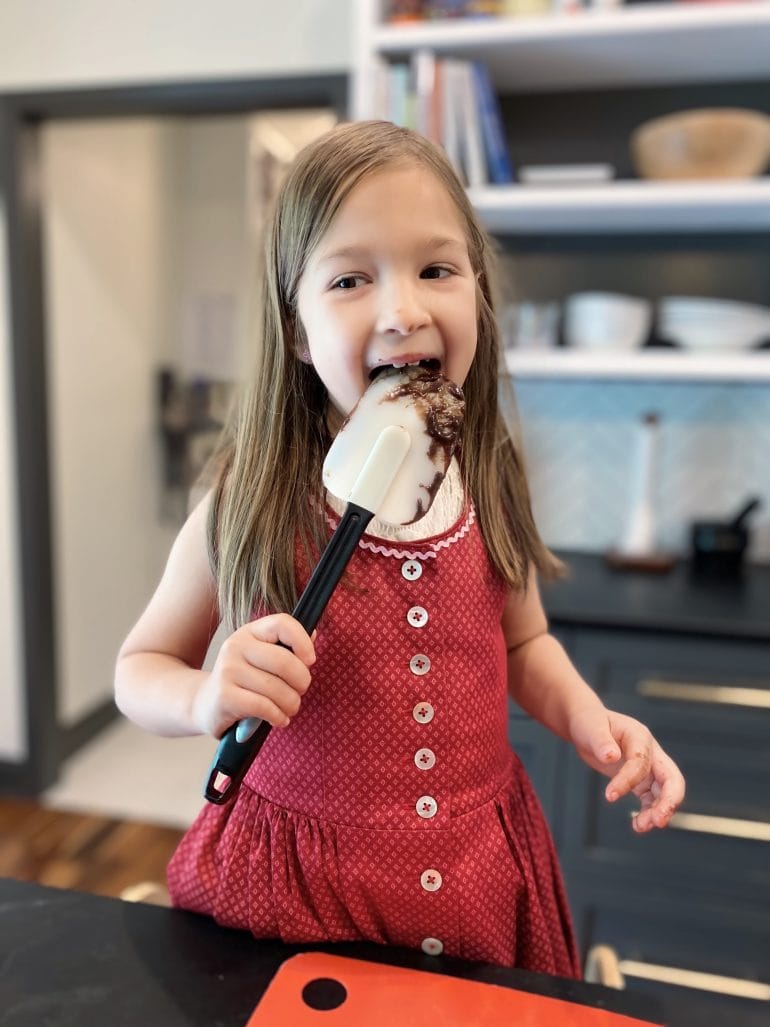 Is allulose a natural sweetener?
While allulose does occur in nature (in figs, raisins and wheat), most of the allulose found in processed foods is likely made in labs by using enzymes to convert (the structurally similar) fructose from corn and other plants into the desired substance.
Does allulose make you bloated?
Based on the research I've seen, allulose has a low fermentability. That means it resists fermentation by the bacteria in your large intestine. As a result, you shouldn't be producing a lot of gas after consumption. 

Personally, I've had a different experience. So your mileage may vary.
What's the total time it takes to make these brownies?
It takes about 45 minutes to prepare and bake these brownies.
Are these brownies fudgy?
No, these aren't very fudgy keto brownies. To make the texture denser and richer, you'd have to add dark chocolate to the brownie batter. Alternatively, you can also melt chocolate and coat the baked dough after taking it out of the oven.

Another idea is to eat them with nut butter; that also gives them a richer taste and texture.
Why does the Kiss My Keto baking mix have so many carbs?
While the keto baking mix I used in this recipe has a lot of carbs, it's important to understand that most of these carbs stem from the allulose. Since the body doesn't metabolize most of those carbs, you can ignore them.

What's important is not the total carbs but the net carbs, and each serving of these brownies has only 1 gram of net carbs.
Wrap-Up – Keto Brownies Recipe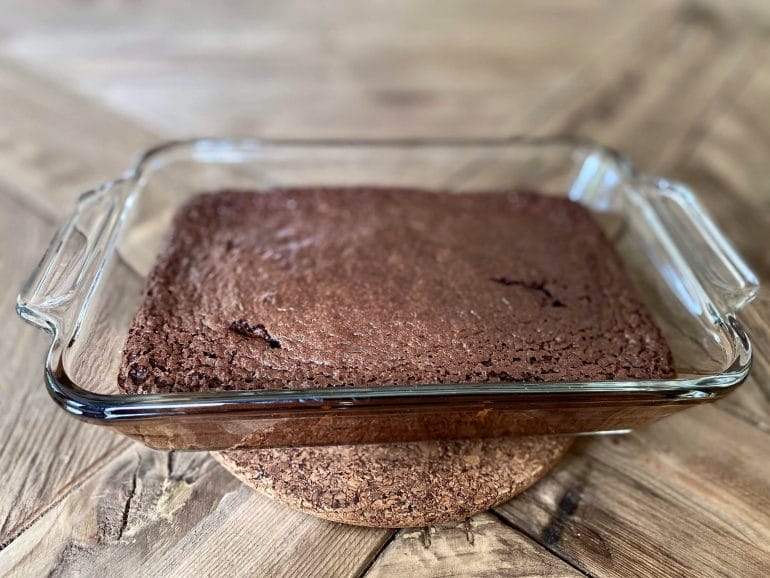 Baking these brownies was a fun experience and the results were delicious. What's also great about the Kiss My Keto baking mix is that it's certified gluten-free. So even if you have celiac disease, you can safely use it to bake great-tasting keto desserts.
If you haven't tried low-carb brownies before, give these a shot — they're insanely easy to make and they taste great. And make sure you check out my other keto recipes.

I'm a healthy living and technology enthusiast.
On this blog, I share in-depth product reviews, actionable information and solutions to complex problems in plain and easy-to-understand language.