In this post, I'll review the best workout headphones for exercise and running — focusing on wireless (Bluetooth) options (because I don't like to deal with wires while working out).
I'm excluding on-ear headphones and over-ear headphones (also known as over-the-ear headphones) because I find them to be uncomfortable when I'm hot and sweaty.
In 2016, I compared the Bose SoundSport vs. the Plantronics BackBeat Fit to identify which was the best option for running. Some time has passed since then, and there are now many more options available.
So, I figured I would do another review and bring more wireless in-ear headphones into the mix.
All the exercise headphones I tested performed well and stayed securely in place in my ears while working out. With that said, finding the pair of headphones that works best for you ultimately depends on your personal preferences regarding design, playback control, battery life, and other features.
Top 5 True Wireless Workout Headphones
You may notice that in the comparison table below, there's a row I called "wire-free." By that I'm indicating that there's no physical cable connection between the two wireless earbuds. That's what I consider true wireless headphones.
Technologically, that's difficult to achieve because each earbud has to independently communicate with the paired device (i.e., your phone) and has to keep the sound signal perfectly synchronized.
Top 5 Wireless Workout Headphones Under $100
Top 4 Water-Resistant Workout Headphones
Top 5 Noise-Canceling Workout Headphones
All Reviewed Wireless Workout Headphones
Here's an alphabetically-sorted list of all the wireless Bluetooth headphones I've tested for this review. The list below covers more brands and models than I could fit in the rating tables above.
Alpha & Delta Jaap
Alpha & Delta's Jaap are among the few genuinely wireless and cable-free headphones I have tested, and they're incredibly comfortable to wear. They feel like they hug your ears while you're wearing them.
Also, in addition to the regular and already-comfortable ear-tips, the Jaap come with what Alpha & Delta describe as SpinFit silicone ear-tips. Those are 360-degree-rotating ear-tips that further improve your comfort as they can go deeper into the ear canal.
The Jaap headphones are not dustproof, but they feature an IPX5 waterproof rating. That means that not only will they stand up to the rain, you can even take them into the shower. I have never considered doing so, but you could theoretically go for a run and jump right into the shower without even taking your headphones off.
Alpha & Delta's exercise headphones produce a rich and well-balanced sound, and I enjoyed listening to music with them. While the Jaap headphones don't offer support for Siri, they provide playback controls via a multi-functional button, including:
Play and pause
Skip to the next song
Alpha & Delta promises six hours of music playback and seven hours of talk time. Additionally, you can connect the two earbuds using a so-called portable charger. By using the charging cable, you get an additional 14 hours of playback or 15 hours of talk time.
From a connectivity perspective, you can pair the Jaap headphones with up to two devices at the same time. Also, Alpha & Delta includes a hard case for its headphones, a portable charger, a USB charging cable and extra ear tips.
Anker SoundBuds Sport NB10
The Anker SoundBuds Sport NB10 are basic and reasonably-priced sports headphones that offer excellent value. Anker includes a relatively large (12mm) driver for incredibly clear audio, an IPX5 water-resistance rating, and six hours of battery life. Additionally, Anker backs up their offering with an 18-month warranty.
Despite its eight-device memory, you can only pair the SoundBuds Sport NB10 to a single device at a time. That means you can't switch back and forth between your iPhone and Apple Watch without unpairing from one of those two devices.
Apple AirPods Pro
Besides the iPhone 11 Pro, Apple's AirPods Pro are the best product Apple has made in the past few years. The AirPods Pro are genuinely wireless, they integrate seamlessly with the iPhone and Apple Watch, and they produce a rich and well-balanced sound.
The AirPods Pro are also among the most comfortable earbuds I have used so far, thanks to the soft silicone tips that come in three different sizes.
What's new with the AirPods Pro — in comparison to the regular AirPods — is that the AirPods Pro are both water and sweat resistant and they offer active noise cancellation. Additionally, they also come with transparency mode, which amplifies ambient noise. That's useful if you run on the street and want to keep an ear on the surrounding traffic.
Apple has also improved playback controls in the AirPods Pro by replacing the tap gesture with force sensors. By doing that, Apple added additional playback controls (so you don't have to rely on Siri).
Speaking of playback control, the AirPods Pro are the only wireless sports headphones I have tested that don't suffer from lag.
For example, turning the crown on the Apple Watch Series 5 to change the volume works lag-free. With all other headphones, there is a minor lag or delay that's not bothersome but noticeable. I assume Apple's custom W2 chip is responsible for that.
Apple offers up to 4.5 hours of battery life on a single charge with noise-cancellation or transparency mode enabled. That's less than competing headphones offer, but still incredible considering the tiny form factor of the product.
Also, the AirPods Pro's case doubles as a charger and can extend their battery life to up to 24 hours. Charging the AirPods Pro in their case for only five minutes gives you another hour of battery life.
The AirPods Pro can connect simultaneously to your iPhone and Apple Watch. But you can also pair them with additional devices, such as your Mac, iPad, or Apple TV. They come with a wireless charging case and Lightning cable (which can be used to charge the case if you don't have a wireless charging dock).
Beats Powerbeats3 Wireless
The Beats Powerbeats3 Wireless headphones have the same Apple W1 chip as Apple's original AirPods and thus offer an incredibly stable and responsive Bluetooth connection that supports multiple devices simultaneously. As you would expect from Beats, the sound is relatively bass-heavy, which many users appreciate.
What makes the Powerbeats3 Wireless headphones stand out is their amazing 12-hour battery life, which should comfortably get you through a week's worth of workouts before you have to recharge them.
When it comes to water resistance, Beats doesn't provide an IP rating — the company just claims that the Powerbeats3 are sweat and water resistant.
Similar to other Beats products, some users have complained about quality issues that may result in parts of the product showing premature signs of use.
Bose SoundSport
As you would expect from Bose, the audio quality of the SoundSport is excellent. However, the headphones utilize passive noise cancellation by sealing off the ear cancel (similarly to how earplugs work).
Since there's no transparency mode (like with the AirPods Pro), that means it's hard to hear what's going on around you when you're listening to loud music. While that's great in the gym, it's less than ideal when you go running on a street with traffic around you.
As a result, the Bose may not be the best running headphones in the mix.
The Bose fitness headphones are super comfortable to wear, thanks to the lack of ear-hooks and a thin cable connecting the two earbuds. Bose's special ear-tips make the headphones stay in place securely most of the time, but I did have to reseat them occasionally while running.
The Bose earbuds are only sweat-resistant at a rating of IPX4. That means they're not dust-proof and you cannot submerge them in water. Still, they withstand most rain and snow.
Bose built the volume control buttons into the cable, which makes them easy to manipulate. Additionally, the SoundSport fully supports Siri by long-pressing the play button.
Bose promises up to six hours of listening time and up to six hours of talk time. Charging time is two hours, but a quick 15-minute charge gives you another hour of listening.
The Bose workout headphones come with a soft case, a USB charging cable and extra ear tips.
Bose SoundSport Free
The Bose SoundSport Free are relatively similar to the SoundSport, with one major difference: they don't have any wires. They also feature Bluetooth version 4.1, and they come with a case that can recharge the earbuds twice, thus extending their battery life to up to 10 additional hours.
The case is also magnetic, which reduces the chance of misplacing an earbud. If you do, you can use the "Find My Buds" feature of the Bose app to locate it.
The audio quality is excellent, as you would expect from Bose, and in line with their wired cousin. Unfortunately, the SoundSport Free shares another (unpopular) attribute with the SoundSport: they stick out quite far from your ears, and you may end up looking like Frankenstein.
What's nice about the SoundSport Free is that you can use one earbud only. That said, it has to be the right one — which becomes the "master" after pairing the earbuds with your phone or smartwatch.
Overall, the SoundSport Free offers premium sound, a decent water-resistance rating and a battery life that's in-line with other wire-free sports headphones.
Jabra Elite Active 65t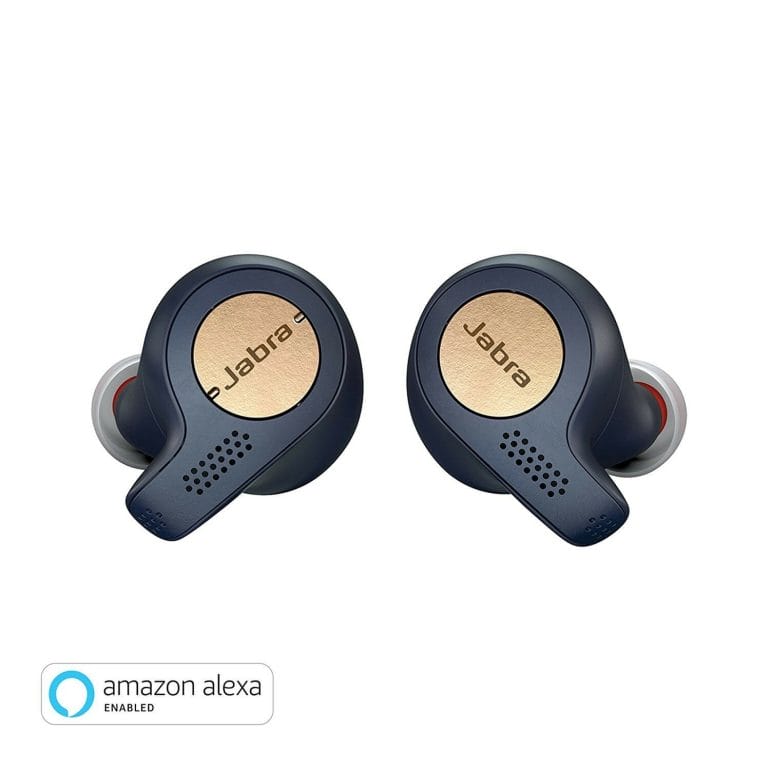 The Jabra Elite Active 65t were one of the first Bluetooth 5.0-enabled wireless sports headphones on the market. By using the latest Bluetooth technology, Jabra improved wireless stability and reduced the risk of call or music dropouts.
To help track workout performance, Jabra added an accelerometer or motion sensor, and with the Jabra Sound+ app you even customize the equalizer to match your music taste.
What I like about the Elite Active 65t earbuds is that Jabra allows you to block or let in ambient noise, depending on your needs. Additionally, Jabra added four microphones to these headphones to dramatically improve call quality (and to improve responsiveness when summoning Siri, Alexa or Google Assistant).
Also worth noting is the incredibly small form factor of these earbuds; they don't stick out nearly as much as the Bose SoundSport Free.
The only downside of the Elite Active 65t sports headphones is the relatively short battery life of five hours, although it is in-line with the other truly wireless headphones I have reviewed.
Jabra Elite Sport
The Jabra Elite Sport headphones are similar to the newer Elite Active 65t, but they lack support for Siri and other voice-activated assistants. Instead, these earbuds feature a built-in heart rate monitor, in-ear audio coaching, and 36 months of warranty against sweat damage.
One neat feature of the Elite Sport headphones is what Jabra calls "Hear Through," which allows you to control how much ambient noise the earbuds let into your ear canal. (It's the spiritual predecessor to the AirPods Pro's transparency mode.) If you're jogging on a busy street, you can turn on "hear through" to stay aware of what's going on around you.
If you don't own a smartwatch with a heart rate monitor, such as an Apple Watch, you'll appreciate that the Elite Sport earbuds have one built-in. Unfortunately, you lose 30 minutes of battery life for that feature. Should you run out of battery, you can recharge the earbuds two times using the charging case they come in.
Jabra Sport Coach
The Jabra Sport Coach is ideal for folks who want to take their workout game to the next level by keeping track of basic metrics, such as steps or repetitions, while enjoying personalized in-ear coaching and guidance.
Thanks to its passive noise cancellation feature, the Jabra Sport Coach blocks out most ambient noise while providing decent audio with noticeable bass.
Like most of Jabra's workout headphones, the Sport Coach earbuds don't support activating Siri or other digital assistants. But in return, you get 36 months of warranty against sweat damage.
The Jaba Sport Coach earbuds feature a standard microphone, so don't expect outstanding call quality when making phone calls. The battery life is OK, but at 5.5 hours it comes in as slightly above average — an achievement, considering that the built-in motion sensor and in-ear coaching are battery life eaters.
Jabra Sport Pace
Jabra's Sport Pace wireless headphones are similar to the Sport Coach earbuds with a few minor differences, including pace guidance instead of a step/rep counter, 30 minutes less battery life, and a hook-design to ensure a secure and comfortable fit.
While the battery life is only five hours, a 15-minute charge adds another hour of battery life. On the bright side, the Jabra Pace headphones are the least expensive wireless sports headphones from Jabra in this review.
Jabra Sport Pulse
Similar to Jabra's truly wireless Elite Sport headphones, the Sport Pulse earbuds have a built-in heart rate monitor and connect to the Jabra Sport Life app, which makes these headphones ideal for runners.
In addition to keeping track of your heart rate, the Jabra Sport Pulse can automatically track your VO2 Max, which measures your cardiovascular system and your body's ability to absorb oxygen. By knowing your VO2, the Jabra app can determine your fitness level and recovery times.
The battery life is in-line with all of the other Jabra workout earbuds in this review and maxes out at about 5 hours.
Jaybird RUN
With the RUN, Jaybird delivers truly wireless workout headphones that offer a secure fit and customizable sound via the Jaybird app. Where I think Jaybird has some room for improvement is in the below-average battery life and the single microphone.
The latter is good enough for the occasional phone call, but not in the same league, for example, as the four-microphone array built into the Jabra Elite Active 65t.
Despite the relatively low battery life, Jaybird offers a five-minute fast charge option, which adds another hour of battery.
Jaybird does not provide a water resistance rating, but I talked to their support engineers and they confirmed that the RUN, Freedom 2, and X3 headphones are sweat and water-resistant. Unless you submerge the headphones in water, Jaybird will cover them if you experience any water damage.
Hands-On Test
I had the opportunity to test the Jaybird RUN over the past few weeks and was impressed by the customizable sound using the excellent Jaybird mobile app. Honestly, I didn't think I would ever customize the sound of my headphones, but as it turned out, being able to make my headphones sound precisely the way I want has tremendous value.
Using the mobile app, you can either customize the sound profile by tweaking the lows, mids and highs, or you can select from a variety of presets.
During my tests, I could also confirm that Jaybird's wireless headphones offer a secure fit, even while performing high-intensity workouts such as CrossFit.
During my first workout, the right earbud actually fell out while I was jumping rope, but replacing the wing-tip with a larger one resolved the problem and the earbuds remained in my ears during subsequent workouts.
Overall, I have truly enjoyed using the Jaybird RUN. But with that said, I would offer the following feedback to Jaybird's product management team.
The button to open the charging case is too sensitive and easy to manipulate, which could lead to the earbuds falling out while carrying them in a backpack. This problem could be resolved by adding magnets to keep the earbuds attached to the case (even if the case does open accidentally).
I have also noticed that the earbuds automatically turn on when you open the case. That's great, but not if you only want to use one of them — for example, for making a call.
The problem is that if you leave the left earbud in the case, the right one starts beeping to remind you that the other earbud is turned on as well. To make the right earbud stop beeping, you have to take the left earbud out of its case and put it right back in, thus turning it off.
Instead of turning both earbuds on when I open the case, I would rather have only the earbud I take out turn on automatically.
Jaybird Freedom 2
Jaybird claims that the Freedom 2 are the smallest sports headphones on the market, and if true, it's a reasonable excuse for delivering only four hours of battery life.
Jaybird does include a tiny charging clip that practically doubles the headphone's battery life to a total of eight hours. One could argue that Jaybird should have added the extra weight of the charging clip directly to the headphones to provide eight hours out of the box, but I prefer Jaybird's approach.
For most workouts, you won't need more than four hours of battery life. In such cases, I appreciate how light and comfortable the Freedom 2 workout headphones are.
What I like most about these headphones is the integrated cable management Jaybird calls SpeedFit. It gets the cable out of the way while providing a secure and tight fit around the back of your head.
Jaybird X3
The Jaybird X3 may not be the smallest workout headphones on the market, but they are still incredibly light while delivering a solid eight hours of battery life. Unlike the Freedom 2, the X3 don't have an integrated cable management system, but Jaybird includes super-ergo fins and "Comply" tips for a solid fit.
What's cool about the Jaybird app is that it allows you to share one device with two headphones. So if you and your running partner have the same taste in music, you can stream the audio from your smartphone to both headphones at the same time.
In conclusion, if you don't use your wireless workout headphones for making phone calls or using Siri, the Jaybird X3 are a solid choice and provide excellent value.
Plantronics BackBeat Fit
The Plantronics headphones produced a balanced sound in my tests. They're not noise-canceling or noise-isolating. When designing the BackBeat Fit, Plantronics made sure that you can still hear what's going on around you. From a safety perspective, I consider that a good thing and it makes them one of the best running headphones in this review.
During my early tests, I noticed that the audio signal was cutting out on occasion. The problem was likely a combination of old firmware and my Generation 1 Apple Watch. But it could also be related to the relatively old Bluetooth 3.0 standard they use.
I consider the Plantronics BackBeat Fit solid wireless sports headphones that are comfortable to wear, even in combination with sunglasses. Thanks to the over-the-ear hook, they stay put, regardless of how you move your head.
Plantronics' workout earphones feature a water and dust-resistance rating of IP57. That means they're dust-proof and you can submerge them in water at a depth of 1 meter for up to 30 minutes. They won't withstand water jets, so don't take them with you into the shower.
What I didn't like about the BackBeat Fit was the playback control, because there's no substantial difference between the controls on either side of the headphones. So, I always had to guess what side the play/pause button and volume controls were on.
Maybe that's just a sign that I didn't use them often enough, but I wish I could more easily "feel" what button to push. Beyond the tactile issues, the BackBeat Fit offer full playback controls, including access to Siri.
Plantronics promises up to eight hours of listening time and up to six hours of talk time, and the headphones support up to eight devices that you can cycle through. So if you have a phone and a smartwatch, you can pair the headphones with both at the same time.
Plantronics ships its headphones in a soft case with a USB charging cable.
Plantronics BackBeat Fit 300
The BackBeat Fit 300 Series headphones are Plantronics' newest wireless sports earbuds and feature similar sound characteristics to the BackBeat Fit, while also offering an updated Bluetooth chip and passive noise-cancellation.
Instead of an earbud design, Plantronics chose ear-tips to seal your ear canal and thus provide effective passive noise-cancellation. The change in design also means that Plantronics had to reduce the driver size from 13mm to 6mm. Despite the reduced driver size, the headphones sound incredibly good and have sufficient bass to please most users.
I prefer the 300 Series headphones over the original BackBeat Fit, because the braided neckband is more flexible and thus more comfortable.
In my tests, I noticed that the braided band makes a huge difference compared to rubber-coated bands because it prevents the cable from getting tangled up. Plus, Plantronics moved the playback controls from the earbuds to the cable, which makes it easier to operate them (also thanks to the oversized pause/play button).
The water-resistance rating has also changed from the previous IP57 to IPX5. That means the BackBeat Fit 300 are no longer dust-proof and you can't immerse them in water. On the bright side, they can now withstand water jets, so you could theoretically take them into the shower.
The other thing I like about Plantronics' ultra-light headphones is their comfortable and secure fit, thanks to the flexible ear-wings.
Rowkin Surge Charge
The Surge Charge wireless workout headphones produce excellent sound with heavy bass, similar to what one may expect from Beats by Dr. Dre. I feel the bass is a bit overwhelming, but that's likely due to the type of music I listen to while working out.
The combination of ear-hooks and comfortable silicone ear tips ensure a secure fit while reducing ambient noise. Practically, when you play loud music, the Surge Charge's noise reduction is almost identical to the noise-canceling capabilities of other headphones.
Rowkin offers an IPX5 waterproof-rating for its headphones, which means that while you should not submerge them in water, rain or sweat won't damage them. The playback controls are relatively small but tactile enough to operate, even while running or jogging.
What's great about the Rowkin Surge Charge is the carrying case they come in, because it contains a rechargeable battery that can juice up the headphones while you're on the go. Even better, the quick charge feature gives you another hour of battery life in only 10 minutes.
I've used the Surge Charge headphones a couple of times while biking to my CrossFit box and they flawlessly streamed music from my Apple Watch Series 3. Like all headphones in the test, except for Apple's AirPods Pro, there's a slight delay or lag when using the playback controls on the Apple Watch (such as when changing the volume, for example).
Besides the portable charging case, Rowkin includes a USB charging cable and extra ear tips with its workout headphones.
Rowkin Surge
The Rowkin Surge wireless headphones are pretty much identical to the Surge Charge I tested, but instead of a charging case you get a dual USB charging cable. As a result, you get the same excellent earbuds at a lower price, without sacrificing audio quality.
For less than $100, the Rowkin Surge sports headphones deliver truly wireless headphones at an exceptional value.
Rowkin Pulse
The Rowkin Pulse offer outstanding audio quality at an incredible price while sharing the same water-resistance rating, support for Siri, and type of microphone as their more expensive siblings. The only downside of these headphones is the below-average battery life of only four hours and the short six-month warranty.
On the plus side, Rowkin designed a tangle-free cord for the Pulse headphones, so you don't have to worry about cable management as much as with other headphones.
xFyro ARIA
xFyro launched an Indiegogo campaign to develop the successor to the excellent xS2 wireless headphones — the xFyro ARIA.
xFyro xS2
If you're looking for entirely wireless sports headphones to take to the gym or on the trail, xFyro offers an excellent option with its xS2 earbuds. I had the opportunity to thoroughly test the xS2 during two recent business trips, and I was impressed by the rich and well-balanced sound they produced.
I also noticed how well the noise-cancellation worked, even in environments with a lot of background noise (such as aboard an airplane). As I mentioned above, noise-suppression is excellent in the gym but may pose a safety risk if you work out near areas that have a lot of traffic.
Similar to Apple's AirPods Pro, the xS2 never fell out during my tests — not even while jumping rope. But I had to push them back in a few times when I felt like they weren't seated properly anymore.
For testing, I paired the xFyro xS2 with both my iPhone X and Apple Watch Series 3, but while working out in various hotel gyms, I only used them together with the Apple Watch.
A few times, the Bluetooth connection cut out for a split second (which could have been caused by either the Apple Watch or the headphones). It didn't bother me, but I wanted to mention it. I also noticed a slight delay when using the playback controls on the Apple Watch, much like with all other third-party wireless sports headphones.
From a water-resistance perspective, xFyro rates the xS2 at IP67. That means the headphones are dust-tight and you can submerge them in water. However, they may not withstand water jets, so don't take them into the shower with you.
Additionally, xFyro also recommends not going swimming with them, because the force of the water may penetrate and damage the earbuds. That's contrary to xFyro's marketing language, which suggests you can take them for a swim or into the shower.
What's great about the xS2 is the portable charging tube the headphones come with. Not only can the battery in the tube charge the headphones in just two hours, but it extends the battery life of the headphones to 20 to 30 hours.
The only downside of the xFyro xS2 is that while they feature a full set of playback controls for listening to music or making phone calls, they don't support Siri.
Discontinued
Comparison Table Download
Given the size of the table and the available screen space, especially on mobile devices, I decided to create a more detailed PDF that you can download here.
Technical Information
Below is some technical information that will help you understand how I tested and conducted this review.
Wired vs. Wireless Sports Headphones
I bought my first pair of wireless sports headphones in 2016. Before that, I used regular (wired) headphones, and I often struggled with the cable that would constantly get in the way.
Getting rid of that cable significantly improved my workout experience and there is no way I would go back to wired headphones. If you're still on the fence about whether or not you should invest in wireless sports headphones, I hope this article helped you with the decision-making process.
A Note on Sound Quality
I don't have the expertise to rate sound quality objectively. As a result, the ratings I offer here are purely based on my perception and don't reflect an objective analysis. So keep that in mind as your mileage may vary.
Bluetooth (BT) Versions
As you can see in the comparison matrix above, the products I tested support Bluetooth versions ranging from 3.0 to 5.0. For wireless headphones connected to a single device, the difference in version does not make much of a practical difference. Newer versions of Bluetooth usually increase the transmission bandwidth, offer more reliable multi-point connections, are more secure, support longer ranges, and consume less power.
Bandwidth and Range
Bandwidth and range are usually not a problem while jogging, but if you have your phone in a bag while roaming around the gym, a longer range may be beneficial. For such cases, the 33 feet or 10 meters that Bluetooth 3.0 supports may not be enough.
Security
While I'm not too concerned about someone listening in on my Reggaetón playlist, I don't want anyone hijacking my BT connection when I'm making a phone call. So depending on your use case, you may want to take potential vulnerabilities of older BT versions into account.
Reliability
I have not experienced reliability issues with any of the headphones I tested — with one exception. That one exception was the Plantronics BackBeat Fit before they released a firmware update. With the older firmware, I had the music cut out a few times while I was running.
In conclusion, you should be fine with any of the Bluetooth standards supported by the manufacturers of the headphones I reviewed. But I would like to see Plantronics release updated hardware that supports at least BT 4.0.
What Does Water-Resistant Mean?
The International Electrotechnical Commission (IEC) has defined so-called Ingress Protection (IP) ratings, to help consumers better understand just how water-proof and dust-proof a device is, among other things.
The first digit represents the dust protection or ingress of solid foreign objects. For sports headphones, the levels five and six are usually relevant, and here is what they mean:
If you see an X in the place of the first digit, instead of a number between 1 and 6, it means that the manufacturer does not provide a dust-protection rating. Among the headphones I tested, only a few offer a dust protection rating of 5 or 6.
The second digit indicates the level of protection that the enclosure provides against harmful ingress of water. The ratings for water ingress are not cumulative beyond IPX6. A device which is compliant with IPX7, covering immersion in water, need not be compliant with IPX5 or IPX6, covering exposure to water jets. A device which meets both tests is indicated by listing both tests separated by a slash, e.g. IPX5/IPX7.
The above statement is important to understand because it means that you can take IPX5-rated headphones into the shower, but doing the same with IP57-rated headphones could damage them.
For wireless sports headphones, the levels 4, 5, 6, and 7 usually apply.
Drivers and Audio Quality
The tiny speakers in headphones are called drivers, and manufacturers offer them in various sizes (diameters), depending on the type and style of the earbuds. While a larger driver often produces a more powerful output and bass, it doesn't mean the quality of the sound is better or that they are louder.
Often, the type of the headphones determines the driver size. For example, in-ear headphones typically use a smaller driver because of the limited available space.
In case you're wondering, the quality of the components and the digital signal processing is what determines audio quality — not the driver size. You can learn more about headphone driver units here.
Active vs. Passive Noise-Canceling Headphones
Some readers have asked me what the difference is between active and passive noise cancellation.
Passive noise cancellation works by sealing the ear canal to reduce the amount of sound that can enter. It's like when you cover your ears with your hands. By doing so, you're reducing ambient noise. It doesn't cancel noise — it just reduces the amount that can enter your ears. In-ear headphones achieve passive noise-cancellation by creating a tight seal between the ear-tips and your ear canal.
Active noise cancellation uses technology to produce sound frequencies that cancel out the frequencies of ambient noise. True active noise cancellation requires additional electronics and, so far, only the Apple AirPods Pro have it.
Qualcomm cVc 6.0 noise cancellation technology is also a form of active noise cancellation, but it's geared towards improving phone calls and the functionality of microphones. This technology won't add active noise-cancellation while listening to music, for example.
Review of the Best Workout Headphones
As is so often the case, your requirements and budget will determine what the best workout headphones are. All of the ones I have reviewed in this article offer unique features that may be appealing to you.
My favorite workout headphones are the Apple AirPods Pro. That said, since I started doing CrossFit, I have not worn headphones for working out. That's because CrossFit workouts are coach-led group sessions and I need to be able to listen to the instructor.
I hope the list above helps you to find the best workout headphones for your needs. If you have any questions about the headphones I tested, please don't hesitate to reach out via email.