Both my wife and I grew up sharing a room with our siblings. Sharing with siblings isn't always fun, but it provides valuable lessons for life. We want our kids to understand early in life what it means to share. And once Lucas turned six months and started sleeping 12 hours at night, we moved his crib into Isabella's room. Are you considering letting your toddler and baby share a room? In this article, I will share bedtime tips that have worked for us.
A toddler and an infant
Isabella, our 3-year-old toddler, has had her room since she was born. We usually start her bedtime routine at 6 pm and by 6:45 pm she is in bed, looking at books and pretend-reading stories to her teddy bear. She usually falls asleep within an hour or less and turns off the light herself, or we do it for her.
Lucas, our almost 7-months-old preemie, goes to bed and falls asleep before her. That wasn't a problem while they each had their room. But when we put them both in the same room, we didn't want Isabella to wake up her little brother.
They woke each other up
For the first couple of days, we put them both to bed at the same time and let Isabella "read" her books. That didn't work as both kept each other up, or they woke each other up if one happened to fall asleep first. We were about to give up but then my in-laws came to visit us, and we needed the guest room.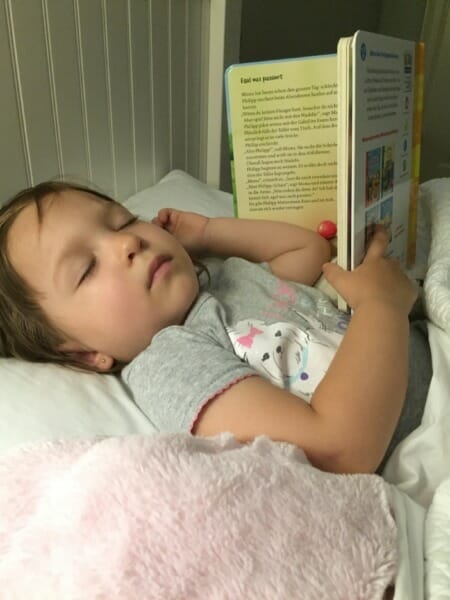 A new bedtime strategy
So we started another attempt but with a different strategy. We put Lucas down first and waited until he was sound asleep. Meanwhile, we would start Isabella's bedtime routine in the guest room: putting on her pajamas, brushing her teeth, reading a book or two. Afterward, we would let her "read" by herself in the guest room, just like she did before in her room. Twenty minutes later we could come in and tell her that it was time for bed. We made sure she understood that she had to sleep now and couldn't turn on any lights or get out of bed.
She did come out of her room once, but fortunately without waking up Lucas. Otherwise, this strategy worked flawlessly. In the morning, Lucas would wake up before Isabella and nurse, but she didn't seem to be bothered by that. If she woke up, my wife Kathy would tell her that it was not the time to get up yet and she would continue sleeping.
Our kids are in separate rooms again
Even though our strategy worked and we still use it when we have guests over, we decided to let them sleep in separate rooms. Lucas, our youngest is now a bit over a year old and doesn't fully grasp the concept of sharing yet. So to simplify our bedtime routine, we moved Lucas' crib to the guest room. Once we move him to a toddler bed, we will likely let them sleep together for the reasons I mentioned at the beginning. By then, both kids will go to bed at roughly the same time, which will simplify the evening routine.
A few weeks ago, we had a guest over who occupied the guest room, and for a night, both kids shared a room. We used the above strategy of putting Lucas to bed first, and it worked without any issues.
Conclusion
As so often with young children, having a consistent bedtime routine helped, even if we had to modify it a bit. By letting our infant fall asleep first before putting the toddler to bed, we managed for both kids to sleep in the same room. I am looking forward to them sharing a room and learn valuable lessons in the process.

I'm a healthy living and technology enthusiast.
On this blog, I share in-depth product reviews, actionable information and solutions to complex problems in plain and easy-to-understand language.
Medical Disclaimer
The information shared on this blog is for educational purposes only, is not a substitute for the advice of medical doctors or registered dieticians (which we are not) and should not be used to prevent, diagnose, or treat any condition. Consult with a physician before starting a fitness regimen, adding supplements to your diet, or making other changes that may affect your medications, treatment plan or overall health. MichaelKummer.com and its owner MK Media Group, LLC are not liable for how you use and implement the information shared here, which is based on the opinions of the authors formed after engaging in personal use and research. We recommend products, services, or programs and are sometimes compensated for doing so as affiliates. Please read our
Terms and Conditions
for further information, including our
privacy policy
.