Paleo On The Go (POTG) is a healthy meal delivery service that specializes in paleo and ketogenic entrees that are also compatible with the paleo Autoimmune Protocol (AIP).
Paleo On The Go delivers traditional comfort food with a healthy twist. As a result, you get delicious, wholesome, and paleo AIP-friendly dishes that can help you lose weight — without ingredients that have the potential to irritate your gut.
As part of my review, I had the chance to try five of the approximately 80 paleo autoimmune meals offered by the company.
In March of 2019, POTG announced their partnership with Whole30. As a result, their meals are now officially Whole30 approved.
To learn more about paleo, Whole30 and the paleo autoimmune approach to healthy eating, scroll down to the FAQ.
Paleo On The Go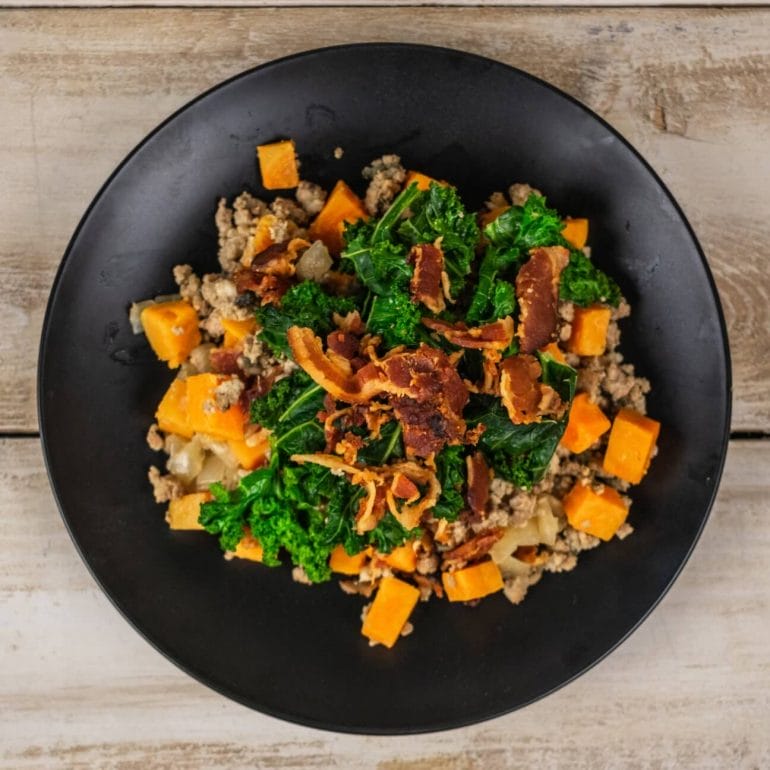 Pros
Paleo-certified, keto, and AIP-friendly meals
All keto meals are also paleo and AIP friendly
Specializes in paleo comfort foods
High-quality ingredients (pastured meats and organic produce)
Certified paleo and gluten free
Cons
$99 minimum order requirement
Relatively high shipping fees
About Paleo On The Go
Launched in 2012, Paleo On The Go is a healthy meal delivery service based in Largo, Florida. POTG tries to differentiate itself from other paleo food delivery services by sourcing organic ingredients from local farms that the company regularly visits.
The founder of Paleo On The Go has been on the Paleolithic diet for over 10 years, and its executive chef has previously worked at numerous restaurants across the country.
As you can see in my roundup of paleo meal delivery services, I have reviewed many of the top paleo friendly prepared meal providers in the country. But POTG piqued my interest because all of their paleo meals are also Auto Immune Protocol (AIP) compatible.
If you think that makes their food any less tasty, think again. All of the dishes I tried were delicious (and in particular, the desserts and treats).
How Paleo On The Go Works

Unlike other subscription-based meal delivery services, Paleo On The Go offers individual meals you can order a la carte. Additionally, POTG has a subscription service for its meal bundles, so you get the best of both worlds.
POTG has an extensive menu of approximately 80 paleo, AIP and ketogenic diet compatible meals, as well as cost-saving meal bundles. By browsing through their menu, you'll quickly realize that all of their keto meals are also paleo and AIP-friendly. That's rare, because many keto meals rely on dairy or similar ingredients to boost their fat content.
And as you probably know if you're reading this article, dairy is not paleo friendly (for some very good reasons).

In a nutshell, all of the company's paleo meals are:
Certified paleo food
AIP-friendly
Whole30 approved
Dairy free
Gluten free
Grain free
Soy free
Non-GMO
Packaged, stored and shipped frozen
Paleo Comfort Foods – Delivered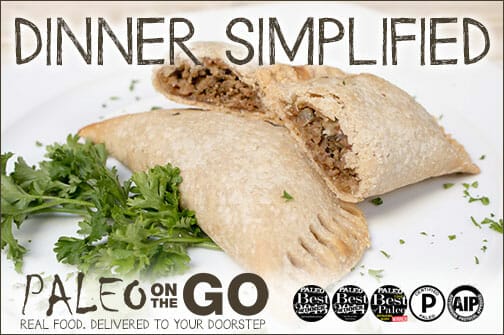 Every time I try a new food delivery service, I pick meals that are unique and different from what I've had in the past. In the case of Paleo On The Go, I decided to sample their desserts, as well as dishes that mimic traditional comfort food, including:
Beef Breakfast Empanada
Mojo Chicken Empanada
Carob Delight Slim Mint Cookies
Apple Cinnamon Paleo Tarts
Sweet & Sour Chicken Wings
I truly enjoyed every single meal, and so did Kathy (my wife) and our kids. The only thing Kathy didn't like was the Slim Mint Cookies (she's not a fan of mint).
Beef Breakfast Empanada
Instead of traditional flour, POTG uses cassava* and tapioca flour* to make their empanadas. Besides those paleo-friendly starches, these empanadas contain palm shortening, grass-fed beef, green cabbage, white sweet potatoes, onions, oregano, olive oil, garlic, and sea salt. As for natural sweeteners, POTG uses coconut sugar and honey.
| Nutrients | Amount |
| --- | --- |
| Calories | 300 |
| Fat | 19g |
| Saturated Fat | 8g |
| Cholesterol | 15mg |
| Sodium | 370mg |
| Carbohydrates | 33g |
| Dietary Fiber | 2g |
| Sugars | 3g |
| Protein | 5g |
| Micronutrients (DV) | Vitamin A (15%), vitamin C (10%), calcium (2%), iron (4%) |
Reheating instructions: To reheat the empanadas, POTG recommends using a toaster oven. We only have a conventional oven, and I didn't want to turn it on just because of one empanada and three tarts. So I threw them in a pan on medium heat and "fried" them until both sides were golden brown.
I have always liked empanadas, but had never tried a paleo version before writing this review. However, I have come to appreciate the taste and texture of cassava and tapioca flour from making paleo-friendly pizza. As a result, I knew what to expect.
But even if you're unfamiliar with the taste of these flours, I'm convinced you'll be positively surprised by how delicious and full of flavour the empanadas are. Just make sure to let the inside cool down after removing them from the oven and before taking a bite. Otherwise, you might burn your tongue!
Mojo Chicken Empanada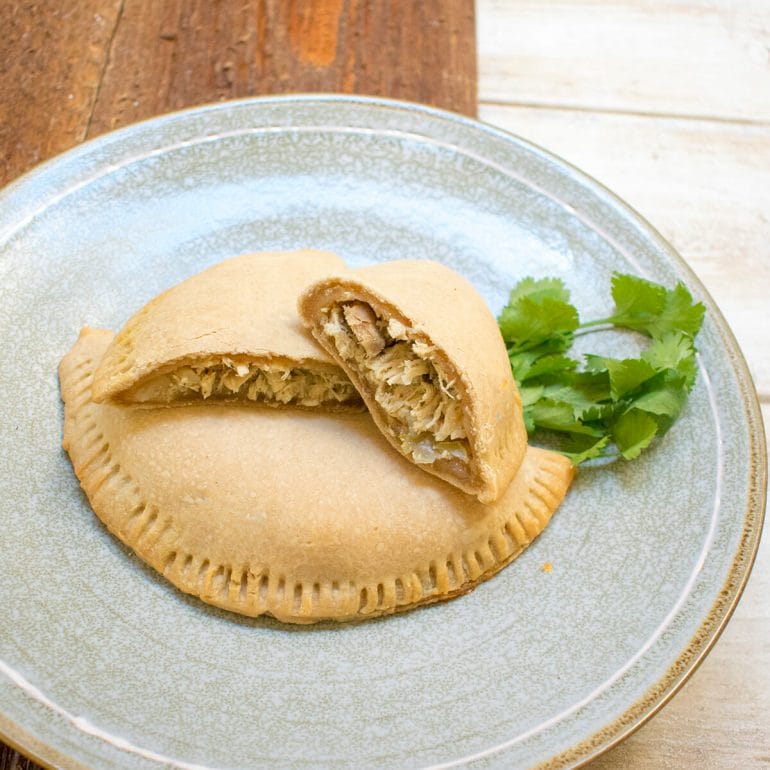 The Chicken Empanada is one of the most popular dishes offered by Paleo On The Go, and I can understand why. It's delicious. And at 420 calories, it's also relatively filling.
| Nutrients | Amount |
| --- | --- |
| Calories | 420 |
| Fat | 27g |
| Saturated Fat | 10g |
| Cholesterol | 40mg |
| Sodium | 450mg |
| Carbohydrates | 33g |
| Dietary Fiber | 3g |
| Sugars | 3g |
| Protein | 11g |
| Micronutrients (DV) | Vitamin A (4%), vitamin C (15%), calcium (4%), iron (6%) |
This empanada shares most of the ingredients with its grass-fed beef cousin, but instead of ground beef, the Mojo Chicken Empanada has, you guessed it, organic free-range chicken. Additional ingredients include lime juice, cilantro, and arrowroot powder.
Carob Delight Slim Mint Cookies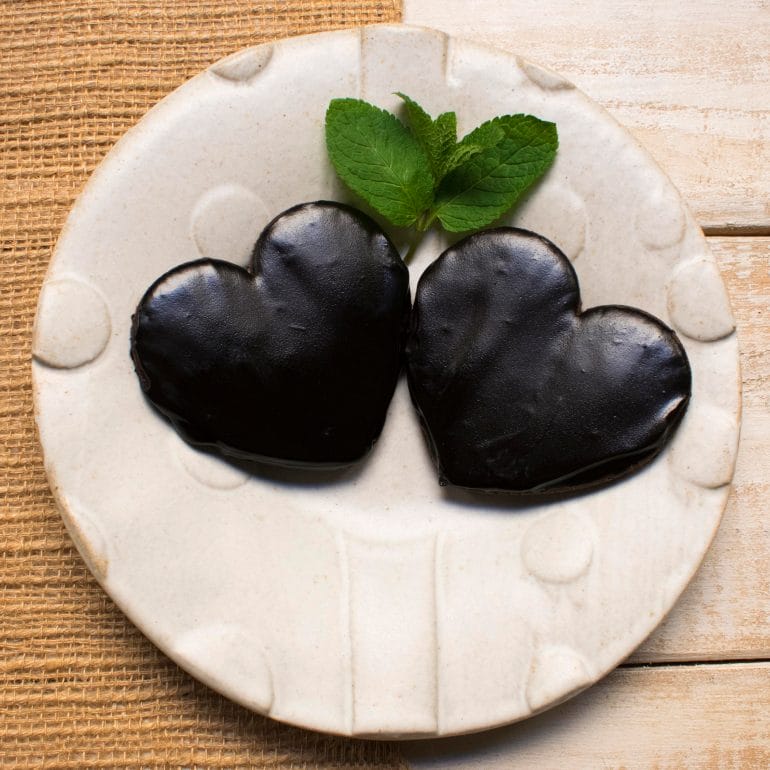 Much like my wife, I don't like mint (unless it's in a Mojito). But to my surprise, the mint cookies POTG sent me were one of my favorite treats. Somehow, Paleo On The Go's executive chef managed to add just the right amount of mint so as to not overpower the flavour of the other ingredients.
| Nutrients | Amount |
| --- | --- |
| Calories | 260 |
| Fat | 12g |
| Saturated Fat | 7g |
| Cholesterol | 0mg |
| Sodium | 65mg |
| Carbohydrates | 40g |
| Dietary Fiber | 1g |
| Sugars | 27g |
| Protein | <1g |
| Micronutrients (DV) | Calcium (6%), iron (6%) |
When I took my first bite, I thought I was eating a chocolate cookie. But after reading the label, I realized that POTG uses carob powder instead of cocoa. I also learned that chocolate isn't allowed on the AIP diet, which is why POTG substituted for it with carob.
The latter resembles cocoa powder, and it's made from the dried, roasted and ground pulp of the ceratonia siliqua (also known as the carob tree).
Besides carob powder, the mint cookies also contain cassava flour, baking soda, palm shortening, pure maple syrup, vanilla, coconut oil, organic peppermint extract, and sea salt.
Please be aware that these cookies are high in sugar because of the maple syrup. So go easy on them and take them for what they are: a treat. Full transparency: I did not follow my advice.
Apple Cinnamon Paleo Tarts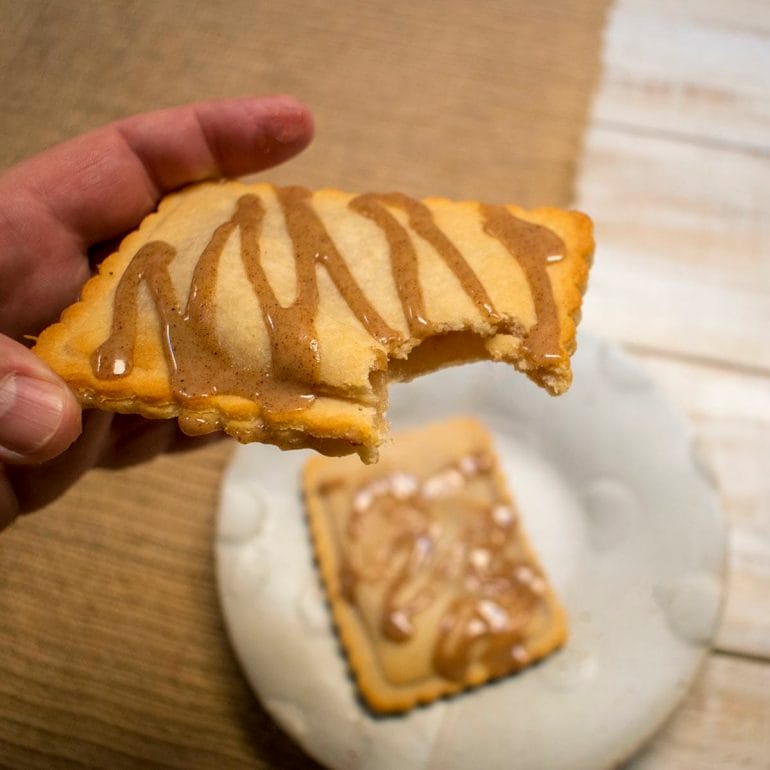 Much like the Carob Mint Cookies, the Apple Cinnamon Tarts were a family favorite (especially among the kids, thanks to the honey and maple syrup).
| Nutrients | Amount |
| --- | --- |
| Calories | 440 |
| Fat | 28g |
| Saturated Fat | 16g |
| Cholesterol | 15mg |
| Sodium | 15mg |
| Carbohydrates | 47g |
| Dietary Fiber | 6g |
| Sugars | 16g |
| Protein | 2g |
| Micronutrients (DV) | Vitamin C (2%) calcium (4%), iron (6%) |
Consequently, the same warning applies: don't overindulge, and consider the tarts a treat or dessert.
Other ingredients include cassava flour, pastured pork lard that POTG renders in-house, organic Granny Smith apples, cinnamon, organic coconut butter, organic coconut cream, and vanilla.
Much like the empanadas, I reheated the tarts in a pan. It wasn't ideal, but it worked. For best results, use a toaster oven or a traditional toaster.
Sweet & Sour Chicken Wings
Who doesn't like wings? Seriously, those wings were delicious, in part because of the liberal amount of coconut sugar the sauce contains. However, it's worth noting that the sugar content on the label refers to the amount in the sauce that the wings are tossed in. Not all of that stays on the actual wings, so you'll likely eat less sugar than what the label says.
| Nutrients | Amount |
| --- | --- |
| Calories | 650 |
| Fat | 34g |
| Saturated Fat | 10g |
| Cholesterol | 285mg |
| Sodium | 530mg |
| Carbohydrates | 40g |
| Dietary Fiber | 0g |
| Sugars | 37g |
| Protein | 46g |
| Micronutrients (DV) | Vitamin C (15%) calcium (6%), iron (10%) |
Besides the carbs, those wings also have a ton of protein and fat, which gives them a relatively balanced nutritional profile. Much like most other POTG meals, the company recommends reheating them in an oven and, for a change, that's what we did.
Besides the chicken and coconut sugar, the wings contain garlic, pineapple purée, ground ginger, organic apple cider vinegar, coconut aminos (a healthy alternative to soy sauce), and sea salt.
How Much is Paleo On The Go?
Single-serving meals cost anywhere between $4.50 and $25 (with a few exceptions), but POTG also offers meal kits and packs that serve more people.
To give you a few examples, below is what the dishes I got cost:
Beef Breakfast Empanada – $9.75 (1 ct.)
Mojo Chicken Empanada – $9.75 (1 ct.)
Carob Delight Slim Mint Cookies – $22.00 (6 ct.)
Apple Cinnamon Paleo Tarts – $20.00 (4 ct.)
Sweet & Sour Chicken Wings – $16.00 (12oz)
If you like the taste of POTG's meals, I would recommend buying them in bulk or getting one of the meal bundles. For example, the Comfort Meal Bundle costs $99.00, which is lower than the $116.25 the individual meals would cost if purchased separately.
To get $15 off your order, make sure to use my Paleo On The Go discount code MK!
Fresh vs. Frozen Meals
Paleo On The Go packages, stores and ships its meals frozen. While I used to think frozen meals were inferior to fresh meals, I recently changed my opinion on that.
The considerable advantage of frozen meals is that you can store them for months and only thaw what you plan to eat. That usually results in less food waste and a reduced chance of overeating.
Rewards Program
What's neat about ordering from Paleo On The Go is that you can collect reward points with every purchase. Practically, you receive two points for every dollar you spend, and you can use the collected points on future orders.
The conversion rate of points to dollars is approximately 1:68. In other words, 68 points are worth one dollar.
Shipping Information
Paleo On The Go ships its frozen meals nationwide using FedEx. The shipping cutoff time is 4 p.m. EST for regular and overnight shipments. If you live in Florida, you also have the option of picking up your meals at their Largo facility.
POTG has a $99 minimum order requirement if you want your meals shipped. The shipping rates vary by weight and location. For example, to have six orders of Cuban Piccadilly sent to my home in Alpharetta, GA, the shipping fees are as follows:
Standard (three days or less): $15
Overnight: $48
For an order like the one in the example above, standard shipping costs constitute approximately 10-15% of the order value, which is on the higher end of what I have seen.
Frequently Asked Questions
What Is the Paleolithic diet?
Some of the readers who stumble onto this page are unfamiliar with the paleo approach, and came here simply looking for a delivery service that offers high-quality prepared meals made from organic ingredients. If that sounds like you, then I highly recommend you check out my Paleo Beginners Guide.

In a nutshell, the Paleolithic diet is a framework for healthy eating that's based on mimicking the diets of our ancestors. That means avoiding foods that Paleolithic humans didn't have access to, including things like vegetable oils, conventionally-grown produce, boxed chicken or beef stock, refined sugars, grains and legumes, dairy, artificial colors and preservatives, and more.

It also means discarding modern concepts about "healthy" eating that contradict the evolutionary framework, such as the flawed idea that animal fat causes heart disease. People who follow a Paleolithic diet consume primarily high-quality meat, healthy fats, and seasonal fruits and vegetables, with few or zero processed (modern) foods.

When something is "Paleo Certified," it means that the product in question is guaranteed to be paleo compatible, and will not contain any food that might fall into a "grey area" like potatoes or oats. (You can read more about why those two items are debated in my Ultimate Paleo Guide.)
Which is better: paleo or keto?
Neither paleo or keto is "better" than the other. They're two healthy dietary approaches with different goals. And it's important to note that you can follow them both at the same time. In fact, that's what I do! Since early 2019, I've been on what I call a ketogenic paleo diet (paired with intermittent fasting), which you can read more about here.

Whereas the goal of a paleo approach is to be as healthy as possible by following the diet that served our species so well for 2.6 million years, the goal of a ketogenic diet is a bit more focused.

Keto is a high-fat, low-carb diet that aims to shift your body's primary fuel source from sugar (carbs) to fat. Aside from weight loss, reaching this state (which is called nutritional ketosis), comes with a host of positive health implications. If you're interested in learning more about keto (and how to do it right), you can check out my guide on the subject.

If you're interested in seeing what following a ketogenic paleo diet looks like in practice, I recently kept a journal (with pictures) of everything I ate over a 50-day period.

While these two diets are very different in both design and focus, they share a common foundation: they're about making healthy dietary habits a sustainable, life-long choice so that you can live better for longer. They're both rooted in eating high-quality, nutrient-dense foods that provide your body with everything it needs to thrive.
What is Whole30?
Think of the Whole30 like pushing the reset button for your health, habits and relationship with food. For 30 days, you'll eat nothing but nutrient-dense whole foods. You'll eliminate foods that nutritional science and clinical experience have shown to promote unhealthy cravings and habits, disrupt your metabolism, damage your digestive tract, and burden your immune system.

After 30 days, you'll carefully and systematically reintroduce those foods, paying attention to how they affect you in a variety of ways like mood, energy, digestion, body composition and more. With that knowledge, you can create the perfect diet for you: a nutrition plan that is balanced, sustainable and keeps you looking, feeling and living your best.
Which meal kit delivery service is best?
As you can tell from reading this review, I think highly of Paleo On The Go. That said, there are many meal delivery services, and which one is "best" will depend on your dietary needs and budget. But to help you figure that out, I've reviewed many of the most popular options. If you're interested in seeing how POTG stacks up against the competition, check out this post.
What Is the paleo Autoimmune Protocol?
The primary goal of the AIP diet is to reduce inflammation and to help your body heal its immune system and gut mucosa.

You could argue that the dietary aspect of AIP is a version of the paleo diet, but with additional restrictions that remove otherwise healthy foods that have the potential to irritate your stomach.

Examples include nuts, eggs, and certain vegetables (such as nightshades like peppers and tomatoes). As with a standard paleo meal plan, it also excludes grains and legumes, which are prime contributors to gastrointestinal problems.
Why should you care about AIP?
Inflammation and inflammatory pathways are among the primary causes of chronic diseases. Additionally, your diet can directly influence and reduce inflammation and thus reduce the risk of developing such ailments.

For example, some foods can irritate your gut and cause or exacerbate dysbiosis, an imbalance of your gut bacteria. AIP eliminates known irritants, and thus it enables your body to heal itself.

Most of my readers know that my family and I have been following the paleo lifestyle for a couple of years. So, I can confidently say that we eat healthily. Nevertheless, either of us gets bloated after eating certain otherwise-healthy foods.

The problem is that it's incredibly difficult to identify the culprits. That's where AIP can help: it eliminates all potential irritants before you slowly reintroduce them one by one.

I have noticed that certain foods, such as tomatoes, garlic and onions, make me gassy. So, I try to avoid those ingredients. Coincidentally, neither garlic nor onions are forbidden in the AIP diet because they usually only cause issues in patients who suffer from small intestine bacterial overgrowth (SIBO).

But I have noticed that when eating an AIP-friendly meal, I don't experience any gastrointestinal issues, such as bloating. That made sampling the dishes POTG sent over even more enjoyable.
How do you eat paleo on the road?
Eating paleo on the road isn't as difficult as you might think, because you can almost always find a restaurant that will serve you paleo-compatible foods. For example, if I'm on the road and want breakfast, it's not hard to find some eggs and an avocado. For dinner, you should be able to find a decent piece of meat and a side of vegetables.

One of the great things about paleo is that it's simple: once you know what to look for (and how to ask for it), you'll be able to stick to your diet relatively easily.

With that said, it does take a little bit of planning. I don't eat fast food or conventional (highly-processed) snacks, so if I'm going to be in transit for a long period of time, I always make sure I have something healthy in my bag. (Wild Zora meat snacks are a go-to.) I also often bring meal replacement drinks like Ample — especially if I think might not be able to locate a meal that I'd feel good about consuming.

If you're interested in learning more about the specifics of how I manage such a relatively strict diet while traveling, you can read more about my methods here.
What snacks are paleo?
Wild Zora meat snacks are a delicious, healthy, and easy-to-carry option that I turn to on a regular basis, and you can read more about them in my review. But there are many other good paleo snack options. I've listed some of my favorites on this page, and each has a discount code in case you want to give them a try.
How do you use a Paleo On The Go coupon code?
To get $15 off your order, just enter my Paleo On The Go discount code (MK) during the final stage of checkout. When you get to the page where you enter your payment details, you'll see a box that allows you to enter a coupon code. Just type MK and the discount will be applied to your total.
Is Paleo On The Go Worth the Money?
Preparing healthy and wholesome meals takes time. By using a meal delivery service such as Paleo On The Go, you pay for the time you don't have to spend finding good recipes, going to the grocery store, and cooking. Many of us have a busy schedule as it is, and time is money. We'd rather spend the little "free" time we have somewhere other than in the kitchen cooking meals.
I'm fortunate to have a wife who loves to cook and who fully embraces our active and healthy lifestyle (including the paleo diet). But I can certainly see us ordering some of those yummy treats we tried from time-to-time… especially the empanadas, apple cinnamon tarts and mint cookies.
For those of you who don't have a full-time paleo chef at home, I recommend giving Paleo On The Go a chance. If you do decide to check out their other delicious entrees (most of which I didn't try), let me and know what you thought in the comment section below!

I'm a healthy living and technology enthusiast.
On this blog, I share in-depth product reviews, actionable information and solutions to complex problems in plain and easy-to-understand language.
Medical Disclaimer
The information shared on this blog is for educational purposes only, is not a substitute for the advice of medical doctors or registered dieticians (which we are not) and should not be used to prevent, diagnose, or treat any condition. Consult with a physician before starting a fitness regimen, adding supplements to your diet, or making other changes that may affect your medications, treatment plan or overall health. MichaelKummer.com and its owner MK Media Group, LLC are not liable for how you use and implement the information shared here, which is based on the opinions of the authors formed after engaging in personal use and research. We recommend products, services, or programs and are sometimes compensated for doing so as affiliates. Please read our
Terms and Conditions
for further information, including our
privacy policy
.