When my wife Kathy was pregnant with our second baby, her OBGYN detected that she had low PAPP-A levels. In this article, I'll explain what PAPP-A is and why low levels often result in additional tests and monitoring.
None of that should freak you out! Scientific studies have yet to establish a clear connection between low PAPP-A and an increased risk of problems during pregnancy.
Pregnancy-Associated Plasma Protein-A (PAPP-A)
Early in the pregnancy, we learned about a new blood test called Harmony that could more reliably detect trisomies 21 (Down syndrome), 18 and 13 starting at just week 10. The test would also tell us our baby's gender long before ultrasound-based gender determination is possible.
So we decided to do the test, and fortunately, it came back negative for all the tested chromosomal abnormalities.
Of course, we also did the regular first-trimester blood screening that checks serum biochemical markers such as Pregnancy-Associated Plasma Protein-A (PAPP-A), human Chorionic Gonadotropin (hCG), Placental Growth Factor (PlGF) and Placental Protein 13 (PP13). Our OBGYN also checked for fetal nuchal translucency using a traditional ultrasound method.
Scientists and doctors measure PAPP-A as Multiples of Median (MOM), and some studies suggest that levels =< 0.5 could lead to any of the following conditions:
Pre-eclampsia.
Small for gestational age (SGA) or intrauterine growth restriction.
Pre-term delivery.
Kathy had PAPP-A levels of 0.5 MOM, but our doctor told us not to worry. She didn't elaborate on what PAPP-A exactly was, what medical consequences low levels could have, or what we could do if in fact there was an issue.
And we didn't ask. Frankly, we focused more on the fact that we'd be having a boy than on something our doctor told us not to worry about. But once the excitement had settled, both Kathy and I did some research, and we grew concerned as we read about all the potential consequences of low PAPP-A levels.
We had just enough information to be worried, but not enough to fully understand the situation. Still, instead of wishing that we had never looked up PAPP-A in the first place, I was determined to learn enough to either put our minds at ease or at least come up with a strategy for what to do next.
The following day I spent a couple of hours researching the topic. Similar to my approach to nutrition, I tried to steer clear of anything that smelled like an opinion, and instead I looked for scientific studies.
Scientific Evidence
I found a couple of studies from the early 2000s supporting the theory that low PAPP-A levels could lead to adverse pregnancy outcomes. Then I found a study that suggests there's only limited clinical relevance between low PAPP-A and fβ-hCG levels and adverse pregnancy outcomes.
Last but not least, I came across a meta study (a study of existing studies with the goal of detecting a trend) from August 2015 that states there is no connection between low PAPP-A levels and an increased risk of pre-eclampsia, small for gestational age (SGA) or preterm delivery.
The conclusion of that meta study is:
First-trimester screening analytes have low predictive accuracy for pre-eclampsia, small for gestational age and preterm delivery. However, the predicted value of first trimester analytes is not worse than that of the second-trimester markers.
It's important to understand, however, that the study excluded patients with chromosome aberrations or fetal anomalies. In other words, low PAPP-A levels could still be an indication of chromosomal aberrations, unless otherwise ruled out.
Because of the Harmony test and nuchal translucency (NT) screenings we had done, we knew (with 97% certainty) that our baby boy didn't have any chromosome aberrations, and hence that the study's conclusion would apply in our case.
Low PAPP-A During Pregnancy
Despite the lack of evidence that low PAPP-A levels increase the risk of adverse pregnancy outcomes, some pregnancies go differently than planned.
My wife delivered our baby boy prematurely at 30 weeks and six days. He spent 57 days in the NICU of Northside Hospital. Today, he's healthy and has developed just like a full-term baby.
After his delivery, a pathologist inspected my wife's placenta to see if there was anything wrong with it. Unfortunately, all tests were inconclusive, so we still don't know what caused Lucas' premature birth. PAPP-A was likely not the cause, but it may have been an indication of another problem.
Low PAPP-A: What You Can Do
While there is currently no treatment for low PAPP-A, there is a lot you can do to increase your chances of delivering a healthy full-term baby, including adopting a healthy lifestyle.
Note that the term "healthy lifestyle" means different things to different people. That's why I wrote a detailed guide about what it means from evolutionary and scientific perspective. You can learn more about the core pillars of healthy living and how Kathy and I leverage them in this post: How to Live a Healthy Lifestyle.
If you don't have time to read the entire article, here are the most important steps you can take today.
Relax and Don't Stress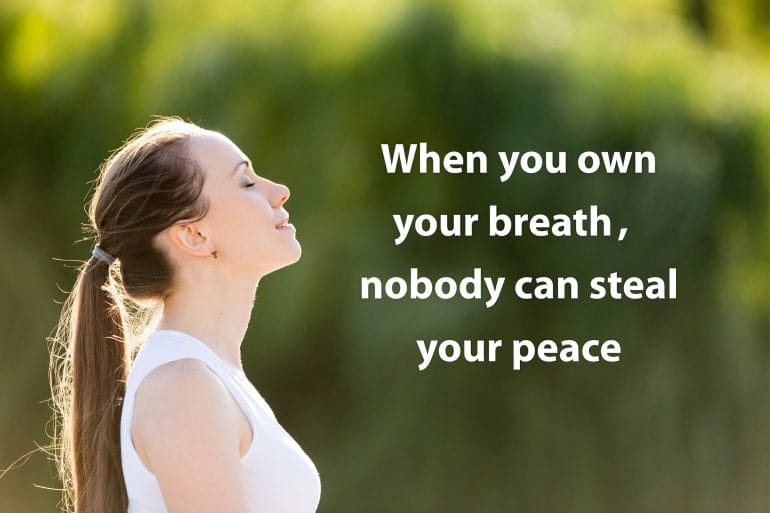 It might sound obvious, but stress has a negative impact on your health, and by extension, your baby's health. So try to stay calm and do what you can to manage stress, including exercise, meditation and/or yoga. You can even try some of the gadgets for stress relief we use on a regular basis.
Eat Healthily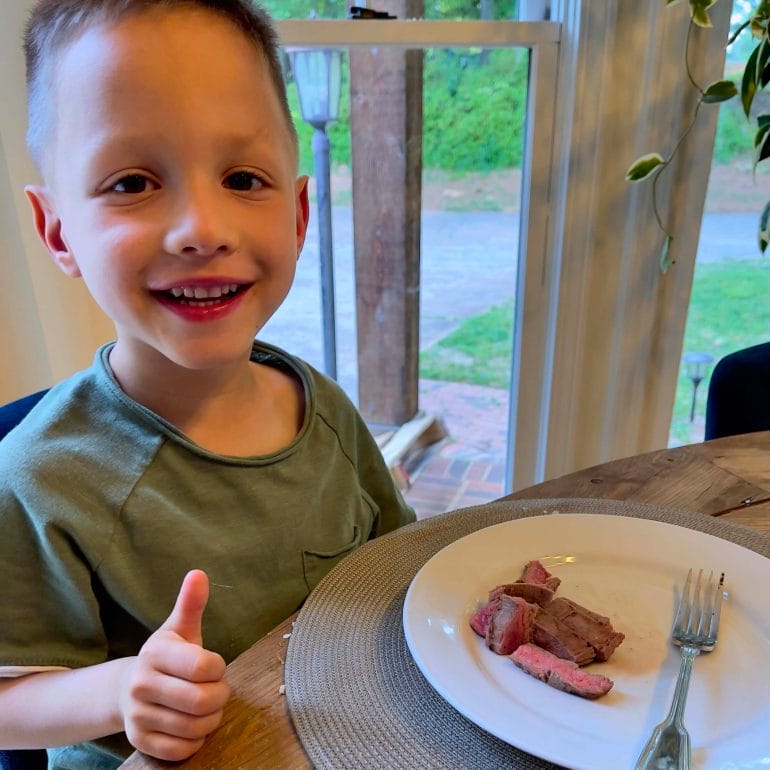 More than genetic predisposition, the food you eat directly impacts the expression of your genes and the risk of inflammation in your body.
The latter has been linked to all metabolic diseases we know of, including those you're more likely to develop during pregnancy. If you're unsure where to start when it comes to improving your diet, check out my plants vs. meat article.
Get All Your Micronutrients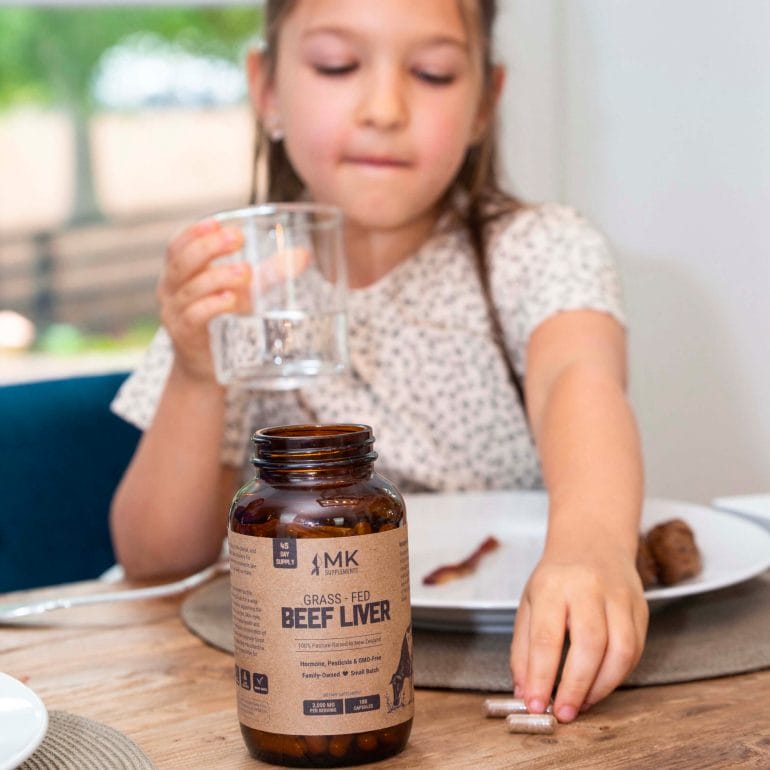 Your doctor has probably prescribed you a prenatal vitamin. Make sure you take it, but don't forget that most of the vitamins and minerals your body needs should come from the food you eat.
Organ meat (and liver in particular) is arguably the best source of micronutrients for the human body because it's what our ancestors and early humans evolved to thrive on. So if you don't like the taste of organs or don't have easy access to them, I highly recommend freeze-dried organ meats. That's one of the reasons why I decided to create my own desiccated beef liver supplement that's made from 100% pasture-raised, grass-fed and grass-finished New Zealand cattle.
Beef liver is nature's ultimate multivitamin because it has over 25 minerals, vitamins and co-factors, including heme-iron, vitamin B12 and vitamin B9 (folate). The latter is the natural form of vitamin B9 rather than the synthetic version (folic acid) found in most vitamin supplements.
Case in point: most over-the-counter supplements contain synthetic versions of vitamins that your body can't absorb as readily as their natural counterparts. That's why I recommend sticking with a combination of whole-food multivitamins and a prescription product (such as the one your doctor prescribed) instead of over-the-counter options.
But keep in mind that supplements, as the name implies, are just meant to supplement an otherwise healthy dietary lifestyle.
Note: Liver is relatively high in Vitamin A and — like other fat-soluble vitamins — can be toxic in excess amounts. The WHO recommends consuming less than 10,000 IU per day, which is approximately two ounces of fresh liver (or six grams of a freeze-dried liver supplement). Learn more in my article about the best vitamin A supplements, which covers proper dosing.
Reduce Your Exposure to Environmental Toxins
You're likely exposed to certain environmental toxins on a daily basis. These toxins can harm your reproductive health and lead to adverse pregnancy outcomes.
I only realized how much exposure to endocrine-disrupting chemicals (estrogenics) we had, from sources like common household products, tap water and skincare products, years after our son was born prematurely.
It's been five years since Lucas was born and I'm now convinced that environmental estrogens and nutrition contributed to my wife's pregnancy complications, and that we could have most likely avoided those issues.
So check out this blog post to learn how you can start removing some of the most toxic products from your household today. To learn more about the non-toxic products we use in the Kummer household, check out this YouTube video.
Low PAPP-A During Pregnancy: Closing Thoughts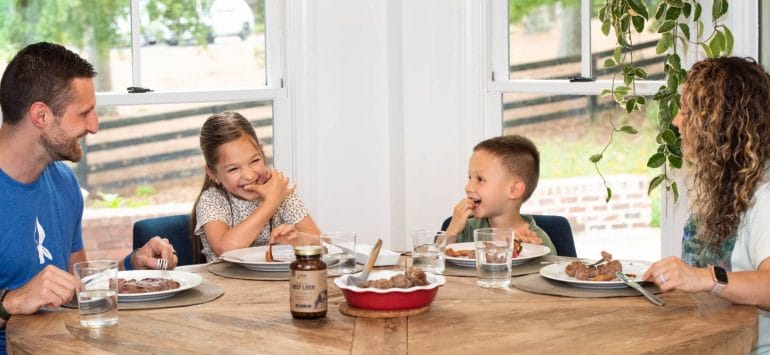 If you found this blog post looking for answers, I hope that I could provide some. Don't despair and trust your doctors! Most importantly, keep your cool and don't let the results of a test freak you out.
Instead, make sure you consume a diet that's consistent with human evolution, supplement with high-quality vitamins (ideally from whole-food sources), reduce your exposure to environmental toxins and manage your stress.
If your doctor diagnosed you with low PAPP-A levels, leave a comment and share your story with fellow readers!

I'm a healthy living and technology enthusiast.
On this blog, I share in-depth product reviews, actionable information and solutions to complex problems in plain and easy-to-understand language.
Medical Disclaimer
The information shared on this blog is for educational purposes only, is not a substitute for the advice of medical doctors or registered dieticians (which we are not) and should not be used to prevent, diagnose, or treat any condition. Consult with a physician before starting a fitness regimen, adding supplements to your diet, or making other changes that may affect your medications, treatment plan or overall health. MichaelKummer.com and its owner MK Media Group, LLC are not liable for how you use and implement the information shared here, which is based on the opinions of the authors formed after engaging in personal use and research. We recommend products, services, or programs and are sometimes compensated for doing so as affiliates. Please read our
Terms and Conditions
for further information, including our
privacy policy
.