Keto White Bars from Kiss My Keto are an excellent choice for a healthy snack because they're packed with healthy fats, moderate amounts of protein, and contain only three grams of net carbs.
For this review, I was particularly interested in learning how Kiss My Keto's snack bars compare to those offered by Perfect Keto (see my review here) in terms of ingredients, taste and texture. To explore that question, I ordered the variety box (which includes three delicious flavors).
Kiss My Keto White Bars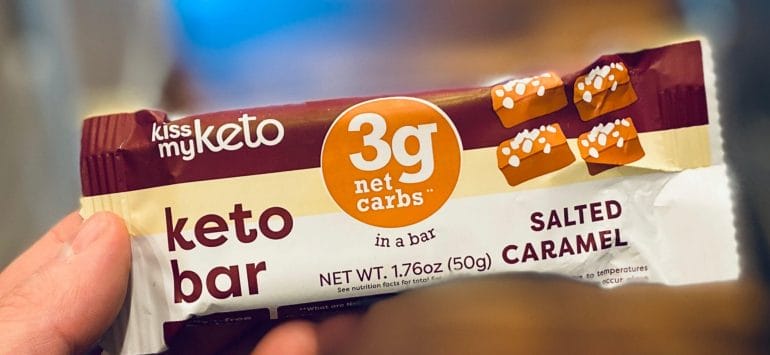 Pros
Made with clean, paleo-friendly ingredients
Only 3 grams of net carbs
Free of sugar alcohols and allulose
Are These White Bars or White Chocolate Bars?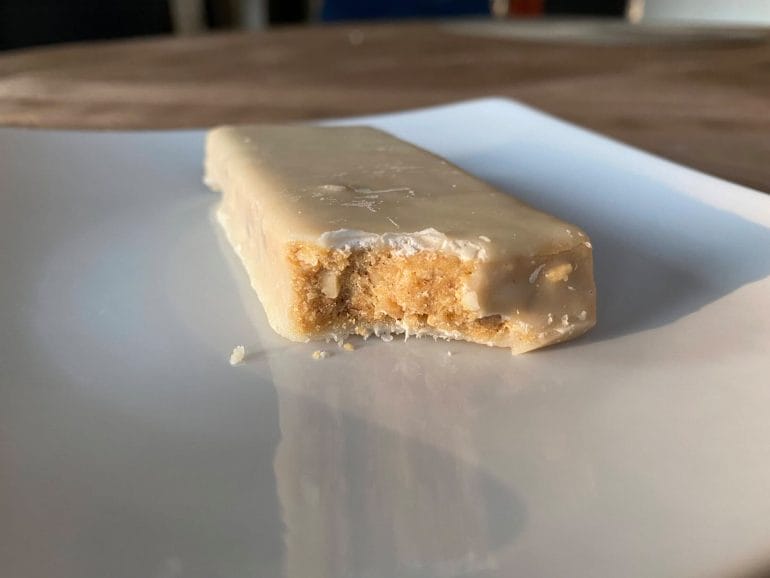 Many people refer to these Keto White Bars as white chocolate bars. I made the same mistake because I thought the white coating was actually chocolate. But if you review the ingredients on the label, you'll see there's no chocolate in or on these bars.
Instead, the white coating is made from a combination of inulin (fiber), palm kernel oil, milk protein isolate, sunflower lecithin, vanilla powder and stevia extract.
As a result, I'll correctly refer to these snack bars as Keto White Bars going forward.
Keto White Bars Review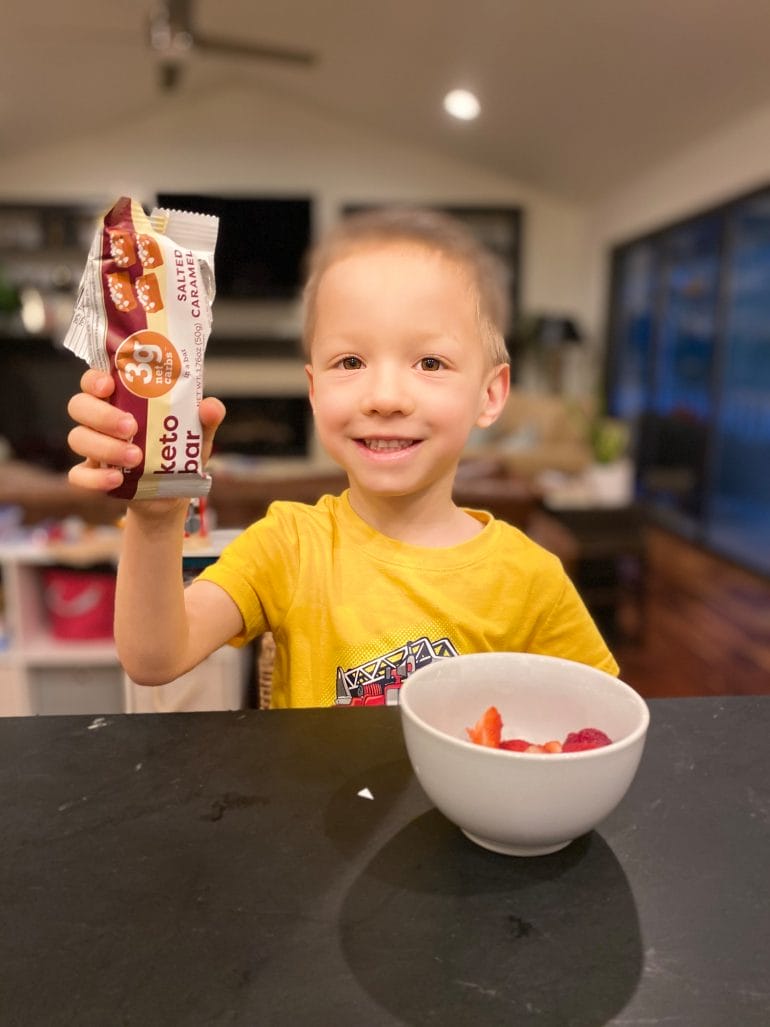 One misconception many people have is that "keto-friendly" automatically means healthy.
It's true that following a ketogenic diet has numerous proven health benefits because it significantly reduces your chances of becoming insulin resistant — a condition that reduces the sensitivity of your cells to insulin due to a constant oversupply of glucose (from the carbs you eat).
However, eating foods that are high in fat and low in carbs isn't the only factor you need to consider in order to stay healthy.
Combining the ketogenic and Paleolithic diets ensures you're getting both the right macronutrient ratio (high fat, low carb) and quality ingredients.
Unfortunately, many brands that offer products for people who follow a ketogenic diet take shortcuts by including cheap and inflammatory ingredients, such as artificial sweeteners and highly-processed vegetable oils. That's particularly true for low-carb snacks and protein bars.
The good news is that Kiss My Keto's White Bars don't fall into that category! These keto bars are packed with clean ingredients that are both keto-friendly and paleo-friendly.
Macronutrients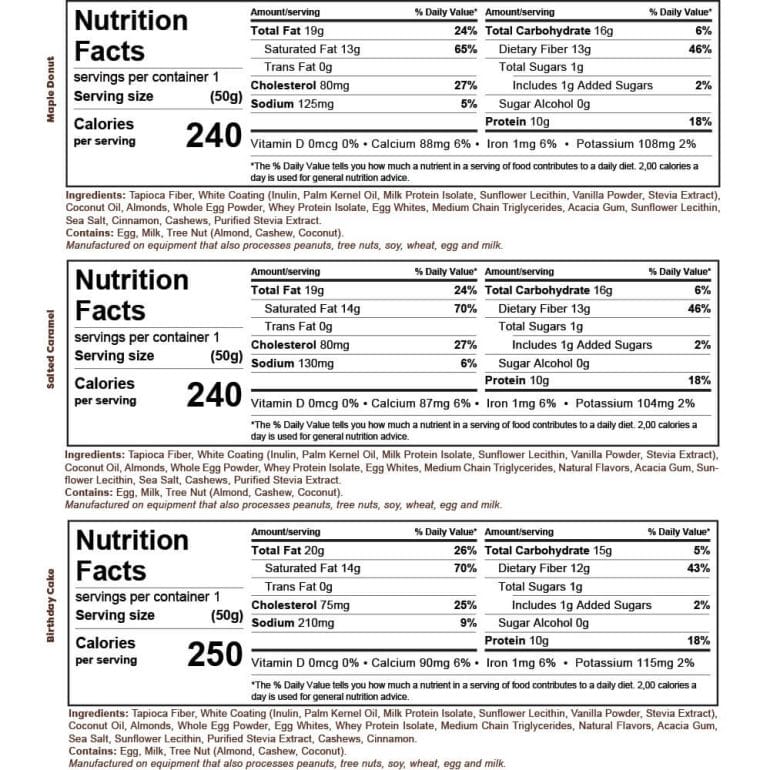 Each White Bar delivers between 240 and 250 calories. That's enough to replace a snack, or if you have no other choice, a small meal such as breakfast.
I rarely eat breakfast because I follow an intermittent fasting schedule that spans from 8 p.m. to 12 p.m. the following day. If you normally eat breakfast but are short on time, one of these bars should be sufficient to keep you satiated until lunchtime.
However, if you have to skip meals on a regular basis, I'd recommend considering either keto meal replacement shakes or green powders to ensure you also get the micronutrients your body needs.
Below is a chart that shows some of the key nutrient statistics for each of the three flavors in the variety box.
| | Maple Donut | Salted Caramel | Birthday Cake |
| --- | --- | --- | --- |
| Calories | 240 | 240 | 250 |
| Total Fat | 19g | 19g | 20g |
| Protein | 10g | 10g | 10g |
| Total Carbs | 16g | 16g | 15g |
| Fiber | 13g | 13g | 12g |
| Net Carbs | 3g | 3g | 3g |
Nutrition facts of all three flavors.
In addition to the relatively high calorie count, each bar has 19-20 grams of fat, 10 grams of protein and 15-16 grams of carbs (mostly from tapioca fiber, a special carbohydrate that doesn't raise your blood sugar levels).
It's important to mention that not all carbs are created equal. Some carbs — such as sugars and starches — impact your blood sugar and trigger a release of insulin.
Others — such as fiber, sugar alcohols and allulose — aren't absorbed and/or aren't metabolized by your body. As a result, these carbs don't influence your blood sugar levels.
The difference between how the body handles these two classes of carbs is why you have to calculate the net carbs of a product in order to determine its impact on blood sugar (and its compatibility with your low-carb lifestyle).
As I mentioned above, Kiss My Keto's White Bars have 15 or 16 grams of total carbohydrates, but 12 to 13 of those grams are from fiber. As a result, we can subtract them from the total carbs.
The result is 3 grams of net carbs, proving that these bars are fully compatible with a ketogenic diet.
Ingredients
All three flavors of the Keto White Bars consist primarily of tapioca fiber.
Don't confuse tapioca starch with tapioca fiber. Both are derived from the Brazilian cassava plant, but only the starch raises your blood sugar.
Besides the coating, additional ingredients include (listed by the amount each bar contains):
Coconut oil: An excellent source of fatty acids, including medium-chain triglycerides (MCTs).
Almonds: These nuts provide plant-based protein, a lot of fat, and some carbs.
Whole egg powder: A good source of protein and fat.
Whey protein isolate: A pure and fast-absorbing source of milk protein.
Egg whites: Another excellent source of slower-absorbing animal protein.
MCTs: A special type of fatty acids that the body can rapidly use for energy.
Natural flavors: To give each bar their distinctive flavor (i.e., maple doughnut).
Acacia gum: A natural binding agent that holds ingredients together.
Sunflower lecithin: A natural emulsifier that enables water and fat to mix.
Sea salt
Cashews: Often used for extra flavor due to their sweetness.
Purified stevia extract: A healthy, non-caloric sweetener that's both paleo and keto-friendly.
Cinnamon: Included only in the Birthday Cake flavor.
As I mentioned above, the coating of all three flavors isn't chocolate but a mix of fiber, fat, an emulsifier, vanilla powder and stevia.
What you won't find in Kiss My Keto's White Bars are any unhealthy or potentially inflammatory ingredients, such as:
Grains (gluten): Inflammatory and rich in addictive carbs (i.e., amylopectin).
Soy: Inflammatory and highly processed. (Learn more.)
Artificial flavors: Potentially inflammatory and not natural.
Artificial sweeteners: Sweeteners, such as sucralose, can negatively impact the glucose metabolism in the body. (Learn more.)
Sugar alcohols: Some people get digestive issues when overindulging in sugar alcohols, such as erythritol.
Of course, it doesn't matter how healthy the ingredients of a product are if you're allergic or sensitive to one of them. For example, some people have nut allergies or are sensitive to egg protein.
I don't have any allergies that I know of, but I get bloated if I overindulge in certain fibers (such as inulin or allulose). White Bars contain inulin as a main ingredient of the coating. Unfortunately, that means that I can't overindulge in them.
I don't mind that because such ingredients act as a natural deterrent to eating the whole box in two days.
Price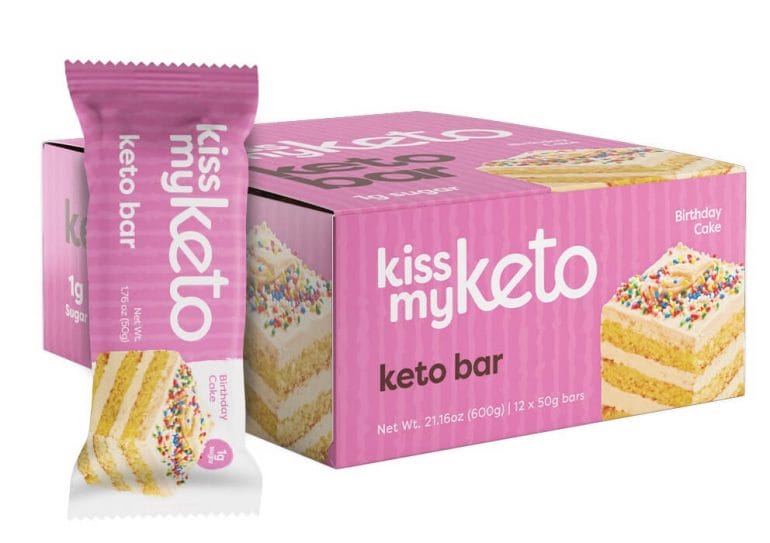 A 12-count box of Keto White Bars runs for $39.99 (which is $3.33 per bar). That's not outrageously expensive, but it isn't cheap either.
As I mentioned several times in other keto product reviews, healthy snacks cost more than the junk food you find in the snack aisle of major grocery stores.
The good news is that there are several ways to bring that price down, besides the regular promotions Kiss My Keto runs.
One way to get White Bars for less is to sign up for a subscription. You can cancel or pause it at any time, and you'll save 15% off the list price.
Additionally, you can combine a subscription with my affiliate (promo) code MICHAELKUMMER to get an additional 10% discount.
Combining both lowers the price-per-bar to a reasonable $2.55. Of course, you can also use my discount code for a one-time purchase.
Kiss My Keto vs. Perfect Keto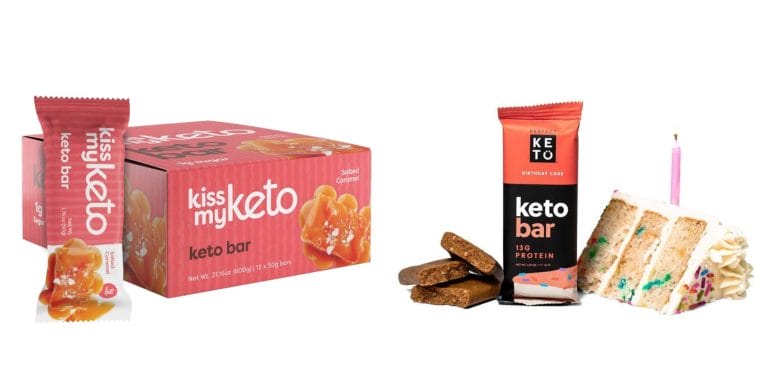 If you've been shopping for keto snack bars, you've likely come across Perfect Keto. I recently published a review of Perfect Keto bars and figured it would be a good idea to compare these two keto products.
Below is an overview table that compares some of the key characteristics of the two brands.
| | Kiss My Keto | Perfect Keto |
| --- | --- | --- |
| Clean ingredients | ✓ | ✓ |
| Calories | 240-250 | 220-240 |
| Fat | 19-20g | 17-19g |
| Protein | 10g | 10-13g |
| Net carbs | 3g | 1-3g |
| Sweetener | Stevia | Monk fruit extract, stevia |
| Consistency/texture | Sticky | Crumbly |
| Sweetness | Very | Moderately |
| Price | $39.99 for 12 bars | $39.99 for 12 bars |
Kiss My Keto vs. Perfect Keto bars.
From a macronutrient perspective, both brands of keto bars are relatively equal. Kiss My Keto is a bit more consistent across its three flavors in terms of calories, fat, protein and carbs.
Macronutrients
Overall, Perfect Keto bars have slightly fewer calories, less fat, and their macros vary more significantly across flavors. For example, some Perfect Keto bars have only 1 gram of net carbs, whereas others have up to 3 grams.
Ingredients
Both companies use tapioca fiber and almonds (or almond butter) as their base ingredients. But while Perfect Keto relies on MCT oil powder and MCT oil as a primary source of fat, Kiss My Keto uses coconut oil (which contains MCTs, among other fatty acids).
Overall, I feel comfortable with the ingredients in both bars and I don't think that one is notably healthier than the other. Of course, I don't know any of the details about how these ingredients are sourced and processed, so there might be differences that I'm not aware of.
Taste and Texture
As similar as both keto bars might seem, their taste and texture are quite different. They're both delicious, but each in a distinct way.
Kiss My Keto tastes more like a traditional candy bar (sweet and a bit sticky), whereas Perfect Keto is crumbly and tastes more like a cookie.
I enjoy having various options, so I don't mind the taste or texture or either keto bar.
Price
Both snack bars have exactly the same list price: one box of 12 bars costs $39.99. Both offer a subscription option at a discounted rate, and you can use my promo codes to knock an additional 10% off the price.
Conclusion
In a nutshell, you can't go wrong with either brand. If you have a sweet tooth, you might prefer Kiss My Keto's White Bars. If you prefer a moderate level of sweetness, give Perfect Keto a try. Better yet, try both and let me know which one you like best.
In the Kummer house, the girls have specific flavors they like regardless of the brand. The boys, on the other hand, like all the flavors from both brands.
Frequently Asked Questions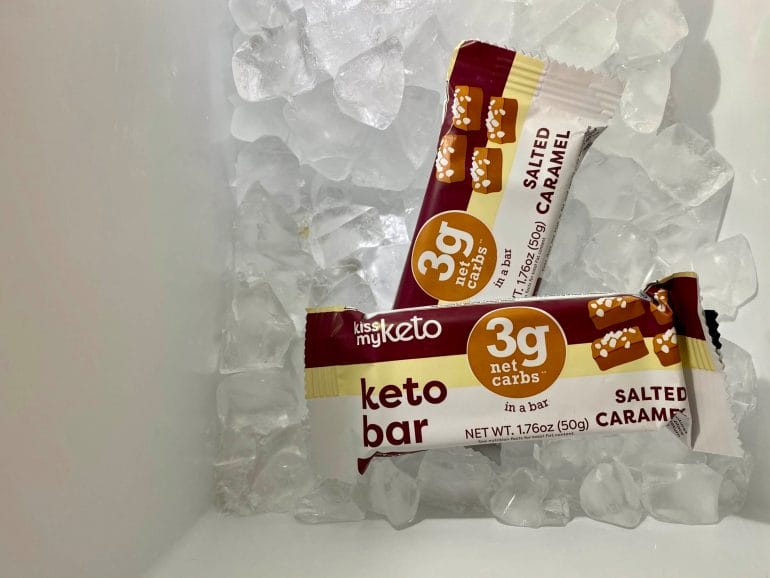 Should I refrigerate White Bars?
Yes, I recommend sticking the bars in the fridge to prevent the coating and certain ingredients (fats) from melting. We usually put our keto bars in the freezer and enjoy them ice cream style.
Are Kiss My Keto White Bars gluten-free?
While these keto bars don't contain any ingredients that are natural sources of gluten, they are produced in a shared manufacturing facility. As a result, there's a chance of cross-contamination. So if you have celiac disease, I'd recommend contacting Kiss My Keto before you make a purchase.
Can I lose weight by replacing regular meals with these bars?
You might be able to. However, it's crucial to understand that weight loss is a byproduct of a healthy diet and lifestyle that's built on a foundation of fresh food, good sleep and regular exercise. 

Snack bars, even if they're keto-friendly, are meant as a snack or to replace a light meal in a pinch. But I would not recommend substituting snack bars for whole meals on a regular basis.

Instead, you should eat your regular (keto-friendly) meals and then enjoy a White Bar for dessert, if you like.
Can White Bars kick me out of ketosis?
That's unlikely, considering that each bar has only 3 grams of net carbs. My wife and I have done some tests with other keto bars to see how they would impact our blood sugar and ketone levels, and you can watch the video on my YouTube channel if you'd like to learn more about that experiment.
Do I have to be on a keto diet to benefit from these bars?
No, you don't have to be on a ketogenic diet to get some benefits from these bars. Eating good fats and fewer carbs is always a good strategy. However, if you maintain a high-carb diet, the benefits of eating keto bars will likely be limited.
What's the cheapest way to try all three flavors?
Kiss My Keto offers a variety pack that includes all three flavors. That's the one we got for this review.
Wrap-Up – Low Carb Keto White Bars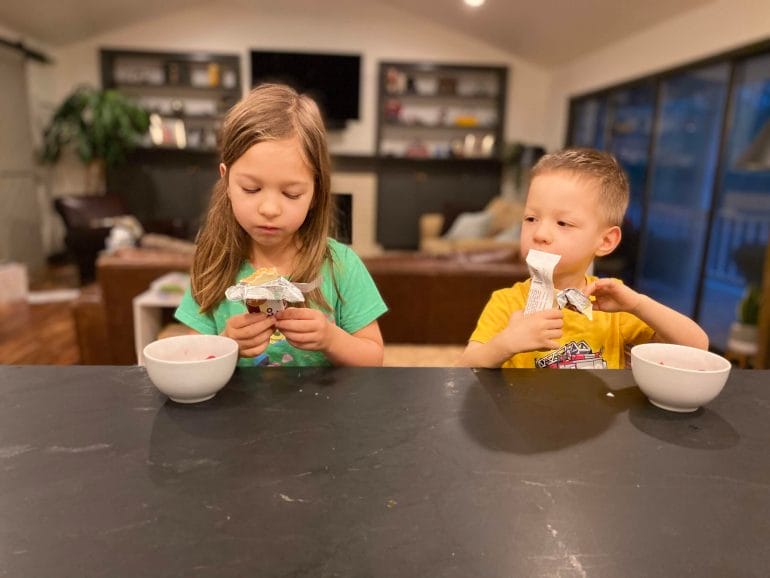 The keto snack market has exploded in recent years, as the low-carb high-fat movement has gained in popularity. However, one product category that's been missing, until Kiss My Keto filled the gap, was white bars (as opposed to chocolate bars).
I consider myself a chocolate guy rather than a vanilla guy, but I found these White Bars to be absolutely delicious.
However, if you're not sure about vanilla and prefer chocolate, Kiss My Keto has you covered. The company also offers regular keto chocolate bars in various flavors, including coconut, peanut butter and cookie dough. Check them out here*.
Have you tried any of the Kiss My Keto bars? If so, let me know which flavor is your favorite by leaving a comment below!

I'm a healthy living and technology enthusiast.
On this blog, I share in-depth product reviews, actionable information and solutions to complex problems in plain and easy-to-understand language.
Medical Disclaimer
The information shared on this blog is for educational purposes only, is not a substitute for the advice of medical doctors or registered dieticians (which we are not) and should not be used to prevent, diagnose, or treat any condition. Consult with a physician before starting a fitness regimen, adding supplements to your diet, or making other changes that may affect your medications, treatment plan or overall health. MichaelKummer.com and its owner MK Media Group, LLC are not liable for how you use and implement the information shared here, which is based on the opinions of the authors formed after engaging in personal use and research. We recommend products, services, or programs and are sometimes compensated for doing so as affiliates. Please read our
Terms and Conditions
for further information, including our
privacy policy
.