CavemanChefs is a paleo-friendly meal delivery service with a headquarter in Denver, Colorado, that focuses on quality ingredients, such as grass-fed beef and lamb, local, organic fruits and vegetables, and wild-caught salmon.
The company was founded in 2014 by two chefs, David Kenney, and Edward Coulombe and their operations manager Zach Kopp.
| Overall Rating | (4.5 / 5) |
| --- | --- |
| Nutrition | (5 / 5) |
| Variety | (4 / 5) |
| Taste | (4 / 5) |
| Value | (4 / 5) |
What's The Paleo Diet?
Paleo takes cues from our ancestors who lived during the Paleolithic period (3.3 million to 11,650 years ago), and it mimics their dietary habits. The Paleo diet is rich in organic vegetables, healthy fats, lean meats, seafood, seasonal fruits as well as nuts and seeds.
Additionally, this way of living is a clean way to eat without processed foods, preservatives, additives or potentially harmful chemicals. To learn more about its health benefits, check out my Paleo Diet Beginners Guide.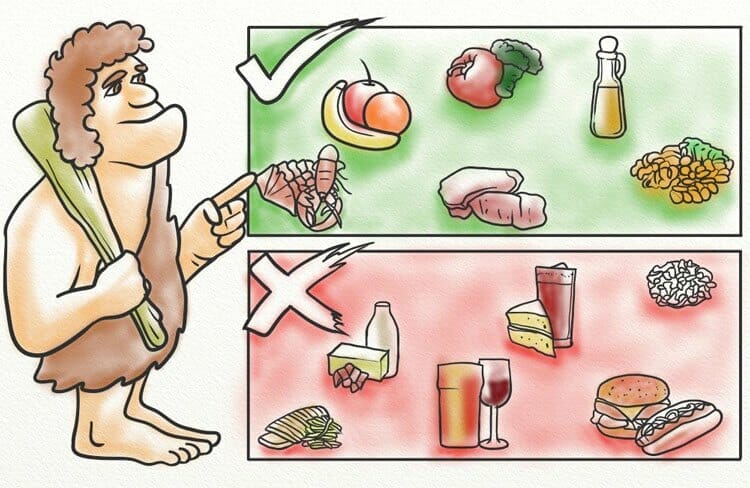 What Are The Benefits Of Meal Delivery Services?
Paleo meal delivery services make it easy to maintain a healthy diet or to assist with weight loss while avoiding the hassle of going to the grocery store, meal planning, and cooking.
Unlike with meal kit services, such as Green Chef, all you have to do is reheat the delivered meals in a microwave, steamer, or oven before enjoying them. For an overview of the top 17 Paleo meal delivery services, check out my complete roundup.

CavemanChefs Review
Pros
Offers the same dish in variations to cater to different diets
Organic ingredients & pastured beef and lamb
Offers fresh or frozen meals
Cons
Chicken is not pasture-raised
What's cool about CavemanChefs is that they offer delicious meals that cater to a variety of dietary needs, including Strict Paleo, Vegan, Vegetarian, AIP, SIBO/FODMAP, Whole30, and Keto.
Plus, all of their dishes are free of gluten, soy, dairy, and other allergens. I also like that you can pick and choose the size of each meal from the following options, depending on your calory needs: Regular, large and XL.
Among all the meal delivery services I have reviewed, CavemanChefs is the only company to offer SIBO/fodmap meals for those suffering from Irritable Bowel Syndrom (IBS) and similar digestive ailments.
Menu and Variety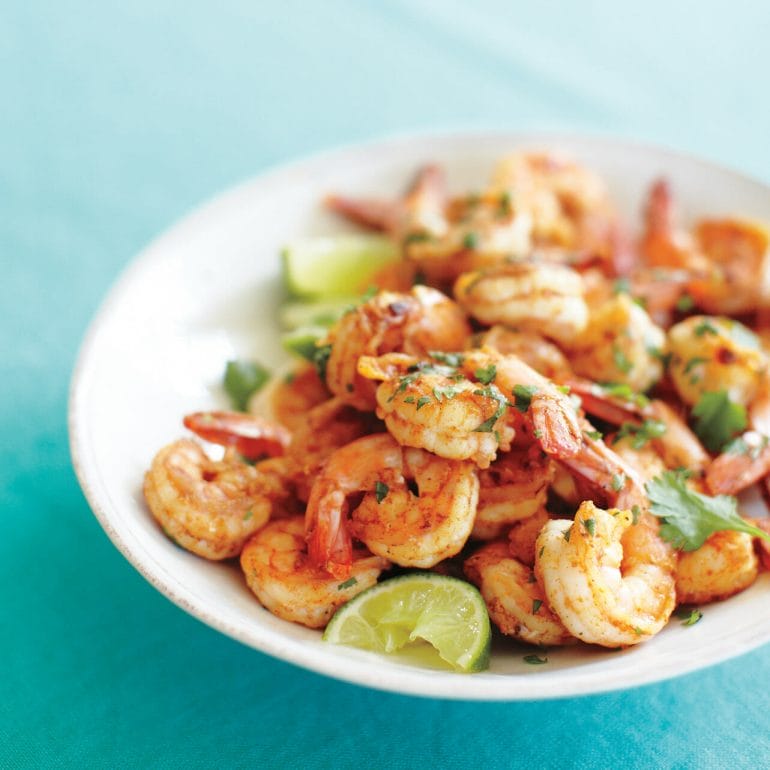 CavemanChefs offers a wide variety of fresh and frozen meals you can choose a la carte, purchase as part of a Paleo meal plan trial pack, or subscribe to. While the menu doesn't have as many options as some other meal services, it changes weekly and, thus, offers a decent variety.
Plus, you can get the same meal with slightly different ingredients. For example, the Churrasco Grass-Fed Beef is available in the following variations:
Paleo – Whole30
AIP
SIBO/FODMAP
Ketogenic
Besides the above modifications, you can decide if you'd like to get your meals fresh or frozen. That kind of flexibility is usually not available with other food delivery services, such as Fresh 'n Fit Cuisine or Paleo Power Meals.
Note that all the samples CavemanChefs sent me were frozen, and so I didn't have a chance to try their fresh options.
Churrasco Grass-Fed Beef
To give you an idea of what a CavemanChefs meal looks like and what ingredients you can expect, here is an example of a marinated and grilled grass-fed beef. The Ketogenic version comes with sauteed collard greens, steamed broccoli, and chimichurri sauce.
The Paleo/Whole30 variant substitutes the collard greens for cumin poblano mashed yams. The AIP option is similar to the Paleo version meal but doesn't include cumin and poblano peppers but, instead, herb oil.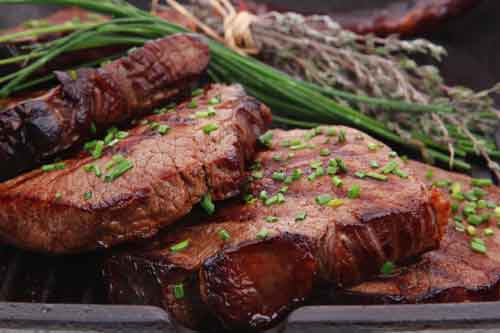 How To Prepare The Meals?
Each meal comes with heating instructions on the label. In general, CavemanChefs recommends using a microwave to reheat the dishes.
We don't have a microwave, so we removed the food from its container and then used our steamer to reheat it. Steamer food is not only healthier, but it prevents the meat from drying out.
As I mentioned above, CavemanChefs offers both fresh and frozen food. If you decide to order the latter, make sure to thaw it overnight in your refrigerator first, especially if you are planning on using a microwave to reheat the food.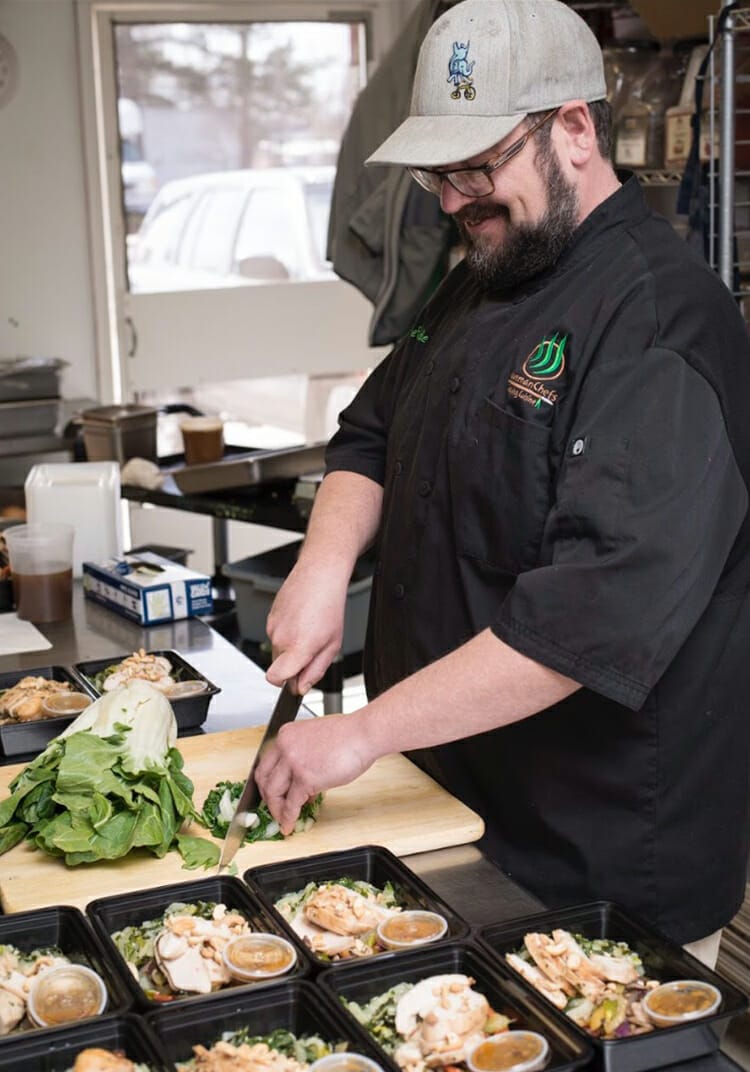 Food Presentation
CavemanChefs sends its meals in plastic containers that don't have dividers. As a result, there is no clear separation between the various ingredients, such as the protein and side dishes.
I don't care about the food's appearance, but if you are a picky eater, you might be bothered when the individual ingredients mix during the reheating process.
Taste and Portion Size
I had an opportunity to test some of their meals and found all of them to be tasty and filling. I eat a lot, and with most meal services, I need two meals to satisfy my appetite. With CavemanChefs, I was satisfied with 1-1.5 regular meals.
What I appreciated most about the meals is that the company doesn't try to be fancy. Instead, CavemanChefs delivers paleo friendly meals with simple ingredients and balanced macronutrients that are true to the principles of the caveman way of life.
Nutritional Information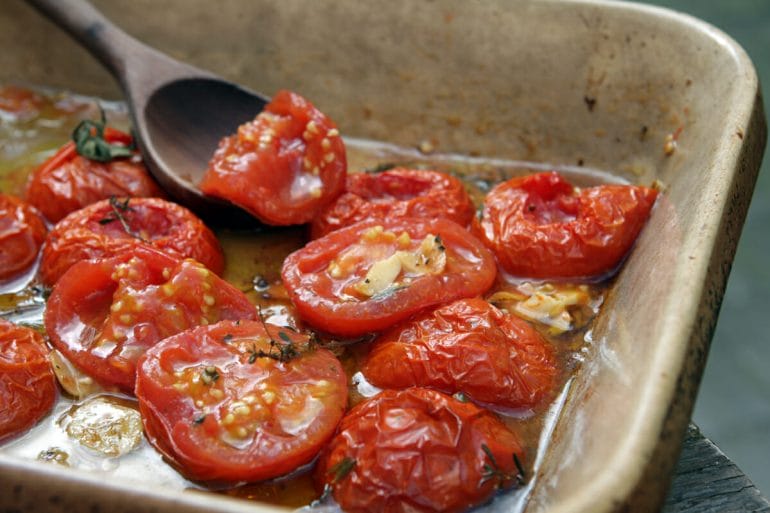 If you are counting macros, as many CrossFit athletes do, you might find the lack of detailed dietary information bothersome. Unfortunately, CavemanChefs only tells you how many calories each meal has, but they don't give you the exact macronutrient breakdown on the label.
In other words, you don't know how much protein, fat and carbs you are getting with each meal. However, upon further research, I found some of the missing information in the FAQ section of the company's webpage.
It is very easy to calculate our meals macronutrient data. All meals have weighed portions. Regular meals consist of 3oz protein, 8oz total veggies or 4oz of each, 2 Tablespoons healthy fats, and 1.75oz bone broth. A large portion is 4oz, protein, 10oz total veg. An Extra Large portion is 5oz, protein, 12oz total veg.

CavemanChefs
Additionally, the company has promised to include macronutrient data on the label shortly, so stay tuned!
Home Delivery Options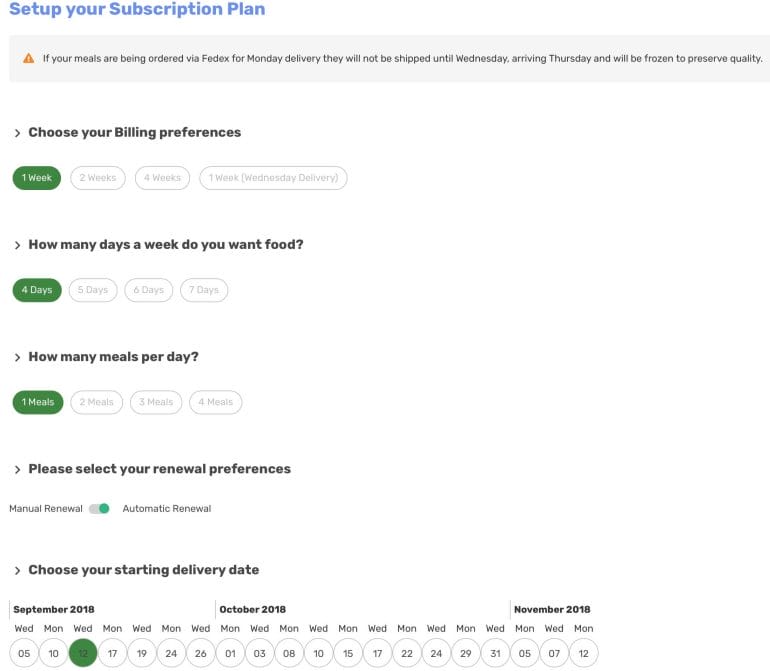 CavemanChefs delivers to all 50 states, and the delivery fee is based on the weight of the shipment and your location. To give you an example, having ten meals delivered to my home in Alpharetta, GA via FedEx costs $60.00.
While that sounds expensive, it's likely an accurate reflection of what carries, such as FedEx charge companies like CavemanChefs. For comparison, if I shipped a 25lb box overnight to Denver, CO using my FedEx account, it'll cost me $176.00, which is far more than what CavemanChefs charges.
The reason why some other companies may charge less, or even offer free shipping is that they roll those costs into the price of their meals. By doing so, they have less money to spend on quality ingredients, which is something you should consider when comparing different food delivery services.
If you live in the Denver, CO area you can pick up your meals from one of fifteen local CrossFit boxes or affiliate gyms and thus save the delivery fee.
Build A Meal Plan
What's cool about CavemanChefs is that you can call their customer support to build your own meal plan. The company doesn't advertise that feature on their webpage, but it's an option if you need it.
How Much Does CavemanChefs Cost?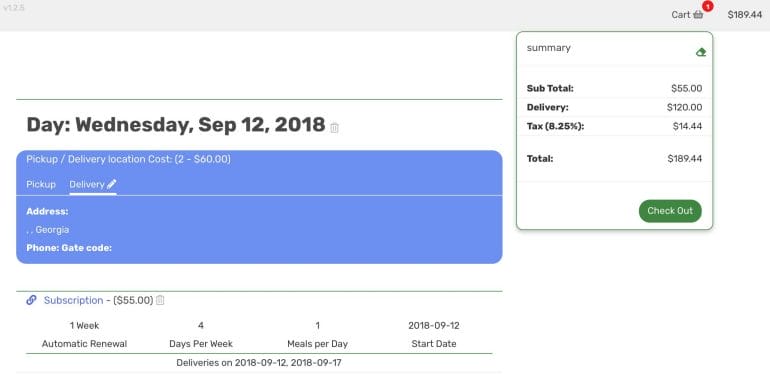 CavemanChefs offers a variety of meal choices but no dedicated breakfast options:
Individual Meals
Subscription plans
Meal Plan Trial Packs
So you get an impression of how much CavemanChefs costs, here are some examples of single meals and subscription plans.
Individual Meals (Lunch and Dinner)
| Meal Size | Price |
| --- | --- |
| Regular | $13.75 |
| Large | $16.25 |
| XL | $18.75 |
Family-sized Meals
| Meal Size | Price |
| --- | --- |
| Two Persons | $28.00 |
| Three Persons | $42.00 |
| Four Persons | $56.00 |
| Five Persons | $70.00 |
Subscription Plan
| Meal Size | Price |
| --- | --- |
| Four meals per week | $55 |
| Eight meals per week | $110.00 |
| 12 meals per week | $165.00 |
| 16 meals per week | $220.00 |
| 21 meals per week | $288.75 |
Meal Plan Trial Packs
| Meal Size | Price |
| --- | --- |
| Six Meal Trial Pack | $82.50 |
| 12 Meal Trial Pack | $165.00 |
| 18 Meal Trial Pack | $247.50 |
| 24 Meal Trial Pack | $320.10 |
| 38 Meal Trial Pack | $496.38 |
Compared to some of its competitors, CavemanChefs has priced its meals a bit on the higher end of the spectrum, especially if you add in the relatively high shipping costs.
But in return, you get premium dishes and a lot of flexibility when it comes to putting together a meal plan for your specific dietary needs. To get 10% off your first order, you can use code MICHAELKUMMER.
CavemanChefs Review
Unlike other Paleo food delivery services, CavemanChefs differentiates itself by offering pure and wholesome prepared meals that cater to a variety of dietary lifestyles.
Regardless if you follow the Whole30, Paleo or Keto diet, you'll be glad to know that CavemanChefs has you covered. Their delicious meal options feature fresh ingredients that chef David and his team prepare daily in their Denver kitchen.

I'm a healthy living and technology enthusiast.
On this blog, I share in-depth product reviews, actionable information and solutions to complex problems in plain and easy-to-understand language.
Medical Disclaimer
The information shared on this blog is for educational purposes only, is not a substitute for the advice of medical doctors or registered dieticians (which we are not) and should not be used to prevent, diagnose, or treat any condition. Consult with a physician before starting a fitness regimen, adding supplements to your diet, or making other changes that may affect your medications, treatment plan or overall health. MichaelKummer.com and its owner MK Media Group, LLC are not liable for how you use and implement the information shared here, which is based on the opinions of the authors formed after engaging in personal use and research. We recommend products, services, or programs and are sometimes compensated for doing so as affiliates. Please read our
Terms and Conditions
for further information, including our
privacy policy
.