As mentioned in my post about Baby Accessories, here is my review of the Bugaboo Cameleon3*. Bugaboo calls it the "iconic stroller". Read on to find out if it really deserves that title.
We started shopping for a stroller about 3 years ago before Isabella was born. As new parents, we knew little about what to look for in a stroller. But we knew we wanted something of high quality and I wanted something with a decent design. If you read my blog regularly, you know that I'm a fan of Apple products and so the design is important to me. Quality was important so we could use the stroller for multiple kids. I think at that time we had still planned to have 3 kids. We have two now and decided we're done!
Basic requirements
High quality
Decent design
Shopping for a Stroller
One day, we walked into a local baby supply store and asked a sales associate to show us strollers he would recommend. While trying the models he showed us, we quickly realized that we definitely wanted a stroller that we could fold easily. We also wanted a stroller that would accommodate a newborn and a toddler overtime. Last but not least, we wanted to be able to use it together with the PegPerego car seat* we had already bought.
Additional requirements
Easy to fold
Accommodates newborn and toddler
Works with car seat
I also wanted to go running with Isabella at some point but realized, that running strollers are an entirely different animal.
Based on our new requirements, we were left with two choices the store had to offer:
Both strollers are priced at the upper end but they are of high quality and versatility. Kathy and I immediately fell in love with the Bugaboo Cameleon3 and its clean design language. So we made our choice and bought the Bugaboo, together with adapters for the PegPerego car seat.
Bugaboo Cameleon3
The Bugaboo Cameleon3 is a good-looking stroller that we have used by now for over 2.5 years. It comes with a seat frame that can be configured as a bassinet (for newborns) or toddler seat. Optional adapters allow you to use it with a number of different car seat models.
An icon from the start, this fully-loaded original adapts to every age and journey. From newborn to toddler, from the city to woods, sand and snow, the versatile bugaboo cameleon³ makes it easy to go everywhere you want to go. (Bugaboo)
Additionally, you can quickly change wheel-position to use it on trails or hard-to-maneuver terrain like sand. The adjustable suspension ensures a comfortable ride for either a newborn or a toddler.
Features in a nutshell
Accommodates your child from newborn to toddler: through bassinet and toddler seat configuration
All-terrain capable: through different wheel positions
Car seat compatible: through optional adapters
Adjustable suspension: based on your child's weight
Reversible and reclinable seat: Child can face forward or backward
Reversible and height-adjustable handlebar: I'm much taller than Kathy, so an adjustable handlebar was necessary for us
Folds easily: But requires two hands
We have used the Cameleon3 extensively over the past few years and it still looks like brand-new. That speaks to the quality of the stroller. With us, it has endured snow, sand, and dirt and mastered all conditions without any issues. Beyond the features I have listed above, we particularly like its versatility and extensibility. Bugaboo offers many accessories that make the stroller even more useful than it already is.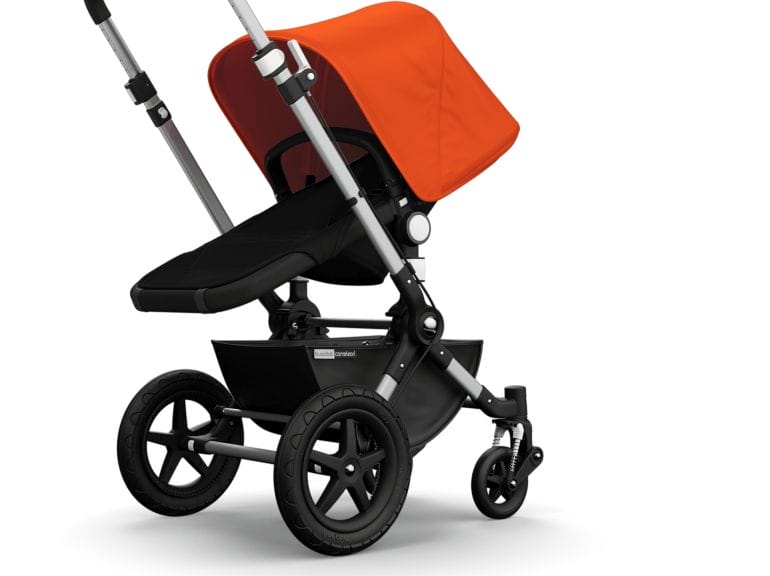 Recommended Accessories
When we bought the stroller, we got it bare-bones, without any accessories. But over the years, we found the following accessories to be actually useful:
What We Don't Like About the Stroller
There isn't much we don't like about the Bugaboo Cameleon3. In fact, the only complaint we have is the size of the storage bag. It's relatively small, which makes it a hassle to get the diaper bag in and out from underneath the stroller.
When folded, the Cameleon3 doesn't take up a lot of space but we have seen strollers that take up even less space. So if you need a stroller that takes up the least amount of space in the trunk of your car, the Cameleon3 may be a good but not the best choice.
Other than that, we love the Cameleon3 and can highly recommend it!

I'm a healthy living and technology enthusiast.
On this blog, I share in-depth product reviews, actionable information and solutions to complex problems in plain and easy-to-understand language.
Medical Disclaimer
The information shared on this blog is for educational purposes only, is not a substitute for the advice of medical doctors or registered dieticians (which we are not) and should not be used to prevent, diagnose, or treat any condition. Consult with a physician before starting a fitness regimen, adding supplements to your diet, or making other changes that may affect your medications, treatment plan or overall health. MichaelKummer.com and its owner MK Media Group, LLC are not liable for how you use and implement the information shared here, which is based on the opinions of the authors formed after engaging in personal use and research. We recommend products, services, or programs and are sometimes compensated for doing so as affiliates. Please read our
Terms and Conditions
for further information, including our
privacy policy
.