Meal replacement shakes offer an excellent alternative to solid food when you don't have time to prepare a balanced meal or when you're trying to lose weight.
Unfortunately, some of the most popular are also the unhealthiest, including those produced by Soylent and SlimFast.
So I broke up this article into two sections: Healthy and Unhealthy meal replacement products.
The original version of this review combined products of various categories, including conventional, keto and vegan meal replacement shakes. I have since separated these topics into dedicated blog posts to make it easier to find exactly what you're looking for.
Traditional Meal Replacement Shakes (this article)
Note that throughout this article, I use the terms "meal replacement shakes" and "meal replacement drinks" interchangeably.
If you're wondering why I haven't included brands such as Ambronite and Huel in this roundup, it's because they've been moved to my article focused on a plant-based meal replacement options.
Healthy Meal Replacement Shakes
My perfect meal replacement shake would be 100% paleo-compatible and meet the following nutrition criteria:
Delivers all essential nutrients (including protein, healthy fat and carbs).
Uses macadamia nut, avocado, coconut or olive oil as the source of fatty acids.
Uses egg white or beef protein as the source of amino acids.
Contains little sugar with a low glycemic index (to help keep your blood sugar level under control).
Contains no artificial sweeteners (like high-fructose corn syrup).
Is fortified with digestive enzymes.
Is loaded with micronutrients, such as essential vitamins and minerals.
Contains only organic ingredients.
But few things in life are perfect, and I have yet to find a 100% paleo-compatible meal replacement option. The product that comes closest is Ample Meal, with both its Original and Keto formulas.
As a result, Ample is the winner of this review, followed closely by Super Body Fuel.
With all that in mind, here are my thoughts on the best meal replacement shakes.
Ample O – Original Formula
To save an additional 15%, you can sign up for Ample's newsletter*.
The Ample Original formula is what I use most when traveling because it provides a perfect balance of protein, fat and carbs.
I'm a big boy and I have a big appetite (and I'm not at all concerned about weight gain), so I usually stick with the 600-calorie version of Ample, which offers 36 grams of protein per serving and 14 grams of fiber per serving.
But if you're on a low-calorie diet or are trying to hit weight loss goals, the version of this organic meal with fewer calories might be sufficient.
Ample's premise is to provide a nutritious, balanced meal in a bottle prepared from premium, real-food ingredients.
The company's meal replacement powder is available in two sizes and three formulas: Original, Keto and Vegan.
Besides the premium ingredients, what I like most about Ample is how quickly and easily I can prepare this meal replacement option when I'm traveling — all you have to do is add water to the bottle and shake.
While I like the earthy taste of Ample Original, I prefer the silky texture of Ample K.
Nutrients in Ample Original
To learn more about my experience with Ample Meal over the past 18 months, check out my in-depth review.
Additionally, you might be interested in the recent improvements Ample Foods has made to its Original, Vegan, and Keto shake formulas, such as removing chia seeds as a source of omega-3 fatty acids.
100%FOOD – Low Carb
Even though 100%FOOD's meal replacement shake is not entirely paleo-compatible and has 26 grams of sugar, it's still an exciting product.
I wanted to give it a try to see how it tasted, but it appears as if the product is no longer available for purchase. I don't know for sure, but it looks like the manufacturer has discontinued this meal replacement option.
PS: The term "low carb" is misleading, because this product contains a ton of carbs!
Nutrients in 100%FOOD
I know some of you were looking to compare "100 Food vs. Soylent," but unfortunately I can't provide an in-depth comparison without access to the product. On paper, both Soylent and 100%Food score relatively similar, with a few differences.
Super Body Fuel
Super Body Fuel offers a variety of oat-based meal powders to cater to different tastes and dietary lifestyles, including:
Milk Fuel (formerly known as Schmilk)
Athlete Fuel
I covered the Super Fuel and Keto versions in separate articles, so this review focuses on Milk Fuel and Athlete Fuel.
Both are oat-based meal powders that are low in plant-based protein and fat. Both products are lactose-free and gluten-free.
However, Super Body Fuel designed both Milk Fuel and Athlete Fuel to be mixed with whole milk. That not only increases their contents of macronutrients, but it also introduces lactose.
I do want to note that you shouldn't be concerned about the fat in whole milk. I'm simply pointing out that using milk as the liquid base for a meal replacement shake changes its nutritional composition.
Mixing any powder with milk is going to result in a drink with additional calories, sugar and protein, and that's something you need to be aware of as it may affect your dietary goals.
With that said, if you're going to consume dairy you should absolutely choose whole over low-fat milk. I explain why in my article "Is Dairy Bad For You," which I recommend you take a few minutes to read.
If you're lactose intolerant, or just try to avoid consuming dairy (like I do), you can certainly use nut milk instead of cows' milk. There are plenty of healthy dairy alternatives.
Just keep in mind, again, that changing the liquid will change the nutritional composition; if I need more calories than my almond milk provides, I add some avocado oil to quickly and easily avoid a calorie deficit.
Note that the nutritional table below assumes the use of whole milk. If you use any other fluid, such as almond or cashew milk, the macronutrients below are going to change.
Both products are available in various flavors, including:
Chocolate
Cinnamon
Coffee
Plain (unsweetened)
Pumpkin Spice
Original (Milk Fuel only)
Vanilla
Nutrients in Milk Fuel (Athlete Fuel)
For the versions with flavor, Super Body Fuel uses monk fruit extract as a natural sweetener that does not have any sugar or calories. Out of all the products I've tried, I like the taste of Milk Fuel and Athlete Fuel (when mixed with almond milk) the best.
Unhealthy Meal Replacement Drinks
I generally do not recommend any of the products listed below because they contain numerous unhealthy ingredients, such as soy, vegetable oils that have high amounts of omega-6, corn syrup, and other nasty additives.
However, I wanted to mention them anyway for the sake of completeness — and because they are popular despite their low-quality ingredients.
Boost – High Protein
Much like most of the other low-priced products in this review, the Boost High Protein Drink cannot replace a meal and contains numerous artificial ingredients that make it a poor choice for a healthy lifestyle.
If you're looking specifically for a protein shake, I'd recommend one of the high-quality protein powders that I reviewed in another article.
You can also try a high-quality protein bar.
Ensure Nutritional Shakes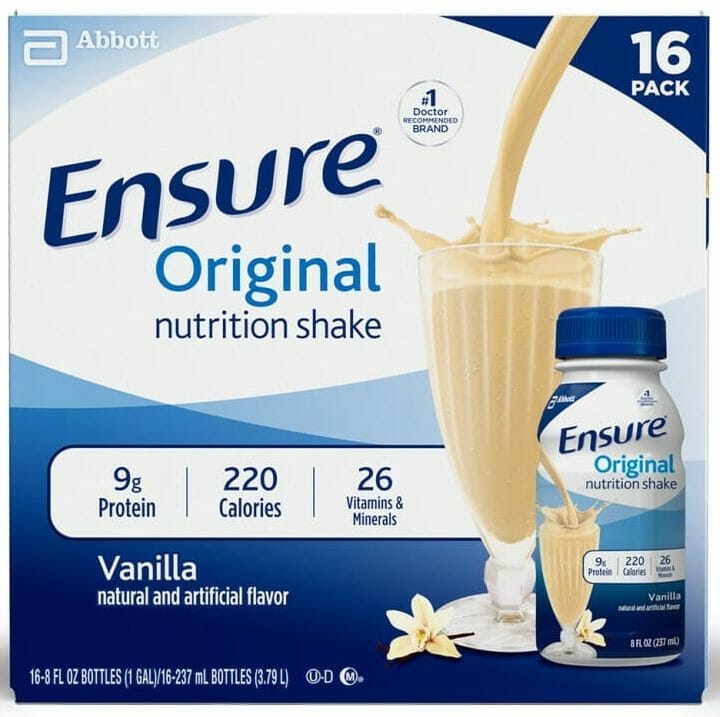 Ensure offers a variety of "nutritional" shakes including:
Original: Low in protein and fat, but high in carbs.
High Protein: Moderate amounts of protein, but low in fat.
Plus: Reasonable amount of calories, but mostly from carbs and sugar.
Max Protein: Classic protein shake that's low in calories but high in carbs.
Enlive: Reasonable amount of calories, the right amount of protein, but high in carbs and sugar.
Clear: Low in protein and zero fat, but plenty of carbs.
I would not consider any of the above a real meal replacement drink. Most Ensure shakes lack sufficient calories, and the ones that have almost enough calories to be classified as a meal replacement shake derive them from carbs (sugar).
But hey, at least it has some vitamin D…
Overall, Ensure doesn't offer any product I would consider buying. I recommend you stay away from all of these shakes.
Ensure Original Nutrition Shake
Ensure High Protein Nutrition Shake
Ensure Plus Nutrition Shake
Ensure Max Protein Nutrition Shake
Ensure Enlive Nutritional Shake
Ensure Clear Nutrition Shake
SlimFast Original
SlimFast produces the most popular weight loss shake in history. At the same time, it's by far the worst product I have reviewed, and I would highly recommend you refrain from buying it.
SlimFast made a name for itself in the weight loss community, but it did so at the expense of consumers, who thought SlimFast offered a healthy option for their weight loss journey.
Let me be clear: SlimFast is terrible. It has nothing your body needs or should be exposed to. It's the fast-food of diet shakes. (Honestly, that's probably being too generous.)
Benefits of Meal Replacement Drinks
Life is busy, and maintaining a healthy diet is hard. Sometimes there's little time to prepare a healthy meal (or to find one when you're traveling).
That's where meal replacement drinks and liquid food can help.
I consider myself fortunate because I have a dedicated paleo cook in my household (my wife). As a result, eating healthy while I'm at home is not an issue.
Finding paleo-compatible meal options at most restaurants is usually not a problem either. I can always have a salad or a piece of meat with some veggies.
However, sometimes I'm out and about without access to a healthy source of food. Examples include work-related events (such as trade shows), or birthday parties our kids have been invited to.
Other times, I have to skip breakfast because of a very early flight. In other words, there are plenty of opportunities in my life to not have a proper meal.
Meal replacement drinks and/or liquid food are the perfect solution in those types of situations. Depending on the type of shake, they can offer a healthy and nutritious meal on the go — one that doesn't take much time to prepare.
Frequently Asked Questions (FAQ)
How Do You Make a Homemade Meal Replacement Shake?
Making homemade meal replacement shakes is relatively easy. In the past, I would use my favorite protein powder as a base and then add fresh fruits and vegetables, nuts, seeds and mix it all in a blender.
I recommend using a protein powder that contains a blend of grass-fed whey protein (i.e., whey that comes from grass-fed cows) and egg white protein. If you need a vegan protein powder, try to find a blend of rice protein and pea protein.
Of course, you can also use a low-calorie vegan meal powder as your base, such as one of the brands I reviewed here.
These days, I use Naked Meal, a low-calorie, ketogenic diet compatible meal replacement powder as my base. You can find my favorite recipe, which includes a frozen banana and spinach, at the end of my Naked Meal review.
If you do decide to use nuts or nut butter, I recommend avoiding peanuts (which are actually legumes) and peanut butter, as they're a source of antinutrients.
Download Comparison Table
Given the size of the table and the available screen space, especially on mobile devices, I decided to create a more detailed PDF that you can download here. If you prefer the on-screen version instead, you'll have to scroll horizontally to see the full table.
Final Thoughts: Why These Are the Best Meal Replacement Shakes
The one thing that I have learned is that some manufacturers market their particular meal replacement products as honest-to-goodness meal replacements even when they lack the (macro)nutrients necessary to replace a full meal.
If you take those products out of the comparison, you're left with only a handful of true meal replacement options.
If you then apply any specific dietary requirements (such as paleo or keto requirements), your available choices become even more limited. Overall, I consider Ample Meal the winner because the company uses the highest-quality ingredients and also offers both vegan-friendly and Keto meal replacement shakes.
Super Body Fuel also makes a delicious product that costs less but requires you to mix it with milk and/or oil.
If you know of a meal replacement shake or powder I haven't yet included in this review, please let me know by leaving a comment below. I'd also love to hear about your preferred meal replacement products.