Ample V is a plant-based and vegan meal replacement shake made by Ample Foods. The ready-to-eat meal powder is available pre-bottled or in a waste-reducing bulk pouch. In this Ample V review, I'll tell you everything you need to know about this nutritious product so you can decide whether it's a good fit for your dietary lifestyle.
Also, I should mention that while I love to use Ample when I travel or don't have time to cook, meal replacement drinks aren't meant to fully replace real food. In other words, it's perfectly fine to drink an Ample a day, but don't stop eating fresh food in favor of a liquid diet — choose a healthy meal whenever you have the option.
Additionally, I want to point out that because I follow a Paleolithic ketogenic lifestyle, I almost exclusively drink Ample K — the ketogenic (low-carb) version of Ample.
Besides Ample V and Ample K, there is also Ample O — the original formula that Ample Foods started out with as part of a crowdfunding campaign in 2016.
I ordered my first few bottles of Ample Original in May of 2017, and have been using the three Ample formulas ever since. Adding up all my past orders shows that I've consumed over a hundred bottles of Ample while traveling, before workouts, and when I don't have the time to cook.
Ample V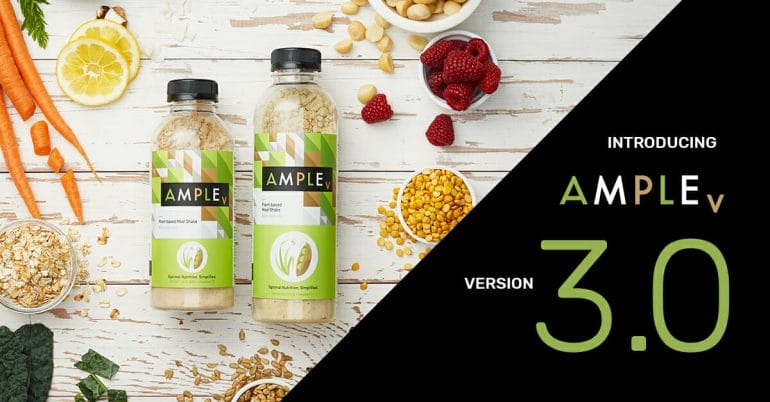 Ingredients
Taste and Texture
Convenience
Price
Summary
When it comes to convenient solutions for quick meals, there are a few vegan meal replacement shakes that do an excellent job of providing a nutritious meal at a reasonable price. Ample V is one of those products and I highly recommend it to my friends and family members who follow a plant-based lifestyle.

Pros
Quality of ingredients
Convenient bottle and bulk pouch options
Excellent macro-nutrient profile
Bottles are easy to get through airport security
Cons
Pricey
Certain sources of fiber can cause bad gas
What Is Ample V?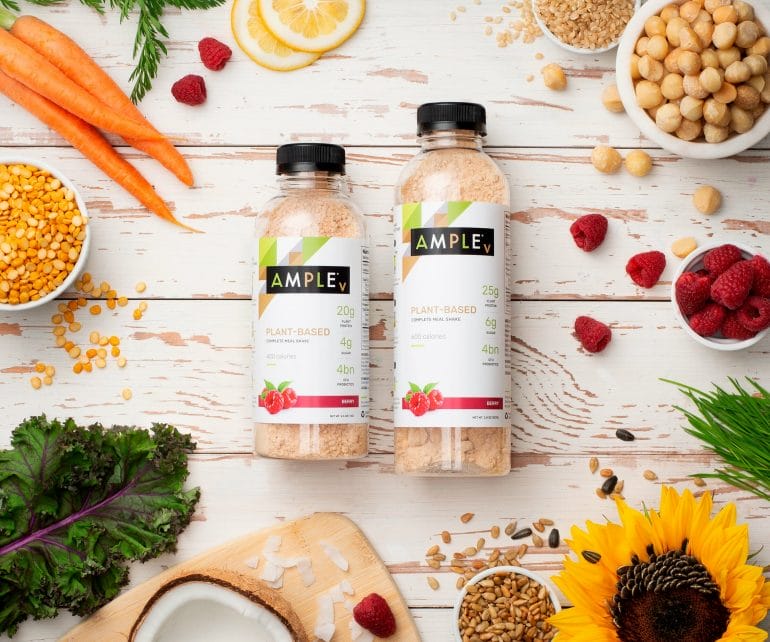 Connor Young founded Ample Foods in 2015, and a year later started a crowdfunding campaign to raise money and develop the product. His goal was to create a convenient and super-healthy drinkable meal that would take only a minute to prepare.
The first product was what we know today as Ample O (aka Ample Original), followed by a vegan-friendly version (Ample V), which is the subject of this review.
Ample V is a complete, plant-based meal replacement shake that comes in powder form, either pre-bottled or in an environmentally-friendlier bulk pouch. To prepare Ample, all you have to do is add cold water, milk, coffee, or your favorite nut-based milk alternative.
I usually consume Ample with water because I like how it tastes (and because I usually don't have access to other liquids when I'm traveling). It takes less than a minute to prepare a nutritious meal using Ample V.
Benefits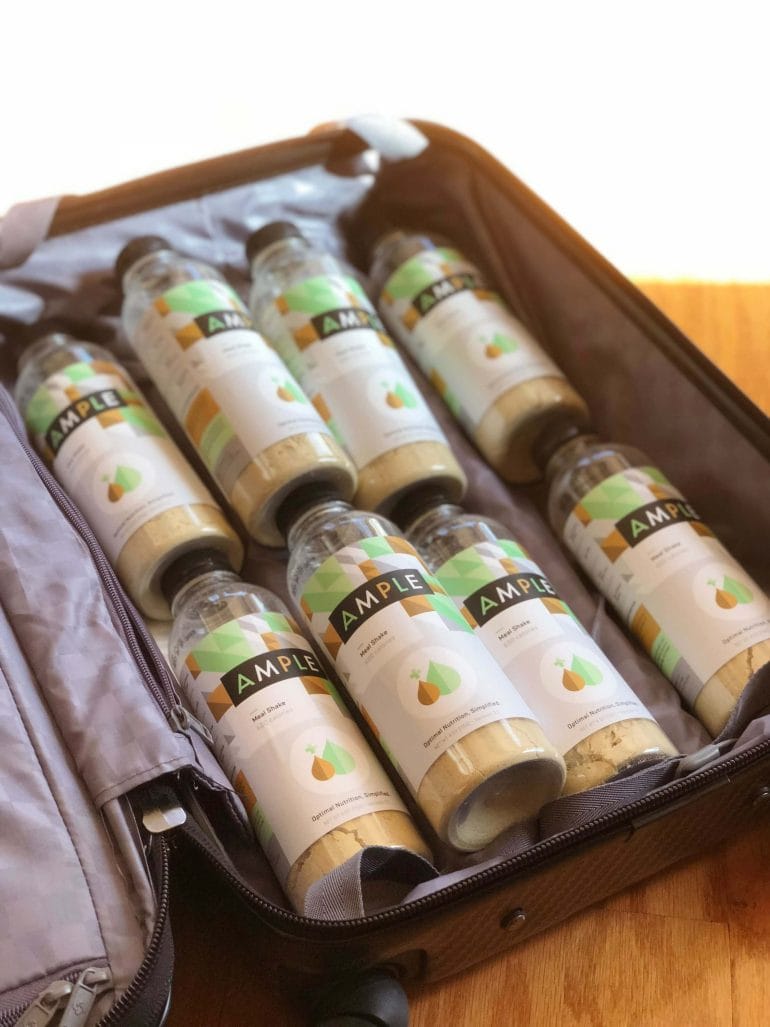 The primary benefit of Ample V is its combination of convenience and clean ingredients.
Preparing a vegan meal with Ample V takes less than a minute, and the bottles are incredibly easy to get through airport security. I've done that countless times, and while I do occasionally get asked about the bottles in my carry-on suitcase or backpack, I've never had a serious issue bringing them aboard an airplane.
On the other hand, if you'd like to reduce plastic waste, which is also a priority in the Kummer-household, you can opt for the bulk pouch. It contains 15 400-calorie servings and you can easily re-seal the pouch between meals.
Nutrition Facts
Ample V features a good macronutrient balance that fuels your body with sustained energy.
The 400 calorie formula has 26 grams of fat, 20 grams of protein and 12 grams of net carbs. The 600 calorie version offers 41 grams of fat, 25 grams of protein and 18 grams of net carbs.
Ample V also contains the following daily percentages:
Calcium: 20-25%
Iron: 8-10%
Potassium: 10-15%
Magnesium: 20-25%
Vitamin A: 20-25%
Vitamin B12: 40-50%
Additionally, Ample Foods added 4 billion CFU of probiotics to each bottle to support the healthy bacteria in your gut.
What you will not find in Ample V are any artificial ingredients, artificial sweeteners, soy, gluten or genetically-modified organisms (GMOs).
Micronutrients
People who adhere to the standard American diet (SAD), as well as many who follow veganism or a plant-based diet, often lack certain vitamins and minerals such as calcium, magnesium, potassium and B12. That's why Ample fortified this replacement drink with natural sources of those micronutrients.
I used to think that vegans might have trouble getting sufficient calcium because they don't eat dairy products, but according to scientific research, vitamin B12 deficiencies are much more common among that group. So I'm glad to see the addition of this important vitamin.
However, if you've seen the labels of other vegan meal shakes, such as Soylent or Huel, you might wonder why Ample hasn't added even more vitamins to its plant-based formula.
The reason for that is relatively simple: synthetic (lab-grown) vitamins and minerals — which is what you will find in the products from most of Ample's competitors — are virtually useless because the body can't absorb and utilize them in the same fashion as their natural counterparts.
As a result, Ample decided to only add high-quality versions of those micronutrients, which the body can actually use, to its formula. I've written a separate article about vitamin and mineral supplements, so check it out if you'd like to learn more about that topic.
Ingredients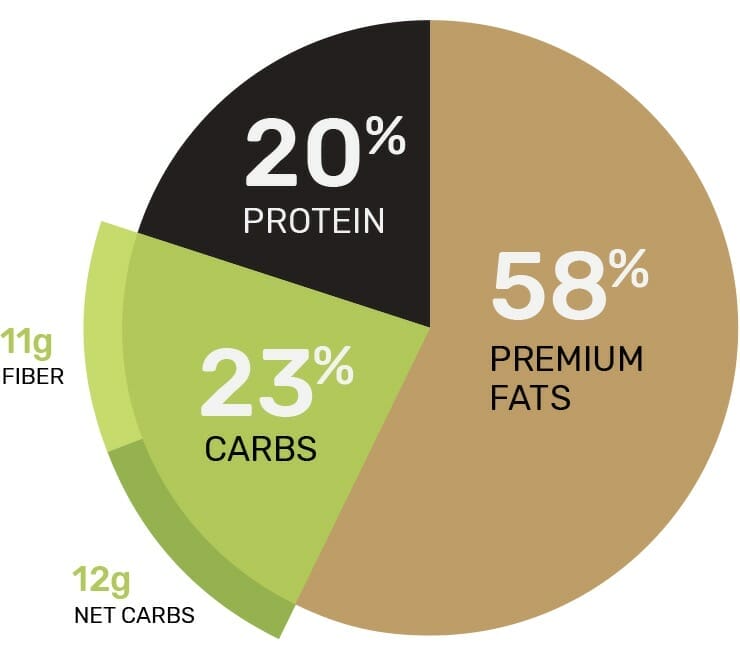 Below is an overview of the main ingredients in Ample V, followed by a detailed analysis that explains their benefits and why Ample V contains them.
Fats: coconut oil, high oleic sunflower oil, macadamia nut oil, sunflower lecithin.
Proteins: organic pea protein, organic rice protein.
Carbohydrates: whole grain oat powder, tapioca dextrin, acacia fiber, organic guar gum.
Sweeteners: pure maple sugar, monk fruit extract, stevia extract.
Probiotics: bacillus coagulans, lactobacillus rhamnosus, bifidobacterium infantis, lactobacillus acidophilus, bifidobacterium lactis, lactobacillus paracasei.
Flavor: raspberry powder, carrot powder, lemon juice powder.
From a macronutrient perspective, Ample V features less protein and carbohydrates but higher fat content to keep you satiated longer. Speaking of carbs, the company has started introducing whole grain oat powder into all of its formulas as a slower-digesting source of energy. In return, Ample reduced the amount of tapioca starch as its primary source of carbohydrates.
The sources of vegan protein in Ample V are still peas and rice, but the new formula only contains 20 to 25 grams of protein (depending on size).
In its latest formula update, Ample removed chia seeds as a source of omega-3 fatty acids. While that might appear to be a disadvantage, chia seeds contain antinutrients (phytochemicals) and they might not be as healthy as we thought they were.
Among the many changes Ample has made to its vegan option, you'll also notice that the company removed organic Jerusalem artichoke inulin and organic psyllium husk as sources of dietary fiber.
I don't mind the removal of inulin because it can cause GI issues, such as bloating, but I liked the psyllium husk. I assume they removed the latter because of its gritty texture.
Both Ample Original and the ketogenic formula use honey as a sweetener. Of course, honey is not vegan, and so Ample replaced it with pure maple syrup in Ample V.
Detailed Ingredient Analysis
For those of you who are interested in learning more about Ample V and its ingredients, I decided to pick apart the nutrition label and take a close look at each substance.
Pea Protein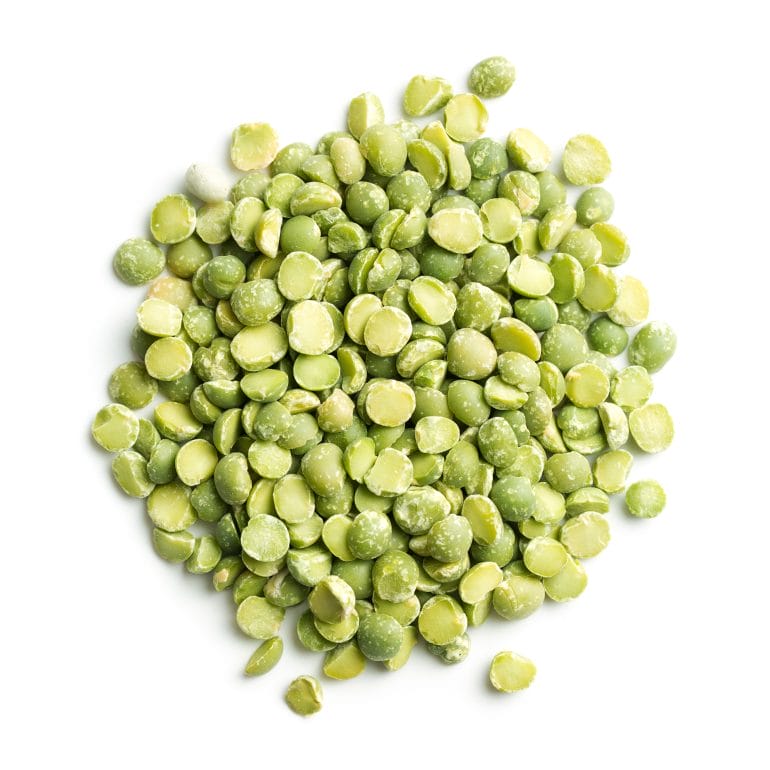 Pea protein (which is typically derived from split peas) is plant-based and thus often included in both vegan and vegetarian options. The body absorbs pea protein slower than some animal proteins (including whey), and it also has a lower bio-availability score.
The pea protein in Ample is low in lectins, which are a known antinutrient. Pea protein has naturally low concentrations of the amino acids cysteine and methionine, but it's high in lysine.
Rice protein, on the other hand, has the opposite (which makes it a perfect companion to pea protein).
Rice Protein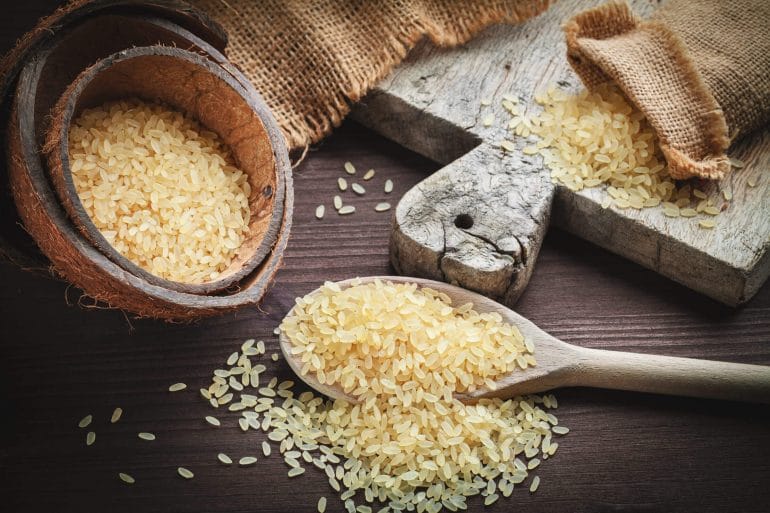 Brown rice protein is another popular choice among the vegan community. The body absorbs rice protein faster than pea or egg protein, but slower than whey protein.
Macadamia Nut Oil
Macadamia nut oil is an incredibly healthy cooking oil with a favorable omega 3 to 6 ratio of about 1:1. It consists of 85% monounsaturated fats and is loaded with oleic acid and other antioxidants.
Coconut Oil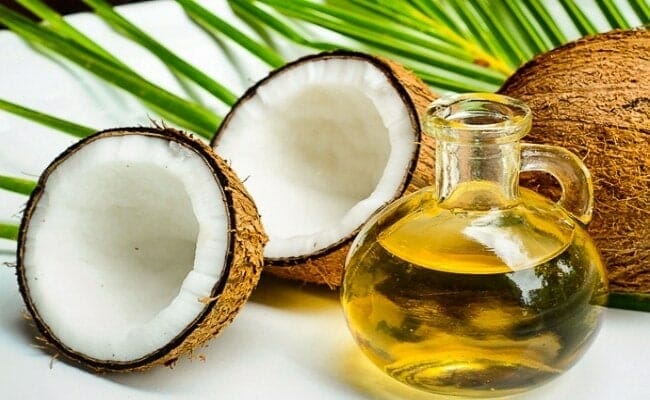 Coconut oil is a healthy source of saturated fats, and it's loaded with medium-chain triglycerides. The latter is incredibly popular in the keto community because some MCTs are an effective and fast source of energy.
Sunflower Lecithin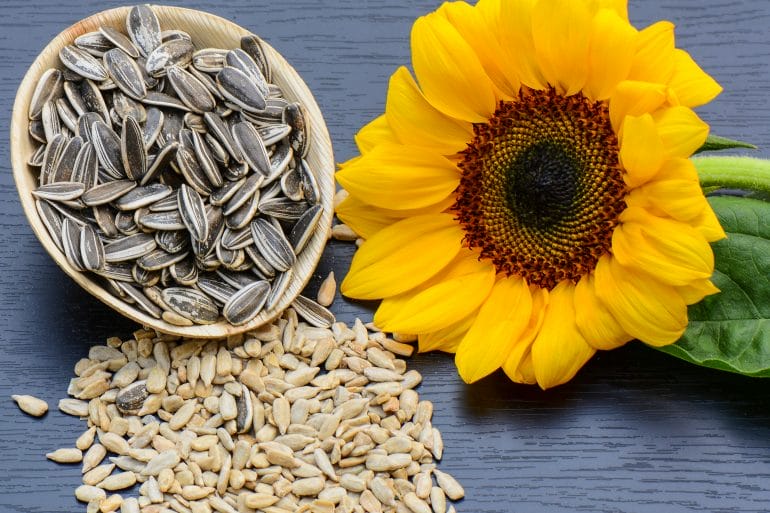 Sunflower lecithin is an emulsifier derived from the sunflower seed. In your body, lecithin is responsible for keeping cells healthy by preventing cell membranes from hardening.
Whole Grain Oat Powder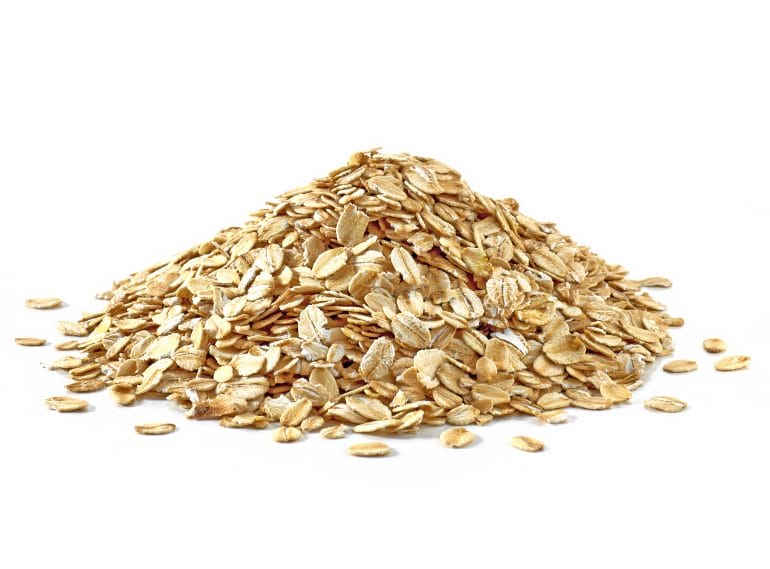 Before the latest update to its formula, Ample relied heavily on tapioca starch as a source of carbohydrates. With the updated Ample meals, the company introduced whole grain oat powder and flour as a slower-digesting (and ultimately healthier) alternative.
Tapioca Starch
Tapioca starch is a paleo-friendly carbohydrate extracted from the cassava root, native to the northeastern region of Brazil. Tapioca starch has a moderate glycemic index (GI) of 70, which indicates how quickly the body converts it into glucose.
For reference, glucose has a GI of 100.
Tapioca is a long-chain starch, which makes it an excellent prebiotic material to promote gut health.
Acacia Fiber
Acacia fiber is water-soluble and comes from the sap of the acacia Senegal tree. Studies have demonstrated the numerous benefits of Acacia fiber in the areas of stabilizing blood lipid levels, blood sugar and digestion.
Wheatgrass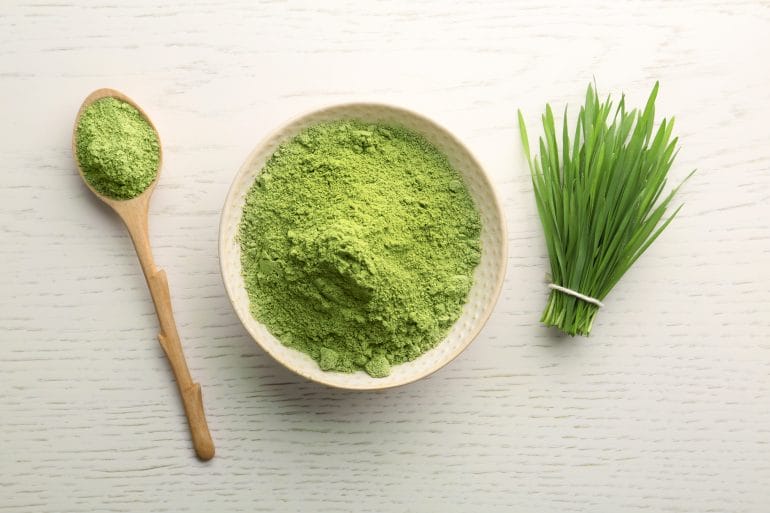 Unlike the wheat kernel, wheatgrass does not contain any gluten and is thus paleo-friendly. The bitter-tasting wheatgrass is an excellent source of chlorophyll, amino acids, minerals, vitamins, and enzymes.
Barley Grass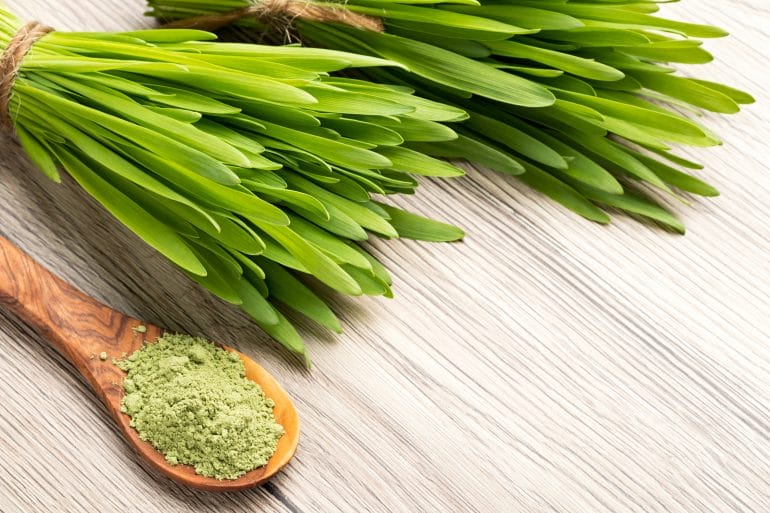 Similarly to wheatgrass, barley grass is loaded with micronutrients and antioxidants.
Maple Sugar
Maple sugar is the primary ingredient in maple syrup and another paleo-friendly and vegan sweetener. Unlike non-nutritive sweeteners, maple sugar does cause a spike in blood sugar and insulin levels.
Monk Fruit Extract
Monk fruit extract is a natural and paleo-friendly sweetener that doesn't have any calories, and which thus has a GI of 0.
Stevia Extract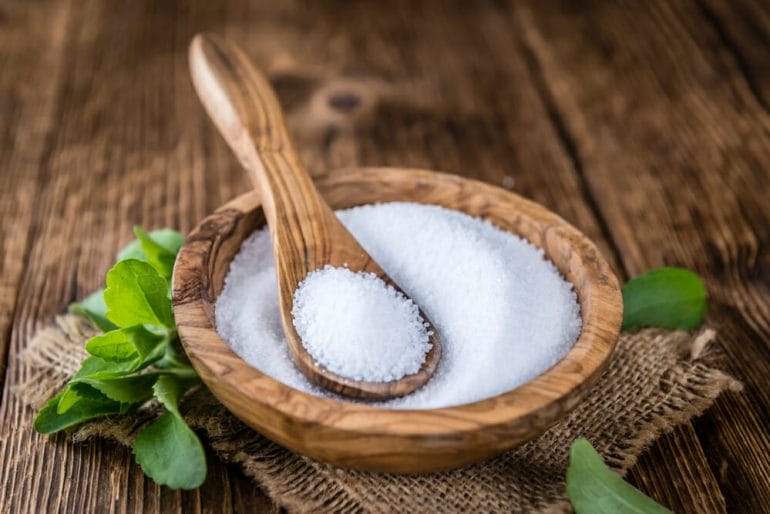 Similar to monk fruit, stevia — which is extracted from the stevia rebaudiana plant — is a zero-calorie sweetener that's keto, paleo and vegan-friendly.
Other Real-food Ingredients
Other ingredients in Ample include Himalayan sea salt, natural flavors, carrot powder, kale powder and lemon juice powder. I assume those substances don't require any further explanation.
What's Not in Ample V
As I mentioned above, Ample V and all other Ample formulas are naturally:
Gluten-free
Soy-free
Free of artificial flavors and ingredients
Free of genetically-modified organisms (GMOs)
Additionally, Ample V is lactose-free. That means it doesn't contain any milk or dairy products — a good thing, if you ask me.
Taste and Texture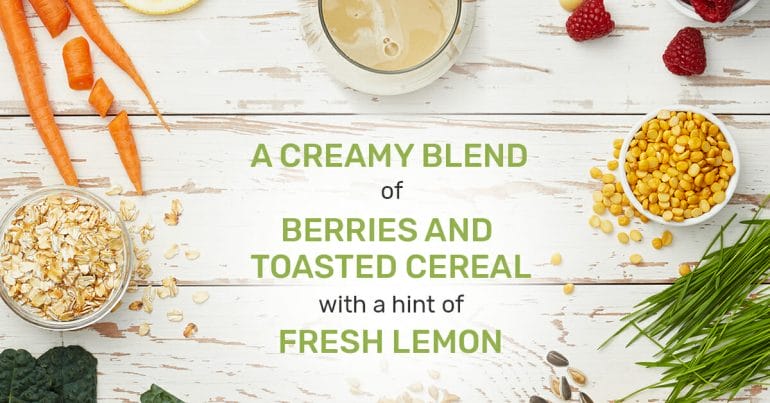 Ample V 2.1 and earlier had a smooth texture and a taste profile with hints of cocoa. While I didn't mind how Ample V tasted, it wasn't my favorite. I guess others shared that opinion because Ample completely changed the flavor of the new formula (v3.0).
Pea and rice protein have a slightly bitter flavor (caused by a natural compound in them called pyrazine), and therefore pair much better with a "bright", slightly lower pH fruit and vegetable flavor profile than with a vanilla or chocolate profile.

Connor Young, CEO of Ample
I appreciate that taste varies by person, and what tastes good to you might not taste so good to me. However, I think with the new Ample V, you'll get a plant-based meal shake that appeals to many different taste profiles. I certainly like the fruity flavor of Ample V 3.0.
Price and Promo Code
Ample's price varies depending on the serving size, flavor, the number of bottles your order and other factors. To make the Ample price more transparent, I've created the following comparison table.
| Meal Size | Ample V |
| --- | --- |
| 12x 400 calorie case | $90.00 |
| 12x 600 calorie case | $108.00 |
| 15x 400 calorie pouch | $79.00 |
| Subscription | 15% off |
Get an Additional 15% Off
Use code MK15 or the link below to get an additional 15% off your purchase.
I should point out that you can also find Ample V on Amazon, but unfortunately you won't be able to use my Ample V discount code if you buy it there.
What's New in Ample V 3.0?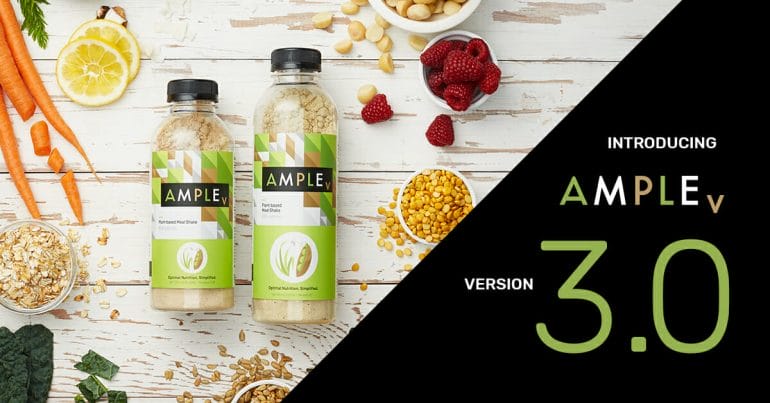 Together with its original and ketogenic formulas, Ample Foods recently released an update to its plant-based, vegan meal replacement drink. Ample V version 3.0 features an all-new texture and flavor — thanks to the addition of raspberry, kale and carrots — that makes Ample's vegan shake taste like berries and toasted cereal with a hint of fresh lemon.
In addition to the improved flavor, Ample Foods also made changes to the product's micronutrient content by adding additional vitamins and minerals that the standard American diet is deficient in (and which most plant-based diets lack), including B12, calcium, potassium and magnesium.
To learn how Ample V stacks up against other vegan meal replacement drinks, check out my complete roundup.
As you can see in the comparison table below, Ample made changes to its new meal replacement shake across the board. I marked the changes that I consider positive or neutral in green, and the ones I consider negative in red.
| | 400 Calorie (v2.1) | 400 Calorie (v3.0) | 600 Calorie (v2.1) | 600 Calorie (v3.0) |
| --- | --- | --- | --- | --- |
| Calories | 400 | 400 | 600 | 600 |
| Protein | 25g | 20g | 35g | 25g |
| Fat | 21g | 26g | 33g | 41g |
| Saturated Fat | 10g | 13g | 16g | 21g |
| Cholesterol | 0g | 0mg | 0g | 0mg |
| Carbohydrates | 28g | 23g | 42g | 35g |
| Dietary Fiber | 10g | 11g | 15g | 17g |
| Sugar | 4g | 4g | 6g | 6g |
| Sodium | 420mg | 380mg | 590mg | 400mg |
| Potassium | 0mg | 360mg | 0mg | 520mg |
| Protein Source | Organic pea protein, organic brown rice protein | Organic pea protein, organic rice protein | Organic pea protein, organic brown rice protein | Organic pea protein, organic rice protein |
| Fat Source | Macadamia nut oil, coconut oil, sunflower lecithin, omega-3, chia seed extract | Coconut oil, high oleic sunflower oil, macadamia nut oil, sunflower lecithin | Macadamia nut oil, coconut oil, sunflower lecithin, omega-3 chia seed extract | Coconut oil, high oleic sunflower oil, macadamia nut oil, sunflower lecithin |
| Carb Source | Tapioca dextrin, organic sweet potato powder | Whole grain oat powder, tapioca dextrin | Tapioca dextrin, organic sweet potato powder | Whole grain oat powder, tapioca dextrin |
| Sweeteners | Organic coconut sugar, monk fruit extract, stevia extract | Pure maple sugar, monk fruit extract, stevia extract | Organic coconut sugar, monk fruit extract, stevia extract | Pure maple sugar, monk fruit extract, stevia extract |
| Sources of Fiber | Acacia fiber, organic Jerusalem artichoke inulin, organic psyllium husk | Acacia fiber, guar gum | Acacia fiber, organic Jerusalem artichoke inulin, organic psyllium husk | Acacia fiber, guar gum |
| Micronutrients | Vitamin C (2%), calcium (20%), iron (15%) | Vitamin A (20%), vitamin B12 (40%), vitamin C (8%), calcium (20%), magnesium (20%), iron (8%) | Vitamin C (2%), calcium (25%), iron (20%) | Vitamin A (25%), vitamin B12 (50%), vitamin C (10%), calcium (25%), magnesium (25%), iron (10%) |
| Price | $42.00 | $42.00 | $51.00 | $51.00 |
| Cost per serving | $7.00 | $7.00 | $8.50 | $8.50 |
When to Use Ample Meal Shakes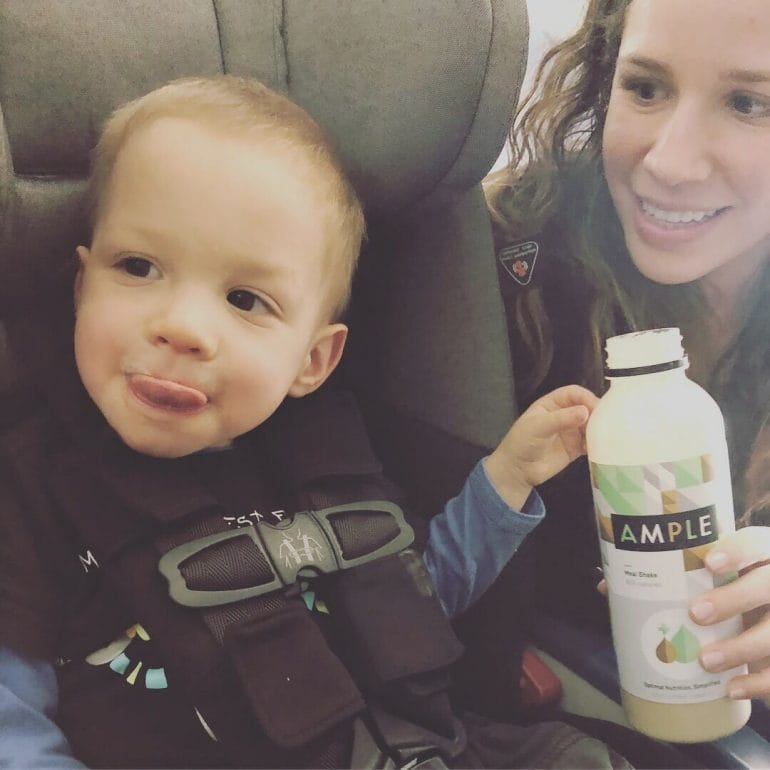 There are dozens of use-cases for Ample V, including the ones below.
When you don't have access to healthy sources of food.
When you're traveling.
When you don't have time to prepare a balanced meal.
Before a workout.
In the office, instead of cafeteria food.
If you're a healthcare professional or flight attendant.
To learn more about these use cases, check out this article in which I go into more details on how I use Ample meal replacement shakes.
Frequently Asked Questions
What makes Ample V vegan-friendly?
Ample V is a 100% plant-based meal that contains zero animal products, a feat the company achieved by swapping whey for two plant proteins: organic pea protein and organic rice protein (thus removing dairy from its formula).

Peas are legumes and have certain disadvantages compared to whey, such as lower absorbability and slower digestibility; that's why Ample compensates by adding another source of protein (rice) to the mix.

There is another minor difference in ingredients between Ample V and the other formulas (O and K). For the vegetarian formula, Ample swapped out honey for pure maple sugar.
Can I use Ample V if I'm following a ketogenic diet?
Ample V, much like most (but not all) vegan meal shakes, has too many carbs to be appropriate for a ketogenic lifestyle. That's why I switched to Ample K.

However, if you'd like to combine a vegan and ketogenic lifestyle, I recommend checking out Vast, which I reviewed in my comparison of the top vegan meal shakes.
Is there a chocolate-flavored version of Ample V?
Unfortunately, there isn't — and I wouldn't expect one anytime soon. Based on the feedback I've received from the Ample marketing team, a fruity flavor pairs much better with the protein sources in Ample V, whereas chocolate doesn't seem to work quite as well.
What's the difference between protein powders and meal replacement drinks?
Pure vegan protein powders provide protein but not fat or carbohydrates. As a result, they have fewer calories and cannot replace a full meal.

If you use plant-based protein powders as part of an active lifestyle, you can certainly continue doing so. However, if you're looking for a meal replacement, protein powders aren't a good choice.
Is Ample V better than Huel?
I pay attention to the quality of the ingredients of the products I buy, and Ample V uses only top-notch ingredients without any artificial or non-organic components.

Huel takes a different approach to making meal replacement shakes available to a broader audience by cutting some corners (and being transparent about it). Huel does that to reduce the cost of the product.

Check out my write-up of the most popular vegan meal shakes to learn more about how Ample V and Huel compare.
Is Ample V better than Soylent?
Soylent is liquid fast food and it includes ingredients I would highly recommend you stay away from. To learn more about why Soylent isn't healthy, check out this article.
Wrap Up
In a perfect world, you'd be eating fresh and wholesome food for every meal. Unfortunately, life isn't perfect and it's not always possible to shop for, prepare and eat fresh food.
That's where meal replacement shakes can come in handy — by providing a convenient solution for a quick meal.
Unfortunately, most "quick meals" are made from over-processed and inflammatory ingredients that can wreak havoc on your health.
The good news is that there are a few vegan meal replacement shakes that do an excellent job of providing a nutritious meal at a reasonable price. Ample V is one of those products and I highly recommend it to my friends and family members who follow a plant-based lifestyle.
If you've tried earlier releases of Ample V in the past and didn't like the sweet taste, I'd encourage you to give it another shot. The latest formula has a crisper and fruitier taste and I'm confident you'll like it.
If you do decide to give Ample V a try, don't forget to use my discount code MK15 and get 15% off your purchase. Then let me know how you liked it by leaving a comment below.
If you have any questions or concerns before pulling the trigger, don't hesitate to reach out to me directly!

I'm a healthy living and technology enthusiast.
On this blog, I share in-depth product reviews, actionable information and solutions to complex problems in plain and easy-to-understand language.
Medical Disclaimer
The information shared on this blog is for educational purposes only, is not a substitute for the advice of medical doctors or registered dieticians (which we are not) and should not be used to prevent, diagnose, or treat any condition. Consult with a physician before starting a fitness regimen, adding supplements to your diet, or making other changes that may affect your medications, treatment plan or overall health. MichaelKummer.com and its owner MK Media Group, LLC are not liable for how you use and implement the information shared here, which is based on the opinions of the authors formed after engaging in personal use and research. We recommend products, services, or programs and are sometimes compensated for doing so as affiliates. Please read our
Terms and Conditions
for further information, including our
privacy policy
.