Ample K is a ketogenic meal replacement drink that I've used extensively since Ample Meal launched it in early 2018. In this review, I'll tell you everything you need to know about Ample K and share why this low-carb meal replacement powder is one of my favorites.
To learn more about other Ample formulas, including Ample Original and Ample V, check out my respective reviews by clicking on the links.
Ample K – Keto Meal Shake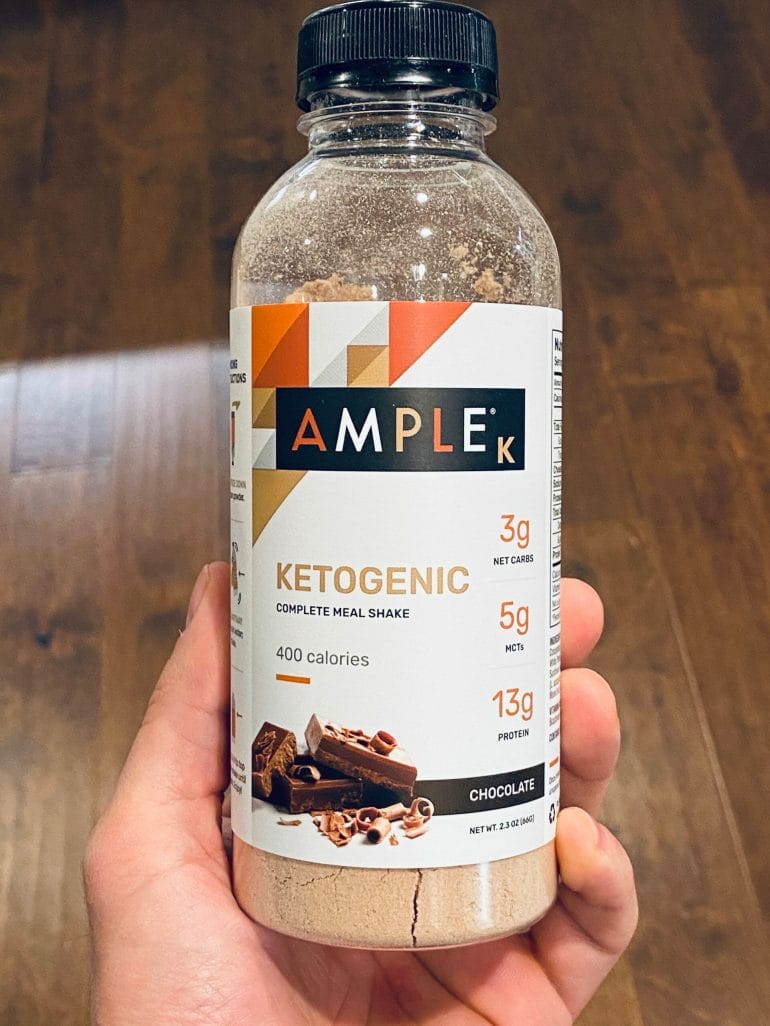 Pros
Quality of ingredients
Convenient bottle and bulk pouch options
Excellent macronutrient profile
Available in vanilla and chocolate flavors
Cons
Pricey
I'd prefer beef and egg protein only
Certain sources of fiber can cause bad gas
Ample K Benefits
If you've searched for keto meal replacement drinks on Google or Amazon, you've probably noticed how many choices there are.
So what makes Ample K stand out as one of my favorites?
I'm on a Paleolithic ketogenic diet, which is slightly different from a traditional keto diet because it takes ingredient quality into account (rather than just focusing on the proper macronutrient balance).
That's why I prefer Ample K: it contains only high-quality and carefully-selected ingredients. The nutritional focus of Ample K makes it a bit more expensive than other keto meal shakes, but it's worth it in my opinion.
The other thing I really like about Ample K is that it comes in powder form, either pre-bottled or in a bulk pouch.
I frequently travel by airplane and love the convenience of the bottled version because the bottles are painless to get through airport security and I only need to add water if I want to prepare a meal.
For at home or when I travel for extended periods, I appreciate the bulk pouch, which leads to less plastic waste and is thus better for the environment.
Nutrition Facts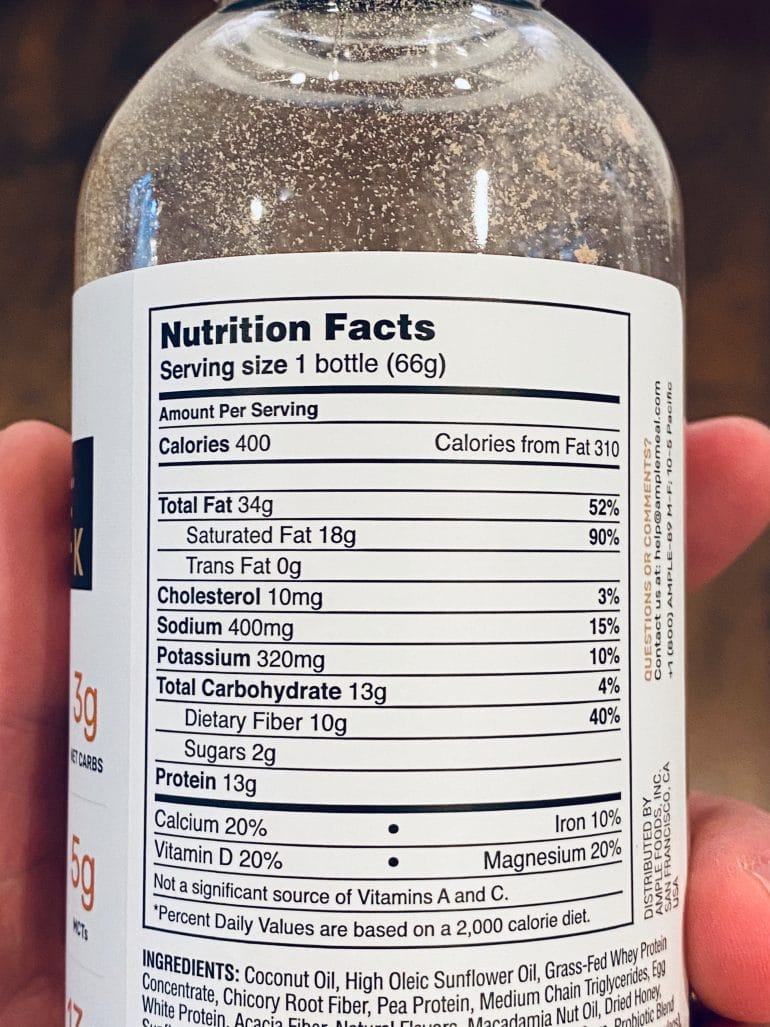 Considering that Ample Foods has made Ample K for people who follow a ketogenic or low-carb lifestyle, it shouldn't come as a surprise that the product contains a lot of fat, moderate amounts of protein, and very low amounts of carbohydrates.
Specifically, the 400 calorie formula has 34 grams of fat, 13 grams of protein, and only 3 grams of net carbs. The 600 calorie version offers a whopping 51 grams of fat, 21 grams of protein, and only 4 grams of net carbs.
Besides the perfectly-balanced macronutrient count, Ample K provides 10-15% of your daily potassium, 20-25% of calcium, 10% of iron, 20-25% of vitamin D3, and 20-25% of magnesium in the 400-calorie and 600-calorie version.
Additionally, Ample added 4 billion CFU of probiotics to each bottle to support a healthy gut microbiome.
What you don't find in Ample K are artificial ingredients, such as artificial sweeteners, soy, gluten or genetically-modified organisms (GMOs).
Net Carbs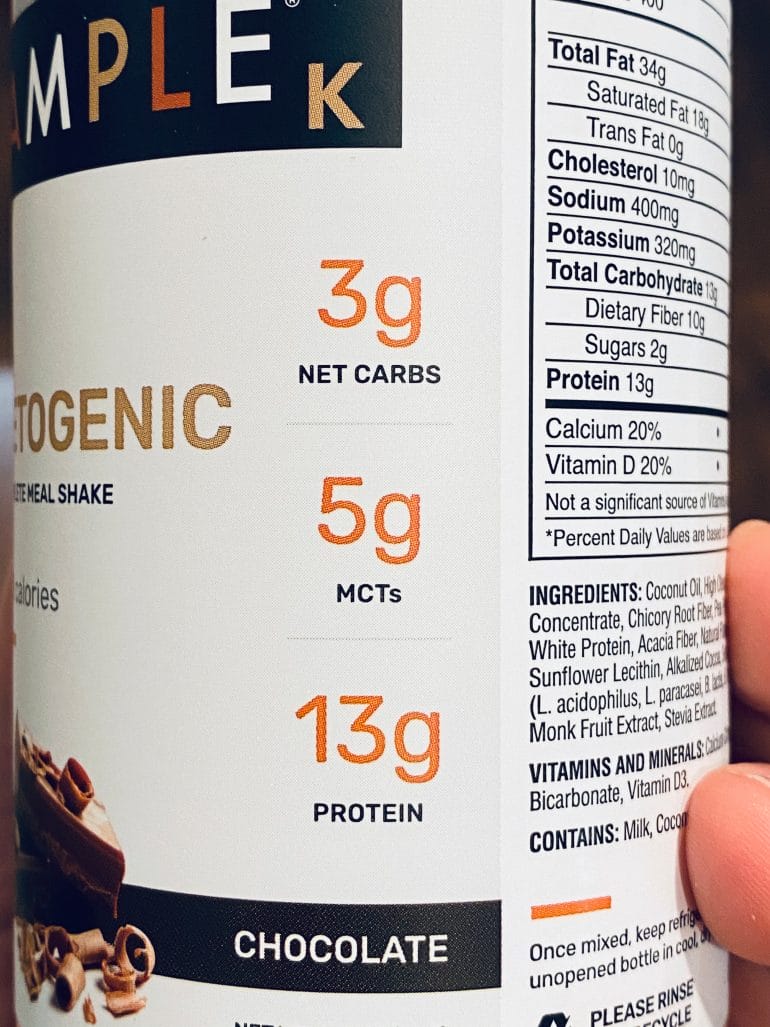 If you look closely at the Ample K label, you'll notice that the 400-calorie version has 13 grams (and the 600-calorie version has 18 grams) of carbs.
That sounds like a lot of carbs for one meal. However, it's important to understand the difference between total carbs and net carbs.
Net carbs are the total amount of carbohydrates minus those carbs your body cannot use for energy (i.e., fiber). Anything your body can't use for energy doesn't raise your blood sugar or insulin levels, and thus doesn't kick you out of ketosis.
Vitamins and Minerals
One of the things I've heard some users complain about is the lack of micronutrients (meaning vitamins and minerals) in Ample.
The lack of micronutrients becomes especially apparent if you compare Ample's label to other meal replacement drinks.
However, it's important to understand that adding a ton of synthetic vitamins and minerals to a product doesn't actually make it any healthier, because your body won't be able to absorb and utilize most of them.
The bottom line is that Ample decided to strategically fortify Ample K with high-quality versions of some of the nutrients that many Americans are deficient in — primarily calcium and vitamin D.
Additionally, Ample K contains magnesium, sodium and potassium because those electrolytes are particularly important on a ketogenic diet. You might have felt the effects of low electrolyte levels when you started keto. That's called the keto flu, and maintaining proper electrolyte levels is one way to reduce or avoid its symptoms.
Ingredients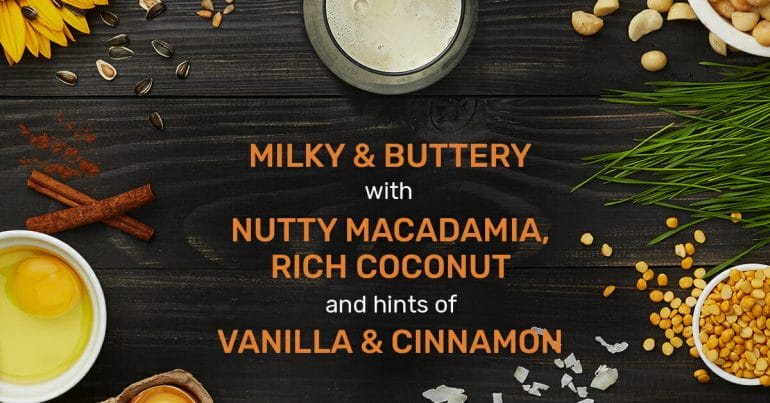 Below is an overview of the main ingredients in Ample K, followed by a detailed analysis that explains the benefits of the individual ingredients and why the product contains them.
Fats: coconut oil, high oleic sunflower oil, macadamia nut oil, sunflower lecithin, MCTs.
Proteins: grass-fed whey isolate, egg white protein, pea protein.
Carbohydrates: tapioca dextrin, acacia fiber, chicory root fiber, organic guar gum.
Sweeteners: dried honey, monk fruit extract, stevia extract.
Probiotics: bacillus coagulans, lactobacillus rhamnosus, bifidobacterium infantis, lactobacillus acidophilus, bifidobacterium lactis, lactobacillus paracasei.
Flavor: vanilla cinnamon or alkalized cocoa.
Ingredient Analysis
For those of you who are interested in learning more about Ample and its ingredients, I decided to pick apart the nutrition label on the pack and take a close look at each substance.
Whey Protein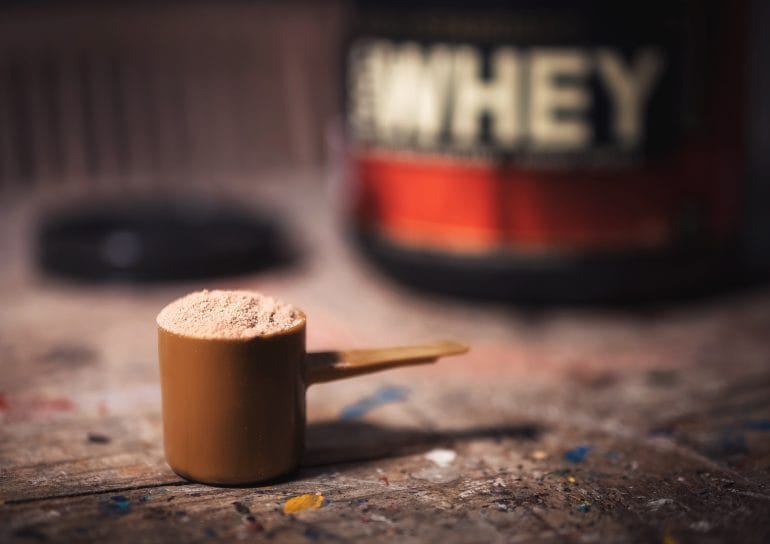 Whey is a fast-absorbing milk protein that many athletes consume to build lean muscle mass. Ample uses grass-fed whey protein isolate and whey concentrate in its keto meal shake.
Pea Protein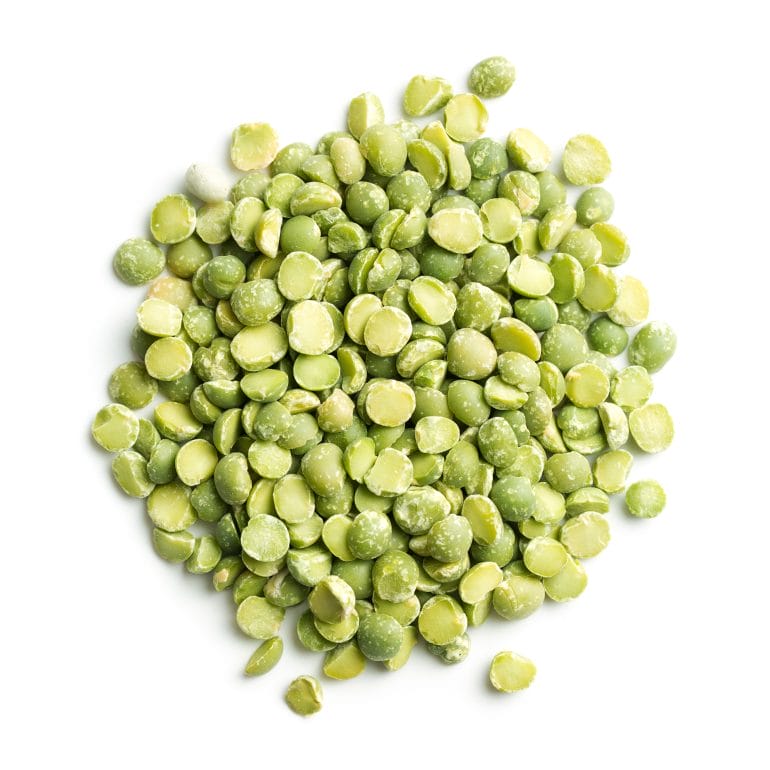 Pea protein (which is typically derived from split peas) is plant-based and thus often included in both vegan and vegetarian products. The body absorbs pea protein slower than whey, and it also has a lower bio-availability score.
The pea protein in Ample is low in lectins, which are a known antinutrient. Pea protein has naturally low concentrations of the amino acids cysteine and methionine, but it's high in lysine.
Egg Protein
Egg white protein is an excellent and paleo-friendly source of protein. But as with pea protein, the body requires more time to absorb it.
I assume that Ample included proteins with varying rates of digestibility to keep you satiated for longer.
Macadamia Nut Oil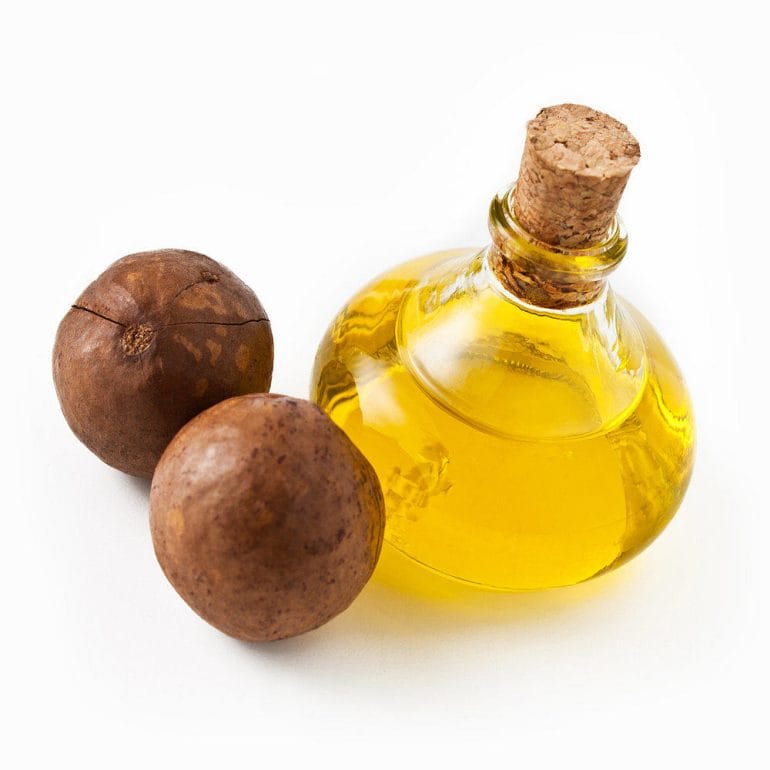 Macadamia nut oil is an incredibly healthy cooking oil with a favorable omega 3 to 6 ratio of about 1:1. It consists of 85% monounsaturated fats and is loaded with oleic acid and other antioxidants.
Coconut Oil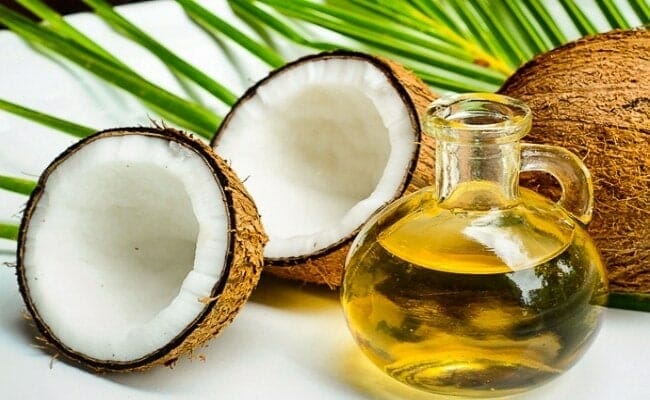 Coconut oil is a healthy source of saturated fats, and it's loaded with medium-chain triglycerides.
Medium-Chain Triglycerides (MCTs)
MCTs are essential in the keto diet because they offer an immediate source of energy. Ample K has the following amounts of MCTs per serving:
3g net carbs and 5g of MCTs per 400 calorie meal.
5g net carbs and 8g of MCTs per 600 calorie meal.
I'd also like to point out that MCT is a collective term for various fatty acids, but your body cannot use all of them for energy (ketosis). Four popular MCTs that you can also find in coconut oil include:
Caproic acid (C6)
Caprylic acid (C8)
Capric acid (C10)
Lauric acid (C12)
While Ample includes all of them, the company does not count C12 because lauric acid does not bypass your digestive system, which means your liver can't use it to make ketones. In other words, the five and eight grams shown on the label do not include C12.
Sunflower Lecithin
Sunflower lecithin is an emulsifier derived from the sunflower seed. In your body, lecithin is responsible for keeping cells healthy by preventing cell membranes from becoming hard.
Tapioca Starch
Tapioca starch is a paleo-friendly carbohydrate extracted from the cassava root, native to the northeastern region of Brazil. Tapioca starch has a moderate glycemic index (GI) of 70, which indicates how quickly the body converts it into glucose. As a reference, glucose has a GI of 100.
Tapioca is a long-chain starch, which makes it an excellent prebiotic material to promote gut health.
Acacia Fiber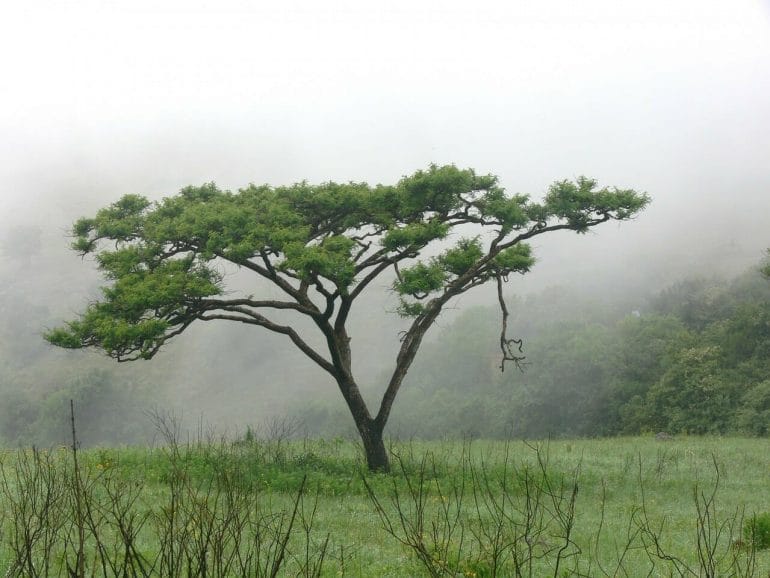 Acacia fiber is water soluble and comes from the sap of the acacia Senegal tree. Studies have demonstrated the numerous benefits of acacia fiber in the areas of stabilizing blood lipid levels, blood sugar and digestion.
Chicory Root Fiber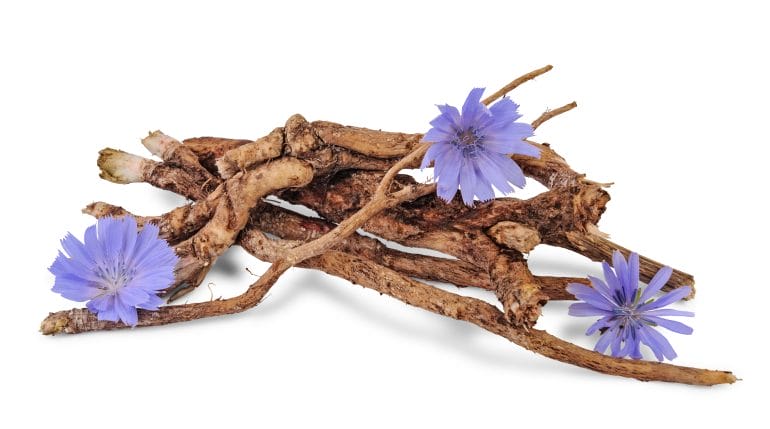 Chicory root is an excellent source of inulin, a soluble and prebiotic fiber that you can also find in other plants, such as Jerusalem artichokes, jicama, asparagus and more. Inulin is also used as a plant-based sweetener.
Note that some people may suffer from excessive gas if they consume too much inulin — yours truly included.
Guar Gum
Guar gum is a polysaccharide extracted from guar beans, and is used in food as a thickening and stabilizing agent. It's also an excellent low-calorie source of soluble fiber.
Honey
Honey is a paleo-friendly and natural sweetener that consists of 30% glucose, 40% fructose and 20% other sugars, including dextrin. Dextrin is a starchy fiber that slows down digestion, making honey a better overall option than plain sugar.
Monk Fruit Extract
Monk fruit extract is a natural and paleo-friendly sweetener that doesn't have any calories and thus has a GI of 0.
Stevia Extract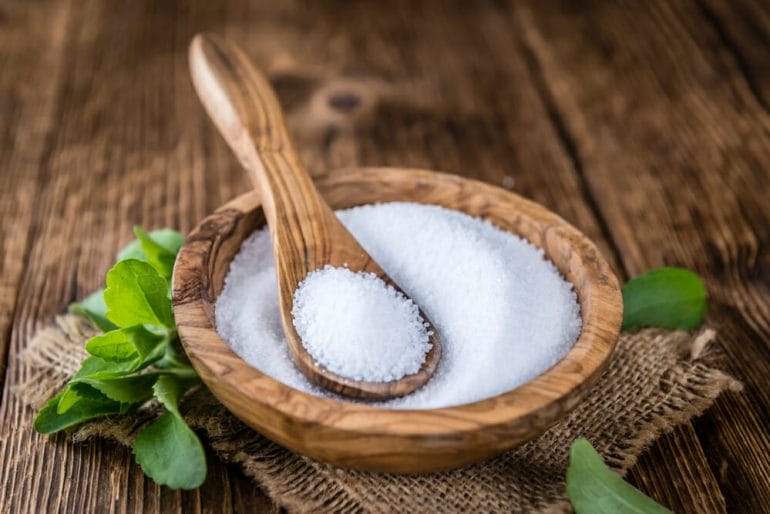 Similar to monk fruit, stevia — which is extracted from the stevia rebaudiana plant — is a zero-calorie, paleo-friendly sweetener.
You can learn more about those and other sweeteners in this article.
Other Ingredients
Other ingredients in Ample K include Himalayan sea salt and lemon juice powder. I assume those substances don't require any further explanation.
As natural flavors, Ample offers vanilla cinnamon or alkalized cocoa.
What's Not in Ample K?
Ample has done an incredible job of keeping its meal powder free of unhealthy and highly-processed ingredients. So here's a list of ingredients you won't find in the product.
Artificial Sweeteners and Flavors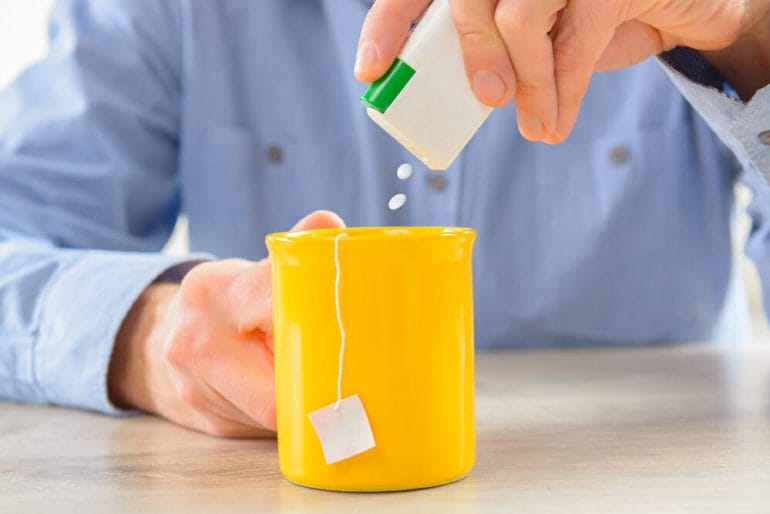 The words "artificial" and "clean eating" don't go together, and that's why I try to stay away from products that contain artificial food ingredients. Aside from the philosophical reasons, I have recently learned that artificial sweeteners, such as sucralose, can negatively impact how the body reacts to glucose.
I'm not talking about the body's insulin response, but research has demonstrated that the consumption of artificial sweeteners can lead to the body failing to excrete insulin when it should — for example, when glucose levels rise (leading to blood sugar spikes).
Gluten
Gluten is a protein found in certain grains, such as wheat, that the human body cannot readily break down as part of the digestive process. Some people have celiac disease, which is an immune response to gluten exposure.
What most people don't know is that suffering from celiac disease is not the only reason why you should stay away from gluten. You may be sensitive to gluten without suffering an immune response (and without even knowing it). If you're sensitive to gluten, you may experience any number of symptoms, such as headaches, migraines, stomach problems and more.
The fact of the matter is that humans introduced foods containing gluten only about 10,000 years ago. That's an incredibly short time for the body to prepare, compared to the 2.6 million years of human evolution that preceded modern agriculture.
Also, keep in mind that the wheat our ancestors ate thousands of years ago has nothing in common with the engineered products we buy today. My advice is that if you're in doubt about food, apply the evolutionary framework. If it doesn't fit, don't eat it.
Ample K is gluten-free!
Soy
Soy belongs to the legume family, most of which are toxic when consumed raw. But even when cooked, soy contains numerous antinutrients, such as lectins, that prevent your body from absorbing nutrients. Those antinutrients can also cause a leaky gut.
Besides that, soy offers fewer nutrients than healthier alternatives. As a result, I recommend staying away from anything containing soy, including tofu and products with soy milk.
Ample K is soy-free!
Non-GMO
Ample uses only ingredients that have not been genetically modified. While I prefer products with the Non-GMO label, I realize there aren't any scientific studies proving that GMO foods are detrimental to your health. Genetic modifications may have other adverse side-effects, but at least from a health perspective, I have few reservations so far.
Regardless of how you feel about GMOs, you should know that Ample K is non-GMO!
Taste and Texture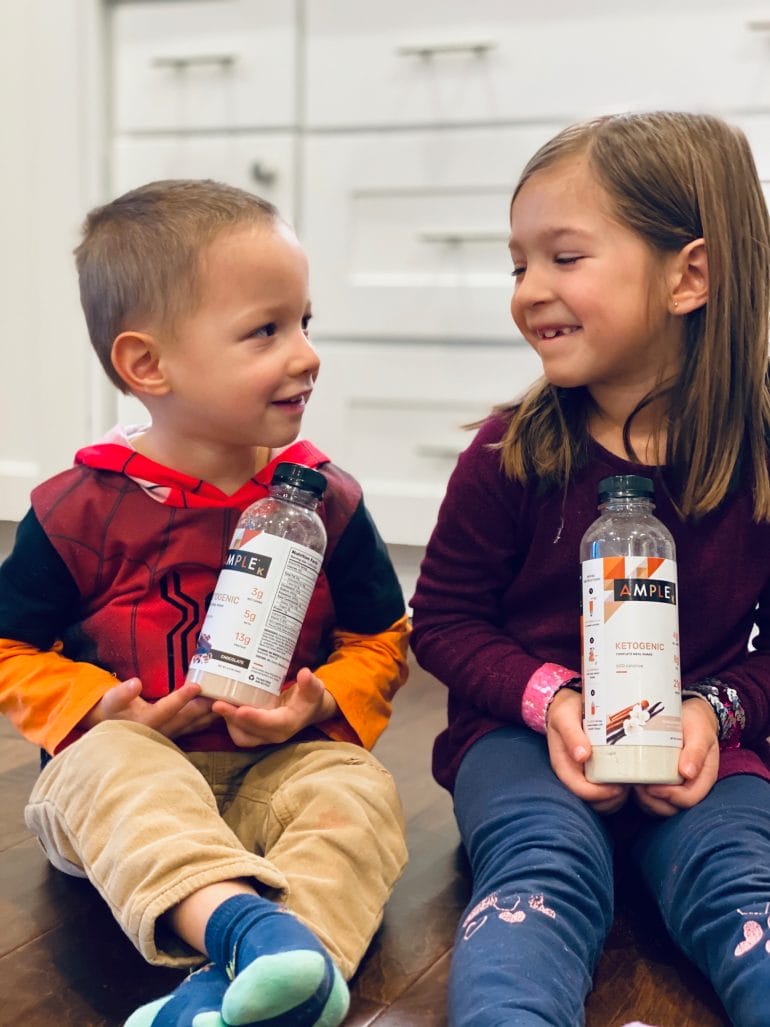 For a long time, Ample K was only available in one flavor: vanilla cinnamon. The taste of that flavor is best described as milky, creamy and smooth, with rich notes of coconut and nutty macadamia.
However, Ample K vanilla cinnamon is also relatively sweet — more so in formula Version 1 than Version 2.
I don't mind vanilla, but I'm a chocolate guy. As a result, I got super excited when Ample introduced Ample K chocolate in late 2019. The chocolate version retains the creamy and smooth texture of the original formula, but the sweet vanilla taste is gone.
When I got my first shipment of Ample K chocolate, I let my wife try it and she commented that the drink tastes like hot cocoa.
Below is a rating of Ample K's taste, based on my personal preferences. Keep in mind that your mileage may vary:
| Ample K Vanilla Cinnamon | Ample K Chocolate |
| --- | --- |
| ★★★★☆ | ★★★★★ |
Price and Discount Code
As I mentioned above, Ample K isn't among the cheapest keto meal shakes on the market, but it's well worth the price considering the type and quality of its ingredients.
Ample K costs between $5.60 and $9.40, depending on the calories per serving.
| Ample K Pricing | Ample K |
| --- | --- |
| Ample K 400cal (12 bottles) | $96.00 |
| Ample K 600cal (12 bottles) | $112.80 |
| Ample K Bulk Pouch (15x 400cal) | $84.00 |
| Subscription | 15% off |
Ample's price varies depending on the serving size, the number of bottles your order, and other factors. To make the Ample K price more transparent, I created the above comparison table.
Get an Additional 15% Off
Use code MK15 or the link below to get an additional 15% off your purchase.
I should point out that you can also find Ample K on Amazon*, but unfortunately you won't be able to use the Ample K discount code above.
Ample K V1 vs. Ample K V2
If you're new to Ample K, you probably don't care about how the current formula (2.0) is different from the original version (1.0). However, since I've been enjoying Ample K from its first release, I figured it would be worthwhile to show how the formula has improved over the years.
So here's a comparison table that highlights the differences (marked in green and red) between V1 and V2.
| | 400 Calorie v1.0 | 400 Calorie v2.0 | 600 Calorie v1.0 | 600 Calorie v2.0 |
| --- | --- | --- | --- | --- |
| Calories | 400 | 400 | 600 | 600 |
| Protein | 13g | 13g | 19g | 19g |
| Fat | 33g | 33g | 50g | 51g |
| Saturated Fat | 21g | 17g | 33g | 25g |
| MCTs | 6g | 5g | 9g | 8g |
| Cholesterol | 0g | <5mg | 0g | 5mg |
| Carbohydrates | 16g | 13g | 22g | 19g |
| Net Carbs | 6g | 3g | 9g | 5g |
| Dietary Fibers | 10g | 10g | 13g | 14g |
| Sugar | 2g | 2g | 3g | 3g |
| Sodium | 420mg | 430mg | 570mg | 580mg |
| Potassium | 380mg | 280mg* | 530mg | 350mg* |
| Protein Source | Grass-fed whey isolate, egg white protein, pea protein | Grass-fed whey isolate, egg white protein, pea protein | Grass-fed whey isolate, egg white protein, pea protein | Grass-fed whey isolate, egg white protein, pea protein |
| Fat Source | Coconut oil, macadamia nut oil, chia seed oil, sunflower lecithin, MCTs | Coconut oil, high oleic sunflower oil, macadamia nut oil, sunflower lecithin, MCTs | Coconut oil, macadamia nut oil, chia seed oil, sunflower lecithin, MCTs | Coconut oil, high oleic sunflower oil, macadamia nut oil, sunflower lecithin, MCTs |
| Carb Source | Tapioca dextrin, sweet potato powder | Tapioca dextrin | Tapioca dextrin, sweet potato powder | Tapioca dextrin |
| Sweeteners | Dried honey, monk fruit extract, stevia extract | Dried honey, monk fruit extract, stevia extract | Dried honey, monk fruit extract, stevia extract | Dried honey, monk fruit extract, stevia extract |
| Source of Fiber | Acacia fiber, chicory root fiber | Acacia fiber, chicory root fiber, organic guar gum | Acacia fiber, chicory root fiber | Acacia fiber, chicory root fiber, organic guar gum |
| Micronutrients | Vitamin D (20%), calcium (20%), magnesium (20%), iron (8%) | Vitamin D (20%), calcium (20%), magnesium (20%), iron (6%) | Vitamin D (25%), calcium (25%), magnesium (25%), iron (10%) | Vitamin D (25%), calcium (25%), magnesium (25%), iron (8%) |
| Price | $48.00 | $48.00 | $60.00 | $60.00 |
| Cost per serving | $8.00 | $8.00 | $10.00 | $10.00 |
In a nutshell, the current Ample K 2.0 features a reduction of net carbs, added medium-chain triglycerides (MCTs), the addition of high oleic sunflower oil, and other enhancements.
Additionally, Ample has adjusted the sweetness balance in Ample K vanilla cinnamon to achieve a more natural flavor. I always liked the taste, but I agree it was on the sweeter side.
Pros and Cons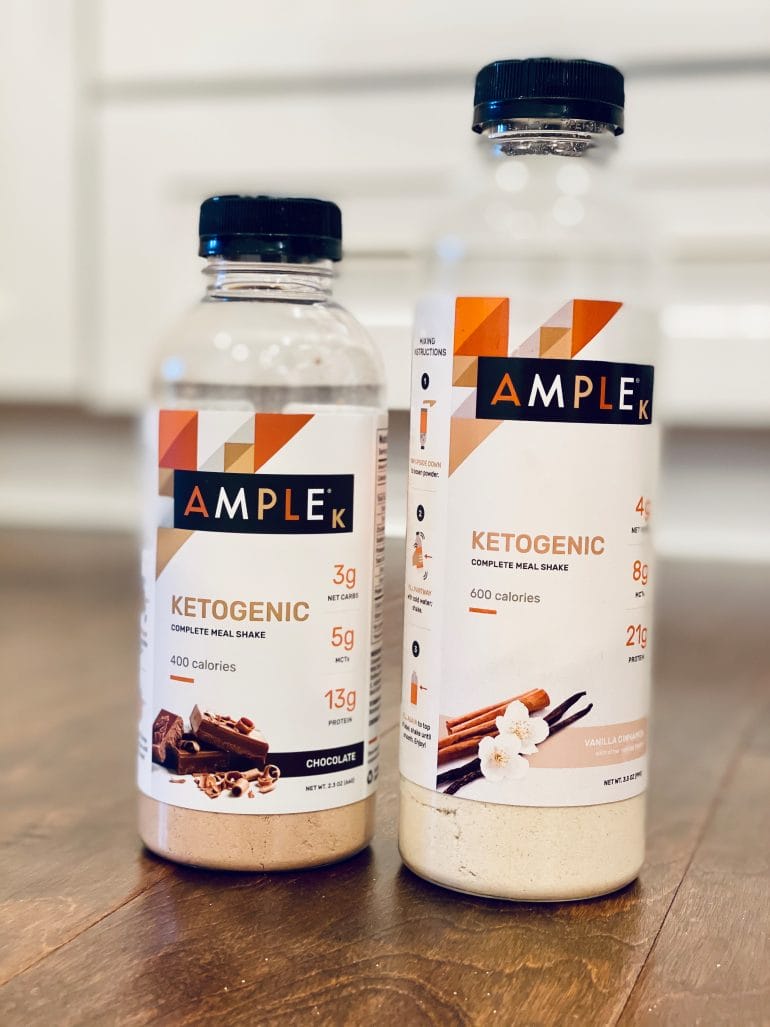 Overall, Ample K is an excellent product and its primary downside is the price. It's the same when buying grass-fed instead of corn-fed beef — you get what you pay for.
I only use Ample when I travel, and I don't do that enough for pricing to become an issue. If you use Ample every day, I appreciate that pricing might become a problem. However, if that's the case, I encourage you to sign up for a subscription and use my 15% discount code. That will bring the price per serving down dramatically.
Other than that, I would love to see an Ample K version that uses beef and egg protein rather than whey or pea. I don't know if that's technically feasible to produce, but it would make Ample entirely paleo-friendly.
Additionally, I've noticed that inulin and certain other fibers can make me gassy. And since I remain unconvinced that I need extra fiber in my diet, I wouldn't mind if Ample K excluded those fibers.
Frequently Asked Questions
Can I take Ample K through airport security?
Yes, you certainly can. Sometimes I get stopped and a TSA officer swipes the outside of the bottle to test for explosives, but I've never had any other issues bringing Ample in my carry-on luggage.
What's the shelf life of Ample K?
The shipment I received in December 2019 shows a "best by" date of 11/1/2020. So you can expect a shelf life of 8-12 months. Once you've mixed the powder with water, you have to refrigerate and consume it within 24 hours.
Can I combine your discount code with a subscription?
Yes, you can — but I think the discount only applies to the first shipment. But here is what some users have done: order a large quantity during checkout and then modify the subscription after the first shipment.
Wrap Up
Ample K is one of my favorite of Ample's replacement shakes because it perfectly fits my ketogenic lifestyle. When I travel, I always carry a few bottles of Ample K in my backpack or suitcase.
That way, I can enjoy a healthy and balanced meal wherever I might be — even if I'm aboard an airplane.
If you're looking for a healthy meal replacement shake to complement your ketogenic lifestyle, I'd recommend giving Ample K a try. If you do, don't forget to use code MK15 to save 15% off the retail price.
If you have any questions or concerns before taking the plunge, or if you'd like to share your experience with Ample, don't hesitate to leave a comment below or get in touch with me directly.

I'm a healthy living and technology enthusiast.
On this blog, I share in-depth product reviews, actionable information and solutions to complex problems in plain and easy-to-understand language.
Medical Disclaimer
The information shared on this blog is for educational purposes only, is not a substitute for the advice of medical doctors or registered dieticians (which we are not) and should not be used to prevent, diagnose, or treat any condition. Consult with a physician before starting a fitness regimen, adding supplements to your diet, or making other changes that may affect your medications, treatment plan or overall health. MichaelKummer.com and its owner MK Media Group, LLC are not liable for how you use and implement the information shared here, which is based on the opinions of the authors formed after engaging in personal use and research. We recommend products, services, or programs and are sometimes compensated for doing so as affiliates. Please read our
Terms and Conditions
for further information, including our
privacy policy
.