I can't believe another month has gone by since the last newsletter. It's been an eventful September, so I wanted to take the opportunity to recap and reflect on the great things that have happened over the past few weeks, including our trip to LA to attend this year's Biohacking conference.
Before we get into all the cool gadgets my wife and I got to test in LA, I'd like to shout out to the MK Supplements team. After months of preparation, we just launched Heart & Spleen (our second beef organ supplement) and demand has been off the charts. So thanks to everyone who helped make the launch happen, and to all the customers who continue supporting our family business!
I usually attend conferences alone, while my wife Kathy takes care of our kids, the dog, and our homestead. But this year, my mother-in-law agreed to fly in from Costa Rica and hold down the fort so that Kathy could accompany me to California.
Needless to say, we had a blast making new connections, strengthening existing ones, and discovering new gadgets, tools and techniques that could help improve your lives. 
Here are some of the brands and products we experienced during our trip. If you don't have time to read the entire segment, you can also watch the 90-second recap I published on Instagram. 
Alaxo Nasal Airway Stents
Both my brother and I have dealt with congested nasal passages our entire lives, and I once even considered surgery to trim my enlarged turbinates. While mouth-taping and conscious nasal breathing have helped with my congestion issues, I was thrilled to find a non-surgical option that could open up my airways and allow me to breathe better through my nose (especially at night).
I just received a pair of Alaxo nasal stents* and I'll be testing them over the coming weeks and months before sharing my feedback in an article and YouTube video.
In the meantime, you can learn more about the importance of nose breathing in this blog post.
Apollo Neuroscience
The Apollo wearable* is one of my favorite devices for helping to manage my stress and balance my nervous system. The company just released a clothing clip that allows you to wear Apollo pretty much anywhere on your body, instead of just on your wrist or ankle. I'm planning on producing more content around the benefits of Apollo, but in the meantime, check out my Apollo review to learn more.
Beam Minerals
Beam Minerals* makes nature-identical mineral fulvic and humic complexes. In other words, their liquid supplements contain highly-absorbable electrolytes and other micronutrients. They even have a spray that can prevent or immediately stop muscle cramps. 
The combination of travel stress and lack of hydration left me slightly dehydrated during the first day of the conference, and I started cramping during my first workout on the CAROL bike. So I drank some Beam Minerals and sprayed my legs and I felt instant relief. 
I've previously written about the importance of electrolyte supplements when you're on keto, but I recommend using electrolytes regardless of the specific diet you're on.
Brava
Brava* is an all-in-one oven that can cook, steam, grill, fry, dehydrate and more. We considered purchasing a Brava in the past, but after seeing the oven in action, I'm leaning towards getting one to replace our air fryer and slow cooker. I'll do a full review on my blog and YouTube channel if we get one, so stay tuned.
CAROL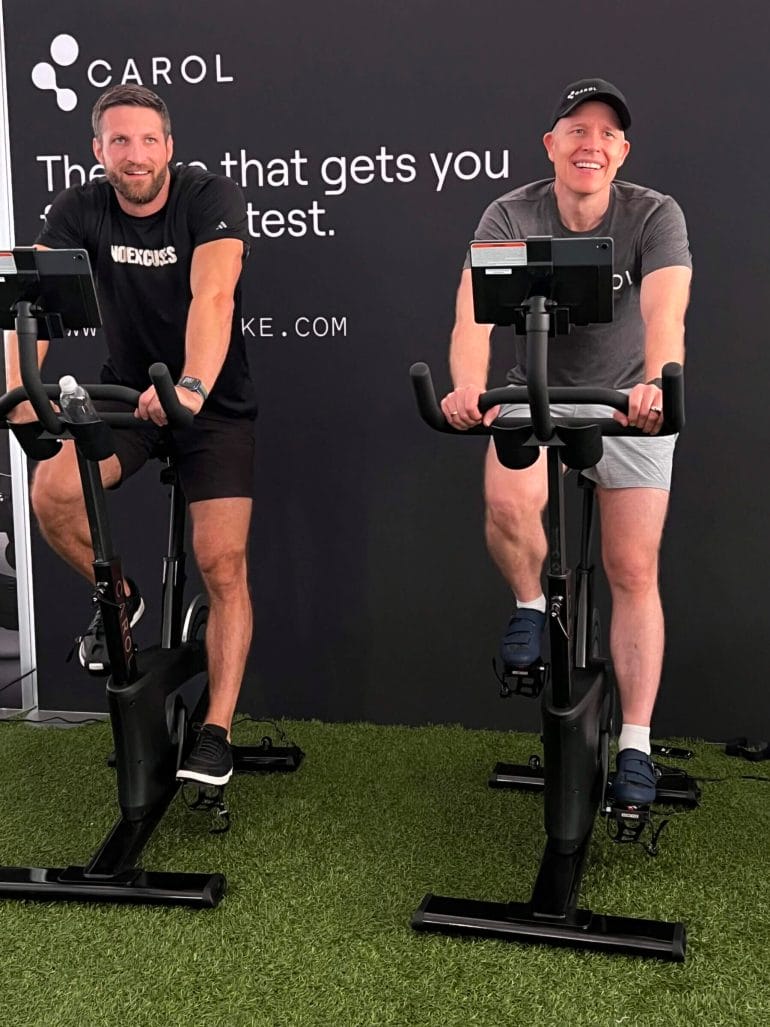 If you've been following me for a while, you know how much I love CAROL* — a reduced-resistance high-intensity interval training (REHIT) bike that has dramatically improved my cardiorespiratory fitness and requires less than 30 minutes of my time per week.
During the conference, I tried out the brand-new CAROL 2.0 bike and competed against CAROL's CEO in a tough race. To find out who won, follow me on Instagram (where I'll release the video soon!).
In the meantime, you can learn more about CAROL and its benefits by watching my video review on YouTube.
Plunge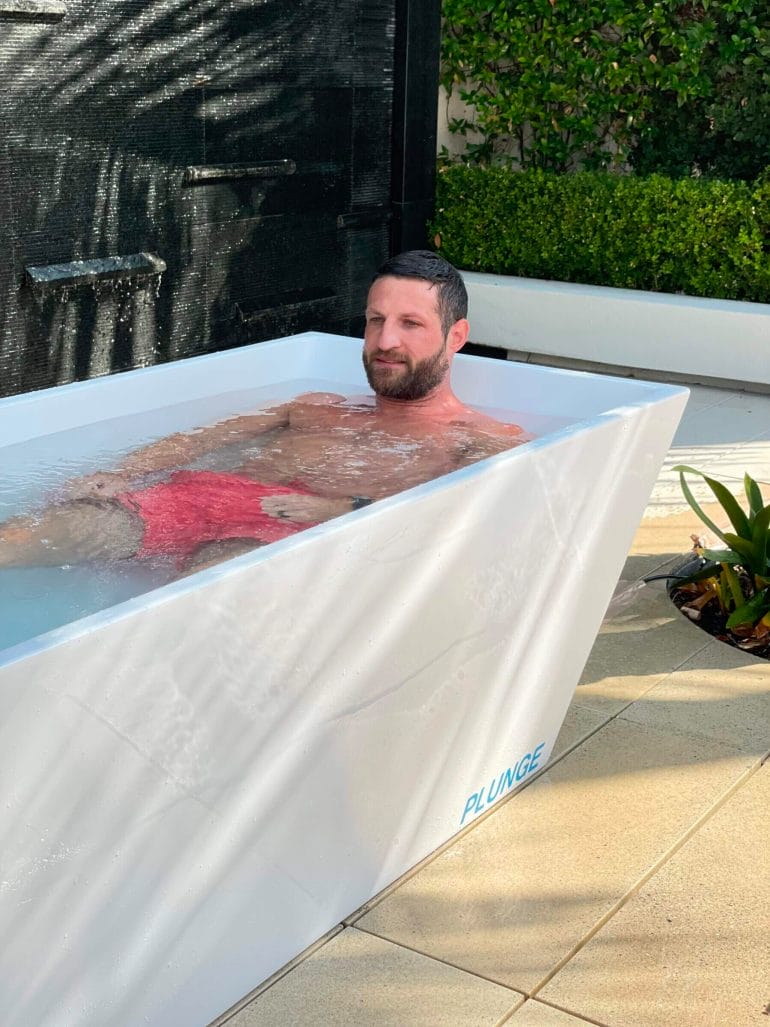 Any time I come across a Cold Plunge* while traveling, I can't resist jumping in, because I know how many benefits cold exposure has. Plus, getting into ice-cold water just makes me feel great.
To make my cold plunging experience at the Biohacking conference even more fun, we teamed up with our friends at Sunlighten (see below) to combine cold plunging with sauna bathing. I went from the cold plunge to the sauna and back to the cold plunge. You can see the entire spectacle by watching my two Reels on Instagram: Cold Plunge to Saunaand Sauna to Cold Plunge.
Check out the resources below to learn more about the Cold Plunge:
Good Idea
Good Idea* is a non-caloric beverage that uses a clever combination of amino acids and other micronutrients to lower your blood sugar levels after consuming carbohydrates. I plan on performing several experiments using Good Idea and a continuous blood glucose monitor to determine how effective the drink is.
Got Mold
Mold exposure can lead to symptoms such as headaches, fatigue, inflammation, and autoimmune conditions. The truth is that most homes have mold issues to varying degrees, but it's challenging to find out whether or not it's mold or something else that is causing your symptoms.
Got Mold* makes test kits that can help you better understand how much mold and what type of mold you have in your home. While I don't suspect any major issues in our house, I know that we have some (hopefully harmless) mold in our unfinished basement and crawl spaces. 
That's why I got a couple of test kits to find out what the situation is and whether or not we have to do something about it. I'll share my findings once I've completed the testing.
HVMN
HVMN is one of my favorite exogenous ketone supplements and one that keeps me fueled any time I attend a conference. HVMN's exogenous ketones suppress hunger and keep me fueled (without breaking my fast). If you're struggling with fasting or eating before bedtime, I recommend trying ketone supplements. 
HypoAir
HypoAir makes air purifiers that use bipolar ionization technology. We have one of their units attached to our HVAC system to purify the air in our home. We also use standalone units in our bedrooms to further improve indoor air quality, kill germs and destroy odors (such as pet odors).
HypoAir also recently released a 100% non-toxic cleaning solution that we use to clean everything in our home, including floors, bathrooms and kitchen counters. Knowing that most cleaning products (even the supposedly "clean" ones) contain harmful toxins and/or fragrances, I can't recommend HypoAir's Total Clean* enough. We buy the 1-gallon concentrate and dilute it with water before filling it into spray bottles made of glass.
To learn more about bipolar ionization technology and HypoAir, check out my full review of the HypoAir whole house air purifier.
Mito Red Light Therapy
I've come to appreciate red light therapy as an excellent way to improve muscle recovery and treat injuries. However, specific wavelengths within the red light spectrum are also beneficial for skin health, weight loss and other factors.
You likely don't need additional red light if you're in the sun on a regular basis. Still, most of us sit in an office under artificial junk light all day, creating red light deficiencies (much like eating junk food creates nutrient deficiencies). Mito Red Light Therapy* makes high-end red light panels that I'll be testing over the next few weeks before publishing my findings on my blog and YouTube channel.
Mountain Air Health
I've been experimenting with high-altitude training to improve my cardiovascular fitness and blood flow for several months using LiveO2. At the Biohacking conference, I discovered Mountain Air Health's tent-like product* that allows me (and my wife) to simulate sleeping at an elevation of 10,000 feet. 
The purpose of breathing air that has lower-than-normal concentrations of oxygen is to enable your body to make more oxygen-carrying red blood cells and to create additional blood vessels. Doing so will help you improve your cardio and blood flow when breathing regular air (e.g., during workouts). 
We just received the low-oxygen tent and I'm super excited to try it out over the next few weeks. I'll share my findings and the changes in my blood markers in a couple of weeks!
Pulsed Energy Technologies
Pulsed Energy Technologies* makes PEMF devices. The PEMF process generates and directs powerful, pulsed energy waves toward damaged or injured body areas. These waves quickly pass through the cells in the damaged region, increasing the spin of the electrons within them. That helps speed up the healing and recovery process.
The downside to high-end PEMF devices is that they're super expensive. The device I tried at the conference retails for $18,000. I'm not sure if I'll be able to get my hands on one of those devices, but I'm intrigued by the technology and its potential. 
SaunaSpace
SaunaSpace* makes one-person sauna tents that leverage old-fashioned incandescent light bulbs to generate heat and high-quality red light. The cool thing about these saunas is that they're free of electromagnetic fields.
In other words, the fabric of the tents has silver woven in to create a Faraday cage that blocks any EMFs from getting inside. 
With SaunaSpace you can disconnect from everything around you and enjoy a distraction-free full-spectrum sauna session. I'm hoping to get my hands on one of those saunas so I can compare it side-by-side with the Sunlighten infrared sauna we have at home.
SimplyO3
SimplyO3* is all about ozone therapy. As you might know, ozone (O3) is a highly reactive gas often used as a non-toxic disinfectant in pools and other areas. What most people don't know is that you can also use ozone to kill pathogens (such as mold, yeast, viruses and bacteria) inside your body by injecting it directly into your bloodstream or by leveraging vaginal or rectal insufflation.
While I don't have a disease that ozone could help treat, I gave myself an ozone IV at the Biohacking conference to familiarize myself with the procedure for my upcoming review. Stay tuned for a deep dive on the topic and a graphic YouTube video in which I'll show you how to draw blood, enrich it with ozone and then re-inject it into your body.
Sunlighten
Sunlighten* is the maker of the full-spectrum infrared sauna we have at home and use several times a week. As I mentioned above, we recorded a cold plunge/sauna/cold plunge session and published it on Instagram, so check that out if you want to see how that went.
To learn more about why we love our Sunlighten sauna, check out my full review and YouTube video.
TrueLight
TrueLight makes light bulbs, flashlights and similar products that emit only red light — perfect for use in bedrooms or as night lights. We got a night light/flashlight combo for our kids. So if they have to go to the bathroom at night, they can see where they're going without exposure to sleep-disrupting blue light.
Xero Shoes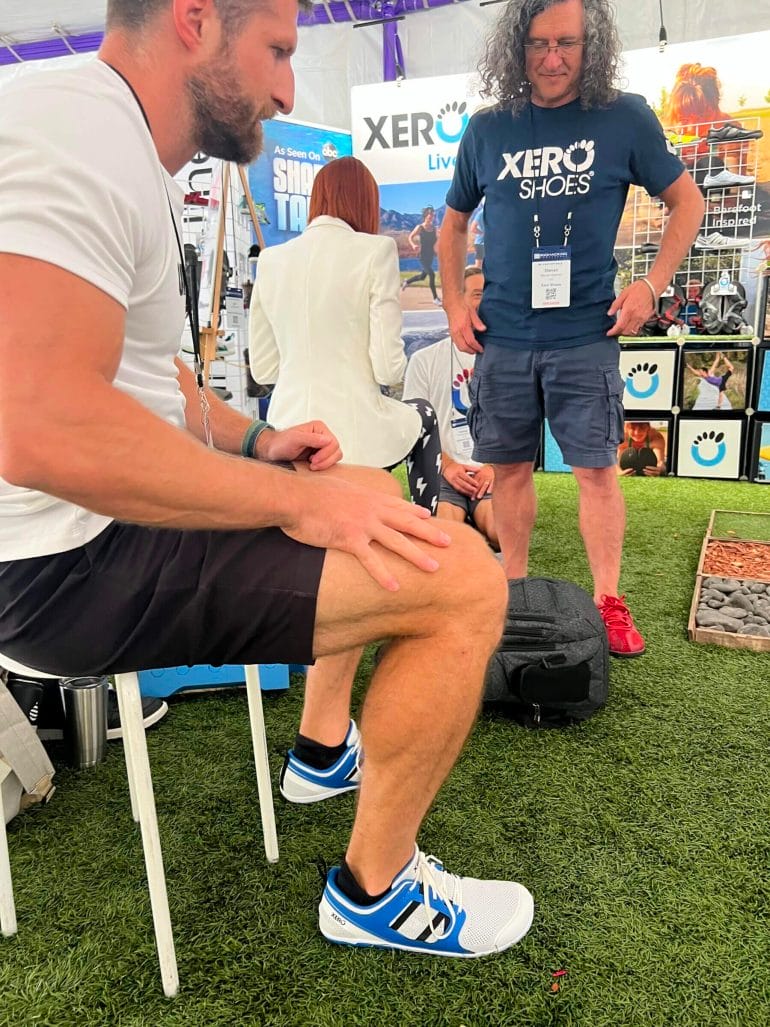 Most shoes are horrible for your feet and your overall health. That's why I like running around barefoot as much as I can. Unfortunately, not wearing shoes isn't always appropriate or feasible. The good news is that there are brands out there, including Xero Shoes*, that make footwear that's almost as good as not wearing shoes at all.
Both my wife and I purchased a pair of their sandals at the conference and I ordered a pair of sneakers online. When wearing Xero shoes, you allow your toes to spread out naturally and you can feel the texture of the ground underneath you. The latter enables your body to distribute your weight across the surface of your feet optimally.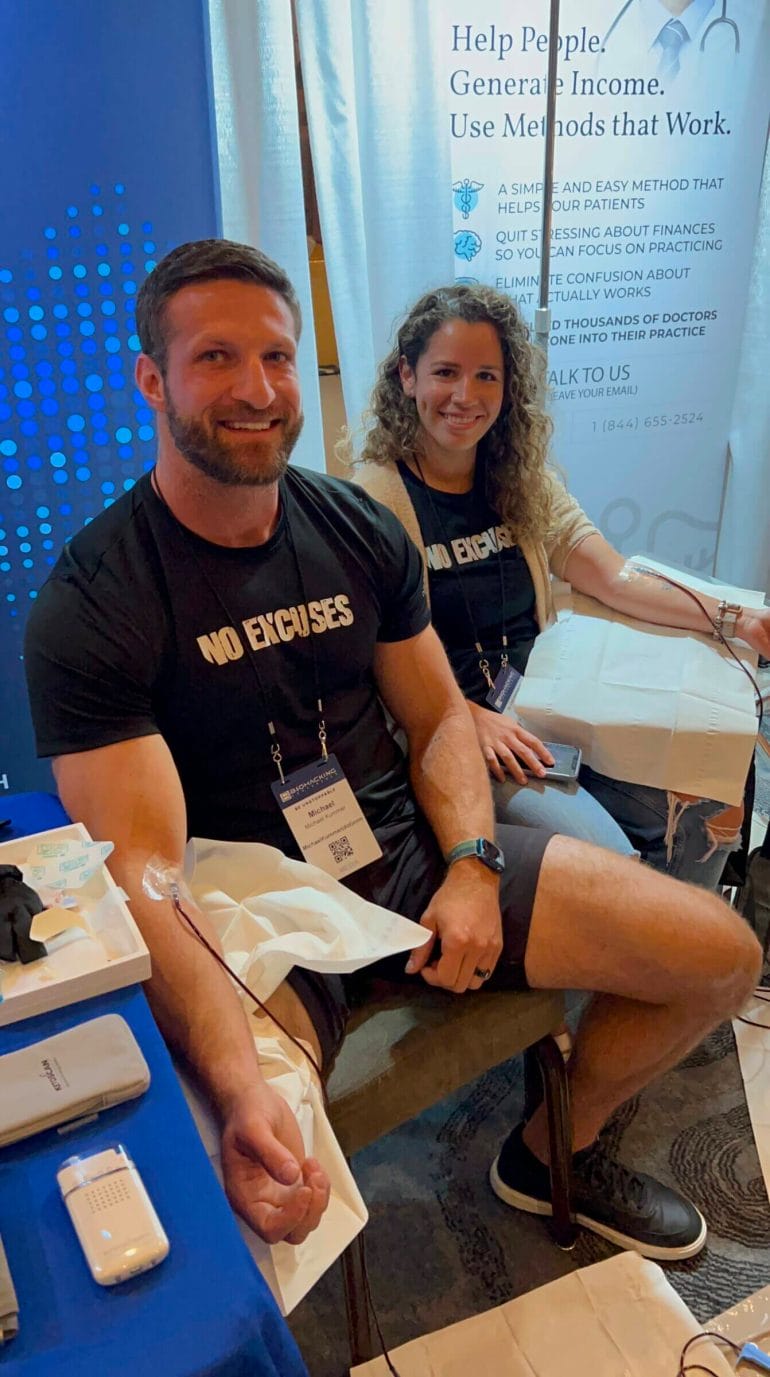 I returned from the Biohacking conference with a lot of new products to test and review and I can't wait to get started. I know the next few weeks are going to be busy and I'm looking forward to the challenge.
New Articles and Videos You Might Have Missed
Since the last newsletter, I've been busy launching the new Heart & Spleen supplement. So I've had less time for creating new content and updating older articles with fresh information. Nevertheless, here are some of the new and updated articles and videos that have been released or are in the works:
Best Diet for Weight Loss (publishing next week)
Paleo vs. Keto vs. Carnivore (publishing next week)
That's it for this month!
Stay healthy,
Michael

I'm a healthy living and technology enthusiast.
On this blog, I share in-depth product reviews, actionable information and solutions to complex problems in plain and easy-to-understand language.