If you've been following my blog for a while, you probably know that stress management is an important pillar of my lifestyle.
But a few weeks ago, I began realizing that trying to actively manage my stress was no longer working. In fact, adding additional stress management tools into my daily routine was starting to stress me out even more, leading many of the activities I love doing to feel like chores that I have to do.
More importantly, I realized that I was giving myself zero flexibility to do something else — something that breaks from my routine, for example — or to choose to simply do nothing at all.
So I decided it was time to stop relying on stress mitigation techniques and devices, and instead focus on actively removing (or greatly reducing) causes of stress from my life.
As you can imagine, it was incredibly difficult to wrap my head around the idea of removing activities from my agenda that I had previously thought of as necessary for achieving my goals.
For example, after I reviewed Muse (a brain-sensing headband that offers guided meditation sessions), I made meditation a part of my regular routine.
Then I added CAROL (an AI-powered stationary bike) to my exercise regime.
Then I started cold plunging.
Then I started sauna bathing.
And the list goes on.
I still do each of these activities, which are incredibly beneficial to my health and well-being. But I've realized that turning all of them into to-dos that need to be completed every day is unsustainable.
Implementing that mindset shift has been difficult but absolutely liberating. It's changed how I see life, how happy I feel every day, and how I interact and communicate with others — especially my wife and kids.
If you feel like you're stressed out all the time and your life is full of stuff you can't quit — whether that's your demanding job, social commitments or your kids' after school activities — I encourage you to read on and reconsider what all those "must do" agenda items are doing to your health and relationships.
I also encourage you to ask yourself the following question: when was the last time you felt like you had absolutely nothing to do or worry about?
If I had to guess, I'd say you don't remember.
If you were to ask me that question, I'd say that the last time I felt like life was easy was all the way back in 2013, when our daughter Isabella was born. Since then, life seems like it's accelerated dramatically. Kathy and I feel like we've been on a hamster wheel ever since.
Interestingly enough, our current lives are incredibly comfortable. Business is good. We don't have financial issues. We have a roof over our heads, food on the table, and we're all healthy.
So how come we're so stressed out all the time?
I think we've been manufacturing stress by filling up our days with activities that leave no room for doing nothing.
Every minute of every day has been planned out with stuff that has to get accomplished.
I'm talking about day-to-day stuff, like saying yes to every brand who reached out and asked me to review their product. (I was afraid to say no, because I might miss a great opportunity to attract more readers.)
And I'm talking about the stuff society tells us we're supposed to do, like making sure our kids' days are jam-packed with sports and social activities and tutoring sessions (to increase their chances of being successful in life, and to keep them out of trouble).
And I'm talking about activities that we came to see as core parts of our identity, like high-intensity workouts and intermittent fasting. (My regimen was strict because I know that mimicking the lifestyle of our ancestors can significantly reduce the chances of developing a chronic disease.)
But here's the problem with that approach: over time, all the things you once loved doing turn into to-do list items that ultimately add to your stress levels.
Think about that for a moment… some of the very activities that we've been doing to reduce stress (like exercise) have started to stress us out.
That's absolutely nuts!
So I decided it was time to be brutally honest with myself and reassess how I want to spend my waking hours.
Ultimately, everything I do is to help improve my health and well-being, as well as the health and well-being of those around me. And an integral part of that is my mental health and happiness.
Over the past few years, my physical health has improved but I've also become significantly more stressed and anxious.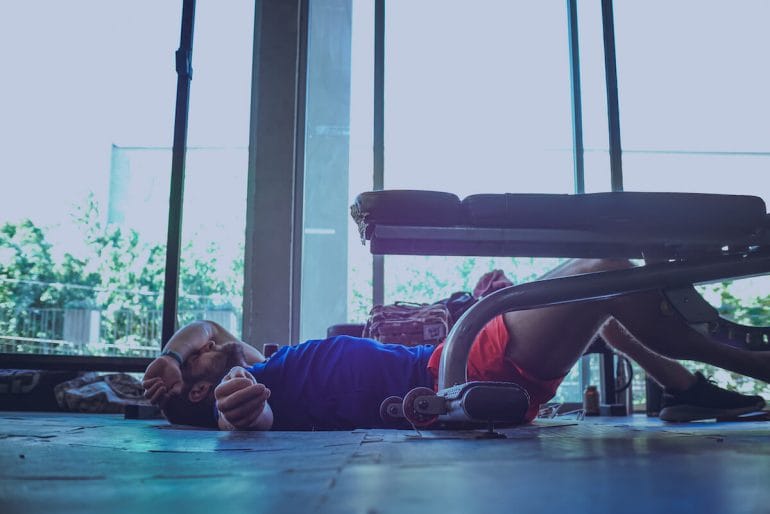 So here's what I did to correct course:
I quit my day job. I actually started that transition at the beginning of the year, but April 27th, 2022, was my last day with my former employer.
I dropped the idea of becoming the fittest 40-year-old on the block (as well as the idea of trying to compete with athletes half my age).
I stopped filling my days with scheduled wellness routines (sauna, cold plunge, etc.,) and instead, I only do these activities when I really want to.
I'm more opportunistic with fasting instead of following a rigid schedule.
I intentionally disconnect by leaving my Apple Watch and fitness trackers at home while on vacation.
I say "no" to most of the brands that want me to review their products (even if I love the product) so I can publish content on my own terms and timeline.
I say "no" to anything I don't really want to do, even if saying "yes" would be the nice thing to do.
We train and walk the dog when it's convenient instead of on a fixed schedule.
While taking any one of these steps would have lowered my stress levels, doing all of them together has had a dramatically positive impact on my life and happiness.
Since making these changes, I wake up every morning and think about what it is that I want to do — because there are only a very few things that I feel like I have to do (like earning money to pay the bills). But even working on my blog and supplements business(my only sources of income these days) finally feels like a choice again, rather than an obligation.
Feeling like I have full control over my life is priceless, and it's the key to my happiness. And if I'm happy and fulfilled, everyone around me benefits — especially my wife and kids.
So I encourage you to write down all the things you think you have to do on a daily basis and assess how they're impacting your (mental) health and well-being.
While I appreciate that not everyone is in the position to quit their day job, there are usually plenty of activities you can modify, including your or your kids' pastime activities.
And I'm specifically highlighting that because it can be a major stress factor for families.
For example, our daughter does gymnastics twice a week because she enjoys it. A while ago, she got invited for tryouts to join a team. I told her that she could do the tryouts if she really wanted to, but if joining a team meant spending several hours in the gym a few times a week — and filling the weekend with competitions — that I wouldn't support it for several reasons:
I don't think eight-year-old kids should fill up their days with "have to" activities. School is already taking away too much of their ability to explore the stuff they truly enjoy.
I'd rather see her play in the dirt instead of spending hours indoors under artificial junk light.
There are thousands of other things I want her to explore instead of spending all of her time on a single activity.
Training sessions would cause her to go to bed later, thus reducing the amount of sleep she'd get (school doesn't start later because of gymnastics).
I've seen the negative psychological impact overscheduling can have on kids, and it's something we're actively trying to avoid by not filling our kids' agenda with activities.
So what's the key takeaway?
For me it was realizing that most of the things I thought I had to do were actually optional. From there, I set out to significantly reduce those activities — or cut them out entirely. And that's been a game-changer.
Today, I feel free, happy and in control of my life. That doesn't mean I've become lazy or complacent — join me for a workout and you'll see!
Instead, I now choose to do things because I truly want to, not because I have to.
So give it a try and let me know how you feel afterwards!
New Articles and Videos You Might Have Missed
Since the last newsletter, I've been busy creating new content and updating older articles with fresh information, including the following:
HypoAir Bi-Polar Review: The Best Whole House Air Purification System: We installed this air purifier last year and have seen dramatic improvements in the air quality inside our home.
Solio Alfa+ Review: Solio Alfa+ is an FDA-cleared pain relief device that uses red and infrared light combined with radio frequencies to relieve chronic pain and support recovery after sports injuries. Solio Alfa+ is the first pain relief device of its kind that is available to consumers outside of clinical settings.
Pod Pro by Eight Sleep Review: I updated my review of the temperature-controlled smart mattress that my wife and I have been using for over a year.
Sunlighten mPulse Review: The Sunlighten mPulse is a full-spectrum infrared sauna that delivers the combined health benefits of near, mid and far infrared radiation. We've been using the mPulse since the winter of 2022 and in this review I explain how the sauna has improved the quality of our lives.
Video: WHOOP Strap 4.0 vs. Apple Watch Series 7: Side-by-side comparison of two of my favorite fitness gadgets.
Video: WHOOP 4.0 vs. Oura Ring Gen3: Side-by-side comparison of two of the most popular sleep and fitness trackers.
Video: WHOOP Strap 4.0 vs. Biostrap EVO: Another side-by-side comparison of two popular recovery and sleep trackers.
Video: Fireside Chat with Heidi Moretti, MS, RD About Nutrition: I sat down with Heidi Moretti, a registered dietitian and functional medicine practitioner, to talk about health, nutrition, and how she tries to help her patients recover from metabolic issues. During our conversation, Heidi also shares why doctors aren't taught anything about diet and nutrition and explains the consequences that has on our health care system.
Podcast: I made a guest appearance on Zane Griggs' strategic fitness podcast Hunger Hunt Feast. Zane is a Nashville-based fitness consultant who invited me on the show to talk about diet, nutrition and a host of other health and fitness-related topics. You can download the episode here.
Until next time,
Michael

I'm a healthy living and technology enthusiast.
On this blog, I share in-depth product reviews, actionable information and solutions to complex problems in plain and easy-to-understand language.