Meet the newest member of the Kummer tribe: our new German Shepherd named Rib Eye. He's currently 11 weeks old and weighs a solid 25 pounds. He also has a floppy ear, which makes him look even cuter than he already is.
I've never considered myself a dog person. In fact, over the past two decades, I've always had cats. But when the cat we'd had for 13 years disappeared in May, my wife and kids started trying to convince me to finally get a dog.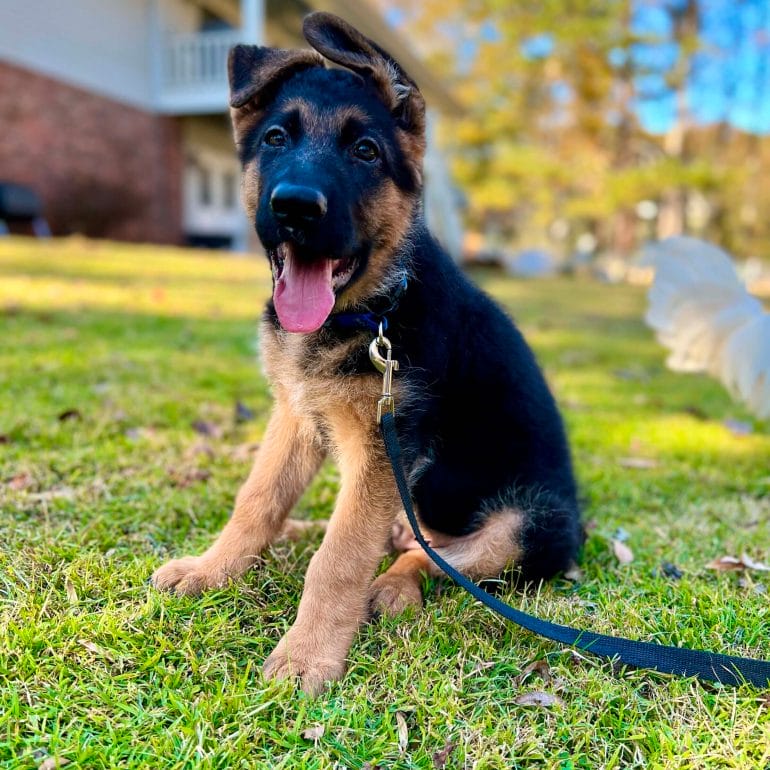 So after careful consideration — and making sure we could set aside the time it takes to train a high-energy dog like a German Shepherd — we found a local breeder who checked off all our requirements.
We were looking for…
Being able to meet the puppy's parents.
The ability to meet the puppy several times to see how he interacted with his siblings.
A breeder who focused on the welfare of both the puppies and the mom instead of pure profits.
The availability of health certificates to rule out health issues that are common among purebred German Shepherds (e.g., hip and joint issues).
What attracted us to the idea of adding a German Shepherd to our family was their loyalty and eagerness to learn, while being excellent protectors of both humans and livestock. (We figured that Rib Eye could help our rooster Cacique with protecting our egg-layers.)
Plus, I was thrilled about the prospect of having another family member who gets as excited about raw meat and organs as I do! (After all, that's a dog's natural diet.)
Interestingly enough, out of the 10 vets in our area I called to ask whether they had experience with raw feeding, none of them recommended feeding a dog just meat, organs and bones.
What do you think those vets recommended feeding our new puppy instead?
You guessed it: a "balanced" diet consisting of species-inappropriate junk food, also known as kibble.
Yep! Chicken by-product, grains, seed oils and synthetic vitamins is what's considered a species-appropriate diet for dogs among most vets.
Royal Canin is one of the top-recommended brands, and below is an excerpt of the ingredients list from their German Shepherd puppy formula:
Chicken by-product meal, wheat gluten, corn, oat groats, brewers rice, corn gluten meal, chicken fat, brewers rice flour, brown rice, natural flavors, dried plain beet pulp, fish oil, sodium silico aluminate, monocalcium phosphate, vegetable oil and a bunch of synthetic vitamins.
Yikes!
No wonder over 55% of all dogs in this country are overweight or obese.
Considering what I know about the nutrition of carnivorous mammals, I responded to our vet's recommendation in the same way that I responded to my former doctor's recommendation to eat less meat and more plants…
I did the exact opposite.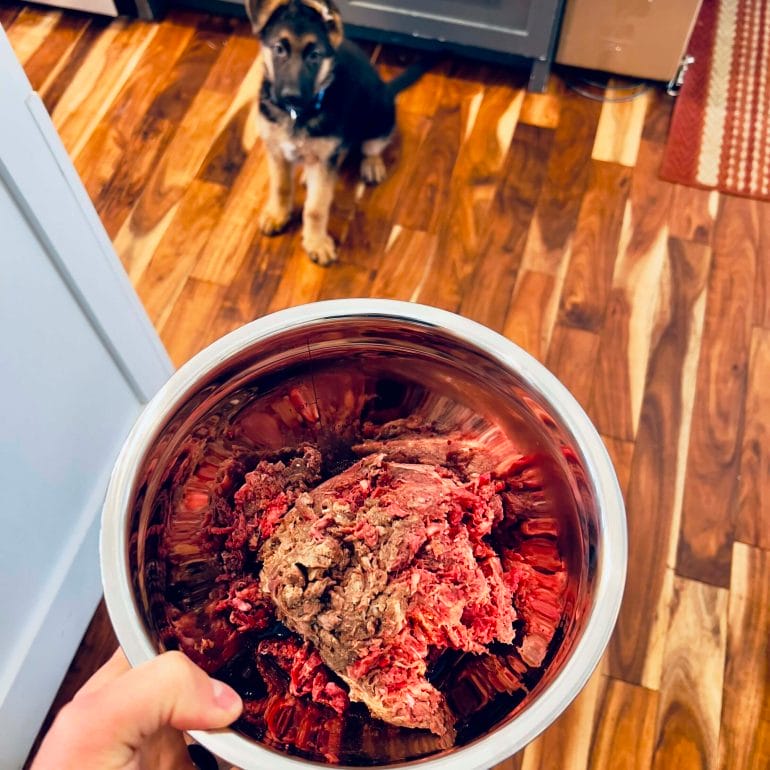 So what do we feed Rib Eye?
He enjoys a balanced diet of 80% muscle meat, 5% liver, 5% other organs (kidney, spleen, etc.), and 10% bones (all raw) from grass-fed cows raised on farms in the area.
Occasionally, he also gets raw eggs and wild-caught sardines.
Needless to say that he absolutely loves every single meal. He even shared some of the raw goat testicles that I had for lunch the other day.
If you want to see some more footage of Rib Eye chasing the kids and getting used to our chickens, make sure to follow me on Instagram.
If you're interested in raw feeding dogs or cats, let me know because I'm considering writing a couple of articles about our experience with it.
If you're not quite ready to switch to raw dog food but would like to improve your pet's diet, consider mixing the contents of our Grass-Fed Beef Liver capsules with your pet's regular feed. Just make sure to check with your vet how much vitamin A your pet can have per day, based on its weight.

I'm a healthy living and technology enthusiast.
On this blog, I share in-depth product reviews, actionable information and solutions to complex problems in plain and easy-to-understand language.