As a consumer, ride-sharing services like Uber and Lyft have much improved my travel experience. But lately, Uber has gotten so unreliable that I stopped using the service and instead started using Lyft. In this article, I compare Uber vs. Lyft based on the experience I made over the past couple of months.
I live in Alpharetta, GA and have used Uber a lot to go to the airport. Usually, using Uber to travel back and forth from the airport is less expensive than paying for parking at the airport. Plus, I can do at least some work like answering emails while being on the road.
Uber vs. Lyft
The last five or so times, after having requested an Uber, I ended up canceling the ride because the car never showed up. Usually, when I would open the Uber app, the estimated time of arrival (ETA) would show, let's say, 8 minutes. Once I had submitted the request for a car, the ETA would go up to 9 minutes, then back to 8 and it would keep doing that for 20 minutes or so, at which time I would cancel the request and use Lyft instead. That didn't just happen once but at least five times in the past few months. At that point, I stopped using Uber and started using Lyft.
When the same Uber driver screws you twice
Recently, my parents came to town, and one morning they needed to go to the airport. They decided to take Uber because they are from Europe and Uber operates in some European cities, where Lyft does not (as far as I know). So it made sense for them to download the Uber instead of the Lyft app.
The night before their flight, they scheduled a ride from our home in Alpharetta to the airport. The car was supposed to arrive between 6:30-6:45 am. At 6:33 am we got a message on my mom's iPhone* saying that the car was arriving and so we went outside. We couldn't find the car and took another look at the Uber app to confirm we had entered the correct pickup place. The ETA had meanwhile changed from "car is arriving" to 6 minutes. We saw the car on the map, but it appeared to be stationary, about two miles away from where we were. The ETA would remain unchanged for more than 10 minutes. So I sent the driver a text message and tried to call him twice but only got his voicemail.
At 6:45 am, we canceled the ride, and requested a car from Lyft, which showed up 7 minutes later. As it turned out a few days later, when I contacted Uber support to report not only this case but also the earlier cases of cars not arriving within a reasonable timeframe, I realized that the driver who screwed with us that morning was the same driver who stood me up once before.
So if you ever get a driver by the name of Akberali, in a Lexus GS, I'd suggest you cancel the trip and use Lyft instead.
Lyft customer care
No service is perfect, and while I never had any issues with Lyft, my wife recently had. She needed to go to Costa Rica for the wedding of her cousin and chose Lyft because of a $5 coupon code she received a few days before. That day, she traveled with a suitcase, and one carry-on item, which we figured would easily fit in a regular Lyft car that's comparable to Uber X.
Fortunately for her, Lyft sent a BMW X5, which certainly had enough space to accommodate her luggage. When the driver got out of the car, he said that because of her suitcase, she needed to get a Lyft Plus, which is almost twice as expensive. He claimed that she would have to cancel the ride and request a Lyft Plus. Of course, he would get the new ride assigned again because he was the closest driver to my wife's location. Because neither my wife nor I knew any better and she was in a hurry, she did as he said. The result of this cancellation and rebooking was a $6 cancellation fee and double the fare.
While my wife drove to the airport, I read the Lyft terms and conditions and couldn't find any mention of having to request a larger car because of a suitcase. So we contacted Lyft, and they promptly responded, apologized, refunded us the cancellation fee and the fare difference between Lyft and Lyft Plus and made sure we wouldn't get paired with that particular driver again. Case closed.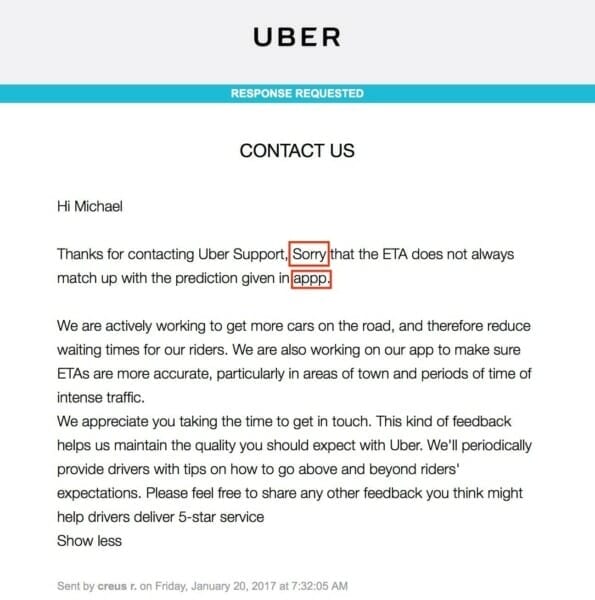 Uber customer care
The incident involving my parents and my experience of trip cancellations encouraged me to contact Uber support. I sent them an email with details, such as date/time, pickup location and driver name of the past five incidents. That's when I noticed, that the same driver stood us up twice. So I marked the driver's name in red and added a note. Here is the response from Uber:
Thanks for contacting Uber Support, Sorry that the ETA does not always match up with the prediction given in appp. Uber is actively working to get more cars on the road, and therefore reduce waiting times for our riders. We are also working on our app to make sure ETAs are more accurate, particularly in areas of town and periods of time of intense traffic. We appreciate you taking the time to get in touch. This kind of feedback helps us maintain the quality you should expect with Uber. We'll periodically provide drivers with tips on how to go above and beyond riders' expectations. Please feel free to share any other feedback you think might help drivers deliver 5-star service.
I almost got an anger stroke when I read this BS answer. So I reached out again and encouraged the support agent to read my complaint carefully again and to address the issue instead of sending a useless and condescending boilerplate response.
Uber replied and here is their response:
Hey Michael – we do understand your frustration with this situation and we definitely are working to prevent these types of experiences on the system. In order to address this matter, we'll need the account holder to reach out to us directly via the in-app 'Help' option or by creating a note at t.uber.com/contact. A member of our team will be able to get this taken care of from there.
It gets worse
I was the account holder for 4 out of the 5 cases I reported. I replied and told them that they could talk directly to me, especially because the driver related to my mom's incident is the same driver involved in one of my incidents as well. Uber's response to that:
Happy to help. To help me identify the trip you're discussing, can you provide me some more information about it? Any of the following will help:
* Date and time
* Driver's name
* Pickup or drop-off location
* Fare you were charged
Happy to help from there!
Are you f**** kidding me? I had sent them all this information already. So I responded and asked if they were joking. Their response:
Thanks for reaching out, Michael. We are currently unable to find the trip you're referencing. Please submit your issue directly here. You'll be asked to select the specific trip. Alternatively, this can be done in your app. To do this, visit the Help section, select the correct trip, and choose the appropriate issue. We appreciate your help and look forward to assisting with review. Please let us know if you have questions.
It took another couple of emails back and forth before they finally apologized and offered a $10 credit on my account. I told them that I would rather have my mom get her $6 back since I won't be needing any credits on my account because I won't be using Uber again.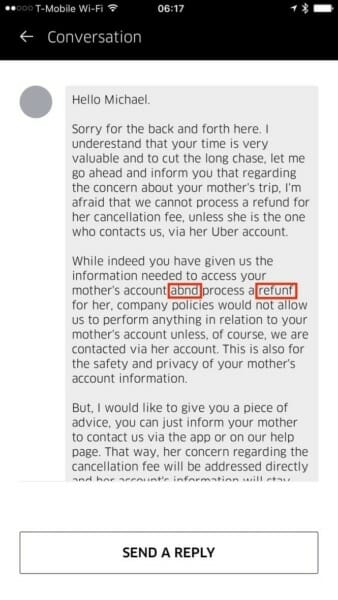 My advice to Uber
I would highly recommend, you teach your offshore team the following basics:
Try to understand your customers' problems and send them away happy.
How to use a spell-checker.
Ride with your competition and learn how their customer care team handles issues.
Uber vs. Lyft: Why I stopped using Uber in favor of Lyft
Based on my experience, Uber has become very unreliable in the greater Atlanta area. I don't know for sure, but I can only assume the driver situation has become so competitive, that drivers accept rides long before they are ready for pickup. Even worse, Uber's customer care, at least the couple of agents I interacted with, is completely useless and they kept wasting my time. As a result, I'll not use Uber again and recommend everyone who asks to use Lyft instead.

I'm a healthy living and technology enthusiast.
On this blog, I share in-depth product reviews, actionable information and solutions to complex problems in plain and easy-to-understand language.