Science, Technology, Engineering, Art, and Math (STEAM) are essential skills every kid should learn. But how do you make those topics accessible, engaging and fun, especially for younger kids? KiwiCo has set out to solve this problem by developing age-appropriate activities "in a box," they call crates, to inspire the next generation of scientists, artists, and makers. To see how the concept works, KiwiCo agreed to send me one of their Koala crates that I could give to Isabella, our 3.5-year old toddler.
How it works
The concept is simple: You pick an age-appropriate project, choose a subscription length, and two days later, you'll get your first crate.
A crate is a cardboard box filled with everything you need for STEAM-inspired, creative activities. Additionally, you get a parent guide, a magazine, and online DIY ideas.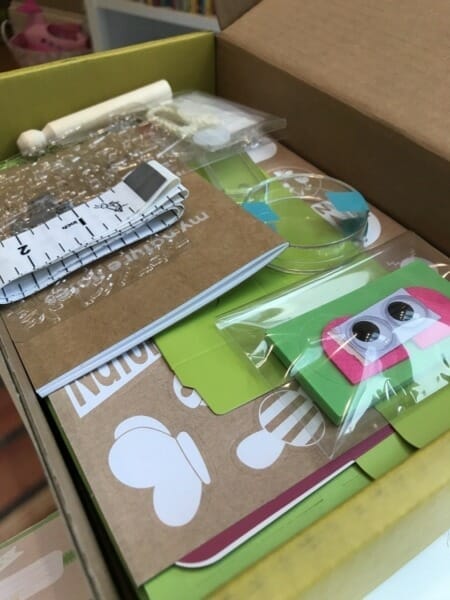 KiwiCo offers the following crates, grouped into age categories:
Cricket for ages 0-2
Koala (Play & Learn) for ages 3-4. That's the one we got!
Kiwi (Science, Art & More) for ages 5-8
Doodle (Art & Design) for ages 9-16+
Tinker (Science & Engineering) for ages 9-16+
You can choose between the following subscriptions:
Monthly for $19.95/month
3 Months for $19.95/month
6 Months for $18.50/month
12 Months for $16.95/month
Subscriptions renew automatically, but you can cancel anytime.
Review of the Koala Crate
Isabella is 3.5-years old, and so I picked the Koala Crate for her, which focuses on play and learn. She was super excited when her crate arrived in the mail. And since I didn't know what to expect, we opened the crate together.
Each Koala crate requires some parental support because it contains a few items that need to be assembled before the little one can use them.
Isabella's crate came with a scavenger hunt box, discovery tools, and a notebook to document everything. She was most excited about the prospect of going outside to collect stuff and to draw in the notebook.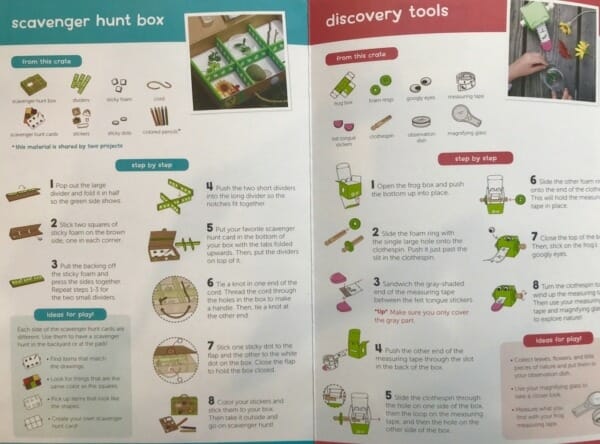 I helped her put together the scavenger hunt box, assemble the measuring tape, and teach her how to use the drawing stencils.
Then we went to the backyard to look for stones, flowers, grass, twigs and a cloverleaf that would go into her box. I tried to convince her to vandalize the neighbor's flowers, but she picked our rose bushes for the project instead. Oh well!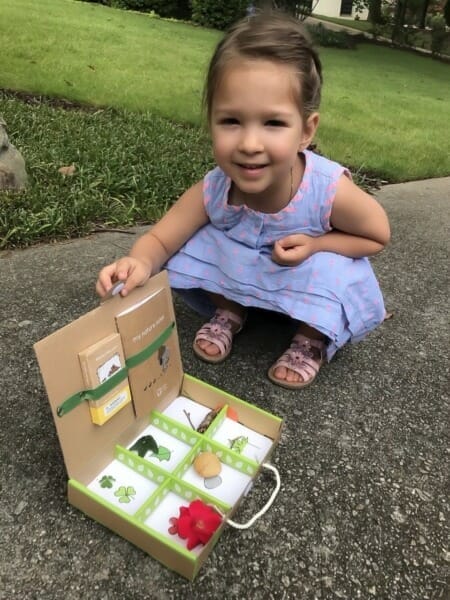 Once she had all the required items collected, we went inside, and she proudly presented her findings to mom. Then we sat down to draw in her notebook using the provided stencils.
Parental involvement
Each activity has a rating that tells you how much parental involvement is required, especially for the initial setup and assembly. For the activities that came with our crate, I spent a couple of minutes putting everything together and explaining Isabella what she had to do. So I would say, the crates for her age group (3-4 years) require moderate involvement. Since the concept and the activities were new for me too, I much enjoyed the quality one-on-one time with her.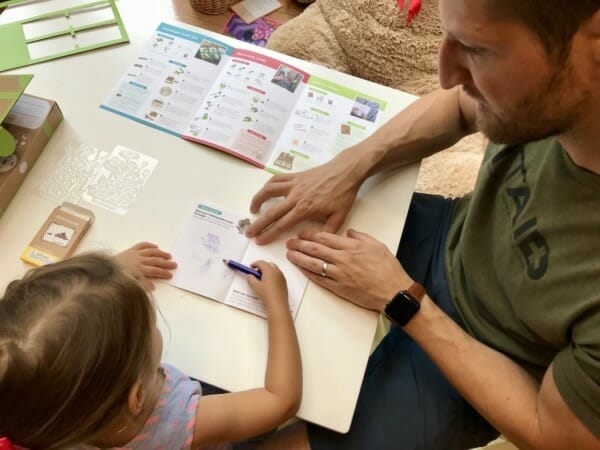 Engagement
Isabella was incredibly enthusiastic about the activities, even though she only completed one: The Scavenger Hunt. Like most kids her age, she loves the outdoors and collecting what nature puts in her way. The crate gave her a goal, and it offered her an opportunity to collect in a more organized manner.
She also enjoys drawing, and so she spent some time with the pencils coloring various parts of the notebook. I showed her how to use the stencils, but I think she was more excited about the freestyle aspect of the activity than following predetermined patterns.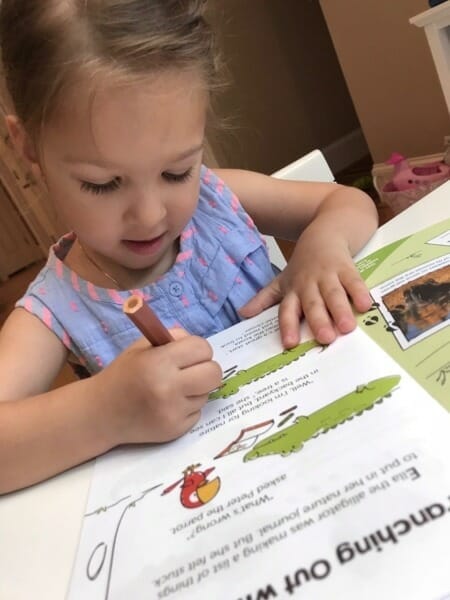 The discovery tools that came with the crate were meant to encourage her to measure and inspect some of the items she collected during the scavenger hunt. She didn't do that but instead used the makeshift measuring tape to measure stuff around the house. In fact, both kids, Isabella and Lucas (our 16-month old boy) still fight for the measuring tape as they see us use a real tape measure. We are currently planning to remodel the kitchen and thus frequently measure stuff around the kitchen. The kids love and imitate that behavior using their toy measuring tape, and sometimes the real one.
More toys?
Compared to other kids, ours don't have a lot of toys. Both my wife Kathy and I made the decision early on to limit toys they would have. That saves money, reduces the clutter and teaches them to enjoy what they have. Since kids lose interest in even the coolest toy at some point, Kathy regularly cycles through the toys the kids can have. She would hide toys they had access to for a few weeks and give them back others that had been hidden for a while. For the kids, it is like getting new toys every couple of weeks. That trick is probably not going to work forever, but for now, it does the job.
Toys that they have outgrown we donate or throw away if they have reached their end of life. For those reasons, we carefully consider every new toy we buy. So how does KiwiCo fit into this concept?
KiwiCo – A fun way to teach kids STEAM and STEM skills through play
Both my wife and I like the crate idea as it enables kids to learn through play. Each of the tiny cardboard boxes delivers a variety of STEAM-inspired activities. So chances are, kids stay engaged longer and in different ways as compared to traditional toys.
Moreover, most, if not all the materials used for the crate and the activities are recyclable. That certainly beats any plastic toy that at some point, will end up in a landfill.
Ultimately, it's the variety of fun and engaging activities and projects you can do with that little crate that makes it worth the $20 in my opinion. If nothing else, I would at least try it out. You and your little one may just love it! You can use this link* to get 30% off your first month.

I'm a healthy living and technology enthusiast.
On this blog, I share in-depth product reviews, actionable information and solutions to complex problems in plain and easy-to-understand language.