In this post, I'll share how to upgrade to first class or business class using miles, upgrade certificates or money on Delta Airlines and its partners. Before getting into the details, I'll give you some general information about Delta's frequent flyer program called SkyMiles, which is a prerequisite for most types of upgrades. You can skip that part if you're already familiar with the program.
Lufthansa: My first upgrade experience
Before moving to Atlanta, I lived in Europe and mostly flew Lufthansa. As part of my preparation to move stateside, I had to visit a customer in Rhode Island. My company booked a coach ticket on Lufthansa from Frankfurt to Boston for me, and I remember going to the counter about an hour before departure to ask for an upgrade. I didn't have a full fare ticket or anything, but since there was available space in Business Class, I could just upgrade using anywhere between 12,500 and 25,000 miles. I will never forget how easy it was to score an upgrade using a coach class ticket and a couple of miles.
Delta Airlines
Since I came to Atlanta in 2007, I have flown exclusively on Delta Airlines and its partners. Delta Airlines founded the SkyTeam alliance as well as the SkyMiles Medallion program. For the purpose of this post, I assume you have already signed up for SkyMiles. If you have not, you can do it here.
The SkyMiles Medallion Program
The SkyMiles program has changed a lot over the years but has currently four status tiers: Silver, Gold, Platinum, and Diamond with varying levels of requirements and benefits.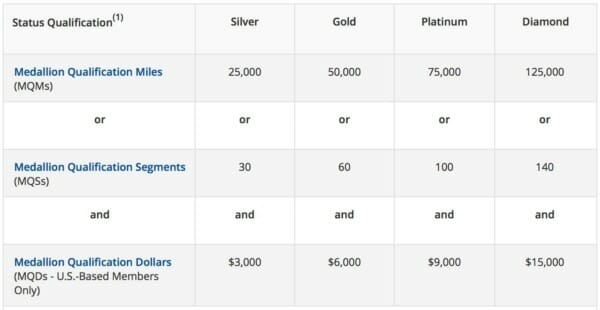 My good friend Larry, who encouraged me to sign up for SkyMiles, has flown over two million miles on Delta Airlines. He flew more, but when he started flying Delta, there was no SkyMiles program yet to keep tabs. Over the years, I have been fortunate enough to enjoy all four tiers of the Delta Airlines SkyMiles program, but it wasn't until 2012 that I earned Diamond status.
Cabin Categories
Delta offers four different cabin categories to choose from, but not all are available on every flight.
Basic Economy
Main Cabin
Delta Comfort+
First Class
Delta One™
Basic Economy
Delta's least expensive fare but with the most restrictions on seat assignment and upgrade benefits. If your goal is to upgrade, you should stay away from this fare.
Main Cabin
This is their main or coach class offering and pretty self-explanatory.
Comfort+
When flying coach, I usually fly Delta Comfort+, because it offers better seats with more legroom and some other benefits. Depending on your SkyMiles status you either get Delta Comfort+ for free, or you have to pay for it.
First Class
This is Delta's premium cabin on most domestic and shorter international flights. It offers some benefits, including more comfortable seats that I have come to enjoy on flights with a duration of more than 3 hours.
Delta One™
Delta One™ is the most luxurious way of traveling on Delta planes, and it includes such amenities as 180-degree flat-bed seats, most with direct aisle access. You'll find Delta One™ on all long-haul international flights and all cross-country flights between JFK and LAX or SFO.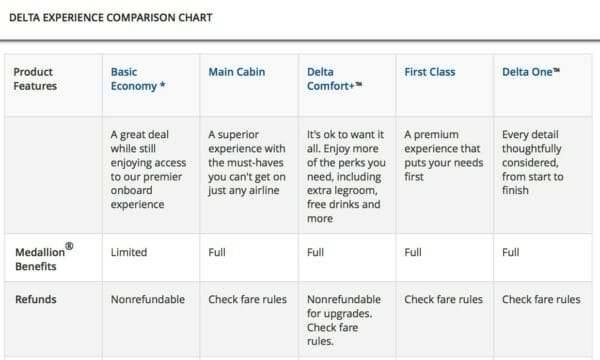 More information on Delta's cabin categories is available in this experience chart.
How to score an upgrade
Delta offers multiple ways of upgrading to a better cabin experience, depending on your fare class and SkyMiles status. I will focus on upgrades from Main Cabin to First Class or Delta One™. There are other types of an upgrade, such as Main Cabin to Delta Comfort+ that I won't go into detail on.
Upgrade Options
Paid Upgrade
Award Upgrade using SkyMiles
Complimentary Upgrade based on SkyMiles Status
Upgrade Certificates
Paid Upgrade
Paid upgrades could mean just paying the fare difference between Main Cabin and First Class or Delta One™. That's usually a very unattractive option because you'll end up paying the same as if you had bought the premium ticket in the first place. Sometimes even more, if you're charged a change fee.
Discounted first class on domestic flights
However, there are exceptions, and those can often be quite attractive. For example, while booking a main cabin ticket for a domestic flight, I sometimes get an offer to upgrade to a discounted First Class fare for only $80 per leg. I wouldn't take that offer for a 2-hour flight, but if I fly cross-country, I gladly take that offer.
Other times similar offers become available a few days before departure. So I usually log on to Delta.com a few days before my flight to see if any offers are available.
Upgrades at the Gate
For international flights, Delta usually doesn't offer upgrades at a discount, but depending on the fare class of your ticket, you may be able to score an inexpensive upgrade at the gate. I have done that on Air France a couple of times. They had Business Class seats available an hour before boarding and offered them for $350 to $700. The combined price of Main Cabin fare plus upgrade is often significantly lower than buying a Business Class ticket outright.
Award Upgrade using SkyMiles
You can use SkyMiles for a one-class upgrade on most Delta-operated flights and certain Air France/KLM-operated flights. However, there are exceptions and limitations (see Mileage Upgrade Award Rules for more information):
You need a ticket that has the correct fare class
Your flight needs to have upgradable seats available
For travel through May 31, 2016:
Within the 50 United States or between the 50 United States and Canada, Mileage Upgrade Awards may be used to upgrade only on published Main Cabin fares booked in Y, B, M, S, H, Q or K class.
For all other markets, Mileage Upgrade Awards may be used to upgrade only on published Main Cabin fares booked in Y, B or M class.
For domestic travel that means you can buy a main cabin ticket at a somewhat reasonable price (based on the above fare classes) and upgrade using SkyMiles – assuming you book early enough because availability is limited. I never upgraded a domestic ticket using SkyMiles, so I can't speak from experience how limited the availability is.
The problems are price and availability
However, international tickets issued in Y, B or M class are expensive. A flight from Atlanta to mainland Europe runs anywhere between $2,000 – $3,500 – depending on the exact fare, date and time of travel. That's often at least twice as expensive as a discounted fare but also cheaper than a Business Class ticket.
The real problem with international upgrades is availability. It's next to impossible to find flights to popular destinations that have upgrade availability – even if the plane still shows as 90% empty on the seat map.
But if you do find an available seat, you can upgrade a ticket from the US to Europe for about 25,000 SkyMiles (one-way). For a 10 hour flight that's an investment, I'm willing to make.
For travel on or after Jun 1, 2016:
Within North America (US, Canada, Mexico, Central America, and the Caribbean) and Northern South America (Peru, Ecuador, Colombia, and Venezuela), Mileage Upgrade Awards may be used to upgrade on published Main Cabin fares booked in Y, B, M, S, H, Q, K, L, U, or T class.
For all other International markets, Mileage Upgrade Awards on Delta-marketed and operated flights may be used to upgrade on published Main Cabin fares booked in Y, B, M, S, H, Q, or K class.
There is some relief in sight as Delta is making upgrades available to more fare classes starting June 1, 2016. That means you can buy cheaper Main Cabin tickets and then upgrade them using SkyMiles. I don't know if availability is going to get increased as well.
Complimentary Upgrade based on SkyMiles Status
This is probably one of the main features of the SkyMiles program. As soon as you earn Silver Status, you're eligible for unlimited complimentary upgrades on eligible flights.
Unfortunately, there are certain drawbacks, including:
Most international, especially long-haul flights aren't eligible
There are many SkyMiles members around major airports that scoring an upgrade becomes more difficult every year
I remember flying from Atlanta up the East coast in 2012, while I was Diamond Medallion (the highest tier). I was number 43 on the upgrade list! That means there were 42 people on this flight with a higher status. The bottom line is unless you're Platinum or Diamond, don't expect to get upgraded very often.
Delta usually doesn't offer complimentary upgrades on long-haul flights, but there is one exception. If the Main Cabin is overbooked and there are available seats up-front, you may get upgraded for free. That happened to me already a few times while I was holding Diamond status.
Upgrade Certificates
Certificates are one of the so-called Choice Benefits you get when earning Platinum or Diamond status. Platinum members can choose 4 Regional Upgrade Certificates, and Diamond members can choose 4 Global or 8 Regional Upgrade Certificates. Global Upgrades are available on all Delta routes, and Regional Upgrades are available on the same routes as Medallion Complimentary Upgrades.
In the past Systemwide Upgrade Certificates (the only Certificates offered as a Choice Benefit) could only be used if you were booked on a full-fare ticket (the ones that are expensive) and I never used them and often chose an alternative benefit, such as giving SkyMiles status to my wife.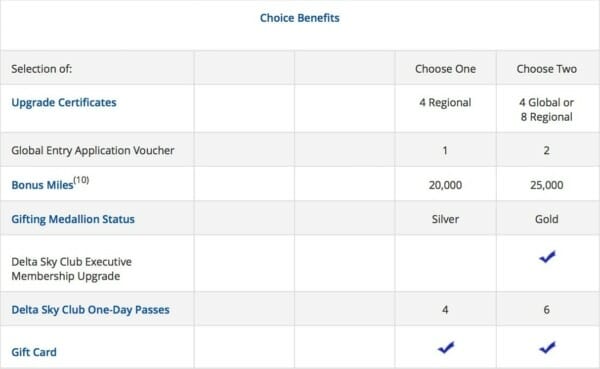 The current SkyMiles program allows for Upgrade Certificates to be used on all paid published Main Cabin fares except for E class on Delta-operated flights. Availability is limited, just like with any other type of upgrade.
Conclusion
Delta doesn't offer international First Class services, such as Lufthansa, Air France or most Middle Eastern and Asian airlines. Plus, SkyMiles may not be the most attractive program to score free upgrades, but Delta has certainly stepped up its game in the past couple of years. Delta One™ offers an excellent Business Class experience on international flights, and Global Upgrade Certificates put free upgrades within reach – at least for Diamond Medallion members. I live in Atlanta and enjoy the benefit of getting almost everywhere I need to go non-stop. So my choice is and remains Delta Airlines. No matter what your airline of choice may be, I recommend following The Points Guy on Twitter or via his blog for the latest deals and travel-related tips and tricks.
I'd love to hear your upgrade experience with Delta or any other airlines!

I'm a healthy living and technology enthusiast.
On this blog, I share in-depth product reviews, actionable information and solutions to complex problems in plain and easy-to-understand language.